All experienced grillers know about flat top grills. The most obvious difference between flat top grills and gas and charcoal grills is the design. The top of this grill looks like a griddle, that is, it is flat. Unlike a gas grill that cooks the food directly with a flame, the surface of the flat top is heated by an element below the griddle that transfers heat to the griddle by cooking. With the proper design, the surface heats evenly and enables food to be good evenly.
Like other types of grills, flat tops vary in size, quality and price. Larger versions are often seen in diners, where they are used for preparing breakfast staples like eggs and pancakes, they are also used for burgers. Generally, they are not used for some cuts of meats as grease collection can be a challenge. The flat top is not well-suited for people who prefer grilled meat with a smoky taste or with sear marks. This cooking implement may not be the best for BBQ grilling but the average flat top can handle a lot of burgers at once for a summer cookout. These types of grills are also fantastic for pancakes, eggs, sauces, hot-dog, and seafood. If you like your vegetables, you can also grill some vegetables on your flat top. They also have features comparable to the best outdoor grills.
6 Best Flat Top Grills
Camp Chef Flat Top Grill FTG600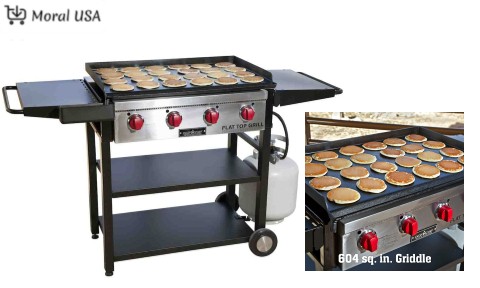 This is not a very large grill but still has a 604 square inch griddle cooking area. This large surface area has numerous cooking zones to cook food evenly. This makes it the perfect option for quickly feeding a small crowd, as it can easily allow cooking up to twenty burgers at once. It has four burners, that a high heat zone can be created on one side, while grilling foods that need lower heat such as vegetables or a side dish is being done at the other end. Each burner delivers 12,000 BTUs of heat. A slide out grease tray will catch drippings and keep the grilling area clean. This is a good choice for anyone who wants to grill without spending too much money. The Camp Chef Flat Top Grill is a grill/griddle combo, giving the best of both worlds. With two wheels, two legs and a weight of 142 pounds, it is not difficult for one person to maneuver it into the right position. Sturdy steel construction means you can expect this grill to last for a long time with proper care.
Pros
When the griddle is removed, it is immediately converted into a standard gas grill with a grilling surface of 501 square inches.
No matches are needed as it has a quick start ignition system.
It has two large, sturdy side shelves that can be folded when the grill is not being used.
Cons
It is not easy to assemble.
The sides of the griddle tend to get very hot so care has to be taken to avoid burns.
---
Blackstone Tailgater Portable Gas Grill 1555
The size makes this one of the best portable grills on the market. It has a compact design with a distinctive black powder coat finish. It has two burners with separate controls. One is a cast iron burner with an output of 20,000 BTUs and the other is an H tube burner with an output of 15,000 BTUs. This unit can serve as a griddle, a stove or a grill depending on the need. The grill section is a box with a hood and handle. The grill grates are made of cast iron, and the griddle is cold rolled steel. With different cooking options this grill/griddle combo is highly convenient. Both the grill and griddle can be used at the same time. This grill is highly portable, so it is ideal for camping trips, tailgating parties or road trips. The total cooking space varies depending on the configuration being used, but it has more than 500 square inches. This gas and griddle combo has a very simple design, but the construction is rugged and it is suitable for long term outdoor use. Anyone looking for the best gas grills under $300 should consider this option.
Pros
The grill and griddle can be removed, and then the open flame can be used for regular cooking with pots and pans.
The legs can be folded for storage or portability. They can also be extended to suit the needs of the chef.
This grill is easy to assemble.
It has a power ignition system that starts it up quickly.
Cons
It tends to heat up a bit slower than some other grills.
The grease trays can be quickly overwhelmed so frequent emptying may be necessary.
---
Blackstone Tabletop Griddle 1666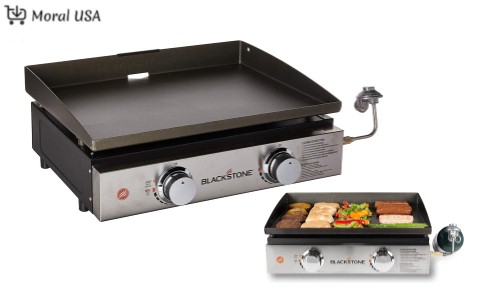 The size of this grill makes it one of the best small gas grill options available, and is based on the growing demand for portability. This is enhanced by the fact that it uses a one pound bottle of propane. If you enjoy the taste of grilled food but don't need or want a large grill, this product deserves consideration. It has two H burners with independent controls, allowing the chef to create independent heat zones. The 330 square inches of cooking space is enough for making full meals regularly for a family or small group. This griddle is easy to clean up after use. In terms of output this small griddle can compare to any of the best portable grills being sold today.
Pros
You can get the performance of a full size grill for a much lower price.
Independent heat zones enable cooking of different foods at the same time.
The material is relatively light but it has not shown a tendency to warp.
It has a grease channel at the rear for healthier cooking and to make cleaning up easier.
The size makes it easy to store.
Cons
Cooking can be a challenge if you are trying to cater to a large group of people.
While it is designed to be portable, some people may find it a bit heavy.
---
Blackstone Outdoor Flat Top Gas Grill 1825
This is a step up from the typical griddle station with 720 square inches of cooking surface and four independently controlled burners. With a total of 60,000 BTUs of heat and a low to high cooking range this is offers the chef flexibility in meal choices and cooking styles. This griddle station is restaurant quality and packed with useful features like trash bag hooks and a paper towel holder. It has a durable powder coated black steel frame which makes it suitable for years of outdoor use. The surface of this griddle is of such high quality that it requires less oil for cooking. It can be easily moved around on its four wheels, two of which are lockable for stability. Flexibility, quality construction and effective design make this one of the best gas grills under $300.
Pros
It has two side tables, which are always helpful with meal preparation, plus there is a removable cutting board.
The push-button ignition starts up this grill quickly.
The griddle top can be removed and the legs can be folded for easy storage.
It can take less than 30 minutes to assemble this griddle.
Cons
Excess grease can sometimes overwhelm the grease management system and run down the legs of the grill.
It comes with a short warranty period.
---
Royal Gourmet Portable Propane Gas Grill PD1202R
This is another product that can be added to many best portable grill lists. It has two burners, each delivering 6,000 BTUs of heat. During cooking, the grease drains into a side cup, ensuring that cleaning up afterwards will not be time consuming. Pull the pan out to get rid of grease. With its sturdy stainless steel construction and its compact size, this could be the best outdoor grill you can find. A regulator for a 1 pound fuel tank is provided with this grill. The 306 square inch cooking surface is more than enough to prepare meals for an average sized family. It can safely be used on a tabletop without causing damage.
Pros
The griddle can be easily cleaned with warm soap water.
It has an instant ignition system.
The size and weight make it portable enough to take it on the road.
The griddle top can be removed for cooking with pots.
Cons
It only has a one-year warranty.
Adjusting the temperature can be a challenge once the griddle gets very hot.
---
Royal Gourmet 8-Burner Propane Gas Grill GB8000
This unit stands out among the best outdoor grills due to its size and cooking power. Each of its eight steel tube burners delivers a nice 13,000 BTUs of heat. It has two sets of regulators for effective heat management and even cooking of food. The 950 square inch cooking area makes it clear that this is not the average outdoor grill. This is particularly suited for hosting large groups at outdoor gatherings, big cookouts, block parties and other similar events. Two folding side tables provide plenty of workspace and it has two shelf levels so the cook can keep all needed items close at hand. Another helpful feature is the screen that keeps the flame going even on windy days. With the ability to cook more than 60 burgers at the same time, this grill is a restaurant-quality product that can always be counted on for top performance. This is a good grill for continuous cooking and it has a sturdy frame, making it one of the best gas grills under $500.  This is a price that cannot be beaten for this kind of quality.
Pros
You can get to cooking immediately with the push-start ignition.
There are two large cups for collecting below the firebox to shorten cleanup time after use.
It is large but can be easily moved around on four heavy-duty casters.
Grilling zones can be independently controlled.
Cons
Heat distribution can be affected when the entire cooking surface is being utilized.
It has no cover so slow cooking can be a challenge and steps must be taken to shield the food from windblown debris.
---
Since they heat up quickly, flat top grills are ideal for family meals as they cut down the wait time. Even the smaller types usually have ample cooking space, so cooking for more than one person is possible. Flat top grills tend to heat evenly and help to preserve the taste of the food.
Another major advantage of flat top grills is that many of them can be used indoors. This makes them good choices for people who live in apartments. It also shows that these types of grills can be used regardless of the season. Another fact that many users find appealing is that a flat surface is much easier to clean than a series of grates. While flat tops are not necessarily better than traditional propane grills, they have a lot of advantages. It all depends on what types of meals you want to prepare and the kind of taste you prefer. Grilled vegetables are ideally cooked on a flat top.
It is important to have an idea of the features you want before deciding on a grill. The best gas grills under $300 must perform well and meet the users' needs. A flat top that gives you the option to remove the griddle is usually a good investment. On the other hand, there is no need to pay for features that you will not need. Any one of the grills listed above can make your cooking more exciting in 2022.