There is good reason why the barbecue has come to be defined as an aspect of American culture. The sights and smells of this outdoor feast have a strong connection with family gatherings. The growing popularity of this pastime has helped to refine the design and range of the types of grills available. Many of them have stylish looks that can add to the look of any backyard.
Grilling is appealing for a variety of reasons. Outdoor grilling is a great way to bring friends and family together. It is also one of the most convenient ways to quickly whip up meals for guests. Grilling is also known to be a healthy food preparation option. Much of the grease is directed away from the meat, so there is less fat, while the great taste is preserved.
With the growing list of grills on the market, you may have trouble deciding which one is the best type for you and your family. As with any other purchase choice, there are a number of vital factors to weigh carefully. Charcoal grills are popular for the distinctive flavor and the somewhat traditional approach, but many people enjoy the convenience of gas grills. Whether you are a seasoned or first time griller, this list will unveil the best gas grills you can find in 2022.
See More: 5 Best Small Gas Grills Reviews
10 Best Gas Grills
Weber 61010001 Genesis II E-310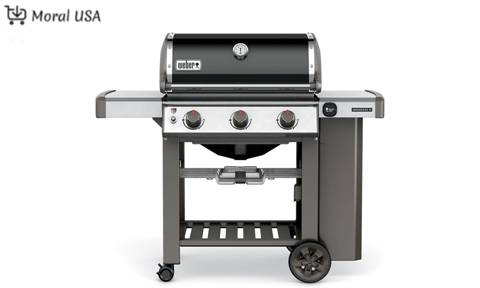 Priced at more than $700, this might be too pricey for some people, but it is one of the best gas grills under $1,000. It has a sleek, black and stainless steel finish and a robust design. Despite its size, four wheels allow this grill to be easily moved into position. It has three burners and porcelain-enameled cast iron cooking grates. With a primary cooking area of 513 square inches, this grill can serve up to seven people in one cooking session. Adding to its handiness is the addition of storage hooks for your grilling implements. It also has stainless steel side work-spaces which will minimize the need to go back and forth when cooking.
Pros
This grill comes with a ten year warranty, which shows confidence in its quality and longevity.
It has an efficient ignition system that starts with the twist of a knob.
The grease collection system prevents flare ups and keeps the grilling area from getting too messy.
The temperature remains consistent while using less fuel than many other grills.
Cons
For the price, some buyers might expect a side burner but that is not a feature of this product.
It does not heat up as quickly as people tend to demand from their grills.
---
Weber 45010001 Spirit II E-310
This grill has the quality ignition system that expected from the Weber brand. It has two wheels, so moving around should not be challenging. It has an open cart design and porcelain-enameled, cast-iron grates which enhance both cooking and clean-up. It boasts an impressive 529 square inches of cooking space over three burners. It has a solid build, making it ideal for moving from place to place as needed without worrying about wear and tear.
Pros
Six tool hooks are attached for quick access.
It has a grease management system that prevents spills.
It has rapid ignition so it lights on the first try. It heats up quickly and cooks evenly.
Cons
It may seem too pricey considering that there is no side burner added.
Assembling this grill can seem like a lot of work for the average person.
---
Char-Broil 463673519P1 Performance Series
This 2 burner grill lacks the size of more expensive types, but it performs efficiently and is one of the best gas grills under $300. Fold-able metal side shelves provide an adequate workspace to complement the 300 square inch cooking area. Despite its size, it is sturdy, and can be easily moved around on 4 casters, two of which can be locked to hold it in position. This grill lights up with the push of a button. Buyers generally find this grill easy to assemble.
Pros
In addition to the 300 square inches of cooking space, this grill has a 100 square inch porcelain coated swing away rack.
You can control the heat with the temperature gauge mounted on the lid.
The grill's storage cabinet is large enough for storing the propane tank and a few other items.
Cons
The grill must be kept covered or the grease collector can be filled with water when it rains.
Once the tank is put in, there is very little storage room left in the cabinet.
---
Char-Griller E3001 Grillin' Pro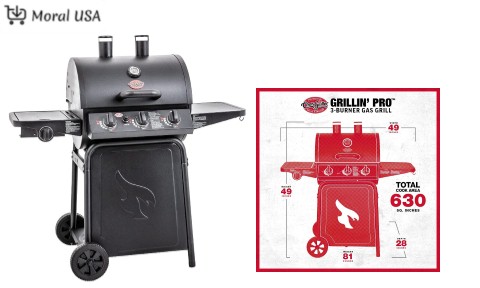 The smooth, black finish gives this grill a durable, utilitarian look. With two wheels and two fixed legs, it can be maneuvered into position with no hassle. Despite its compact design, you will have 438 square inches of cooking space. This grill has a 192-square-inch warming rack and a side burner, making it one of the best grills under $300. Most buyers have had no trouble assembling it using the provided instructions.
Pros
Its size makes it easy to find a storage space.
It has a side shelf that can be used as a workspace.
The electric ignition starts it up quickly.
The cast-iron grates are porcelain-coated, making them easy to clean.
Cons
Grease can sometimes stick to the protection plates above the flames and cause flare ups so more monitoring of the food may be necessary to prevent burning.
Gripping the shelf on the right side to move the grill can be uncomfortable due to its design.
---
Weber 7170001 Summit S-470
Priced at just above $2000, this grill is not for the average chef. However, anyone who is willing to opt for a high end product will be happy with the quality and its features. It is much larger than the average grill, but can be wheeled around easily on casters, two of which can be locked. It has four burners and stainless steel cooking grates which are nine millimeters in diameter. As one would expect from a grill in this price range, it comes equipped with Flavoring bars to reduce flare-ups and add that desired grilled taste. It has a sturdy design, and an attractive stainless steel finish.
Pros
It has a built in thermometer mounted in the center that is ideal for maintaining the correct cooking temperature.
This grill can easily serve up to 10 people at one time.
There is a rear-mounted rotisserie cooker.
Additional features include a sear burner, a side burner and a smoker.
It boasts an impressive 580 square inches of main cooking space.
Its size means there is plenty of storage space for the tank and grilling tools.
Cons
It requires a 20 pound tank, and tends to consume more fuel for the same amount of cooking time when compared to other grills.
It has a light attached to the handle, but it is not very bright, so it is more stylish than practical.
---
Bull Outdoor Products BBQ 44000
This is a large grill that is typically shipped in two boxes. Priced at a little more than $2,500 it is another grill in the high-end category, but it is a proven performer when compared to others in this price range. The sleek look and sturdy design will appeal to serious grilling chefs, and is the perfect complement to any backyard. The 810 square inches of cooking space makes it ideal for various foods and with four burners it can serve a relatively large gathering.
Pros
It has a thermometer built into the hood so you can always be sure that the food is at the correct temperature.
It has an interior lighting system which helps in monitoring food when cooking at night
There is a 210-square-inch warming rack.
It lights up quickly and maintains consistent heat.
Cons
Based on the price, some buyers may expect a few fancy features like back-lit gauges or dials.
The weight of the grill can be problematic during the assembly process.
---
3 Embers GAS7480BS Dual Fuel
This four-burner grill comes with a lifetime burner warranty. It can be moved around on four casters, so the size and weight will not be a problem. With 540 square inches of primary cooking space, this is one of the best outdoor grill options. It heats evenly and has heat-locking insulation. The burners and cooking grates are made of stainless steel.
Pros
It has a viewing window and temperature gauge.
There is a 12,000 BTU cast iron side burner.
LED illuminated knobs make it easy to work even in poor light.
It can be converted to use natural gas with the purpose of a special kit.
It has plenty of storage space to keep utensils and spices.
Cons
If the LED knob lights fail, the grill has to be disassembled for them to be replaced.
Rust spots may start to develop in the material over time.
---
Blackstone 1554 Cooking 4 Burner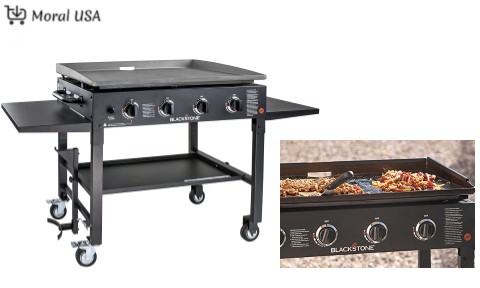 This grill has a simple design, but the construction is sturdy and it has an attractive finish. The Hibachi-style griddle top heats up evenly, and is perfect for everything from pancakes to steaks. The four burners have independent controls with varying temperature settings. There is a grease management system which reduces the stress of cleaning up. It has four sturdy caster wheels, two of which can be locked. This grill is also easy to assemble and easy to maintain, maintain, making it ideal for the casual griller.
Pros
This grill has a quick ignition button.
The griddle top can be easily removed.
The steel surface retains heat for consistent temperatures when cooking.
The legs can be folded for portability.
Cons
The side shelves can become hot if the grill is used for a long period. This means the chef may still need to find another surface for plates and utensils.
The gas regulator is not of the highest quality.
---
Weber 51010001 Q1200
If you are looking for the best grill for camping, the size of the Weber 51020001 makes it worthy of consideration. Sporting a smooth black finish, this grill has a sturdy frame. Fold-out side tables increase the workspace and help this small grill to deliver more value for money. It comes with other great features such as front and rear cradles, and improved control knobs and grip handles. You can monitor the cooking temperature using the built in thermometer. This compact grill is the perfect blend of style and function. It requires minimal assembly and the grates are no hassle to keep clean. Like most grills available today, it has a no-match lighting system. This highly portable unit has an adequate 189-square-inch cooking area.
Pros
It runs on disposable LP cylinders, making it ideal for various settings, such as camping, going on road trips or even on a balcony.
This grill is lightweight but very durable.
Cons
It has a single burner which might not be ideal for some families.
The propane safety valve does not seem to be very durable.
---
Weber 44010001 Spirit II E-210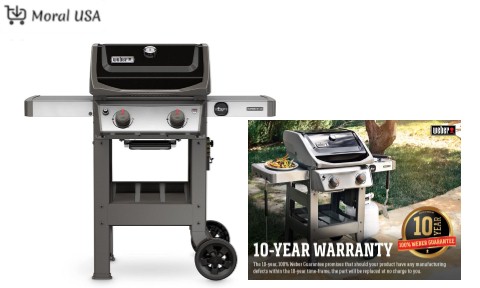 This grill is as sturdy as they come, and has a simple yet elegant design. Two burners, quick start ignition and a grease management system combine for a superior grilling experience. There is 450 square inches of primary cooking space. This large grill can be moved around on two wheels, and two legs will hold it in place. Long-lasting cast iron cooking grates ensure value for money. It comes with a 10-year warranty, which should instill confidence in any buyer. As can be expected, it has an effective grease management system. The ignition system always lights up on the first try.
Pros
It has six hooks for quick access to grilling tools.
Porcelain-enameled Flavorizer bars enhance the taste of the food.
It has a fuel gauge so there is no need to worry about running out of fuel while cooking.
Cons
There are none of the extra features one would expect in a grill of this size, such as lighting or a side burner.
Some help may be required when assembling this grill.
---
See More: 6 Best Flat Top Grills-Reviewed&Rated
Whether you are looking for the best outdoor grill or the best portable grill, you will have no shortage of options. While the price will always be an important consideration, it should not be the main consideration. Otherwise, you could end up with a product that is of lesser quality that needs to be replaced quickly. Another concern is that it might not be appropriate for the needs of your family, or for entertaining guests.
If you enjoy camping or grilling on the go, it is wise to look for the best portable grill. If you plan to only do your grilling at home, you will find a wide array of options to choose from. First, consider the largest number of people you will cook for. If you regularly have parties at home, this should play a role in your decision. In this case it makes sense to consider a higher-end option to ensure that it stands up to frequent use. Features like a side burner or a smoker are also worth considering if you might be cooking for a lot of people. You should also think about the amount of space you have. Some grills are like mini kitchens in terms of their features and the size. Do not underestimate the benefits of features like side shelves, as these can be vital to the meal preparation and cooking processes. With the technical aspects out of the way, you can start to balance your needs and budget to get the perfect gas grill.