Grilling was and is still a much-loved tradition in American life. One of the most important aspects of grilling food to perfection is having the right grill for the job. There are various types of grills and they use different types of fuel such as charcoal, gas, and pellets, a new addition to the fray. However, propane gas grills are commonly used because of the convenience and the fact that they are cost-effective.
Propane grills come in various sizes and styles, and some product lines offer different colors as well. The best thing about grills is that they can be used to prepare any meal, that is, from breakfast to dinner or even an evening snack. Propane grills are gas grills, however, they use propane instead of natural gas. These types of grills are generally quicker at cooking food than other types of grills such as a wood or coal grill. Some top picks worth looking at when selecting a propane grill are discussed below.
8 Best Propane Grills for Homes & Gardens
Weber Spirit II E-310 3-Burner
Whether you go with the E-210 or the E-310 model, the Weber 45020001 offers a grilling system with features that will be more than satisfactory. This three-burner grill makes it easy to grill the perfect steak or other food.
The main cooking area of the E-210 model is 360 square inches and the E-310 boasts 424 square inches. With the warming rack, each model has total cooking surfaces of 450 square inches and 529 square inches respectively.  The average cost of this grill is $700 making it a bit more costly than many similar grills.
Pros
Even heat distribution for perfectly cooked food
Quick start ignition system fires up and heats up quickly
Easy to clean surfaces that are made of porcelain-enameled cast iron
Cons
Regulating the temperature is not as easy as the average user might expect.
In today's fast-paced world, this grill offers the convenience that many busy people crave. The cooking can start quickly, and it heats evenly, so meal preparation can proceed without problems.
---
Char-Broil Classic 360 3-Burner
This three-burner liquid propane gas grill is suitable for cooking for a small family. The cooking surface is 360 square inches, with dimensions of 26-inches wide and 14-inches deep. Another great feature of this grill is that it is portable. There are also two fixed legs that make the grill secure when it is being used.
The Char-Broil Classic 360 has 12 inch wide side shelves which help with meal preparation and staying organized. It also comes with a swing-away warming rack.  The side burners can also function as a stove and are great for making or warming up sauces.
The assembly can seem difficult for some, so assistance may be necessary for first time users. At just under $400.00, it will not be ideal for some budgets. Some people will no doubt prefer a larger grill, but for many, this is perfect for these needs.
Pros
The compact size is ideal for the home, camping or outdoor events.
It is portable making it ideal for taking to a tailgate party of camping trip.
The push-button ignition makes starting the grill quick and easy.
Cleaning up is a breeze as the grates are porcelain-coated so you can quickly wipe off grease and other types of spills. After a good time of eating and entertaining guests, no one wants to spend hours cleaning up.
Cons
It is ideal for a small family, but cooking for a larger group can quickly become challenging.
The temperature control is not as efficient as that offered by some other types of grills in a higher price range.
Requires some effort to assembly. Once it is set-up however, users are generally pleased with the performance.
---
Blackstone 1554 Cooking 4 Burner
This powerful four-burner grill is a restaurant-grade grill that is ideal for outdoor use. At under $300, this professional-grade grill is affordable and most 'master' grillers will love cooking up a variety of meals on it. It has four sturdy wheels for changing locations, and two can be locked to keep it firm when you have found the right spot.
This grill can easily be used to prepare meals for a large family or gathering. It has a sleek design and stainless steel burners. Temperature controls allow you to cook various types of meals. This grill performs well when compared with similar types in this price range.
Pros
This product is easy to assemble using the provided instructions.
It has a quick start ignition system, which is especially important when preparing meals for the family.
Cons
The grease pan is not as deep as some other types, and must be emptied frequently to keep it from overflowing.
More cleaning needs to be done because the grease trays are not as efficient as you would expect from this higher-priced model.
Despite these minimal drawbacks, most users may be willing to compromise based on the more than affordable price.
---
Weber Q1200 Liquid Propane Grill
Its compact design and portability are only two of the attractive features of this grill. It has a sturdy frame and fold-out work tables. With 189 square inch porcelain-enameled cooking grates there is more than ample space to prepare meals for the family or for entertaining guests. It lights up quickly, and cooks evenly thanks to the precise controls that spread heat evenly across the cooking surface.
Costing under $250, this attractive, compact grill is ideal for most grilling needs. As can be expected of the Weber brand, the grill has an easy-to-use electric ignition system that enables quick ignition and burner control mechanisms. The burner controls make it possible to control the temperature to suit meal preparation instructions. This grill can be placed on a tabletop without the user having to worry about excessive heat causing damage.
The Weber Q1200 Liquid Propane Grill uses disposable LP cylinders. These come in two convenient sizes, 14.1 ounces and 16.4 ounces. These cook boxes are long-lasting and require very little in the way of maintenance.
Pros
If you are ready to start cooking, you will be happy to know that this grill comes already assembled. Simply take it out of the box and connect the propane tank to start grilling.
It has a durable cast aluminum body and lid.
Cons
Although it cooks evenly, the grill is a bit slow to heat up.
There are no flavorizer bars so it is possible that the drippings will clog the flame tubes. To maintain efficiency, frequent cleaning will be required if the grill is used often.
Additional accessories can be purchased for this product to enhance the cooking experience.
---
Coleman RoadTrip 285 Portable
Get started quickly with the matchless lighting system. This grill has two side tables, so you can have your utensils and spices close at hand. The three-burner system can be controlled independently, and cleaning is made simpler by the pan that collects grease for disposal.
This grill has three adjustable burners that work independently of each other. The cooking surface offers a whopping 20, 000 BTU of heating power for a perfect cooking experience. The cooking rea is a decent 285 square inches. The total space is enhanced by two side tables serving as a prep area. These can be used to store utensils, pots and pans and condiments so that they are in easy reach.  With just a push of the button, the Instastart ignition system powers up the grill.
The handy slide-out side tables are convenient for storing pots and utensils for your cooking convenience.
This portable grill has three independent burners for convenience. One is located on the outer right, the other is on the outer left and the third is I the middle. The Coleman RoadTrip 285 portable propane grill uses a one-pound propane cylinder. Unlike some other similar priced grills, this unit has a range of 3, 250 BTU to 20,000 BTU of grilling power for your cooking pleasure. This cylinder is sold separately.
One unique feature of this grill is the interchangeable Swaptop cooktops that make it possible to change from grill grates to a stove grate or even a griddle so that you can cook a wider array of food. The griddle and stove grate has to be bought separately. Storage is a breeze as the grill can be stored upright.
Pros
Set-up of this portable grill is a no-brainer. The legs are easy to fold-out and the two wheels make it easy to position the grill into a convenient space.
This quick set-up and pulling down process makes it easy to take the grill with you on a camping trip or to a backyard barbeque or tailgate party.
Cons
The grease tray is shallow, so it must be emptied quickly to prevent spills.
The top of the grill may become loose after frequent use.
There have been reports that the when folding the legs of the grill, it is possible to get fingers caught in the mechanism.
The average cost of this grill is under $250 so it is very affordable on any budget. If you are looking to do some serious grilling, the portable Coleman RoadTrip 285 is worthy of consideration.
---
Cuisinart CGG-180T Petit Gourmet Portable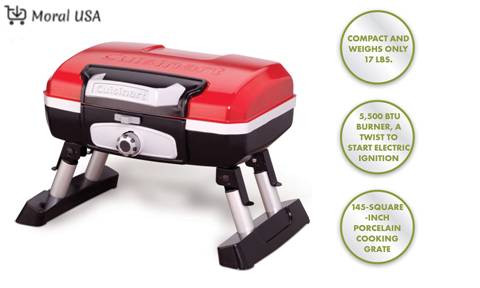 This may be a small grill but it delivers. It has foldaway legs so finding a storage space should be no trouble. You can move it anywhere using the briefcase-style handle. The 145 square inch cooking area can cook up to eight (8) hamburgers or steaks, and up to 10 chicken breasts at once on the porcelain-enameled grate. This is ample proof that this compact grill can cook enough food for an average size family. Even though it is small, this tabletop grill lacks nothing when it comes to cooking power. The stainless steel 5,500 BTU burner works well to transfer heat evenly across the surface so that food is cooked quickly and properly. In fact, it works just as well as any full-size grill. Best of all, due to its small size, it is possible to use the Cuisinart CGG-180T Petit Gourmet Portable Tabletop in most locations, even at the beach.
The twist start ignition means there is no hassle in lighting up this unit so you can start cooking immediately. Additional features include a spill-resistant drip tray and legs that can be folded.
Pros
The fast heating and portability make this grill ideal for use in various locations, even for camping trips.
The grill is easy to set-up and it weighs a mere 13.5 pounds making it easy to carry.
This grill was made for portability. The handle was designed for lifting and carrying comfortably.
Cons
Despite the many convenient features, this low-cost grill is not as sturdy as more expensive types.
It can be used when camping, but keep in mind that a level surface is necessary, as falls can cause a lot of damage.
While it does a good job of grilling various foods, knobs can sometimes come off after repeated use.
---
Weber Spirit E-310 Liquid Propane Gas Grill
This is just the right size to suit any occasion, a BBQ with a small crowd or a cozy family get-together.
At $500, this grill is at the id-range price. The serious griller will find lots to love about the Weber 46510001 Spirit E310 Liquid Propane Gas Grill. It has a grease collection feature and hooks for your grilling tools. Other convenient features include side tables and caster wheels which allow you to quickly change locations if you need to do so. While it is one of the pricier options, it has many great features to justify the cost.
Pros
The grill comes with a built-in thermometer that ensures that the correct temperature is always maintained.
There is a fuel gauge that helps you to avoid running out of fuel while cooking.
It has Hooks for hanging grilling implements for easy access.
The wheels allow easy transportability regardless of the type of surface.
Side tables for holding condiments and serving trays keep the cooking organized.
There are flavorizer bars which serve four main purposes, namely, evening out the heat distribution in the firebox; vaporizing drippings quickly to prevent flare-ups; protecting the burners by preventing debris from getting into and clogging the tubes, and best of all, adding flavor to the meat being cooked from the vaporized grease.
Cons
Unlike other grills in this brand, the hood is too short.
This grill lacks a side burner, which is a feature that some grillers prefer.
The Weber Spirit E310 is built to last. The lid is porcelain and enamel and will not peel or rust. Overall, this grill is for serious cooks who take pride in preparing the perfect feast. To top it all off, cleaning up is easy.
---
Cuisinart CGG-200 Stainless Steel Tabletop Grill
This stylish gas grill offers lots of features. This modular unit has easy to remove panels and a drip tray making this grill easy to clean.
Cooks will be happy with the rapid twist start ignition to get the meal going quickly. To improve the usability and increase the prep area, the two foldable side shelves can be purchased as add-ons. . These foldable side shelves give the grill more workspace when needed and are definitely worth the extra purchase price.
With an average price of $160, it is understandable why this is on this list of best grills. It performs well beyond its price range for typical grill of this type. The Cuisinart CGG-200 All Foods Tabletop grill is ideal for anyone who does not grill frequently, but still enjoys changing up the menu every now and then.
Pros
Due to its compact design, this grill does not take up a lot of space, so it is easy to find space to store it.
This small grill is ideal for use in small spaces such as a balcony, or it can be placed on a table.
Despites its size, it cooks evenly and performs efficiently.
Cons
It should be noted however, that this grill is limited when compared to more expensive grills especially in terms of size.
The material is less durable than that of more expensive grills. This makes it unsuitable for extended cooking periods.
As with most good grills, a variety of foods such as fish, steak, chicken and hamburgers can be cooked using the Cuisinart CGG-200 All Foods Tabletop grill.
---
How to Pick the Best Propane Grills?
Before buying a grill you need to answer some questions to ensure that you choose the right size for your needs. Some points that will help when choosing a propane grill include:
Frequency of use: How often will the propane grill be used? Some grills will perform well initially, but start to deteriorate after extended use.
What you will be cooking? Some grills are ideal for hamburgers, however, if you plan on adding some variety such as fish, steak and chicken, you need to get a grill with a high-temperature range. Buying one before checking the temperature range could end up being a waste of money the grill may not be suitable for cooking some types of food.
Where will the grill be located? Will it be in the backyard or on a balcony? The space where the grill be kept is important when deciding on the size of the grill. As a rule of thumb, a large four or six-burner grill normally takes up around 6 square feet of space. Some people prefer the small grills that can be used on a tabletop, and many of these are not suitable for outdoor use.
How many persons will you be preparing food for at any time? The largest number of persons should be a deciding factor. Some small grills will not hold up well to being used for long periods. A large or midsize, sturdy grill might be best if you plan to cook for a lot of people.
The igniter is also an important feature. This determines how quickly the grill will be lit for use. Many grills now come with quick ignition features, so this is one thing to look for when trying to find the right type.
The price is also a major factor when selecting a grill. The less expensive, the less reliable it may be in the long run. These grills are priced anywhere from $150 up to $10,000 or more. It should be noted however that a low price is not necessarily a negative factor. Lower-priced grills can be ideal when used as intended and if they are properly maintained. The price of the grill should be in keeping with other considerations such as where it will be used, and the number of people it will serve.
Conclusion
Now that you know which the best propane grills are, finding the right one should be easy. Start planning for grilling season now and purchase or make plans to purchase the best propane grill for your use. Just owning the grill is not enough, you should make sure to learn how to maintain it. Whether you use the grill often or not, it is important to clean it after use. Proper maintenance helps it to last longer and ensures that you get full value for money.
Make sure to get a grill that has at least 10 years' warranty on the burners as this is the part that will need changing most frequently. So, if you need to replace your old grill or you just need to get a grill, you now have enough information to purchase the best grill within your budget.