If you want to work out the major muscle groups of your body and at the same time enjoy excellent cardiovascular exercise, then you should consider getting a rowing machine. A rowing machine, sometimes referred to as indoor rower, is a workout machine that replicates the rowing movements you go through when you are really in the water. When you utilize this equipment, 82 percent of your body muscles are exercised. Aside from helping you stay in shape, an indoor rower can also help you lose weight, build muscle mass as well as practice for actual rowing events. This article will help you find the best rowing machine under 300 dollars.
Best Rowing Machine Under 300 – Top Picks
Merax Magnetic Rowing
This magnetic rowing machine by Merax is an impressive entry-level rower. It has received several favorable reviews due to its solid construction and strong resistance. This model also has other great features such as a handy console, a quiet and smooth rowing stroke, an excellent weight capacity of 264 pounds as well as a good price. If you are looking for the best cheap rowing machine that will help you lose some weight, develop stamina and tone your muscles, then you may want to check out the Merax Magnetic Exercise Rower.
Key Features
Convenient and adjustable eight resistance levels
Fully padded seat for superior support to your back and bottom
Large strapping footplates for optimal support and comfort
Convenient LCD monitor to help track your workout progress
In-built magnetic flywheel that minimizes noise whilst boosting a smooth feel during workout
Foldable frame and built-in wheels for easy storage and transport
Assembling this Rowing machine is quite uncomplicated and should take approximately no more than thirty minutes. The equipment arrives with all the tools required to put it together and that includes the 1AA battery required for the LCD monitor. All you need to do is carefully read the instructions and follow them exactly. The assembled dimensions of the machine are: 73" L x16" W x 21" H; folded: 26" L x 16" W x 49" H.
The device comes completely equipped with a big LCD monitor that displays time, calories, count and total count. While the LCD monitor has very little fancy features, it will track the most fundamental workout data.
When searching for the best rowing machine under 300 dollars, it is vital you take into account the device's build quality. The Merax Rowing machine has a steel frame as well as a seat rail that can effectively handle a 264 pounds user weight capacity. The steel components of the device have a sturdy plus corrosion-resistant powder finish. Despite the unit's steel frame, it is comparatively lightweight, as it weighs only 68 pounds. This means you can easily move the unit around.
The machine also features adjustable end-caps, which make it possible for the device to be balanced on irregular surfaces. This feature is beneficial for a steady rowing stroke and ensures the rower stays motionless when in use. The device is not horizontal, which is quite unique compared to similar brands in its price range. With this feature, you enjoy faster rowing as well as better workout for your hands and legs.
You will find using the device very comfortable – thanks to its padded top plus non-slip surface. The resistance system of the Merax rowing machine is quite remarkable. There is no need to connect it to an electrical outlet as it is completely manual.
The rowing machine has eight resistance levels and thus can provide you with a low to medium workout. While the Merax rowing machine may not be the finest choice for professional athletes, it is certainly an excellent choice for beginners as well as individuals who wish to enjoy a complete body workout.
Pros
Eight levels of modifiable resistance
Folds for storage
Fantastic entry-level price
Smooth and quiet performance
Simple to assemble
Cons
Does not come with heart rate monitor
Basic LCD monitor
Unimpressive footrest design
---
MaxKare Magnetic Rower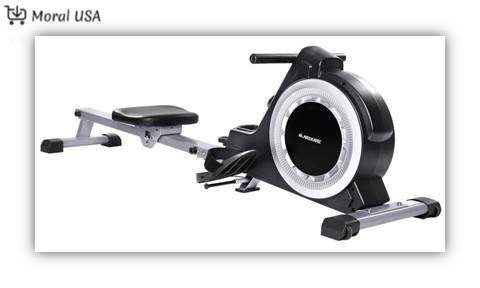 The MaxKare Rower comes with features that make it one of the best home rowing machine 2020, even though it is not designed for all fitness levels. It targets people who enjoy rowing workouts or intend to start. The unit is a completely functional system and is superb for working various parts of the body including abdominal, calf, arms, triceps, butts, upper legs, biceps and more. The device has a sturdy construction, offers sixteen resistance settings, is reasonably priced and is arguably the best rowing machine under 300 dollars.
Key Features
16-level resistance settings for simple operation
Transportation wheels for easy movement
LCD Monitor that displays calorie data, time, and count
Supports user weight capacity of 243 pounds
Assembled weight of 64 pounds
Assembled dimension of 76.4 inches length x 18.9 inches width x 18. Inches height
The main components of the MaxKare magnetic rower including the resistance elements, fitness meter, and drive, comes pre-assembled. Thus, the only assembly job needed with this unit is to fit the seat on top of the rail, install the rail onto the main unit, connect the front and rear stabilizers and then add the footrests. The task is quite straightforward and you should be able to complete it within an hour. All the tools you will need for the assembly come with the package.
The MaxKare rower is a magnetic resistance rowing machine. The main selling point of magnetic rowers is that they provide practically silent resistance. What this means is that you can do your workout routine early in the morning without disturbing members of your household who are still sleeping. The device offers 16-level resistance settings. The least resistance level provides a moderately light rowing difficulty. However, as you move from one level to the other, there is a considerable increase in resistance. Most users who have used this rowing machine say the device has adequate resistance for beginners as well as experienced athletes.
The fitness meter on the MaxKare rower is extremely basic, and tracks only fundamental workout data. It features a big LCD monitor that tracks time, Calories, stroke count, Reps/Min, total count, and scan. As mentioned earlier, the fitness meter is quite basic and does not track parameters like distance. Also, it does not have any pulse sensors and thus has no pulse reading function.
The build quality of this rowing machine is quite good and is reasonably priced compared to similar brands in its price range. It has a steel seat frame and support beams including four end –caps that support the unit on the floor. The plastic end-caps are adjustable so a user can place the machine on surfaces that are slightly uneven. Thus, if you are using the device on an irregular surface, one end-cap can be adjusted to ensure the rower does not wobble.
Pros
Easy to assemble
Requires little maintenance
Smooth and quiet magnetic resistance system
Reasonably long rail that can accommodate user height of 6'5"
16 resistance levels that allows for light to medium workouts
Comfortable rowing stroke
Excellent build quality considering the price
Cons
Extremely basic fitness meter
Pulse reading function not available
---
Sunny Magnetic Rowing Machine Rower SF-RW5515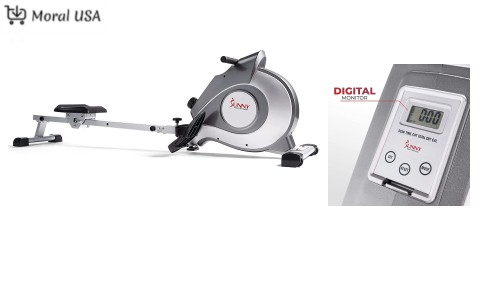 This remarkable rower from Sunny Health & Fitness offers all the necessary features for a great cardiovascular workout plus every other thing a home fitness aficionado could wish for. It comes at great value and many users say they prefer this model to more costly choices due to its compact and lightweight construction.
Key Features
Built-in transport wheels for easy movement
Large non-slip foot pedals plus adjustable foot straps
Large LCD monitor that tracks workout progress
Magnetic tension plus eight adjustable resistance levels
Foldable design for easy storage
Anti-slip handlebars and completely padded seat for superior comfort
The assembling of the Sunny Health & Fitness SF-RW5515 Magnetic rower is very simple and the task should be completed in approximately thirty minutes. All the tools required for the task are included in the package and all you have to do is carefully follow the included guidelines. Nevertheless, if you require help putting the unit together, you can engage the services of a professional, which may cost you some fees.
The SF-RW5515 is a magnetic resistance rower and offers eight different intensity levels. You can adjust each level by turning the handle or knob located on the unit's center panel. It provides a very quiet and efficient operation; however, you will need to stop rowing whenever you want to alter the resistance, which is actually not a key issue.
For users' comfort and safety, the device has a cushioned seat plus big and textured non-slip pedals that are fitted with safety straps. With this feature, you can focus on your workout session with peace of mind knowing that your comfort and safety is assured.
The machine has a sturdy steel frame and is strong enough to support up to 250 pounds of user weight. The units assembled dimensions is 82" x 19" x 23" (Length x width x height) while its assembled weight is 59 pounds.
The SF-RW5515 has been touted as the best rowing machine under 500 dollars due to its beneficial features and impressive performance.
Pros
Simple to assemble
Transport wheels for simple movement
Durable rower that provides smooth performance
LCD display provides clear information
Strong resistance
Very quiet
Foldable storage
Cons
LCD monitor is not backlit
Short warranty period compared similar brands in its price range
---
Sunny Health Incline Rowing SF-RW5720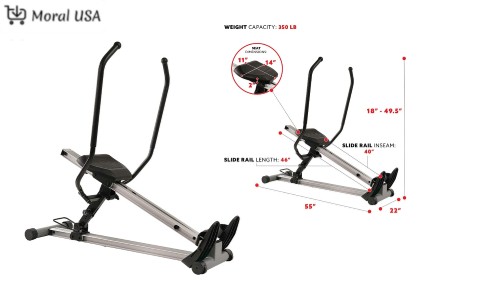 This rowing machine from Sunny Health & Fitness has been said to be the best home rowing machine available in the market because it offers a number of beneficial features that will allow you to get the most out of your workout. Check out this device if you are searching for challenge, practically, and a safe workout within the comfort and convenience of your home.
Key Features
Full Motion Handlebars that offer full-motion capabilities
5 incline levels that allows for fantastic arm and quad workout
Digital console that helps you track your workout progress
Maximum user capacity of 350 pounds
The machine weighs 39 pounds
Assembled dimensions: 55.5" x 21.5" x 18" (Length x Width x Height)
The Sunny Health & Fitness Incline rower has a compact size and its weight is only 39 pounds. This means you can easily set it up within your home's workout section. You can also reposition it by merely slanting and rolling the unit on its anterior wheels. The device arrives almost completely assembled and the only parts you will need to attach are the handles and pedals.
Once you begin rowing, the strong aluminum rail on which the seat will glide on will incline every time you pull the unit's handles. This will make your legs push against the force of gravity thereby exercising almost all the muscle groups of your body. The unit comes with the comfortable and non-slip grip ergonomic handles that is not featured on traditional rowing machines. The rower offers five different incline levels, which can be adjusted up to 30o or a 17" maximum incline.
You can enjoy longer workouts on the Sunny Health & Fitness Incline Full Motion rower, thanks to its large and completely padded comfy seat and large textured slip-resistant pivoting pedals plus straps to ensure your feet remains in place and stable. The device also features a digital LCD monitor that tracks parameters like time elapsed, calories, total count, reps per minute and scan.
The Sunny Health & Fitness Incline Full Motion rowing machine is the best rowing machine under 300 dollars for effective cardio and resistance training. The higher incline levels of this machine will certainly help get your big muscle groups including abs, legs, and arms back in shape.
Pros
Offers 5 incline levels
Has wheels for easy transport
Comes with slip-resistant foot pad
Full motion handlebars for an authentic rowing experience
Cons
The unit may not stay stable on the floor but this can easily be solved with the aid of a workout mat
---
Fitness Reality Magnetic Rowing 1000 PLUS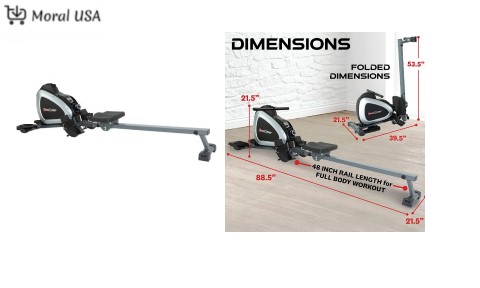 This model of rowing machine was launched in the early part of the year 2019 and since then, sales have been increasing steadily. The device offers several fantastic features such as Bluetooth console, fourteen different resistance levels, a fitness app, plus a variety of non-rowing exercises. If you are looking for the best budget rowing machine that will allow you to perform additional workouts, then the Fitness Reality 1000 Plus may be your best bet.
Key Features
Rower with Bluetooth smart technology
MyCloudFitness App available on Android and iOS for tracking workout progress
Patent pending anterior stabilizer foot pads that allows for extra workouts
Extra wide handlebar for comfortable grips
14 resistance levels for simple or more tasking workouts
Large 3.5 inches LCD console
250 pounds weight capacity
Comfortable large contoured cushioned seat
It will take approximately forty minutes to put this unit together and all that is required of the user is minimal DIY skills. The rower uses magnetic resistance and is extremely quiet. Therefore, if you use the unit in a small space or live in an apartment, you can be sure the noise will not disturb your neighbors. The magnetic resistance offers 14 difficulty levels, which means it can work for both the amateur as well as the professional user.
The rowing machine features Bluetooth smart technology in addition to a free MyCloudFitness app (available on Android and iOS devices) with which you can track your workout progress. The app will let you select between three-workout goal settings including distance, time plus calories burned.
The unit comes with a large 3.5 inches LCD console. This console will help keep you focused and motivated as it displays workout data like distance, total count, time, scan, strokes per minute and calories burned.
The rowing machine is sturdily constructed to support a maximum user weight capacity of 250 pounds.
Pros
14 levels of magnetic resistance
Bluetooth functionality
Very simple assembly
Quiet and smooth rowing stroke
Free MyCloudFitness App to monitor workout progress
Engineered to allow for extra workouts
Cons
Short warranty period
Limited Bluetooth functions
---
Stamina ATS Air Rower 1399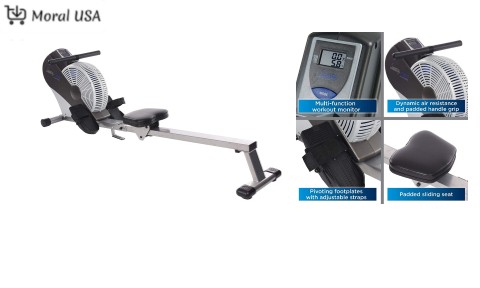 Do you want a rowing machine with air resistance system, but do not want to break the bank to buy it? If you answered yes, then you will certainly have what you are looking for with the Stamina ATS Air Rower. It is the best buy rowing machine with fantastic features that will help keep your body fit and toned. The unit comes with a comfortable padded seat, sturdy steel frame, and costs only a fraction of high-end rowing machines with air resistance system.
Key Features
Provides Air Resistance that matches your pace
Large LCD workout monitor to track time, distance, speed, plus calories burned
Upholstered, padded seat for superior comfort during your workouts
Padded rowing handle
Adjustable footplates
Built-in wheels for easy movement
Folding frame for simple storage
Floor protectors to ensure your workout area is not ruined
The Stamina ATS Air Rower uses air resistance instead of controlled resistance. What this means is that there is no button to press or knob to turn in order to alter resistance levels. Thus, the harder and faster you row, the greater the resistance.
The unit comes with a large LCD workout monitor that will help you track basic workout data including calories, time, distance and speed. Bear in mind that the monitor is not back-lit thus reading when in low lit areas may be difficult.
The frame of this unit is made from solid-steel which means it is very strong and durable. As you may already know, rowers that use air resistance mechanism can be noisy, and that means this rowing machine is not quiet. Nevertheless, the noise level is not much of a nuisance, particularly when you know the device will not stay silent during use.
The manufacturers of this machine say it can support a maximum user weight of 250 pounds however, some users who weigh as much as 280 pounds say they have used the machine with no issues. The unit is best suited for users with a maximum height of 6'4". The unit's assembled dimension is 77 inches x 18 inches x 22 inches (LxWxH) and it weighs 55 pounds.
Pros
Provides entire body workout
Reasonably priced
Impressive resistance
Folds for storage
Comfortable upholstered seat
Durable steel frame
Cons
The display console units are not in metric which may be somewhat inconvenient
---
Stamina BodyTrac Glider Hydraulic Rowing 1050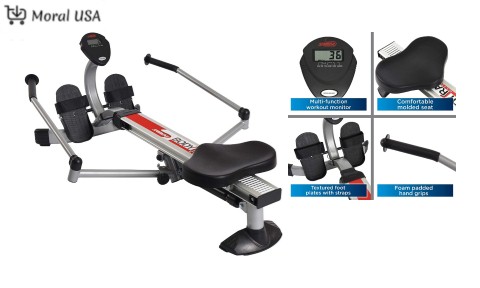 This remarkable rowing machine from Stamina is rated as the best rowing machine for home use that delivers low-impact exercises for the indoor workout enthusiast. The Glider weighs approximately 39 pounds, has a foldable frame and its size is compact. If you use this device on a regular basis, it will definitely help tone and shape your entire arms, back, ab, butt, calves, and thighs.
Key Features
Innovative, complete-range-of-motion rowing
Multi-function LCD monitor to keep track of your progress
Comfortable molded seat
Modifiable, hydraulic cylinder resistance that allows for a smooth rowing stroke
Textured footplates plus straps to secure your feet
Padded hand grips for extra comfort
The main components of this machine arrive pre-assembled. The components that need assembly are majorly the arms, pedals, and seat. The makers recommend two individuals to put this unit together, however with a little DIY skills, you can assemble this device without extra assistance in approximately 30 minutes.
The Glider 1050 is a rower with hydraulic piston resistance. Hydraulic-pistons function by rotating a handle to open as well as close a miniature opening within the piston. This unit offers twelve different resistance levels. If you are a beginner, you can begin with level 1 and then work your way up to level 12 as you garner more experience.
The Stamina Body Trac Glider 1050 Rowing Machine comes with a display screen that will display your distance, stroke count, time, speed as well as the calories burned during your workout session. This info will help you track your progress so you can continue working towards achieving your fitness objectives.
The unit's handgrips are padded, which makes them sweat-resistant and comfortable to hold. If you enjoy doing extended workouts, you can be sure you will not feel any discomfort – thanks to the unit's molded seat. In addition, the Glider has textured footplates plus straps to ensure your feet are properly secured during workout.
Pros
Adjustable resistance to suit various fitness levels
Lightweight construction
Simple to assemble
Complete range-of-motion rowing that mimics rowing on water
Folds for storage
Cons
Short warranty period of 90 days
Folding is not sufficient for the unit to be stored under a bed
---
Sunny Health & Fitness Magnetic Rowing SF-RW5801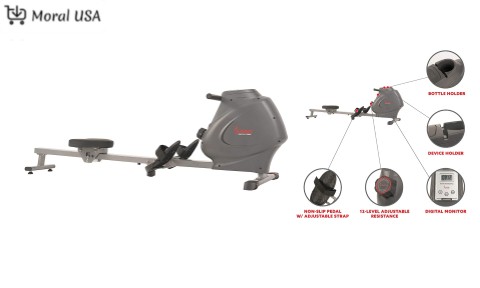 This rowing machine from Sunny Health & Fitness is an excellent choice for anyone who is searching for a modern rower that will deliver low impact complete body workout. The unit comes with fantastic features like magnetic resistance, tablet iPad holder plus an elegant LCD monitor. The rower is designed for home use providing strength and cardiovascular benefits to the user.
Key Features
16 Magnetic resistance levels to ensure a challenging and versatile workout experience
Fitted with Bottle and Device Holder
Foldable rowing machine
Heavy-duty frame
Oversized padded seating
Smart LCD Monitor
The Sunny Health & Fitness Compact Folding Magnetic Rowing Machine is one of the finest compact rowers available in the market. The unit offers 16 magnetic resistance levels that will give you a challenging plus effective workout with practically no maintenance.
The device has an easy to read SPM Monitor with which you can check out all of your fitness stats. The monitor displays basic workout parameters including scan, total count, calories, count and time. It also features a compartment where you can place your water bottle and smartphone to view your preferred fitness videos.
This impressive little rower should satisfy the needs of both amateur and advanced fitness freaks. The unit is also very comfortable to use – thanks to its very large and comfortable completely padded sweat-resistant seat. It also comes with built-in wheels for easy movement, slip-resistant handlebars as well as large non-slip foot pedals plus adjustable foot straps to keep your feet fully secured during your workout sessions.
All these great features have qualified the Sunny Health & Fitness Compact Folding Magnetic Rowing Machine to be projected as the best rowing machine under 300 dollars in the market today.
Pros
Completely padded seat
Comes with floor protectors
Large non-slip pedals
Smart LCD monitor
Durable
Cons
Some users have complained about the quality of the components