For many people, grilling is about more than just liking food with a particular flavor. This type of cooking is often associated with summer days and get-together with family and friends. It has become so popular that more people try to grill food in other settings such as campsites or tailgate parties. While many large gas grills can be transported to any location, most amateur chefs dream about the kind of grills they can easily load into their truck or car trunk. The idea of portability is beneficial in a number of ways. It suits the lifestyle of people who enjoy the outdoor lifestyle, and it is the best option for people who have small yards or live in apartments. Small gas grills are highly convenient as they can be quickly set up when it is time to cook. Simply connect the fuel and you can get started. If the grill has a grease collection feature, cleaning up will not take much time afterwards. Anyone can have the grilled taste regardless of their location or the size of their homes. Since more people are showing an interest in grilling, it is expected that small gas grills will be among the most sought after products. Here are some of the best small gas grills that deserve consideration.
See Also:6 Best Flat Top Grills-Reviewed&Rated
5 Best Small Gas Grills
Cuisinart Portable Tabletop Gas Grill CGG-180T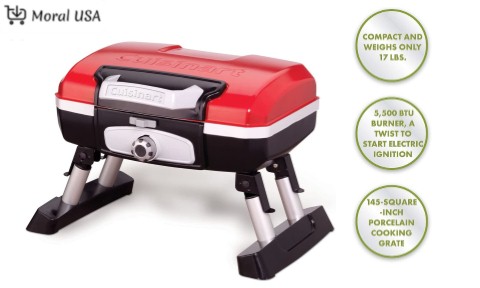 One of the first things anyone will notice about this small gas grill is the distinctive, bright red hood. It has four thick aluminum legs attached to two legs to keep the unit stable and they can be locked in place quickly. Despite its compact design, it has an impressive 145 square inches of cooking space. This is enough for up to eight burgers at one time. The briefcase style handle underscores the portability of this grill. The 5,500 BTU burners provide fast, even cooking.
Pros
At just 13.5 pounds, this gas grill is very easy to carry.
The lid can be kept secure with the built in lock.
The legs can be folded up, making this already small grill easy to store and transport.
The legs can be extended, so the chef can choose the best location for grilling.
The porcelain-enameled grates are easy to clean.
The burner covers and drip tray can be placed in the dishwasher.
Cons
It has a shallow dome, so there will be issues when trying to grill some types of meats.
Some heat will be lost when the lid is opened, and it may take a few minutes for the heat to get back to the same level.
---
Coleman RoadTrip LXX Portable Propane Grill
This small gas grill has a sleek, modern design with a crisp black finish. The 285 square inches of cooking space can easily handle the needs of a small group. The meat will be cooked evenly with 20,000 BTUs of heat, and there are two burners with individual controls. It has two side tables that can be used for utensils or as a meal prep area. The handy tool hooks at the front of the grill will help to keep the cooking organized. The sturdy steel body will ensure that this grill lasts a long time with proper care. It has two wheels and two legs, so it can be easily moved around and then secured when necessary. The supports fold out and they can be quickly folded in when the grill must be moved. The simple design ensures that anyone can assemble this grill quickly. This is why it is a good choice for cooking away from home at a campsite or picnic.
Pros
This grill can take additional attachments like another burner grate or an extra griddle.
You can swap the grill grates for a griddle depending on what you plan to cook.
It can be transported in a car trunk or a truck when it is collapsed.
No matches are needed as this grill lights up with the push of a button.
Cons
The full height of the grill might be too low for some people, so base support may be necessary to raise it for the comfort of the chef.
Some people might not like the idea of having to buy additional attachments.
---
Cuisinart Propane Portable Gas Grill CGG-059
This compact gas grill has a single 8,000 BTU burner. Despite its size, it has 146 square inches of cooking space, which enough to cook for eight people. It can be used right after it is purchased, as no assembly is required. This grill is ideal for use anywhere and it is very easy to transport. It has a matte silver finish and a stainless steel lid handle. The lid lock will keep it secure when the grill is being transported or carried.
Pros
It works with a 1 pound propane tank, making it one of the best small grills for camping, picnics or tailgating.
When the hood is lifted you have full access to the cooking area as the hood will not cause an obstruction.
The steel grates can be cleaned in the dishwasher.
Inexperienced grillers will like the fact that this grill can be used out of the box, and can be set up in minutes to start cooking.
It weighs only 10 pounds, so almost anyone can carry it.
It can be used on a tabletop without worrying about heat damage.
Cons
Given its size, it is not as sturdy as larger grills.
It can lose a lot of heat when the lid is opened.
---
Blackstone Table Top Gas Grill 1650
For people who like to grill on the go, this offering from Blackstone is hard to beat. This is aided by the fact that it uses 1 pound propane bottles. This makes it ideal for long road trips or camping, and it can easily fit in a car trunk. Cleaning up only requires wiping off the griddle or emptying the grease catcher. This small grill is easy to carry and just as easy to store. It has a simple, no-frills design, with a surprising 260 square inches of cooking space. It heats up quickly and cooks evenly with 12,000 BTUs of heat. In spite of its size, this portable grill is sturdy. The high quality material will not rust easily due to the black powder coating, so it is quite suitable for using outdoors.
Pros
It is relatively lightweight so it can be carried around by hand.
It has a quick start electric ignition system.
The grease trap helps to prevent flare-ups during cooking.
Only minimal assembly is required.
Cons
There can be slight warping after repeated use.
It is not the best option for cooking for a lot of people.
---
Weber Liquid Propane Grill 50060001
With a height of 14 inches and width of 27 inches, there should be no trouble finding storage space for this small grill. It has a stylish, dome shaped design, with a cast aluminum lid and body. Since it comes assembled, anyone can start grilling as soon as it is delivered. It has a cooking area of 189 square inches, and the single burner provides 8,500 BTUs of heat for fast, steady cooking. This grill requires a disposable cylinder which is sold separately.
Pros
Valve settings offer great temperature control.
The push button ignition starts the grill quickly.
This small grill can be used on a tabletop and it will not cause damage.
Its portability makes it suitable for camping and other outdoor settings.
It has a temperature gauge which allows better monitoring of food while cooking.
Cons
It requires pre-heating before it can be used so it can consume more fuel than similarly sized grills.
---
See Also:5 Top-Rated Best Outdoor Grills Reviews
Small gas grills vary in size and quality so it is wise to explore the options available before making a purchase. Some serious grillers might be inclined to ignore these because of their size. However, the convenience of being able to cook when away from home is an advantage that should not be overlooked. Many small grills cook just as well as larger types. They may not be able to serve as many people, but the BTUs and heat settings are often comparable. While many small gas grills have just a single burner, in most cases this is enough for a family or a group of 8-10 people. With this in mind, the size of the cooking area is certainly a factor that deserves attention.
Small gas grills are the most suitable option for people who have limited outdoor space or who live in apartments. They can be easily stored so they will not be in the way, and they can be used without the need for extensive cleaning up afterwards. When looking for the best small gas grills, cost is important. Luckily, many can be found that cost less than $200.  The materials and the overall durability of the grill will determine how much enjoyment you can get from it before it needs to be replaced.