Gas grills are fueled by either propane or natural gas. These days most of the gas grills on the market use propane. Of some interest is the fact that most propane gas grills can be easily converted to use natural gas. These types of gas grills are also the most popular for outdoor cooking. Propane is a very efficient source of fuel, but it does have the downside of emitting higher levels of carbon monoxide gases. This however, means that this type of grill is great for outdoor grilling.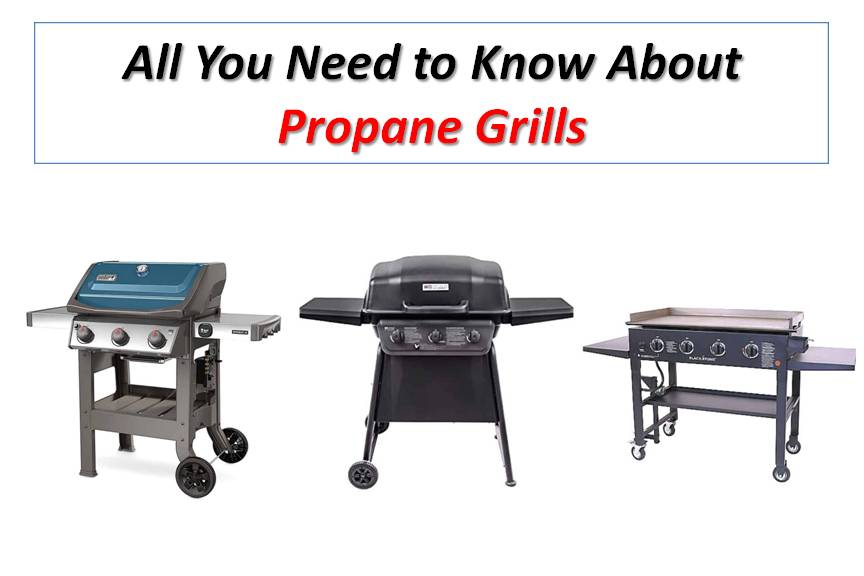 One of the great things about these grills is that they can be used indoors. Of course, you have to take special care to prevent leaks and ensure that there is vents to release any build-up of gases.  It is also important to determine beforehand, if the manufacturers recommend that the grill can be safely used indoors. If the grill has an Underwriters Laboratories certification (UL) mark, it is generally safe for indoor use. Once you do this, using this grill indoors is similar to using it outdoors.
Some of the benefits of using a propane grills are:
They are generally portable making them ideal for picnics and tailgating parties;
They heat up a lot quicker than natural gas;
Replacement propane tanks are easy to get;
They are much easier to clean up than charcoal grills.
Safe Grilling with Propane Grills
Like with any other types of grills, such as the more traditional charcoal grills, safety is important. Some standard safety tip for these types of grills are:
Read the manufacturer's instructions carefully before you start using the grill. Even if you have used this or any other type of gas grills before, you may need the guidance;
The grill should be placed on a level surface to prevent it from falling over;
It is also recommended that grills should be some distance away from the house or other structures. Some sources recommend a distance of between 10 and 15 feet away;
Once connected always make sure that the hose is connected properly and there are no leaks. If there are a sign of damage or cracks in the gas line, it should not be used;
Children and pets should not be allowed close to the cooking/grilling area;
Propane tanks should ideally be stored outside. It should also be in a vertical position and kept upright;
Propane tanks should not be carried inside a warm vehicle and to is best if the vehicle is not driven over rough surfaces;
If you plan on using the grill
Using Propane Grills
One of the first things to consider when using this type of grill is to purchase propane grill lava rocks. These are placed under the grill to help to distribute the heat evenly for proper cooking. This is one of the major differences between a charcoal grill and a gas grill; charcoal grills work well to distribute heat.
There is a wide variety of propane and gas grills on the market to choose from when you are buying. Depending on your needs and the number of persons you will be cooking for, you can select a grill from under $300. Of course, there are high-end models costing over $1000.
Now is a great time to start searching for the perfect propane grill. You will be sure to find one that suits our pocket and your cooking needs.