What Are Crocs Made Of? Explained in Detail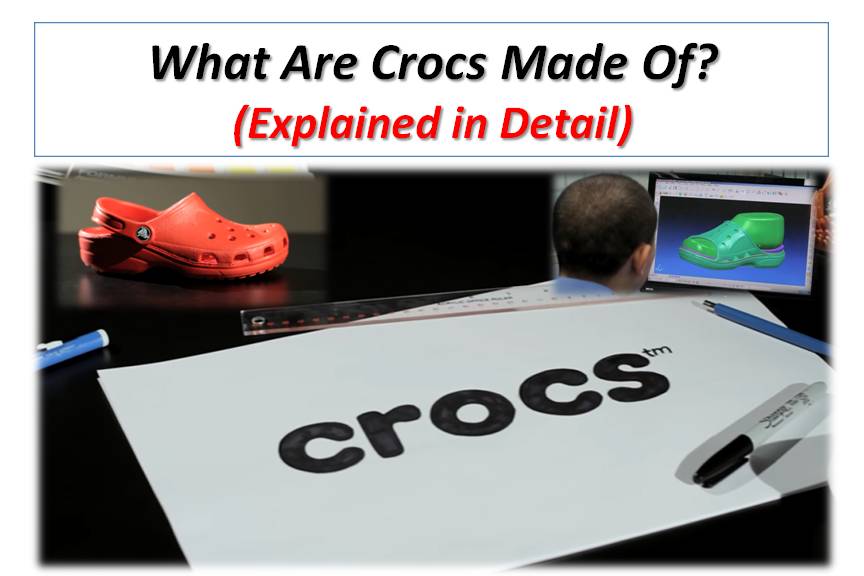 Crocs are perhaps the comfiest shoes you will ever wear. These shoes can complement any outfit – thanks to their versatile construction. Crocs are also extremely popular around the globe. If you have never bought a pair, chances are that you intend to do so. As an extremely popular shoe brand worldwide, there are several questions people have concerning crocs including 'what are crocs made of'? If you want to discover what crocs are made of then this guide will bring you all the details.
What Are Crocs Made Of? Ultimate Guide
Crocs material composition
The main patented material used in making nearly all crocs shoes is croslite. Croslite is a foam resin that features a closed-cell makeup. This material contains polymers derived from crude oil. Thus, crocs can be said to be made from crude oil and not plastics or rubber.
Croslite is a unique material that is exceptionally lightweight yet provides just the appropriate degree of cushioning in croc's shoes. Furthermore, this material is odor resistant, prevents the growth of bacteria, and will not harm the feet. Another reason crocs favor this material in making their shoes is due to its ease of maintenance. When the material is stained or dirty, you can easily remove the dirt using only a mild solution of soapy water.
Since croslite is a lightweight material, crocs shoes are generally light in weight. This makes them highly comfortable and flexible to wear for various activities.
See also: How to Stretch Crocs?
Summary of the benefits offered by croslite material used in making crocs
Has antimicrobial properties
Lightweight
Resists UV rays of the sun
Has insulation properties
Slip-resistant
Nontoxic
Odor-free
Easy to maintain
Durable
Flexible
Has fantastic shock absorption capability
Waterproof
Comes in a wide range of colors
Easily molds to the foot's outline
Although croslite has several benefits, it has some negative aspects. Croslite can be ruined with exposure to strong sunlight or other high temperature. For this reason, the manufacturers of these shoes recommend that the shoes be stored within a cool, dry area. Furthermore, crocs shoes become less grippy with regular wear. When your crocs are no longer slip-resistant, you have to replace them to prevent slips and falls.
Where are crocs shoes made?
Although Crocs is headquartered in Colorado USA, these cozy shoes are manufactured in several locations around the globe. Below are some of the countries where Crocs shoes are made:
China
Indonesia
Romania
Argentina
Italy
Vietnam
Herzegovina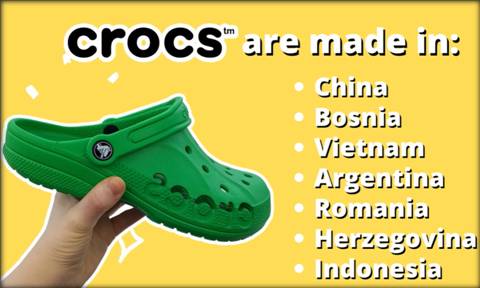 Differences between the authentic crocs shoes and the counterfeits
Many crocs phonies have been made but the fakes can never perform anywhere close to what authentic crocs offer. The reason is not far-fetched; original crocs are crafted using a specially formulated croslite material. Excluding price differences (the authentic crocs are generally a lot more costly), there are 7 major differences between the authentic crocs shoes and the fakes.
Signs to identify authentic crocs
The crocs logo is imprinted on the surface of the original crocs. This logo is shiny and accurate. On fake crocs, the logo is generally placed as a sticker.
When you purchase original crocs, a branded hanger with the company's logo is included in the package.
Authentic crocs come with many labels that contain essential information about the product including size, model, material, and so forth.
The crocs logo is also imprinted on the soles of authentic crocs at the center. The official crocs web address (crocs.com) is also imprinted on the underside of these shoes.
You will find the words "boulder, colorado" also imprinted opposite the side where the web address is imprinted. Note that the words are separated by a comma and not a dot.
Authentic crocs are packaged within a branded bag and never within a cardboard box. This branded bag can be a white paper bag or a see-through plastic bag.
When you slide your feet into a pair of authentic crocs, you should not experience any chafing.
Conclusion: What are crocs made of?
The croslite material used in making crocs works to the user's best benefit. It molds to the wearer's feet delivering lasting comfort. It is no wonder crocs are rated among the finest ergonomically constructed shoes globally. It is hoped you have learned some beneficial info regarding the Crocs brand. This should help you make an informed purchase.