8 Best Shoes for Office Work Ladies (That Are Also Cute)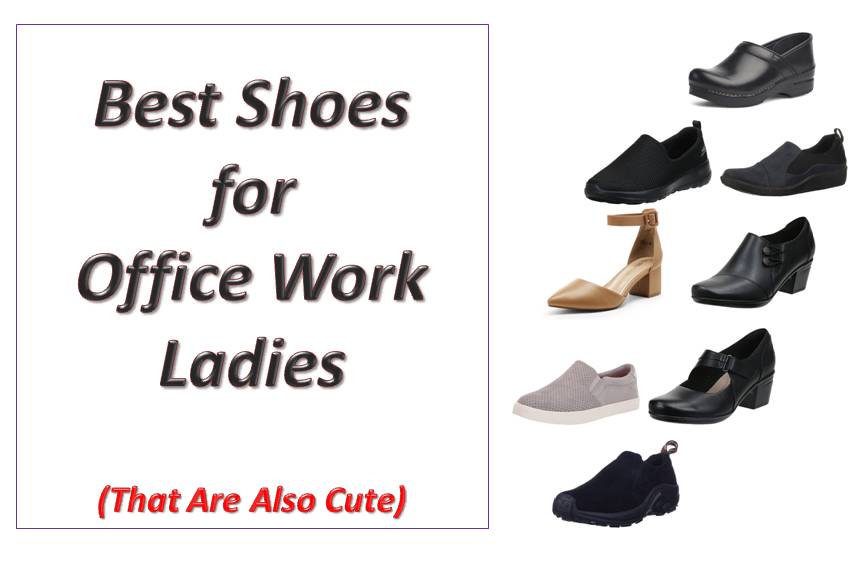 While style is a vital factor when selecting your work shoes, you want a pair that is comfortable and fits well. Since you will be spending eight-plus hours in these shoes, you do not want to experience pain the entire day. That is why we spent several hours compiling a list of the best shoes for office work ladies. These selections are not only comfortable but amazingly fashionable as well. From brands like Clarks, Dr. Scholl, Dansko, and Skechers, there is an option for each price point. Continue reading to discover your match.
See also: How to Measure Your Feet for Shoes
Best Shoes for Office Work Ladies – Top Picks
Clarks Emslie Warren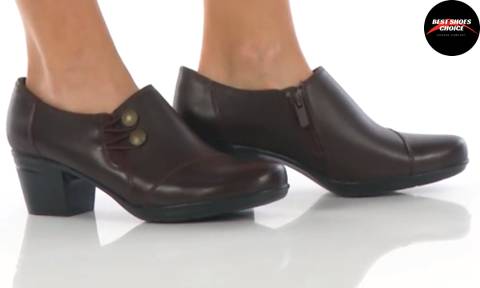 If you are hunting for cozy but cute dress work shoes, then you should check out the Emslie Warren from Clarks. The shoes are superb whether you use them for play or work. Your feet will stay cozy all day – thanks to the shoes' ortholite footbed plus cushion soft technology. The button detailing and moderate heel give the footwear a stylish spirit.
Key Features
Breathable leather upper
Ortholite footbed
Block heel
Rubber sole
Button trims
Heel height: 2.16-inch
Cushion soft technology
Inner zipper
The Emslie Warren has an extremely stylish look, a departure from the usually conservative Clarks iconic models. The slip-on bootie loafer shoe is versatile enough for any style. The upper is modish and beautiful while the short block heel gives the footwear a conservative profile. This masterpiece dress shoe comes in dark brown, navy, and classic black for that timeless classiness.
These days, most shoes have synthetic materials in their makeup. Though synthetic leather offers some important benefits, genuine leather is always of great value. The upper of the Emslie Warren is constructed using 100 percent leather. Leather is gotten from the skin and hides of animals meaning that it is naturally breathable. Bear in mind that these are not engineered for summer conditions. However, they will be fantastic winter office shoes.
This Clark's shoe model features an ortholite footbed plus cushion soft technology. These features help make the shoes extremely comfortable and perhaps the best office work shoes on the market. The shoes are fitted with 2-inch block heels. This feature helps spread out the strain on your heels thus ensuring you stand and walk more smoothly. Many customers have given this footwear a 5-star rating because of its block heel. These customers note that it is extremely uncommon to find shoes with a block heel that also looks fashionable.
The Clarks Emslie Warren also scores remarkable points for its extraordinary durability. As mentioned earlier, the upper is 100 percent leather, which says a lot regarding its durability. Most users concur that the shoes are well constructed and durable. It is recommended that you regularly treat the leather upper using the appropriate cream, oil, or conditioner. This way, the shoes will stay in top shape, and thus last you a long time.
The outsole of this Clarks shoe offering comprises rubber. The rubber completely covers the forefoot and the heel sections of the shoes. This attribute adds to the shoe's overall durability. If you are wide-footed, these may not be a good fit for you. Like with most Clarks' offerings, the Emslie Warren runs a bit narrow. However, if you typically wear narrow-width shoes, these will work great for you. The Clarks Emslie Warren is fitted with an inner zipper that helps make it simple to remove/wear this shoe-bootie hybrid.
Pros
Fashionable yet comfy
Durable
Supportive
Great narrow width shoes
Versatile design
Cons
Some users have complained about the side zipper noting that it doesn't always stay up
Not appropriate for wide-footed individuals
See also: Best Shoes for 12 Hour Shifts
---
Clarks Emslie Lulin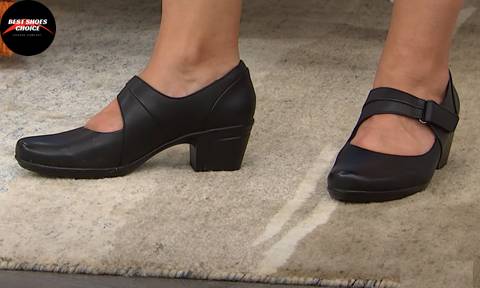 Women typically want their footwear to be comfy for everyday use yet stylish. The Clarks Emslie Lulin Pump offers you these and more. The shoes look classy and simple and are exceedingly cozy. The 2-inch heels deliver just the appropriate height for most ladies. And, they are silent as you walk, which is generally unlike most high-heeled shoes. Keep reading. Why is the Clarks Emslie Lulin Pump the best shoes for the office women's? Keep reading to find out.
Key Features
Ortholite footbed
Rubber sole
Textile lining material
100% leather upper
Cushion soft
Heel measurement: About 2″
The Clarks Emslie Lulin Pump is extremely comfy straight from the box. Nearly all previous purchasers agree that no breaking in is required. One of the shoe's endearing attributes is its highly flexible soles. Flexibility within the sole helps ensure proper flexing of your forefoot as you walk. Also, supporting your foot's natural flexibility decreases strain and pressure on other sections of your foot and body. This can help prevent injury to your joints.
The Clarks Emslie Lulin Pump is fitted with a strap that goes across your feet. This strap has a loop and hook closure that lets you adjust the strap cozily to your foot. The ease of adjustability of this strap makes these shoes exceptionally adaptable to nearly every foot width. So, if your feet are a little broad, these shoes will fit extremely comfortably.
The Emslie Lulin features a 2.16-inch heel that is crafted using TPR rubber. Some of the benefits that TPR rubber offer includes: excellent abrasion resistance, superb dielectric properties, high impact strength, and impressive elasticity. All these mean that the heels of these shoes are highly durable and lightweight.
Experiencing discomfort within the lower body at the workplace is common these days. However, this should never be regarded as normal and you should never have to endure it. Working mostly on your feet without proper footwear can exacerbate the problem. Thankfully, the footbed of this Clarks' shoe model is well cushioned and supportive. The shoe's ortholite footbed helps lessen the impact and wicks away moisture thereby delivering ultimate comfort.
The leather upper is supple yet robust. The upper looks nice and the shoes pair well with skirts and pants. Overall, if you are on the hunt for a cozy shoe that is not excessively high and can withstand long hours of standing, these shoes come highly recommended. Most users agree that the Clarks Emslie Lulin Pump is worth every penny.
Pros
Flexible and comfort
Rubber sole delivers excellent traction
Stylish construction
Well-cushioned
Long-lasting
Cons
A few users report that the shoes are poorly constructed
See also: How Often Should You Replace Work Shoes?
---
Skechers Go Walk Joy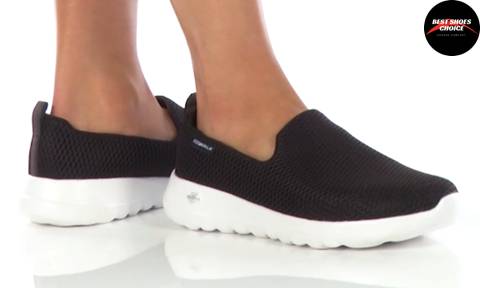 Skechers is famous for making cozy and elegant shoes that are utilized by millions of individuals around the globe. The Go Walk Joy by Skechers is adored by millions globally, majorly due to its immense comfort and incredible performance. The footwear is offered in a broad variety of color choices and it is admiringly durable. Aside from being one of the best shoes for office work ladies, Go Walk Joy is also suitable for walking and running errands.
Key Features
100% synthetic uppers
Responsive 5Gen cushioning
Rubber sole
Goga Max Insole
Padded collar
Plush fabric lining
Breathable mesh upper
Flexible and lightweight
Once you try these sneakers on, you will not fail to detect how cozy they are. The mesh upper is specially designed to ensure your feet stay dry and cool even in hot humid weather. The footbed is nicely cushioned, providing matchless coziness you can depend on. Furthermore, the plush fabric lining plus padded collar adds to the shoes' overall convenience.
The soles are cushiony, ideal for standing or walking around all day. Several users report that the cushioned soles help them deal with back pain on long work days. The Go Walk Joy comes in numerous color options so you will always find the appropriate match for your work outfit.
These shoes come in normal and broad-size options. So, regardless of the size and shape of your feet, you will find a pair that will give you excellent support and stability. There have been complaints of buyers not getting the appropriate sizes. Some customers report that even after ordering their normal size, the shoes they received were somewhat large. To fix this, you should consider ordering a size smaller compared to your normal size.
If you are broad-footed, it is recommended that you order your typical size in the broad width rather than a bigger size. The Skechers Go Walk Joy is also highly beneficial for individuals with foot problems. Several customers with hammer toes, arthritis, and bunions say they love these shoes. These customers note that the wide option adds more space to accommodate their foot deformities.
Another noteworthy attribute of this sketchers' pair is how lightweight they are. These shoes weigh a measly 5.3oz, making them one of the lightest types of office shoes for ladies. The breathable mesh upper is also light in weight, adding to the footwear's overall lightweight feel.
Cleaning the Skechers Go Walk Joy will not give you any hassles. You can give them a thorough cleaning by simply throwing them in the washer for about 20 to 30 minutes. The shoes also dry quickly when they get wet. When the white soles get stained, you get them sparkly clean again with the aid of Mr. Clean magic eraser.
If you are seeking versatile work shoes that are also very affordable, the Skechers Go Walk Joy is arguably your best bet.
Pros
Versatile design
Great for bunions and other foot conditions
Incredibly comfortable
Cheap price tag
Ultra-lightweight
Cons
Runs somewhat large
Sizing issues
See also: Are Sneakers Good for Walking?
---
Dr. Scholl's Madison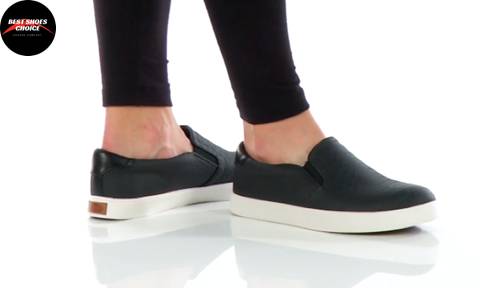 If you are looking for the best footwear for office, then look no further than this comfy Dr. Scholl's sneaker. When you are running late for work, slip-on footwear is your go-to. This sneaker comes with no pesky laces, straps, or zips. Thus, you can effortlessly glide your feet into the shoes and dash out the door. Breathable work shoes will help keep you comfy and safe for extended hours on the job. This sneaker also checks this extremely important box.
Key Features
Lightweight flexible design
Slip-on fit
Padded collar
Rubber sole
Soft linings plus microfiber made using recycled plastic bottles
Anatomically cushioned footbed
The upper of Dr. Scholl's Madison come in diverse styles. Each style is made using different materials and they have diverse colors. Some of the materials used include faux leather, microfiber, quilted fabric, jacquard materials, and calf hair. Each style features an extremely plush collar plus soft interior lining. These design features are to ensure lasting comfort for your feet.
If you work mostly on your feet, these sneakers offer a decent degree of support that you will be thankful for. The interior of these sneakers is memory foam. Once you wear these shoes, the memory foam sculpts to your foot delivering just the right measure of arch support. Most previous purchasers report that Dr. Scholl's Madison feels extremely cozy whether you wear them with socks or not. This high degree of comfort is made possible mostly by the memory foam insole.
The rubber outsole offers trustworthy traction. Sturdy shoes with reliable traction are essential if you walk around a lot at work. The undersides of the rubber soles are well patterned to avert slipping and falling. Apart from delivering excellent traction, the durable rubber soles add to the footwear's overall durability. These Dr. Scholl's sneakers are adequately equipped to last you many miles of walking.
The footwear's memory foam insoles have gel beads that play an important part in keeping your feet cool and comfy. This insole is detachable so you can simply swap them for something better if they do not meet your requirements. These Dr. Scholl's sneakers are also true to size fitting. So, once you have correctly determined your foot size, you can easily select the right pair for you.
The shoes are fitted with elastic bands on each side to give them a better fit. And since these are slip-ons, you will not have to struggle with laces when putting on or removing the shoes. Several users note that these shoes run a little wide. Thus, if you are narrow-footed, you can achieve a good fit by wearing thick socks with these shoes.
Being an extremely versatile pair of sneakers, you can wear them for several pursuits and with practically any outfit. They are undoubtedly one of the best shoes for office work ladies. While they make fantastic walking shoes, they are not suitable for running.
Overall, Dr. Scholl's Madison is a highly comfortable, versatile, and affordable pair of sneakers. They look fantastic and are offered in a broad variety of styles and colorways.
Pros
Offered in numerous color choices
Highly breathable
A stretchy upper allows for a great fit
Detachable insole
Fantastic price point
A cozy memory foam interior
Cons
Some users have complained that the sneakers are somewhat heavy
There have been complaints about difficulty in cleaning
See also: How to Remove Creases From Leather Shoes
---
Merrell Jungle Moc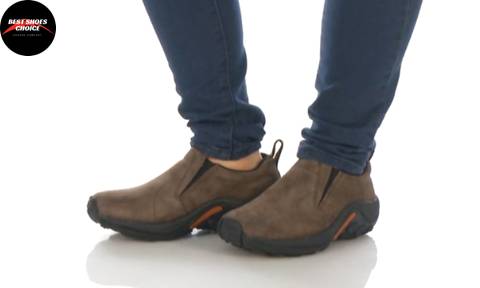 Merrell created the Jungle Moc as a recovery shoe. Thus, after a hectic workout session, you can slip on the Jungle Moc to relax your feet. However, these shoes can also be utilized for dressing up and for work as it looks trendy and clean. The shoe's most endearing attribute is perhaps its slip-on design. You can simply slip these on whenever you need to dash out and do some errands. The Merrel Jungle is highly versatile in that sense.
Key Features
100 percent leather upper
Molded nylon arch shank
Breathable mesh lining
M-Select fit.eco EVA contoured footbed
Merrell Air Cushion
The Jungle Moc from Merrell is a women's slip-on casual footwear. The shoe weighs just about 0.7 pounds (roughly 319 grams). While this is considered heavy compared to a regular walking shoe, it remains one of the best women's shoes for office work.
The upper is crafted out of 100 percent suede leather, which delivers admirable protection and toughness.
The rubber outsole is not only durable but offers extra protective elements to the heel region. Most previous buyers note that the footwear's arch support is dead-on. The insole supplies semi-rigid arch support for medium to high-arched individuals. The insole can be taken out, so you can exchange it for something a little more cushioned if necessary.
The women's Jungle Moc's midsole comprises EVA foam that cushions the shoe's interior. This midsole also works great at absorbing shocks. In addition, Merrell employed their M-Select fit. eco EVA contoured footbed in making these shoes. This footbed provides extra cushioning and comfort.
Another comfort technology employed in making this footwear is what Merrell refers to as Air Cushion technology. This technology is utilized with the heel section. It functions as a petite trampoline for your heel delivering loads of shock absorption. This feature ensures you have adequate ankle stability plus heel comfort no matter how long you work on your feet.
The outsole of the women's Jungle Moc comprises Merrell's signature M-Select Grip compound. This material furnishes each outsole with robust traction that grips where and when you require it. The M-select Grip compound also adds to the footwear's overall durability. The outsole also features 3-millimeter lugs that are sufficiently spaced apart. The rubber lugs help boost traction whilst ensuring that grime and dirt are released when necessary.
The toe region is rounded giving more room for your toes to splay. The shoe features a stretchy tongue cover that hugs your foot giving you a more secure fit. The main user complaint about these shoes is their limited breathability. The dense suede upper does not allow for adequate airflow inside the shoes. However, this can be beneficial if you will be wearing these in cold weather. If you intend to wear these during summer, be sure to wear light-absorbent socks to control sweating. Thankfully, the shoes are fitted with an anti-bacterial lining for odor control.
Pros
Excellent arch support
Slip-on design
Very comfortable
Highly durable
Slip-resistant
Cons
A bit heavy
Limited breathability
See also: How to Clean White Rubber Soles on Shoes
---
Clarks CloudSteppers Sillian Paz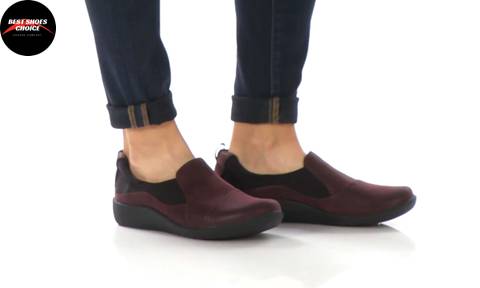 The CloudSteppers line of shoes from Clarks is extremely popular for many reasons. To begin with, these shoes are super durable and rugged while maintaining a lightweight feel. They also offer superlative support and comfort thanks to their cushiony EVA soles. The CloudSteppers Sillian Paz is ideal for individuals who work mainly on their feet. And, owing to its ortholite footbed, the shoe also works well for people who have foot conditions like plantar fasciitis.
Key Features
EVA sole
Synthetic nubuck upper
Heel measures about 1.5-inch
Ultra-lightweight construction
Detachable ortholite footbed
Plush fabric lining
Clarks has been in the shoe manufacturing business for over 200 years. The CloudSteppers Sillian Paz is a true testament to the brand's unmatched genius for quality. Clarks' shoes feel cozy straight from the box and this model is no different. It features a plush fabric lining that offers a cozy and secure fit.
These loafers feature an ortholite footbed that delivers all-day cushioning. So, even if your job entails standing up or walking around for extended periods, the CloudSteppers Sillian Paz has you covered. The EVA outsole is light enough to let you move around for several hours without getting fatigued. The sole also functions as a dependable shock absorber thus shielding your ankles and joints from injury.
The Clarks CloudSteppers Sillian Paz comes with an easy slip-on/off construction. Some users report that they could easily slip on these without even touching the shoes. These Clarks' shoes run a little small. Therefore, if you are broad-footed, you should consider sizing up.
Pros
Super-soft cushioning
Long-lasting nubuck upper
Impressive shock absorption
Available in numerous colorways
Ultra-lightweight design
Very comfortable footbed
Affordable
Cons
Complaints about slip-resistance
Arch support could be better
---
Dream Pairs Annee Pump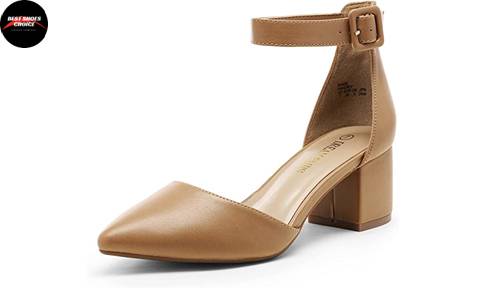 These trendy shoes by Dream Pairs can take you to the office and other places with ease. Stylish and versatile, the Annee Pump can complement a range of business and everyday casual outfits from dresses to jeans. And, you will love the coziness of wearing these shoes. These are very comfortable straight from the box, requiring no break-in. Continue reading to discover other reasons why they are ranked among the best shoes for office work ladies.
Key Features
Latex padded insole
Thermoplastic elastomers sole
TPR rubber sole
D'orsay pointed sole
25-inch heel height
Ankle strap buckle design
Aside from its aesthetic appeal, the Dream Pairs Annee Pump is also super comfortable. It has a chunky low heel that is ideal for those long workdays when you must also maintain a professional appearance. The footwear features a latex padded insole that adds to the shoe's coziness. There have been complaints about the insole squeaking when walking. However, wearing concealed socks can easily resolve this problem.
If you have narrow heels, you will love the ankle straps fitted on these shoes. Most women who have narrow heels regularly experience heel slipping even with new shoes. The ankle straps on the Annee Pump help to keep your feet secure thereby preventing discomfort and awkwardness when walking. This d'Orsay pointed-toe pump comes in a broad assortment of color choices. Therefore, you only have to select a pair that fits not just your outfit, but your individuality as well.
The shoes come with a simple block heel with an approximate height of 2.25 inches. Even with this heel height, several users report that the shoe is just about as cozy as any other flat shoe. The Annee Pump is true to size fitting so you should order your normal size.
Pros
Elegant looking
Exceptionally comfortable
Versatile
Fitted with ankle straps for a secure fitting
Available in a range of colorways
Cons
Some customers have complained that the insoles squeak when walking
Durability concerns
See also: How to Add Grip to Shoes
---
Dansko Professional Clog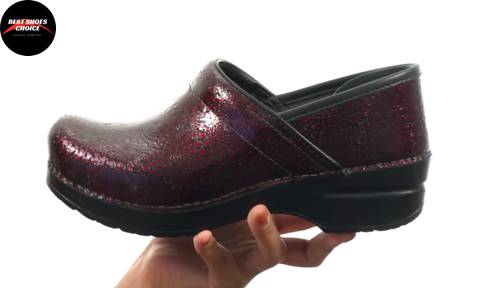 The professional is undoubtedly the flagship model in the Dansko clogs range. The soles are extremely durable and they deliver impressive shock absorption as you walk. Furthermore, they are sufficiently cozy to wear for a complete workday or a casual day out within the city. The clog's leather upper is remarkably stylish and comfortable. It's little wonder they are ranked among the best leather shoes for women.
Key Features
100 percent leather upper
Platform measures about 0.75-inch
Polyurethane sole
Heel measures about 2-inch
Polyurethane inner frame
Padded instep collar
Memory foam insole
Rounded toe box
Dansko clogs generally require a bit of break-in time. Nevertheless, most previous buyers of the professional clog agree that the break-in time is painless. This is mostly because the leather upper is sufficiently flexible to sculpt to your foot without delay. One of the elements that make this Dansko clog exceedingly comfortable is its spacious reinforced toe box. Aside from giving you plenty of wiggle space, the reinforced toe box functions to protect your toes against spills plus any falling objects.
The clog features a comfy memory foam footbed that delivers exceptional arch support, particularly if you have a flat foot. The downside to this footbed is that it cannot be detached. Therefore, if you wear recommended orthotics, the Dansko professional is not a good fit for you. Another pleasant feature of the Dansko professional is its padded instep collar. The padded collar helps ensure a snug fit around your foot's upper section. It also helps prevent rubbing that may cause blisters.
Some users say these clogs are comparatively expensive. However, these users also point out that the clog lasts very long owing to the top-quality materials used in its construction.
Pros
Offers excellent value for money
Super comfortable
Spacious toe box
Durable
Shock-absorbing footbed
Cons
Needs to be broken in
May not be appropriate for high-arched individuals
See also: Are Clogs Good for your Feet?
---
How to Select the Best Women's Shoes for Office Work
When choosing your go-to office work shoes, consider the following critical factors:
Ensure they are the Appropriate Fit
If you select poor-fitting work shoes, your feet will not be comfortable throughout your work day. Ill-fitting shoes can be either excessively loose leading to friction or excessively tight causing pressure. It is fun to wear stylish shoes and there are loads of cute work shoes on the market. But really, it is best to select comfort over nice looks.
Remember that your feet do not stop enlarging and changing when you attain adulthood. Therefore, be sure to get your feet measured each time you purchase shoes.
Go for Versatile Work Shoes
Select work shoes that you can also wear with a range of outfits. This is especially important if the shoes carry a heavy price tag. You do not want to spend a fortune on shoes that you will get little use out of. Shoes like the Dream Pairs Annee Pump and the Clarks Emslie Warren are sufficiently versatile for office, casual events, and dinners.
Your office Dress Code
Before you settle for particular office work shoes, check with your superiors to ensure it is suitable for your office setting. If you violate your office dress code, you may be asked to go back home and change. This would be a bit embarrassing, to say the least.
See also: Best Shoes to Wear With Scrubs
Material and Design
Choose work shoes that are constructed using durable materials. They should have robust heels and soles to last you a long time. Black, blue, grey, beige, or brown are the colors worn by most women. Since these are neutral colors, it is easy to match them with practically any style of clothing.
Frequently Asked Questions (FAQs)
Are walking shoes suitable for work?
While walking shoes are purposely designed for walking, a good pair can provide stability, comfort, and support when working out or working at the office. These days, most walking shoes are designed to be comfortable and stylish, which makes them perfect for work.
How many Pairs of office work shoes should I have?
The rule of thumb is that you should have one pair for each work day. So, if you go to work 6 days a week, then you should have at least 6 pairs of work shoes.
What Should I order when my preferred office shoes are not available in half sizes?
Generally, the rule is to order up
Conclusion: Best Shoes for Office Work Ladies
So, there you have it, the best shoes for office work ladies. Remember, the appropriate shoes can help lessen, eliminate, or prevent foot pain. Staying comfortable and relaxed on the job is a great way to ensure you enjoy what you do. And, wearing proper-fitting shoes is key.