7 Best Shoes for Nurses with Wide Feet (Reviews & Guide)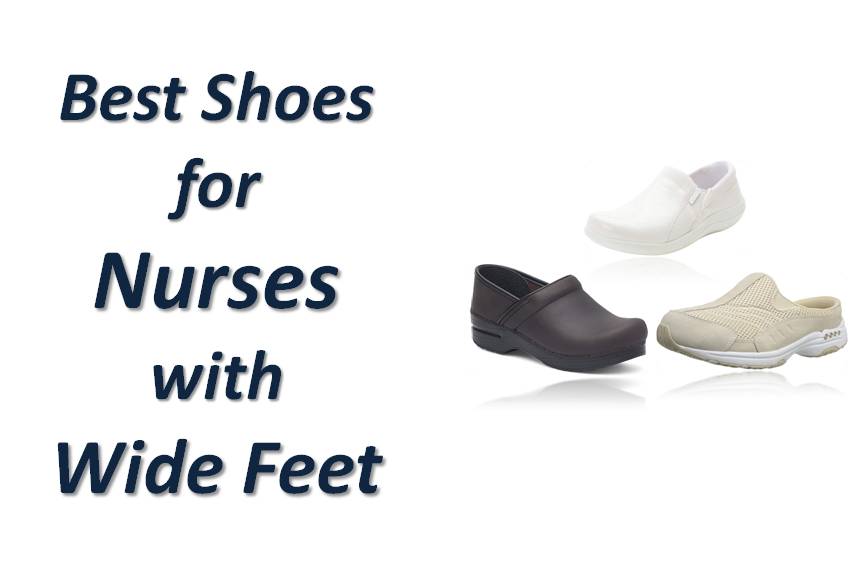 Healthcare workers who spend long hours on their feet understand the importance of top-quality shoes. Nurses, who are typically on duty for twelve-hour shifts during which they get little or no downtime, understand this issue more than most other healthcare professionals do. If you have wide feet, finding the right pair of nursing shoes can be a daunting undertaking. This is because most shoes are designed for individuals with narrow feet. This article will highlight and review some of the best shoes for nurses with wide feet available in the market today.
See also: How to Know if You Have Wide Feet?
Best Shoes for Nurses with Wide Feet – Top Picks
Brooks Women's Adrenaline GTS 19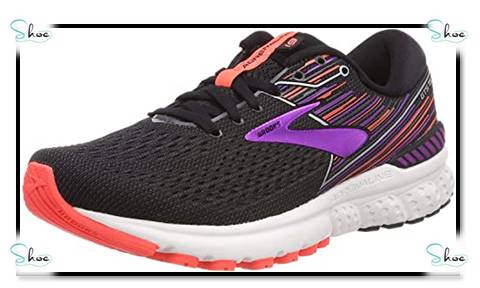 Brooks is popular for creating running shoes with outstanding stability and that is precisely what you will get with the Brooks Adrenaline GTS 19. The GTS in its name stands for Go-To Shoe and the Adrenaline GTS 19 has stayed true to this name. The GTS 19 looks a lot similar to its predecessor the GTS 18. The upper, weight, and drop are similar in both models but the sole unit of the GTS 19 has been overhauled with Guide Rails providing a new style to stability. While the Adrenaline GTS 19 was created for road running, the shoe comes with impressive features that qualify it as one of the best shoes for nurses with wide feet.
Key Features
Guiderail support system for enhanced stability
Rubber sole
Breathable mesh upper materials
BioMoGo DNA plus DNA LOFT cushioning
Well-cushioned tongue and collar
Comfortable fabric lining
Adaptable asymmetrical midfoot saddle
Every shoe brand has one flagship shoe at least. Adrenaline is the flagship shoe from Brooks. The Brooks Adrenaline series remains the best-selling series in the Brooks lineup. When you first unbox this shoe, the first thing you will notice is how chunky the sole looks and feels. But when you slide your feet into the shoes, you cannot fail to notice how comfortable they feel.
In the Brooks Adrenaline GTS 19, Brooks abandoned the dual-density foam that is installed in all previous Adrenalines and replaced it with Guide Rail System to help prevent overpronation. As a nurse, this Guide Rail System will benefit you by helping to reduce foot exhaustion and pain during prolonged shifts.
The GTS 19 features a highly breathable mesh upper material that will stretch to the outline of your foot. This upper material is a little water-resistant and will dry quickly if exposed to wet weather conditions. The upper looks very much like that of its precursor the GTS 18 and many reviewers agree that it is exceptionally comfortable.
If you are looking for the best shoes for nurses with wide feet, give this Brooks model a try. It comes with a spacious toe box and the lacing system is superb.
Pros
Very comfortable
Durable
Sturdy design
A bit waterproof
Cons
Some users say the shoe requires some break-in time
See also: Best Brooks Shoes for Nurses
---
Easy Spirit Women's Traveltime Mule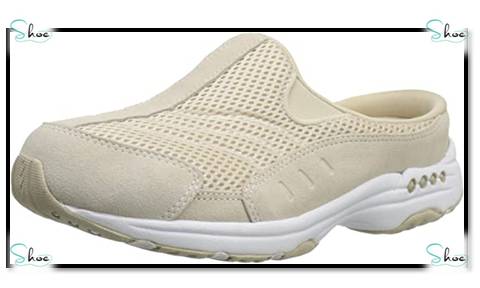 Easy Spirit combined comfort and style in the engineering of this impressive footwear. The shoe is appropriate for everyday wear and is quite cheap compared to other shoes for women with wide feet available in the market. However, they are also loaded with features that make them one of the best shoes for nurses. One of its key features is that the shoes are available in extra wide sizes thus you will definitely be able to find one that will fit your size.
Key Features
Threaded rubber outsole
Detachable insole
Sculpted EVA midsole
Breathable, lightweight
Available in leather or suede plus fabric upper
As regards design, the Easy Spirit Women's Traveltime Mule has a sporty appearance but does not come with laces and a few other features associated with sports shoes. The footwear is available in various colors and you can find conventional colors such as gray, brown, black plus other similar hues. Aside from its sporty and stylish design, this simple slip-on clog can be machine washed, which makes it a great choice for the winter or summer months.
The women's travel time mule from Easy Spirit comes with an extremely soft footbed, sturdy rubber outsole plus a shock-absorbing sole. With these features, you can be sure the footwear will not disappoint you regardless of the terrain you find yourself. The shoes flexible and lightweight rubber outsole offers superior slip-resistant traction so you can get through your workday with confidence.
The Easy Spirit Women's Traveltime Mule is also one of the best shoes for nurses with plantar fasciitis. This is because, in contrast to most mule style shoes, the Women's Traveltime provides a comfortable closed heel fit that will prevent your feet from wobbling around within the shoes. You will also love the great arch support and cushioning provided by this footwear from Easy Spirit. The soft cushioning means you will not have to bother about your feet getting sore during long shifts.
In addition, the patent upper utilized in the shoe's upper allows for sufficient airflow, thereby helping to keep your feet odor-free and dry. The shoe can be worn with socks, and its lightweight design allows for fluid movement.
Pros
Available in wide and extra-wide sizes
Breathable
Lightweight
Leather upper
Simple slip-on design
Highly comfortable
Sturdy and durable outsole
Cons
The shoes can be a bit stiff initially
---
Skechers Women's D'Lites Sneaker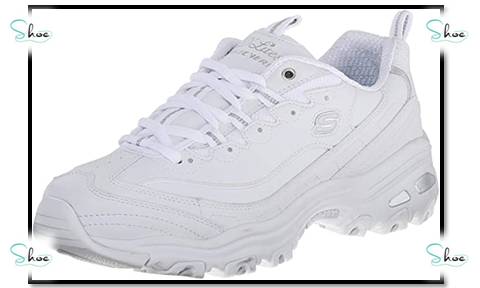 The major selling point of this memory foam sneaker from Skechers is its astonishing design. This comfortable women's sneaker comes with a very casual and trendy design and is very simple to wear and use. It is ranked among the best shoes for nurses as it can provide you with up to twelve wearing hours daily without pain or discomfort. It is also a highly versatile footwear as it comes in a wide variety of colors.
Key Features
Comes with a rubber sole that is both solid and flexible
Has leather and synthetic uppers
Breathable and lightweight
Available in a wide range of sizes
The Skechers Women's D'Lites Memory Foam Lace-up Sneaker comes with an elastic rubber outsole that provides superior traction for the user. With this kind of outsole, you can walk and run freely without worrying about slipping and falling even on slippery or wet surfaces. Furthermore, the footwear's outsole is highly durable which means your sneaker will not wear out any time soon.
The shoe's midsole is fitted with a comfy memory foam that will not flatten regardless of how much you wear them. The memory foam also helps with posture as well as reducing foot fatigue and injury.
The shoes upper is engineered using lightweight mesh fabric that most users find adorable. This mesh upper provides great breathability and ventilation, which is beneficial for keeping your feet dry and cool from sweat during the summer months. The upper also features overlay accents, which are knitted throughout for extra support.
The Skechers Women's D'Lites Memory Foam Lace-up Sneaker also provides some degree of flexibility that allows your feet to move more freely while walking or running. The footwear has a bulky design that ensures your feet are properly supported and stable when walking. The shoe has a lace-up construction that allows you to modify the fit of the shoes to ensure superior comfort.
The sneaker's midsole is designed to absorb shock in order to reduce stress on your knees, ankles, and feet. And, they come in a wide variety of sizes, which makes them one of the best shoes for nurses with wide feet.
Pros
Easy to clean
Made from quality material
Comfortable and fashionable
Padded height
Great traction
Cons
Requires some break-in time
See also: Best Skechers for Nurses
---
Dansko Women's Professional Clog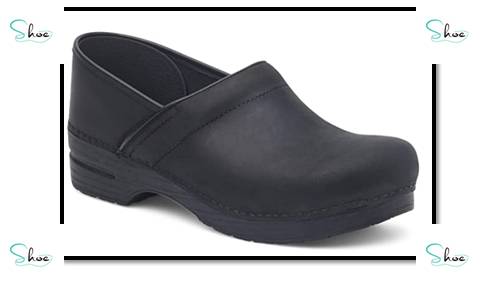 The women's professional clog from Dansko is designed specifically for nurses and that means it provides a great deal of comfort. This impressive clog is also not lacking in style as it comes with a design that is sufficiently versatile to handle several kinds of activities. The footwear is made from top quality leather, extremely durable, and above all come with a wide toebox to suit nurses with wide feet.
Key Features
Leather Upper
Polyurethane Outsole
Available in 54 color options
Lightweight
Anti-slip resistance
Size ranges from 35 to 43
The Dansko Women's Professional Clog has good shock-absorbing qualities – thanks to its quality rubber outsole. Its rubber outsole allows for better foot cushioning and motion control during walking or running.
The shoe's leather uppers have natural colors and that means it can blend with any outfit. This is why this clog is perfect for workplace environments. In addition, the footwear's leather is resistant to most liquids and chemicals. Thus, if you opt for this footwear, you can be sure your foot will be adequately protected against greasy, wet, and acidic conditions.
Cleaning the footwear is a breeze; all you need to do is wipe it using a damp cloth. The clog comes with a padded instep collar that provides impressive support whilst walking, and the shoe's breathable PU foam footbed provides superior temperature control. The Dansko Women's Professional Clog is ranked among the best shoes for nurses with wide feet due to its roomy toe box. With this feature, you can be sure the clog will provide comfort to your toes rather than putting more pressure on them.
Pros
Extremely lightweight
Wide heel strike that allows for superior stability
Padded Instep collar
Breathable PU foam footbed
Wide toebox
Cons
A bit costly compared to similar brands in the market
See also: Best Dansko Shoes for Nurses
---
Alegria Duette Women's Professional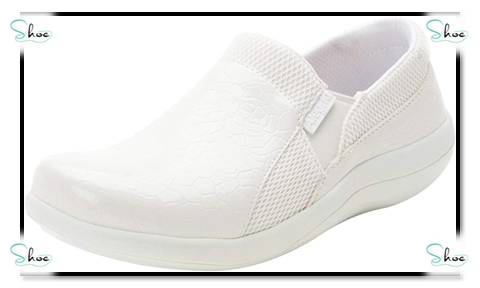 Alegria shoes began with the simple idea of producing comfortable footwear that will make the wearer feel like walking on clouds. The Alegria Duette has a casual slip-on style with double expandable gores as well as a padded back collar. These features combine to provide utmost comfort for the feet.
Key Features
Rubber sole
Padded collar
Vegan upper
Double elastic gore that allows for simple on-and-off
Dual-density polyurethane outsole
Stain-resistant upper
The Alegria Duette Women's Professional Shoe comes with double elastic gore that allows for precise fit plus easy slip-on. It also has a detachable footbed that you can replace with your own orthotic. If you have wide feet, you will love this footwear as it comes with a wide toebox. Wide toebox shoes are highly beneficial for bunion-ridden feet or feet that require additional room as a result of neuropathy.
The shoe has a rubber sole that is slip-resistant, and is available in a range of patterns and colors. The shoes come in euro sizes ranging from 35 to 43. The Alegria Duette Women's Professional Shoe also offer impressive arch support, enhanced shock absorption, balanced weight distribution as well as superior rebound and bounce when walking or running.
Pros
Lightweight
Stylish
Spacious toe box
Impressive arch support
Cons
Some users have complained that the footwear squeaks when walking
---
HOKA ONE ONE Women's Clifton 6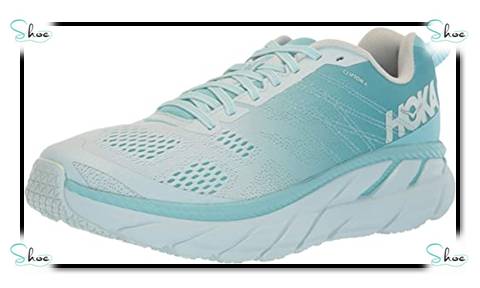 The Clifton 6 from Hoka One One is specially designed to provide a distinctive and versatile footwear, which can accommodate a broad variety of activities. It is one of the best tennis shoes for nurses who favor a balanced shoe that can go well with both casual and formal wear.
Key Features
Rubber sole
Engineered mesh upper
Complete compression EVA midsoles
Reinforced eyestays for better durability
The HOKA ONE ONE Women's Clifton 6 Running Shoe has an overall lightweight design, which ensures unimpeded mobility when running or walking. It also comes with a soft interior and a luxurious upper that makes use of breathable fabrics to keep your feet dry and happy during those very long shifts.
The shoe's midsole is engineered to provide an outstanding balance between cushioning and responsiveness. This feature ensures your feet have adequate support and protection as you walk around on hard concrete hospital floors all day.
The Clifton 6 has a very attractive external look – thanks to the shoes' variety of lovely color schemes plus matching detailing, accents as well as lacing. The footwear also comes with a wide toe box so you can be sure there is plenty of room for the ball of your foot and toes.
Pros
Lightweight
Luxurious cushioning
Grippy outsole that provides impressive traction
Trendy and appealing design
Cons
Some users say the footwear's rebound property could be better
---
New Balance Women's 411 V1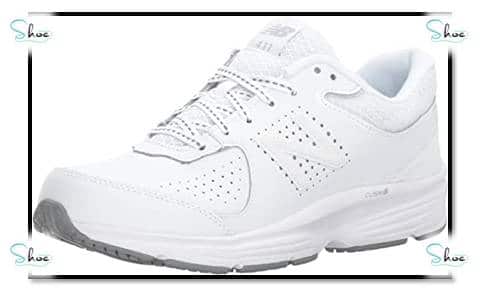 New Balance is famous for comfort and the women's 411 V1 walking shoe is all about cozy performance. The shoe was created purposely to endure long hours of use. Constructed with a tough leather and plush mesh upper, the shoe delivers the support and versatility you require to get through a long workday. Apart from cradling your foot, the DynaSoft midsole will also give you a pleasant shock-absorbent walking experience. The 411 V1 from New Balance is simply a dependable pair of shoes that will provide you with the support and coziness you require on the job.
Key Features
Rubber sole
100 percent fabric
Lightweight
DynaSoft midsole cushioning
EVA foam insert
Sleek style
Ground contact EVA outsole plus rubber pods
As regards durability, New Balance designed this trainer to last the user a long time. The shoe is fitted with ground contact EVA along with rubber pods on the outsole to ensure long-lasting performance on a range of surfaces. The outsole design also helps to guarantee the footwear will stay comfortable even during extended shifts.
The midsole cushioning employs DynaSoft technology to deliver plush cushioning as well as an extremely responsive, spring-loaded ride. What this means is that the trainer adapts to your requirements based upon your foot shape, gait, and speed of walking.
The seam-free design together with the New Balance branding logo gives the NB 411 V1 a classic appearance. The footwear's platform comprises an EVA foam material that provides extra cushioning and shock absorption. The upper allows for excellent air circulation within the shoe thanks to the mesh materials that are woven all through the surface.
While the NB women's NB 411 V1 is available in very limited color choices, the remarkable construction of the footwear as well as the first-class comfort it offers makes it a superb option for standing and walking around all day.
Pros
Provides underfoot stability
Impressive support
Comfortable
Hardwearing outsole
Reasonable breathability
Grippy traction
Cons
Comes in limited color choices
A few users have complained that the trainer is a bit stiff
See also: Best New Balance Shoes for Nurses
---
What Nurses With Wide Feet Should Know Before Buying Shoes
Anyone buying shoes should not think just about the shape of their feet, but also the width. It is uncommon for someone to buy a pair of shoes that are the right length, only to have it squeezing in the forefoot. Shoe width plays a vital role in the comfort level of the wearer. Another factor to keep in mind is that the shape of your feet can change as you get older.
For healthcare workers, the shoe width is an even more critical issue. Nurses typically spend a significant part of the day on their feet. Over time, this can cause the feet to get wider. Weight gain and pregnancy can also force nurses to look for different shoes. If you have wide feet, you should pay more attention to cushioning and support. If your foot shape has changed because of the rigors of nursing, the arch shape might have changed as well. You could be more prone to swelling and foot pain. Some useful tips for buying shoes for wide feet are:
See also: Best Shoes for Overweight Nurses
Look for the best slip-ons
Most people enjoy the convenience of slip-on shoes, and many of these shoes offer the kind of comfort needed as well. However, some slip-ons may not provide the type of required fit for wider feet. Make sure that they have the firmness in the mid-foot, which will keep the feet from slipping forward and getting cramped in the toe box. At the end of a long shift, the toes might be painful and swollen.
See also: Best Slip-on Shoes for Nurses
Select shoes with removable insoles
This will give you more flexibility in getting the kind of comfort you need. If you can remove the insole, you can insert custom orthotics, which will help to ward off pain. This will make it easier for any nurse to get through the day.
Pay attention to the features
A wide toe box is not the only feature that indicates that shoes are suitable for nurses who have wide feet. These products are designed to suit a range of foot shapes. Wide feet need stability, so look for shoes with a wide base that keeps even pressure on the feet. The shoes must be good at absorbing shock, as you may have a heavier step. Some shoes have beveled heels to absorb the shock of the heel strike. It should also have a supportive insole to keep the feet comfortable and reduce stress.
Do not choose pointy shoes
As a design feature, pointed toes can only be a flaw for someone who has wide feet. No matter how attractive the shoes are, pointy toes will not provide enough room for your toes.
Consider shoes that have a closure system
One thing that works well for people with wide feet need is the ability to control the fit of their shoes. Laces or Velcro straps will allow you to get the right amount of tightness to keep the shoes from slipping. If they feel a bit tight after a few hours, you can loosen them to remain comfortable.
Good Shoes for Wide Feet
Width alone does not make a pair of shoes, the ideal choice. You must also look at the construction, material, and features. Since shoes are generally designed for narrow feet, it can be challenging to find the right type, but these are some of the best options available.
Skechers Women's D'Lites Lace-up Sneaker – it has a modern design that will appeal to nurses and avid runners. The combination of a sturdy base and memory foam inside makes it ideal for anyone who spends hours on their feet daily. The laces and high collar provide a secure fit.
Alegria Duette Women's Professional Shoe – this is the ideal choice for a nurse who wants a simple but stylish look. This shoe is a lightweight, casual slip-on with goring for a secure fit. The padded back collar enhances comfort and keeps the shoe from slipping.
Dansko Women's Professional Clog – these shoes were actually made for nurses, so they meet all the requirements of these professionals. It is sleek and sturdy, with a refined finish. It is made from high-quality leather so that it will hold up well under tough working conditions. The wide toe box makes it suitable for nurses who have wide feet, and the casual style makes it suitable for a variety of settings.
Easy Spirit Women's Traveltime Mule – the simple design of this shoe does not give a true sense of its durable construction. The extra-wide sizes available make it a top choice for nurses who need that extra layer of comfort. While it has the look of a casual slip-on, it fits more like a closed-heel shoe. It has a thick sole that absorbs shock and a breathable mesh upper.
Hoka One One Women's Clifton Running Shoe – this shoe is equally at home in the hospital and on the jogging trail. A breathable upper with sleek lines, it has a sturdy, high sole that adequately absorbs shock to reduce stress on wide feet. It has a high collar for more control and laces for a firm fit. It offers good balance and interior comfort.
Responsiveness varies depending on the shoe, and this is something that comes down to your personal needs or tastes. The most important consideration is a shoe that complements or assists your walking style. Choose lightweight shoes that will not feel like a burden late into your shift.
Nurses, whether they have wide feet or not, will have to wear their shoes for longer periods than the average person does. If the shoes are too tight, this can lead to blisters, bunions, and deformities of the toes. One factor that can affect the shape of the feet is pregnancy. A nurse who becomes pregnant should be prepared to get new shoes to deal with weight gain and its effect on the feet.
Shoe Width Chart – Standard/Average, Narrow and Wide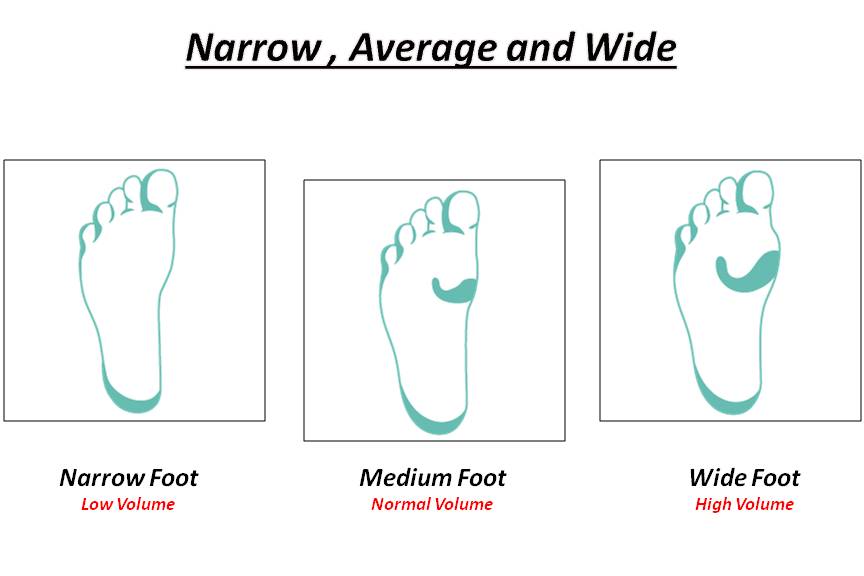 Men's & Women's Shoe Size Letters
| Men | Letter | Women |
| --- | --- | --- |
| | 2A | Narrow |
| Narrow | B | Standard |
| Standard | D | Wide |
| Wide | 2E | Extra Wide |
| Extra Wide | 4E | |
Women's Shoe Width Chart
| US Sizes | AA (Narrow) | B (Average) | C/D (Wide) | E (Extra-Wide) |
| --- | --- | --- | --- | --- |
| 5 | 2.8″ | 3.2″ | 3.55″ | 3.95″ |
| 6 | 2.95″ | 3.3″ | 3.7″ | 4.05″ |
| 7 | 3.05″ | 3.45″ | 3.8″ | 4.2″ |
| 8 | 3.2″ | 3.55″ | 3.95″ | 4.3″ |
| 9 | 3.3″ | 3.7″ | 4.05″ | 4.45″ |
| 10 | 3.45″ | 3.8″ | 4.2″ | 4.55″ |
| 11 | 3.55″ | 3.95″ | 4.3″ | 4.7″ |
| 12 | 3.7″ | 4.05″ | 4.45″ | 4.8″ |
Men's Shoe Width Chart
| US Sizes | C (Narrow) | D (Average) | E (Wide) |
| --- | --- | --- | --- |
| 5 | 3.2″ | 3.4″ | 3.6″ |
| 6 | 3.3″ | 3.5″ | 3.7″ |
| 7 | 3.4″ | 3.6″ | 3.75″ |
| 8 | 3.5″ | 3.75″ | 3.94″ |
| 9 | 3.6″ | 3.94″ | 4.10″ |
| 10 | 3.75″ | 4″ | 4.2″ |
| 11 | 3.9″ | 4.10″ | 4.3″ |
| 12 | 4″ | 4.3″ | 4.4″ |
| 13 | 4.10″ | 4.3″ | 4.6″ |
Frequently Asked Questions (FAQs)
What type of shoes is best for wide feet?
The first thing to note is that a 'wide' shoe will not suit every foot as widths vary. Generally, it is best to choose material that is not too firm, so there will be less pressure. Shoes that allow you to make adjustments are usually a wise choice, although this is not a set rule. Brands that offer options for women with wide feet include Hoka One One, Dansko, and Skechers.
Does weight gain increase foot size?
Extra body weight puts more pressure on the feet, causing changes to the bone and muscular structure. The excess weight can also cause compression, which will weaken the arches and make the feet flatter.
How do I measure the width of my feet?
An easy method of knowing your foot width is by tracing it on paper. Put on socks and use a pen to draw a line, following the edges of each foot. Measure the widest part of the foot, usually the point just behind the toes or the ball of the foot. It is important to do this for both feet, as they are generally not the same size.
Does the Dansko brand have shoes for wide feet?
Dansko shoes generally have roomy toe boxes to suit people who have wide feet. However, the brand also makes shoes specifically for people with this foot type. The Dansko Professional Wide Women's Clog has a closed back for a secure fit, plus a wide toe box for comfort and flexibility.
Is there a way to fix wide feet?
There is little anyone can do to change the shape of their feet significantly. Weight loss can have a minor effect, and the decreased pressure will help to reduce swelling. Some women say that their feet come close to the original shape after pregnancy. Some people reduce the width of their feet through surgery, although doctors often advise against this. Wearing tight shoes to make the feet seem narrow is a bad idea as this can cause permanent damage.