9 Best Slip-On Shoes for Nurses – The Most Comfortable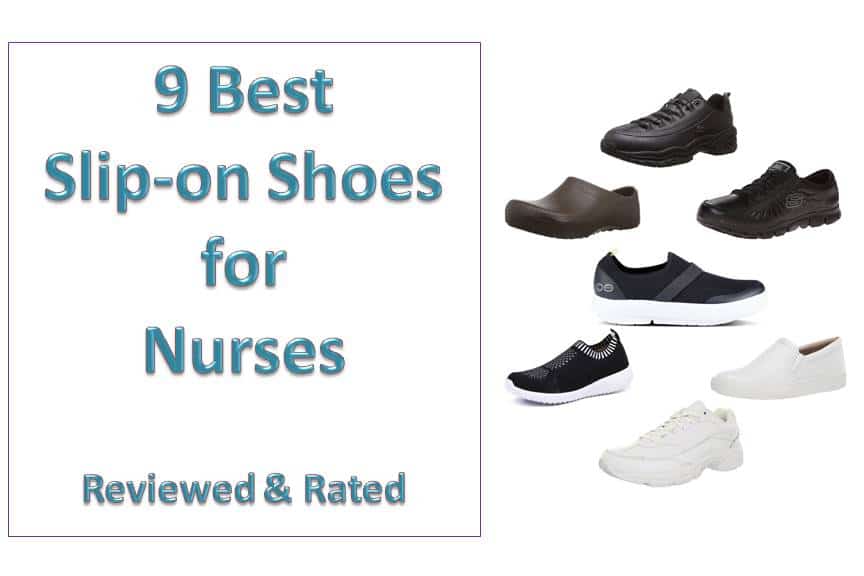 If you work as a nurse, you know that the last thing you want to worry about is your footwear. You spend countless hours on your feet and scarcely have time to rest and catch your breath. While nursing is an extremely rewarding career, it is also hugely demanding and fast-paced. This is why it is critical you select the appropriate work shoes. Slip-on shoes have become a staple for on-the-go nurses. Trendy, versatile, effortless, and generally reasonably priced, there is a lot to like about these shoes. Below are some of the best slip-on shoes for nurses to help you get through those long shifts.
Related Article: How to tell if Shoes are Non-Slip?
Best Slip-on Shoes for Nurses – Top Picks
OOFOS Women's OOmg Low Slip-On Shoe
The main features that endear this OOFOS shoe to nurses are arch support, coziness, and impact absorption. With these attributes, you can walk with your natural stride without suffering foot fatigue no matter the length of your shift. The footwear delivers superlative comfort by helping to soak up shocks and cradling your foot's arch as you walk. The shoe's upper is mesh and OOFOS describe it as "4-way stretch mesh upper" on their website. The women's OOmg shoe also features a non-adjustable strap that helps make it one of the best slip-on shoes for nurses.
Key Features
Minimalist build for a lightweight feel
Machine washable
Comes in whole sizes
OOFOSfoamTM technology for enhanced shock absorption
Slip-on Construction
The OOFOS Women's OOmg is a minimalist shoe with an uncomplicated slip-on construction that fits the needs of a broad range of users. The breathable, stretch mesh upper makes the footwear comfortable and lightweight so you can wear it throughout the day without hurting your feet. Several users adore the shoe's arch support as well as its impressive shock absorption capability. The major benefit of excellent arch support is that you will experience no pain on your feet no matter how long you stand or walk.
The women's OOmg can go with practically everything and comes in various color choices so you can select the one that best fits your taste. The footwear is machine washable since the OOfoam employed in making the footwear is water-resistant. Some customers say when the shoe gets dirty; they clean it up by simply wearing the shoes in the shower. However, the makers warn that the shoes should never be placed within the dryer to dry.
The footwear comes in only whole sizes and the OOFOS website recommends that people who normally wear a half size should size up to the next size. The shoe is offered in women's sizes five to 12 and there are some unisex options as well. A few customers have complained that the OOmg is not so durable with some reporting that the soles began to fragment after only a few uses.
However, the manufacturers say the shoe will typically last approximately six months to one year and several users have reported that they got a lot more than that from the sneaker. The OOFOS Women's OOmg Shoe will last you a long time if you alternate the footwear with other pairs.
If you are seeking a sneaker that will help alleviate strain on your knees, lower back, feet, as well as enable natural motion, then the OOFOS women's OOmg should top your list.
Pros
Excellent shock absorption
Very comfortable
Easy on, easy off
Machine washable
Cons
Durability issues
Comes in only whole sizes
---
Skechers Women's Eldred Shoe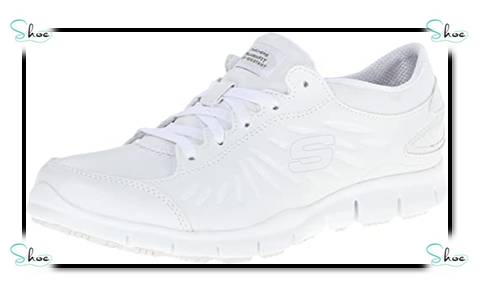 There are good reasons why Skechers are trendy among nurses and other professionals on feet all day. The shoes are super cozy, cute, yet functional. Made using 100 percent real leather the women's Eldred shoe offers ample comfort and space for your toes to wiggle. You can stand or walk about all day in this shoe without discomfort thanks to its shock-absorbing outsole and memory foam footbed. The lace-up design will let you select the level of support you need over your feet and its slip-resistant sole will give you confidence as you walk on various surfaces. Keep reading to discover other reasons why the Skechers for Work Women's Eldred shoe is ranked among the best work shoes for nurses.
Related Article: Top 12 Best Skechers for Nurses
Key Features
100 percent leather
Lace-up closure
Synthetic sole
Relaxed fit construction for a spacious cozy fit
Memory foam footbed
Padded collar & tongue
Electrical Hazard safe construction
The Skechers Eldred is among the most preferred choices by nurses on feet all day. The footwear features a robust leather upper plus a lace-up closure. The near-perpendicular slits at the sides of the shoe allow for enhanced airflow and flexibility. With these features, you can be sure the Shoe will keep your feet secure, cozy, and relaxed as you go about attending to your patients.
The anti-skid sole is blended with a balanced non-slip construction enhancing the shoe's comfortability and durability. No wonder professionals who work mainly on their feet like nurses, chefs, and lab assistants adore this shoe. The spacious design integrates memory foam insoles to ensure you always have an unforgettable walking experience. For extra safety, this work shoe is EH certified meaning the shoe offers adequate protection against electrical shocks. Several wear-testers reports that the sizing is straight-forward, which means it will fit your feet well.
The Skechers for Work Women's Eldred Shoe needs some break-in period but soon becomes extremely cozy and relaxing. Besides, its lightweight construction means you can work on your feet for several hours without getting sore feet. Aside from being comfortable, the shoe is durable and will last you a long time. It will also serve as an excellent barrier for your feet from spills as well as body fluids.
While the women's Eldred shoe is specially engineered for work, it will go well with many of your casual outfits. You can wear it with your jeans or skirt during outings with friends. The major downside of this shoe is that it is not sufficiently large to accommodate an insole. If this is not an issue for you, then the women's Eldred shoe should make your shortlist.
Pros
An excellent choice for work
Offers superb slip-resistance
Electric hazard safe
Very comfortable
Cons
Arch support could be better
---
TIOSEBON Women's Athletic Walking Shoes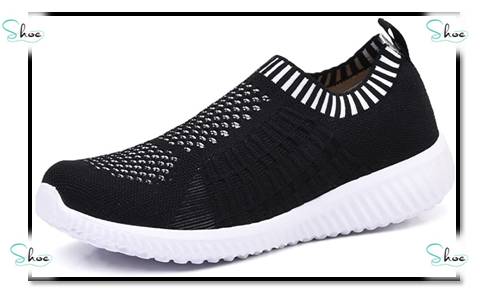 Boasting an inherent, cozy, and slip-on construction, the TIOSEBON women's Athletic walking shoe delivers an amorous and blissful walking experience. It is a sleek option with a simple design and high breathability. The sneakers chunky sole provides superb shock absorption so your muscles, ligaments, and joints are sheltered when you are on the go. The footwear is so cozy and light that you feel like you are wearing only slippers. Besides, there are no annoying laces to deal with and it is arguably the best slip-on shoes for nurses. To make things more exciting, the sneaker is offered in numerous colors for you to select from.
Related Article: Best Walking Shoes for Nurses
Key Features
Convenient, slip-on construction
Thick rubber sole
Latex arch insert
Lightweight and comfortable design
Breathable upper
This TIOSEBON women's sneaker is crafted using majorly rubber and textile materials. With these materials, you are assured of comfort and durability so you can move without pain and fatigue in your feet. You can also be certain the footwear will deliver superior performance and not break down too quickly. The slip-on build makes the footwear very easy to wear/remove. Besides, many reviews agree that the sneaker is cozy for both narrow and wide feet because of its flexible upper that delivers a sock-like fit.
The sturdy, flexible textile material employed in making the upper is highly breathable and offers a reasonable degree of airflow in the shoe. This means the footwear can be worn in both cold and hot weather and your feet will stay comfortable even on the longest days. The soft, flexible yet tough rubber outsole offers solid traction on slippery/wet surfaces.
Another fantastic feature that users love is the solyte midsole. Aside from helping to keep the footwear's overall weight down, this solyte midsole also provides durable support and helps soak up the shock of your foot landings. The TIOSEBON Women's casual meshwork sneaker is also fitted with pigskin lining that is not only breathable but also engineered to cradle your foot in coziness. The sneaker also boasts a latex arch insert for enhanced comfort and support.
Overall, this walking shoe from TIOSEBON comes with attributes that guarantee comfort, support, and durability. It is very simple to slip on/off and offers a snug fit so you can walk confidently and pain-free.
Pros
Works well for both wide and narrow feet
Highly breathable
Good arch support
Excellent traction
Durable and flexible
---
Naturalizer Women's Marianne Sneaker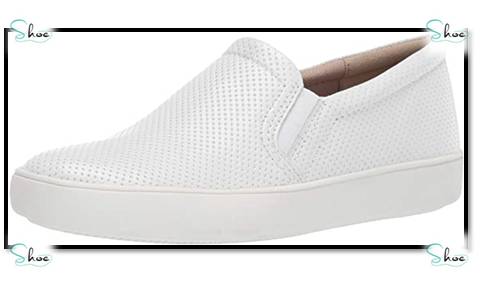 The Naturalizer women's Mariane loafer checks all the boxes for coziness. The numerous width choices, contour technology, and well-cushioned insole all combine to provide the support your feet needs for all-day standing and walking. This fantastic pair of nursing shoes comes with genuine leather upper that allows for impressive comfort and breathability. With all these attributes, the Naturalizer Marianne loafer is one of the finest choices for nurses and other professionals who spend the majority of their workday on their feet. If you desire the simplicity and coziness of a slip-on shoe but want additional security, this loafer from Naturalizer may be your finest option.
Related Article: Best Shoes For Nurses On Feet All Day
Key Features
100 percent leather
Synthetic sole
Stretchy goring side panels
Heel measurement: approximately 0.5"
Contour technology
One of the best slip-on shoes for nurses, the Naturalizer Women's Marianne Loafer is less cumbersome compared to nursing clogs. If you detest the additional padding fitted on regular walking shoes or clogs, then you may find that this Marianne sneaker might be the shoe for you. Even though the sneaker does not feature an enormous degree of padding, it comes with just the right level to keep your feet cozy and relaxed.
The women's Marianne loafer features a synthetic outsole. Several shoe enthusiasts agree that shoes with synthetic outsoles typically provide less natural gripping compared to shoes with natural rubber outsoles. All the same, the outsole of the Marianne loafer comes with detailed tread patterns that are crafted to give you enhanced grip and traction. This synthetic outsole is glued to the stitched leather upper to ensure excellent durability and lasting performance.
The natural fit plus lightweight attributes of the shoe greatly adds to its comfort. When you pair that with the sneaker's chunky outsole, you have all that is required to keep your feet well supported even on the longest shifts.
The makers of the footwear employed their inventive Naturalizer technology in the making of this specific model. With this technology, you are sure your feet will get all the coziness they require. The sneakers are offered in sizes 4 to 12 and there are extra-wide, wide, and narrow editions of practically every shoe. You can select from a range of patterns and colors to suit your preferences if your workplace permits fashionable designs.
Another impressive attribute stems from the non-slip construction that keeps you supported and trendy all at once. Besides, cleaning the shoe is not a hassle. All you have to do is wipe the dirt away using a clean fabric moistened with lukewarm soapy water.
Pros
Offered in a broad variety of colors
Extremely lightweight
Trendy appearance
Slip-on design
True-to-size
---
Easy Spirit Women's Tourguide Mule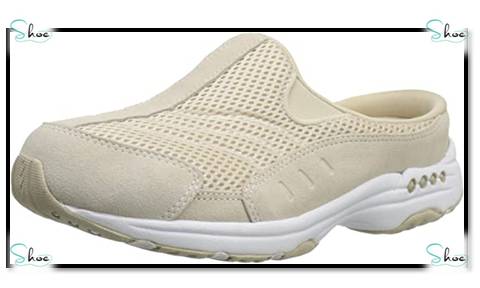 Easy spirit entered the shoe manufacturing industry over thirty years ago. Since then, the brand has grown to become one of the leading companies with regard to comfortable design. Today, individuals who are active all through the day mostly wear shoes from Easy Spirit. The women's Traveltime mule is one of the brand's best-selling shoes and for good reason. The mule is extremely cozy, ideal for standing and walking all day long. It is also stylish and can be worn in both work and casual environments. The footwear is also one of the best slip-resistant shoes available in the market today as its no-slip outsole is very secure.
Related Article: What are Non Skid Shoes?
Key Features
Easy slip-on construction
Leather/fabric upper
Rubber sole
Detachable sock liners
When shopping for work footwear, nurses should go for ones that deliver excellent support, flexibility, and comfort. The Traveltime Mule is specially engineered to give your feet the support they require to prevent pain and fatigue. The sculpted midsole is extremely light yet sturdy and comes with loads of foam cushioning for enhanced coziness.
As regards durability, the Easy Spirit Women's Traveltime Mule does not disappoint. Made using top-quality leather and breathable mesh, this mule from Easy Spirit will quickly become your new go-to nursing shoe for durability and comfort. Besides, you can easily get rid of specks of dirt and stains via machine washing. Nevertheless, some reviewers say care should be taken when cleaning the shoe to avoid discoloring the white leather upper of some models.
The leather upper allows for sufficient air circulation, ensuring your feet stay dry and stench-free. Many users report that when they wore the mule without socks, they experienced no blisters and the comfort level remained the same. A few users have complained about a great deal of heat retention during extended wearing. Nevertheless, this issue can quickly be resolved by slipping off the shoes to let in some cool and fresh air.
The rubber outsole is adequately trodden but still flexible and soft. With the superb tread pattern, the mule delivers superior grip even on slippery/wet surfaces. Nonetheless, several reviewers recommend that the shoe should not be used for fast walking on very smooth surfaces.
The Traveltime Mule is offered in a broad range of exciting colors, designs, and sizes, making it a superb option for practically any event.
Pros
Highly breathable
Very durable
Lightweight
Simple slip-on build
---
Skechers Women's Soft Stride-Softie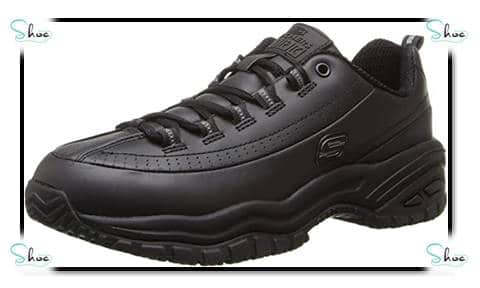 Whether you spend the majority of your workday walking around, or your job requires you to stand for extended periods, there is no doubt you will love wearing this Skechers shoe. The lace-up closure plus leather upper combine to give you a cozy working day. You will also enjoy top-notch protection and comfort from the shoe's detachable PU comfort insole and non-slip outsole. The tongue & collar of the upper is well padded for additional support around your ankles. With all these features, the Skechers for Work Women's Soft Stride-Softie Lace-Up shoe gives you the self-confidence to walk and stand pain-free throughout your workday.
Key Features
100 percent leather
Slip-resistant outsole
Detachable contoured PU insole
Heel height measurement: 1.5"
The women's soft stride-softie is magnificent footwear for nurses who desire a sneaker focused on reducing weariness and delivering dependable comfort. The shoe's supple leather upper is not only simple to slip on but also molds to the foot delivering superlative support and coziness. Furthermore, the leather upper is stain resistant, which is a key benefit in a hospital environment where spills and stains are common.
The rubber sole of the soft stride-softie is manmade and flawlessly engineered to keep your feet stable and supported all through the day. The outsole is also slip-resistant to help avert slips and falls that might result in severe injuries. Several reviewers have commented about the shoe's outstanding cushioning and arch support. Users love the perfectly padded tongue & collar because they help to check in-shoe wobbling.
Pros
Breathes well
Trendy yet functional
Very comfortable
Durable
---
Birkenstock Unisex Profi Birki Slip Resistant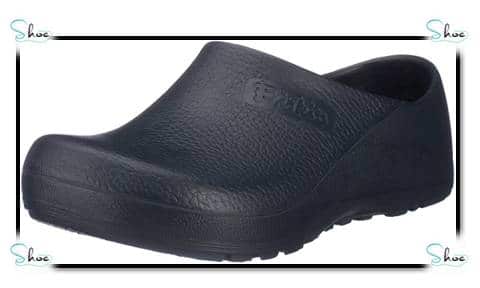 Nurses need footwear that will keep their feet safe and stable during those extended shifts. That is precisely what you will get with this Birkenstock work shoe. The star attraction of the footwear is its impressive slip-resistance and comfort. The outsole is well outfitted to prevent you from sustaining a potentially grave injury due to slipping on wet or greasy surfaces. You will also like that the shoe is extremely simple to clean. After a hectic workday, you can simply throw them into the washing machine to make them clean and fresh again.
Related Article: Can Women Wear Men's Shoes?
Key Features
Certified non-slip
Shock-absorbing polyurethane midsole
Sleek, uncomplicated design
Alpro-foam sole
The Birkenstock Professional certainly deserves to be rated among the best slip-on shoes for nurses. There is no need to bother about pesky shoelaces. The footwear's sleek, elegant construction is ideal for individuals who want to focus on the job and look fashionable while at it. Simply slip on the shoes and you are ready to go.
The insole is cozy and cool. It is made from highly breathable polyurethane material. Thus, the upper portions of your feet will stay dry and comfortable all day. Birkenstock shoes are generally made using top-quality, durable materials and the Unisex Profi Birki Slip Resistant Work Shoe is not an exception. Considering its quality, the footwear cannot be said to be expensive. Several reviews rank it as one of the best cheap shoes for nurses.
Pros
Machine washable
Excellent flexibility
Cool, relaxing insole
Non-slip outsole
Sleek, simple design
Cons
Needs some break-in period
Sizing issues
---
Skechers Men's Felton Slip Resistant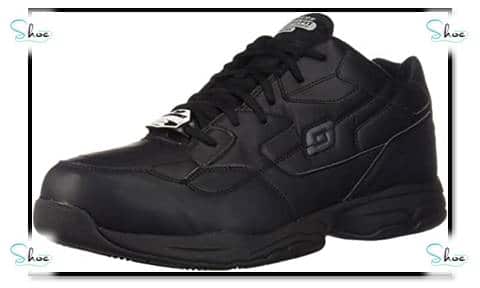 Skechers makes shoes for nearly every purpose. Not only that, the company is recognized worldwide for its innovative, top-performance shoes. The men's Felton relaxed-fit work shoe boasts several striking features that make it a magnificent shoe for the male nurse. Many nurses say they love the shoe because the rubber sole is extremely cozy for walking around on cement hospital floors.
Key Features
Rubber sole
Padded tongue and collar
Lace-up vamp
Osha-compliant nitrile outsole
Memory foam padded insert
100 percent synthetic
The men's Felton from Skechers was first released in March 2014. Over the years, it has become the go-to shoe for thousands of male nurses worldwide. One of its key features is the synthetic leather upper, which is extremely durable and very simple to clean. The traditional lacing arrangement allows for a secure fit whilst the well-cushioned tongue & collar means your feet will stay snug in the sneaker all day long.
Wearers also love the memory foam cushioned insole that adds additional coziness for all day. Besides, you can remove this insole and replace it with your personalized orthotics. Many customers have lauded the outsole for its astonishing traction on wet/slippery surfaces.
Another significant attribute is the cost. The men's Felton delivers many remarkable features, yet it is offered at an extremely affordable price. Thus, if you are in the market for the best cheap work shoes for nurses, you may want to check out the Felton from Skechers.
Pros
Remarkable slip-resistance
Very comfortable
Machine washable
Padded detachable insole
---
Fila Men's Memory Slip Resistant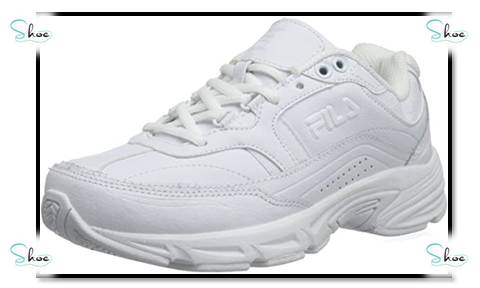 Slips, falls, and injury are frequent workplace indicents. Nurses might take a tumble whilst walking on slippery/wet surfaces. Fila engineered the Men's Memory Workshift Slip Resistant work shoe to protect you from this hazard. The outsole has been proven to deliver fantastic grip notwithstanding the type of surface you are walking on. The sneaker's lace-up front helps provide a relaxed fit.
Key Features
Memory foam sock liner
Lace-up front
Perforations for breathability
100 percent leather upper
Solid rubber non-slip outsole
Memory foam sockliner is one of the features that stand this footwear out from others. This sock liner employs DLS foam in its composition and it delivers superlative underfoot coziness. Moreover, the leather upper is fitted with synthetic overlays for superior comfort and airflow.
The rubber sole is built to help avert slips. Nevertheless, you should always be extremely cautious when walking on slick surfaces. The footwear's variable lacing construction allows for a snug and comfortable fit and many reviews have described the sneaker as one of the best slip-on shoes for nurses.
Pros
Non-slip outsole
Reasonably priced
Lace-up front allows for a cozy fit
Perforated construction for better breathability
Great arch support
Cons
Needs some break-in period
Runs a bit narrow