8 Best Dansko Shoes for Nurses – Get Comfort with Style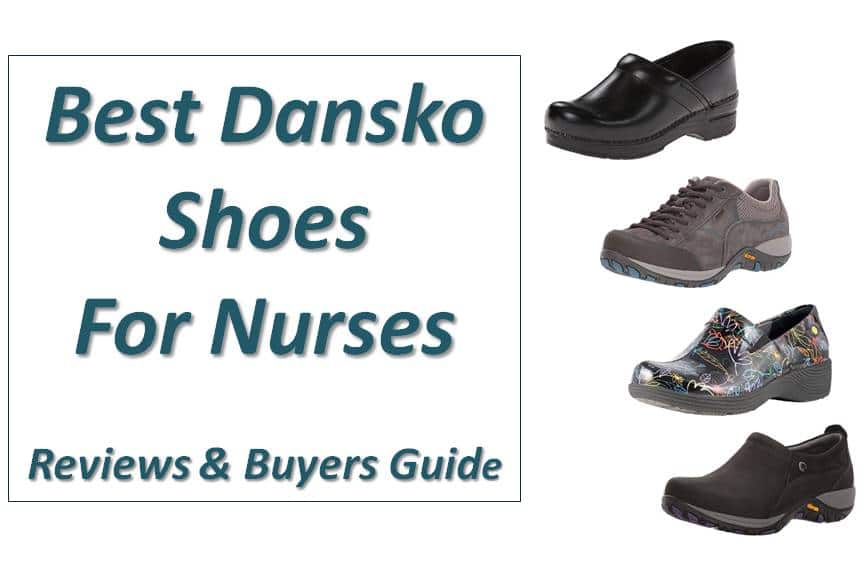 From conducting physical examinations to providing healthcare education and counseling to patients, nurses perform a wide range of tasks during a typical shift. However, unlike other professionals, nurses spend the majority of their workday walking and standing. These professionals, therefore, need comfortable footwear to keep their feet pain-free during long shifts. The best Dansko shoes for nurses will help minimize your danger of slipping and falling as well as personal pain caused by bunions, blisters, tendonitis, plantar fasciitis, and hammertoe. The following are the best Dansko nursing shoes for women and men to keep your feet cozy and supported all day long.
Best Dansko Shoes for Nurses & Medical Professionals
Dansko Women's Professional Clog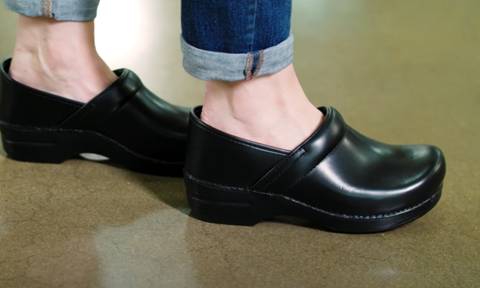 Dansko engineered this clog to provide safety and coziness for your feet during your workday and you will find that the footwear succeeds marvelously. The slip-on clog has been an industry favorite for years and buyers across the internet have given it thousands of glowing reviews. What is more, the Dansko Women's Professional comes in a broad range of patterns and hues so you will certainly find the right one for your fashion preferences. Aside from the workplace, you can wear this clog to just about any casual event. Read on to discover several other attributes that make it one of the best clogs for nurses.
Key Features
Padded instep collar
Polyurethane sole
Leather and/or fabric uppers
Spacious reinforced toe box
Broad heel strike for enhanced stability
PU outsole plus rocker bottom
One critical aspect you should always consider when shopping for nursing shoes is comfort. The Dansko women's professional clog offers much-required coziness owing to a variety of attributes, including a shock-absorbent outsole, padded instep collar, and a contoured midsole. Dansko designed the clog to allow for some degree of heel movement so it is a good idea to purchase a half-size bigger than your typical size. It may take a bit of time before your feet get used to the shoe but once that happens; this heel motion will aid the long-term coziness of the clog.
The spacious toe box strengthened with thermoplastic is another attribute that makes the women's professional clog so cozy. Shoes with constricted toe boxes will make your walking experience very painful. Besides, since nurses are continually exposed to toxic substances and bodily fluids, the reinforced toe box will serve as added protection for your feet.
If you are flat-footed, the Dansko women's professional clog will work wonders for you. The footwear boasts a memory foam footbed that is cozy and serves up superlative arch support for nurses with flat feet. However, the downside is that this comfortable footbed is not detachable. Thus, the Dansko Professional may not be a good fit if you require custom orthotics.
Some reviews are not pleased with the price tag of the Dansko women's Professional. Nevertheless, taking into consideration the impressive design and first-rate materials used in making the shoe, the high price tag is certainly justified. Furthermore, the shoe will do a fantastic job of keeping your feet cozy all day long, thus the additional dollars you spend on the clog will result in enhanced comfort and support for your feet.
Pros
Spacious toe box
Super comfortable
Padded instep collar that gives better comfort
Simple to clean
Comes in exciting and unique patterns
Cons
Some customers with wide feet say the clog is too tight
Requires a bit of getting used to
See also: Best Clogs for Nurses
---
Dansko Women's Paisley Sneaker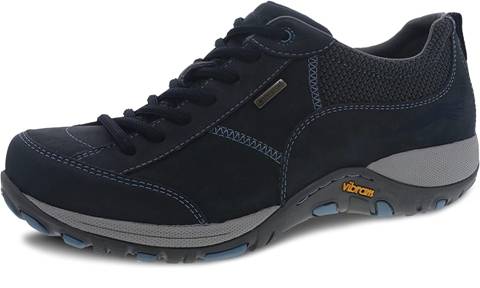 The Dansko women's Paisley is a sneaker engineered for nurses and other professionals who are continually on their feet. The sneaker's resilient rubber outsole is non-slip and great for walking around on cement and hard hospital floors. You can wear this shoe both indoors as well as outdoors without bothering about wrecking them as its leather upper is impervious to water. Available in a broad variety of neutral colorways, the women's Paisley is the ideal lightweight shoe for extended shifts when you spend a great deal of time on your feet.
Key Features
Waterproof leather uppers
Detachable triple-density footbed
Synthetic sole
DuPont Sorona fiber
Custom orthotics friendly
CleansportNXT for controlling odor
This Dansko sneaker has a stylish and functional appearance thanks to the subtle contrasts within its fabric colors. Its detachable triple-density footbed delivers impressive shock absorption and arch support. The sole is Vibram, which means it will not slip on slippery or wet surfaces. You can wear the sneaker all day long without experiencing pain on your feet, back, or ankles. These striking attributes help make the women's Paisley Waterproof Outdoor Sneaker one of the best shoes for nurses.
The Paisley's upper is waterproof and Scotchgard-treated. Therefore, whether you are on the job or off duty, these sneakers will help you stay cozy and dry. The shoe also employs DuPont Sorona fiber that is superb for moisture management. Apart from keeping your feet dry, the shoe also allows for good airflow thus your feet are not in danger of overheating.
The Dansko Women's Paisley Waterproof Outdoor Sneaker offers great odor control due to CleansportNXT technology. Hence, you will never experience foul odors no matter how long you wear the shoe. Moreover, the sneaker accommodates most custom and conventional orthotics thus you get the benefit of a more personalized fit.
Pros
Waterproof leather uppers
Very comfortable
Functional yet trendy
Resilient
CleansportNXT helps prevent foul odors
Lightweight build
Cons
Somewhat costly
Does not come in half sizes
See also: Best Sneakers for Nurses
---
Dansko Women's Coral Clog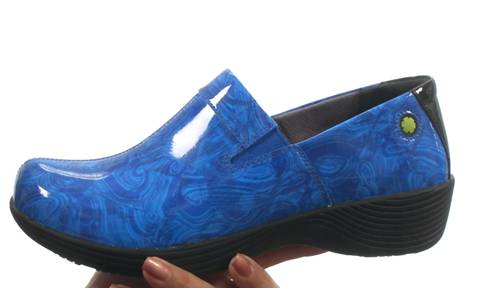 The Coral is one of the finest shoes in the Dansko Work Wonders series. It is rated among the best shoes for nurses Dansko as it boasts several extraordinary features. You can wear the footwear on any kind of surface thanks to its robust and functional outsole. Besides, the shoe is moisture-wicking, which means your feet will remain dry and cool all day long in the shoe. Cleaning the footwear is a breeze as the leather upper is very simple to clean. If you are searching for a snug shoe that will help you survive those extended shifts, then the Coral by Dansko might be your ideal match.
Key Features
Rubber sole
Non-marking soles
Slip-resistant outsole
Robust easily cleaned leather uppers
Detachable PU foam footbed
Moisture-wicking linings
100 percent leather
If you want a shoe that will help prevent smelly feet, then the coral might be your finest bet. The pair features generous linings including antimicrobial ones to help wick away moisture as well as check odor-causing bacteria. Further, it has a simple slip-on construction along with sheets of padding on the heel and across the arch. The pair also delivers a custom fit owing to its side goring.
The light EVA midsole help to boost the footwear's overall coziness. Aside from providing a relaxing interior for your feet, this midsole also gives your feet the shock-absorbing backup and support they deserve. The sole unit is slip-resistant to help avert falls due to wet and slippery surfaces. Moreover, Dansko tested this shoe to ensure it is non-marking on oily, wet, and dry interior surfaces.
Dansko shoes are simple to maintain and the Work Wonders Coral is no exception. The leather is engineered to clean up with no trouble after an extended shift, even if your work environment comprises acidic, greasy, or wet conditions. Another feature that makes this pair one of the best Dansko shoes for nurses is its astonishing adaptability. You will have no hassle slipping on the shoe when leaving for work and removing it after a prolonged shift.
Nevertheless, when shopping for this Dansko shoe, be sure to find one that is an appropriate fit for your feet. The footwear features round plush toes thus they may feel somewhat tight particularly if you have wide feet. And, it goes without saying that all other features will amount to nothing if you buy the wrong size.
A few customers have commented that the leather used in making the shoe is not so durable. The leather might deteriorate after a few months of use. Aside from that, the Work Wonders by Dansko Women's Coral Slip-on delivers top value for money.
Pros
Easy on easy off
Simple to clean
Non-slip outsole
Lightweight construction
Help prevent foul smell
Cons
A few wearers have expressed durability concerns
See also: Best Shoes For Nurses On Feet All Day
---
Dansko Women's Patti Flat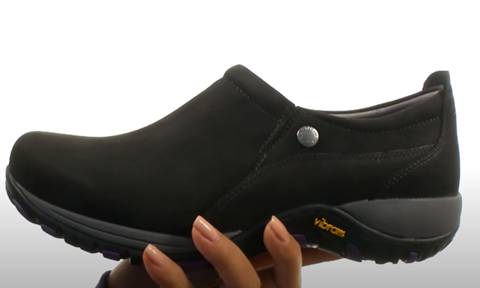 Designed with coziness in mind and outfitted for outdoor activities, the Dansko women's Patti Clog features an impermeable leather upper that is ideal for unexpected weather. The clog is not only comfortable, but also very attractive, and delivers much-required support for all-day wearing. Its slip-on construction allows for easy on/easy off and it comes in an assortment of colors, thus you can select the one that fits your needs the most. Several reviews mentioned that the shoe is very simple to break in and many more loved the exceptional trendy appearance of the women's Patti clog from Dansko.
Key Features
CleansportNXT for regulating odor
Rubber sole
DuPont Sorona fiber that helps manage moisture
Detachable triple-density footbed plus shock absorption and arch support
Waterproof leather uppers
Accommodates most conventional and custom orthotics
This Dansko slip-on clog is fantastic for using indoors as well as outdoors. The shoe comes with a double-gored vamp that makes it the ideal choice in any weather be it snow, rain, sunshine, or frost. The upper is crafted using imported Nubuck leather. Nubuck is produced using top-grain leather, which makes it extremely long-lasting. Furthermore, it is more breathable compared to synthetic leather. To clean this type of leather, you only need a spongy, dry cloth as well as specialty products like Beeswax conditioner. The Dansko women's Patti clog can more than hold its own within a challenging workplace environment like a hospital.
The clog also comes with a separable foam footbed that is engineered to help you clean as well as tailor your footwear to your taste precisely. You will find this detachable footbed especially convenient if you need to use orthotics all day long since it can be detached to accommodate custom inserts.
The moisture-wicking DuPont Sorona fiber within the shoe helps wick moisture away whilst keeping your feet fresh and dry, and the Dansko clog delivers extraordinary odor control owing to CleansportNXT technology.
The outsole is crafted using extremely resilient Vibram rubber that serves up superlative performance. Besides, the footwear is APMA endorsed and that means the clog promotes good foot health and meets outstanding quality standards. Another interesting aspect about this clog is that it is available in a broad variety of sizes, including different widths. What this means is that you can tailor your fit irrespective of your shoe size. The sole has a 0.75" platform plus a 1.25" heel, which means that it places very little strain on your body even as it delivers remarkable shock absorption.
If you are searching for dependable footwear that will give you all-day support and coziness, the Dansko women's Patti clog comes highly recommended. It is without a doubt one of the best shoes for nurses as attested to by several reviews.
Pros
Easy on easy/off
Extremely lightweight
Approved by APMA
Tough and long-lasting
Water-resistant and superb for keeping your feet dry
Excellent moisture management
Cons
Somewhat pricey
Some users report that the seams separate easily
See also: Best Work Shoes for Nurses
---
Dansko Women's XP 2.0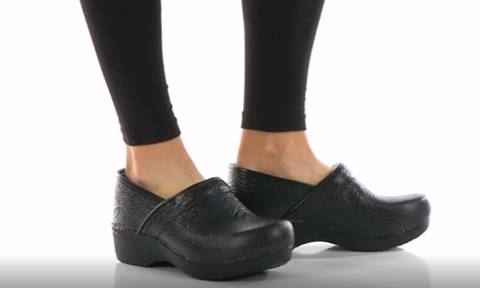 Whether you are simply searching for trendy and cozy shoes for daily use or you need a pair of shoes to help you deal with prolonged hours standing and walking around on unforgiving floors within a hospital, the Dansko women's XP 2.0 clog is precisely what to you need to keep you stable and comfortable. The XP 2.0 is one of the flagship models from Dansko built for nurses and other pros who stand all day. Everything about the footwear is of first-rate quality, from the thermoplastic interior frame design that helps preserve the shoe's structure to the hand tacking securing the non-slip outsole to the leather upper, you will not find a better quality clog than the XP 2.0 from Dansko.
Key Features
Padded instep collar
Leather uppers
Rubber sole
Spacious toe box
Detachable, dual-density PU footbed
Lightweight EVA midsole
One of the key attributes of the Dansko Women's XP 2.0 Clogs is their detachable footbed. When Dansko launched the XP 2.0 to address some of the common criticisms of the initial Dansko Professional, adding a removable footbed is perhaps the most important upgrade. If you require custom orthotics or inserts, a detachable footbed is an utter necessity. If, however, you do not use custom inserts, you will find the installed memory foam footbed extremely comfortable.
Comfort is a vital quality that every nurse should seek in a nursing shoe. Like several other Dansko clogs, The XP 2.0 clogs boasts a rocker bottom sole that lets your heel move slightly up and downward as you walk. This feature is vital for keeping your feet relaxed if you are standing or walking all day. In addition to providing comfort, this feature also makes the shoe more stable to decrease overpronation so that you avoid injuring your knees, back, and ankles.
The non-slip outsole of this clog is another feature that makes it one of the best Dansko shoes for nurses. One wear tester commented, "I used the footwear on wet floors, oily, and greasy floors and I loved the traction on all surfaces. The specially constructed outsole of the XP 2.0 will make your task a little bit simpler. With the assurance from this supper grippy shoe, you can transition between surfaces and freshly cleaned sections or through spills with ease. Thus, you can focus on your core task and be rest assured your footwear would not fail you.
The Dansko women's XP 2.0 is a bit costly compared to other available choices, and there are good reasons for that: loads of groundbreaking features, handcrafted, first-rate quality. This is a must-have shoe if you are not on a budget.
Pros
Made of top-quality materials
Very comfortable
Impressive slip-resistance
Detachable footbed that accommodates most regular orthotics
Cons
Needs some break-in time
A little pricey
See also: Best Shoes for CNA
---
Dansko Women's Pro XP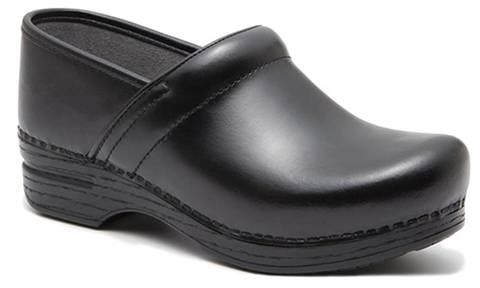 The Pro XP happens to be one of the finest quality footwear from the Dansko brand. The shoe comes in an assortment of colors and sizes and customers rate it favorably time after time for coziness and sturdiness. In this shoe, Dansko did an excellent job of combining healthful coziness with elegance and you will have no hassle finding a style that suits your taste as well as keep your feet relaxed all day long. Besides, Dansko created this nursing shoe using 100 percent authentic leather to guarantee its longevity plus resilience with everyday use.
Key Features
100 percent leather
Roomy toe box
Rubber sole
Platform measurement: approximately 0.75 inch
Heel measurement: approximately 1.5 inches
Lightweight build to help reduce fatigue
Anti-fatigue rocker base
Nurses adore Dansko shoes for their cozy fit and arch support. The Dansko women's Pro XP are clogs even though they look like normal shoes. Dansko engineered them to wear like a regular clog on the interior but loose within the heel while retaining the appearance of a complete shoe to meet workplace requirements. Durable design and first-rate materials help make this clog one of the best Dansko shoes for Nurses on feet all day.
To ensure you have the cushioning and support you need to survive extended shifts; Dansko employed memory foam footbed as well as rubber sole in constructing the shoe. Moreover, thanks to the rubber outsole, you can enjoy an optimum degree of slip resistance. Meaning you can move gracefully on polished and smooth surfaces without fear of slipping and falling.
Besides, the forefoot rocker base is curved to help reduce fatigue as well as enhance shock absorption. Aside from supporting the arch, the curved footbed is fitted with a padded instep to boost comfort when you are walking or standing. Several customers have extolled the shoe's spacious interior with one wearer commenting, "I love the extra space inside the shoe. My toes have enough room to move comfortably, and using my recommended inserts has made this clog my go-to footwear".
Users also love that the Dansko Women's Pro XP is available in various patterns and colors along with details and adornments that flaunt the admirable materials of these shoes. It has a 0.75-inch platform along with a raised 1.5 inches heel to ensure an enhanced natural gait, reduced risk of injury, and optimum comfort.
Overall, the women's Pro XP clogs are durable, trendy, and cozy. It is a fantastic choice if you are searching for the best clogs for nurses.
Pros
Reliable slip-resistance
Excellent arch support
Lightweight design
Spacious interior
Anti-fatigue rocker base
Offered in various styles
Cozy slip-on construction
Cons
Needs some break-in time
A bit costly
See also: Best Waterproof Nursing Shoes
---
Dansko Men's Wynn Shoes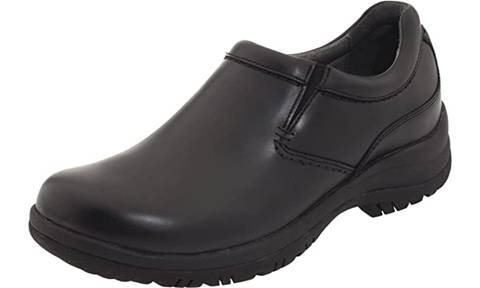 If what you want is footwear that will help you avoid painful foot conditions such as bunions, arthritis, and plantar fasciitis then you may want to check out the Dansko Men's Wynn. The footwear comes with Dansko's advanced quality and engineering, from the padded insole that adheres to the foot to the velvety leather exterior, to the slip-resistant rubber outsole that helps prevent slips and falls. Made using 100 percent authentic leather, the Dansko Men's Wynn perfectly blends classiness and subtlety. Keep reading to discover why customers consistently rate the Dansko Wynn among the best shoes for male nurses.
Key Features
Synthetic sole
100 percent leather
Shock absorbing midsole
Slip-resistant outsole
Riveted shank design delivers stability, control, and enhanced support
Detachable triple-density EVA molded footbed
Dansko shoes are properly crafted and last a very long time and the Men's Wynn is no exception. Perhaps, the most appealing attribute of this slip-on walking footwear is its velvety and comfortable full-grain leather upper.
The collar has a light padding that helps protect against rubbing the inside top of the footwear. The collar is also stretchy to make it easy to wear or remove the shoe. The nitrol rubber outsole is slip-resistant, which means you can walk confidently on a variety of surfaces. The outsole is also well cushioned and durable and that means you can walk around on concrete floors all day without experiencing sore or tired feet.
Another feature of the Dansko Wynn worth mentioning is the detachable footbed. With this, you can attain a tailored fit by attaching your recommended orthotics or inserts. Furthermore, the shoe features shock-absorbing PU midsole that delivers solid yet extremely flexible support.
Pros
Super comfortable
Contoured footbed
Delivers remarkable arch support
Well-cushioned and shock-absorbing polyurethane midsole
Leather upper delivers a secure fit
Slip-on construction
Cons
A little heavy
Needs some break-in time
See also: Best Shoes for Male Nurses
---
Dansko Men's Professional Clog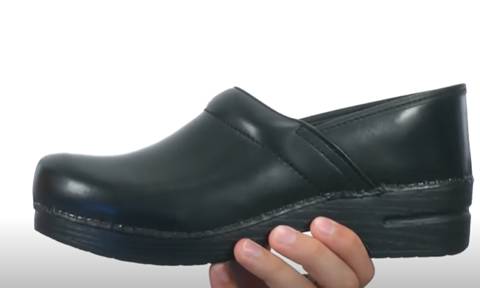 If you enjoy wearing clogs, then the Dansko Men's Professional is certain to become your preferred. The shoe is so dependable that several nurses swear by them. The clog ensures your feet get adequate support and comfort even on the longest days. What is more, the clog looks stylish, meaning that you can wear it for social outings after work without bothering about changing shoes.
Key Features
100 percent leather
Wide heel strike that gives better stability
Padded instep collar
Synthetic sole
Spacious toe box with ample wiggle space for your toes
PU outsole along with rocker bottom
Leather and/or fabric uppers
There are several reasons why the Professional is one of the best Dansko shoes for nurses. To start with, the shoe is super comfortable and perfect for all-day wearing. The clog is also trendy and can go well with most of your other outfits including blazers and jeans. Besides, if you suffer from lower back pain, the regular wearing of this clog will help alleviate the condition.
Other features that make the footwear stand out are a slip-resistant outsole, adequate support structure, and comfort. The shoe is also very durable. "I've worn this Danko clog for over 2 years and it seems to be getting better with age", reported one user.
The major complaint about the shoe is that it requires some break-in time. "Wearing the shoe was a little difficult during the break-in process, but after this period, I was good to go," said one online review. The shoe fits very well provided you select the appropriate size for your feet.
When your job involves standing all day, you need shoes that will keep your feet cozy and protected. Happily, the Dansko Men's Professional Clog does a superb job of meeting these conditions.
Pros
Roomy toe box
Extremely comfortable
Excellent shock absorption
Simple to maintain
Padded instep collar that allows for a snug fit
Cons
Needs some break-in time
Not so lightweight
---
Dansko shoe size chart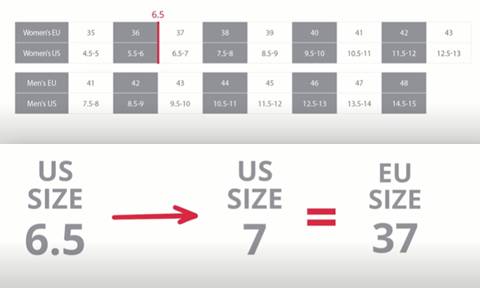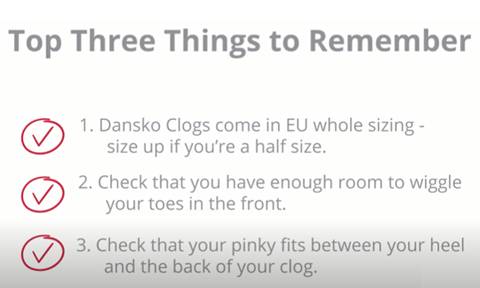 Women's size chart Dansko
| US Size | EU Size | CM |
| --- | --- | --- |
| 4.5-5 | 35 | 22.7-23.2 |
| 5.5-6 | 36 | 23.3-24.8 |
| 6.5-7 | 37 | 23.9-24.4 |
| 7.5-8 | 38 | 24.5-25.0 |
| 8.5-9 | 39 | 25.1-25.6 |
| 9.5-10 | 40 | 25.7-26.2 |
| 10.5-11 | 41 | 26.3-26.8 |
| 11.5-12 | 42 | 26.9-27.4 |
| 12.5-13 | 43 | 27.5-28.0 |
Men's size chart Dansko
| US Size | EU Size | CM |
| --- | --- | --- |
| 7.5-8 | 41 | 26.3-26.8 |
| 8.5-9 | 42 | 26.9-27.4 |
| 9.5-10 | 43 | 27.5-28.0 |
| 10.5-11 | 44 | 28.1-28.6 |
| 11.5-12 | 45 | 28.7-29.3 |
| 12.5-13 | 46 | 29.4-29.9 |
| 13.5-14 | 47 | 30.0-30.5 |
| 14.5-15 | 48 | 30.6-31.1 |