8 Best Adidas Shoes for Nurses – Reviews & Buyers Guide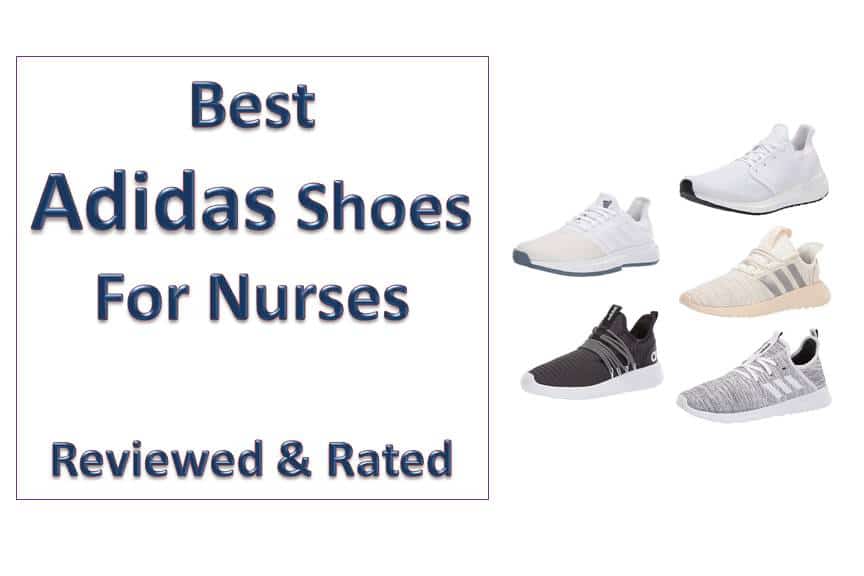 Nurses spend the majority of their workday on their feet, which is why they need supportive and cozy shoes. Selecting the appropriate pair of work shoes can be a tough decision but it is one you need to take seriously. Adidas is a leading brand with regard to first-class, dependable, and long-lasting footwear. If you are looking to purchase a pair of Adidas footwear, then know that you are in the right place. All the research has been done for you in putting together this list of the best Adidas shoes for nurses. Below are the eight best shoes for nurses Adidas for both men and women.
Best Adidas Shoes for Nurses – Top Picks
Adidas Women's Ultraboost 20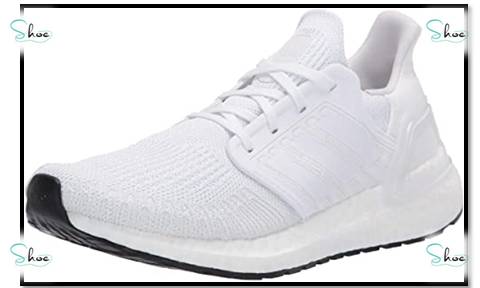 The Ultraboost series from the German shoe giant Adidas is a favorite among nurses, and for good reason. The running shoe has an elastic upper that is soft and nice delivering a superb fit plus amazing comfort regardless of your foot type. Besides, if you attach huge importance to a shoe's appearance, then the Adidas Ultraboost 20 may interest you. The footwear also has a trendy and slender appearance, and is perhaps the best-looking shoe you can buy in the market today. Keep reading to learn why the women's Ultraboost 20 is rated among the best Adidas shoes for nurses.
Key Features
100 percent textile upper
Rubber sole
Shaft measurement: low-top from arch
Great energy return system
Well-cushioned and padded collar
The Ultraboost 20 from Adidas is only a minor overhaul of its precursor, the Ultraboost 19. The latest iteration looks impressive and is a little different from its forerunner, majorly because of its midsole. The midsole area has a coating that changes color based upon lighting. If you wore the former edition of the shoe, you will agree that the knit upper is very comfortable. Now, Adidas has improved the upper to be a bit plusher giving the footwear a superb step-in feel. The footwear also has a true-to-size fit so you do not need to "go down or up a size" when ordering.
There are no changes to the outsole from the previous edition, and many users are happy with this. The Ultraboost 19 boasts a continental stretchweb sole that delivers impressive traction and grip, even on very wet and slippery surfaces, together with astonishing durability.
The upper is the largest departure from the previous version. While the two versions feature a knit upper, that of the later edition is finer and less coarse allowing for a softer, plush feeling. You will love the almost rubbery feel of the midfoot cage. Aside from being very flexible, the midfoot cage helps support the shoe's structure without being intrusive.
To ensure you get a locked-in fit, Adidas introduced what they refer to as Tailored Fiber Placement (TFP) within the upper. TFP is additional stitching covering most of the edges of the shoe's front. The Adidas Ultraboost 20 is also eco-friendly. This is because the upper is produced using up-cycled plastic waste collected from far-flung coastal regions.
Overall, the women's Ultraboost 20 from Adidas is an impressive-looking footwear. Adidas made it to deliver top performance and coziness simultaneously. It is therefore not merely a fine-looking running shoe, but also one of the best sneakers for nurses.
Pros
Outstanding durability
Dependable boost cushioning
Excellent traction
Comfortable upper
Great energy return
See also: Best Sneakers for Nurses
---
Adidas Women's Cloudfoam Pure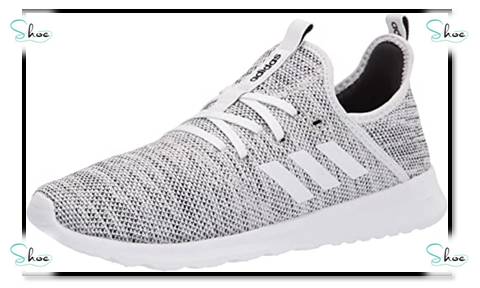 Selecting the appropriate nursing shoes can be tasking if you are not certain what to look out for. Adidas made the women's cloudfoam pure for runners, but the shoe is multifunctional. Aside from being one of the best shoes for nurses, the shoe can also be utilized for gym training, tennis practice, and leisurely walks. The fascinating aspect is that the running shoe is also appropriate for casual wear due to its trendy construction. The most notable feature of this Adidas footwear is its mesh upper, which is slightly elastic and delivers a cozy and snug fit.
Key Features
100 percent synthetic upper
Rubber sole
Women's specific fit
Platform measurement: about 6-12 inches around
Cloudfoam memory sock liner plus textile lining
Hugs the foot
Easy to wear
The Adidas Women's Cloudfoam Pure Running shoe features a mesh plus low rise upper, which helps make the shoe super breathable even on very hot days. What is more, this super breathable upper is fitted with coverings that prevent the buildup of moisture and hot air within the shoe thereby preventing sweaty feet. As you may be aware, sweaty feet can cause your shoes to become uncomfortable and may cause them to begin to smell.
Brand name running shoes can come at a high price even when they offer little in terms of functionality. However, the women's Cloudfoam Pure from Adidas is an everyday trainer that delivers top performance at an affordable cost. It is an excellent option if you are on a budget but want a work shoe that is comfortable, durable, and stylish. Moreover, the footwear is available in a variety of colors to suit your preference.
As regards comfort, the running shoe has gotten several rave reviews due to the coziness it offers to the wearer. Most of this comfort comes from the EVA midsole that delivers lasting cushioning and shock absorption with each step. Adidas say they are totally committed to providing no-pain shoes that wearers can trust for a range of activities. The Cloudfoam Pure is a testament to this commitment with its plush, fully connected upper that will not pinch or restrict your foot in any way.
While the Cloudfoam Pure from Adidas offers reasonable traction, some testers say the shoe is not the best if you are searching for footwear that will deliver superlative traction on very slippery surfaces. Nevertheless, the broad, comparatively shallow grips at the base of the footwear are enough to prevent slips and falls on wet hospital floors.
Pros
Lightweight
Flexible and versatile
Impressive cushioning with excellent underfoot protection
Breathable mesh upper
Sleek silhouette
Sock-like design
Cons
Sizes may run a bit large
Not waterproof
See also: Best Breathable Shoes for Nurses
---
Adidas Women's Swift Run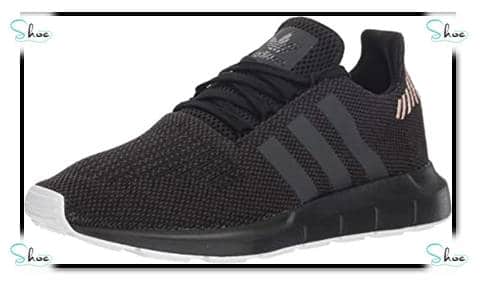 Adidas designed this sneaker to be a simple running shoe, but the construction of the footwear also makes it one of the best shoes for nurses Adidas. Besides, the structure, as well as the low-top construction of the sneaker, makes it suitable for casual outing wear. The footwear features a very thin and light upper material yet it does a very good job of holding the foot in place. If you are in the market for a narrow shoe that delivers excellent stability, cushioning, and support, then you may want to check out the Adidas Originals Women's Swift Run Sneaker. What is more, the shoe comes at an affordable price and many reviewers are impressed with this.
Key Features
Rubber outsole
Knit textile upper
100 percent synthetic
Regular fit
Shaft measurement: approximately low-top from arch
EVA midsole
The women's Swift Run from Adidas features primeknit material at the upper, which is why the footwear is suitable for work and casual outings. Aside from delivering great comfort, the synthetic knit upper also gives the shoe a reasonable degree of breathability. The sneaker is easy to wear/remove mainly because the shoe's tongue is affixed to both flanks of the lace stay area. Furthermore, the shoe's lace-up construction helps ensure a snug fit.
The midsole of the Swift Run comprises EVA foam. Many running shoes are fitted with EVA foam because this cushioning material provides long-lasting and lightweight cushioning. Many testers gave the midsole high ratings because it allows for ease of movement, delivers superb shock-absorption, and enhances the shoe's comfortability. Despite this, some wearers say they are not happy with the durability of the sneaker's midsole. Note that the footwear is not designed for hard athletic activities or severe use.
The women's Swift Run derived its name from the outsole unit. The outsole is made using swift run rubber that gives the footwear outstanding support and stability. The outsole also offers reliable grip and traction on varied terrains.
The women's Swift Run fits-true-to-size and is offered in a range of colorways. According to several users, you can order your regular size of the shoe online and it will fit you precisely. Reviewers also agree that the footwear has a fantastic fit. Wearers can enjoy a cozy and snug fit thanks to the shoe's lace-up construction.
Several wearers with wide feet have also confirmed that the shoe is an excellent fit. The shoe is great for individuals with wide feet because of the knit fabric upper that is stretchy. The women's Swift Run is one of the best Adidas shoes for nurses because it is comfortable, has a stylish design, and is reasonably priced.
Pros
Lightweight
Breathable
Cozy fit
Simple to wear/remove
Elastic upper allows for a snug fit
Cons
Some users say they are not happy with the shoe's durability
See also: Cheap Shoes for Nurses
---
Adidas Women's Gamecourt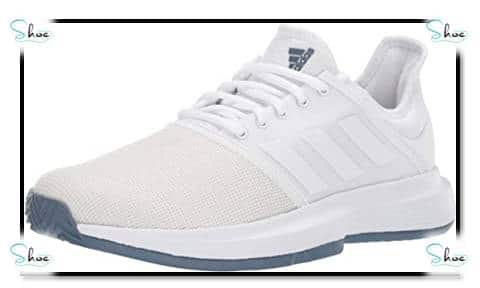 Adidas created the women's Gamecourt Tennis shoe to deliver performance and elegance to recreational players of tennis. It is also one of the best tennis shoes for nurses due to its impressive features, including a breathable mesh upper, flexible Adiwear rubber outsole, plus the breathable and cooling sock liner. Besides, the footwear is constructed using synthetic and textile materials, which means that it is long-lasting and sturdy. The midsole is also properly cushioned to ensure your feet stay happy as you engage in your everyday activities.
Key Features
Breathable mesh upper plus TPU reinforcements
Rubber sole
Cloudfoam midsole
Lace-closure
Regular fit
Shaft measurement: Approximately low-top from arch
Adituff for enhanced abrasion resistance within the toe region
Adiwear outsole for enhanced durability
In terms of looks, the Adidas Women's Gamecourt Tennis Shoe has a simple and stunning design. Additionally, the shoe is offered in a variety of expertly blended color choices to suit your taste. The shoe features a lightweight mesh upper that will enclose each of your feet in breathable coziness. Due to this breathable and lightweight construction, the shoe is ideal for all-day wearing without causing discomfort or tiredness to your feet and lower extremities.
Furthermore, the perforated design allows for proper airflow within the shoe, helping to keep your feet cool and dry when there is an increase in environmental temperature. Many nurses say they appreciate this feature as it allowed them to perform their duties in comfort and with peace of mind.
The shoe's midsole is also well designed. Adidas constructed it using cloudfoam to give the wearer better underfoot comfort. And, if you are wondering: What exactly is Cloudfoam? Adidas says it is a superlatively light adaptation of EVA foam that delivers an unmatched coziness to the foot. The Cloudfoam midsole ensures you have excellent cushioning and coziness with each step. Apart from keeping you comfortable, the Cloudfoam midsole also helps reduce shock when your foot hits the ground during walking or running.
Adidas constructed the shoe's outsole using what they call Adituff, which is an abrasion-resistant compound fitted within the toe area to protect the outsole against extreme wear. A few users have complained about the durability of the outsole and midsole, saying it could be better. Nevertheless, several reviews agree that the outsole is good enough to deliver reliable traction on hospital floors.
The shoe's lacing system is adequately designed to secure your foot properly within the shoe. Besides, the shoe needs no break-in time. This means your feet can quickly adapt to the footwear so you can go about your duties with ease.
Pros
Trendy design
Great comfort
Highly breathable
Fantastic cushioning
Excellent stability
See also: Best Tennis Shoes for Nurses
---
Adidas Women's Stan Smith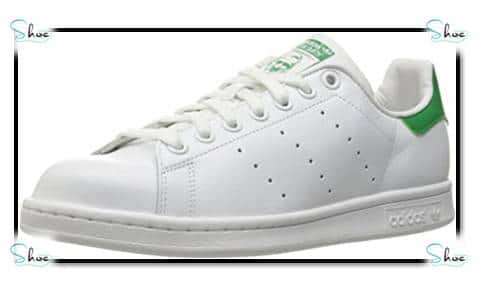 If you are a sneaker enthusiast, you will adore this iconic Adidas Stan Smith shoe. The Stan Smith series has gained wild popularity after Adidas revived it a few years ago. Wearers say they love the trendy and uncomplicated designs of these shoes. These shoes have that conventional Adidas shoe construction but differ in certain respects. Instead of the three stripes that traditional Adidas shoes are known for, Stan Smith shoes feature three lines of perforations. The Adidas Originals Women's Stan Smith sneaker is rated among the best Adidas shoes for nurses because it is a top-performing shoe with coziness and style.
Key Features
Made from 100 percent synthetic and leather materials
Full-grain leather upper
Soft feel, lace closure
Rubber sole
Ortholite sock liner
The women's Stan Smith from Adidas boasts a leather fabric upper with a gorgeous stitching overlay. Even though the upper is produced from leather, the shoes deliver exceptional breathability and will keep your feet dry and cozy even on the longest days. Furthermore, the upper's lace-up construction will let you fine-tune the fitting to suit your requirements.
Hospital floors are at times wet and slippery, which is why slips and falls are a common hazard. The outsole of the women's Stan Smith shoes provides dependable traction and grip on the floor. Concerning durability, the shoes' full-grain leather uppers help to ensure that. Several wearers have praised the footwear for this feature. One customer even reported that after using the iconic footwear for over a year, the shoe remained very strong save for a couple of scratches.
The sneaker employs EVA foam for superior lightweight cushioning. Apart from adding to the coziness of the footwear, the EVA midsole also boosts the shoes' durability in addition to grip capabilities. Practically all the versions of the Adidas Stan Smith line feature EVA midsoles and most wearers say they are highly impressed with this feature.
The Stan Smith Series happens to be one of the top-selling sneakers in the Adidas line of footwear. For several years, many people from all corners of the globe have come to adore these shoes due to their traditional iconic design. The shoes also offer supreme comfort, support, as well as durability making them fantastic shoes for nurses on feet all day. And, to cap it all, they are offered at a highly reasonable price.
Pros
Trendy and appealing
Great fit
Available in a variety of colorways
Lightweight build
Machine washable
Extremely durable
Cons
Runs a bit small with regard to size
A few users report that the leather upper creases with little use
See also: Best Shoes for 12 Hour Shifts
---
Adidas Women's Kaptir X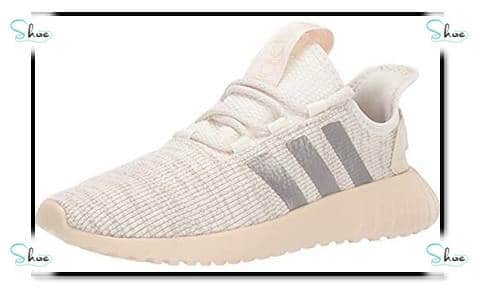 Designed for extreme coziness, this Adidas running shoe is a favorite among nurses due to its comfort in addition to its elegance. Users love that the shoe fits well for wearing all day long and is trendy enough to wear for casual outings. Besides, most online reviews agree that the footwear holds up nicely to extensive use. The sneaker is however not perfect as a few users have complained about its narrow toe box. Keep reading to discover why the Adidas women's kaptir X running shoe is rated among the best sneakers for nurses.
Key Features
Lace closure
Women's specific fit
Breathable textile upper
Synthetic sole
Combined Cloudfoam outsole and midsole
Tongue pull
Textile lining
Plush cushioned insole
Traditional three stripes detailing
The women's Kaptir X offers a trouble-free style for nurses who work mostly on their feet. The sneaker features an uncomplicated knit upper together with polished details. Adidas designed the knit upper to deliver a snug fit to the wearer whilst looking chic. One customer commented that the knit upper looks great and feels almost nonexistent with excellent airflow inside the shoe.
Adidas incorporated Cloudfoam within the midsole to offer supreme support and comfort to the wearer. Several wearers have lauded the midsole for its protection and responsiveness. Others also extolled the foam saying it did not feel weighty and delivered impressive energy return with each step.
With this Adidas running shoe, you will never bother about sweaty and stinky feet as it is extremely breathable and helps prevent bacteria buildup that leads to odors. Besides, the sneaker's rubber outsole delivers the traction and grip you require to walk confidently on any type of surface without slipping and falling.
Pros
Easy slip-on construction
Available in women-specific fit
Trendy design
Offers good traction
Cons
Some users have complained about the narrow toe box
---
Adidas Originals Men's U_Path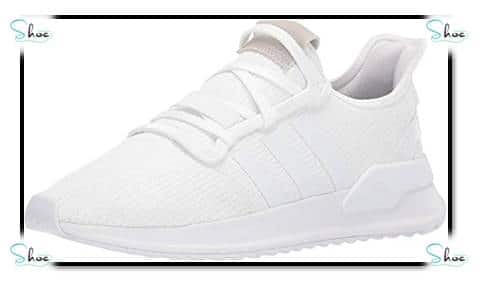 Are you in the market for reliable nursing footwear that will get you through those long, hectic work hours? And would you prefer a model that is also a little budget-friendly? If you answered yes, then that is precisely what you will get from the Adidas Originals Men's U_Path Run Sneaker. What makes the running shoe superb is that Adidas designed it to be lightweight and comfortable with a sleek and gorgeous appearance. With these features, the men's U_ Path Run sneaker is undoubtedly one of the best Adidas shoes for nurses.
Key Features
Lightly padded tongue plus collar
Plush textile lined interior
Rubber outsole
Lightweight EVA midsole
Rubber heel cup
Mesh upper
Regular fit
Lace closure
Plush, lightweight, breathable feel
When it comes to breathability, the plush textile mesh upper of the Men's U_Path Run Sneaker is the major attraction in this sector. The mesh ventilates the whole foot, ensuring that it stays dry and cozy all day. The job of a nurse is certainly not a simple one. You are continually on your feet, and you can envisage what it must feel like performing these functions while wearing ill-fitting shoes. The Men's U_Path Run is designed to help relax things by ensuring adequate airflow inside the footwear.
As regards comfort, the U_Path is perhaps the finest model offered by Adidas. A dependable nursing shoe must be sufficiently comfortable so that the wearer can work extended shifts without experiencing soreness, and dealing with sweaty, tired feet. The U_Path Run shoe from Adidas boasts several features that make it very comfortable.
One of these features is the amazingly cushioned footbed that is immersed with ortholite technology. There is also the plush breathable mesh within the upper, which is mostly responsible for the footwear's coziness. Besides, Adidas constructed the outsole using highly durable rubber. Aside from giving the sneaker impressive durability, the rubber outsole also makes the sneaker very comfortable for walking and everyday wear. Many nurses say they love the rubber heel cup fitted at the rear of the sneaker, as it makes it very simple to wear/remove the sneaker without causing damage to the upper.
Similar to the comfort department, the shoe gets its supportiveness from several areas including the upper and the outsole. The mesh upper plus heel overlay delivers stretchy support. Besides, many testers confirm that the rubber outsole along with the rubber heel cup helps makes the shoe extremely supportive. Furthermore, the ortholite sock liner that is merged with the EVA midsole helps provide ultimate coziness and support, particularly for nurses who have foot conditions.
Pros
Delivers a secure, snug fit
Lightweight design with an extremely soft feel
Comes in several colorways
Cushioned footbed immersed in ortholite technology
Cons
Some customer reviews indicate that the shoe is narrow within the toe region
See also: Best Shoes for Male Nurses
---
Adidas Men's Lite Racer Adapt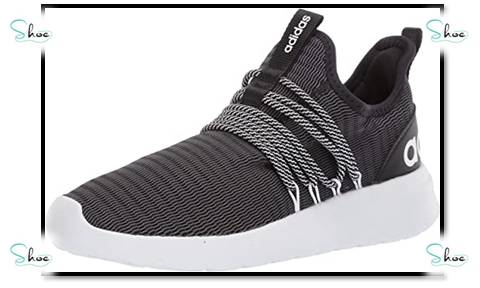 The Lite Racer Adapt from Adidas is a shoe you can wear to the workplace and your feet will be happy the entire day. This is because the footwear is lightweight, comfortable, and has a trendy and unique design. The remarkable aspect is that this Adidas sneaker runs large rather than small like several other shoes from Adidas running shoe series. Many users concur that the shoe is extremely comfortable, however; there have also been some complaints regarding its durability. Nonetheless, the footwear is still superb for everyday wearing and is a fantastic option for nurses who are constantly on their feet.
Key Features
100 percent synthetic
Regular fit
Slip-on design
Rubber sole
Textile upper
Cloudfoam outsole and midsole
Ortholite Float sock liner
Tongue & heel pulls
The Adidas Men's Lite Racer Adapt Running Shoe comes with a slip-on construction that makes it highly functional. The shoe also has a modern look that will help elevate your nursing outfit into a more classy appearance. The knit upper delivers a sock-like fit as well as matchless breathability and comfort to the wearer.
The sneaker boasts a cloudfoam midsole and outsole that not only delivers comfort but also traction all at once. Adidas also installed tongue & heel pulls to make it easy to wear/remove the sneaker. So many nurses who have tried this shoe agree that it is one of the best Adidas shoes for nurses.
The only downside to this sneaker is its durability. One reviewer noted that the shoe would not last long if it is used for any type of physical exercise. However, there is no doubt that the shoe will last you a long time if you add it to your work shoes rotation. If you are searching for a comfy pair of shoes for all-day standing and walking, the Adidas Men's Lite Racer Adapt Running Shoe is a great choice.
Pros
Very comfortable
Delivers a sock-like fit
Comes in several color choices
Mesh upper for good air circulation
Cons
Lacks durability
Sizes run a bit large
See also: Best Slip-On Shoes for Nurses
---
Adidas Shoe Size Chart & Fit Guide
For tight fit, go one size down. For loose fit, go one size up.
Adidas Women's Shoe Size Chart
| US | UK | EU | CM | IN |
| --- | --- | --- | --- | --- |
| 5 | 3.5 | 36 | 22.1 | 8.7″ |
| 5.5 | 4 | 36 2/3 | 22.5 | 8.9″ |
| 6 | 4.5 | 37 1/3 | 22.9 | 9.0″ |
| 6.5 | 5 | 38 | 23.3 | 9.2″ |
| 7 | 5.5 | 38 2/3 | 23.8 | 9.4″ |
| 7.5 | 6 | 39 1/3 | 24.2 | 9.5″ |
| 8 | 6.5 | 40 2/3 | 24.6 | 9.7″ |
| 8.5 | 7 | 40.5 | 25 | 9.8″ |
| 9 | 7.5 | 41 1/3 | 25.5 | 10.0″ |
| 9.5 | 8 | 42 | 25.9 | 10.2″ |
| 10 | 8.5 | 42 2/3 | 26.3 | 10.4″ |
| 10.5 | 9 | 43 1/3 | 26.7 | 10.5″ |
| 11 | 9.5 | 44 | 27.1 | 10.7″ |
| 11.5 | 10 | 44 2/3 | 27.6 | 10.9″ |
| 12 | 10.5 | 45 1/3 | 28 | 11.0″ |
| 12.5 | 11 | 46 | 28.4 | 11.2″ |
| 13 | 11.5 | 46 2/3 | 28.8 | 11.3″ |
| 13.5 | 12 | 47 1/3 | 29.3 | 11.5″ |
| 14 | 12.5 | 48 | 29.7 | 11.7″ |
| 14.5 | 13 | 48 2/3 | 30.1 | 11.9″ |
| 15 | 13.5 | 49 1/3 | 30.5 | 12.0″ |
| 15.5 | 14 | 50 | 31 | 12.2″ |
Adidas Men's Shoe Size Chart
| US | UK | EU | CM | IN |
| --- | --- | --- | --- | --- |
| 4 | 3.5 | 36 | 22.1 | 8.7″ |
| 4.5 | 4 | 36 2/3 | 22.5 | 8.9″ |
| 5 | 4.5 | 37 1/3 | 22.9 | 9.0″ |
| 5.5 | 5 | 38 | 23.3 | 9.2″ |
| 6 | 5.5 | 38 2/3 | 23.8 | 9.4″ |
| 6.5 | 6 | 39 1/3 | 24.2 | 9.5″ |
| 7 | 6.5 | 40 2/3 | 24.6 | 9.7″ |
| 7.5 | 7 | 40.5 | 25 | 9.8″ |
| 8 | 7.5 | 41 1/3 | 25.5 | 10.0″ |
| 8.5 | 8 | 42 | 25.9 | 10.2″ |
| 9 | 8.5 | 42 2/3 | 26.3 | 10.4″ |
| 9.5 | 9 | 43 1/3 | 26.7 | 10.5″ |
| 10 | 9.5 | 44 | 27.1 | 10.7″ |
| 10.5 | 10 | 44 2/3 | 27.6 | 10.9″ |
| 11 | 10.5 | 45 1/3 | 28 | 11.0″ |
| 11.5 | 11 | 46 | 28.4 | 11.2″ |
| 12 | 11.5 | 46 2/3 | 28.8 | 11.3″ |
| 12.5 | 12 | 47 1/3 | 29.3 | 11.5″ |
| 13 | 12.5 | 48 | 29.7 | 11.7″ |
| 13.5 | 13 | 48 2/3 | 30.1 | 11.9″ |
| 14 | 13.5 | 49 1/3 | 30.5 | 12.0″ |
| 14.5 | 14 | 50 | 31 | 12.2″ |
| 15 | 14.5 | 50 2/3 | 31.4 | 12.4″ |
| 16 | 15 | 51 1/3 | 31.8 | 12.7″ |
| 17 | 16 | 52 2/3 | 32.6 | 13.0″ |
| 18 | 17 | 53 1/3 | 33.5 | 13.3″ |
| 19 | 18 | 54 2/3 | 34.3 | 13.7″ |
| 20 | 19 | 55 2/3 | 35.2 | 14.0″ |
Adidas Shoe Width Chart
| Women's | Code | Men's |
| --- | --- | --- |
| Narrow | 2A | |
| Standard | B | Narrow |
| Wide | D | Standard |
| Extra Wide | 2E | Wide |
| | 4E | Extra Wide |