13 Best Sneakers for Nurses and Other Healthcare Workers
One of the most important assets a nurse can possess is healthy feet. If your profession involves standing for long hours with little or no breaks, then having appropriate footwear is not only beneficial but also vital. When shopping for healthy footwear, it is vital you choose one that will provide sufficient support as well as fit your feet's shape properly. Oftentimes, the best shoes that provide good support and comfort do not always match your sense of fashion. If you are a nurse by trade and a fashionista at heart, then a pair of sneakers may be an excellent choice for you. Read on to learn about the best sneakers for nurses who are on their feet all day.
13 Best Sneakers for Nurses – Women and Men
Brooks Women's Levitate 4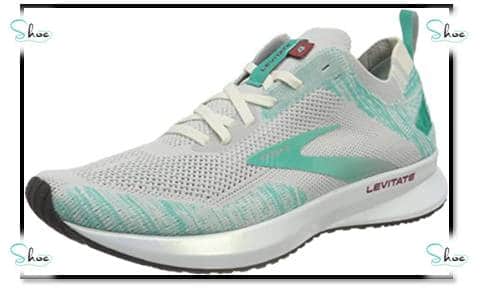 Some of the finest running shoes from Brooks have been available for over a decade now, which means runners and nurses have been depending on these shoes for a very long time. These shoes are constructed to deliver adequate support whilst running, jogging and of course, walking. The Levitate 4 is a comparatively new arrival to the Brooks series and it provides abundant levels of coziness, padding, and bounciness within each step. The Brooks Women's Levitate 4 is ideal for nurses who desire a lightweight shoe that also provides fantastic energy return. The shoe is also well-cushioned, responsive, and versatile, yet pleasant-looking.
Key Features
Light DNA AMP Midsole
Fit knit upper
Assured, sock-like fit
Trendy design
The Levitate 4 is a road-ready everyday trainer that offers an extremely springy ride plus a sock-like upper. The shoe was significantly revamped from the earlier edition giving it a bouncier and lighter feel. One of the big adjustments is the fresh transversely lugged, arrow-pointed outsole construction that delivers enhanced traction and better flexibility compared to the earlier iteration. Further, the outsole, which is integrated with the midsole, promotes enhanced transitions during the toe-off stage of your walk. With this characteristic, you can be sure your steps will be springer and more confident.
Another area that has been modified considerably is the knit upper. The refurbished fit knit upper is specially constructed to move as your foot moves to provide a sock-like locked fit. Moreover, Brooks fitted their Wraparound incorporated collar to the shoe's knit upper to boost the sock-like fit.
The super-bouncy DNA AMP midsole of the previous edition has also been revamped to make it more lightweight. As you may already be aware, DNA AMP midsole from Brooks is the most sophisticated midsole material in the market. It delivers solid energy return by enclosing a polyurethane-based cushioning compound within a thermoplastic polyurethane casing. The midsole of the Levitate 4 is 20 percent lighter compared to its previous edition, which makes it a lighter and quicker feeling shoe.
Many wear-testers say that the women's Levitate 4 has a true-to-size fitting, which means it does not need modifications to your normal size. The Levitate 4 is a soft, bouncy shoe that offers reliable support from a broad footprint. Little wonder then it is ranked among the best sneakers for nurses.
Pros
Sock-like fit that gives the shoe a very comfy and secure feel
Extremely responsive
Designed for a bouncy walking experience
Trendy flat laces
20 percent lighter compared to the previous model
Great traction
Durable midsole
Cons
Some users with wide feet report that the shoe feels narrow within the toe box
Cushioning could be better
See also: Best Brooks Shoes for Nurses
---
Skechers Women's Fashion Sneaker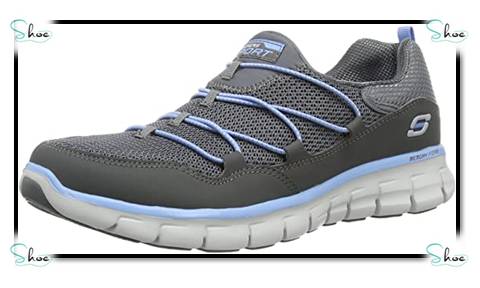 This footwear is appropriately called Life Loving Fashion sneaker as it provides the style and comfort to make you love and enjoy your professional life. Ideal for nurses who want a generously cushioned slip-on footwear with a breathable mesh construction. The Skechers Sport Women's Loving Life Memory Foam Fashion Sneaker accentuates comfort throughout the footwear and places emphasis on padding and flexibility.
Key Features
Made of one hundred percent faux leather plus mesh fabric
Rubber sole that promotes great traction and grip
Fitted with a memory foam insole that ensures maximum comfort
Flex groove outsole that ensures durability
The Memory Foam insole fitted on the Skechers Sport Women's Loving Life Memory Foam Fashion Sneaker is one of this footwear's outstanding attributes. This exceptional feature ensures your feet get all the support it needs all through the day, giving you that stress-free walk.
The shoe is actually a slipper-style sneaker as there are no velcro or laces to deal with. Thus, if you suffer from arthritis or some other related condition, and bending down to knot your shoelaces is painful, then the Skechers Sport Women's Loving Life Memory Foam Fashion Sneaker may be just what you need.
The base of the footwear features a bendable, lightweight rubber outsole along with flex groove design. This feature helps boost gait efficiency and reduces foot tiredness. It is available in a broad variety of colors including charcoal, hot pink, mint, silver, white, navy, gray, coral, and multicolor, so you can choose one that suits your color preference.
The Loving Life Memory Sneaker from Sketchers is a shoe that checks all the boxes if you are searching for shoe that is breathable and pleasant to walk in for extended periods.
Pros
Reasonably priced compared to similar brands in the market
Remarkable midsole cushioning
Comfy design
Made using lightweight materials
Cons
Some users say the memory foam reduces in quality once the footwear is worn a little
See also: Best Breathable Shoes for Nurses
---
Skechers Sport Women's Premix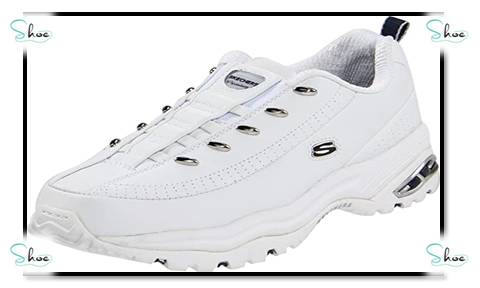 The American shoe company Skechers is renowned for making first-class daily wear footgear for modern nursing professionals. The Premium Premix Slip-on sneaker is no exception. The sneakers come at a reasonable price, yet they offer several amazing features. They have a professional and classy appearance while still being comfortable and safe.
Key Features
Padded collar plus tongue ensures every step is a delight
Made of one hundred percent leather upper
Rubber sole that helps to make walking extremely comfortable
Slip-on sneaker fitted with polished hardware plus cushioned tongue with collar
The shoes upper comprises a smooth leather material and a supple, padded lining. You do not have to bother about coarse patches that will disturb your feet with extended wear. Furthermore, additional cotton padding on the footwear's tongue and collar are pleasant addenda to an already comfortable shoe.
As the name of the footwear indicates, they are crafted to be slipped on and off with ease. And the outsoles are produced from first-class rubber that is both durable and strong. You do not have to worry about falling or slipping on wet surfaces – thanks to the footwear's excellent grip capability.
The footwear has perforated sections through its side and front, which ensures you get greater airflow in the feet. In addition, the excellent air cushioning at the heel helps to cushion the impact of every step you take.
The shoes do not come with laces, thus you are assured of your comfort while going about your work, and you do not have to bother about tripping over shoelaces. The Skechers Sport Women's Premium-Premix Slip-On Sneaker is superb for nursing professionals who desire a conventional athletic sneaker construction, and still want a footwear that is simple to slip on and off.
Pros
Provides plenty of comfort and support even though it is not a lace-up footwear
Strong and durable soles that provides great traction
Simple to maintain with stain-resistant leather
Reasonably priced compared to similar brands in the market
Cons
Some users have complained that the footwear was designed basically for individuals with small feet
See also: Best Skechers for Nurses
---
Nurse Mates Women's Velocity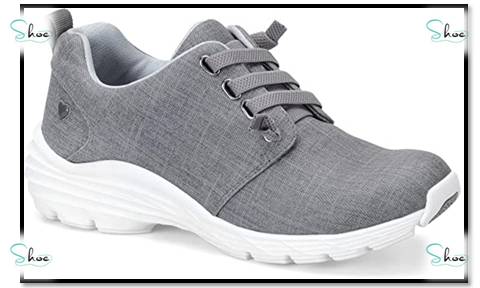 Nurse Mates is a great option for working professionals due to their slip-resistant bottoms, first-rate full-grain leathers, as well as comfort features that provides durable elegance and comfort. The Nurse Mates Women's Velocity Medical Professional Shoe definitely lives up to this reputation. It is ranked among the best sneakers for nurses because aside from the great comfort it provides, it is more fashionable compared to similar brands in the same price range.
Key Features
Full-grain leather uppers
Athletic silhouette
Comes with modifiable stretch laces in addition to traditional laces
Moisture-wicking lining
Slip-resistant
Lightweight EVA outsole
Remedial orthotic insoles, which help, provide support and stability to the heel and arch
The Nurse Mates Women's Velocity Medical Professional Shoe is designed is to provide cushioning and support to your feet all through the day. The shoe's breathable upper and external area construction provides breathability plus a feeling that is indisputably cozy. Extra comfort comes from the padded insoles, which helps soak up moisture from your feet keeping them warm throughout your workday.
The Women's velocity walking shoes from Nurse Mates also features a distinctive outsole specially designed to provide greater stability as well as absorb shock. Aside from providing your feet with extra cushioning, these features also help shield your feet from pressure and injury you may sustain from walking, running or standing for extended periods.
Another feature you will appreciate about these shoes is that they are easy to clean and maintain, due to the type of materials used in their construction. Apart from being stain-resistant, you can easily wipe off any spills that may fall on it. While the shoe is a bit pricey compared to similar brands in the market, it is well worth it for the better quality and comfort they provide for the wearer.
Pros
Provides overall comfort and support
Wide toe box helps prevent squeezing of your toes
Lightweight feel and durability
Rocker base helps absorb shocks while walking
Cons
Hard soles may be a little uncomfortable
See also: Best Slip-On Shoes for Nurses
---
Nurse Mates Women's Dove Oxford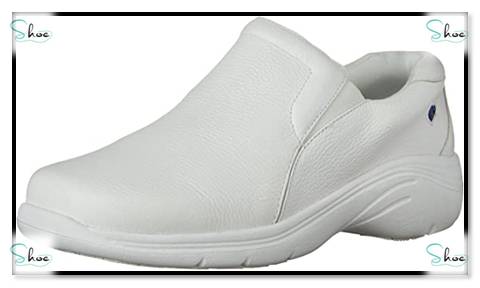 The Women's Dove Oxford sneaker from Nurse Mates offers the modern woman a great balance between comfort, elegance, and professional appearance. Due to its comfort and durability, the footwear is extremely popular among nursing professionals who have to work on their feet all through the day. The Nurse Mates Women's Dove Oxford also has a stylish design, thus you do not necessarily have to forgo style for the sake of comfort.
Key Features
Lightweight and durable
Fitted with rubber sole that is slip-resistant and boosts stability
Stain-resistant finish
Slip-on construction ensures it is simple to slip on and off
Rocking outsole and pillow cushioned bottoms helps provide good comfort
If you are looking for the best nurses sneakers whose main attribute is comfort, then the Women's Dove Oxford may be your best bet. The footwear's additional cushioning ensures your feet enjoy all-day comfort.
In addition, regardless of how tedious your job might be, these loafers will hold up the stress with little or no wear and tear. This is thanks to the sturdy leather used in the shoe's construction, which gets even sturdier with use. Thus, apart from being super comfortable, you can walk anywhere with your shoes, and they will not get damaged or ruined. Another great feature is that the footwear has a stain-resistant finish, which makes it super simple to clean.
The Women's Dove Oxford comes in an elegant professional design that is appreciated by many nurses and other healthcare professionals. Styled as a loafer, this footwear is simple to wear and remove and provides flexibility and stability while walking.
Pros
It is lightweight
It is stain resistant
Fitted with a rubber sole that is slip-resistant
Provides great comfort while at work
Cons
The footwear is vulnerable to cracking or fading
See also: Best White Nursing Shoes
---
Keds Women's Canvas Sneaker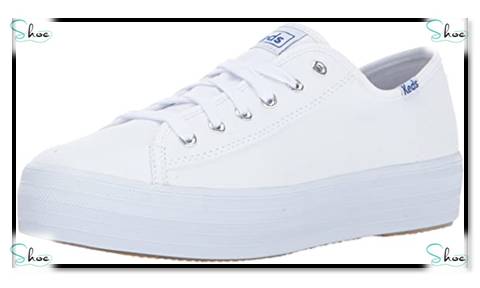 If you are looking for an easy way to up your fashion style as a lady nurse, then look no further than the Keds Women's Triple Kick Canvas Sneaker. It is an elegant canvas sneaker that comes in traditional colors such as black and white. If you are on your feet throughout the day, this footwear is a fantastic choice. From breathable twill lining to the durable rubber sole, this footwear will help keep you moving and comfortable.
Key Features
Breathable and lightweight
Dream Foam footbed
Cotton upper
Rubber outsole
Fabric, textile lining
Lace-up closure
Whether you are walking in the hospital wards or strolling through the hospital grounds, the Keds Women's Triple Kick Canvas Sneaker will help keep you comfortable and fresh all day long. The footwear features a 1-inch platform that will boost your height a little but will not result in loss of balance when walking. This footwear should serve you well if you wish to feel a little taller.
The footwear comes with a breathable canvas upper and is super simple to clean. Its fitting lace-up closure helps ensure a good fit in addition to keeping your feet secure all day. It also has a rubber outsole that gives it a slip-resistant grip.
With these features, the Tripple Kick from Keds very well qualifies to be placed among the best shoes for nurses. It is a great option for someone searching for a trendy, clean-looking sneaker.
Pros
Durable rubber outsole that helps increase comfort
1'' platform helps with support
Cushioned footbed which provides lasting padding
Breathable Canvas Upper that ensures your feet remains dry all day long
Cons
Available in minimal range of colors
See also: Best Shoes for Nurses
---
Skechers Women's Elite Glam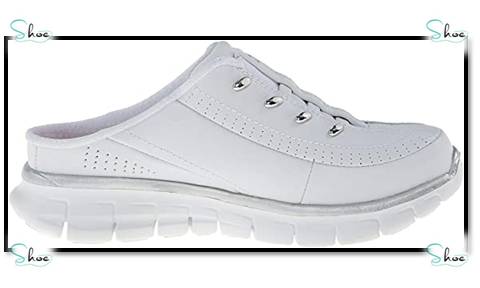 The Elite Glam Synergy Slip-On Mule is a smart, all-white, open backside shoes for nursing professionals from Skechers. The shoe's leather upper, perforated panels and stretchable tongue fabric makes it one of the best sneakers for nurses who spend long hours on feet.
Key Features
Leather construction
Open back design
Durable and lightweight
Rubber sole
Simple to slip on and off
One of the main features of Skechers Sport Women's Elite Glam Synergy Slip-On Mule Sneaker is that it has a low heel design that provides excellent support to the feet. In addition, the sneaker's low heel architecture makes it very simple to wear and remove, and allows greater airflow to the rear thereby reducing moisture and heat retention.
In addition, the footwear is lightweight, therefore adds no additional burden to your feet as you move around on them.
The mule's smooth leather upper also helps keep the feet dry and healthy by drawing moisture away from the feet. And, its stretchy rubber sole provides solid grip support and allows for easy walking.
The footwear's midsole is made using flexible and lightweight materials. The mule's lightweight construction ensures there is no additional burden to your feet as you move around on them. Furthermore, it comes with a removable memory foam insole allowing you to swap it for another to give you a different fit.
This low heel sneaker from Skechers is stylish, fashionable, and comfortable, and that is why it is perhaps the best sneakers for nurses on feet all day.
Pros
Lightweight
Fashionable
Comfortable
Provides arch support
Durable
Cons
Some users have complained that the shoe is a bit too narrow and provides low stability
---
Skechers Women's D'Lites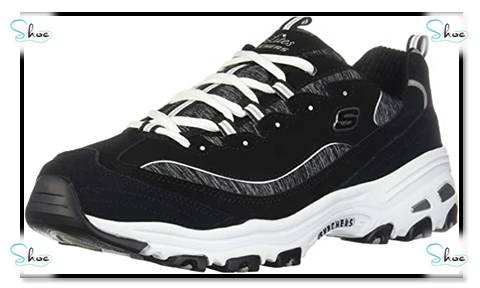 The D'Lites range of footwear from Skechers is arguably the most extensive and popular collection from the brand. This is mainly because these shoes are crafted to give wearers the ultimate, comfortable, everyday walking footwear. The Sketchers Women's D'Lites Memory Foam Lace-Up Sneaker measures up to this high standard of quality – thanks to the cushioned midsole and padded heels that help provide great support to the user's feet.
Key Features
Good Traction
Impressive Shock absorption
Cushioned insole for extra comfort
Lace-up closure fitted with metal top eyelets
Padded tongue plus collar
Sporty design
Lightweight
The Skechers Women's D'Lites Memory Foam Lace-up Sneaker comes with a flexible rubber outsole that provides the user with great traction outdoors and indoors. The outsoles ensure you enjoy peace of mind with the knowledge that you do not have to bother about slipping and falling as you hustle from one patient to another.
The D'Lites Memory Foam comes with a midsole that is produced from a very comfortable and relaxing memory foam. The memory foam is beneficial for good posture and helps decrease foot fatigue as you move about. The footwear's upper is produced from a lightweight mesh fabric, which ensures breathability and ultimate comfort.
The Skechers Women's D'Lites Memory Foam Lace-up Sneaker is designed to be lightweight and flexible. As you move around hospital wards, it is vital you have a footwear that will not slow or weigh your feet down. Many users agree that the Women's D'Lites Memory Foam sneaker is lightweight and will not add any pull to your feet during a long shift at the hospital.
Pros
Lightweight
Comfortable
Fantastic traction
Provides user with heel and toe protection
Simple to maintain
Reasonably priced
Cons
Some users have reported that the footwear has durability issues
See also: Best Shoes for Overweight Nurses
---
New Balance Women's 608v5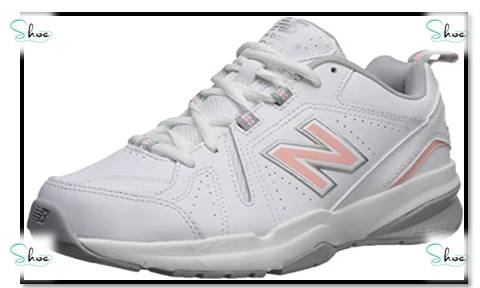 New Balance is a company that makes contemporary, training, and walking sneakers for both men and women. The company has been doing this business successfully for over a hundred years, and the New Balance Women's 608v5 Casual Comfort Cross Trainer is one of their innovative products introduced in November 2018. The footwear offers several fantastic features that qualify it as one of the best sneakers for nurses on feet all day. It comes with an improved ABZORB® heel pad as well as outsole flex grooves that deliver great flexibility and comfort to the user.
Key Features
Slip-resistant flexible rubber outsole
Midsole that features ABZORB cushioning technology that helps absorb shocks
Breathable leather upper
Dual-density collar foam that helps prevent the ankles from getting irritated
The New Balance Women's 608v5 Casual Comfort Cross Trainer is fitted with a remarkable grippy rubber outsole, which provides impressive traction on a variety of surfaces. The footwear has EVA midsole for better support and shock absorption. The midsole also features a PU shank for greater stability.
The sneakers feature the New Balance trademark ABZORB technology. ABZORB offers cushioned heel pad that gives balanced shock absorption irrespective of the type of feet you have and your style of walking.
In addition, the sneakers come in a range of color choices, which include black, white, chocolate brown plus white details, black plus white details, grey suede, and more. With this range of choices, you can easily select one that suits your preferences. In fact, the New Balance 608v5 is one of the best sneakers for nurses you can use to express your personal style.
The shoe offers a great deal with regard to flexibility. Its outsole is crafted to conform to your foot's natural shape. Furthermore, the impressive flex grooves add better flexibility within the forefoot. The shoe's upper is also flexible and stretchy, and does a fantastic job of keeping your foot stable and secured.
Pros
Has impressive traction
Provides arch support
Lightweight
Fantastic cushioning
Slip-resistant outsole
Breathable upper
Versatile construction
Cons
Narrow fit
Average Support
Durability concerns
See also: Best New Balance Shoes For Nurses
---
AKK Women's Tennis Shoes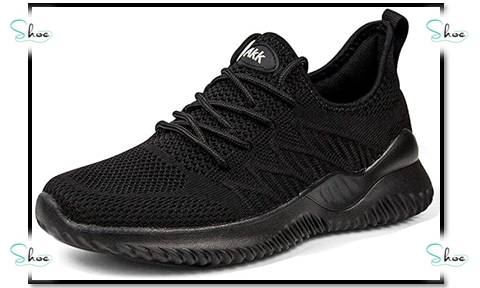 This AKK shoe is not only great for tennis playing but also offers the support and comfort needed to get through 12-hour shifts. The shoe is lightweight and is thus appropriate for all-day wear. Besides, the flexible padded collar will help ensure you do not suffer pinching and chafing while going about your duties. The AKK Women's Walking Tennis shoe is undoubtedly one of the best sneakers for nurses and the over 8000 5-star reviews attest to that.
Key Features
Lightweight walking shoes
Memory foam insole
Rubber sole
Slip-resistant MD outsole
Padded collar
Streamlined slip-on appearance
If you are in the market for supportive shoes that will keep your feet cozy during prolonged shifts, then this AKK sneaker certainly fits the bill. Weighing in at just 0.8 pounds, this AKK shoe promises to be extremely light on the foot.
The yielding memory foam insole is engineered to deliver superior shock absorption along with arch support. Several reviews concur that the insole is cozy and delivers firm support. You will adore the sneaker's non-slip MD outsole, which is designed to prevent falls when walking on wet, greasy, or oily surfaces.
The upper and sole regions are soft and stretchy thus allowing for a comfortable fit. Moreover, with this design feature, you can move in any direction you desire without experiencing discomfort. The footwear features an uncomplicated yet elegant design and can be combined splendidly with several of your casual outfits.
If you are an on-the-go caregiver, this AKK women's sneaker will provide your feet with superlative support and comfort. And, the fascinating aspect is that the sneaker is highly reasonably priced.
Pros
Lightweight design
Super comfortable
Easy on/off
Classic design
Impressive cushioning
Highly breathable
Properly-cushioned
See also: Best Tennis Shoes for Nurses
---
Skechers Men's Rockland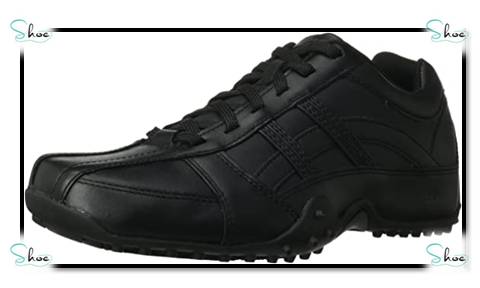 If you are searching for a fantastic pair of non-slip footwear for nursers, then the Skechers for Work Men's Rockland Systemic Slip Resistant Lace-Up Shoe is a great option to consider. The reliable shoe company Skechers produced these charming black shoes, and they are arguably the best sneakers for male nurses in the market today. Aside from keeping you from slipping, this impressive footwear also possesses everything you require to keep your feet comfortable and cozy throughout the day.
Key Features
Breathable design
Comfortable lace-up construction
Flexible Rubber sole for additional grip
Smooth leather upper for better comfort
The Skechers for Work Men's Rockland Systemic Slip Resistant Lace-Up Shoe has a low profile however, the footwear's lace-up closure help provide a perfect fitting for your feet. Furthermore, the sole provides additional grip down the edges of the heel. This feature helps protect the user from slip and fall.
The Rockland Systematic also has a contoured insole design, which boosts stability and provides additional shock absorption and cushioning. You can take out the insoles either to wash them or to have them replaced with custom orthotics. These sneakers' leather upper plus stitching together with a leather overlay gives the shoe a stylish appearance. Style and comfort meet here to give you that ultimate walking experience.
Pros
Shock-absorbing midsole for all-day comfort
Padded tongue plus collar gives the user extra cushioning
Lace-up construction that gives the wearer a secure fit
Simple to clean
Additional grips down the sides of the sneaker for better grip and traction
Removable insoles allows for easy cleaning
Cons
Is not available in other colors except black
Some users have complained of comfort issues with this sneaker
Ankle support could be better
See also: Best Shoes for Male Nurses
---
K-Swiss Men's ST329 CMF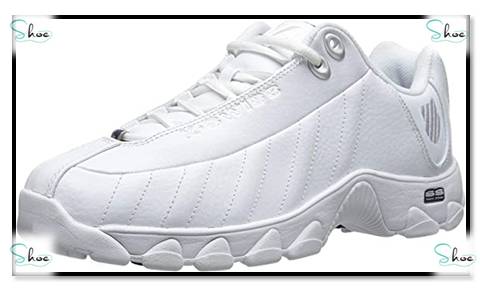 Originally designed as a tennis shoe, the K-Swiss Men's ST329 CMF Training Shoe has become extremely popular among healthcare professionals globally. They are durable, trendy and comfortable. The shoes come in a variety of colors and feature a durable outsole, hardwearing tread, as well as full leather upper. They are a fantastic footwear for male nursing professionals who are on feet all day.
Key Features
Synthetic sole for better durability
Textile collar lining that boosts comfort
Leather upper for increased safety and comfort
Molded Eva Midsole
The insole of the K-Swiss Men's ST329 CMF Training has memory foam, which makes it suitable for extended periods of walking or standing. The memory foam fabric also functions as a shock absorber, thus reducing the risk of injury to your feet.
The K-Swiss is available in a broad range of colors including dark olive, gray, black, and white. This means you can select from a plethora of choices to suit your style. More importantly, these sneakers are crafted to deliver superior comfort. You can walk around the hospital wards without feeling any discomfort or pain – thanks to the shock-absorbing heel fitted on the shoe.
This footwear is worth every penny you spend on it. It is trendy, durable, and above all comfortable. It is made specially to meet the needs of nurses and other healthcare professionals on feet all day.
Pros
Durable outsole
Provides great traction
Memory foam footbed for increased comfort
Shock-absorbing heel
Lightweight
Cons
Arch support is not sufficient
---
PUMA Men's Tazon 5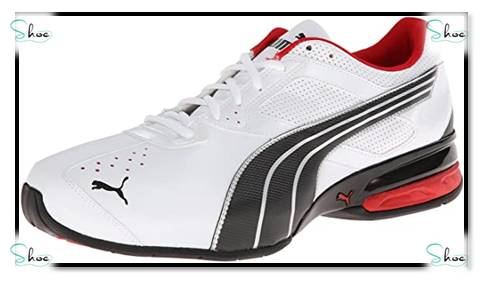 Puma is globally renowned for making comfortable and stylish footwear, and the company has a wide variety of casual and athletic gear in its range. If you are searching for the best sneakers for nurses on feet all day, you should definitely check out the PUMA Men's Tazon 5 Cross-Training Shoe. The shoes are produced mainly from rubber and synthetic leather. It provides impressive grip as well as enhanced comfort – thanks to the footwear's foam-padded interior.
Key Features
Lace-up design
Mesh upper that allows for enhanced breathability
Nicely cushioned midsole
TPU shank for increased stability
Durable
The PUMA Men's Tazon 5 Cross-Training Shoe upper is made from a blend of materials to make the footwear extremely durable and comfortable. The synthetic leather used in its construction allows for increased comfort and support.
The shoe also spots Puma's conventional lacing system, which helps keep the footwear properly fitted to the feet. Aside from comfort, properly fitted shoes help to reduce the risk of injuries to the feet. The footwear's EVA mid-sole give support and cushioning to the mid-section of the feet down to the heels. With this feature, you are sure you will not experience foot fatigue all through your workday.
The sneakers' split rubber outsole is beneficial for preventing slip and falls on wet surfaces, while its TPU shank provides extra support to your arch particularly when moving on an uneven surface.
Pros
Breathable
Impressive shock absorption
Comfortable
Stylish
Cons
Comes in a limited variety of colors
Narrow design
See also: Best Trainers for Nurses
---
How to Choose the Best Sneakers for Nurses?
Comfy shoes are a vital part of a nurse's garb, particularly since they may spend over 60 percent of their workday walking or standing. Wearing unsupportive and poor-fitting shoes for extended periods can cause you to develop foot conditions like bunions, plantar fasciitis, blisters, heel spurs, heel pain, and ingrown nails.  Over the years, sneakers have become a top option for nurses who desire a stable shoe that offers loads of support. Their lightweight design, complete foot coverage, and adaptable midsole make them perfect for the hospital environment. If you are seeking the best sneakers for nurses, read this comprehensive guide to help you find the best pair for your feet.
Top Tips for Shopping for the Best Work Sneakers for Nurses
Measure your Feet Before you make the Purchase
When shopping for sneakers you must get a pair that will fit your feet appropriately and deliver the support you require. Aside from hurting your feet, wearing wrong-sized shoes can have long-term consequences. Measuring your feet appropriately is the best way to ensure you get the right size shoe for your feet.
Even if you know your shoe size, consider consulting a professional to measure your arches and feet so you know precisely what size sneakers you should be searching for. A podiatrist or foot specialist can guide you in obtaining your correct foot measurement.
Consider your Shoe Requirements
When shopping for work shoes, you must take into account your needs. You should ask yourself questions like the following: Are these sneakers durable enough to survive the unforgiving hospital floors? Are they lightweight and do they have sufficient cushioning to ensure you can walk or run comfortably without getting sore feet?
Sneakers come in a broad assortment of styles and designs so it is vital you find a pair that will suit your requirements concerning comfort and support. If you select the wrong design, it can greatly impact your everyday walking experience. Your needs for the best work sneakers may include:
A flexible midsole
Cozy design
Adequate heel & toe coverage
Supportive, detachable footbed,
Lightweight design
Proper interior cushioning
Lace-up or slip-on construction
Slip-resistant outsole
Choose Quality over Price
If you are shopping for the best sneakers for nurses, it is best to think about quality first rather than the price tag. The wrong nursing shoes can ruin your legs and back, a pair of sneakers that provide poor traction can make walking on wet/slippery hospital floors a hazardous activity, and work shoes that offer little or no protection can result in injury or infection.
Therefore, always go for shoes that offer the most comfort, safety, and performance for walking and running. If you must spend a little more to get superior support and performance, it would be worth it.
Read Reviews
When searching for a reliable pair of work sneakers, one thing you can do to make a good buy is to read nursing shoe reviews. Reading the analyzed features and specs of various sneaker brands will help you learn a lot regarding the shoes you are thinking about buying. Some of the things you will learn include features like the sneakers' comfort, durability, actual fit, and arch support level. Besides, reading reviews will help you spot likely problems that you may encounter while wearing the shoe.
Frequently Asked Questions (FAQs)
Can I Wear Sneakers as a Nurse?
The simple answer is yes, but bear in mind that different hospitals and healthcare facilities have dressing codes that differ for your shoes and uniform. Provided that sneakers are part of the footwear nurses can wear within that hospital, then nurses can wear sneakers to work.
How frequently should I change my sneakers as a nurse?
Experts recommend changing your sneakers every 6 to 8 months or every three hundred to five hundred miles, whichever comes first. However, generally, it is a good idea to change your sneakers once they begin to moderate signs of wear.
Are sneakers machine washable?
Yes, but consider the following tips before throwing your soiled sneakers into the washing machine: • First strip off the laces and wash them separately • Pretreat heavily stained sneakers • Use minimal detergent for washing and avoid using hot or warm water • Let your sneaker air-dry under a shade
Conclusion: Best Sneakers for Nurses
Nursing is without a doubt a hugely rewarding career. Nurses have the privilege and sensitive task of caring for the sick, injured, and dying. To be able to perform these tasks successfully, you need to be fit and healthy. Wearing supportive proper fitting shoes is vital to maintaining good health. If you are in the market for the best sneakers for nurses, this guide will help you find the best option.