13 Best Tennis Shoes for Nurses & Healthcare Workers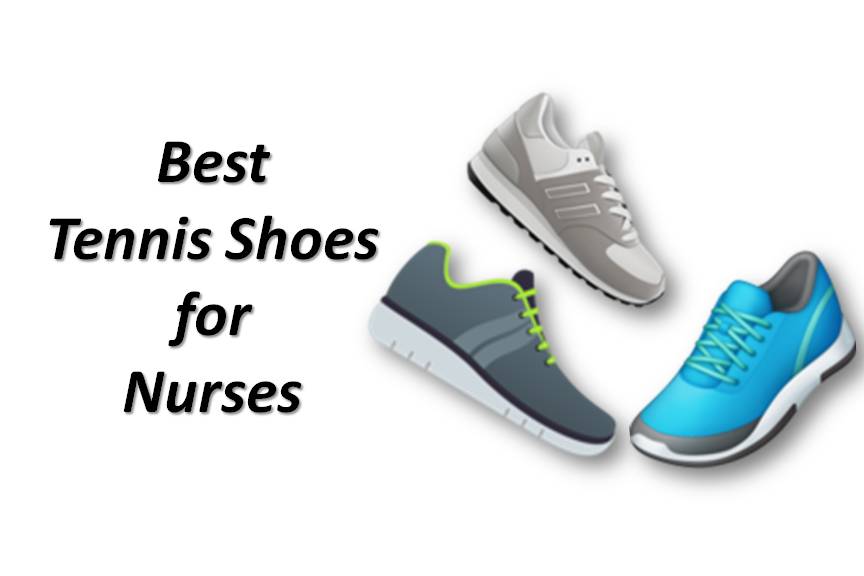 A nurse's feet need to be as happy and comfortable as possible so they can be prepared to face up to any challenge. Nurses stand on their feet throughout the day, which can be tiring on the feet and legs. For this reason, proper footwear is not only recommended but an essential to ensure comfort and safety. If sneakers are your particular footwear passion, then check out this list of the best tennis shoes for nurses to help remove the guesswork that comes with selecting the right pair of nursing shoes.
Best Tennis Shoes for Nurses on Feet All Day
Brooks Women's Glycerin 18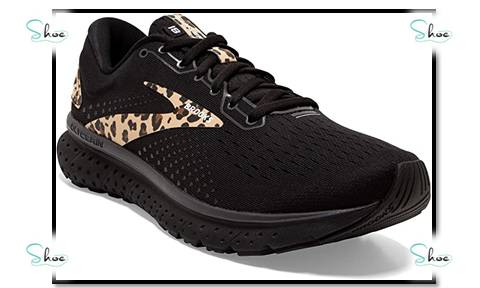 Brooks, over the past couple of years, has been modernizing their cushioned running shoe series to make them more lightweight to meet up with their competitors. The company has achieved impressive results with the Glycerins. Little wonder then the Glycerin series from Brooks has been a perennial bestseller and has even become go-to footwear for nurses and other professionals who work mostly on their feet. If the major criteria you look for in a nursing shoe are cushioning and coziness, then you will adore the Brooks women's Glycerin 18.
Key Features
Rubber sole
Synthetic and mesh upper
Increased DNA LOFT for better cushioning
Ortholite sock liner
The Glycerin 17 was no doubt a very good shoe and Brooks certainly does not intend to spoil a good thing. This explains why most of the alterations to the Brooks Glycerin 18 were minimal. The area where most of the alterations were made is within the upper unit. While the upper of the current edition and its predecessor look essentially the same, the mesh material upper of the Glycerin 18 has been changed to a dual jacquard mesh. Apart from ensuring excellent flexibility, this new material allows for adequate airflow within the footwear.
The conventional overlays on the previous glycerins have also been traded for 3D Fit Print to deliver a locked-in and flawless fit. Besides, the shoe features a cozy and soft tongue, and you will not experience any slipping when walking or running.
There is practically nothing new within the sole unit of the Glycerin 18 compared to that of the Glycerin 17. The two editions employ DNA Loft foam as the key cushioning material within the midsole but the base of the footwear has been redesigned with thinner sheets of outsole rubber. This update has resulted in enhanced traction as well as a bouncy toe-off. Most online reviews observed that this updated foam design helped to reduce the overall weight of the footwear but made very little difference with regard to comfort when walking or running.
Pros
Excellent traction
Plush, flexible upper
Super plush cushioning
Adapts to a wide range of foot sizes, volumes, and shapes
Cons
A few customers have reported that the shoe feels somewhat heavy
See also: Best Brooks Shoes for Nurses
---
HOKA ONE ONE Women's Bondi 6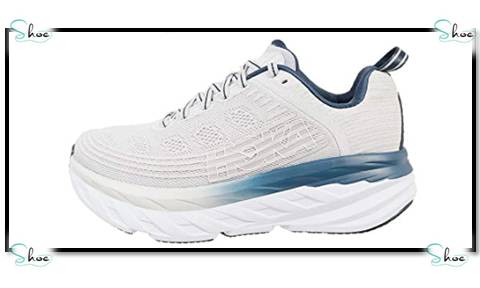 Hoka is a company that specializes in making footwear that has super cushioning, and the Hoka One One Women's Bondi 6 Running shoe is no exception. In fact, Bondi 6 has the most cushioning of all running shoes made by Hoka. This footwear will definitely keep your feet comfortable and happy all through the day. It offers a smooth, stable walking experience delivered by the complete Eva midsole plus the breathable and comfortable upper.
Key Features
Breathable open design mesh upper plus seamless synthetic overlays
Rubber sole
Padded insole for superior cushioning
Sturdy complete-length EVA midsole for better stability and shock absorption
Breathable textile lining that helps remove dirt and sweat
Improved meta-rocker that produces a smooth ride
The Bondi 6 from Hoka is considered one of the best shoes for nurses on feet all day due to its Meta-Rocker and plush sole design. These features help ease the ache linked to overuse injuries such as plantar fasciitis, which is achieved by reducing the impact to muscles and joints during running or extended walking.
The Bondi 6 also has a design feature referred to as Active Foot Frame. According to the makers of the footwear, this technology allows the wearer's feet to really sink into the midsole of the shoe rather than merely sitting on the shoe's midsole. With this feature, your arches and heels get additional support and comfort, whilst leaving sufficient room for your toes to breathe.
At first glance, the Hoka One One Women's Bondi 6 Running Shoe looks heavy. Nevertheless, with a weight of approximately 0.3 kilograms, the footwear is deceptively light. This is partly due to the design of the shoe's rubber outsole as well as the very low-density foam utilized in its construction.
Pros
Highly durable
Rocker sole
Fits snugly and comfortably
Impressive cushioning
Cons
A little pricey compared to similar brands in the market
See also: Best Hoka Shoes For Nurses
---
ASICS Women's Gel-Challenger 12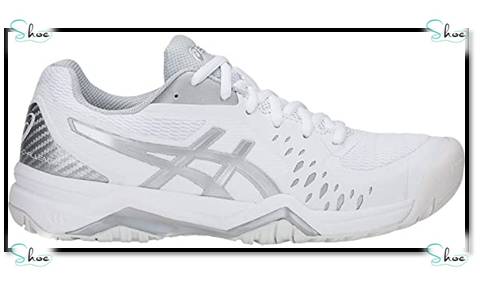 This impressive footwear from ASICS features stunning aesthetic touches; however, good looks is not its only asset. The shoes also deliver lots of comfort, durability, and support at a fantastic price. Furthermore, it is equipped with ASICS's characteristic Gel Cushioning System, which helps to absorb shock and keep the wearer's feet comfortable throughout the day.
Key Features
Solyte Midsole material for superior cushioning and shock absorption
Made of fabric and synthetic leather
Forefoot plus Rearfoot Gel Technology Cushioning structure
Trusstic System technology that helps enhance gait efficiency
Ortholite Sockliner that provides comfort and support
Detachable Sockliner for enhanced cushioning and moisture-wicking
The ASICS Women's Gel-Challenger 12 Tennis Shoes are handcrafted beautifully using pure fabric material. The footwear is fitted with a removable sock liner that offers moisture-wicking and cushioning to keep the feet dryer and cooler. It also features an ortholite lining, which provides comfort and breathability.
The sole of the Gel-Challenger 12 is crafted using industrial quality rubber and boosted with innovative technologies. To start with, the footwear's pressure points are fitted with ASICS' classic Gel Cushioning system including the heel and forefoot areas. This feature helps provide superior comfort for the foot.
Furthermore, the shoe also features Trusstic System technology for additional cushioning and improved stability, whilst the midsole is made using Solyte material that helps reduce weight as well as enhance shock absorption.
It also offers orthotic support. What this means is that you can easily slot in one or two more insoles without sacrificing comfort.
Pros
Lightweight
Breathable fabric upper
Gel-cushioning system that provides impressive comfort
Trusstic soling arrangement for structural integrity
Outstanding shock absorption
Cons
A few users have complained that the shoelaces are somewhat too short
A bit pricey
See also: Best Asics Shoes for Nurses
---
Dansko Women's Paisley Sneaker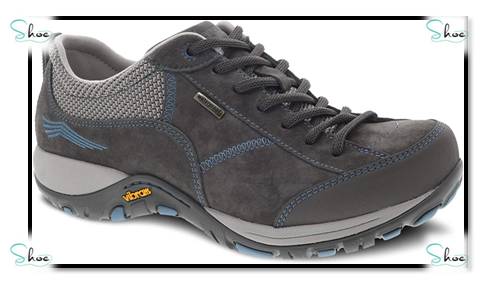 If you are searching for a dependable footwear that will give you a sporty appearance to your professional outfit, then the Dansko Women's Paisley Waterproof Outdoor Sneaker may be an excellent choice for you. This nurse sneaker from Dansko is ranked among the best tennis shoes for nurses as it places a cushioned spring to each step you take.
Key Features
Made of one hundred percent leather
Waterproof leather uppers
Synthetic sole for enhanced durability
DuPont Sorona fiber that helps manage moisture
CleansportNXT for enhanced odor control
Provides Orthotic support
This lovely sneaker from Dansko can match practically any outfit, thus you can wear it to work or to a night out at the bar. The footwear comes with a one hundred percent waterproof leather upper that will help keep your feet dry and warm. You can also wear them in any weather – rain or shine without bothering about wrecking them.
The sneaker has a breathable detachable footbed that ensures a healthy foot environment. The footbed can be swapped for custom insoles for extra support. It is also available in a variety of color options, so no matter what your dress style is, you will be able to find something that fits precisely.
Another feature that makes the Dansko Women's Paisley Waterproof Outdoor Sneaker one of the best shoes for nurses is its non-slip outsole, which satisfies the highest criteria for slip resistance. In addition, with the sneaker's stretch fabric liner, you can be sure of a snug fit, whilst the padded footbed provides plenty of arch support.
Pros
Available in a variety of color options
Waterproof leather upper
Non-slip outsole
Cons
Some users have complained that the insole slides out of place when walking
See also: Best Waterproof Nursing Shoes
---
Prince Women's T22 Tennis Shoes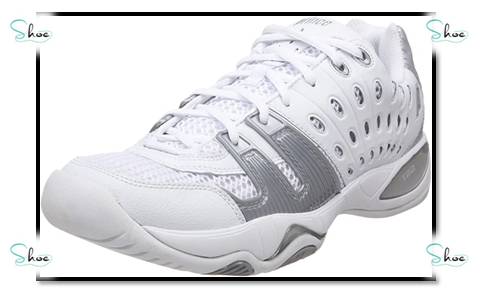 When in the market for best sneakers for nurses, you cannot afford to ignore the Prince Women's T22 Tennis shoe. The footwear provides superb midfoot support, outstanding cushioning and the inclusion of an innovative moisture-repellent liner helps to boost comfort. What all this means is that you can wear these sneakers all day long without your feet hurting.
Key Features
Engineered using one hundred percent synthetic plus mesh materials
PRC 1000 outsole for increased durability
Rubber sole for better traction
Wishbone shank that enhances midfoot stability
Available in a variety of color options
While the Prince Women's T22 Tennis Shoe was originally designed for female tennis players, it is also one of the best shoes for nurses who are on their feet all day. The sneaker provides impressive ventilation – thanks to its mesh uppers and synthetic materials. It will also last you a long time as it is fitted with a quality rubber sole as well as a PRC 1000 outsole.
The women's T22 from Prince has a wishbone shank, which provides outstanding stability and support for the midfoot. This means you do not have to bother about foot pain after standing on your feet for a prolonged period. The shoe comes in six color choices so you do not need to sacrifice your fashion sense when you step into your workplace and perhaps even impress them with your footwear choice.
If you have wide feet, the footwear's toebox has sufficient room for you to comfortably move your toes. Furthermore, the shoe's rash toecap helps to protect the toe from abrasion when walking.
Pros
Fantastic absorption properties
Superb midfoot support
High durability
Stylish design
Cons
Some users say the shoe feels somewhat heavy compared to other brands
The toebox width differs between shoes
---
New Balance Women's 520v5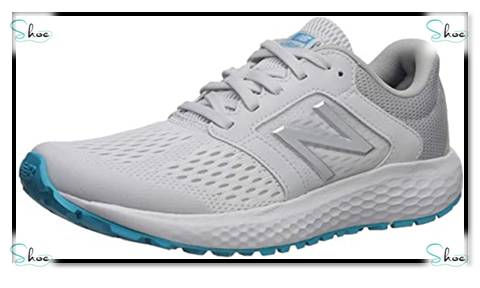 This remarkable footwear from New Balance provides an amazing feel and will definitely last you a long time. The shoe is lightweight, flexible, and highly breathable. In addition, it has a striking appearance and available in a number of color options. It will thus make a great addition to your present collection of footwear.
Key Features
Injection Molded EVA
Rubber Outsole
Synthetic/Mesh upper plus comfort collar
Data Inspired Upper engineering
The midsole of the New Balance Women's 520v5 Cushioning Running Shoe has a blend of EVA densities for extra cushioning and comfort. The footwear does not come with heel counters, and that means you can easily slip the footwear on and off.
If you typically walk around on hard surfaces for extended periods, you do not have to bother about the soles becoming worn – thanks to the shoe's durable outsole. Furthermore, the footwear has attached insoles as well as complete-length seamless interiors. These features help prevent your feet from getting blisters and corns.
The shoes upper is engineered using soft mesh fabrics for enhanced breathability and comfort. Aside from allowing free air circulation within the feet, the shoe has materials that wick sweat away from your feet. What this means is that you can wear the shoes all day without your feet beginning to feel stressed and uncomfortable.
When shopping for the best tennis shoes for nurses, the New Balance Women's 520v5 Cushioning Running Shoe should certainly be on your list. They are lightweight, dependable, and highly responsive.
Pros
Reasonably priced
Extremely lightweight
Soft cushioning for all-day comfort
upturned toebox that is beneficial for stride transition
Cons
Some users have complained that it is difficult lacing up the sneaker
A bit narrow and short
See also: Best New Balance Shoes For Nurses
---
Brooks Women's Addiction Walker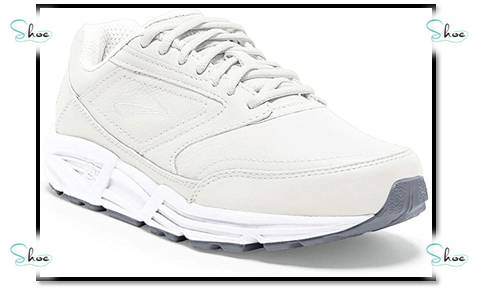 This Women's walking shoe from Brooks merits a place among the best shoes for nurses on feet all day, and there is a good reason for that. The footwear has features that will provide you with the support and comfort you require to perform your everyday tasks to the best of your ability. The footwear pairs slip-resistant soles with fantastic support so you will never get caught off guard.
Key Features
Non-slip rubber outsole
Durable
Walking shoe
Complete-grain leather upper
Midsole with BioMoGo DNA with extended PDRB (Progressive Diagonal Rollbar) arch support
Comes with biodegradable midsole foam
The entire upper of this footwear is made using full-grain upper plus stitched overlays. Aside from being hardwearing, the leather is also soft and thus provides impressive durability and comfort. The inner part of the shoe's upper is fitted with a soft, posh-like fabric that ensures a comfy fit. The tennis shoe has a traditional lacing system and there is a leather lace circle at the center of the shoe's padded tongue through which laces is pulled. This helps to ensure the tongue does not slip to the side.
The Brooks Women's Addiction Walker Walking Shoes feature MoGo, which is a material that provides extra midsole cushioning. This MoGo Material differs from other cushioning materials used by Brooks. It is more durable, softer, and provides better flexibility when walking.
This footwear is built with PDRB technology. This feature will help prevent pronation issues as well as help solve the problem for individuals who suffer from over-pronation. In addition, the shoes feature a non-slip outsole that will provide you with better stability as you move about on slippery, uneven, and unstable surfaces.
Pros
Non-slip outsole provides impressive traction on slippery surfaces
Durable leather upper
Blendable and versatile
PDRB midsole plus BioMoGo DNA platform for responsive and durable cushioning
Highly comfortable
Biodegradable midsole
Cons
A bit costly compared to similar brands in the market
Minimal Breathability
See also: Best Walking Shoes for Nurses
---
Brooks Women's Levitate 2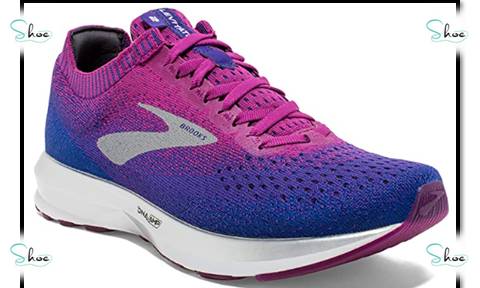 The Levitate 2 from Brooks is classed among the best tennis shoes for nurses because it provides lots of cushioning and flexibility that will take you through those long 12-hour shifts. These shoes are actually running sneakers, thus they are engineered with the comfort of a runner in mind. The inside of the footwear's extremely compliant Fit Knit upper has several comfort features to ensure you keep working at your best all day long.
Key Features
Lace-up closure
Superior DNA AMP midsole
Sticky rubber outsole for better traction
Comfortable toebox that permits movement and stretching
The Brooks Women's Levitate 2 Running Shoe has a highly flexible Fit Knit upper that adds to the footwear's comfort. Furthermore, the shoe is properly structured while having a lush, ultra-soft feel – thanks to the 3D Knit utilized in the shoe's upper. It also has a detachable Energize insole, which provides additional cushioning and comfort.
The midsole of the Levitate 2 is engineered using polyurethane foam which provides superior energy return cushioning and support. This midsole cushioning is bouncy and makes walking a lot simpler. Thus, aside from ensuring the safety of your feet while at work, these shoes will also give your step an extra spring.
As regards stability and durability, the footwear's outsole is made using a sticky rubber material that provides great traction and durability. Also, the arch which is engineered to support medium to high arch feet is perfect for individuals who suffer from tendon issues within the foot such as plantar fasciitis.
The Brooks Women's Levitate 2 Running Shoe has several fantastic features but sadly breathability is not one of them. While there are some purpose-built openings within the upper material to allow airflow, the footwear offers very little as regards breathability. Thus, it is best to wear these shoes when the weather is cool, breezy, and dry.
Pros
Extremely comfortable with sufficient toe space
Highly durable
Excellent traction
DNA AMP midsole for fantastic energy return
Cons
Footwear is somewhat heavy
A bit pricey compared to similar brands in the market
Complicated lacing system
See also: Best Running Shoes for Nurses
---
Adidas Women's Ultraboost 20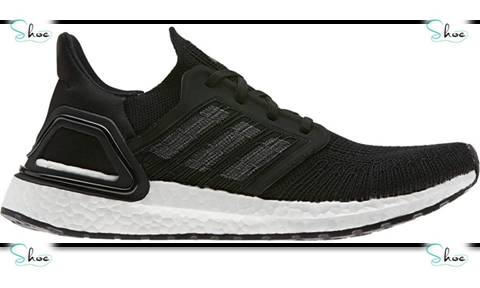 This running shoe from Adidas is so popular that most people have heard of them. Adidas originally constructed this footwear as a runner; however, they also utilized technology that has made the shoe one of the best sneakers for nurses and other frontline healthcare workers. And the good thing is that the shoe looks really trendy and cool so it is perfect for anyone who likes wearing sneakers.
Key Features
Energy Return system to add extra spring to your walk
Airy yet highly supportive prime knit upper
Well padded and cushioned heel
Rubber sole for enhanced traction
The Adidas Women's Ultraboost 20 Running Shoe derived its name from the sole component, and that explains why the makers of the footwear placed a lot of emphasis on that area. The ultra boost is fitted with enhanced boost foam material beneath the entire foot area. With this feature, the wearer enjoys extreme comfort levels, endless energy return as well as cushioning.
The footwear comes with Adidas' innovative Continental Stretchweb outsole, which provides a wider contact area for superior traction and grip. Thus, with this sneaker, you do not have to bother about slips and falls on slippery or wet surfaces.
The shoe also features a foot-hugging Adidas Primeknit upper, which provides support and structure to the foot whilst walking. The knit upper is highly breathable so you do not have to bother about your feet getting hot or sweaty.
Pros
Dependable Boost cushioning
Continental Stretchweb outsole for impressive durability and traction
Very comfortable upper
Loads of energy return
Cons
The footwear is somewhat heavy
See also: Best Adidas Shoes for Nurses
---
New Balance Women's 623 V3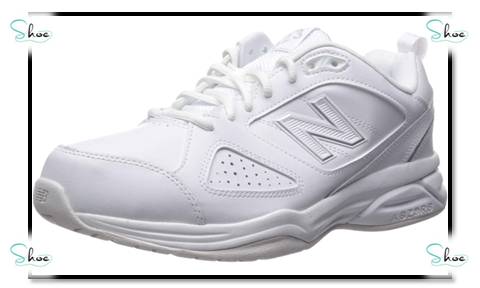 New Balance is famous for offering supportive and comfortable shoes that can be worn throughout the day without discomfort. While the NB women's 623 V3 was designed for cross-training, it is also a great choice for the nurse who desires a trendy-looking shoe that delivers excellent cushioning and comfort during extended shifts. The sneaker comes in an assortment of size and color choices and professional reviewers rate it among the best tennis shoes for nurses.
Key Features
Non-marking rubber sole
100 percent leather upper
Padded EVA foam footbed
Injection-molded EVA foam midsole
Athletic construction
ABZORB cushioning within the midsole
One of the vital selling points of this New Balance sneaker is its quality. The company engineered the uppers using 100 percent premium leather.  This means you can enjoy superlative comfort whilst still being assured of lasting durability and flexibility. The sneaker's non-marking rubber sole is also very durable and delivers terrific traction and grip on any type of surface.
New balance also employed the finest technology in constructing the footwear. The 623 V3 will provide your feet with all-day coziness with its solid yet elastic injection-molded EVA foam midsole along with padded EVA foam footbed. The interior features a moisture-wicking lining that will help prevent moisture accumulation within the shoe. With a weight of only 0.625 pounds, you can be certain the sneaker will not weigh your feet down as you go about performing your daily nursing duties.
Some customers have complained that the New Balance 623 V3 tends to run small. Therefore, it is a good idea to size up one or two sizes if you are broad footed.
Pros
Breathable inserts
Non-marking outsole
Very comfortable EVA footbed
Quality leather upper
Versatile design
---
Brooks Men's Addiction Walker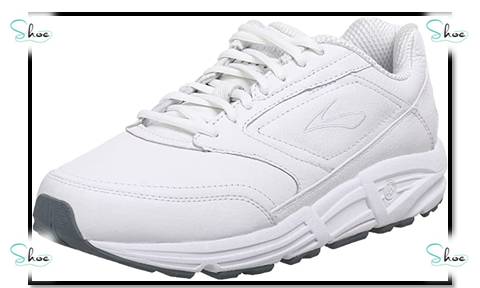 Aside from being the best tennis shoes for male nurses who are on feet 24/7, the Brooks Men's Addiction Walker Walking shoes is also ideal for individuals who enjoy leisurely walks or hiking. This impressive footwear from Brooks has some great design features that make it stand out from similar brands in the market. They are comfortable fit-to-size shoes so you will never have to worry about sores or blisters.
Key Features
Slip Resistant outsole
MoGo Midsole Cushioning
Linear Platform
Support for individuals with low arches
Complete-grain leather upper
Rear Padding for enhanced shock absorption
The Brooks Men's Addiction Walker Walking Shoes provide extreme comfort and stability, and that is partly due to footwear's MoGo midsole cushioning. With this feature, you can be sure of a better rebound plus less fatigue to your feet and entire body.
The footwear also provides fantastic traction and stability – thanks to its first-rate rubber outsole. The outsole is carefully designed to give a bouncy feeling which translates into a seamless heel to toe transitions. Furthermore, the outsole helps with shock absorption thus reducing the risk of ankle rolling.
This walking shoe from Brooks has a spacious toe box so you can wiggle your toes whenever you want to. If you suffer from painful bunions, the shoe has sufficient space to accommodate your feet and help reduce the bunion pain.
While the Brooks Men's Addiction Walker Walking Shoes is one of the best tennis shoes for nurses, it is by no means a perfect footwear. Compared to other walking shoes in the market, the Men's Addiction Walker from Brooks is somewhat heavier, but that is mainly due to the shoe's extra cushioning as well as motion control support features.
Pros
Lightweight
EVA insole that helps prevent fatigue
Lace-up closure design
Great cushioning that helps prevent blisters
Cons
Foot is a bit heavy compared to similar brands in the market
Some users have complained that the shoe does not have sufficient room to accommodate large feet
See also: Best Shoes for Male Nurses
---
ASICS Men's Gel-Challenger 12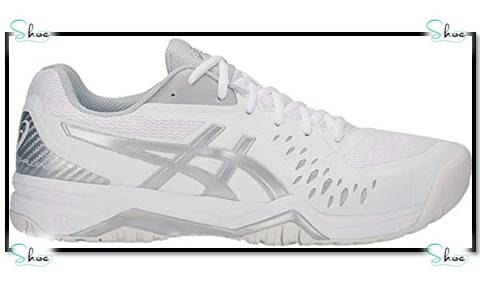 This striking footwear from ASICS is a great choice for nurses and other healthcare workers who are searching for lightweight, comfortable, and budget-friendly performance shoes. The footwear has a bold design and is a great way to add color to your professional attire. ASICS utilized all of their newest, lightweight technology to reduce the weight of this footwear making it flexible and comfortable.
Key Features
Fabric and synthetic upper
Solyte Midsole Material for extra comfort and durability
Forefoot and rearfoot Gel Technology cushioning arrangement
Trusstic system technology for enhanced stability during walking
Ortholite Sockliner to help keep your feet cool as well as odor management
The Gel Challenger 12 from ASICS comes with the innovative Trusstic System technology. This feature helps the footwear to attain stability and integrity whilst decreasing stress on the feet. The shoe also has ASICS' signature Rearfoot and Forefoot Gel technology cushioning system. This property helps reduce shock during impact plus toe-off phases. This thus permits movement in several planes as your foot transitions during the gait cycle.
This inspiring tennis shoe also comes with an ortholite Sockliner which helps to manage feet moisture thus keeping them dry. And the best part is that the sock liner is detachable, thus you have the option of replacing with a medical orthotic if necessary. The shoe's midsoles, which are SpEVA and EVA, are engineered using a lightweight material.
Pros
Breathes well
Lightweight
Reasonably priced
Highly flexible
---
K-Swiss Men's Classic Vn Sneaker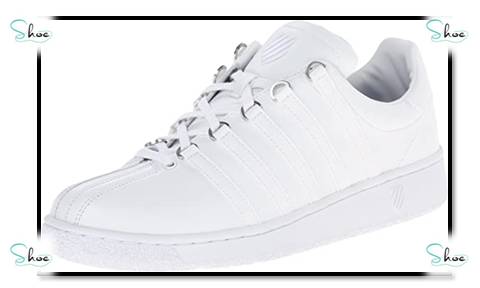 The Classic VN happens to be the very first leather sneaker made by K-Swiss. Its main selling point is the classic design, which goes with practically any casual outfit. The footwear is ranked among the best tennis shoes for male nurses because they provide great comfort and even fit any style.
Key Features
Rubber sole for enhanced traction and grip
Unique Toe strip overlays that give the footwear a distinctive appearance
Has a one hundred percent leather upper
Tennis style sneaker that features metallic D-ring laces plus embroidered logo on tongue
The upper of this remarkable sneaker is crafted from premium leather that provides a dependable fit. Furthermore, the shoe's metal D-rings fitted for the laces ensure better durability and strength. If you opt for these sneakers, you can be sure of adequate support and protection for your feet at all times- thanks to the footwear's EVA midsole.
The Classic VN comes with a durable EVA outsole that helps with traction and its molded heel cup that ensures reliable support. The K-Swiss Men's Classic Vn Sneaker has a simplistic and minimalist design that you will certainly love.
Pros
Quality leather upper
Strong Metal D-Rings
Eva Midsole
Minimalist Design
Great Traction
Soft and comfortable
Cons
Narrow fit
The paint may wear off with extended use
---
How to Choose the Best Tennis Shoes for Nurses?
When your job comprises 12 hours a day spent mostly standing and walking, you need the appropriate shoes to cushion sore feet, protect your arches, and provide impact support for vital areas like knees, ankles, and hips. If you wear unsupportive shoes consistently, you could develop joint pain, achy arches, plus other painful conditions. The guide below highlights some of the vital attributes every nurse should take into account when searching for the best tennis shoes for nurses.
Factors to Consider When Shopping for Work Shoes
The Hospital's Dress Code
Every hospital or healthcare facility has a dress code policy for nurses that include uniform, use of fragrances, jewelry, and style of shoes. Therefore, before you dash out and purchase a pair of tennis shoes for your nurse job, ensure you are aware of the dress code policy concerning the style of shoes.
Professional RNs wear appropriate tennis shoe styles from brands like ASICS, Dansko, Brooks, Adidas, New Balance, and K-Swiss.
Size of your Feet
Whether you are shopping online or buying from a brick-and-mortar store, you must know your correct feet size beforehand. Too loose or too tight, the tennis shoes will get uncomfortable as you go about your duties and this may result in injuries, tissue damage, and foot pain.
See also: How to Measure Your Feet for Shoes
Note: When comparing your measurements against the shoe size chart on any brand's website, you should use the measurement of your bigger foot.
 Safety Features
High-stress areas such as the emergency room and the Intensive Care Units mean that nurses have to be fast on their feet at all times. Sometimes, they walk or run on wet, oily, or slippery surfaces, which can lead to slips and falls. That is why you must choose footwear that comes with anti-slip properties. Non-slip shoes are fitted with rubberized outsoles plus a good tread pattern that provides excellent grip and traction when walking or running.
Arch Support and Cushioning
When shopping for nurse shoes, it is vital to choose shoes that will provide support as well as absorb any shocks your feet might encounter. Take into account the size of your toes, heel, and arches, and choose a shoe design that will provide the right cushioning and support.
Lightweight
Your work shoes must be made using light yet sturdy materials that can keep your feet relaxed during prolonged periods of standing or walking. Lightweight shoes lessen the load on your feet so you can walk effortlessly and confidently.
Best Tennis Shoe Brands
Brooks
Brooks Running is perhaps the best sportswear manufacturer out there. Four of their models are extremely popular globally. These are the Brooks Addiction Walker, the Brooks Levitate 2, and the Brooks Glycerin 18. These shoes feature several proprietary technologies including Brooks BioMoGo and DNA AMP that make them extremely durable, supportive, and comfortable.
ASICS
ASICS is another admired brand that manufactures tennis shoes. Several nurses and other professionals who work mostly on their feet prefer ASICS because they provide lasting comfort and support. The ASICS Gel Challenger 12 is arguably the most admired model within the ASICS' line of tennis shoes. The footwear features an ortholite sockliner that supplies outstanding comfort and support.
Adidas
Adidas is a leading producer of athletic apparel, shoes, and sports equipment. The Adidas Ultraboost 20 is unquestionably an ideal work shoe for professionals who do a great deal of standing and walking. The footwear features Adidas' signature Primeknit that will gracefully grasp your foot, giving your foot structure and support as you walk.
Dansko
Dansko shoes are recognized for their lightweight and durable construction. The Dansko Women's Paisley sneaker is one of the brand's finest offerings for nurses on their feet all day. Several nurses agree that the footwear is slip-resistant, breathable, supportive, and comfortable. The interesting thing about this sneaker is that it has a fashionable design that'll give you a modish appearance.
New Balance
If you are seeking support, comfort, and style, New Balance has you covered. The New Balance women's 623 V3 and 520 V5 are two of the most popular models in their tennis shoe line. These shoes are lightweight and outfitted with moisture-wicking linings that help check moisture buildup inside the footwear.
Frequently Asked Questions (FAQs)
How frequently should my tennis shoes be replaced?
Generally, experts advise you to replace your shoes every 6 to 8 months or every three hundred to five hundred miles whichever comes first. However, the precise answer depends on several factors including your frequency of use and walking style.
What are the best tennis shoes for male nurses?
Top 3 best tennis shoes for male nurses: 1. ASICS Men's Gel-Challenger 12 2. Brooks Men's Addiction Walker 3. K-Swiss Men's Classic Vn sneaker
Does the New Balance Women's 623 V3 come with removable insoles?
Yes, this new balance sneaker comes with removable insoles that are also machine washable.
What do letters alongside shoe sizes mean?
The letters beside the size signify widths. "A" implies narrow, B means medium width, D is a broad shoe.
Conclusion: Best Tennis Shoes for Nurses
There is no doubt you now know how to select the best tennis shoes for nurses. You will always choose a winner provided you look for support, comfort, durability, and protection. To ensure your tennis shoes last long, make sure you clean them at regular intervals. Your shoes will preserve their factory-fresh appearance if you get rid of any dust particles, stains, and spills as fast as possible.