Top 9 Best Nursing Shoes for Flat Feet – Reviews & Guide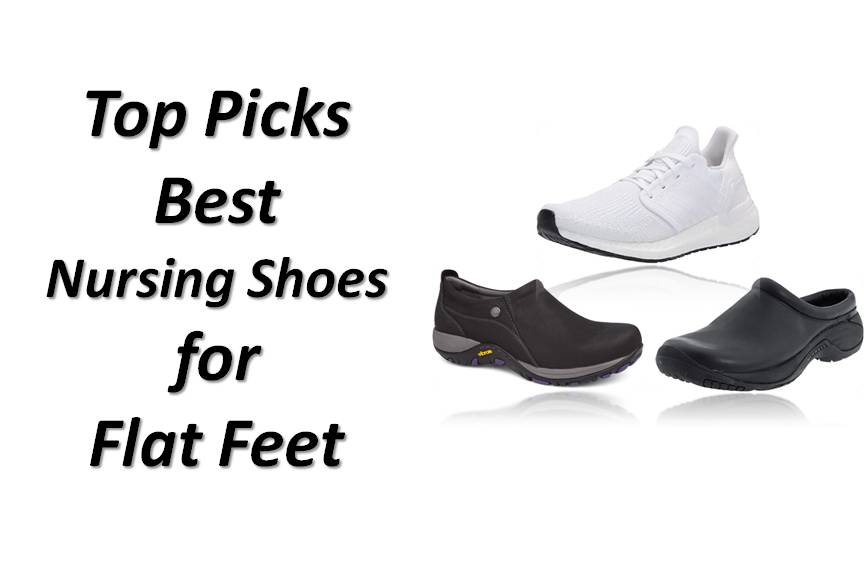 Arch support is important for everyone, but it is an even bigger concern for people who are on their feet for most of the day. This applies more to nurses than many other group of professionals. In a hospital, most of the responsibilities fall on the nurses. A nurse who has flat feet still has to perform on the job, despite foot discomfort and pain. Their only option is to find the best shoes for nurses that will allow them to get through the day. These types of shoes should meet a number of criteria if they are to help in pain alleviation or management. Shoes for flat foot should be durable, comfortable, have a simple style, and be affordable. Many shoe brands uses some of these features as selling points, so it is possible to become overwhelmed by the choices available. This list should make it easier to find the best types of shoes and sneakers for nurses.
Related Article: Best Supportive Shoes for Nurses
Best Shoes for Nurses with Flat Feet
ASICS Women's Gel Kayano 27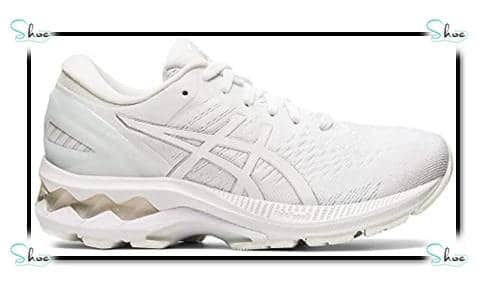 If your job keeps you on your feet all day, you appreciate how vital a cozy pair of nursing shoes can be. The Gel Kayano 27 from Asics is loaded with several impressive technologies including Dynamic DuoMax, FlyteFoam, Fluidfit, as well as Asics signature High Abrasion Rubber. These technologies help deliver comfort, breathability, and stability – features that nurses look for when in the market for a pair of nursing shoes. The Gel Kayano 27 comes with shock-absorbing properties, a comfortable design, and durable materials, which is why it would make a great addition to your nursing wardrobe.
Key Features
Rubber sole
Forefoot & rearfoot gel Technology cushioning
FlyteFoam Midsole Technology to enhance comfort and reduce impact
Dynamic DuoMax construction for enhanced stability
Space Trusstic Technology
The Gel Kayano 27 is an extremely effective shoe for nurses who are flat-footed or suffer from plantar fasciitis. This is because the shoe comes with features that ensure your arches and heels are properly supported as you go about your duties. The shoe delivers matchless support with the ideal balance of cushioning and bounce-back. It features ASICS signature High Abrasion Rubber sometimes called AHAR, within the heel to enhance durability.
The Gel Kayano 27 like other shoes within the ASICS Kayano line employs both gel and foam to deliver enhanced comfort to the wearer's feet. Forefoot & rearfoot gel technology cushioning structures both enhance shock reduction and with ASICS' Flytefoam technology, the shoe bounces back to its initial shape after each step you take. Flytefoam works seamlessly with the rearfoot & forefoot Gel cushioning structure to support several parts of your foot during extended shifts.
This ASICS running shoe model is also very durable and will last you a very long time. This is because ASICS employed state-of-the-art technologies (AHAR and FluidRide) to ensure durability. AHAR is installed within vital sections of the outsole to give it a robust structure while FluidRide helps ensure cushioning and bounce-back without adding excessive weight to the shoe.
If you are looking for the best nursing shoes for flat feet, the ASICS Gel Kayano 27 fits the bill. The shoe provides extraordinary arch support while still being very lightweight. The shoe comes in a range of color combinations to suit various tastes.
Pros
Very durable
Available in various color choices
Extremely comfortable
Highly adaptive
Impressive cushioning
Cons
Somewhat pricey compared to similar models from other brands
Related Article: Best Asics Shoes for Nurses
---
Avia Women's Avi-Union II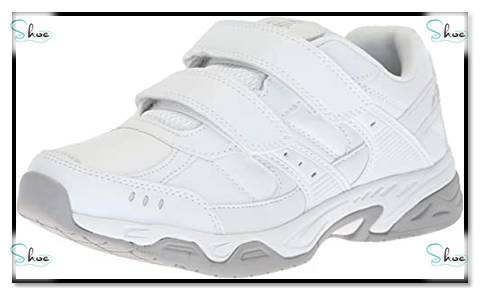 This is a tennis shoe, so it delivers on the promise of rugged durability. It has a simple hook and loop closure, which is convenient. The Avia Women's Avi-Union Strap Ii Food Service Shoe was designed to enable surefootedness on slippery floors. It is comprised of 100% man-made materials, with a durable synthetic sole. The shock-absorbing properties will help any busy nurse get through a fast-paced shift. It is wide enough for natural movement of the toes and it is exceptionally stable. Built for comfort, with a simple style, this shoe will fit right in with dress code of the hospital or any healthcare environment.
Pros
The tread design is effective at providing a strong grip even on slippery surfaces.
The Scotchgard protector makes these shoes water and stain-resistant so it is to keep them clean.
It has a Memory foam sockliner for additional comfort, which also offers some level of moisture management.
Cons
The toe box might be too roomy for people who have narrow feet.
Custom orthotics might not work with these shoes.
They are not very breathable, so some people may experience the discomfort of hot feet after a few hours.
---
Adidas Women's Ultraboost 20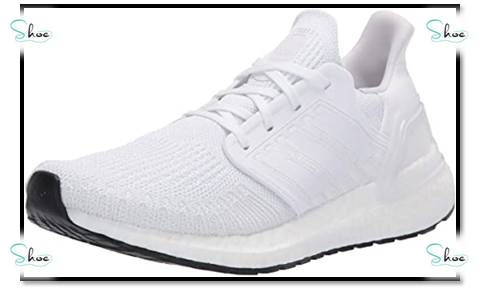 Since this is designed to be a running shoe, you can expect top performance even under rigorous conditions. The look and features make it one of the best white nursing shoes available today. It has a mesh knit for a quality fit as it molds to adjust to the shape of the foot. These shoes offer a good blend of style and functionality. This mesh supports natural foot movement by flexing and relaxing with each step. The outsole is sturdy and slip-resistant, so you can move with confidence even when you need to pick up the pace. The cushioning inside the shoe comfortably supports the weight of the wearer. As the foot settles there is less stress, especially on the joints. The brand was clearly striving for an innovative and modern look with this offering. The Adidas Women's Ultraboost 20 Running shoes are sleek with uniform stitching throughout. The design of the outsole promotes balance and an even stride.

Pros
The high upper adds to the secure fit and keeps the shoes from slipping off even with constant movement.
The midsole offers good support for fallen arches so the wearer will feel more comfortable even after walking around for hours.
The stitched reinforcement makes this shoe durable and therefore suitable for high-pressure environments.
The mesh design makes these shoes breathable so nurses will be comfortable while working long hours.
Cons
People with wide feet may find that they fit a bit tight in the toe box.
At up to $300, they were be a bit too expensive for some nurses.
Related Article: Best Adidas Shoes for Nurses
---
ASICS Women's Gel-Challenger 12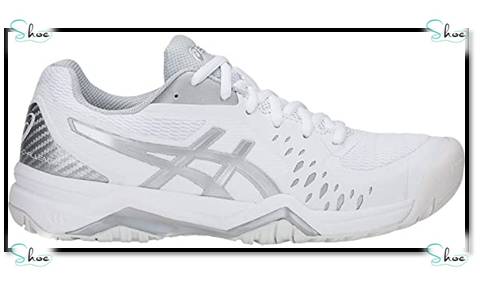 In addition to the eye-catching style, the quality construction of these shoes makes them stand out. The midsole in these shoes is lighter than others in the ASICS range. The lightweight midsole helps to eliminate foot drag and leads to a more relaxed feel. With a durable outsole, these shoes are built for heavy use and repeated movement over long periods. It is made from both fabric and synthetic materials. The gel cushioning supports your natural gait from heel to toe, taking the brunt of each step and aiding with push-off. While these shoes are light, they are sturdy and well constructed. The mesh upper enhances flexibility, and as such enabling natural foot movement. The upper helps to ensure a secure fit so the shoes do not slip after being worn for hours. The flexible material also helps the shoe to conform to the shape of the foot without pinching.
Pros
The midsole can help to support fallen arches which leads to better posture as you will not have to adjust your stance for comfort.
The cushioning system reduces stress on the feet and legs.
It has a sockliner that helps to keep the feet dry so there is less chance of developing foot odors.
The sockliner can be removed to accommodate custom orthotics.
Cons
These run a bit narrow, so they are not the best option for people who have wide feet.
Some users feel that the arch support does not stack up well against some competitors.
---
Dansko Women's Patti Flat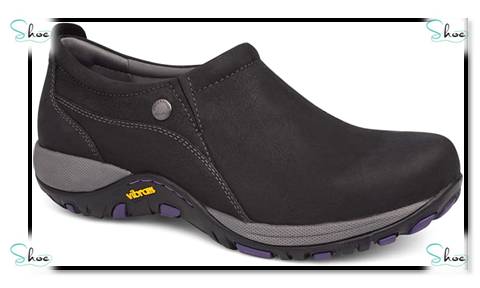 Clogs remain one of the most popular footwear options for nurses. This is partly because of their practical nature, but the durability and ability to suit various outfits and settings also score high marks. The Dansko Women's Patti Clog is 100% leather and is built to withstand the wear and tear of daily use. The quality workmanship is obvious, and this shoe handles the outdoors just as well as the indoors. It has a sturdy rubber sole for traction on wet surfaces. The sole also has an airbag to give wearers a lift with each step. The triple-density footbed handles the wearer's weight adequately. These clogs are easy to clean. Like any of the best sneakers for nurses, it easily absorbs the shock of frequent steps. At the end of a long workday, nurses with fallen arches will have less pain and foot soreness with these clogs.

Pros
It has a built-in moisture management system made from DuPont Sorona fiber which helps to prevent that swampy feeling from too many hours on the feet.
The CleansportNXT insert helps to eliminate foot odors.
These shoes are designed to accommodate custom orthotics.
The innovative design of the outsole gives it good traction.
Cons
Since nurses sometimes have to work on their knees, the toe area of this shoe can get a small dent from resting against the floor.
Some buyers have reported minor sizing issues so is advisable that you buy them these shoes only after fitting them. This way you will be assured of getting the correct size.
---
Brooks Women's Addiction Walker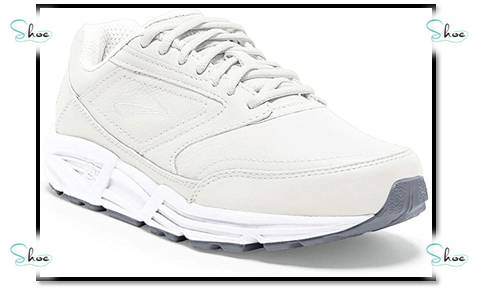 With the look of a traditional tennis shoe, this shoe is clearly built for high performance. It is 100% manmade, with a tough, synthetic sole. There are a range of widths available so it should be less challenging to find the right size. The makers of the Brooks Women's Addiction Walker Walking Shoes placed a lot of emphasis arch support. The additional of the Extended Progressive Diagonal Rollbar was designed to provide arch support. This rollbar help to reduce foot stress. It also supports the user's natural gait, while guiding the feet to reduce the risk of overpronation. This is a stable shoe with adaptive cushioning and a full-grain leather upper. Since it is designed for running, it is more than capable of handling the workload of the busiest nurse. Feel the shock of each step dissipate as the outsole absorbs the energy. It flexes naturally for the push-off so there is no discomfort for the toes or feet. This allows sudden changes in pace without loss of balance or comfort. The pod construction at the forefoot provides an extra layer of protection for the feet and helps to strengthen the shoes.

Pros
These shoes are well-balanced thanks to the special outsole design.
The bounce-back of the midsole allows the wearer to use less energy when moving around.
You can wear these shoes with orthotics or gel insoles.
Cons
While these shoes are comfortable, they are not very breathability for sweat prevention.
Some women may prefer shoes with a sleeker look.
---
Vionic Women's Walker Classic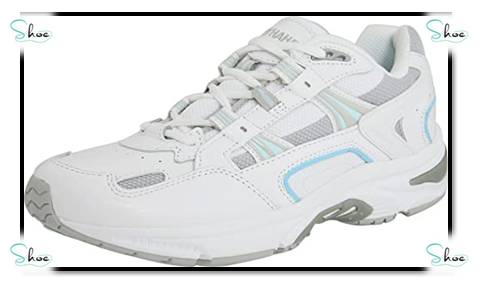 If you are planning to purchase new shoes for your nursing career, the Vionic women's walker with orthaheel technology may be one of your finest choices. The fascinating aspect about this women's walker is that it is APMA certified. APMA stands for American Podiatric Medical Association. This certification means that people can wear this shoe for practically any type of activity because it will not cause any harm to the wearer. In addition to providing superlative comfort and support, the Vionic women's walker also looks and feels good on the feet.
Key Features
Suede or leather upper
Rubber sole
Detachable textile-lined EVA footbed
APMA certified
Active Motion System tech
The Vionic women's walker is an extremely adaptable pair of shoes. The shoe is great for running, but it is also a fantastic choice for individuals who spend the majority of their workday on their feet. Vionic employed full-grain leather in constructing the upper. The shoe is impervious to moisture and the inside is fitted with a mesh material that allows for remarkable breathability. A dependable nursing shoe should possess these important attributes.
Besides, the footwear comes with a rubber outsole that delivers loads of traction plus flexibility. Most nurses adore this shoe because of its matchless comfort levels and slip-resistant qualities. The insole is fitted with an anti-bacterial fabric lining that helps in odor control. Another remarkable feature of this footwear is its detachable footbed that is made using EVA material. The EVA footbed is extremely durable yet lightweight and delivers enough cushioning to keep your feet cozy all day long. In addition, there is a 5-inch elevation within the heel region that transitions seamlessly to the toe region. This feature makes the walker one of the best nursing shoes for flat feet.
The women's walker from Vionic may not be the best-looking shoe around, but it comes highly recommended for individuals who work mostly on their feet and care little about aesthetics. Moreover, the walker delivers remarkable arch and heel support to keep your feet happy even on the longest days. Most online reviews agree that the walker is true-to-size-fitting footwear. Nevertheless, several buyers who are broad-footed purchased a half size bigger than their typical size. Therefore, if you have high arches or are extremely wide footed, you should consider purchasing a half size bigger than your usual size to be on the safe side.
Pros
Offers good stability
True to size fitting shoe
APMA seal of approval
Comes at a reasonable price
Waterproof exterior
Cons
A few users say the outsole durability is not great
---
Merrell Men's Encore Gust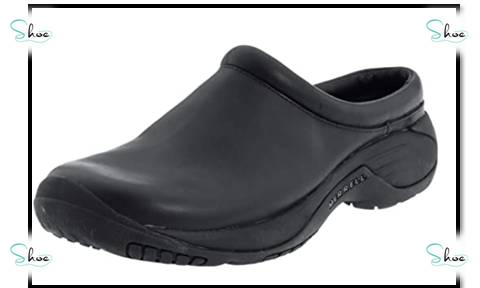 For nurses who prefer a more polished twist on their casual style, there is the Merrell Men's Encore Gust Slip-On Shoe. While it is an easy slip-on, the padded collar holds the shoe in place as you move around. With an air cushion in the heel, this footwear is clearly meant to take stress off the wearer's feet and joints. The compression-molded foot frame provides stability for a steady stride with reduced risk of overpronation. Durable full-grain leather promises toughness for the demands of the work environment and long-term durability. The Ortholite footbed allows the feet to settle gently by adapting to the foot shape and movement. With an almost two-inch-thick heel, these shoes are built for working as much as they are for their casual style.

Pros
The M-Select GRIP sole offers outstanding traction on different surface conditions.
These shoes have mesh-lining wicks to pull moisture away from the feet.
The molded nylon arch shank offers some comfort for people who have fallen arches.
These shoes can accommodate orthotic inserts if the liner is removed.
Cons
While they are great for staying on the feet all day, the backs can start to slip if you wear them on long walks. This can cause uncomfortable chafing.
Some buyers have reported sizing issues with these shoes.
---
ECCO Men's Helsinki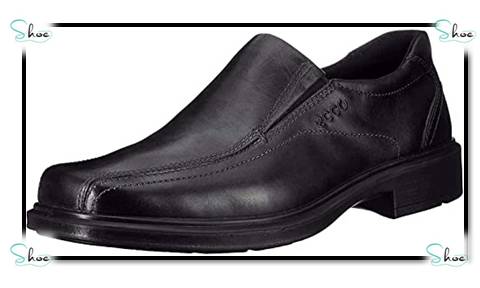 Due to its classic style, these shoes are as suitable for nursing as they are for an evening out on the town. It has a snug fit, but the padded collar and tongue keep it comfortable. Made from 100% leather, the Ecco Men's Helsinki Slip-On promises durability. Despite its firm look, the shoes cradle the feet comfortably. They are light enough to wear for hours without any strain on the feet or ankles, easily putting them among the best shoes for male nurses. The tough, synthetic sole gives these slip-on shoes more longevity. The interior foam pushes air against the feet with each step. These shoes are designed to accommodate feet of various widths. The roomy toe box allows for the flexing of the feet. This ability to flex the feet naturally while inside the shoe encourages proper gait and stride, and reduces stress on the arches.

Pros
The leather insole can be removed so that orthotic inserts can be used.
The outsole has a shock point that helps to reduce pressure on the feet.
It has sock lining that aids breathability and makes the shoes more comfortable.
Cons
Some buyers have experienced sizing issues.
A change in manufacturer has led to a slight decline in quality in some areas.
Related Article: Best Shoes for Male Nurses
---
It goes without saying that the average nurse spends hours on their feet during the course of a typical workday. The best white nursing shoes are always in demand, but many nurses also need shoes that are comfortable and sturdy. Getting value for money is always a priority, so the top choices in nurses' shoes should also be affordable.
Since spending hours standing can lead to problems with the feet and joints, nursing shoes must be provide adequate foot support. Avoid any brand that has thin soles as these are less likely to absorb shock. Shock absorption is necessary to help prevent back and neck pains, as well as foot injuries. While the shoes must be sturdy, they should not feel heavy. The material and design are also key factors when looking for the right pair of nursing shoes.
How to Choose the Best Shoes for Nurses with Flat Feet?
Nurses spend extended hours walking, standing, or carrying heavy equipment and patients.  That's why they need supportive shoes that can cushion tired feet, deliver shock support for vital sections like ankles, knees, and hips. Finding the appropriate type of work shoes can be tough if you have normal feet and it is a lot tougher if you have flat feet. To save you the hassle of choosing from a very wide variety of nursing shoes, this post will guide you on shopping for the best shoes for nurses with flat feet. First, though, you need to understand what exactly flat feet are and what causes the condition.
Flat Feet: What are they?
Flat feet – sometimes referred to as fallen arches or pes planus is a condition wherein your arches collapse so they are totally or almost totally touching the ground when you are standing up straight. This condition can result in overpronation or when the feet begin to roll inwards when walking or running. Fallen arches can affect your body's alignment when you are standing, running, or walking. Consequently, they can increase your likelihood of developing pain in your knees, hips, and ankles.
Causes of Flat footedness
While flat feet can be hereditary, many individuals develop the condition later in life. Aging, obesity, injury, diabetes, pregnancy, and rheumatoid arthritis can all be contributory factors. As you may already be aware, shoes designed for flat feet can provide relief from pain, pressure, and inflammation. So how can you select the best shoes for nurses with flat feet? Keep reading for the best tips to help you find the appropriate pair.
What Shoe Types are Suitable for Flat-footed Nurses?
The best work shoes for flat feet include stability running shoes; motion controls shoes, and therapeutic or orthopedic shoes. These come in a wide range of brands or models and some might be more effective compared to others.
Stability Running Shoes
Flat-footed individuals tend to overpronate (tilt their feet inward while walking or running). Overpronation can place undue strain on the joints as well as lower body connective tissue which can result in knee, hip, feet, and ankle pain. There are now a wide variety of running shoes that offer stability for light-overpronators. In general, running shoes are also well-cushioned, lightweight, and breathable. Many stability running shoes also come with plush synthetic uppers that make them great for combating other foot conditions that are common among flat-footed individuals like hammertoes and bunions.
Motion Control Shoes
These shoes are more suited for individuals who suffer from severe overpronation as a result of flat feet. Motion-control shoes are specially engineered to deliver extra support and control compared to stability running shoes. Many of these shoes feature dual-density cushioning and are designed to keep your ankles straight as you walk or run.
Therapeutic or orthopedic shoes
This is a fantastic option if you have severe flat-footedness. When searching for the best orthopedic shoes for flat feet, go for ones that feature steel shanks and hard heel counters as they help control overpronation. Several orthopedic shoe brands boast unique features like heel-locking systems, integrated orthotic insoles, and amply padded collars. There is a widely held belief that therapeutic shoes are not stylish, but not to worry, you will find trendy choices that tick all the boxes.
Casual Walking Shoes
If you have mild flat feet, casual walking shoes like flats and clogs may be a great option for alleviating the pains, aches, and other issues connected with your fallen arches. The best casual walking shoes for flat feet typically come with an arch support system that helps protect your flat feet. These types of shoes are offered by several brands in a broad range of styles so you can find one that fits your feet perfectly particularly when standing and walking.
Tips for selecting the best shoes for Nurses with Flat Feet
Arch Support
Whether you have mild or severe flat feet, arch support is a key factor in alleviating the pain and discomfort experienced when walking. When shopping for the best work shoes for fallen arches, choose ones that are comfortable and deliver optimal arch support.
Fit and Size
As a nurse, you spend the majority of your workday on your feet. That is why your work shoes should fit your feet perfectly. If your feet are constantly confined within tight shoes, this can lead to other foot conditions like bunions and hammertoes. When browsing flat feet shoes, choose the wide fit ones as they will provide your feet with enough space to wriggle as well as breathe.
Durability
If you work extended hours such as 12-hour shifts, you need footwear that will hold up adequately as well as deliver the support you require. Choose shoes that are made using first-rate materials so they stay in good shape even after several months of use.
Excellent Shock Absorption
Your arches help soak up the shock of walking and play an important part in keeping your body balanced when walking. However, if the arches are fallen, their ability to soak up shock is hampered, which is why you need to select shoes that offer exceptional shock absorption.
Safety
Nurses sometimes walk or run around on wet/slippery surfaces. Therefore, when shopping for nursing shoes, opt for ones that feature non-slip outsoles along with deep treads to keep you from falling and getting injured.
Frequently Asked Questions (FAQs)
How Do I Know if I am flat-footed?
While the only method to truly know is by having a foot health practitioner examine your feet, a simple method to ascertain if you are flat-footed is by studying your feet as you walk. You are almost certainly flat-footed if your feet turn inward with each step you take.
Are Arch Supports good for Flat Feet?
Yes, wearing arch supports within your shoes can help minimize strain on your arches when walking.
Which Brands Make the Best Shoes for Nurses With Flat Feet?
Most big-name brands like Adidas, Vionic, ASICS, New Balance, and Dansko produce first-class shoes for flat-footed individuals.
What Kinds of Shoes are best for Flat Feet?
Generally, individuals with fallen arches or flat feet should opt for shoes that offer arch support, stability, and motion control.
Conclusion: Best Nursing Shoes for Flat Feet
Finding the best work shoes for flat-footed nurses is certainly not an easy undertaking. This guide has outlined the best tips for selecting the best shoes for nurses with flat feet. If followed, it will help you find a pair that will suit your requirements.