9 Best Supportive Shoes for Nurses – Top Sneakers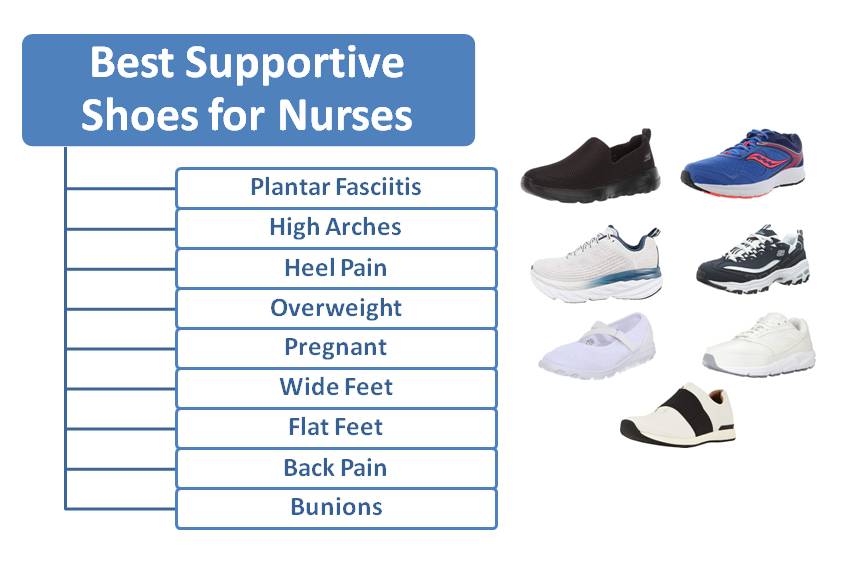 The right footwear is a must if your profession keeps you on your feet for extended periods. Standing or walking around all day places a great deal of strain on your lower extremities. Therefore, if you wear unsupportive shoes on a consistent basis, you may possibly develop joint pain, sore arches, and other symptoms. The best supportive shoes for nurses will give you lots of stability and support whilst alleviating strain throughout the body. Moreover, they will offer a reasonable level of traction and protection for your feet.
The Best Supportive Shoes for Nurses
Saucony Women's Cohesion 10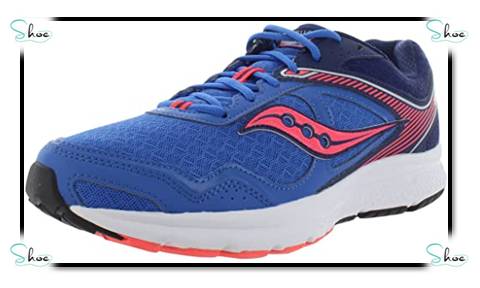 This running shoe from Saucony was made with quality craftsmanship, and it is a fantastic option for staying on your feet all day long. The interesting part is that it comes at a highly affordable price without decreasing the usual quality that characterizes shoes from Saucony. If you are in the market for the best shoes for plantar fasciitis, the women's cohesion 10 is certainly worth considering. The shoe however has a few negative aspects. Even though it is not the sturdiest footwear on the market, the shoe certainly performs better than other shoe models and brands that have comparable price and quality. Some users have complained that the insole is not the best and that it runs a bit narrow, but if you work on your feet most of the time, you cannot go wrong with this running shoe.
Key Features
Mesh upper
Rubber sole
Grid system
Tri-Flex system
Injection-molded EVA cushioning
Breathable mesh upper
There is a good reason why running shoes from Saucony are top options for professionals who spend a great deal of time standing and walking around. The outsoles of these shoes are engineered to give the user what they would require with regard to functionality and traction on any type of terrain. Nurses typically walk around on wet and slippery surfaces so they require reliable shoes that offer excellent traction. The Cohesion 10 delivers impressive traction because the manufacturers incorporated IBR+ rubber into the footwear's construction. This material is fitted majorly on the footwear's outsole to ensure durability.
Saucony also employed their signature XT-900 rubber in making other parts of the shoe to make it more functional. Good nursing shoes are expected to offer excellent shock-absorption and flexibility. The Cohesion 10 takes care of these important factors by means of the Tri-flex system fitted on the footwear.
The shoe is also rated high with regard to comfort. One of the features that add to the shoe's overall comfort includes a midsole that employs injection-molded EVA cushioning. This foam material helps soak-up the shock of your foot landings. Most reviewers agree that this cushy foam material provides the right thickness and comfort for all-day wearing. Another feature that adds to the Cohesion 10's comfort is the revamped upper. Previous editions of the shoe were fitted with several overlays that added to the footwear's overall weight. Some of these overlays have been removed from the Cohesion 10 making the upper feel a lot lighter and cozy.
Testers who wore the footwear for prolonged periods were happy with the degree of comfort provided by the shoe throughout the day. Nevertheless, a handful of testers say that the shoe needs to be properly broken in because the shoe felt a bit uncomfortable the initial few times it was worn. For the most part, the Cohesion 10 from Saucony is one of the best supportive shoes for nurses available in the market today.
Pros
Reasonably priced
Highly cushioned
Versatile
Offers a great fit
Comes in a wide range of colors
Provides excellent support
Extremely comfortable
Cons
Runs a bit narrow
A few users report that the shoe does not perform well on wet surfaces
See also: Best Shoes for Nurses with Plantar Fasciitis
---
Skechers Women's D'Lites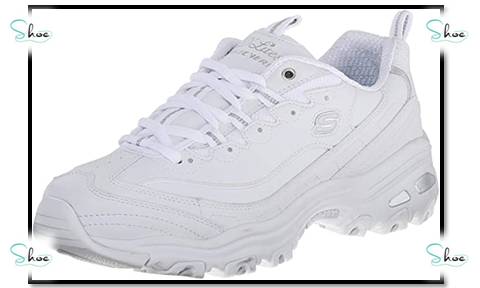 The D'Lites Memory Foam Sneaker from Skechers has a great design and is fitted with thick memory foam that makes it easy to use and comfortable to wear. You can wear this extraordinary shoe for 12+ hours without discomfort. The shoe is made using synthetic and leather materials, and its flexible outsole is produced from rubber. Moreover, the shoe comes in more than 38 color choices so you can select the shade that best suits your requirements. It also has a roomy design making it a superb walking shoe for wide feet.
Key Features
Tongue and collar padding
Rubber sole
Leather material
Air-cooled memory foam insole
Lightweight design
Lace-up closure plus metal top eyelets
Soft shoe lining
Impressive shock absorption
Good traction
If there is something the women's D'Lites sneaker should be lauded for, it should be the comfort it provides. The main reason for this comfort is the Air-Cooled Memory Foam fitted on the shoe. Customers love the coziness they derive from the air-cooled memory foam, as it adheres to their foot's outline and provides the best support for their particular foot type and shape. No wonder the shoe is an extremely popular option among nurses and other people who work mainly on their feet.
Besides, the foam is wonderful at helping to absorb the shock of your foot landings thus decreasing your danger of injury to your joints as you go about your daily tasks. Nevertheless, a few users have complained about the memory foam saying that it is firmer compared to some EVA foam midsole materials fitted on some models.
The Skechers Women's D'Lites Memory Foam Lace-up Sneaker offers a reasonable degree of support to the wearer. The shoes' bulky construction helps to stabilize as well as support your feet when walking so you can remain on your feet for extended periods without any discomfort or injury. The overlays and lace-up closure work together providing additional support and delivering a pleasant and cozy fit.
With the Skechers D'Lites sneaker, you are certain of adequate protection for your feet. To start with, the outsole delivers fantastic traction. This means it will help to keep you safe whether you are walking or running on a dry or wet surface. Secondly, the shoe has features that will help protect your toes and heel from scraping and injury. Several users and reviewers have lauded the fantastic protection offered by these Skechers sneakers.
Pros
Made with first-rate materials
Padded height
Several colors to select from
Highly comfortable
Trendy construction
Heel and toe protection
Simple to clean
Lightweight
Reasonably priced
Cons
Bulky construction
Durability issues
See also: Best Shoes for Nurses with Wide Feet
---
Adidas Women's Ultraboost 20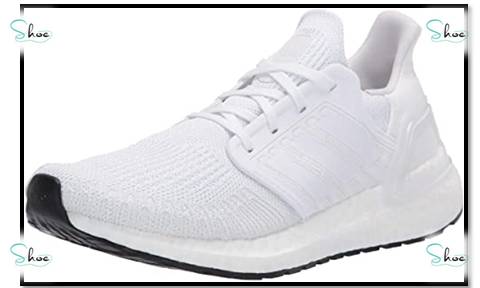 The Ultraboost 20 from Adidas is a minor revamp of its predecessor, the Ultraboost 19. Many reviewers agreed that the Ultraboost 19 was one of the best supportive shoes available in the market. Is the Ultraboost 20 a better shoe? Find out as you keep reading. There is virtually no change in the sole unit from the previous edition of the shoe, which means wearers can still enjoy many of the fantastic attributes of the former edition. However, there has been a slight modification on the footwear's upper. The major question now is does this update have any significant effect on the general feel of the shoe?
Key Features
Adequately cushioned and padded collar
Rubber sole
Airy yet extremely supportive primeknit upper
Energy return system for enhanced walking gait
The upper of the women's Ultraboost 20 is the major alteration to the shoe's previous iteration, the ultraboost 19, even though the two have a number of similarities. The two models have a knit upper, but that of the more recent edition has a finer texture. The result of this revamp is a more velvety, borderline luxurious feeling.
The shoe's upper is produced using Adidas primeknit 360 material, which completely envelops the foot, and is sufficiently tight to provide your entire foot with a bit of extra structure and support. The shoes' knit upper is extremely breathable so you will never have to worry about overheating issues. Addidas also introduced what they refer to as Tailored Fiber Placement (TFP) to the upper unit. This is additional stitching about the edges of the front area of the footwear. Aside from providing extra support, this feature helps keep your midfoot in place snugly as you go about your duties.
Adidas also utilizes a 3D frame that does an excellent job of locking in your heel thereby eliminating shifts and twists inside the footwear. It is therefore little wonder several reviewers agree that the Ultraboost 20 is an excellent shoe for flat feet. These materials as well as the shoes' design make for an extremely cozy shoe that runs true-to-size. One buyer pointed out that the footwear does not offer sufficient toe room. Thus, if you require more room, you may want to purchase a half size bigger than your normal size.
Pros
Extremely comfortable upper
Fantastic grip on varied terrains
Impressive energy return
Dependable Boost cushioning
Remarkable durability
See also: Best Nursing Shoes for Flat Feet
---
Propet Women's TravelActiv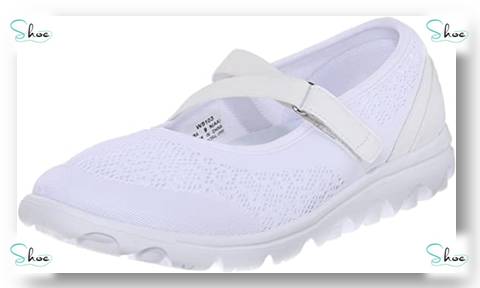 Propet is an experienced shoe manufacturer that is renowned for making first-rate footwear for various foot problems. The firm operates on the philosophy that your footwear should provide adequate support and cushion, yet trendy and lightweight. If you are in the market for a great shoe for bunions, then you cannot afford to ignore the TravelActiv Mary Jane from Propet. The company crafted this footwear especially for walking as well as for professionals who are on their feet all day. The shoe delivers impressive balance and coziness.
Key Features
100 percent mesh upper
Detachable footbed
Rubber sole
Hook-and-loop closure
Flexible outsole
Perforated fabric shoe
The Propet Women's TravelActiv Mary Jane Flat is amazingly breathable thanks to the shoes' upper that is produced from a mesh material. The interior of the footwear is also fitted with a mesh lining that is specially engineered to keep off moisture. Thus, if you are vulnerable to sweaty feet, this remarkable footwear from Propet can help you deal with the problem especially during the hot summer months.
Another feature loved by many users is the footwear's EVA insole plus outsole. Propet designed the EVA outsole using extremely lightweight rubber material that helps deliver extra support to your feet. Besides, the EVA insole helps ensure the shoe is low profile, which means you can walk with confidence with no risk of ankle sprains.
A detachable footbed is another interesting property of the Women's Travelactiv from Propet. A detachable footbed means the shoe will accommodate custom orthotics. And, even if you do not use custom orthotics, the shoes' footbed delivers excellent arch support by itself. Furthermore, the Propet Travelactiv has a supple Mary Jane Strap with hook & loop closure. This type of closure helps ensure your feet are securely kept in place as you move about.
Moreover, many reviewers have praised the shoe for its stylish and trendy appearance. A large proportion of buyers report that the shoe is suitable for both work and casual outings. The women's Travelactiv fits true to size, lightweight, comfortable, and orthotic-friendly. These features make the footwear one of the best supportive shoes for nurses available in the market today.
Pros
Highly breathable mesh upper
Supportive and comfortable
Fits true to size and width
Removable footbed that can be swapped for custom orthotics
EVA midsole
Hook & loop closure system that allows for a great fit
Trendy design
See also: Best Shoes for Nurses with Bunions
---
HOKA One One Women's Bondi 6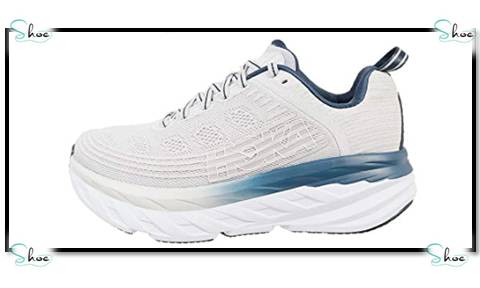 When your feet slip into this masterpiece footwear, you get that walking on clouds experience. This Hoka One One shoe feels smooth, yielding, and elegant. Several users and testers who suffer from back pain agree that the Bondi 6 is an exceptional shoe for back pain. This is because the shoe delivers the right fit, is flexible, and feels plush. The midsole of the women's Bondi 6 is designed to be pliable and thick thus providing excellent cushioning for the feet.
Key Features
EVA midsole
Synthetic plus leather upper
Breathable mesh upper
Lycra heel area
Hoka's Meta-rocker technology
Hoka One One designed this shoe for runners, but it is also one of the best supportive shoes for nurses as well as other professionals on feet all day. This is because the shoe offers supreme comfort made possible by a number of factors. Firstly, the footwear's complete EVA midsole cushions your feet delivering optimum comfort and support even when you are doing a 12-hour shift.  Secondly, the mesh upper of the footwear is supple and crafted to allow for efficient air circulation within the footwear. Thus, even on the hottest days, your feet will not get overheated.
And, if you suffer from heel pain, this shoe can help alleviate the problem thanks to its padded footbed. Most reviewers love that the Bondi 6's heel region is made using Lycra, which greatly added to the footwear's coziness. Even though the shoe has a somewhat bulky look, it is amazingly lightweight adding to the footwear's overall coziness.
Another feature that makes the Bondi 6 highly appealing to nurses on feet all day is the extremely durable sole unit. The shoe is fitted with a rubber outsole and many testers report that after logging several miles with the shoe, there was little or no distortion on the original shape as well as cushioning level of the outsole. However, one purchaser reported that after doing about 50 miles with the running shoe, the upper disconnected from the midsole.
Another reason the women's Bondi 6 is rated among the best shoes for nurses is its impressive breathability. As mentioned earlier, Hoka constructed the mesh upper to permit effective airflow inside the shoe. Nevertheless, a few users say the Bondi 6's predecessor, the Bondi 5 performs better as regards breathability. These users noted that the Bondi 6's mesh upper is of somewhat lower quality when compared to that on the Bondi 5.
Even so, despite the reduced breathability of the Bondi 6, several buyers agree that the shoe delivers much better performance compared to its predecessor, especially as regards flexibility.
Pros
Properly cushioned
Delivers excellent stability
Made using first-rate materials
Highly comfortable
Remarkable protective features
See also: Best Shoes for Nurses with Back Pain
---
Brooks Women's Addiction Walker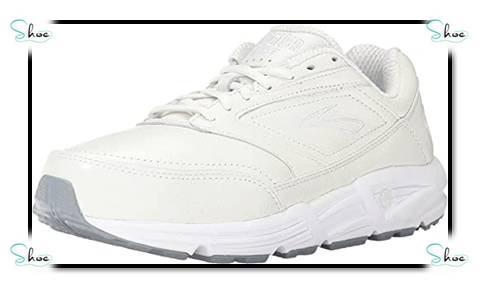 When searching for the best shoes for overweight nurses, the Brooks Women's Addiction Walker may be your finest bet. If you are overweight or obese, you may have a difficult time finding reliable footwear that will help you remain on your feet all day long. Being considerably overweight means your legs need to work a lot harder than normal. This can ultimately lead to conditions like plantar fasciitis a well as heel pain. The Brooks Women's Addiction Walker walking shoe was made to help you deal with as well as prevent these conditions.
Key Features
BioMoGo DNA cushioning
100 percent manmade
Made using highly durable full-grain leather
Extended Progressive Diagonal Rollbar
Spacious toe box
Non-slip outsole
One of the most endearing features of the Addiction Walker from Brooks is its fantastic design and comfortability. The footwear's comfortability derives mainly from its BioMoGo DNA cushioning plus non-slip outsole. The first time you wear this walking shoe, you will really experience that reliable comfort expected from a quality shoe from a quality brand. The Addiction Walker is a shoe constructed for stability and motion control. This means the shoe emphasizes medial support as well as arch support. Several testers confirm that the shoe does not disappoint on these parameters.
The shoe also boasts a roomy toe box, a feature that makes it one of the best nursing shoes in the market today. Your toes will not be forced into a small space or squeezed together.  Thus, you can focus on your core duties without discomfort. Moreover, Brooks made this classic shoe using their linear platform technology. This feature helps give the footwear better robustness making it excellent footwear for obese individuals.
Pros
Highly comfortable
Excellent durability
Biodegradable midsole
First-class leather upper
12mm drop that's superb for heel strikers
See also: Best Shoes for Overweight Nurses
---
Orthofeet Proven Women's Sneakers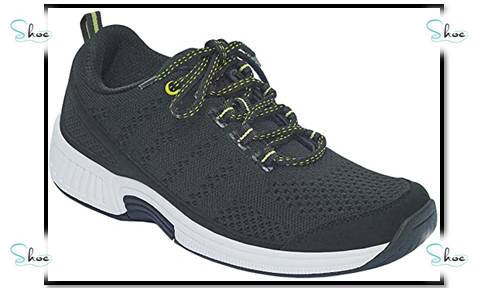 For close to 40 forty years, Orthofeet has been in the business of making first-class athletic footwear for various kinds of feet and walking styles. The Orthofeet Coral delivers enhanced support and coziness whilst remaining trendy, thanks to the groundbreaking technologies employed in constructing the walking shoe. Several podiatrists recommend this comfortable Orthofeet shoe for dealing with foot pain and some other foot conditions. If you are searching for the best shoes for nurses that will help keep your feet healthy as well as decrease your likelihood of getting blisters, heel pains, bunions, plus other foot problems, the Coral may be just what you need.
Key Features
Excellent cushioning
Extended widths
Lightweight sole unit
Quality orthotic insoles
Spacious toe box
Flexible, non-binding uppers
Orthotic friendly
Some of the features that make the Coral from Orthofeet one of the best supportive shoes for nurses include its generous toe box, non-binding build, breathable plus lightweight mesh material, as well as extra depth. Your feet will never get overheated inside the footwear thanks to its fine-knit mesh upper. And, if your feet swell a lot after you have been walking or standing for extended periods, then the Corals' flexible, non-binding build can help take care of that. The shoe will enlarge as your feet enlarge helping to prevent discomfort and blisters.
Since the coral comes with a generous toe box, you will never have to worry about your toes getting crowded. Moreover, you get to enjoy better coziness owing to the superlative foam material as well as fabric lining fitted on the interior of the sneaker. Many nurses with sensitive feet who have used this sneaker report that the shoe was extremely beneficial in helping to prevent calluses and blisters.
The Coral also comes with an adequately cushioned footbed that helps deliver an effortless and pain-free walking experience. It also has a detachable contoured insole that ensures a great fit plus enhanced coziness.
Pros
Air cushioning for superior comfort
Detachable insoles
Remarkable breathability
Ergonomic stride build
Cons
Slip-resistance could be better
A Few users say the sole unit is not durable
See also: Best Shoes for Nurses with Heel Pain
---
Vionic Women's Cosmic Codie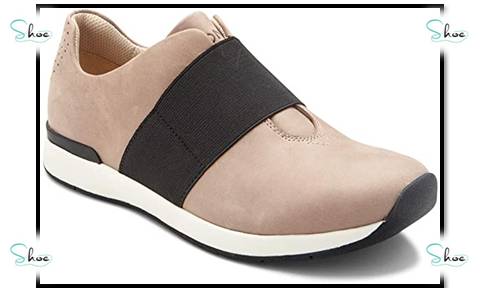 Vionic is different from other shoe manufacturers in that many of the shoes made by the company are APMA endorsed. Like other Vionic shoes, the women's Cosmic Codie sneaker comes with a distinctive in-built orthotic that helps deliver superior stability as well as support natural alignment. This shoe will provide you with coziness and contoured relief, regardless of the kind of foot problem you have. And, if your vocation keeps you on your feet all day long, the Cosmic Codie will help to keep your feet cozy and relaxed.
Key Features
Rubber sole
Detachable Mesh enveloped EVA footbed
Nubuck or leather upper
Retro perforation details
Conspicuous elastic straps
Podiatrist-designed footbed
The Cosmic Codie is an uncomplicated sneaker from Vionic. The shoe was engineered to give wearers the finest orthotic support as they walk. The footwear's construction is superb with leather or nubuck upper, rubber outsole, plus a detachable mesh that is enveloped within an EVA footbed.
Moreover, if you are looking for a great shoe for high arches and back pain, you cannot go wrong with this model of Vionic footwear. It is a metallic slip-on sneaker you can wear practically anywhere. The Cosmic Codie is a pair of sneakers you can depend on for work and semi-formal outings.  And thanks to the shoes' podiatrist-designed footbed, you can wear the shoe all day long without experiencing foot fatigue.
Pros
Good shock-absorption
Quality full-grain leather upper
Comes at an affordable price
Excellent orthotic support
Cons
A few users have complained that the sneaker does not fit true to size
See also: Best Shoes for Nurses with High Arches
---
Skechers Women's Go Walk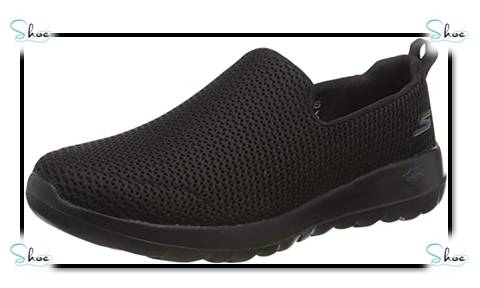 If you are in the market for the best shoes for pregnant nurses, the Women's Go Walk Joy from Skechers may be the shoe you are searching for. This impressive Skechers shoe is adequately cushioned, uncomplicated, and comes at a highly affordable cost. The walking shoe boasts a synthetic sole while the upper is made using a textile fabric. This superior construction ensures the shoe is sufficiently flexible to move completely with your feet without hindering your movements.
Key Features
Textile upper
Synthetic sole
Extremely lightweight design
Highly Flexible
Collar and tongue padding
Responsive 5Gen cushioning
One feature that will endear you to this Skechers walking shoe is the midsole's 5Gen cushioning. This cushioning material has a soft feel yet long-lasting and tough. It is also springy and flexible. With this feature, each of your foot landings will be well cushioned so your feet do not quickly tire out when you have been standing or walking for extended periods.
The sneaker's mesh upper is also very breathable and the mesh fabric does not add to the shoe's general weight. Since you will be walking majorly on your feet, your shoe should offer excellent heel plus ankle support, which is precisely what you get with the Go Walk Joy from Skechers.
If you are expecting a baby, then you should also expect more from your shoes. This is because your shoes are carrying both you and your baby. Aside from being one of the best supportive shoes for nurses, the Skechers Go Walk Joy delivers fantastic comfort, arch support, and flexibility. All these are important features expected from a good pregnancy shoe.
Pros
Breathable
Simple design
Delivers fantastic arch support
Available in a variety of colorways
Comes at a reasonable price
See also: Best Shoes for Pregnant Nurses