10 Best Shoes for Pregnant Nurses, The Right Footwear is Essential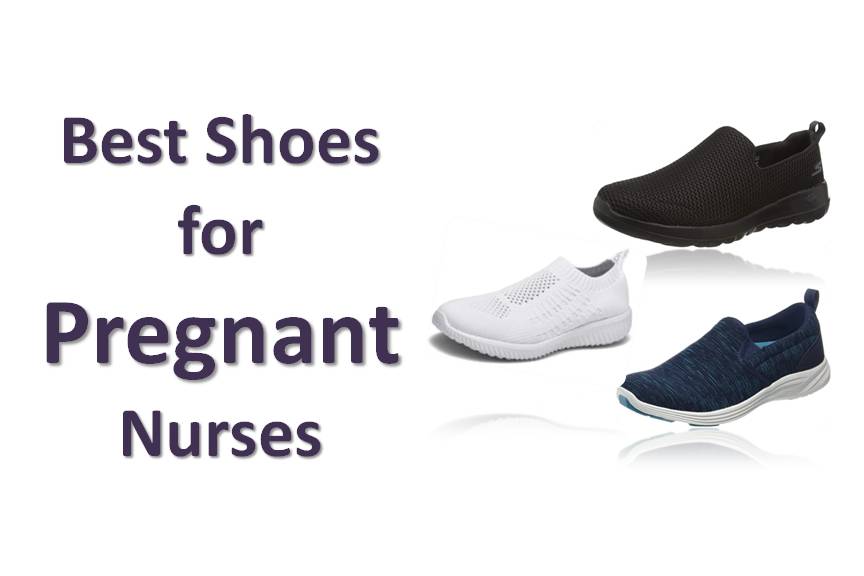 Every nurse knows that the job means not just long hours, but also many hours will be spent on their feet. As challenging as this job can be however, imagine what it is like for a pregnant nurse. Many pregnant women have to deal with sore feet and backaches. In most cases, the typical nursing shoes may not be sufficient to provide adequate support, even if they are of high quality. A pregnant woman will need a little extra support and stability as her body changes. Another issue that many nurses, pregnant or not encounter is swelling of their feet. If buying a new pair of shoes for is not an option, it is important to have shoes that will adapt to changes in the feet. Listed below are some of the shoes that pregnant nurses should consider, These shoes increase their comfort level during pregnancy.
Best Shoes for Pregnant Nurses | Buyer's Guide
Skechers Women's Go Walk Joy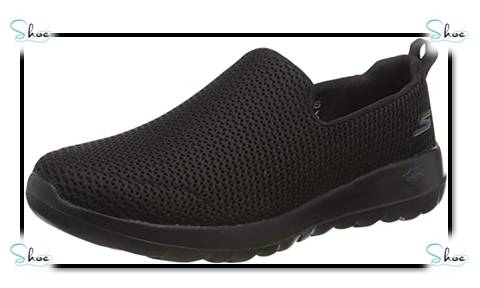 This is described as a travel shoe, so you can expect it to stand up to the pressure of a work setting. It has a complete mesh design, giving it an ultra-modern look. These shoes meet the high aesthetic standards of this popular brand. It is easy to see that the material is stretchable, so it can easily flex to suit the shape or size of the feet. The platform is just under an inch and has a synthetic sole. These shoes were designed to allow the feet to settle comfortably. Since they provide such natural movement, the Sketchers Women's Go Walk are among the best slip-on shoes for nurses.
Pros
It utilizes proprietary 5Gen cushioning for comfort and responsiveness.
These shoes are lightweight so any pregnant nurse should be able to move around with ease.
The casual design makes it suitable for a variety of outfits and environments.
They are easy to pack for traveling.
Cons
The soles are not thick enough to provide a lot of protection for the feet.
The design of the sole can allow small stones to become embedded in the grooves when walking outdoors.
See also: Best Slip-On Shoes for Nurses
---
Vionic Women's Fitness Shoes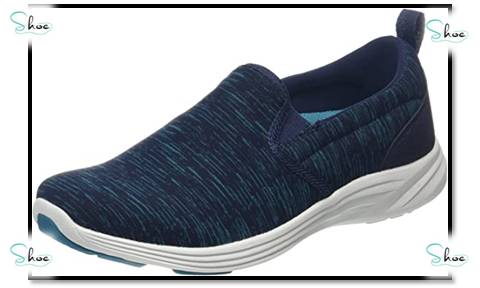 Vionic is a brand focused on foot health from a scientific standpoint. With a combination of textile and man-made materials, the shoe has a luxurious look that is sure to grab attention. It has a tough rubber outsole that absorbs the pressure of each footstep. The Seal of Acceptance from the American Podiatric Medical Association (APMA) underscores the fact that this is a quality offering. This seal is granted to products that have been shown to promote foot health. The Vionic Women's Fitness Shoes are among the best pregnancy shoes for swollen feet. They can also help to alleviate the kind of knee and back pain common to many pregnant women. Every shoe this company produces is imprinted with its biomechanical technology. This takes into account the entire body and the way it moves, as well as factors that can affect stability. All of this highlights their commitment to the kind of all-day comfort that a pregnant nurse needs. It has minimal stitching lines and twin goring to provide a relaxed fit, especially along the tops of the feet.
Pros
These shoes are lightweight so they will not impede natural movement and are ideal for working long hours.
They provide very good support for the arches and offer more stability for feet with fallen arches.
It has a spongy heel that absorbs shock thereby reducing stress on the joints and back.
Cons
The material is somewhat delicate, so these shoes require more care than other some types made for the same purpose.
Some people have problems with the shoes rubbing the top of the feet if they do not wear socks.
They may not fit well for wearers who have wide feet.
See also: Best Shoes for Nurses with Back Pain
---
TOMS Women's Alpargata Loafer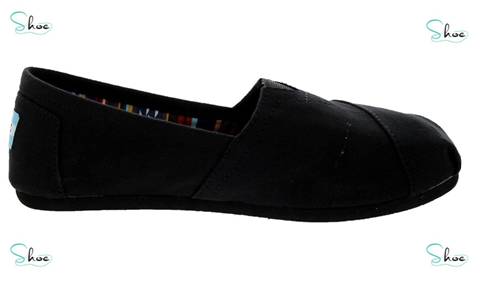 These shoes from TOMS has all the hallmarks of the classic slip-on, with a slightly more graceful aesthetic. It has an elastic V at the top to allow convenient slipping on or off, and for a comfortable hold on the foot. Despite its simplicity, it has the features of more rugged-looking nursing shoes. The sole is made from rubber and the rest of the shoe is made from canvas. It has a toe-stitch, which a common feature among this brand's products. With a mixed-rubber outsole, users can expect lightness and flexibility. It is also much more durable than the basic design would lead most people to believe.
Pros
It comes with a latex arch insert to provide extra support.
The suede footbed makes the shoes comfortable.
Many buyers like the fact that for every pair purchased, a pair is donated to a child in need.
These shoes are reasonably priced.
Cons
They work well indoors, but they are not really built to handle excessive outdoor use and they can start to break down quickly.
This particular made does not do well in wet weather as the canvas material will quickly soak up water.
These shoes may require a short breaking-in period before they start to feel fully comfortable.
See also: Cheap Shoes for Nurses
---
Skechers Women's Memory Foam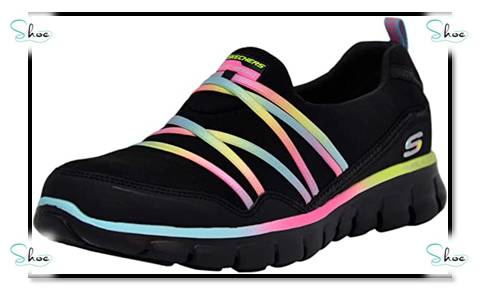 The appropriately named Scene Stealer does more than grab attention with its colorful straps and athletic design. It is 100% mesh, so it should be listed among the best breathable shoes for nurses on the market today. This sturdy-looking slip-on has a thick, shock-absorbing rubber sole to make every step more comfortable. The accent stitching creates an interesting visual contrast with the rest of the shoe. The rubber sole gives it the right amount of traction, and the ethel vinyl acetate (EVA) outsole increases durability. These shoes have great traction and do very well in wet weather. They stretch and flex easily with movement so there are no restrictions to your stride.
Pros
The FlexSole midsole does a good job of taking much of the pressure of every step.
These shoes have a memory foam heel counter and sockbed for additional comfort and shock absorption.
The feet will stay cooler even when working for long periods.
Cons
These shoes run a bit small, so a half size up might be advisable. Pregnant women with swollen feet might benefit from going a full size up.
Some users feel that the arch support could be improved.
See also: Best Skechers for Nurses
---
Skechers Sport Women's Empire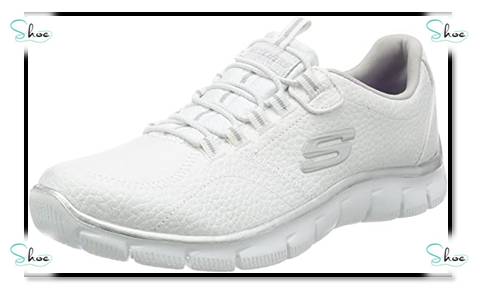 Anyone pregnant woman who wants the best athletic shoes should consider this option from Skechers. The sneakers is made from fabric and has a rubber sole. With gentle curves and a flat knit fabric upper, this is clearly a shoe made with comfort in mind. The bungee lace design gives it the sporty flourish that many fans of the brand prefer. It has a sturdier construction than the average slip-on, but it is still lightweight. It has some stitching lines but these are practically hidden by the unique texture.  These Skechers sneakers are soft and flexible while providing plenty of support and stability. The softness also makes it easier for the shoes to contour to various foot shapes and sizes. The footbed is perforated to boost airflow inside the shoe, keeping feet cool.
Pros
The memory foam insole pushes air to cool the feet with each step.
The outsole provides excellent traction while being flexible enough to encourage natural foot movement.
It uses moisture wick technology to pull sweat from the feet and increase dryness.
Cons
There is only one width option available.
While they provide arch support it is not at the same level as some competing brands.
See also: Best Athletic Shoes for Nurses
---
Konhill Women's Casual Shoes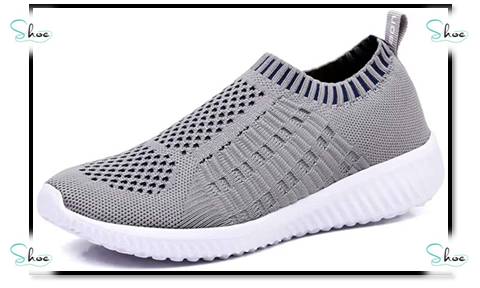 These fashionable shoes are made with high-quality materials. The airy-looking mesh knit makes it one of the best breathable shoes for nurses. The soft, light material will easily stretch to adjust to various foot sizes and shapes. This means increased comfort for a pregnant nurse even if her feet become swollen. Slip them on quickly for work or a walk outdoors; these shoes promise all-day comfort no matter where you are. It has a tough outsole made by MD cushion that is highly effective at absorbing the shock of each step. The look of these shoes makes them ideal for any setting or choice of outfit. Many people even use them at the gym, which shows how sturdy and dependable they are. The material is flexible that you can easily flex your toes, and you will be able to move without feeling any tightness.
Pros
In addition to shock absorption, the midsole and outsole also provide a boost on the rebound, so you will use less energy.
These shoes can adapt to different strides and walking styles.
The hollow knitting is very breathable, so the feet will be cooler and there is less chance of odor.
Cons
These shoes run slightly large, although this does not seem to bother most buyers.
Some users have found the level of arch support to be inadequate.
See also: Best Breathable Shoes for Nurses
---
Propét Women's TravelFit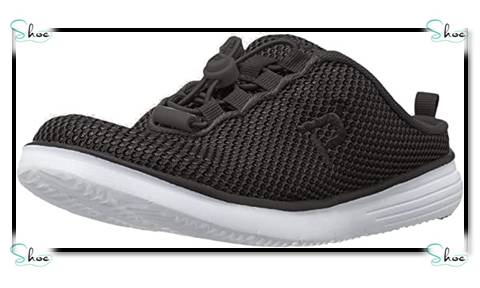 Here is another product created to make walking a little bit easier. It has a casual, laid-back style with a distinctive 100% mesh pattern. The flexible sole will make every step feel as natural as walking barefoot. The Propét Women's TravelFit Slide Walking Shoe was designed to be a supportive shoe that provides stability when moving around. With cushy feel on the inside and flexible toughness on the outside this is a well-balanced footwear. The lightweight EVA synthetic sole gives it good traction and helps it to stand up to tough conditions. This shoe has a sturdy heel counter that helps to deal with minor pronation issues. Slipping in or out of these shoes is almost seamless, adding another layer of convenience to your workday.
Pros
This is a slip-on but it has a toggle closure and bungee style laces that can be tightened for a more secure fit. They can also be loosened for comfort if the feet start to swell.
If you use custom orthotics, you can remove the footbed of these shoes so the orthotics can be inserted.
The shoes contain a breathable mesh lining that give them all-day dryness and help to prevent foot odors.
Cons
They run slightly small, but this is not a common issue among users.
See also: Best Walking Shoes for Nurses
---
Orthofeet Women's Sneakers, Coral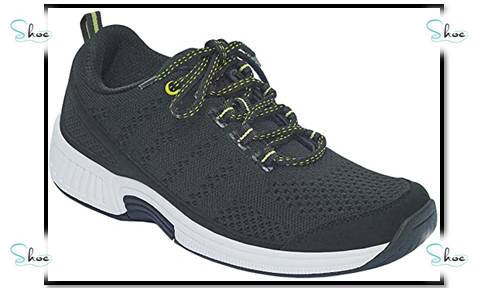 It is no secret that nurses often face extended work hours as well as swing shifts so that they can cover 24-hour care. These professionals need cozy shoes because they walk around on hard surfaces day in, day out. The women's Coral from Orthofeet was specially designed to meet this need. The makers employed revolutionary technologies in constructing the footwear including an orthotic insole along with anatomical arch support plus a padded heel pad that molds to the outline of your feet. Besides, if you are one of several nurses who have had trouble finding stylish and supportive footwear since becoming pregnant, then know that the coral has also been found to be one of the best shoes for pregnant nurses.
Key Features
Orthotic friendly
Properly cushioned
Extended widths
First-class orthotic insoles
Lightweight outsole
Roomy toe box
Soft uppers plus smooth interior lining
The coral from Orthofeet delivers outstanding support. This is mostly made possible by the lightweight cushioning plus Ergonomic stride design of the sole unit. Moreover, the shoe also boasts a detachable insole including anatomical arch support as well as a gel-cushioned heel seat. These features enable the shoe to mold to your feet' outline delivering a maximum degree of customized support to your feet.
Most reviewers are pleased with the level of support delivered by the shoe but if you find the support level to be inadequate, you can replace the insole using your prescribed footbed for enhanced support. The shoe also boasts a well-padded collar, which means your ankles can enjoy excellent support and cushion. The conventional lacing system of the shoe delivers a snug fit ensuring that your toes are not constricted. Orthofeet engineered this walking shoe to help wearers deal with a number of foot conditions including plantar fasciitis, bunions, hammertoes, and pronation issues.
Orthofeet says that the Coral was engineered with coziness in mind and several reviewers agree to this claim. The walking shoe has superb shock absorption that cushions every step you take and provides relief to your knees, back, and feet. The upper is stretchy and offers enough space within the foot compartment for a cozy, non-restrictive fit. It also accommodates foot-swelling and the lining within the walker is produced using soft foam. All these features make the coral one of the best shoes for nurses on feet all day.
Pros
Detachable insoles
Excellent breathability
Stretchy and accommodates foot swelling
Air cushioning
Antimicrobial lining
Cons
Some wearers report that the outsole is not so durable
See also: Best Shoes for Nurses with Plantar Fasciitis
---
AKK Women's Walking Tennis Shoes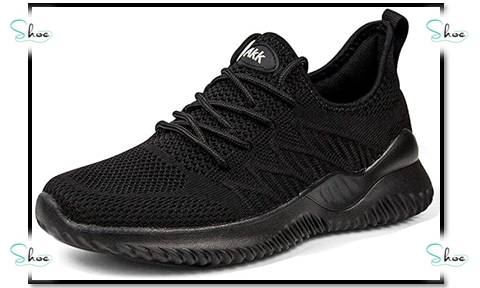 The major selling point of this AKK sneaker is its plush mesh upper designed to provide lasting comfort and support. The shoe's overall coziness is so stunning that the sneaker has acquired more than 7500 5-star reviews. Continue reading to discover other reasons this sneaker is rated among the best shoes for pregnant nurses.
Key Features
Lightweight construction
Rubber sole
Padded collar
Memory foam insole
Streamlined slip-on design
If your work involved standing or walking all day, this AKK tennis shoe offers the appropriate level of support to ensure your feet stay relaxed and happy throughout the day. With an approximate weight of 0.8 pounds, the sneaker will not encumber your movement as you go about your routine tasks at the hospital.
One reviewer praised the shoe's comfortability saying, "They are so well-cushioned yet lightweight. I work mostly on my feet and since I began wearing these shoes to work, I've never experienced aching feet." The sneaker is fitted with an exceptionally supple memory foam insole that functions as a super shock absorber.
You will also appreciate the sneaker's non-slip MD outsole designed to keep you safe on sleek hospital floors. Other notable features of this comfy AKK shoe include the well-padded collar, plush interior linings, and the highly breathable mesh upper.
Pros
Extremely comfortable
Very lightweight
Easy on/off
Adequately-cushioned
Available in several color choices
See also: Best Tennis Shoes for Nurses
---
TIOSEBON Women's Slip-On Walking Shoes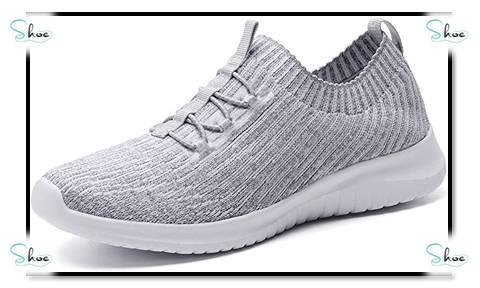 This sneakers model from Tiosebon is an amazingly well-engineered product with some fantastic features. It comes with a classic design and the knit mesh upper gives the footwear a breathable and lightweight feel. Aside from being one of the best shoes for pregnant nurses, this Tiosebon shoe model is also appropriate for daily walking, indoor sports, travel, shopping, driving, horse riding, and more.
Key Features
Breathable knit mesh upper
Slip-on design
Ultra-lightweight construction
ComfortDry Sockliner for a healthier shoe environment
As you may already be aware, a properly-aired shoe is extremely cozy and helps avert sweaty feet plus odors. The Tiosebon women's sneakers feature a highly breathable mesh upper that allows for excellent ventilation within the shoe.
It comes with a highly flexible midsole so the shoe will not encumber your movement in any way. Besides, this midsole is made with long-lasting materials, which add to the shoe's overall durability. The shoe's ComfortDry sockliner offers an additional cushioning layer and helps in keeping your feet cool and dry even on those blistering and sweaty days.
The shoe is made using eco-friendly materials and it is very easy to maintain – thanks to its textile upper design.
Pros
Breathable
Odor-resistant and comfortable
Made with eco-friendly and durable materials
Versatile design
Easy to clean
---
What Every Pregnant Nurse Should Consider When Buying Shoes
It is common for a pregnant woman to continue working for the duration of her pregnancy. Comfort and a sense of wellbeing are vital for pregnant nurses as they continue to perform well on the job. A pregnant nurse has additional challenges as this job usually means being on their feet all day. This field also tends to be more hectic than many other careers. Since pregnancy can put extra pressure on the feet, legs and back, the right footwear is important for optimal performance at work. The right shoe choice can also help to keep a nurse safe.
Shoes that might be ideal for nurses under normal conditions might not suit the needs of a pregnant nurse. Existing foot problems can be worsened by the weight gain that accompanies pregnancy. If they have pronation issues, the wrong pair of shoes can put additional stress on the ankles. The focus should be on getting shoes that can accommodate changes to the body and feet. Here are some of the factors a pregnant nurse should keep in mind when buying shoes.
It must be stretchable
Some people like a certain amount in the firmness in the upper section of shoes. It can help to give the shoe a stronger, more stable feel. While this is good, it can be a problem for a pregnant nurse as her feet begin to swell. A rigid shoe can be uncomfortable or even painful. A better option is a shoe with a mesh upper. This material is soft and flexible, and shoes with a mesh upper generally provide a better fit. If your feet start to change in size and shape during pregnancy, the material is generally able to adapt so your feet will remain comfortable.
Pay attention to the sole
The ability to move around with confidence despite the condition of the floor surface is important. The outsole of your nursing shoes should have effective grip to minimize the risk of falls and injury. Pregnant nurses should opt for outsoles made from softer, blown rubber. This might not be as durable as the harder rubber types, but it does provide a better grip. Avoid soles that seem to smooth or that have minimal grooves. The lugs and grooves in the outsole are designed to provide the kind of traction that a pregnant nurse needs.
Look for stability
It is not unusual for a woman to feel off-balance as her pregnancy progress. Weight gain and a growing belly can slightly affect the center of gravity. This makes the choice of footwear even more important. Stability is a characteristic that varies greatly among the numerous shoe brands on the market. Some shoes have built-in devices to control pronation for the average user. This keeps the ankles from rolling too much so there is less stress on the ankles. This stress might be even more pronounced for a pregnant woman. The more stable shoes tend to be less rigid, so you will have a more natural and relaxed stance. A wide base is usually another good indicator of a shoe's stability.
Flexibility
Rigidity can lead to discomfort as the workday gets longer. If your shoes are too rigid, it will impede the natural movement of your feet as you walk. You might also experience a worsening of an existing foot problem. Flexibility in your shoes lowers the impact on your joints and helps in maintaining your energy levels. It is important to maintain your range of motion as you spend more time on your feet, and flexible shoes will help you to do that.
Shoes must be lightweight
A pair of nursing shoes can be sturdy and durable, but still be lightweight. Shoes that are light are easier to move around in and they help to reduce muscle tension since you don't have to increase the effort in your gait.
Extra cushioning is vital
Pregnancy puts additional stress on the legs, particularly the ankles. Since the feet have to bear the weight of the body, well-cushioned shoes will help to increase your comfort. Cushioning absorbs much of this shock and reduces the risk of strain. Cushioning inside a pair of shoes will help prevent calluses. Look for shoes that have uniform cushioning from heel to toe.
Don't forget breathability
No pregnant nurse can perform well if being on her feet all day has caused her shoes to feel swampy. Breathable mesh is usually the ideal choice as it tends to keep feet cooler. Some shoes are made with cooling technology that pumps air between the toes with each step.
Luckily, many functional shoes that can help pregnant nurses maintain a professional or stylish look. While some top brands will always make the list, do not focus your search based on the brand name alone. Some quality shoes may be offered by lesser-known brands.
Frequently Asked Questions (FAQs)
What type of shoes should a pregnant nurse wear?
Ideally, a pregnant nurse should choose shoes with a soft to medium sole, with a wide, stable base. Some of the best options available are Vionic Women's Fitness Shoes, New Balance Women's 900v1 Fresh Foam Walking Shoe, and Skechers Women's Walking Shoe.
Which shoes do nurses generally find most comfortable?
For comfort during long hours, many nurses recommend Crocs Unisex Bistro Clog, adidas Women's Ultraboost 20 Women's Running Shoe, Women's Brooks Ghost 13 and Women's Hoka One One Clifton 7.
Should a nurse work during her pregnancy?
While nurses may have to make adjustments to their schedule, this does not make the job less demanding. However, with the proper precautions in place, most nurses are able to work throughout their pregnancies. They should be mindful of machines that give off radiation, working with violent patients, and avoid heavy lifting at all costs.
Will a pregnant nurse have to cut back on her hours?
Some pregnant nurses will not be able to maintain the same long working hours they were doing before getting pregnant. Experts suggest investing in compression stockings to ward off some of the issues that typically come with being on your feet all day. Every pregnant nurse should have footwear that is stable and supportive, and that has great traction.
At which point should a pregnant nurse stop working?
Many nurses are able to continue working up until their ninth month, but this usually requires adjustments to their routines and work schedules. They should be aware of signs such as fatigue, and discomfort while sitting or standing. These are indicators that the pregnant nurse should stop working. Back and leg pain may become a problem late in the pregnancy, and can affect performance.
While having the best arch support shoes for pregnancy is an important consideration, nurses will enjoy the flexibility of casual footwear they can use almost anywhere. Pregnant women will always need a little more from their shoes. Many nurses' shoes were not designed specifically for pregnant nurses. This makes it more important to pay attention to the features that can alleviate pain and improve the wearer's overall sense of wellbeing. This is an important consideration as this profession requires concentration Nursing can take a physical toll on the body so well-fitting shoes are important. The right pregnancy shoes for nurses can make the average workday less stressful.
Stability and arch support are two of the main factors to keep in mind when looking for the right footwear. In an advanced state of pregnancy, a woman's center of gravity will be different. Stable, supportive footwear not only makes them comfortable, it also makes it safer for them when on the job. Since it might not be convenient to remove their shoes to cool their feet, breathability is another important issue. That is why so many of the options listed above have a mesh construction. If the shoes are lightweight, the pregnant nurse will be able to move comfortably. It is important to remember as well that the feet can become swollen during pregnancy. Some pregnant women prepare for this by going half a size or even a full size up when buying shoes. In most cases, they can deal with this by choosing shoes that offer a relaxed, stretchable fit that adjusts to changes in the feet.