11 Best Shoes for Nurses with Plantar Fasciitis, According to Reviews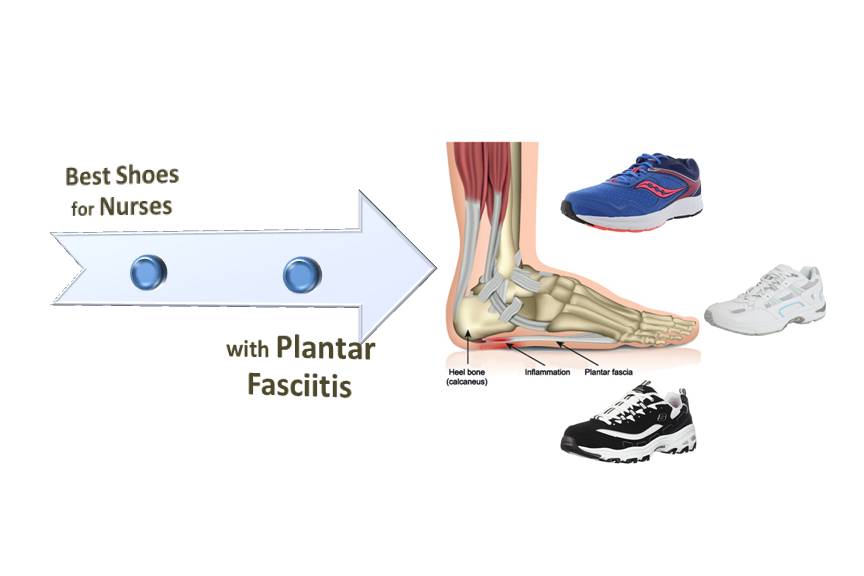 Do you experience pain within your heel area or pain beneath your foot? If yes, then you may have developed plantar fasciitis. Today's post will talk about the best shoes for nurses with plantar fasciitis. Being a nurse is not a simple career choice, and the challenges nurses deal with are well documented – stress, emotional burnout, hazardous working conditions, and long work hours are typical occurrences.
The standard shift for a nurse is anywhere from 10 to 12 hours daily, and during that time, he/she can walk upwards of 5 miles. The prolonged walking can cause back, neck, knee, foot/ankle problems including plantar fasciitis. The best nursing shoes should provide you with support, flexibility, and comfort so you can move around pain-free.
See also: Do Compression Socks Help Plantar Fasciitis?
If you suffer from plantar fasciitis, comfortable shoes are even more critical because you need footwear that will help ease the pain and prevent the condition from worsening. Before diving into the best shoes for nurses on feet all day, it is vital you comprehend what plantar fasciitis is all about and understand the best way to treat it for quick recovery.
Best Shoes for Nurses with Plantar Fasciitis – Top Picks
Saucony Women's Cohesion 10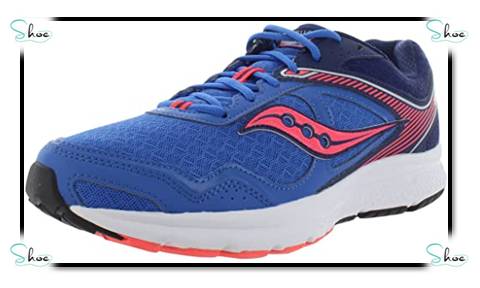 The women's cohesion 10 from Saucony was engineered to be a day-to-day trainer. Although the footwear does not boast the most advanced technologies in shoe design, it offers a reasonable degree of comfort with modest cushioning. The Cohesion 10 upper employs a breathable mesh fabric and the midsole utilizes injection-molded EVA. Combine these with the footwear's heel GRID; it is clear why the shoe is ranked among the best nursing shoes in the market today. Nurses will feel at ease knowing that they are purchasing well-built footwear that is lightweight and supportive.
Key Features
Rubber sole
Breathable mesh upper
Injection-molded EVA midsole
Flex grooves
Tri-Flex System
Saucony built this footwear with comfort and support in mind. Your feet will stay comfortable no matter how long your shift is. The company introduced elements such as injection-molded EVA midsole that contribute to the shoe's overall comfort. Injection-molded EVA or simply IMEVA is a tough and lightweight foam compound that helps absorb the shock from walking or running.
Another feature that contributes to the footwear's comfort is the revamped upper. The makers did away with some overlays and that helped to give the upper a more comfortable and lighter feel. Moreover, the shoe's breathable upper continues to produce a comfortable experience. If you are searching for a comfortable pair of nursing shoes that will help with plantar fasciitis, you cannot go wrong the Saucony women's cohesion 10 Running Shoe. However, a few users say the footwear needs to be properly broken in because the shoe felt uncomfortable the initial few times it was worn.
Pros
Fewer overlays
Reasonably priced
Impressive cushioning
Tough and durable outsole
Cons
Arch support is somewhat lacking
See also: Best Supportive Shoes for Nurses
---
Brooks Women's Addiction Walker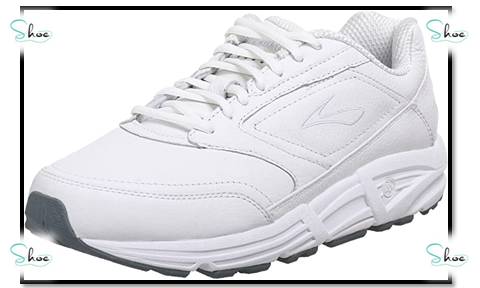 If you are searching for comfortable nursing shoes that will also blend seamlessly with your everyday outfits, the Brooks women's Addiction Walker Walking shoes may be your best bet. Produced from eco-friendly and hardwearing materials, the women's Addiction walker is supportive and comfortable. You will never have to bother about sore feet even after a 12-hour workday. Aside from comfort, other features that make the Addiction Walker one of the best medical shoes for nurses are durability and responsiveness. The footwear will help correct your gait as well as make you say good-bye to plantar fasciitis and other heel pain causes.
Key Features
Full-grain leather upper
Non-slip rubber outsole
Ecofriendly midsole foam
Minimal breathability
BioMoGo DNA
The highlight of the Brooks women's Addiction Walker walking shoes is comfort. You will not experience painful feet even after you have been standing or walking for extended periods. Several individuals who suffer from back pain and plantar fasciitis have praised the ability of this footwear to alleviate pain and discomfort. Moreover, the footwear comes with detachable insoles, so it is a great deal if you have custom-made insoles or prescribed orthotics.
The Brooks women's Addiction Walker is however not a perfect shoe. The footwear is expectedly not extolled for breathability. Many reviewers agree that the Addiction Walker is not the airflow champ, even though the interior of the shoe's upper is fitted with fairly breathable material to avert overheating issues. Your feet will however not suffer too much from this if you avoid wearing them for extended periods on hot summer days.
Pros
Extremely durable
Supreme comfort
Versatile and blends well with everyday outfits
Durable leather upper
Ecofriendly midsole
Slip-resistant outsole
Cons
Lacks breathability
Pricey
See also: Best Shoes for Overweight Nurses
---
Vionic Women's Walker Classic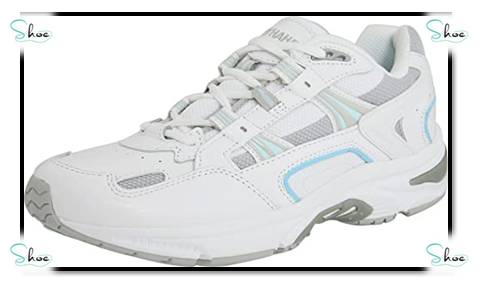 If you suffer from foot and heel pain caused by plantar fasciitis, you will love this impressive sneaker from Vionic. The footwear is crafted using high-quality materials and has insoles that provide excellent support and comfort for a smooth walking stride. Vionic made this shoe especially for professionals who are on their feet all day for example nurses, factory workers, and teachers. Aside from being one of the best comfortable shoes for nurses, the Vionic Walker provides several other benefits that will be discussed below.
Key Features
Detachable Footbed
Water-resistant upper
Durable rubber outsole
APMA approved
Deep toe box
Created by a Podiatrist
Engineered with a heel cup and arch support
The women's Walker from Vionic comes with quality leather upper, which means it is highly durable and long-lasting. Even though the shoe has a tough leather upper, it feels soft to the foot and that is why it is an excellent footwear choice for nurses with plantar fasciitis. The shoe's insole inserts help ensure you will not experience sore and painful feet even after several hours of nonstop walking.
The women's Walker leather upper is water-resistant but not waterproof. Therefore, take care not to submerge the footwear in water. As regards weight, the shoe cannot be described as light, but that does not make it less comfortable. The sneakers will hug your foot and provide all-round protection from forefoot to heel – thanks to the shoe's sure-fit design.
When shopping for the best shoes for nurses on feet all day, you also need to consider the footwear's grip credentials. Sadly, this footwear offers little traction when walking on slippery surfaces. Nevertheless, this downside is offset by the sneaker's lacing system that delivers a secure lockdown. This comfortable shoe is also very easy to wear and remove – thanks to its slightly elastic design.
Pros
Highly durable
Provides supreme comfort
Lacing system that delivers a secure fit
Roomy toe region
See also: Best Nursing Shoes for Flat Feet
---
Alegria Women's Debra Slip-On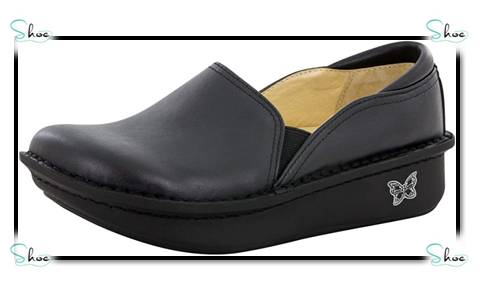 If your job keeps you standing for extended periods, you need a reliable pair of shoes. Alegria is famous for making top-quality nursing footwear that provides foot alignment and adequate arch support whilst being trendy and comfortable also. The Alegria Women's Debra is slip-on footwear that keeps things comfortable and relaxed. If you are searching for footwear that is simple to slip on, yet will not worsen your plantar fasciitis, try this clog style footwear from Alegria.
Key Features
Stain-resistant upper
Foam footbed
Suede leather insole
Synthetic sole
Leather upper with lining
Hand-stitched
Slip-resistant sole
The main selling point of the Alegria Women's debra Slip-On is its solid construction. The shoe is produced using top quality leather plus imported materials. This means the footwear can endure continual abuse and requires little or no maintenance.
The shoe's toe box is spacious enough to contain any toe problems. Moreover, if you suffer from sweaty and stinky feet due to wearing closed-toe shoes, the Alegria Women's Debra is a fantastic option because it will help keep your feet relaxed and refreshed. Besides, the footwear is fitted with double elastic gore for added comfort plus easy on easy off.
The footwear has an elegant detailing that many users find interesting. Aside from your nursing uniform, this shoe will go well with most of your other outfits. Several users praise the shoe due to its availability in a range of styles and colors. Thus, you can choose a model that fits your personal preferences and requirements. The women's Debra slip-on shoes are available globally because they are available in European sizes.
Pros
Slip-on construction
Comfortable
Lightweight
Globally available
Comes in a range of sizes
Appropriate for all seasons (dry or wet)
Cons
A bit pricey
Takes a comparatively long time to break-in
See also: Best Shoes For Nurses With High Arches
---
Skechers Women's D'Lites Sneaker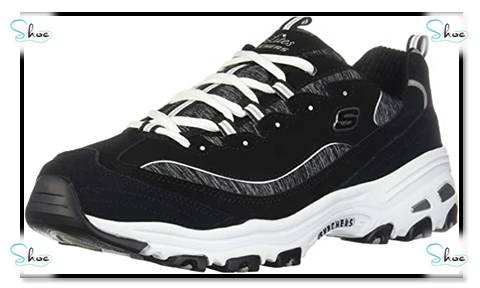 Absolute comfort and elegance are what the Skechers D'Lites Biggest Fan offer – thanks to the footwears smooth trubuck leather upper plus its Air-cooled Memory foam. Aside from wearing these shoes to work, you can also use them as casual wear, for working out and errand running. The footwear is lightweight and delivers lots of support and cushioning. The best part is that they will not hurt your feet even after you have worn them for hours.
Key Features
Lace-up design walking shoes
Elastic rubber traction outsole
Stitching accents plus Side S logo
Lined with supple fabric
Padded collar and tongue
Lightweight shock-absorbing midsole for a smooth walking stride
1 ¼-inch in-built heel
The Skechers D'Lites – Biggest Fan shoes will treat your feet to comfort like never before. This is owing to the shoe's super comfy air-cooled memory foam. It offers lots of support and supreme cushioning, which in turn helps lessen tiredness and keeps you invigorated on long shifts.
The footwear has a rubber outsole that is fitted with deep lugs for enhanced traction. The flexible outsole is crafted to move with you as well as cushion every step you take. If you suffer from heel pain due to plantar fasciitis, it has been established that shoes with good cushioning and thick soles will help alleviate pain as you walk or stand. The Skechers D'Lites – Biggest Fan score high on these expectations. This is precisely why the footwear is ranked among the best shoes for nurses with plantar fasciitis.
Also, these shoes come in a wide array of sizes. You can select from three width options – regular, wide plus extra wide.
Pros
Impressive arch support
Comfortable
Lightweight and ideal for extended walking
Excellent grip on varied terrains
Durable and reasonably priced
Cons
Some users say the footwear is too narrow
Breathability could be better
See also: Best Shoes for Nurses with Wide Feet
---
TIOSEBON Women's Athletic Shoes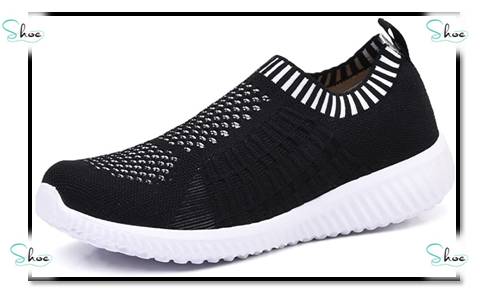 TIOSEBON is known for promoting simple, comfortable, and trendy walking shoes. This inspiring footwear from the brand has been praised by many reviews for its breathability qualities and simple slip-on construction. The shoes are lightweight, come with thick soles and offer shock absorption, which means you will not know you are wearing them even on long workdays.
Key Features
Slip-resistant outsole
Excellent breathability
Stretchy MD outsole
Made with eco-friendly materials
Textile upper
The TIOSEBON athletic walking shoes for women are unique in several respects. While it has an overall elastic sneaker design, it delivers excellent comfort and support much the way a walking shoe would. No wonder it has been touted as the perfect blend between a walking shoe and a sneaker.
Rubber and textile are the main materials used in constructing the shoe. The combination of these materials helps deliver comfort and durability all at once. So, if you have plantar fasciitis, you can perform your duties at the hospital without having to bother about foot pain. Moreover, the materials used in constructing the footwear are durable so you can be sure the shoes will last you a long time.
The shoes' upper is crafted using tough and flexible textile material that offers excellent breathability. Thus, you do not have to bother about sweaty and stinky feet even during a 12-hour shift. Additionally, the footwear's thick and tough rubber sole ensures excellent grip no matter the type of surface. And since the shoe has a comfy and simple design, you can wear it for various events – for work and post-work activities.
Pros
Breathable and allows for good air circulation
Comfortable and lightweight footwear
Durable
Good arch support
Excellent grip on different terrains
Durable and flexible
See also: Best Work Shoes for Nurses
---
Skechers Women's D'Lites Mule Sneaker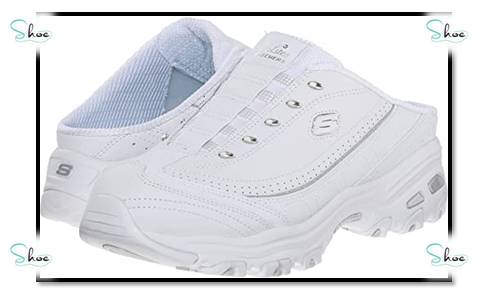 The D'Lites series are a popular favorite from Skechers. The Women's D'Lites Bright Sky is a classic pair of sneakers without backs. The footwear has a very impressive appearance and a comfortable feel. If you are constantly on the go, or you are the type of individual who simply loathes having to bend over to tie up your shoelaces, then you will want to check out this beauty. Some of its main selling points are lugged outsole, memory foam insole, plus leather & synthetic upper. Read on to find out why you should not miss out on this one.
Key Features
Stitching plus overlay accents
Metal stud trim on the front panel
Colored edging trim
Stretch expandable fabric bands on the front panel for a simple slip-on fit
Memory foam footbed
Slip-on construction
Padded collar plus tongue
Smooth leather upper
If you work on your feet all day, a pair of comfortable and relaxing shoes is an absolute must-have. Users agree that the Skechers D'Lites-Bright Sky is properly cushioned and outstandingly comfortable. The shoe's memory foam insole helps enhance the footwear's comfort level and several reviewers agree that it does an excellent job.
The Skechers D'Lites – Bright sky is available in a number of color choices including white, black, grey, navy, vapor silver, bright sky white, and white/silver. This mule-type sneaker has stitching accents that give it dimension plus a sporty appearance. The footwear offers you a reasonable degree of traction – thanks to the shoe's outsole design. So when walking around the hospital grounds or anywhere else, you will not have to bother about slipping and falling.
If you are looking for cheap shoes for nurses that you can wear at your workplace and anywhere else to keep your feet happy and comfortable, then the Skechers D'Lites- Bright sky will be a fitting option for you.
Pros
Shock absorbing midsole
Great traction
Affordable price tag
Comfortable
Simple to clean
---
Orthofeet Women's Coral Stretch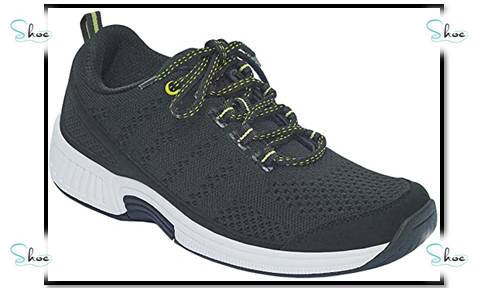 Orthofeet is a respected brand that makes the most comfortable orthotic shoes in the world. If you are searching for trendy footwear that will also help alleviate your heel pain due to plantar fasciitis, then you cannot go wrong with this walking shoe from Orthofeet. The shoes will match your nursing scrubs as well as your other casual outfits. The footwear is constructed to take care of a range of foot issues. Thus, if you have other health conditions like arthritis, bunions, or back pain, this shoe may help alleviate the problem.
Key Features
Super cushioning
Lightweight sole
Quality orthotic insoles for enhanced arch support
Ergonomic design for better comfort
Distinctive therapeutic design to help alleviate strain on the joints
Spacious toe box
Removable insoles
Soft uppers with smooth inner lining
The coral from Orthofeet comes with a broad and roomy toe box that delivers a relaxed, non-binding fit to the fore segment of the foot as well as toes. This feature helps lessen pressure on foot conditions including bunions and plantar fasciitis.
Furthermore, the shoe's attachable contoured insole will mold to your feet's shape, giving you personalized support plus cushioning. It achieves this with the aid of the footwear's deep, padded heel-seat plus anatomical arch support. Orthofeet created this impressive insole to help lessen any ache you might have at the hips, knees, heel, and your lower back.
The Orthofeet Coral has a synthetic, interlaced mesh fabric upper. It also boasts an extra depth, non-binding build, which allows for added comfort especially if your feet swell after walking or standing for prolonged periods. The footwear will broaden as your feet distend, and will not cause any restrictions or discomfort. The shoe's upper design allows for good air circulation within the shoe, thus your feet stay fresh and dry even during long shifts.
Pros
Breathable and elastic mesh upper
Removable insoles
Impressive cushioning
Antimicrobial lining
Ergonomic stride design
Cons
Untimely wear and tear of the soles
Slip resistance could be better
See also: Best Shoes For Nurses With Bunions
---
ASICS Women's Gel-Venture 6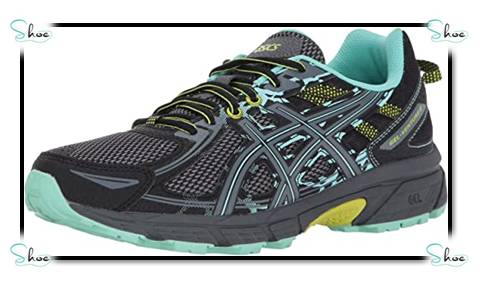 Asics created the Women's Gel-Venture 6 to be a durable trail running footwear with exceptional traction. The shoe does not disappoint for this intended use. The Gel-Venture 6 arrived with some improvements regarding the midsole and upper design. The shock absorption and cushioning qualities of the shoe were enhanced using Asics' Rearfoot Gel technology. The shoe's upper is made using a synthetic mesh fabric that is extremely breathable but sufficiently structured to prevent excess foot movement when walking. These features help make the Asics's Women's Gel-Venture 6 Running-Shoes one of the best shoes for nurses with plantar fasciitis.
Key Features
Detachable insert
Breathable mesh upper
AHAR outsole for better durability
Rearfoot Gel technology
Multi-directional lugs that enhances traction
The women's Gel-Venture 6 from Asics delivers some features that help ensure a fantastic walking experience. These features comprise reinforced heel and sides as well as a detachable sock liner. If you, however, have pronation issues, you may have to get an orthopedic insert, as this footwear will not deliver the required stability to deal with these problems.
As stated earlier, the Gel-Venture 6 comes with some enhancements from the former edition of the footwear – that is within the midsole and upper construction. The midsole boasts Asics' signature Rearfoot Gel technology, which is a superb shock-absorbing material. The shoe's upper is fitted with a breathable synthetic mesh material that ensures supreme comfort for the feet.
Pros
Reasonably priced
Fantastic flexibility
Synthetic mesh upper
Highly durable
Reinforced sides plus heel collar
See also: Best Shoes for Nurses with Back Pain
---
Brooks Women's Adrenaline GTS 21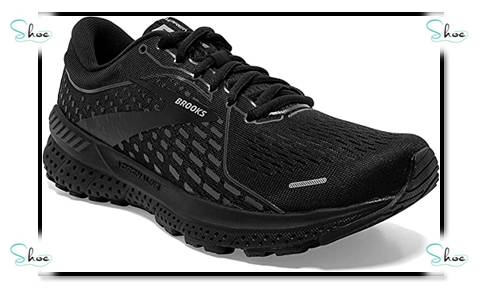 Brooks engineered the Adrenaline GTS 21 for runners but the shoe has all the stability, support, and comfort qualities to get you through your shifts. The women's Adrenaline GTS 21 is true to size fitting, exceptionally comfortable and comes with a light, flexible, and highly breathable upper. Since the shoe's toe box is considerably flexible, and will conform to your foot's shape, you will not experience any rubbing or pinching at the toe region. Besides, the sneaker is APMA approved, which places it among the best shoes for nurses with plantar fasciitis.
Key Features
GuideRails Holistic Support structure for enhanced stability
Rubber sole
BioMoGo DNA midsole
Engineered mesh upper along with 3D fit Print
If you are familiar with the predecessor of this sneaker, Adrenaline GTS 20, you will be happy to learn that its sequel is a lot better. The principal upgrade for the Adrenaline GTS 21 is the DNA loft technology expansion, which is present in the previous iteration of the shoe. The cushioning arrangement, which comprises EVA foam, air, and rubber, has been expanded further beyond the heel, via the midsole and reaching the forefoot region. According to Brooks, the DNA loft expansion is to ensure the wearer enjoys smoother transitions from heel to toe plus a more stable cushioning experience.
Another innovative feature of the Adrenaline GTS 21 is the streamlined, engineered air mesh upper plus 3D Fit Print. With these, you get the structure as well as established fit the Adrenaline GTS is renowned for without additional bulk. No wonder reviewers have been praising the shoe for its comfort and support attributes.
Wearers also love the GuideRails technology employed in making this Brooks running shoe. Do you find your feet and ankles getting out of alignment during activities like running and walking? If you answered yes, this is not normal and the women's Adrenaline GTS 21 from Brooks can help correct that. This is made possible by the shoe's GuideRails holistic Support construction. By keeping surplus movement in check, Guiderails helps to keep you walking or running comfortably.
Pros
Provides a snug fit
Very comfortable
Well-cushioned
Loads of support
Great design
---
Orthofeet Proven Men's Sneaker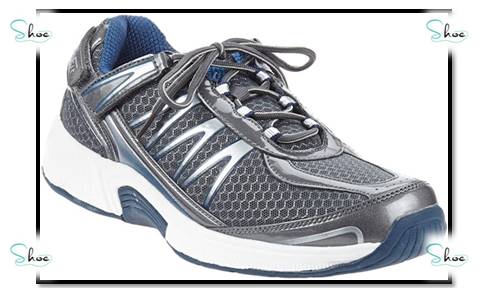 Orthofeet was established in the year 1984 and the company aimed to provide the finest stylish and functional footwear to orthotic patients. The company has been doing just that since its establishment. Over the years, men's sneakers from Orthofeet have been extremely popular for plantar fasciitis and other foot conditions. This is due to their remarkable cushioning and pain relief qualities. The Orthofeet sneakers sprint comes with an elegant design and is well worth every penny you will pay for it.
Key Features
Lightweight sole
Ergonomic design
Quality orthotic insoles
Superior cushioning
Extended widths
Unique Therapeutic design
Roomy toe box
Soft Uppers
This Orthofeet men's sneaker comes with a flexible, lightweight sole to alleviate sprain as you walk. Each step you take is adequately cushioned and protected so you get that walking on clouds feeling. Moreover, the outsole is extremely durable and you can rest assured the sole will not separate from the upper when walking.
The footwear also comes with several tiers of soft insoles that provide additional cushioning for your feet. This helps to lessen soreness from the feet up to the lower back area. These insoles are detachable so you can replace them with prescribed orthotics.
Pros
Soft comfortable interior
Breathable upper for better airflow within and outside the footwear
Comes in a range of widths
Detachable insoles for personalized foot pain relief.
Cons
Some users say the footwear is a bit costly
See also: Best Shoes for Male Nurses
---
How to Choose the Best Shoes for Nurses with Plantar Fasciitis?
Plantar Fasciitis: What is it?
Plantar fasciitis is a foot disorder characterized by intense, stabbing heel pain. The condition occurs due to irritation of the plantar fascia. The plantar fascia is a ligament that links the ball of your foot (metatarsal region) to your heels. This ligament runs from your calcaneus (heel bone) to the underside of your toes. Aside from helping to maintain your arch, the plantar fascia also plays a critical role in foot stability plus movement.
The pain usually occurs in the morning after getting out of bed. The pain typically reduces after you have taken a few steps, but it comes back after you have been standing for an extended period or once you get up from sitting for a long time. As a nurse, you will experience both of these situations regularly at the workplace, and that is why you need comfortable shoes to support and protect your feet.
Plantar Fasciitis Symptoms
You may have plantar fasciitis if you experience stabbing pain close to your heel, within the underside of your foot. As stated earlier, plantar fasciitis pain is worst in the morning after taking your initial steps. However, you will also experience it after an extended period of walking, standing, or once you get up after sitting for an extended period.
During the initial phases, plantar fasciitis pain worsens after exercise, not when you are exercising. This probably explains why many nurses complain of heel pain after a long shift, or during a launch break. If plantar fasciitis does not affect your routine, you may be tempted to overlook it. However, bear in mind that the pain will worsen without treatment, and you may ultimately experience symptoms each time you walk or stand.
Plantar Fasciitis Causes
The condition commonly occurs because of repetitive stress injury to the plantar fascia ligament. In some individuals, the condition arises without any obvious reason. Nevertheless, some risk factors may increase your likelihood of developing plantar fasciitis. These include:
Being Overweight – Excess pounds places additional weight on your legs and that can inflame your plantar fascia resulting in chronic heel pain.
Wearing the wrong footwear – You will become more susceptible to plantar fasciitis if you constantly wear high-heeled shoes, worn-out shoes, or other inappropriate footwear.
Foot Mechanics – Tight heel cords, high arches, abnormal foot position, flat feet, your pattern of walking – all of these can increase your danger of developing plantar fasciitis by placing additional strain on the plantar fascia ligament.
Prolonged Standing – If your job keeps you on your feet for several hours, then you are at a high risk of developing plantar fasciitis.
Age – Individuals who are aged between forty and sixty are more vulnerable to having the condition.
Plantar fasciitis symptoms typically resolve faster when the gap between the commencement of symptoms and the commencement of therapy is shorter. There are several treatment options, including stretching, rest, strengthening, arch supports, night splints, orthotics, surgery, anti-inflammatory agents, and change of shoes.
What to Consider When Buying Plantar Fasciitis Nursing Shoes
Are you in the market for the best shoes for nurses with plantar fasciitis? Several nurses suffer chronic pain due to prolonged time standing or walking at the workplace. When you add to that the problem of plantar fasciitis, what you get is that throbbing unbearable pain within your legs and lower extremities. Wearing poorly fitting shoes for prolonged periods can lead to plantar fasciitis. Several global shoe brands manufacture shoes that are appropriate for plantar fasciitis sufferers. This guide will shed light on some of the factors you should look out for when shopping for the appropriate work shoes for plantar fasciitis as well as the top picks to consider.
Firm Heel Counter
A shoe's heel counter is the rear section of the shoe and is usually a little plastic or rubber insert that is designed to support your arch and heel as well as control excessive supination and pronation. Before you settle for a particular pair of nursing shoes, squeeze the rear section (heel counter) to see if it is firm enough. If the rear side collapses then it is not the right shoe for you as it will almost certainly provide poor ankle and foot support.
Flexibility
The flexibility of a shoe can largely contribute to its overall coziness. To check whether the shoe has good flexibility or not, grab the shoe by the toe and heel using both hands. Next, try bending the sole in the middle. The best shoes for nurses with plantar fasciitis should offer some resistance while bending slowly at the ball-of-foot. If the shoe collapses in the middle with little or no resistance, then avoid buying that particular shoe.
Spacious Toe Box
Most modern-day shoes do not come with wide-toe boxes. You will typically come across shoes with tapering toe boxes that squeeze the toes together. A broad toe box construction will help keep your toes from cramping up thereby reducing your risk of developing foot conditions like hammertoes, bunions, and plantar fasciitis.
Good Cushioning
A shoe's cushioning system is very important particularly concerning plantar fasciitis nursing shoes. When shopping for work shoes, be sure to choose ones that are adequately cushioned to soak up the impact when your heel strikes the ground. Shoes that are fitted with memory foam insoles deliver the best comfort.
Elevated Heel with Rocker Bottoms
Recent scientific investigations indicate that shoes with approximately 1-inch heel height are ideal for individuals who suffer from plantar fasciitis. Nevertheless, this depends largely on your foot type. An elevated heel will help transfer some of your body weight off of your sore heels. Also, be sure to select Shoes with rocker bottoms as these will help alleviate strain on your plantar fascia thereby reducing pain.
Frequently Asked Questions (FAQs)
Are Skechers good for nurses with plantar fasciitis?
Yes, Skechers is one of the brands that make quality shoes for plantar fasciitis sufferers. Many Skechers have air-cooled memory foam insoles that provide outstanding shock absorption.
Does the Alegria Women's Slip on provide good arch support?
The shoe provides excellent arch support even during 12-hour shifts on your feet.
Is the Brooks Women's Addiction Walker Durable?
This shoe is made of first-class leather which makes them extremely durable.
What shoes do podiatrists suggest for plantar fasciitis?
7 of the best shoes for plantar fasciitis • Saucony Women's Cohesion 10 • Vionic Women's Walker Classic • Brooks Women's Addiction Walker • Alegria Women's Debra Slip-on • Brooks Women's Adrenalin GTS 21 • Skechers Women's D'Lites Sneaker • Orthofeet Proven Men's Sneaker
Conclusion: Best Shoes for Nurses with Plantar Fasciitis
The best shoes for nurses with plantar fasciitis are the ones that provide a snug fit as well as support your arches. With that said and since no two person's feet are precisely the same, you must look around to find a pair of work shoes that will suit your feet best. It is hoped that this post will help you find the right pair.