Top 9 Best Shoes for CNA & Medical Professionals
A CNA's responsibility typically comprises helping patients with daily living activities. These tasks include eating, bathing, grooming, toileting, and moving. Aside from allowing you to help people in need, this job can be physically demanding as well. You will be working on your feet for most of the day and you need the best CNA shoes that can withstand the rigors of continual walking. Sometimes, healthcare givers tend to settle for low-quality cheap shoes just to save money. However, bear in mind that low-quality shoes can result in unnecessary injury.
So, what are the benefits of high-quality work footwear? Aside from taking care of your feet, the best shoes for nurses will help remove strain from your back, ankles, and hips. Consequently, you will barely feel uneasy during the extended working sessions. However, your nursing shoes should also be fashionable. You do not want to sacrifice your style for your job.
When in the market for the best shoes for CNA work, there are some factors you should take into account. Consider the footwear's slip-resistant qualities. As a certified nursing assistant, you will regularly work in wet environments for example bathrooms. Another consideration is the footwear's stability features. Select shoes that deliver excellent stability to help prevent needless foot movements as you walk.
See also: Best Work Shoes for Nurses
Best Shoes for CNA – Top Picks
Dansko Women's Professional Clog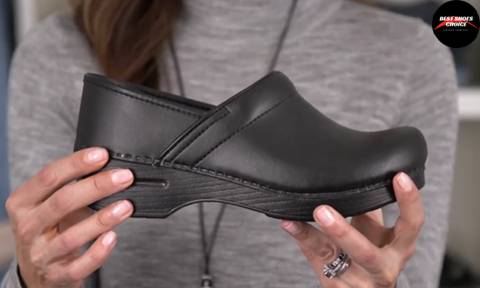 Working all day on your feet in sometimes wet or slippery environment is not easy. You need a comfortable and supportive pair of shoes to make it through your workday without causing harm to your back, feet, and legs. The Dansko professional delivers everything expected from Dansko shoes – comfort, safety, and support. It is therefore not surprising why many pros who work on their all-day swear by these quality shoes.
Key Features
Rounded toe box plus reinforcement
Rubber sole
Leather and/or fabric uppers
Padded instep collar
PU outsole
Memory foam footbed
Comfort is a critical feature to look out for when shopping for the best shoes for CNA. The Dansko Women's Professional wear a bit differently compared to most shoes. What this means is that the shoes permit some heel movement as you walk. This in turn delivers better breathability, comfort, and stability when working an extended shift.
Thus, it is a good idea to buy a half-size up from your everyday shoe size. It will also take a bit of time before your feet are accustomed to the shoes but once that is achieved, your feet will benefit from the long-term comfort provided by the footwear.
The Dansko women's professional comes with a spacious, thermoplastic reinforced toe box. This cool feature also adds to the footwear's comfortability. Shoes that crowd your toes begin to hurt after a couple of hours. Moreover, without a strengthened toe box, continuous exposure to moisture that is associated with CNA work will result in the deformation of the toe box over time.
The Dansko Professional also has a comfy, memory foam footbed, which also delivers impressive arch support for individuals with flat feet. Nevertheless, bear in mind that this footbed is not detachable. Thus, if you have a prescribed orthotic, this footwear may not work for you.
Another refreshing feature of the Danko women's professional is its availability in a variety of color options. There is conventional brown and blue leather, in addition to the lovely tiger lily pattern and blue grove. In other words, you are sure to find something that will suit your style.
Pros
Delivers supreme comfort
Comes with a roomy, thermoplastic reinforced toe box
Protective heel counter
Several color choices
Temperature control
Padded instep collar
Cons
Some users who have large or wide feet have complained that the footwear is too tight
Long break-in time
See also: Best Clogs for Nurses
---
Fila Women's Memory Workshift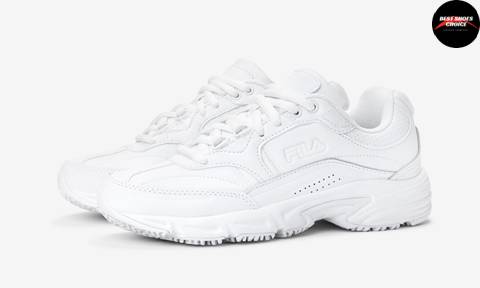 The job of a CNA can be difficult and involves long days. Your productivity at the workplace depends largely upon how comfortable you are. Slips and falls are a common hazard CNAs encounter at work. If you are searching for footwear that will protect you from this hazard, then the Fila women's Memory Workshift slip Resistant work shoe should be top of your list. The footwear has an outsole that delivers a fantastic grip regardless of the type of terrain you are on. Also, the plush-lined memory foam adds to the protection and comfort qualities of the footwear. Overall, Fila designed these shoes to deliver optimal performance and supreme comfort for your feet.
Key Features
Blend of leather and synthetic upper
Rubber sole
Sturdy leather with synthetic overlays to suit your occupational requirements
Slip-resistant outsole
Memory foam sock liner plus midsole for extra comfort
Lace-up closure for a snug fit
Perforations for breathability
One of the major selling points of the Fila Women's Memory Workshift Slip Resistant Work Shoe is its memory foam sockliner, which is created using DLS foam. With this feature, you can be sure your feet will stay comfortable all through the day. The footwear's upper is produced from leather plus synthetic overlays for enhanced breathability and comfort.
Thanks to its rubber outsole, the women's Memory workshift is also a superb option for wet or slippery surfaces to prevent slips and falls. Although the shoe is engineered to avert slips and falls, many users have testified about the shoe's non-slip qualities. The women's memory workshift is not entirely slip-proof. A few users have said that the footwear sometimes provides poor grip on cement surfaces. Therefore, you should be cautious when walking on wet pavements.
The footwear also comes with a variable lacing design for a comfy and snug fit. Most reviewers love that the footwear has super comfortable memory foam insoles and that it is removable as well. This means that you can replace them with your own orthotic insoles for additional support. In addition to all of these great features, the women's memory walkshift has perforations that help boost the breathability of the footwear as well as minimize odor during a long shift.
If you are searching for a pair of cheap shoes for nurses that will also deliver fantastic slip-resistance and durability, the women's Memory Workshift is an excellent choice to consider.
Pros
Perforated design for enhanced breathability
Great arch support
Detachable memory foam insoles
Reasonably priced
Non-slip outsole
Lace-up construction for snug and comfy fit
Cons
Runs narrow
Some users say the shoe requires some break-in time
See also: Best Slip-On Shoes for Nurses
---
Skechers Women's Memory Foam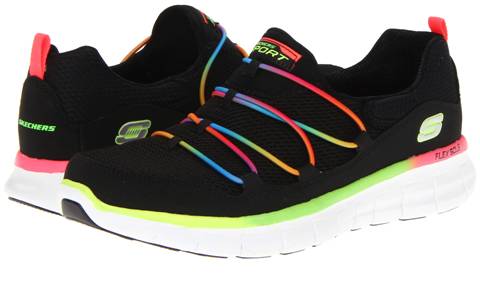 Skechers is a globally renowned brand that makes comfortable/trendy shoes. Thus, it is not surprising that the Synergy- Loving life from Skechers made it on this list of best CNA shoes. The footwear is highly versatile and can cope with all kinds of environmental conditions, and that includes CNA work environments.
Key Features
Flex groove outsole
Rubber sole
Memory foam insole
One hundred percent faux leather plus mesh fabric
Breathable mesh construction
Slip-on sneaker design
The Skechers Synergy – Loving Life is a slip-on sneaker designed for individuals who are constantly on their feet. The sneaker is produced using faux leather plus breathable mesh material. Engineered with your comfort in mind, the Synergy – Loving life comes with a relaxing memory foam insole and a flexible rubber sole. The rubber sole will help ensure you do not experience any accidental slips, falls, or injury.
The sneaker is fitted with a bungee-style lace and that means it is simple to wear and remove. The bungee-style lacing system also helps to boost the protective qualities of the footwear. Additionally, the Synergy-Loving life has an in-built flex groove that allows for superior gait efficiency. The shoe scores well for breathability and that is essentially due to its breathable mesh upper construction. Thus, if you are vulnerable to sweaty, stinky feet, this shoe will work well for you.
The Synergy – Loving life from Skechers has a cozy insole plus lightweight design – features that helped endear it to many certified nursing assistants and other professionals who are constantly on their feet. Another wonderful thing about this footwear is that it comes at a highly affordable price. The footwear is relatively cheap compared to other sneakers with comparable features and designs. Since the shoes are extremely versatile, you can wear them to work as well as for idle casual days out also.
Another reason this footwear is ranked among the best medical shoes for nurses is its capacity to keep your feet protected even during prolonged shifts. As you walk, the memory foam fitted in the sneaker provides padding where required and diffuses pressure. All these help to ensure your feet are happy and healthy as you go about your duties.
Thus, if you are in the market for a durable pair of sneakers with trendy design, you cannot go wrong with the Skechers Synergy – Loving Life.
Pros
Rubber outsole for durability
Bungee-style lacing system for a snug fit
Slip-on construction for easy on easy off
Flex grooves for superior gait efficiency
Cons
Some users have complained that the shoe runs small
See also: Best Shoes for 12 Hour Shifts
---
Alegria Women's Keli Professional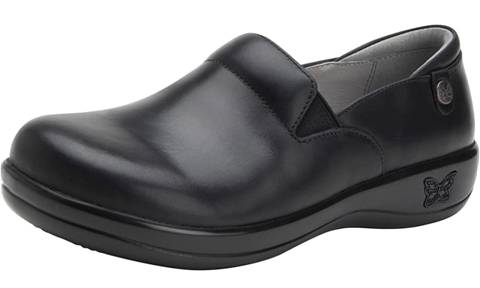 Alegria is a leader in the making of therapeutic shoes around the globe. The folks at Alegria believe that your footwear should always give you joy and happiness. Alegria is a Spanish word for "happiness and joy". The Women's Keli Professional is a shoe that provides style and comfort and delivers the appropriate arch support. No wonder it is extremely popular with female nurses. With its several impressive features, will this shoe meet your expectations or will it fail? Read on to find out.
Key Features
Slip-resistant
Detachable footbed
Synthetic sole
Stain-resistant upper
Leather upper plus lining
The best features of the Alegria Women's Keli Professional are support and comfort and many reviewers have praised it for these very attributes. The footwear's leather upper accommodates several different styles and requirements – thanks to its elegant, trendy appearance. It also boasts a spacious toe box and several users say the shoe stretches after a bit of use. Thus, if the shoes feel a little tight the first time you wear them, there is no cause for alarm. Before you start wearing these shoes to work for the entire day, it is recommended you first wear them for about seven days to unlock all of the benefits it offers.
The Women's Keli Professional has an insole that is cushioned with memory foam and latex foam. These help to make the shoe's inside extremely soft delivering that feeling of optimal comfort to the wearer. The best aspect of this Alegria footwear is that the insole is detachable. This means you can easily replace them with your own special inserts.
Moreover, the shoe's top rear and upper edge are padded nicely delivering all-day support and comfort. Although the footwear is thickly cushioned, it will not make your feet feel hot and sweaty. Your feet will stay dry and cool even when you are doing a 12-hour shift.
The Alegria Keli may not be suitable for you if you have wide feet. This is especially important if you do a great deal of standing and walking at your workplace. Several users say the footwear runs small and does not have sufficient room for individuals with wide feet even after the shoe has stretched. Nevertheless, the footwear will work well for you if you have narrow feet. It will hug your feet snugly helping you deliver fantastic results at your workplace.
Pros
Lightweight construction
Slip-resistant
Properly cushioned
Delivers supreme comfort
Easy to walk in
Cons
Not so durable
Sizing issues
See also: Best Supportive Shoes for Nurses
---
K-Swiss Women's St329 CMF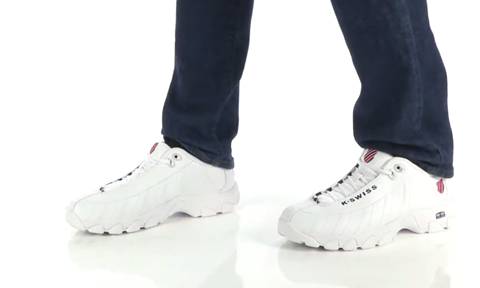 The ST329 CMF from K-Swiss combines durability and comfort for the finest-ever walk experience. The shoe is crafted to ease your feet's movement and is superb for both casual wear and all-day use at the workplace. The shoe's upper is breathable whilst the underside soles are hardwearing and can withstand the wear due to several miles of walking. The St329 CMF sneaker is one of the best comfortable shoes for nurses who work extended shifts.
Key Features
Durable rubber outsole
Leather/Synthetic upper
Rubber sole
EVA cushioned midsole
Memory foam footbed
Made from one hundred percent synthetic materials
Prolonged and continual walking with no rest periods can cause you to overstrain your feet leading to injury. The K – Swiss Women's St329 CMF Sneaker is thickly cushioned within the soles as well as supporting materials to ensure your feet remain stable and comfortable as you go about your duties. Moreover, it is engineered to be lightweight and breathable making it even more comfortable.
The shoe is not available in several color variations but this downside is offset by the fact that the footwear delivers remarkable support and durability. A few users have complained that the sole is not so durable but for the most part, many users have praised the ST329 CMF for the stability and support they enjoyed using the footwear.
The K – Swiss Women's St329 CMF Sneaker is a bit pricey compared to other shoe brands in its category. However, the shoe is made using top-quality materials and would be an excellent investment for anybody searching for the best shoes for CNA work.
Pros
Memory foam footbed that delivers impressive cushioning
Cushioned midsole for better comfort and stability
Good arch support
Rubber outsole for durability
Extremely breathable and lightweight
Balanced heel
Cons
Available in limited color options
Sizes run a bit wide
See also: Best Sneakers for Nurses
---
Crocs Men's and Women's Bistro Clog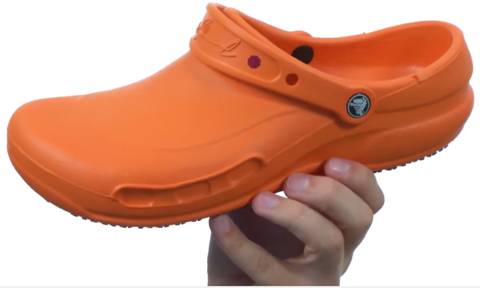 Many people say that Crocs are unattractive and unfashionable. Despite this, crocs are among the most professionally recognized nursing shoes in the healthcare business. Everyone is aware that Crocs produces durable and versatile footwear. The Crocs Unisex Bistro is engineered for continual walking and standing without tiring your feet. The shoe's major selling points are utility, affordability, and comfort. If you have begun working as a CNA, then you are most likely aware that wearing inappropriate work shoes can create an extremely bad ambiance for your entire body, aside from your feet. If you are searching for the best CNA shoes that are also affordable, then the Crocs Bistro may be your best bet.
Key Features
One hundred percent croslite
Synthetic sole
Lightweight and supportive
Fully molded for simple cleaning using soap and water
Slip-resistant footwear for women and men
The Crocs Unisex – Adult Bistro Graphic Clog is specially designed for work within a demanding hospital environment. The footwear is fitted with slip-resistant treads designed to grip all types of surfaces thus prevent slip and fall mishaps, which can result in serious harm like sprains, broken bones, and back injuries.
Crocs' clogs are known for having ventilation openings that help with air circulation. However, the Unisex- Adult Bistro does not have these openings. This means the shoe's breathability is somewhat limited. Nevertheless, the footwear makes up for this shortcoming by having impressive protective qualities. The shoe has an enclosed toe box made from durable materials to shield your feet from spills as well as other hazards. There is also a strap firmly fitted at the shoe's rear side that helps to lock in your foot ensuring your heel does not slip when walking.
This remarkable footwear from Crocs is engineered to last regardless of what you put it through. This is because the whole shoe is made using a highly durable Croslite material. Cleaning the shoe is a breeze. Simply wipe it down using a damp, soapy cloth or fabric. Your Crocs will serve you comfortably for several years if you take good care of the pair.
As stated earlier, the Unisex – Adult Bistro from Crocs is entirely made up of a tough croslite material. This patented material delivers all-round comfort for the entire foot. No wonder the shoe is rated as one of the best shoes for nurses on feet all day. Moreover, the shoe has a lightweight construction, and that means you will not get that heavy-footed sensation some of the heavier nursing footwear can sometimes present.
Pros
Made entirely of croslite material for enhanced comfort
Highly slip-resistant treaded sole
Simple to clean
Contoured footbed that allows for a snug fit
Cons
Inconsistent sizing issues
See also: Are Clogs Good for your Feet?
---
ASICS Women's GEL-Venture 5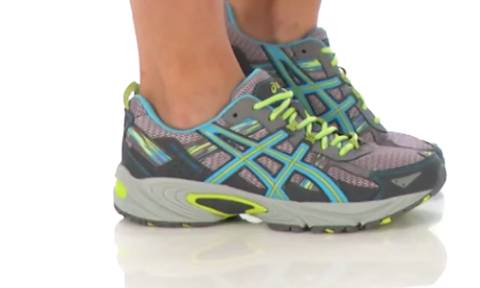 The Gel-Venture 5 Running shoe from Asics is loaded with functional features that make it one of the best shoes for CNA. To start with, the footwear delivers excellent arch support, which is a priority for certified nursing assistants and other professionals who do a great deal of walking and standing at the workplace. The shoe also features rearfoot gel cushioning system, a responsive outsole, plus a breathable mesh upper. All these features and more make the Asics Women's Gel-Venture 5 Running shoe the finest in its class.
Key Features
Removable foam sockliner
Gel cushioning system
Rubber sole
Slip-resistant outsole
Made of one hundred percent synthetic materials
Responsive EVA midsole
Asics is renowned for producing cozy shoes and the Women's Gel-Venture 5 is no exception. Thanks to the cushioning used in this running shoe, it provides amazing comfort and respite to the feet. It also protects the wearer from sustaining foot injuries like overlapping toes, bunions, and neuropathy. The women's Gel-Venture 5 is also fitted with an EVA molded midsole, which helps to soak up rough shocks as well as check the foot's balance. The best aspect is that this cushioning material is extremely lightweight and thus does not make the footwear feel heavy.
You may be wondering how long the shoes will last considering that you will be using it a lot. Well, the Gel-Venture 5 delivers the best performance as regards durability. The shoe has an exceptionally durable outsole owing to the top quality abrasion rubber fitted in some vital sections of the outsole. Moreover, many reviewers and users have given the footwear thumbs up for its outstanding durability.
The Gel-Venture 5 has a sturdy mesh upper that feels supple against the skin, and you can adjust the shoe's fit – thanks to its lace-up closure construction. The mesh upper allows for adequate airflow ensuring your feet do not get sweaty.  This is critical because an overheated foot will quickly result in physical discomfort.
The Gel-Venture 5 is engineered to be a trail running footwear. For this reason, the outsole is fitted with elements that help the shoe deliver outstanding traction on varied surfaces and terrains. The outsole is produced using high-quality abrasion-resistant rubber and has multi-directional lugs for dogged traction. The outsole is also fitted with several horizontal and vertical flex grooves that offer lots of flexibility.
Pros
Provides good stability
Removable sockliner
Rearfoot gel cushioning system for added comfort
Lightweight EVA midsole
Cons
Not waterproof
A bit pricey
See also: Best Asics Shoes for Nurses
---
Calzuro Women's Autoclavable Clog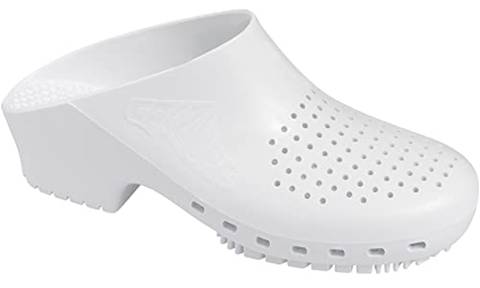 For close to 40 years, Calzuro has been creating quality shoes that do not compromise on comfort. If you are in the market for the best shoes for CNA, Calzuro has got your back. The Autoclavable clog by Calzuro is a super-comfy slip-on clog designed for nurses and other pros that do a great deal of standing. The clog is awfully flexible and cleaning it is a breeze – thanks to the easy-clean plastic stuff employed in making the upper. Reviewers love that the upper is remarkably breathable and that the shoe has generous interior room. There is no doubt you will treasure the shoe's exceptional fit, superb traction on all surfaces, as well as its ample arch support.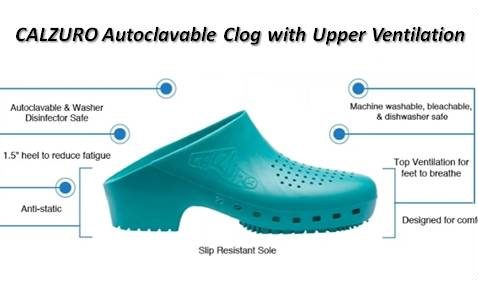 Key Features
Rubber upper
Italian Made
Slip-resistant sole
Made with eco-friendly materials
Machin washable
When shopping for footwear for your nursing career, it is vital you choose a pair that is comfortable and fits well. The Calzuro Autoclavable Clog was engineered to fit flawlessly straight out of the box. The clog is made in Italy with the greatest quality standards. It also boasts several exciting attributes that make it must-have footwear for your nurse wardrobe. The footwear is machine washable, bleachable, and can be sterilized within an autoclave.
The shoe's anti-skid outsole will let you walk with poise even on greasy, oily, or wet surfaces. Moreover, the amply perorated upper allows for splendid airflow within the shoe. With these extraordinary features, you can wear the Calzuro Autoclavable Clog all day long without getting sore feet. The clog is offered in a broad assortment of colorways to fit your style preferences.
Pros
Very simple to maintain
Fits great
Supremely comfortable
Breathable construction
Great traction
Cons
Durability concerns
Some users with broad feet report that the shoe felt a bit too narrow
See also: Best Breathable Shoes for Nurses
---
Natural Uniforms Women's Ultralite Clogs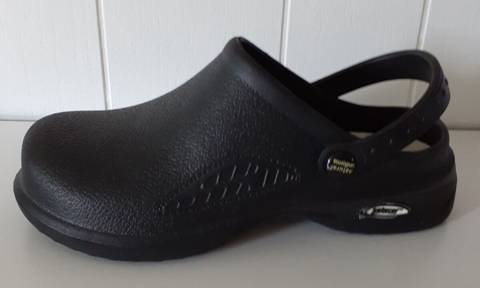 These clogs from Natural Uniforms come with a handy design in that they feature a folding strap that flips down and up to provide a looser or tighter fit, depending upon your preference. It is an extremely popular model among nurses and other pros that spend the majority of their workday on their feet. The shoes are snug and lightweight and deliver soft padding as well as light support. The shoe is produced using synthetic materials, which means it is simple to clean and care for. These attributes and more make these clogs one of the best CNA shoes.
Key Features
One hundred percent EVA foam
Made of synthetic materials
Modifiable heel strap for a snug fit
Footbed and high arch support
Slip-resistant
Non-marking sole
This remarkable nursing clog from Natural Uniforms boasts one hundred percent EVA foam that gives the footwear a lightweight feel. The clog is designed to shield your upper foot and toes from common hazards within the workplace. This model comes with a high arch that allows for a good fit. It also has a slip-resistant, non-marking sole. With this feature, your safety is assured no matter the type of surface or terrain you are standing or walking on.
The sole of this Natural Uniforms nursing clog is designed to help diffuse shock and give you that feeling of walking barefoot on the sand. If you suffer from heel or foot pain due to the stress of spending excessive amounts of time on your feet every day, this clog may be an excellent choice for alleviating discomfort.
Pros
Durable
Lightweight
Waterproof
Delivers good support
Offers high arch support
Shock diffusion sole