9 Best Work Shoes for Nurses to Suit Any Environment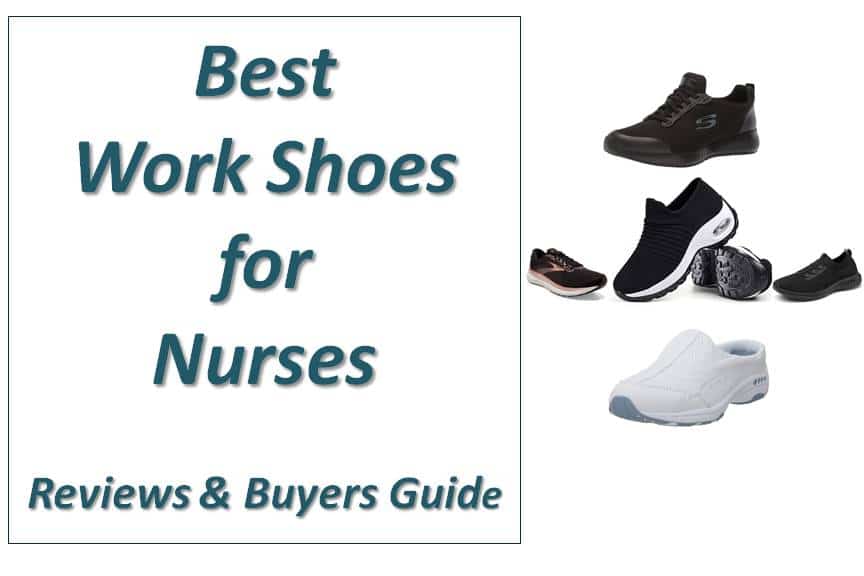 Nurses understand the importance of wearing comfortable shoes since they work mainly on their feet. After all, to survive a 12-hour shift of standing and walking, you need cozy and supportive shoes. With the wide variety of nursing shoes available in the market now, selecting the best option for your particular requirements can be hard. By reading this post, you can save time researching various nursing footwear because all the research has been conducted for you. The following are the nine best work shoes for nurses for women and men.
Top Picks: Best Work Shoes for Nurses
Skechers Women's Squad Sr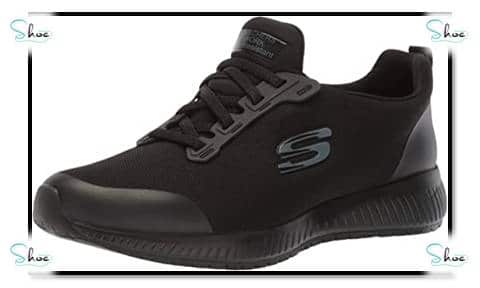 Skechers is recognized for making extremely comfy, breathable shoes. The Skechers squad SR series is specially engineered for working women and is touted as the definitive footwear for all-day coziness. The foremost endearing feature of these shoes is their extraordinary coziness. Many professionals who work mainly on their feet and sometimes on wet and slippery floors agree that these shoes are slip-resistant, supportive, and well-cushioned. Moreover, if prolonged standing and walking at the workplace has caused you pain and discomfort, then this shoe is the perfect answer for your problems.
Key Features
Made of 100 percent synthetic materials
Synthetic sole
Flexible and slip-resistant outsole
Memory foam footbed
Lightweight design
Aside from dependable slip resistance, the Skechers Women's Squad SR shoe has also proven to deliver superior comfort and support. The footwear has a cozy fit along with additional room at the rear for your heel to snugly move up and down as you walk. The roomy toe box and memory foam footbed are other design features that make the footwear very comfortable. A spacious toe box guarantees your toes have enough space to naturally splay whilst the memory foam footbed helps deliver better underfoot comfort.
Even though Skechers had comfort in mind when they designed this lovely shoe, they did not neglect other important aspects like appearance and breathability. The shoe looks stylish and seems to be superbly constructed. Moreover, the upper breathes well in any kind of weather and it will help ensure your feet remain cool and dry no matter the length of your shift.
The work shoe also features plush fabric linings that help check needless friction and blisters. Besides, the well-padded collar and tongue provide extra cushioning whilst a pull-on flap at the backside makes it easy to wear/remove the shoe. The footwear is EH-rated and that means it will provide adequate protection for your feet against electrical hazards. You will also love the extremely hardwearing rubber outsole that provides outstanding traction on wet/slippery surfaces.
Pros
Lightweight
Comfortable
Premium cushioning
Trendy design
Cons
A few users have complained that the slip-resistance is poor
See also: Best Skechers for Nurses
---
Slow Man Women's Sock Sneakers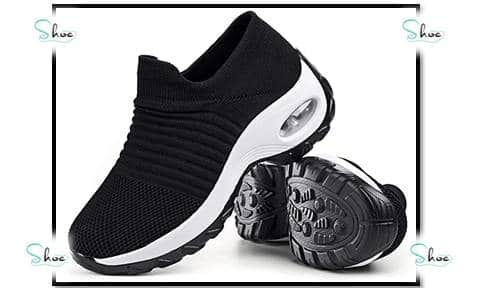 If coziness is what you are seeking in a nursing shoe, then the Slow Man women's walking shoes sock sneakers is what you need. What most wearers like about the sneaker are its lightness and flexibility. Many customers agree that the shoe offers a sock-like wearing experience and therefore ultra-high wearing coziness. As a nurse, your footwear should allow for effortless movement as well as help you maintain proper posture. This Slow Man's sneakers offer all these and more. To cap it all, the shoes are cute looking and will surely fetch you loads of compliments from your friends and colleagues.
Key Features
Perforated arch for good airflow
Wear-resistant, non-slip outsole
Boxed toe region for toe stands
MD plus air-cushioned outsole
Produced from mesh fabric material
Platform measurement: approximately 1.96"
These Slow Man sneakers come with a breathable mesh upper along with a wide and boxed toe region making them the ideal option for all-day wearing coziness. With its raised heel and lightweight construction, this comfortable and trendy sneaker is adequately outfitted to get you through a long shift at the hospital.
The sneaker's MD outsole helps deliver lasting shock absorption to lessen foot fatigue while the first-rate rubber used in making the outsole helps keep the footwear wear-resistant and appropriate for everyday use. Another thing to love about this remarkable sneaker is the fact that it employs air cushioning to mitigate impacts thereby shielding your feet from injury.
Fashioned as a loafer, the footwear is very easy to pull on/off and the breathable upper allows for adequate ventilation in the shoe. One nurse had this to say, "Super comfy for standing and walking. I have sweaty feet but the shoe's fabric lets my feet breathe easily and I never experience any wetness in the shoe".
The mesh fabric of the upper stretches out the more you wear the shoe. Little wonder then it is widely rated as one of the best slip-on shoes for nurses. The sneaker comes in over 17 diverse color styles so there is something for everyone.
Pros
Simple slip-on design
Non-slip rubber outsole
Very lightweight
Highly breathable upper
Offered in a broad range of colors
See also: Cheap Shoes for Nurses
---
Clarks Women's CloudSteppers Loafer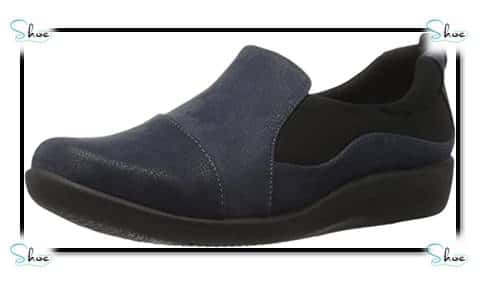 This Clarks' footwear is another fantastic choice for nurses who love comfort, style, and easy-wear shoes that fit perfectly. Meticulously engineered using 100 percent textile and synthetic Nubuck, the CloudSteppers Sillian Paz is one of the best work shoes for nurses. The slip-on loafer is super soft and comfy on the feet thanks to its flexible, lightweight upper and superb cushioning. Reviewers love the performance and construction of the shoe, applauding its support and coziness that lasts all day long. Besides, you can get the footwear in nine different color choices and the sizes range from five to twelve.
Key Features
Removable ortholite footbed
Ethylene Vinyl Acetate outsole
100 percent textile
Heel measurement: approximately 1.5"
Simple slip-on construction
The Clarks CloudSteppers Sillian Paz Slip was specially made for women who work majorly on their feet. For this reason, the shoe was engineered to be super comfortable and durable. Clarks designed the outsole using extremely lightweight yet very durable EVA foam. This material is amazingly flexible and will let you move effortlessly without painful friction or stiffness. Several wearers report that they encountered no flexibility or durability issues with the shoe even when they wear the shoes for 12+ hours. They also say the outsole offers admirable traction on wet/dry surfaces.
Another reason many nurses opt for the Sillian Paz Slip-On Loafer as a work shoe is that the shoe is laceless, comfortable, and lightweight. The upper is produced from a synthetic nubuck fabric that is highly breathable and durable. Most reviews say the shoe needs no break-in period and that it feels cozy out of the box.
Besides, the ankle is stretchy and the collar is adequately padded, which means the shoe is simple to pull/off and you can enjoy great ankle support. Furthermore, the loafer comes with a plush fabric lining along with a detachable soft ortholite footbed for extra support and coziness. All of these qualities combine to give the wearer a great walking experience.
Breathability is a vital factor to consider when buying shoes you will be wearing for extended periods. With the women's CloudSteppers Sillian Paz, you can be certain your feet will never get overheated regardless of how long you wear the shoes. This is because, as stated earlier, the synthetic nubuck upper material is highly breathable and allows for good air circulation inside the shoe. Numerous reviewers have lauded the loafer's breathability, reporting that they could wear the shoe all day and their feet stayed cool and dry.
Pros
Soft and cozy on the feet
Detachable ortholite footbed
Easy on easy off
Very supportive
Cons
A few users have reported durability issues with the loafers
See also: Best Slip-On Shoes for Nurses
---
Easy Spirit Women's Tourguide Mule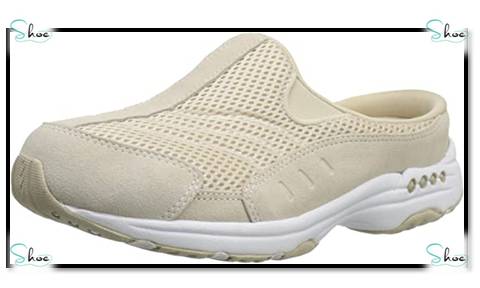 Easy Spirit has been creating comfortable and stylish women's shoes for more than thirty years now. The Traveltime mule looks like a sneaker but delivers the coziness of a mule, which makes it perfect for standing or walking all day. Podiatrists recommend the mule and many plantar fasciitis sufferers rates it among the best shoes for nurses with plantar fasciitis. Furthermore, the mule comes with loads of toe space so you can stand and walk about more naturally. And, to make things even more interesting, the mule features a no-slip outsole and lots of cushioning, ideal for the on-the-go nurse.
Key Features
80 percent leather, 20 percent fabric
Detachable sock liners
Easy slip-on design
Rubber sole
A good nursing shoe should provide excellent flexibility and support. The midsole of the women's Traveltime Mule from Easy Spirit is engineered to provide all of that and more. The sculpted EVA midsole is extremely tough yet lightweight and it offers the wearer superlative cushioning.
Another attribute that sets the Easy Spirit Traveltime apart from other shoes is its super comfortable outsole. This coziness is made possible by its shock-absorbing sole, super-plush footbed, and its very durable rubber outsole. Aside from that, the trendy construction and great fit all help to endear the mule to nurses and other professionals who work mainly on their feet.
The women's Traveltime mule has an extremely straightforward construction and can easily match any outfit. The footwear is laceless with an open-back design making it very easy to wear/remove. This feature can come in handy when you have been walking around all day and simply want to cool down your feet. Crafted in a lovely blend of leather and fabric, the upper looks elegant with a closed round toe giving you a trendy appearance.
Pros
Breathable
Budget-friendly
Lightweight
Easy slip-on construction
Very durable
Extremely comfortable
See also: Best Shoes for Nurses with Plantar Fasciitis
---
Skechers Women's Go Walk Joy Shoe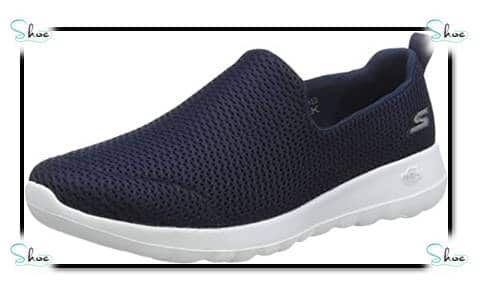 If you are looking for shoes that will give your feet joy with each step, then this Skechers walking shoe is worth considering. The Go Walk Joy's mesh fabric upper is extremely breathable and that means you will not suffer sweaty feet or bacteria buildup in the shoes. The footwear has a minimalist construction so you can effortlessly wear/remove it when necessary. It is also flexible, lightweight, and comfortable, making it one of the best shoes for nurses with flat feet. Many reviewers love that the walking shoe is offered in 21 different color choices and it comes in regular and wide widths.
Key Features
Synthetic sole
Responsive 5Gen cushioning
Flexible and lightweight
Goga Max insole
Padded collar plus soft fabric lining
Breathable mesh upper
The Go Walk Joy is a great choice for nurses who want to purchase a comfortable and well-cushioned shoe that is also cheap and simple. The shoe is tremendously lightweight and flexible making it ideal for all-day wear. Its 5GEN midsole plus Goga Max insole works together to deliver exceptional cushioning and coziness as soon as your feet slide into these shoes.
The upper is not only soft and sock-like but also breathable and will therefore not permit sweat build or overheating no matter the weather condition. The upper comprises a stretchy knit fabric that will not rub or place additional pressure on your feet. Besides, since the upper is produced from textile fabric, the shoe can easily be washed and air-dried.
The padded collar of the Go Walk Joy delivers additional comfort and the slip-on construction means you do not have to struggle with laces whenever you need to remove or wear the shoe. The footwear's outsole delivers superior traction on diverse terrains thanks to its lightweight polyurethane outsole. The Go Walk Joy from Skechers comes in an assortment of exciting and basic colors and also comes in ladies sizes 5 – 12 as well as wide, narrow, and regular widths.
One of the common complaints about this Skechers' footwear is about its toe box, which is a little narrow. Therefore, you should order a size up or wide width if you have broad feet. Nevertheless, if you are seeking a supportive and cozy work shoe that is also lightweight, then the Women's Go Walk Joy is the one.
Pros
Reasonably priced
Uncomplicated design
Lightweight and breathable
Simple to slip on/off
Comfortable and supportive sole
Cons
Narrow toe box
A few users report that the gel cushioning disintegrates quickly
See also: Best Nursing Shoes for Flat Feet
---
Tiosebon Women's Slip-On Sneakers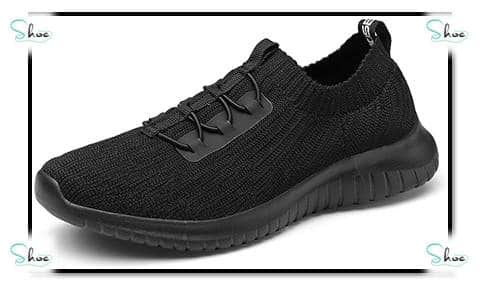 The TIOSEBON Women's Slip-On Walking Shoes made it to this list of the best work shoes for nurses for several good reasons. To start with, the shoe is lightweight, breathable, and very comfortable. What's more, the shoe's trendy construction means it will look great with your scrubs as well as with most of your other outfits. Moreover, owing to its elastic tongue, you will never experience irritation or friction when you wear/remove the shoe. All of these features combine to make your walking experience a lot more productive.
Key Features
Breathable fabric upper
Slip-resistant, elastic MD outsole
True-to-size fitting
Easy slip-on design
Made environmentally friendly materials
The TIOSEBON Women's Slip-On Walking Shoes stand out as one of the best cheap shoes for nurses. Notwithstanding its budget-friendly price, the shoe is well-designed and will provide you with all the functionalities you require to get through a hectic workday. The materials employed in making the footwear comprise mainly rubber and textile. With these materials, you can enjoy comfort, stability, and elegance.
The outsole is crafted using a plush, durable, and flexible rubber material that serves up a solid grip on diverse terrains. The outsole design also helps to provide stability and support when you are standing or on the go. Furthermore, many reviewers say that the outsole is very strong and does not break down easily. The shoe is practically weightless meaning that you will never have to bear the additional load on your feet as you go about your duties.
The TIOSEBON Women's Slip-On Walking Shoe was introduced in an assortment of colors so you can select a hue that fits your personality. You can also purchase multiple pairs for various occasions and outfits. The shoe's stretchy collar is exceptionally handy when you need to get the footwear on/off very easily and quickly. Nevertheless, a few users have reported that the collar broke down after a few months and that affected the shoe's fit.
Overall, the TIOSEBON Women's Slip-On sneaker is a shoe that will work well in all seasons. It comes with all the features you require to keep your feet cozy all day long.
Pros
Comfortable to wear
Stylish design
Lightweight and breathable
Comes in a range of colors
Reasonably priced
Cons
Some users do not like the level of padding around the collar saying it is poor
Non-removable/replaceable insole
See also: Best Sneakers for Nurses
---
Crocs Men's and Women's Clock Clog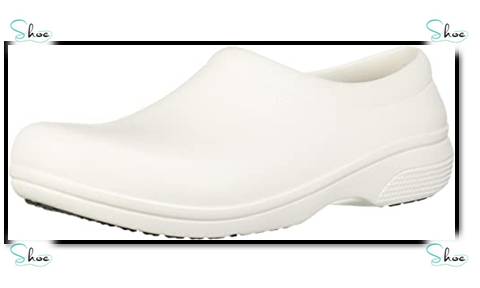 Crocs clogs are all the rage among nurses for their coziness, support, as well as low maintenance design. The Crocs Unisex-Adult on the Clock Clog is offered at a reasonable price but it delivers top-notch performance. The shoe is spacious, lightweight, and features a relaxing Croslite foam cushioning material, Crocs non-slip lock treads, and accentuated arch-support to avert undue pressure on the feet. Another significant element loved by wearers of the shoe is its low maintenance requirements. You can clean the clog by using only water and soap and it will dry out on its own, almost instantaneously.
Key Features
Synthetic sole
Simple to clean
Heel measurement: approximately 0.85"
Enclosed heel and toe
Crocs Lock slip-resistant treads
Croslite foam cushioning
Comfort is the topmost priority in this Crocs clog. This comfort derives mainly from the Croslite foam cushioning as well as the deeply cushioned footbeds. Therefore, no matter how long your shift lasts, your feet will unquestionably benefit from the plush, all-day coziness the Crocs Unisex-Adult on the Clock Clog offers.
Hospital floors can sometimes be slippery and can cause occupants within the workplace to slip and hurt themselves. This is why you need non-slip shoes to forestall unpleasant falls as you perform your everyday duties. The Crocs Unisex-Adult on the Clock Clog features Crocs non-slip lock treads that make the clog highly slip-resistant. With this feature, you can walk confidently on any type of surface without problems.
Furthermore, the shoe's enclosed heel and toe will help shield your feet from falling objects and spills. The synthetic rubber outsole promotes longevity and helps protect your feet from sharp objects. Sadly, the footwear does not come with side ventilation openings like several other crocs clogs. However, breathability is guaranteed by the clog's roomy construction.
Pros
Slip-resistant
Durable
Very comfortable
Slip-on design
Well-cushioned
Simple to clean
See also: Best Clogs for Nurses
---
Brooks Women's Glycerin 18 Shoe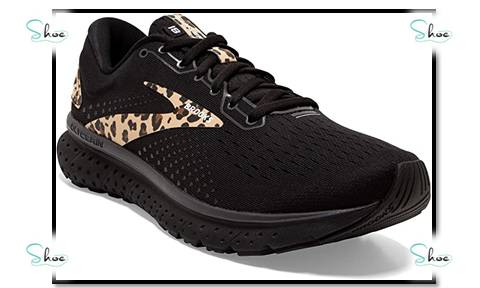 The Glycerin 18 from Brooks is a plush and simple everyday trainer. The interior of the shoe is packed with plush DNA loft cushions to provide you with that secure and cozy feeling. Hardwearing and lightweight, the shoe was constructed to serve the needs of long-distance runners but it also has elements that appeal to nurses who work mainly on their feet. Keep reading to discern why the 18th iteration of the Brooks Glycerin is ranked among the best work shoes for nurses.
Key Features
Rubber sole
DNA loft cushioning
Engineered mesh upper
Ortholite sockliner
A very special attribute of this Brooks running shoe is its extraordinary cushioning. The shoe boasts full-length DNA LOFT foam. Moreover, the upper and the toe box region are all amply cushioned. Therefore, you cannot help but notice the superlative cushioning once your feet slip into this cozy shoe.
The outsole is crafted using first-rate rubber, which means the shoe will last a very long time. The shoe will endure the corrosion associated with prolonged standing and walking. The Glycerin 18 from Brooks is great for nurses who desire a well-cushioned sneaker that can bear the erosion caused by regular use. If you like a flexible fit and abundant cushioning, this footwear is a fantastic option.
Pros
Lightweight
Delivers excellent traction
Prevents foot injuries
Abundant cushioning
Highly breathable
Easy fit
Cons
Some wearers say that the cushioning is disproportionate
See also: Best Trainers for Nurses
---
Skechers Men's Felton Slip Resistant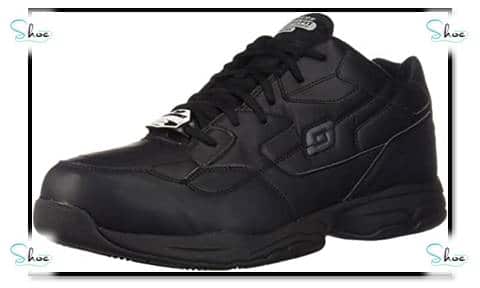 Skechers is not only a household name but also a brand that has footwear for practically every purpose. The men's Felton is rated among the best work shoes for nurses for several good reasons. The shoe's thick synthetic sole produced from nitrile delivers the support you require for all-day wear. The sole has sufficient traction to stop you from slipping and falling on wet/slippery floors. The shoe is also cozy, professional-looking, and rugged enough to serve you for years to come. Available in various widths and sizes, this sneaker is perhaps the best work shoes for male nurses.
See also: Best Shoes for Male Nurses
Key Features
100 percent synthetic uppers
Rubber sole
Osha-compliant nitrile outsole
Memory foam cushioned insole insert
Padded collar & tongue
Lace-up vamp
Reinforced stitching
Plush fabric shoe lining plus shock absorbing midsole
Skechers engineered this work shoe to provide supreme comfort and style for the wearer. It comes with a synthetic leather upper along with conventional lacing so you can wear/remove the shoe easily. You can easily wear the sneaker for 12+ hours without getting sore feet, thanks to its well-padded tongue & collar. Moreover, the memory foam comfort insole of the Felton helps ease plantar fasciitis symptoms as well as foot pain. And, this insole is detachable so you can easily replace it using your custom orthotics.
The majority of customers' complaints about the footwear center on its durability. One customer commented, "The sneaker is not as durable as I would have loved it to be. I purchased a pair and it fell apart after only a few months of use. However, the shoes fill my needs because comfort and practicality are huge on my list".
Considering the several exciting features offered by this Skechers sneaker, you would expect it to be on the pricey side. However, that is surprisingly not the case. The sneaker comes at a highly reasonable cost and delivers superlative value. Therefore, if you operate on a low budget, this shoe can be an excellent choice.
Pros
Very comfortable
Impressive slip-resistance
Comes at a highly reasonable price
Cushioned detachable insole
Machine washable
Cons
Durability issues
Somewhat heavy