Top 8 Cheap Shoes for Nurses – Affordable and Comfortable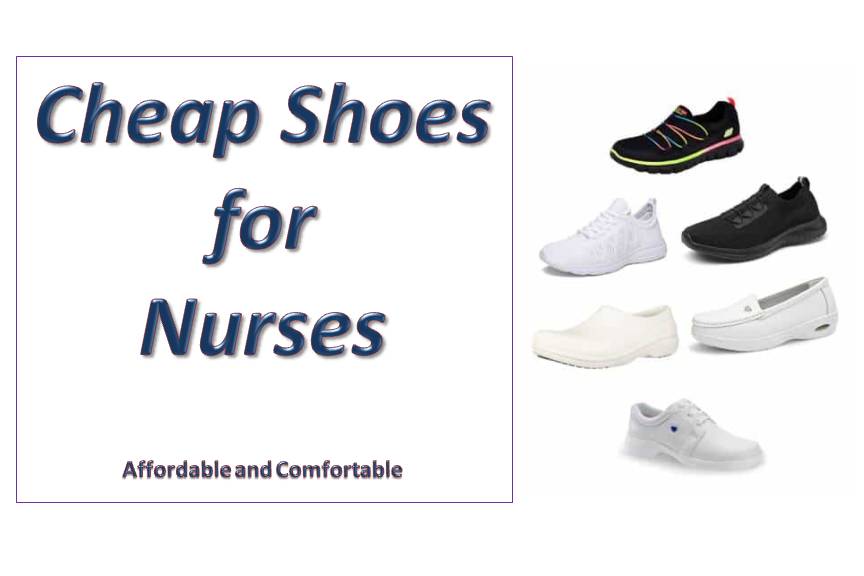 Whether you work full-time as a nurse, or you are a student studying at a nursing school, you probably already know how emotionally and physically draining a nurse's job can be. During a typical 12-hour shift, you may spend most of that time standing, walking, or running, with little or no rest breaks. That is the reason proper-fitting shoes are so crucial for you. Happily, the market is filled with an abundance of cozy, lightweight nursing shoes for any budget and design. Whether you are dealing with a painful foot condition or are looking to save funds, you will certainly find a pair of cheap shoes for nurses that can be comfortable, durable, and stylish.
Cheap Shoes for Nurses – Top Picks
Skechers Women's Memory Foam Sneaker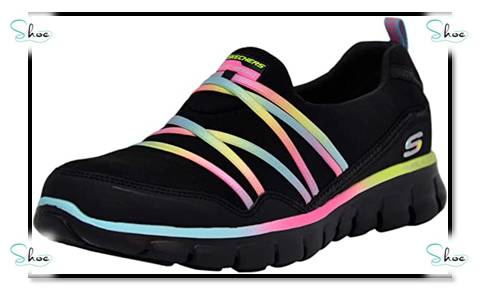 Skechers is a USA-based firm that is renowned for making exceptional athletic shoes that are hardwearing, lightweight, and breathable. Most of their shoes are fitted with memory foam to give your foot a secure and soothing surrounding upon which to relax. Besides, memory foam shoes are ideal for individuals who have gait abnormalities like underpronation or overpronation. Nurses, mainly due to its coziness and lightweight construction, love the Skechers Sport Women's Loving Life Memory Foam Fashion Sneaker. Another appealing aspect about this sneaker is that it is offered at an extremely competitive price. Several online reviews agree that it is one of the most affordable shoes for nurses.
Key Features
Memory foam insole
True-to-size fitting
Made using mesh fabric plus faux leather
Rubber sole
Flex groove outsole
Skechers designed this pair of memory foam sneakers for the on-the-go nurse. Owing to the memory foam, the shoe is fabulously cozy & lightweight and it will help keep your feet relaxed regardless of the length of your shift. One nursing school student described the comfort offered by the shoe as nothing short of extraordinary. "This is the only sneaker that I have been able to stand in for over 15 hours without experiencing discomfort," said the student.
Breathability is a critical consideration when selecting nursing shoes. Most people do not realize that moisture plays an important role in blister formation. This moisture can come from the exterior (for example rain and dew) or from within (for example sweat). Since your job requires standing and walking for several hours, you need breathable footwear to keep your feet dry. The mesh fabric upper of the Sport Women's Loving Life sneaker from Skechers boosts airflow within the footwear to help keep your active feet drier and cooler all day long.
It is also vital for nurses to wear shoes with excellent flexibility and support. Podiatrists say that regular wearing of inflexible shoes can lead to injuries and foot problems like Achilles Tendinitis. The flexsole technology employed in making the midsole of the Sport women's Loving Life sneaker allows for superior flexibility. With this attribute, you can enjoy an injury-free and stable walking experience.
The Skechers Loving Life sneaker also scores high on functionality and durability. This is because aside from having a trendy design, the sneaker is constructed using hardwearing and synthetic materials so you can wear it anywhere and any time. Lastly, you do not have to burn a hole within your pocket to purchase this fantastic work shoe as the sneaker is highly reasonably priced.
Pros
Very durable
Reasonably priced
Impressive midsole cushioning
Breathable mesh upper
Very comfortable
Excellent shock absorption
Superb flexibility
Cons
A few buyers report that that the memory foam disintegrates rather quickly
See also: Best Skechers for Nurses
---
Joomra Women's 3D Woven Athletic Shoes
If you are seeking a nursing shoe that is extremely lightweight and trendy, then this pair from JOOMRA should certainly meet your requirements. The sneaker's 3D woven construction and intricate pattern all combine to make the footwear tremendously functional. The makers of the footwear say they got their design inspiration from a feather. Thus, it is no wonder countless reviews agree that the footwear allows for natural movement along with invisible durability and strength. The sneaker's lace-up build gives the shoe a trendy look whilst making it extremely simple to wear/remove.
Key Features
Synthetic sole
3D woven upper
Well-padded tongue & collar
Lace-up closure
Mesh upper
Flex grooves outsole
This shoe was created for tennis players who love the attacking style of play. This is because the makers understand that the ideal footwear for an attacking game needs to be very comfortable and lightweight. What connects tennis players and nurses is that both these professionals keep their feet extremely busy all day long compared to regular individuals. The JOORMA Women's 3D Woven Athletic Shoes were engineered to provide ultimate comfort and durability. It is a sneaker you can wear all day long and forget that you are wearing shoes.
The shoe's ultra-light outsole is produced using synthetic materials. This type of outsole can be dense but it can also deliver a reasonable degree of flexibility. Aside from being non-slip, the outsole also features inherent motion flex grooves that enhance responsiveness. With this outsole, you can move around with poise and at any speed that you want.
To ensure there is something for everyone, the sneaker is offered in a broad assortment of colorways including red, peach pink, black, mauve, blue, and purple. It also comes in sizes that range from 5 to 11.5 (US sizes).
The shoe is also extremely versatile. While it has a lace-up closure, the shoe can also be utilized as a slip-on and comes with a nicely installed back pull-tab for easy on/off. Moreover, the footwear's mesh upper provides admirable breathability thus you can be certain your feet will stay relaxed and fresh as you stand, walk, or even run.
Pros
Looks fashionable with feminine design
Provides a perfect fit
Very lightweight
Extremely breathable
Cons
Some wearers are not happy with the insole saying it feels a little uncomfortable
See also: Best Athletic Shoes for Nurses
---
Tiosebon Women's Slip-On Walking Shoes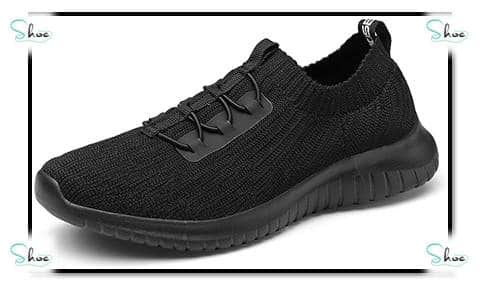 This no-tie sneaker from TOISEBON is breathable, very comfortable, and lightweight. It is also very well priced, which is why it is included within this list of best cheap shoes for nurses. A good number of purchasers assert that the footwear looks extremely stylish. The footwear looks superb with casual wears and will definitely look superb with your nurse's uniform. And, thanks to the shoe's stretchy tongue, you will by no means suffer irritation or friction as you remove/wear the sneaker. The fascinating aspect is the bungee-style laces. These will hold your foot firm inside the sneaker, but they do not need tying.
Key Features
Easy slip-on construction
Breathable fabric upper
Non-slip, stretchy MD outsole
True-to-size fitting
Made with eco-friendly materials
The TIOSEBON Women's Slip-On sneakers offer many superlative features at a highly reasonable price. Even though the shoe comes easy on the pocket, it boasts an impressive design that will fit most of your standard requirements. The sneaker is engineered using comfort boosting materials and it can be used for a host of activities including everyday walking, golf, sports, tourism, casual, outdoor, horse riding, driving, camping, walking, and so forth.
The outsole comprises a flexible, plush, and durable rubber material that furnishes trustworthy traction on diverse terrains. Thanks to the shape and special composition of the outsole, it provides stability and support for several hours of wear. What is more, the sneaker is ultra-light and comfortable, which means you will hardly feel any weight on your feet as you go about attending to your patients.
The shoe's pliable collar allows for easy and fast removal/wearing whenever you need to. Besides, many reviewers love that the shoe comes in a wide range of colors to suit the requirements of different personalities. Many customers choose to buy multiple pairs to wear with various outfits as well as events.
Aside from the price, the second major selling point of this sneaker is its slip-on design. Several reviews are in agreement that the sneaker is one of the best slip-on shoes for nurses.
Pros
Very comfortable
Available in a broad range of colors
Stylish design
Reasonably priced
Highly breathable
Lightweight construction
Cons
Non-detachable/replaceable insole
See also: Best Shoes for ER Nurses
---
Slow Man Women's Sock Sneakers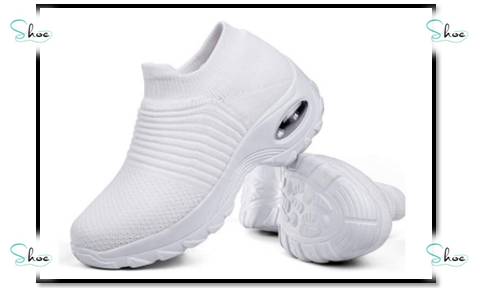 This sneaker from Slow Man comes highly recommended if you are seeking a cozy and flexible shoe for all-day wear. Several customers have noted the sneaker's lightweight and bouncy feel and say the Slow Man women's walking shoes merits high marks for their performance and fit. The sneaker's boxed toe and roomier construction allow for enhanced toe stands and adequate toe space. Moreover, the breathable and velvety fabric upper delivers remarkable freedom and a relaxed feeling so you can get through your shifts in elegance and comfort. Aside from being one of the best work shoes for nurses, the women's walking shoes sock sneakers is also appropriate for any daily use including nursing, fishing, gardening, driving, travel, and so forth.
Key Features
Mesh fabric upper
Boxed toe region
Perforated arch for breathability
MD plus air-cushioned outsole
96" platform height
If comfort is your major concern concerning nursing shoes, then the Women's Walking Shoes Sock Sneakers from Slow Man will be your number one choice. The footwear's MD air-cushioned outsole offers lasting shock absorption so your feet can bear up extended hours whilst you work. What's more, the outsole is produced using a first-rate rubber material meaning that the footwear is wear-resistant and suitable for everyday wear.
Another notable comfort attribute is the mesh fabric upper that is highly breathable and promotes air circulation within the sneaker. There is also the perforated arch that allows for good ventilation so your feet can remain fresh and cool notwithstanding how long you have been wearing the shoe. The sneaker's spacious, boxed toe area, raised heel, and lightweight construction all work together to give you a magnificent work shoe for walking and standing all day.
Made as loafer-type footwear, you will experience no hassle when wearing/removing the shoe and there is no need to spend time tying up laces.  Another positive attribute of this shoe is that it is offered in more than 17 varied color styles so you will certainly find something that will fit your preferences.
Pros
Extremely lightweight
Non-slip rubber outsole
Simple slip-on construction
Comes in a wide variety of colors
Breathable mesh upper
See also: Best Shoes for CNA
---
Nurse Mates Women's Angel Lites 230004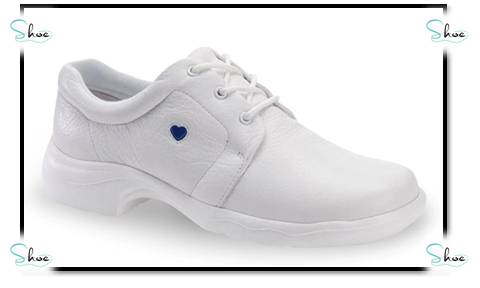 Nurse Mates is a renowned footwear brand that markets some of the finest nursing shoes worldwide. The Nurse Mates Angel is a brilliant option for working professionals due to its first-class full-grain leather upper, non-slip bottom, and other comfort technologies that deliver enduring coziness and elegance. The craftsmanship and attention to detail throughout the footwear are stimulating. The soft leather upper repels stains for simple maintenance; the synthetic outsole adds support and comfort whilst the inner polyurethane core serves up a shock-absorbing guard from toe to heel. The best part, for sure, is that it is well priced and rated among the best cheap shoes for nurses.
Key Features
Steel shank
Synthetic sole
Soft leather uppers
Non-slip, shock-absorbing outsole
1 ½ inches heel height
EVA insole & midsole
The Nurse Mates Angel has several exceptional attributes that endear the footwear to nurses globally. To start with, the footwear has an elegant design as well as an enthralling white shade. Secondly, the Angel is hardwearing and cozy thanks to its sturdy leather upper and lace-up construction. Several reviewers have lauded the shoe's responsiveness, supportiveness, and coziness.
The Angle's EVA outsole provides significant grip and traction on wet/slippery surfaces. With this anti-slip attribute, your protection is assured regardless of the kind of surface or terrain you are walking on. To make things more interesting, the footbed is padded for comfort, and the added cushioning is specifically designed to support your arches and toes.
The Angel's 100 percent leather upper breathes well and has moisture-wicking properties. This means your feet' comfort will never be compromised regardless of how many miles you walk in the shoes. The Nurse Mates Angel Women's Lace-Up shoe is engineered for working within a hospital environment and will provide you with the support, safety, and comfort you require during an extended shift.
Pros
Trendy construction
Stain-resistant finish
Impressive traction on wet/slippery surfaces
Easy to clean
Classic white design
Very well priced
Cons
Durability could be better
See also: Best Shoes for Nursing School
---
Dream Pairs Women's Slip-On Shoes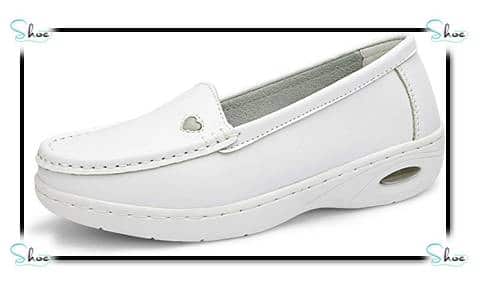 Is your budget running tight and are considering choosing cheap work shoes for nurses? If you answered yes, remember that low-priced products can prove costly in the long run. But not to worry, The Dream Pairs Women's slip-on shoes are a judicious blend of everything. The footwear is economically priced but it delivers the sturdiness of work shoes along with the versatility of slip-on shoes.
Key Features
Non-slip rubber outsole
Latex insole design
Air cushioning
Breathable, smooth leather upper
The DREAM PAIRS WOMEN'S Nursing Work Restaurant Lightweight Slip-On Shoes come with loads of comfort features that you cannot but fall in love with them. Firstly, the outsole is constructed using an ultra-light rubber compound, which means the footwear's overall weight is considerably reduced. For this reason, during a very busy and long workday, foot fatigue will not cause you to slow down. The rubber outsole also offers high durability along with great traction on perilous surfaces.
The latex insole construction and air cushioning work together to ensure your feet and legs do not experience soreness even during the longest shifts. Besides, the leather upper will let your feet breathe as well as allow hot air to escape when the weather is hot. The smooth leather upper is also extremely simple to clean using only water and soap.
The footwear's slip-on build means you do not have to struggle with laces whenever you want to get up and go. It also means you can use these as casual shoes and not merely as work shoes. There is a plush lining also and it enhances the comfort nature of the footwear. The only downside to these shoes is that they run a bit small and a few users have complained about the cushioning at the toe region saying that it is too little.
The DREAM PAIRS WOMEN'S Nursing Work Restaurant Lightweight Slip-on Shoes are a perfect choice for professionals who walk or stand all day. It comes at a pretty reasonable cost also and is undoubtedly one of the best cheap shoes for nurses.
Pros
Very simple to clean and maintain
Durable and highly resistant rubber outsole
Breathable leather upper
Very comfortable and supportive
Trendy design
See also: Best White Nursing Shoes
---
Crocs Men's and Women's Clock Clog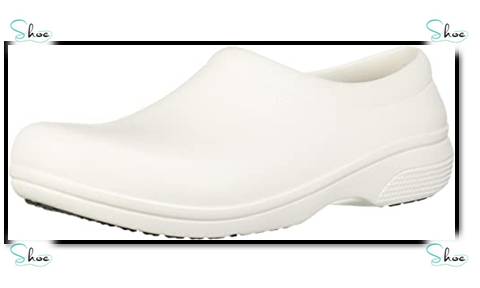 If you are searching for a pair of affordable work shoes for nurses that also delivers outstanding value, then you may want to check out the Crocs Men's and Women's on the Clock Clog. Crocs clogs are well-liked among nurses due to their coziness, support, plus little maintenance requirements. The clog is spacious, light, and comes with a soothing croslite foam-cushioning compound for superior comfort. The shoe's emphasized arch-support along with its non-slip lock treads helps prevent excessive strain on your feet giving you an effortless walking experience. Besides, cleaning the clog is a breeze, as it only requires wiping down using just water and soap.
Key Features
85-inch heel height
Synthetic sole
Enclosed heel & toe
Croslite foam cushioning
Crocs lock slip-resistant treads
The most outstanding attribute of this Crocs' clog is comfort. The clog delivers a plush and cozy in-shoe feel mainly due to the Croslite foam employed in the construction of the footwear. The profoundly cushioned footbed will help alleviate the strain on your feet so you can concentrate on your core tasks, which is patient care.
You can rely on this clog when walking on difficult and risky surfaces due to its top-notch outsole. The Crocs lock treads employed in making the outsole provide a high level of slip resistance. The synthetic rubber sole is sturdy enough to guard your feet against needles and sharp objects. Additionally, the clog's enclosed heel & toe will help safeguard your feet from spills plus falling objects.
You should however not expect any safeguard against electrically charged items or devices as the shoe is not steel toe. The shoe also does not have those side ventilation openings that are commonly found on most crocs clogs. Despite this, the clog is not totally lacking in breathability thanks to its spacious and structured silhouette design.
Pros
Hardwearing
Slip-resistant
Extremely comfortable
Impressive cushioning
Slip-on design
Easy to maintain
Cons
Some users have reported breathability issues
See also: Best Clogs for Nurses
---
Crocs Men's and Women's Bistro Clog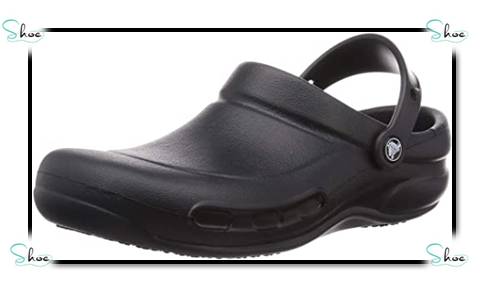 If comfort and efficiency are what you seek in a nursing shoe, then look no further than the Unisex-Adult Bistro clog from Crocs. While the clog was made to serve the needs of professionals in the hospitality sector, the shoe is also extremely popular among other individuals who stand or walk about for extended periods at the workplace. User reviews have praised its coziness and fit. The non-slip outsole is engineered to get you through any type of terrain with ease. Moreover, you would not have to break the bank to get yourself a pair as it is one of the best cheap shoes for nurses.
Key Features
100 percent croslite material
Synthetic, slip-resistant sole
Flexible and lightweight build
Contoured footbed
Reinforced toe box
Nurses can experience falls and even get injured when walking briskly on wet/slippery surfaces. The synthetic outsole of the Crocs Bistro is made to be highly slip-resistant and wear-resistant. The outsole can clasp any kind of surface so you can confidently go about your duties without fear of slips/falls.
A few customers do not like the level of breathability offered by the clog. The shoe's breathability is somewhat reduced as it does not feature the famous ventilation openings fitted on nearly all Crocs' clogs. Nevertheless, the footwear compensates for this minor deficiency with its extraordinary protective qualities. With the clog's enclosed toe box, you will never have to bother about fluid spills or other unforeseen mishaps.
This cozy clog is very easy to remove/wear and lends a modish appearance. The fascinating aspect is that it is highly cost-effective and is a superb option if you are seeking cheap work shoes for nurses.
Pros
Slip-resistant bottom tread
Easy to maintain
Very comfortable
Versatile back strap build
Comes is a variety of colorways
Cons
Limited breathability
Sizing issues
See also: Best Crocs for Nurses