10 Best Crocs for Nurses – Both for Women and Men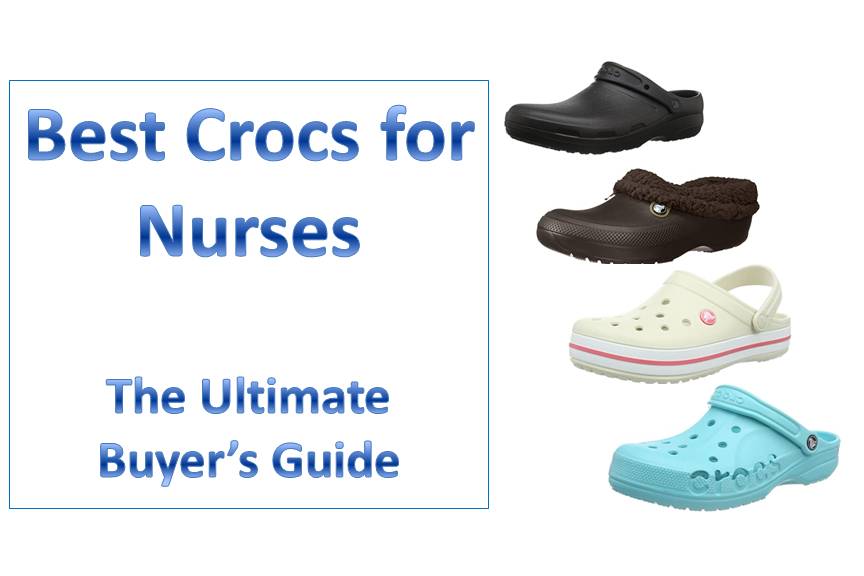 Everyone needs a comfy pair of shoes to walk around in; however, nurses perhaps, need them more than most people do. This is because these professionals spend the majority of their workday on their feet. They move from one patient to the next and from one hospital ward to another. If you are a nurse, you most likely know that prolonged standing and walking can wreak havoc on your legs. It can also exacerbate foot conditions particularly if you do not have the appropriate type of shoes. The best crocs for nurses are engineered especially for work within a demanding, hectic, and brisk-paced environment.
Crocs shoes are bouncy, flexible, and soft, in addition to being lightweight. Blend this with features like slip-resistant soles, distinctive aerating holes, and you have one of the best shoes for nurses available in the market. Crocs are available in a broad range of models so selecting the appropriate one for you may appear overwhelming. Nevertheless, you will be pleased to find out the task has been simplified for you. If you are in the market for the best crocs for nurses, all you have to do is select any of the 10 crocs listed below.
See also: Can Nurses Wear Crocs?
Top 10 Best Crocs for Nurses
See also: Are Clogs Good for your Feet?
Crocs Women's LiteRide Pacer Sneakers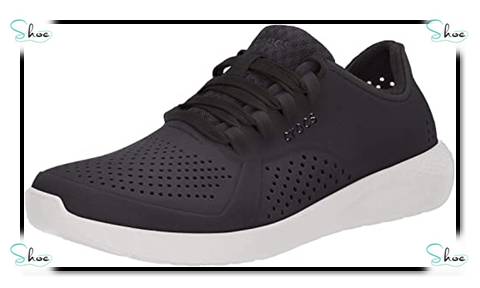 If you love Crocs and fancy sneakers, you can get the best of both worlds from this gorgeous shoe.  This is because the LiteRide Pacer is a different variety of Crocs compared to what you might be used to. The shoe features Crocs' flexible material and foam footbeds within an attractive sneaker design. The footwear is protective, ultra-comfortable, lightweight, and thus undoubtedly one of the best Crocs for nurses.
Key Features
100 percent synthetic
Super-soft insoles
Plush, flexible Matlite uppers
Croslite foam outsoles
The women's LiteRide Pacer was engineered to suit the needs of the on-the-go nurse. When it comes to working shoes, most nurses prefer a more barefoot-design, minimal shoe that is both flexible and lightweight so you will not feel any burden on your feet. Most, if not all of these characteristics apply to the LiteRide Pacer from Crocs.
The upper is completely engineered using Crocs Matlite material that will hug your foot firmly and comfortably. The sneaker is also exceptionally breathable as it features several petite ports at strategic locations on the shoe. These air holes are there to ensure adequate air circulation within the shoe. These air holes also serve the function of decreasing the buildup of moisture and bacteria in the sneaker as well as allowing for fast-drying when the shoes get wet.
Like other Crocs' shoes, the LiteRide Pacer features highly slip-resistant treading on the underside. This treading will help keep you secure even when walking on very slippery surfaces. As regards fit, Crocs says this model offers a relaxed fit, and several reviewers agree with this. There is enough wiggle space at the toe region without being excessively loose. Nevertheless, a few wearers report that the shoe did not feel very stable around their feet, even after tightening down the laces.
The insole is well-cushioned along the entire foot to ensure your feet stay cozy even during 12-hour shifts. The sneakers do not disappoint with regard to durability. One contented customer said of the shoe: "I've walked and run in these sneakers for more than 6 months and they have delivered stable foot support whilst still looking and feeling like new."
Crocs say the LiteRide Pacer is not machine washable so you should employ the good old-fashioned method of hand washing or spot cleaning to get the shoes clean when necessary. Flexible and lightweight, the Crocs model is superb for active nurses and they are offered in several colorways.
Pros
Sleek, contemporary design
Super breathable
Fast-drying
Very durable
Cons
Not ideal footwear for cold weather
See also: Best Sneakers for Nurses
---
Crocs Men's and Women's Classic Clog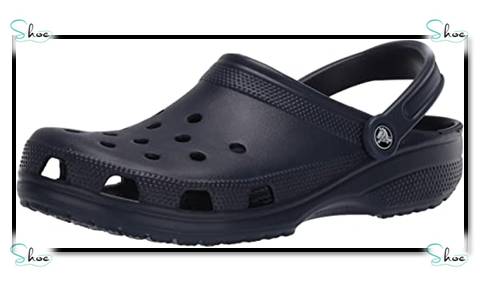 Crocs Classic Clogs are massively popular among nurses due to their support, comfort, plus low maintenance construction. Aside from these impressive features, the footwear also comes in a fun design and a wide array of colors. It is therefore not surprising this clog made it on this list of the best crocs for nurses. The unisex adult classic clog is the perfect option for you if your job entails standing for prolonged hours. It is fitted with a rear strap that helps ensure your feet stay in place as you walk; however, the rear strap can also be removed for a free-flowing experience. Another significant feature loved by users of this clog is that it is very simple to clean. All you have to do is wipe off dirt using a clean damp fabric and you are all set to go.
Key Features
One hundred percent synthetic uppers
Synthetic sole
Available in a broad array of styles and colors
Slip-on construction with pivoting heel straps
Simple to clean using only water and soap
The entire upper of the footwear comprises of first-rate synthetic material. This upper is amply perforated thus ensuring breathability. Several users were happy that the material employed in producing the upper is Crocs signature Croslite material. With this CrosliteTM technology, Crocs is able to produce shoes that are soft, non-marking, and lightweight.
Some models of the shoe are fitted with a detachable rear strap that gives the footwear a trendy appearance. Even though Crocs clogs are not so fine-looking, they are acclaimed to be extremely comfortable. The material is supple, resistant to bacteria, and lightweight, which makes them one of the best clogs for nurses in the market today.
The Crocs Unisex Classic Clog features a non-slip sole that delivers outstanding traction. Besides, the sole is non-marking, lightweight, and is sufficiently thick to offer considerable protection from prickly objects. The non-slip sole is loved by many users particularly nurses because they sometimes work on wet or slippery terrains. Thus, your risk of slipping and falling whilst walking around the hospital grounds is very low. Moreover, the shoe is highly durable partly because of the Croslite material employed in its construction. Consequently, there have been scarcely any complaints from users regarding the upper splitting from the sole as most synthetic materials typically do.
The Crocs Unisex Classic Clog owes its popularity mainly to its comfortable construction. Nevertheless, the footwear is also extremely breathable. The closed-cell attributes of the Croslite fabric are non-hazardous, hamper fungal and bacterial development, and resist odor. The entire upper has ventilation ports that boost breathability, as well as help get rid of debris and moisture. This is why the shoe never gets stinky, and there is sufficient room for toe movement.
Pros
Simple to clean and fast drying
Breathable upper
Extremely comfortable
Excellent traction
Highly lightweight
See also: Best Breathable Shoes for Nurses
---
Crocs Men's and Women's Bistro Clog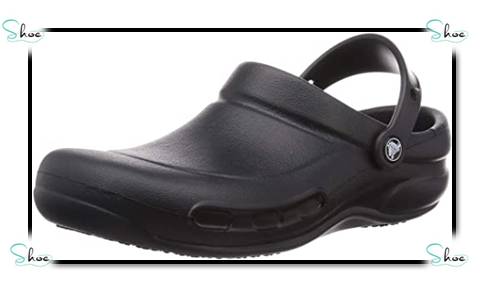 Crocs originally built this clog for professionals who work within the hospitality and foodservice industry. Nevertheless, it is also one of the best Crocs for nurses. If you spend the majority of your workday on your feet, then this footwear is crafted especially for you.  The shoe offers a cozy fit and you will never have to bother about foot pain even during extended shifts. The non-slip treading fitted on the footwear's sole is one of its most impressive attributes. With this feature, avoiding slips and falls will be a breeze. The Crocs Unisex Adult Bistro Graphic Clog is ideal if you desire effectiveness and comfort at a reasonable cost.
Key Features
One hundred percent croslite material
Synthetic sole
Engineered for professionals who do most of their work on their feet
Simple to clean
Non-slip soles
Fitted with reinforced toe box that helps shield the foot from liquids and spills
Flexible and lightweight construction
Contoured footbed
The Crocs Unisex – Adult Bistro Graphic Clog is made especially for professionals who work within a busy hospital environment. Wet and slippery surfaces are regular hazards within hospital environments. The Bistro clog from Crocs comes with a synthetic sole that is fitted with slip-resistant tread at the base. This synthetic sole can grasp any type of surface ensuring you do not have to bother about anything except your job.
The footwear does not come with the renowned ventilation holes fitted on most Crocs' shoes. This means the footwear's breathability is somehow affected. However, the shoe more than makes up for this minor flaw with its remarkable protective attributes. The shoe's enclosed toe box is made of a tough material that helps shield the toes from fluid spills.
The Croslite material employed in producing the footwear is highly durable. Thus, you can be certain the shoe will not break down too quickly. Crocs built the Bistro Clog to last a long time even after undergoing the rigors of a hectic hospital environment. If you take proper care of this footwear, it will serve you comfortably for several years. Moreover, cleaning the clog is very easy. You only need to wipe down the shoe using a damp fabric or cloth.
The interesting aspect of this Crocs Clog is that it comes at a highly affordable price. Even though it is made using highly durable materials, it is one of the best cheap shoes for nurses. This comfortable clog is simple to wear/remove and is always ready for your next move.
Pros
Versatile back strap construction
A range of exciting color choices
Simple to care for
Non-slip bottom tread
Contoured footbed
Made wholly of Croslite material for maximum comfort
Cons
Inconsistent sizing issues
No openings for breathability
See also: Cheap Shoes for Nurses
---
Crocs Men's and Women's Specialist Ii Clog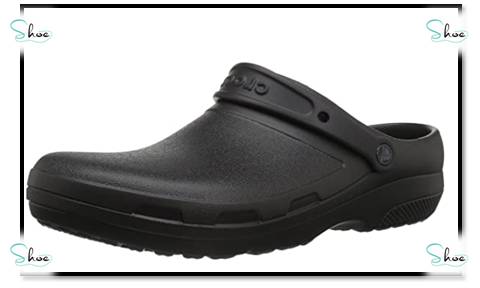 If you are searching for comfortable footwear that will take you through 12+ hour work shifts, then look no further than the Crocs Specialist. The shoe is loaded with impressive features from closed-toe and heel to good arch support. It is no wonder that the Crocs Specialist is a favorite among nurses.  The shoe also delivers supreme comfort partly due to the footbed that perfectly adheres to the outlines of your foot for an enhanced and secure fit. Moreover, the Crocs Specialist is not restrictive, which means that it will not crowd your toes. The best part is that the footwear has a pleasant construction that will certainly catch the attention of your fellow nurses and other colleagues.
Key Features
Synthetic upper
Platform measurement: approximately 0.5 inch
Synthetic sole
Simple to clean using only soap and water
Thick build for toe protection
Contoured footbed for enhanced arch support
Roomy comfort
This cozy clog from Crocs is regarded as one of the best clogs for male nurses due to the outstanding features it offers. The shoe comes with inset side vents, which is probably its most loved feature. Crocs materials ultimately get hot and the vents help boost air circulation within the shoe to keep the interior cool and fresh. Additionally, the inset design helps prevent spills from getting into the footwear.
The shoe's Croslite foam cushioning is supple and fully molded giving the shoe a cozy feel but still tough and supportive. The Specialist is one of the roomiest styles from Crocs. Your feet will have sufficient space to move as well as expand all through the day. And, like other Crocs shoes, the Specialist is simple to clean and odor-resistant. You can eliminate most dirt merely by wiping down using a damp fabric. The idea is to ensure you concentrate on your duties rather than worrying about dirty shoes.
The footwear is also extremely lightweight and flexible, but that does not decrease the shoe's protective qualities. It also has higher heels compared to the Crocs Bistro. This feature will help you blend seamlessly into the workplace. Of course, Crocs typically have a relaxed and casual air around them. Nevertheless, the Specialist will give you something a little more raised without forfeiting comfort.
Another key feature is the footwear's contoured footbed. With this feature, you get enhanced arch support and that means additional comfort. This unisex clog delivers supreme comfort to keep your feet pleased all through the day.
Pros
Molded insole that boosts comfort and support
Incredibly simple to clean
Comfortable
Trendy design
Lightweight
Contoured footbeds that enhances arch support
Roomy
Nubbed foam that delivers a massage-like feeling
Cons
Irregular sizing issues
A few users have complained about the cushioning
See also: Best Work Shoes for Nurses
---
Crocs Men's and Women's Blitzen III Clog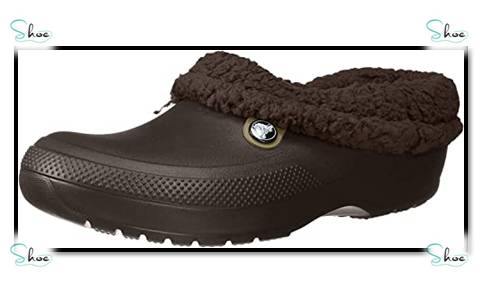 This model boasts all of the materials and comfort that Crocs are known for, but is a lot more suited for cold weather. During cold weather, the shoe will keep your feet toasty and snug – thanks to its protective covering plus a furry lining. In addition, the shoe comes with Crocs' dual comfort Croslite footbed for added comfort. The Women's Blitzen III clog has an espresso color that distinguishes it from the pack of Crocs. It also has an extremely comfy heel with a measurement of 1.5 inches, which is the standard height for snug nursing shoes.
Key Features
Synthetic sole
Lightweight design
Croslite foam that offers Dual Crocs Comfort
Detachable and washable liners
Synthetic uppers
Appropriate cushioning is essential for preventing foot weariness as well as keeping you cozy by softening the impact of your foot landings. The Women's Blitzen III clog is well cushioned as it is fitted with the famous Croslite technology by Crocs. Aside from being comfortable, Croslite material is also lightweight, and the foam relapses to its initial shape following each footfall. Thus, you get dependably comfortable cushioning each time you wear this Crocs clog.
The main selling point of the Blitzen III clog is the lining; which is furry, spongy, and crafted to keep your feet snug and toasty on cold days. The lining is not excessively thick to cause your feet to get sweaty but it does an excellent job of keeping your feet warm. The best part is that you can remove the lining and wash it separately.
Classic Crocs shoes are known for having perforations or openings on the vamp. Breathability and airflow are made possible by these openings in addition to giving the shoes their distinctive appearance. However, the Crocs Blitzen III Clog does not have these perforations, which means breathability is reduced. This model is not as breathable as classic Crocs shoes due to the furry lining fitted on the shoe, however, if you do not have sweaty feet, then this model will work well for you.
Pros
Croslite technology foam cushioning for added comfort
Warm furry lining
Simple outline
Reasonably precise sizing
Cons
Not trendy
Not very versatile
See also: Best Shoes for 12 Hour Shifts
---
Crocs Men's and Women's Crocband Clog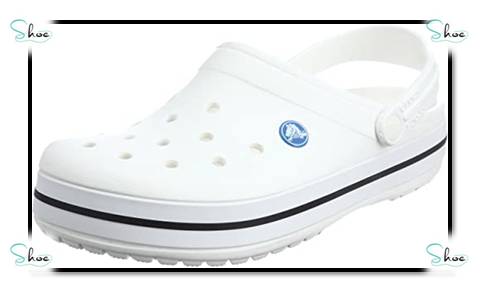 Durability, flexibility, and comfort are vital elements desired in the best shoes for nurses. The Crocband Clog from Crocs delivers all of these and more. It is made using Crocs' famous Croslite material. This first-rate material provides excellent cushioning in Crocs' shoes. The shoe comes in a range of color choices thus you will find one that will suit your taste. It is one hundred percent synthetic, lightweight, and has non-marking soles. The Crocband Clog is also fitted with ventilation holes that help remove debris and water as well as enhance breathability.
Key Features
Rubber sole
Ventilation openings
Shaft measurement is approximately 1.5 inches from arch
Incredibly lightweight, buoyant, and water-friendly
Sporty design
Comes in a range of color choices
Durable construction
Made of one hundred synthetic materials
The Adult Crocband Clog is produced using Croslite material just like most contemporary Crocs shoes. Croslite is a distinctive material that mimics a rubber/foam hybrid. Moreover, Croslite material is anti-microbial, which means that it does not hold odorous microorganisms.
Crocs clogs are renowned for their high quality, ease of wear, and comfort. Nevertheless, some users have complained that these clogs have declined in quality particularly with the crocband clog. Despite this, the shoe is enjoying rave reviews and is acclaimed to provide impressive functionality and comfort. Quality is thus a matter of your taste and personal preferences.
Some users have also complained about the fit of this model of Crocs clogs. The footwear does not come in half sizes. Therefore, if you usually wear a half size, it is recommended you size up to the adjoining full size. There will be no issue with going up to the succeeding size as the footwear runs smaller than the actual size.
Pros
Simple to clean
Slip-on construction
Comfortable
Breathable
See also: Best Shoes to Wear With Scrubs
---
Crocs Men's and Women's Mammoth EVO Clog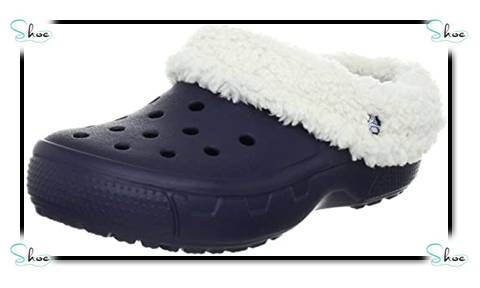 This slip-on clog from Crocs has a one hundred percent synthetic sole plus a lightly padded footbed. It is ranked among the best Crocs for nurses because it is extremely resilient. Moreover, the shoe is also highly versatile and can pair easily with most of your other outfits. The clog has perforations for enhanced breathability as well as a detachable lining for ease of cleaning. Most reviewers and users love that the shoe features a fold-down heel cup that allows for easy on/off. The footwear is also highly durable. If you take proper care of this clog, it will last you a very long time.
Key Features
One hundred percent synthetic upper
Perforations for breathability
Detachable, washable lining
Fold-down heel cup that allows for easy on/off
Moderately padded footbed
The Crocs Unisex Mammoth Evo Lined Clog comes in whole sizes plus medium width only. If you typically wear a half size and are narrow-footed, you should size down to the nearest full size. If you have a wider or normal foot, size up to the nearest full size. Moreover, the shoe is arguably the best comfort footwear for the cold winter months mainly due to the plush lining fitted on it.
The soft lining molds to the contours of your feet giving you pillow-like coziness and ensuring your feet stay warm during cold weather. Like several other crocs footwear, the Mammoth Evo comes with holes on its upper. The major reason for the openings on Crocs footwear is apparently to boost the ventilation qualities of the shoe. This is why the Mammoth Evo is remarkably air friendly as well as cozy on the feet.
Pros
Has a durable sole that is suited for walking on hard concrete floors
Highly resilient
Has a moderately padded footbed for added comfort
Comfortable
See also: Best Slip-On Shoes for Nurses
---
Crocs Men's and Women's Baya Clog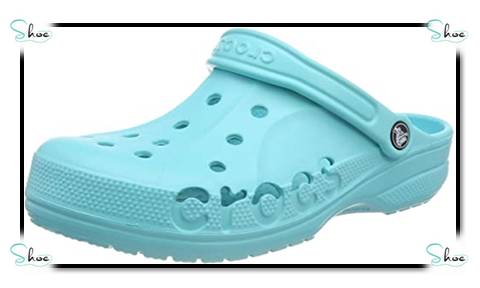 Crocs designed this clog for both women and men's wear. This Ideal go-to footwear looks cute without compromising on comfort. Whether you are dressing up for work or an idle casual day, the Crocs Baya Clog would be a perfect footwear choice. It is produced from one hundred percent synthetic materials and has sophisticated toe box ventilation to keep your feet relaxed during prolonged shifts. The shoe is very simple to clean and dries quickly also.
Key Features
Made of one hundred percent Croslite material
Synthetic sole
Platform measurement: Approximately 0.5 inches
Incredibly lightweight
Water-friendly and buoyant
Advanced ventilation plus breathability
Can be customized with Jibbitz charms
Like most other Crocs' clogs, the Baya unisex clog is made using Crocs innovative Croslite material. This material is specially engineered to deliver advanced cushioning to your feet. The clog is also supple and lightweight, which means it will not encumber your feet in any way. The footwear is also fitted with synthetic soles thus guaranteeing several years of comfortable service. Moreover, the clog comes with pivoting heel straps that help deliver a locked-in fit.
Another interesting attribute of this Crocs' clog is the distinctive ventilation openings that spell out the word "crocs". Aside from giving the shoe a trendy appearance, these openings also help boost the footwear's breathability.  Footwear with excellent breathability qualities will help you avert overheating whilst also ensuring your feet stay dry and cozy.
Pros
Easy on/Easy off
Durable
Delivers good arch support
Lightweight
Exciting design
Breathable
Comfortable
Cons
Some users have complained that the shoe's insole is too high
See also: Best Shoes for Male Nurses
---
Crocs Women's Neria Pro II Embellished Clog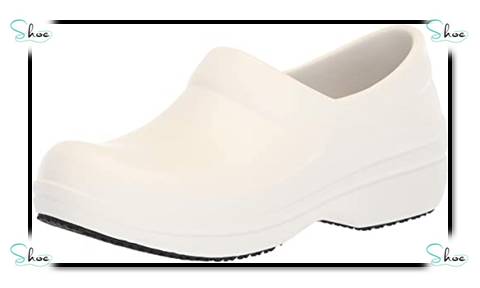 Most people agree that shoes made by Crocs are cozy and supportive regardless of the design. The Women's Neria Pro II Embellished Clog is one of the best crocs for nurses owing to its lightweight build and simple design. With this clog, you can stand all day without having to bother about sore feet. It also has additional space at the rear to allow your heel to move freely when you are walking about the hospital grounds. Also, like other Crocs' clogs, the shoe's footbed will adhere to your foot's outline to give you that cushiony feeling.
Key Features
Synthetic sole
One hundred percent synthetic upper
Simple to clean using just water and soap
Roomy fit
Detachable, washable footbed liners
Thick toe areas to shield your feet from spills
Slip-resistant soles
Completely ASTM F2913-11 certified
Crocs' clogs are made especially for nurses and other professionals who spend a great deal of time walking or standing. The women's Neria Pro is fitted with soles that are produced from synthetic materials. This means the clog will last you a very long time and is well suited for walking on hard surfaces.
The sole of this Croc's Clog is also non-slip and is ASTM certified. Another selling point of this clog is the ease of cleaning it. You can wash it using just water and soap, or better yet, wipe it clean using a moist fabric. Moreover, the clog comes with a broad toe box thus there is sufficient space for your toes to extend. The clog is however not perfect. It has limited breathability and that can cause your feet to get sweaty.
Pros
Comfortable
Reasonably priced
Comes in a range of stylish patterns
Slip-resistant sole
See also: Best Clogs for Nurses
---
Crocs Men's and Women's on The Clock Clog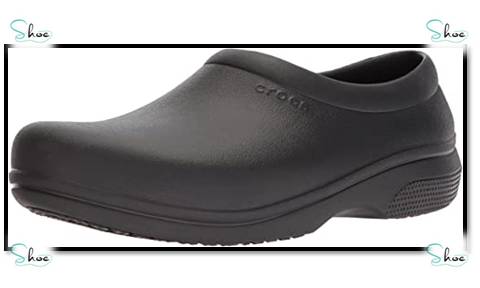 This unisex clog from Crocs is plush and spacious and the sole delivers excellent slip resistance on slippery surfaces. The footwear comes at a low price and offers users top-quality features, making it one of the best cheap shoes for nurses.
See also: Why Do Nurses Wear Clogs?
Key Features
Slip-resistant construction
Lightweight and stretchy
Synthetic sole
Simple to clean
Closed heel and toe
Thickly cushioned footbed plus Croslite foam for added comfort
The major selling point of most Croc's clogs is comfort and the Crocs unisex On the Clock Clog is no exception. If you wear ill-fitting footwear for work, it can wreak havoc on your legs and feet. To ensure a cozy fit, Crocs designed the unisex On the Clock clog with tapered fit at the rear of the heel.
The insoles of a shoe are prone to getting dirty and thus they require special care. However, the footbed of the unisex On the clock clog is fitted with moisture-wicking liners. These help to keep the insoles fresh and clean for a few more days compared to that of other shoe types.
Another interesting design feature of this clog is its highly slip-resistant soles. You can walk or run across extremely slippery surfaces without bothering about falling. The Crocs Men's and Women's On the Clock Clog is so comfortable that some users say wearing this clog at work is like wearing slippers within the workplace.
Pros
Comfortable
Slip-resistant
Highly durable
Easy to clean
One hundred percent manmade
Closed heel and toe to suit workplace requirements
---
Crocs Shoe Size Chart US, UK, & EU
Women's Crocs Shoe Size Chart
| US Size | UK Size | EU Size | Inches | CM |
| --- | --- | --- | --- | --- |
| 3 | N/A | N/A | 8 | 20.4 |
| 4 | N/A | N/A | 8 3/8 | 21.2 |
| 5 | 3 | 34-35 | 8 5/8 | 22.1 |
| 6 | 4 | 36-37 | 9 | 22.9 |
| 7 | 5 | 37-38 | 9 3/8 | 23.8 |
| 8 | 6 | 38-39 | 9 5/8 | 24.6 |
| 9 | 7 | 39-40 | 10 | 25.5 |
| 10 | 8 | 41-42 | 10 3/8 | 26.3 |
| 11 | 9 | 42-43 | 10 5/8 | 27.2 |
| 12 | 10 | N/A | 11 | 28 |
Men's Crocs Shoe Size Chart
| US Size | UK Size | EU Size | Inches | CM |
| --- | --- | --- | --- | --- |
| 4 | N/A | N/A | 8 5/8 | 21.9 |
| 5 | N/A | N/A | 9 | 22.8 |
| 6 | N/A | N/A | 9 3/8 | 23.8 |
| 7 | 6 | 39-40 | 9 5/8 | 24.4 |
| 8 | 7 | 41-42 | 10 | 25.4 |
| 9 | 8 | 42-43 | 10 3/8 | 26.3 |
| 10 | 9 | 43-44 | 10 5/8 | 27 |
| 11 | 10 | 45-46 | 11 | 27.9 |
| 12 | 11 | 46-47 | 11 3/8 | 28.9 |
| 13 | 12 | 48-49 | 11 5/8 | 29.5 |
| 14 | N/A | N/A | 12 | 30.4 |
| 15 | N/A | N/A | 12 3/8 | 31.4 |
| 16 | N/A | N/A | 12 5/8 | 32 |
| 17 | N/A | N/A | 13 | 23 |
Unisex Crocs Shoe Size Chart
| US Size | UK Size | EU Size |
| --- | --- | --- |
| M4 | W6 | M3 | W4 | 36-37 |
| M5 | W7 | M4 | W5 | 37-38 |
| M6 | W8 | M5 | W6 | 38-39 |
| M7 | W9 | M6 | W7 | 39-40 |
| M8 | W10 | M7 | W8 | 41-42 |
| M9 | W11 | M8 | W9 | 42-43 |
| M10 | W12 | M9 | W10 | 43-44 |
| 11 | 10 | 45-46 |
| 12 | 11 | 46-47 |
| 13 | 12 | 48-49 |
| 14 | 13 | 49-50 |
| 15 | 14 | 50-51 |
| 16 | 15 | 51-52 |
| 17 | 16 | 52-53 |