10 Best Shoes to Wear With Scrubs for Healthcare Professionals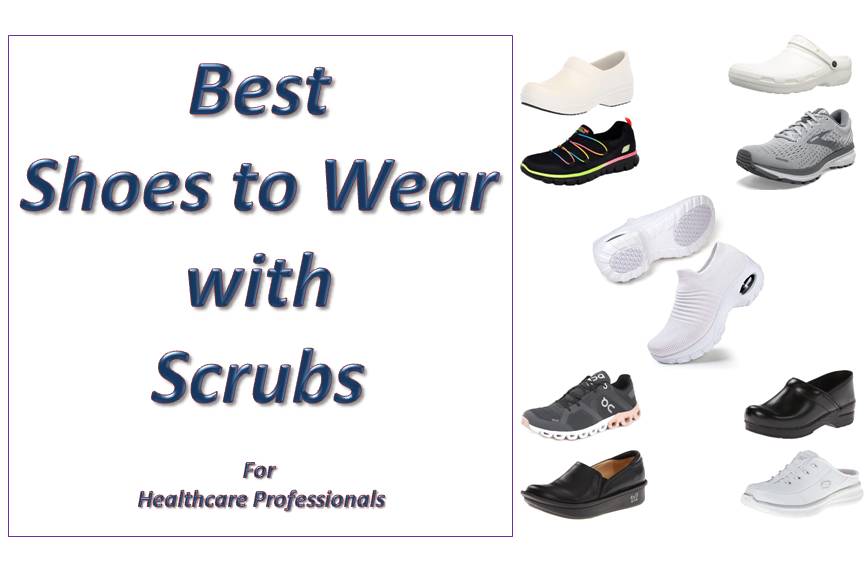 If you work as a nurse, selecting proper work footwear can be a challenge. Standing for extended hours and quick-paced walking call for footwear that provides comfort and support as well as suit facility regulations. Nevertheless, that does not mean you must sacrifice style and appearance. If you are uncertain where to begin, do not worry – all the footwork has been done for you. This article will highlight 10 of the best shoes to wear with scrubs that will give you real value. First though, it is vital you recognize what makes a reliable nurse footwear.
See also: What Shoes To Wear with Scrubs?
10 Best Shoes to Wear With Scrubs, According to Nurses
Brooks Women's Ghost 13
Brooks shoes are popular for their cozy fit, luxurious feel, and reliable performance.  One of the greatest offerings from the company is the women's Ghost 13 – a running shoe that gained huge popularity from its durability and fantastic feel. The Ghost 13 is ranked among the best shoes for nurses because it is lightweight and delivers excellent arch support and cushioning. Keep reading to discover other impressive features of this shoe.
Key Features
Engineered mesh upper
DNA loft technology
Rubber sole
Segmented crash pad
BioMoGo DNA midsole
The women's Ghost 13 is originally designed for road running but will work great for nurses who appreciate flexible, soft, and steady neutral-oriented shoes. The Ghost line from brooks is celebrated for its reliability and comfort and the Ghost 13 is without a doubt the finest Ghost yet.
The major departure of this model from previous editions is the midsole structure. The Ghost 13 features a blend of two well-constructed BioMoGo DNA plus DNA LOFT cushioning. The DNA LOFT cushioning greatly reduces the impacts of each step you take and helps counteract the harmful effects of prolonged standing and walking. The BioMoGo DNA level is designed to deliver long-lasting cushioning as well as give the midsole lasting durability.
The Ghost 13's mesh upper is supportive and many reviewers agree that it fits better compared to that of its predecessor. The single-piece mesh seamlessly wraps around the entire shoe while still providing abundant room within the toe box. Besides, the upper is stretchy and can adapt to accommodate diverse foot shapes. Thus, if you have a broad forefoot, the Ghost 13 will work well for you.
Another feature worthy of mention is the heel cup. To make certain your foot stays securely in place as you go about attending to your patients; Brooks introduced an inner heel counter in the shoe. With this attribute, there will be no more heel slippage or heel lifting once the shoes have been laced up.
All things considered, the Brooks women's Ghost 13 is a well-balanced model. It delivers long-lasting durability, amazing softness, and is great for all-day wear. The only downside is that they are somewhat pricey compared to previous models.
Pros
Impressive cushioning
Sturdy and long-lasting shoes
Light and smooth design
Very comfortable
Flexible platform
See also: Best Brooks Shoes for Nurses
---
Dansko Women's Professional Clog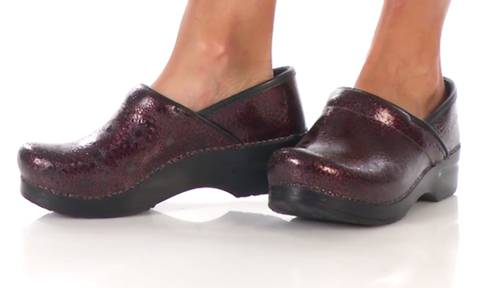 Dansko clogs are well accepted by nurses and other professionals who work mainly on their feet. These clogs provide nurses with much-required support and coziness for those prolonged hours they spend standing and walking around. The Dansko Women's Professional clog is one of the best shoes to wear with scrubs due to an assortment of impressive features it offers. Aside from work, you can also wear the shoe for semi-casual occasions. The leather material utilized in its construction makes the clog a perfect option for professional settings. And, you will never have to fret about bruised toes, painful feet, or slithering in sweat. If you are searching for footwear that delivers stability, comfort, style, and safety, then this Dansko clog may be your best bet.
Key Features
Leather and/or fabric uppers
Oiled leather
Synthetic sole
Padded instep collar
Spacious reinforced toe box
Platform measurement: about .75 inches
Lots of toe wiggle room
Wide heel strike
PU outsole plus rocker bottom
Comfort is a critical factor to consider when shopping for the best clogs for nurses. The Dansko women's professional clog boasts several superb features that help with the shoe's comfortability. To start with, the clog offers a capacious toe box that is fortified with thermoplastic. As a nurse, your shoes are continually exposed to the severest conditions – friction, dirt, water, and heat. Without a fortified toe box, the recurring exposure to wetness can wreck your toe box over time. Moreover, wearing poor-fitting footwear that crams your toes together really begin to ache after a couple of hours.
Another pleasant feature that adds to the shoe's comfortability is its PU foam footbed. Aside from being comfortable, the footbed delivers impressive arch support and maximum temperature control. With the shoe's breathable footbed, you do not need to bother about your feet being overheated within the clog. Nevertheless, bear in mind that the footbed is not detachable. Therefore, this Dansko clog may not be a good fit for you, if you use custom orthotics.
The clog is also fitted with a properly padded instep collar that helps decrease stress as well as cushions the shock of your foot hitting the ground. This feature helps ensure you walk as naturally as possible.
Pros
Made with durable materials
Spacious toe box
Allows for an effortless walking experience
Wide heel for enhanced stability
Padded instep collar that delivers extra comfort
Cons
Some users have complained that the shoe has a tight fit
See also: Best Dansko Shoes for Nurses 
---
Skechers Women's Fashion Sneaker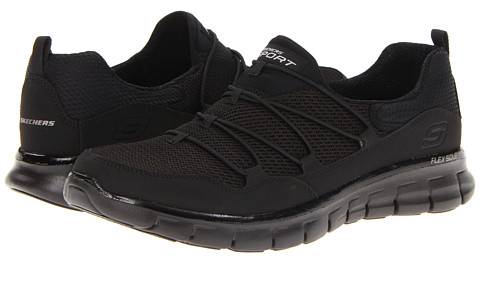 Skechers as a brand is synonymous with the celebrated memory foam that makes you want to keep your shoes on all day long. Thanks to this blissful feature, the company has managed to wow nurses and other professionals on feet all day. Today, Skechers is the third biggest athletic shoe manufacturer within the United States, and the company continues to produce first-rate shoes that appeal to practically everyone. The Sport Women's Loving Life Memory Foam Fashion Sneaker is one of the best shoes for nurses to wear with scrubs due to its comfort qualities. The shoe's trendy and casual appearance makes it ideal for walking and special occasions.
Key Features
Made with mesh fabric plus faux leather
Fits true to size
Comfy memory foam fitted within the insole
Flex groove outsole
Rubber sole
The Skechers Sport Women's Loving Life Memory Foam Fashion Sneaker is specially designed for individuals who spend the majority of their workday in shoes. The footwear delivers an ideal fit as well as the coziness required to remain on your feet for extended periods. Thanks to the shoe's lightweight construction plus memory foam insole, your feet's comfort is assured even during very long shifts.
The upper is made using mesh fabric to ensure adequate air circulation within the shoe whilst the midsole is crafted using Flexsole technology for better flexibility. Even though the women's loving life sneaker has a sporty construction, it also wears well as casual or work shoes.
The blend of synthetic materials, sturdy appearance, and fantastic design all help to ensure perfect coziness and durability. The footwear also has excellent shock absorption qualities and delivers a pliable, nice-to-wear feeling. The best part is that this quality footwear comes at a highly reasonable price and offers all the features required by a nurse to perform his/her duties efficiently at all times.

Pros
Impressive midsole cushioning
Comes at a highly affordable price
Cozy enough for staying on feet all-day
Offers a supple, lightweight walking experience
Made with synthetic materials that help ensure durability
Breathable mesh for good air circulation
Excellent flexibility
Cons
Some users say the footwear does not fit precisely true to size
Design is not as trendy as some other Skechers' shoe models
See also: Best Skechers for Nurses
---
Skechers Women's Premium-Premix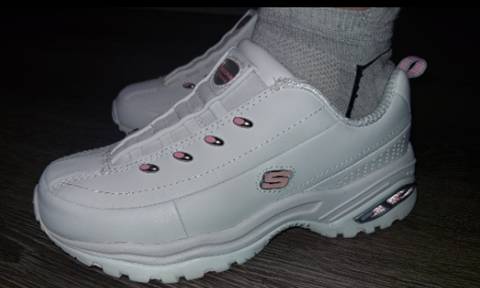 Skechers is a celebrated brand as far as footwear is concerned. The company began its business by making work boots and they have since diversified into manufacturing comfortable shoes for various purposes including nursing shoes. The Skechers Sport Women's Premium-Premix Slip-On Sneaker looks professional and elegant whilst still being cozy and reliable. The footwear is simple to wear/remove, has modish detailing, as well as admirable safety rankings. If you are searching for a reasonably priced shoe that offers all the features of a good nursing shoe, then this Skechers sneaker may be your finest bet.
Key Features
Padded tongue and collar
Rubber sole
Slip-on sneaker
100% synthetic and leather upper
One key selling point of this shoe is that it has an outsole that is extremely durable and long-lasting. The shoe's slip-resistant sole grips the floor properly to prevent any accidental slips and falls on wet hospital floors. Moreover, this comfortable sneaker from Skechers comes with non-marking soles, so you can go about your duties without bothering about marking your workplace floors.
The Sports women's premium premix also offers impressive foot cushioning – thanks to its 1-inch platform as well as 1.5 inches in-built heel. Since your job keeps you on your feet for prolonged hours, you need footwear that has a thick platform and heel. With this feature, the shoe can deliver additional padding and cushioning. Besides, the extra space ensures you get better support and comfort from the footwear to help you get through very busy and long days.
Several reviewers loved that the shoe has a soft leather upper plus a properly padded lining. This means there are no coarse areas that will disturb your feet even during extended wearing. And, since the footwear has a slip-on build; it has strategically fitted elastic at the anterior panels that ensure easy on/easy off. Furthermore, the tongue and collar feature additional cotton padding to give your foot better comfort.
Bear in mind that this Skechers sneaker is available in US footwear sizes. Some wearers have reported that the footwear felt too small while others say it felt over-sized. This might pose a challenge particularly if you intend to order a pair online. A good way to get around this is by ordering two or three sizes at once so you can choose the right fit for your feet. It is recommended you select your typical shoe size plus one size down as well as one size up when shopping for this footwear.
Pros
Offers generous support and comfort
Sturdy and durable soles
Delivers excellent traction
Simple to clean
Made with stain-resistant leather
Comes at an affordable price
Cons
Several reviewers with bigfoot felt that this sneaker was designed for individuals with smaller feet
Available in only black and white color variations
---
STQ Women's Slip-On Breathe Mesh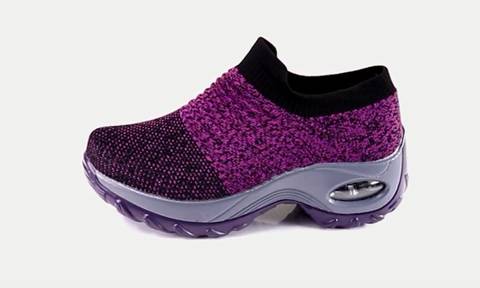 This classic footwear from STQ has received several positive responses from users. The shoe is loaded with impressive features that make it one of the best shoes for nurses. To start with, it has an elastic knit mesh upper that offers a sock-like fit and allows for effective ventilation within the shoe. It is also super lightweight, comfortable, and gives you that barefoot walking experience. It also has a trendy and fashionable design that is superb for a host of uses including casual wear, travel, driving, folk dance, workout, as well as prolonged standing and walking.
Key Features
Slip-on construction
Wide round toe
Comes in several color choices
Elastic cuff that allows for easy on/easy-off
Breathable and lightweight
Synthetic sole
Sturdy knit upper with excellent stretch
The STQ breathe mesh walking shoe has a sturdy knit upper with excellent stretch. With this feature, you are certain of a secure fit. Moreover, the material utilized in the upper construction is breathable and soft giving you supreme comfort. The shoe's slip-on build with elastic cuff makes it very simple for the user to put it on and remove.
This women's fashion sneaker comes with a synthetic sole. Aside from offering excellent shock absorption plus cushioning, shoes fitted with synthetic soles are also appropriate for walking on several different terrains. Besides, the footwear's versatile and comfy design makes it fantastic for any occasion. Several reviewers agree that the sneaker is appropriate for several uses including plantar fasciitis remedy, floor shoes, gardening, fishing, travel, Zumba, athletics, street jazz, and prolonged standing and walking.
The STQ Breathe Mesh Walking Shoe is also fitted with a PU outsole. This feature ensures the footwear delivers superior traction and grip on a range of terrains. An ideal platform wedge sneaker that is suitable for all-day wearing. Apart from being one of the best shoes to wear with scrubs, the shoe will also match most of your other outfits including dress tops and pants. The footwear's platform measurement is 1.96 inches.
One more feature you will love about the STQ sneaker is that it comes with a spacious toe region. With this attribute, your feet and toes can move and spread out naturally.
Pros
Extremely durable
Breathable and lightweight
Versatile design
Wide toe region
Slip-resistant
Very cushiony
Provides excellent arch support
Cons
A bit pricey
Sizing issues
---
Crocs Unisex Specialist li Clog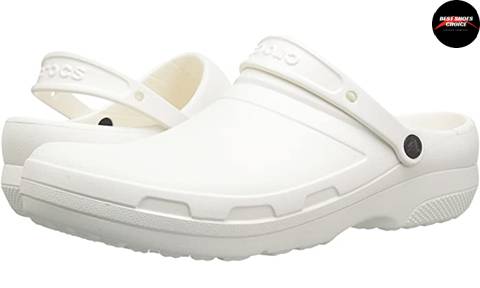 This inspiring footwear from Crocs boasts several important features that make it one of the best clogs for nurses. One of these features is the shoe's higher heel construction that helps support the feet as well as prevent long-term health conditions like low back pain, plantar fasciitis, and Achilles tendinitis. Wearing inappropriate shoes for extended periods sometimes causes these conditions. The clog also offers enhanced arch support to keep you safe and features an enclosed toe box that will help shield your feet from spills plus other hazards.
Key Features
Synthetic upper
Enclosed toe region
Synthetic sole
The platform has an approximate measurement of 0.5"
Simple to clean
Roomy comfort
Contoured footbed for superior arch support
Crocs designed this clog especially for chefs and nurses because these pros spend the majority of their workday standing and walking. The footwear is made using synthetic materials that have been thoroughly tested and authenticated for quality. The shoe's thicker build at the toe region will help ensure you get lasting support. The specialist II clog is the ideal footwear to get you through those long nights and days.
The clog's most acclaimed attribute remains its nubbed Croslite foam footbed. This feature makes the clog extra cozy, ensuring your feet enjoy a massage-like feeling. Crocs is renowned for making roomy shoes however, the Specialist II is arguably the roomiest style in the Crocs footwear line-up. Thus, your feet will not be restricted in any way as there is sufficient space for them to move and swell naturally.  The shoe is also not difficult to clean and maintain. To remove stains and other dirt, all you have to do is wipe using a clean soapy material.
Buyers also love that the shoe is highly flexible and light without diminishing the footwear's protective properties. The heel counter of the Specialist II is higher compared to that of the highly popular Bistro clog from Crocs. This means better cushioning and support for your feet.
Pros
Roomy fit
Lightweight
Quality footwear with quality validated materials
Waterproof and comfortable
Thick build for toe protection
Easy to clean
Nubbed foam that gives a massage-like experience
Contoured footbed that boosts arch support
Cons
Irregular sizing problems
See also: Best Crocs for Nurses 
---
Alegria Women's Debra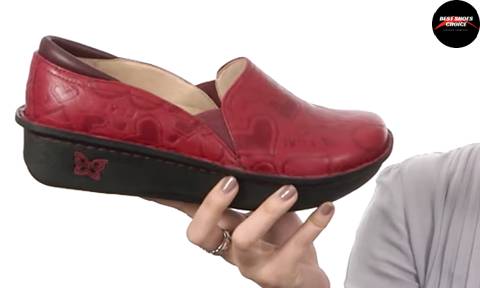 This clog style footwear from Alegria is rated among the best scrub shoes due to its several fantastic features. Starting with a supportive footed enveloped by memory foam and leather, a spacious toe box that delivers supreme comfort and generous space; a light rocker outsole that helps thrust your foot forward effortlessly with each step, and a detachable contoured insole that supports and snugs your foot. If you are searching for reliable, hardwearing work footwear that will give you enhanced stability, comfort, and support, then take a good look at the Alegria women's Debra Slip-on.
Key Features
Detachable supportive insole
Stain-resistant
Easy to clean
Vibrant leather uppers
Wide toe box
Non-slip synthetic sole
Memory foam footbed
Lightweight rocker outsole
With this closed-heel slip-on clog from Debra, you will never need to bother about slips and falls as you go about your everyday duties. This is because the footwear is fitted with a durable synthetic sole that delivers remarkable grip and traction on any kind of surface. The heel measurement of the footwear is approximately 0.5
"
while the platform measures about 1
"
If you have trouble finding a good-fitting shoe, then you should look no further. The Alegria Women's Debra Slip-On is available in European sizes. Thus, regardless of which part of the globe you are from, you will certainly find a proper fit for your feet.
Moreover, this slip-on shoe is impervious to stain and extremely easy to clean – thanks to its tough leather upper. Apart from giving it a customized feel, the handmade soles of the shoe are crafted to hold up to any kind of topography or weather condition.
The vast majority of users agree that the Debra looks appealing and trendy. The footwear's contrast stitching also adds a bit of elegance to it. Besides, the sides of this clog style footwear are stretchy which means the shoe is flexible and easily molds to your feet' outline. This attribute helps ensure the Debra is simple to wear and remove.
With the Alegria Women's Debra Slip-On, you will not be restricted in any manner as you perform your daily functions. This is because the shoe is lightweight and the footbed is fitted with additional cushioning delivering enhanced comfort to your feet.
Pros
Comes in multiple color choices
The leather upper is impervious to stain
Slip-on construction
Lightweight
Extremely comfortable
Cons
Requires some break-in time
Narrow toe box
---
Skechers Women's Elite Mule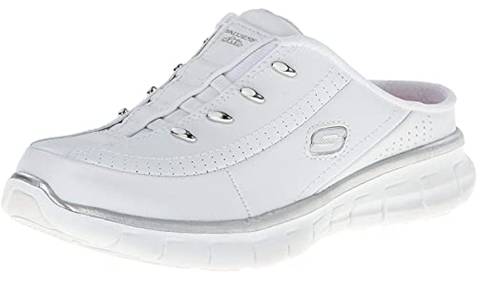 This comfortable and adorable shoe from Skechers is the type you can wear throughout the day without experiencing any discomfort. This is because the footwear boasts Skechers' signature memory foam technology. With this technology, the footwear can lessen the strain on your feet, absorb the shock produced from walking, stabilize your feet, as well as permit arch support. It also has a thick, flexible, rubber sole that will not weigh down your feet as you perform your daily tasks.
Key Features
Rubber sole
Memory foam cushioning
Designed to mold to the wearer's foot
Simple to slip on/off
Lightweight construction
Open back design
Some of the key characteristics of the best shoes for scrubs are that the shoe should provide outstanding arch support, be very easy to wear/remove, and ensure adequate ventilation for the feet. The Elite Glam Synergy mule sneaker packs all of these features and more. Besides, the mule is lightweight and that means it will not encumber your feet as you move around the hospital grounds.
The shoe is fitted with slick leather upper that is engineered to draw dampness away from your feet. Therefore, even on very long shifts, this sneaker will help to keep your feet healthy and dry. Moreover, the mule's rubber sole delivers admirable traction and grip on a range of terrains whilst letting you walk effortlessly and steadily.
Another important feature you will love about this mule is its detachable memory foam insole, which you can swap for custom orthotics. This Skechers mule sneaker is trendy, comfortable, and functional making it one of the best shoes to wear with scrubs.
Pros
Offers reliable arch support
Comfortable
Highly durable
Trendy design
Lightweight
Cons
Some customers say they had issues with the memory foam insole
---
Crocs Women's Neria Pro II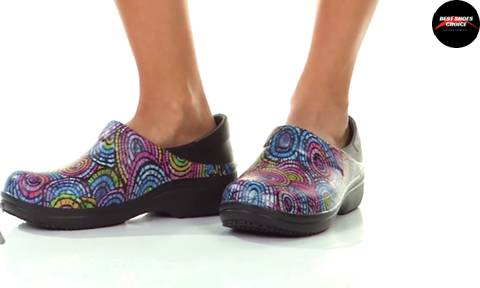 Crocs is famous for making high-class comfort shoes, and the Women's Neria Pro II is no different. The clog's simple, lightweight construction makes it one of the best shoes to wear with scrubs. Good nursing footwear should have a cozy and spacious fit. While they should not be too loose that they fall off your feet, they should be spacious enough for your toes to move down and up as well as spread out. A little heel movement is also desirable and healthy provided such movement is without friction. The Crocs women's Neria Pro II offers enough room to allow for these movements.
Key Features
Roomy fit
Non-slip soles
Thick toe regions
Separable, washable footbed liners
ASTM F2913-11 Certified
The major highlight of this Crocs clog is its roomy fit. The shoe comes with an extra room at the backside providing ample space for your heel to move unhindered as you go about your duties. Besides, the clog's spacious toe box also gives plentiful room for toe movement as well as an utmost fortification against pressure points. Many nurses love that the clog is extremely simple to maintain. You can wipe off any dirt on the shoe using only a moist cloth.
The shoe is fitted with a robust sole that has been ASTM F2913-11 certified for slip resistance. Thus, you can walk with confidence on wet and slippery hospital floors knowing that you have practically zero risk of experiencing slips and falls. Also, the sole is made from synthetic material. Thus, if you take good care of the clog, it will serve you a long time.
Pros
Non-slip sole
Comes at an affordable price
Available in a variety of styles
Comfortable
Roomy construction
See also: Can Nurses Wear Crocs?
---
Sticky Women's Work Shoes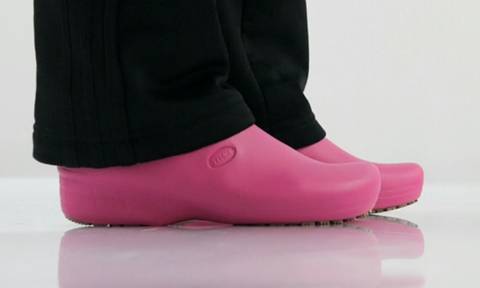 If you are looking for the best shoes to wear with scrubs, look no further than the Sticky Pro. As indicated by the name, the shoe offers exceptional comfort and slip resistance for nurses and other professionals on feet all day. This exquisite footwear is available in several exciting and feminine color choices to select from. The interesting part is that the footwear also comes at an affordable price so you can order two or more pairs in your preferred colors.
Key Features
Rubber sole
Synthetic leather upper
Platform measurement is approximately 1 inch
Comfy and lightweight design
Non-slip outsole
Waterproof outsole and upper
The Sticky Pro comes in 9 size options and a range of color choices. Therefore, you will definitely find a model that will suit your requirements. The footwear's 1
"
platform helps ensure you get a flexible and comfortable fit. Moreover, when you do those 12-hour shifts, your feet will not get strained – thanks to the shoe's lightweight build.
You will also like that the upper and sole of this nursing shoe are waterproof. Therefore, you can be certain your feet will stay dry as you attend to your patients and other work requirements. The shoe's rubber sole is shock absorbent whilst the footbed is constructed using moisture absorbent materials. These key features help make the shoe one of the best shoes to wear with scrubs.
Pros
Non-slip outsole that boosts safety and comfort
Available in 9 size choices
Shock absorbent sole that helps prevent torsions
Outsole and upper units are waterproof
Cons
A few users say the footwear does not provide sufficient support
---
Check the Video on the Best Shoes to Wear With Scrubs
How to Choose the Best Shoes to Wear With Scrubs?
Have a hard time finding the appropriate pair of shoes to wear with your scrubs? The pair you select should not only be cozy but also properly support your feet throughout the day. Poor-fitting shoes can lead to a variety of problems including back, leg, and foot pain. There is a broad range of shoes that can go well with scrubs, and apparently, there is no one shoe that is suitable for everyone. Read this post to learn how to choose the best shoes to wear with scrubs.
Features to Consider When Looking for Best Nursing Shoes
Comfort
As a nurse, you will work mainly on your feet dashing from patient to patient and from ward to ward. For this reason, you must find shoes that will provide all-day comfort to your feet. Finding a pair of comfortable work shoes is all about choosing ones that fit right and suit your feet type. Consider running shoes because these are typically most comfortable for most individuals.
 Good Arch Support
This is another critical factor when selecting nursing shoes. Individuals with normal arches need stability shoes that provide the right combination of cushioning and medial support. If you do not have any serious pronation problems, this is the type of shoe you require. In contrast, motion control shoes that feature firm midsoles will work best for you if you overpronate or have flat feet. For high-arched individuals, cushioned shoes with loads of flexibility are most appropriate. These typically have extremely plush midsoles with modest medial support.
Slip-resistance
Hospital floors can sometimes be wet and slippery, which can result in accidents. It is best to choose nursing shoes that offer the appropriate degree of traction to avoid any slips and falls that might occur as you go about attending to your duties. When shopping for new work shoes, be sure to consider the shoe's slip resistance.
See also: Best Slip-On Shoes for Nurses
Durability
Nursing shoes can be expensive so the ones you choose should serve you well as well as last more than merely a few months. Look for shoes that have a sturdy outsole, insole, and midsole.
Lightweight Construction
Aside from comfort, a good scrubs shoe should also be durable and lightweight. When it comes to sturdiness and durability, leather products can be a superb choice. Shoes made of leather are also breathable and lightweight which is why they are a lot more comfortable compared to other options.
Shock Absorption
Walking around on hard concrete hospital floors for 9+ hours can wreak havoc on your feet, back and knees. For this reason, you need a reliable nurse shoe that will help absorb the shock of your foot landings. Generally, shoes with chunky rubber outsoles deliver excellent shock absorption.
Protective Properties
As you go about your everyday tasks, you will sometimes be exposed to heavy objects or equipment that can accidentally fall on your leg or feet. This is why you need the best scrub shoes that will help shield your feet from this type of work hazard.
Frequently Asked Questions (FAQs)
Will custom molded arch supports fit within the Ghost 13?
Yes, the Brooks Ghost 13 has a removable insole thus custom molded arch supports should fit.
Is the Dansko Women's Professional Clog suitable for pregnant nurses?
Nevertheless, the footwear is not stretchy and would not accommodate much swelling. Therefore, they can become very painful as your feet swell.
Do Skechers run small or large?
Skechers is, in general, true to size, nevertheless, some styles or models alternate between true-to-size, smaller, bigger.
How do you clean stained White Crocs?
The best method to get rid of stains on white crocs is by using a magic eraser with mild soap. Use a damp towel and mild soap to remove minor stains. Remove deeper stains with a magic eraser.
Conclusion: Best Shoes to Wear With Scrubs
Selecting the best shoes to wear with scrubs is certainly not an easy task. Happily, with this post you have all the tips you require to find the appropriate pair. If you consistently wear ill-fitting and unsupportive shoes, you can cause harm to your back and feet.