Can Nurses Wear Crocs? (What You Need to Know)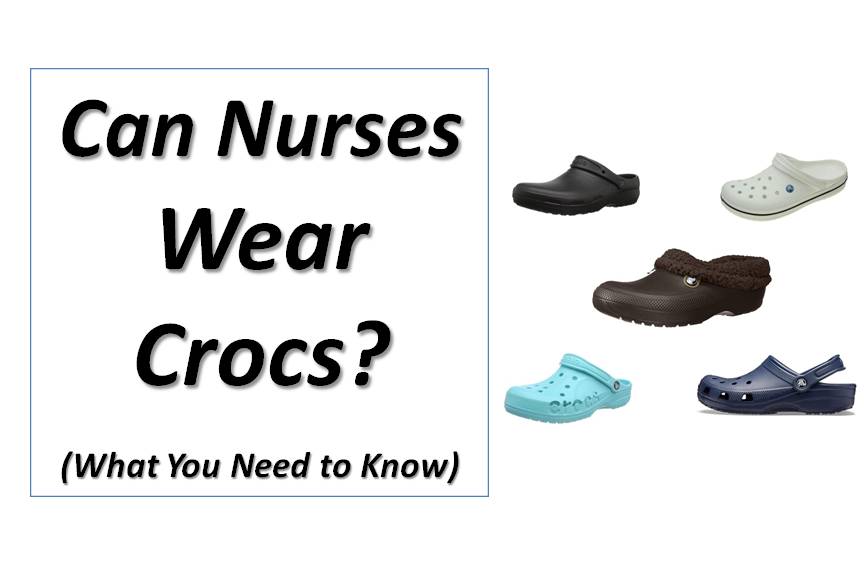 It is difficult to dispute that nurses are the hardest working individuals within the healthcare industry today. They manage and provide patient care in quick-paced shifts that typically exceed twelve hours. Since these professionals work mainly on their feet, they require dependable nursing shoes to avert the development of foot disorders. Crocs are known to be exceptionally comfy and they provide a high degree of slip-resistance. If you are a newly qualified nurse, one question that may be on your mind now is: Can nurses wear crocs? This post will talk about everything you need to know regarding wearing crocs in healthcare facilities and hospitals.
See also: Best Crocs For Nurses
Crocs come with several features that make working many hours on feet less painful and tiring. For this reason, these shoes have been extremely popular among nurses and other hospital staff for several years. However, some hospitals have banned the use of these shoes due to specific issues. Some of these concerns are:
Blood and other body fluids can seep in through the ventilation openings and result in severe infections
Nurses and other medical workers can get poked by a contaminated needle that falls through the ventilation openings.
Crocs with straps worn incorrectly can lead to severe accidents
Probably due to these concerns, the Crocs Company has developed a shoe line specifically for healthcare professionals including nurses. Many of the shoes in this line come with all the comfort attributes that make crocs so impressive: including Crocs Lock slip-resistant tread, a massaging footbed, easy to clean, and quick-drying. The interesting aspect is that many of these shoes do not have openings at the top.
Thus, returning to the question of whether nurses can wear Crocs, the answer is yes. Below are some of the crocs styles that are widely permitted for healthcare professionals in most parts of the globe.
Crocs Men's and Women's Specialist II clog
Croc's Women's Neria Pro II Clog
Crocs Mercy clog
Crocs Unisex – Adult On The Clock Clog
Why Do Nurses Wear Crocs?
Comfort
Nurses spend the majority of their workday standing and walking on concrete floors. Prolonged standing and walking at work can result in health problems like backache and leg cramps. Many of these problems can be averted by wearing comfortable work shoes. Made from Croslite, crocs are without a doubt among the coziest shoes for all-day standing and walking. Their flexible and plush insoles adhere to your foot's natural outline, providing enhanced comfort and support. These shoes are excellent shock absorbers and help alleviate pain in the joints. They also allow for excellent ventilation so you will not have to bother about the buildup of sweat and moisture in the shoes.
Arch support
Apart from providing superlative comfort, Crocs are also engineered to enhance walking. They provide arch support and ensure that your feet stay in a healthy, balanced position. Poor arch support can lead to misalignment of the entire body, causing back, knee, hip, pelvis, and pelvis problems. In contrast, shoes with excellent arch support can alleviate fatigue, help with balance, and even help ward off foot problems like plantar fasciitis. Crocs are engineered to keep your feet adequately aligned so can go about your duties pain-free.
See also: Best Shoes for Nurses with High Arches
No Laces
Shoelaces are great because they help to deliver customizability as well as lock the foot in place preventing it from rubbing and moving around. However, they can sometimes get annoying particularly if you work mostly on your feet. For example, a loose lace can result in a fall when you are rushing to take care of an emergency.
The Crocs models permitted for nurses do not come with laces. Nurses love wearing these shoes because they allow them to move as fast as they want without having to bother about loose laces that might cause them to stumble. Besides, tying shoelaces requires time which might be in short supply within a fast-paced hospital environment.
Simple to clean
Crocs are crafted for simple clean-ups. They are made using waterproof and odor-resistant materials. Cleaning shoes made of fabric requires many steps of washing and scrubbing using dishwashing liquids. Removing dirt from a plain, even surface is a lot simpler. To clean a pair of Crocs nursing shoes, simply wipe down the surface using a clean, damp cloth and it is all good.
See also: How to Clean White Shoes With Baking Soda and Toothpaste
Non-slip outsoles
Hospital floors are sometimes wet and slippery, which means slips and falls are a concern. To prevent accidents caused by slipping and falling, you need to walk with caution. Crocs' soles are engineered to provide excellent traction, and they will let you walk confidently and easily on wet/slippery floors.
See also: Best Slip-On Shoes for Nurses
For all these reasons, it is clear that Crocs make superb nursing shoes or any other vocation that requires prolonged standing and walking. However, since some hospitals have banned them due to safety concerns, it is a good idea to check with the hospital's management and the dress code recommended. If your hospital allows the use of Crocs, then they are a fantastic option as they provide all-day support and comfort.