12 Best Shoes for Nurses with High Arches – Reviews & Guide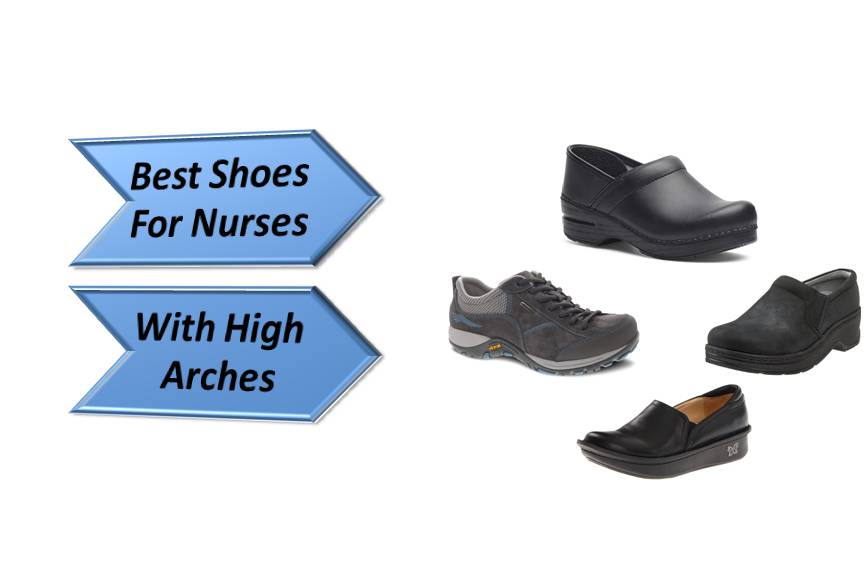 Your feet are your body's structural foundation, and if they are not happy, then your entire body is not happy. These days, nursing shoes are available in a broad range of designs, shapes, and styles, so it can be difficult deciding which one to purchase. It is even more difficult if you have an abnormal kind of arch or some other foot deformity. Aside from that, each shoe works differently and can make a considerable difference for your safety and comfort on the job. To simplify your search for the right nursing shoe, here is a comprehensive list of the best shoes for nurses with high arches.
Best Shoes for Nurses with High Arches – Top 12 Picks
Dansko Women's Professional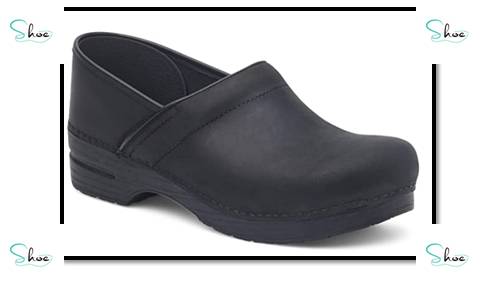 Working a job that keeps you on your feet throughout the day in sometimes slippery, hot or wet conditions is certainly not easy. It is therefore crucial to have footwear that can keep you safe, dry, cool, and comfortable throughout the day without harming your feet and legs. The Dansko Women's Professional Clog comes with features that provide safety and comfort to the user in these conditions. No wonder the footwear has endured as a classic nursing shoe for so long.
Key Features
Polyurethane sole
Fabric and or leather uppers
Padded instep collar that provides the user with comfort when walking
Wide heel strike that helps keep the feet steady and stable when walking
PU outsole plus rocker bottom that allows for more secure walking
Spacious reinforced toe box that enhances both foot protection and wiggle room
Heel measures approximately two inches
The main selling points of Dansko clogs are the comfort, quality, and style they offer. The Dansko Women's Professional Clog is so well made that several users have said many positive things about it. The shoe is available in a wide range of styles and designs so you will definitely find one that will match your style sense and personality.
The clog has a fantastic leather upper, which is significantly better for your feet compared to other cheaper synthetic ones. Aside from being breathable, the natural and genuine leather adjusts to the shape of your foot allowing for greater comfort and freedom of movement. The shoe's outsole is made from polyurethane plus rocker bottom for better shock absorption. Furthermore, the footwear will allow you move freely on any kind of surface thanks to its slip-resistant outer sole.
The footwear also features Dansko signature reinforced, spacious toe box that allows for better protection and offers generous wiggle room for your toes. In addition, this Dansko clog offers excellent arch support, which is good for people with high arches and underpronation. Shoes with excellent arch support will let you spend more time on your feet in comfort and safety.
Pros
Padded instep collar for better comfort and fit
Roomy toe box
Provides supreme comfort to the wearer
Approved by APMA for enhancing good foot health
Polyurethane foam footbed that enhances breathability and temperature control
Cons
Dansko shoes take some time to break in, but they are supremely comfortable afterwards
See also: Best Dansko Shoes for Nurses
---
Alegria Women's Paloma Flat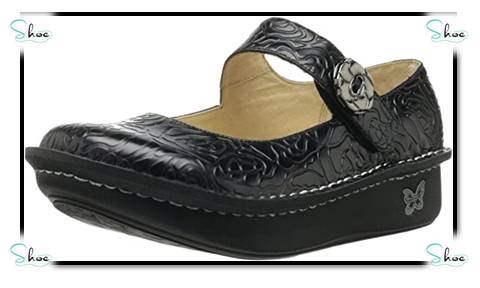 It is common knowledge that Alegria makes amazingly durable and comfortable footwear. Aside from being one of the best shoes for nurses with high arches, the Alegria Women's Paloma flat has received the highly regarded APMA seal of approval due to the health benefits it provides. Nurses and other healthcare professionals trust the footwear because it provides impressive shock absorption and support. The shoe is versatile and trendy and will be a fantastic addition to any nurse's wardrobe.
Key Features
Stain-resistant upper
Rubber sole
Suede leather insole
Hand-stitched
Modifiable hook and loop closure plus distinctive ornamentation
The outsole of the women's Paloma Flat is fitted with a rocking outsole designed to roll pressure off your front metatarsals. Aside from helping to decrease the pressure from high arches, this action also provides great support for your feet during long workdays. In addition, the rocking outsole together with the shoe's anatomically correct footbed helps to enhance the health of your gait.
The Paloma flat comes with a durable rubber outsole and a breathable leather upper. These features provide all the support and comfort nurses need when standing or walking for extended hours. Furthermore, the footwear has a spacious toe box that leaves sufficient room for the free movement of your toes. Free movement of the toes is an important consideration for combating foot ailments and complaints.
The footwear's anatomically correct footbed molds to your feet's natural shape and provides impressive support to your feet. In addition, the footbed is detachable so if you suffer from a pre-existing condition, you can replace it with supportive insoles or orthotics.
This impressive footwear from Alegria is quite distinctive and comes at a reasonable price. If you wish to add a bit of style to your nursing gear, the Alegria Women's Paloma Flat is a fantastic option. It is available in a range of designs and colors and will do an excellent job of keeping you supported and comfortable all day long.
Pros
Available in a range of impressive designs
Provides mobility and arch support
Impressive everyday footwear
Blend of latex and cork
See also: Best Shoes for Nurses with Bunions
---
KLOGS Women's Naples Clog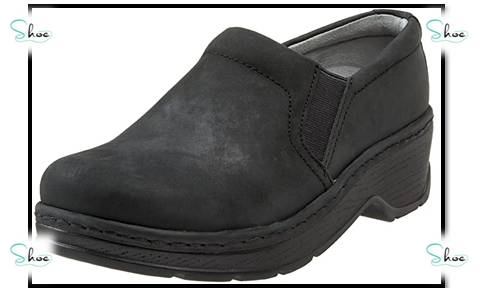 When in need of the best clogs for everyday errands, Klogs is always there to the rescue. Their women's Naples leather closed-back clog is one of the best shoes for nurses with plantar fasciitis. This is because the footwear offers excellent arch support as well as a snug fit. One outstanding feature you will certainly love about this shoe is its unique style and design, something that will distinguish you from others. The shoe has a detachable polyurethane outsole that is extremely soft, yet durable enough to secure your foot very well.
Key Features
Authentic leather upper
Impressive cushioning and fantastic arch support
Oil resistant, slip-resistant, shock-absorbing, non-marking TRUBase outsole
Detachable, Antimicrobial, Latex-free, Odor-resistant TruComfort Insole
Orthotic friendly
1-inch heel height
The KLOGS Footwear Women's Naples Leather Closed-Back Nursing Clog offers all-day comfort on the job. The footwear is fitted with dual-side elastic gore panels as well as a softly padded back collar. These features help provide very comfortable fit and good support. The shoe also comes with a detachable polyurethane insole that offers great cushioning, support, and comfort. In addition, if you prefer a memory foam or gel-based insole (or if bad odors take their hold), you can replace the insole with a custom orthotic of your choice.
The footwear also comes with a contoured polyurethane outsole that is oil-resistant, non-marking, and slip-resistant. The convenience of a nursing footwear with a slip-resistant, oil-resistant outsole means you can move freely without bothering about slipping and falling. Furthermore, the shoe is lightweight and has received many positive reviews due to the impressive support it provides. People who suffer from plantar fasciitis love this footwear because it provides high arch support.
Another reason many users like the women's Naples leather clog so much is its tooled leather design, which is certainly aesthetically pleasing. On the whole, the KLOGS Footwear Women's Naples Leather Closed-Back Nursing Clog is a fantastic shoe for nurses as well as other healthcare professionals who are on their feet all day.
Pros
Lightweight
Detachable insoles
Impressive arch support
Genuine leather upper
See also: Best Clogs for Nurses
---
Brooks Women's Levitate 2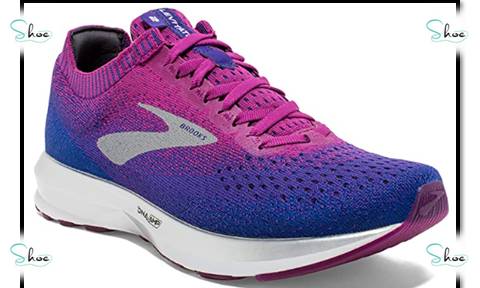 If you are an enthusiastic runner, you most likely already know that Brooks is a company that produces the finest running gear on the globe. The Levitate 2 is one of the recent models from the company in 2018. The footwear was originally made for neutral runners; however, it is also one of the best running shoes for nurses. The shoe is well-made, durable and has several other great features. It is a somewhat heavy footwear; however the first-class, dense DNA AMP midsole may more than adequately compensate for the weight. If you do select the Brooks Women's Levitate 2 to be your work shoes, one thing you can be sure of is that you will walk in them for a very long time.
Key Features
Lace-up closure
DNA AMP midsole technology for energized cushioning
Highly modifiable Fit Knit upper that provides supreme comfort
Perfect for nurses who have a medium to high arch
Energized feel
The outsole of this fantastic shoe from Brooks is produced from a sticky rubber material that provides excellent traction and durability. In addition, the heel area of the outsole is covered using a faux-suede swathed foam material, which is designed specially to help relieve the effects of Achilles tendonitis.
The main tweak to the recent Levitate 2 is at the upper. The original Levitate and the Levitate 2 both has a Fit knit upper, however the upper of the Levitate 2 running shoe is more flexible, less fragile and offers a tighter fit. It offers a luxurious, ultra-soft feel owing to the 3D Fit Knit used in the shoes upper. The shoe also has a detachable Energize insole for additional cushioning and comfort.
However, a few reviews have said negative things about the shoes lacing system, as it does not provide a secure fit. In addition, some users say the upper lacks breathability and tended to absorb as well as retain water. Thus, you cannot rely on this footwear as your everyday go-to work shoes. The Brooks Women's Levitate 2 Running Shoe functions at its best when worn in dry, breezy, cool weather.
Pros
Great traction on cool, dry terrain
DNA AMP midsole
Relieves Achilles tendon irritation
Extremely comfortable with sufficient toe space
Excellent shock absorption
Highly durable
Cons
Pricey
Complicated lacing system
Somewhat heavy
See also: Best Tennis Shoes for Nurses
---
Dansko Women's Paisley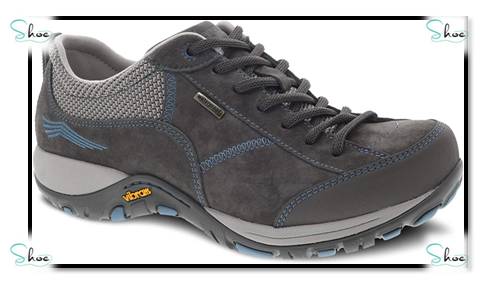 A good blend of style and comfort, the Dansko Women's Paisley can help you get through your workday and you may not even feel the need to remove them. The shoe is versatile, and you can wear them around the hospital grounds, walk to the grocery store, or use them around your home. This impressive women's sneaker features a water-resistant leather upper that will prevent it from getting ruined in snow or rain. It also comes with other performance features that make it one of the best shoes for nurses with high arches.
Key Features
Waterproof leather uppers
Synthetic sole
Detachable triple-density footbed plus shock absorption and high arch support
DuPont Sorona fiber helps dry moisture from sweat
CleansportNXT for controlling odor
Accommodates most regular and custom orthotics
The Dansko Women's Paisley Waterproof Outdoor Sneaker comes with a detachable EVA footbed and can accommodate most traditional and custom orthotics. This feature allows for a genuinely customized fit. In addition, the shoe's triple-density footed provides impressive shock absorption and arch support. Wearing footwear with good arch support helps to rectify overpronation and ensures your feet remain stable and properly aligned with each stride.
The women's Paisley is also fitted with a sturdy Vibram rubber outsole that delivers enhanced traction, comfort and stability on a wide range of surfaces. This fantastic sneaker comes with Cleansport NXT technology to regulate foot odors. Cleansport NXT technology utilizes beneficial and natural microbes that are attached to the exterior of the footwear's fabric. The use of this technology in shoemaking leads to natural health benefits as well as odor regulation.
The Paisley has a lace-up closure that will provide you with comfort plus a personalized fit vital for standing and walking all day. Finally, the shoes' DuPont Sorona fibers helps regulate moisture to keep your feet dry and cool even with extended use.
Pros
Waterproof
Moisture absorbing DuPont Sorona fibers
Cleansport NXT technology for odor regulation
Removable triple-density footbed for shock absorption and arch support
Sturdy vibram rubber outsole
See also: Best Waterproof Nursing Shoes
---
Alegria Women's Debra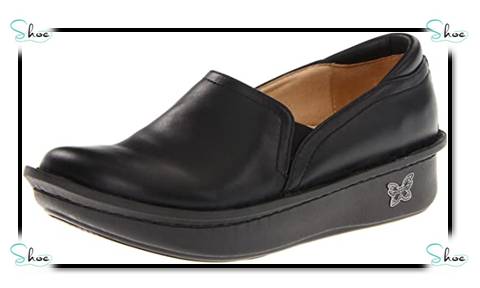 If you work mainly on your feet and walk a lot during shifts, then the Alegria Women's Debra Slip-on shoes are the best arch support clogs that are sturdy enough and specially engineered to provide you with great comfort, stability and support. In addition, slip-on footwears are fantastic for nursing professionals because they do not have to bother about stopping to tie shoe laces during shifts. The shoes are also visually appealing and available in a plethora of designs and colors.
Key Features
Rubber sole
Stain-resistant upper
Hand-stitched
Double elastic gore that allows for easy entry and removal
Suede leather insole
Leather upper plus lining
Foam footbed
The Alegria Women's Debra Slip-On offers great comfort and features a one-inch platform bottom that provides you with additional support and makes the footwear look more stylish. This slip-resistant clog is ready for anything on or off the hospital grounds. It also has a stain-resistant upper so you will never have to bother about messes or spills on the job.
The footwear's wide toe box provides you with sufficient room to spread your toes leading to a solid grip on the floor. It also comes with a replaceable insole that offers additional layer of cushioning plus extra support between the shoes' midsole and your foot. Furthermore, the insole is simple to remove so you can wash it and ensure it is always clean, or even replace it with a custom orthotic.
The Debra slip-on also has a breathable leather plus memory foam footbed for extra comfort, whilst the shoes' durable rocker outsole helps ensure you feel less tired after walking on your feet all day. Furthermore, the footwear's outsole is slip-resistant and provides a solid grip even on slippery or wet surfaces.
The Alegria Women's debra Slip-On is simple to clean and a safe choice for nursing professionals thanks to the shoes' stain-resistant leather upper and sturdy rubber sole.
Pros
Spacious toe box
Rocker outsole
Detachable insole
Lightweight and sturdy leather
Available in a variety of design and color choices
Slip and stain resistant
Cons
Takes a relatively long time to break in
Not all sizes are available
See also: Best Slip-On Shoes for Nurses
---
OOFOS Unisex OOCloog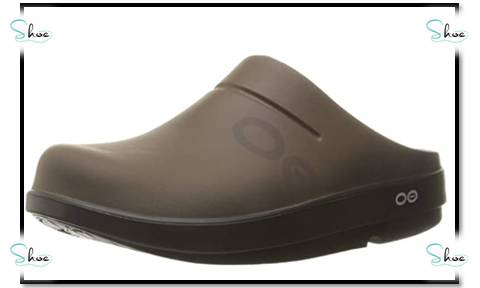 Some users say they do not like the way these shoes look, but looks can be deceiving, because with these shoes, you could experience the feeling of walking on air. The best thing regarding this footwear is that it is durable, lightweight, and comfortable, which is why it is extremely popular among nurses and other healthcare workers. In fact, If you are searching for the best orthopedic shoes for nurses that is simple to use and simple to handle, then look no further than the OOFOS unisex OOCloog.
Key Features
Rubber sole
Available in whole sizes
Machine washable
Oofoam Recovery technology for superior shock absorption and stability
Unisex design
Engineered to permit natural motion and relief
These impressive shoes offer great quality, which means OOFOS put a great deal of effort into the making of the footwear. To ensure the footwear's durability and support, the manufacturer utilized closed cell foam in the construction of the shoes. In addition, this type of foam material is resistant to moisture penetration, thus it can function as a water vapor barrier.
The clog has a rubber sole and that means it will last you a long time as well as perform well on varied terrains. The OOFOS Unisex OOCloog is machine washable, thus regardless of how many escapades your feet takes them on – a fast spin within the washing machine will get them sparkly clean once again.
Pros
Simple to maintain
Provides arch support
Impressive shock absorption
Great quality shoe
See also: Best Shoes for Nurses with Heel Pain
---
Vionic Women's Cosmic Codie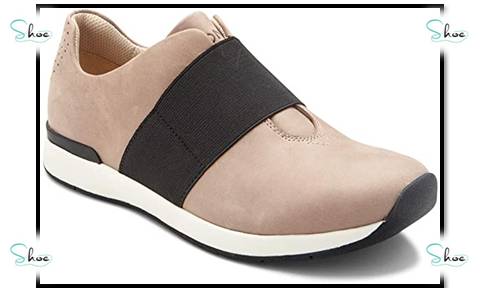 Vionic is a brand that really understands what is good for the feet. The women's Cosmic Codie is a simple footwear designed to provide users with the finest orthotic arch support as they walk. The shoes' podiatrist-designed footbed helps restore the natural alignment of the foot, thus making it easier to walk, stand, or engage in everyday activities without discomfort or pain. Whether you are searching for the best athletic shoes for nurses or a casual walking shoe with great arch support, you will find that the Cosmic Codie will meet all of your requirements.
Key Features
Rubber outsole
Nubuck or leather upper
Detachable mesh wrapped EVA footbed
Deep heel cup for better stability
Hidden orthotic arch support
This trendy slip-on sneaker comes with a leather or nubuck upper, which makes it a versatile footwear that can be worn with several outfits. The shoes' main selling point is its detachable mesh-wrapped EVA footbed. EVA footbeds are light, flexible, soft, and easily moldable. In addition, they enhance the cushioning capability of a footwear's midsole. All these means that the women's cosmic codie has a footbed that is ridiculously comfortable.
The shoe comes with a rubber outsole so you can wear them on any terrain or harsh environmental condition without having to bother about slipping and falling. The Cosmic Codie is also one of the best shoes for nurses with high arches as it is constructed with Vionic's orthaheel technology. This feature helps to alleviate problems like underpronation, plantar fasciitis, heel pain, back pain, and knee pain.
Pros
Quality leather upper
Reasonably priced
Good shock-absorption
Good traction on varied terrains
Cons
Some users have complained that the shoes are not true to size
See also: Best Supportive Shoes for Nurses
---
Brooks Women's Ghost 13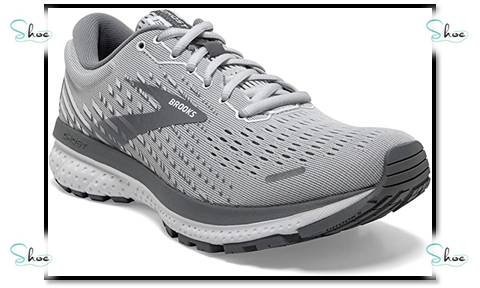 The Brooks team has decades of technology expertise and footwear design experience, and this has made their shoe series the premier choice for sports aficionados who desire a dependable sneaker with superb durability for enduring performance.  These shoes have also become a trendy option among nurses for delivering optimal all-day coziness during extended work shifts. The Ghost 13 is certainly not the greatest-tech running footwear in the Brooks line, but it provides plush underfoot cushioning plus an effortless transition with every stride. Nurses and other healthcare pros who desire secure, trendy, no-nonsense footwear for all-day wearing at work will adore this shoe.
Key Features
Rubber sole
Segmented crash pad
BioMoGo DNA midsole
Engineered mesh upper
DNA loft technology
If you are not a fan of the Ghost series from Brooks, you will definitely be won over by its trendy look. The graphic overlays fitted on the rearfoot and midfoot give the sneaker an exciting appearance. This is a departure from the previous iteration, which had a boring business-like look. And when your foot slides into the footwear for the very first time, you cannot fail to notice how good it feels on the foot. One customer remarked, "I loved the sink-in softness when my foot slid into the sneaker the very first time".
The midsole consist of BioMogo at the center and DNA Loft placed on the outside. These two cushioning materials combine to deliver a highly stable and balanced ride. Brooks claims the shoe delivers an ideal blend of responsiveness and plushness and many reviewers agree with this claim.
The outsole is produced from two distinct rubber materials with varying degrees of toughness, which gives the sneaker a high degree of flexibility. This highly supple, full-contact outsole helps to ensure good traction, stability, and effortless transitions as you go about attending to your patients. The shoe also features three broad flex grooves that cover the shoe's entire breath beneath the forefoot. These flex grooves help to boost the flexibility of the Ghost 13. There is, however, one downside to the outsole. Some reviewers say it is not so durable. One reviewer observed, "I have logged less than 200 miles with the shoe and I've noticed some patches of wear on the outsole".
Overall, the Ghost 13 from Brooks is a cozy neutral everyday trainer that will deliver wellness to your feet at the workplace. Its major asset is the plush Air Mesh upper that allows for supreme breathability. It is also ranked among the best shoes for high arches as it provides such superb arch support.
Pros
Comfortable upper
Delivers a stable ride
Effortless ride transitions
Trendy appearance
See also: Best Brooks Shoes for Nurses
---
Vionic Women's Drift Tokyo
If you are seeking comfortable and stylish sneakers to augment your nurse wardrobe, then the women's Drift Tokyo from Vionic may be just what you require. The shoe is outstandingly comfortable and is rated among the best shoes for nurses with high arches. One of the key selling points of this Vionic model is the mesh & synthetic upper, which is exceptionally breathable, soft, and flexible. The Drift Tokyo is lightweight and allows for effortless movement.
Key Features
Rubber sole
Stylish design
Mesh plus man-made uppers
A podiatrist-designed footbed
!st Ray technology that enhances forefoot flexibility and stability
Detachable EVA insole
Vionic designed this sneaker to provide you with the comfort you require to get through work shifts no matter how long they may be. If you have high arches, you should opt for this Vionic model as it has sufficient room within the toe box to let your toes spread. The interior is also adequately cushioned particularly at the heel as well as balls of your feet to prevent blisters and other painful foot conditions.
The Women's Drift Tokyo carries the APMA stamp of approval, which confirms that the sneaker is helpful in promoting foot health. Boasting an ergonomically engineered rubber role, the women's Drift Tokyo will make 12-hour shifts comfortable and simple.
Vionic crafted the shoe's upper using soft yet hard-wearing materials. The sneaker also boasts a stretchy, removable textile-coated EVA orthotic insole that helps keep your feet in proper alignment so you do not experience discomfort during your shifts.
If your work keeps you on your feet all day, these attractive Vionic sneakers are what you require to provide adequate support for your arches.
Pros
Three-zone comfort
Podiatrist-designed footbed
Enhanced gait and mobility correction
Flexible yet supportive
Cons
A few users with wide feet complain that the shoe is somewhat narrow
See also: Best Shoes for 12 Hour Shifts
---
Dansko Men's Wynn Casual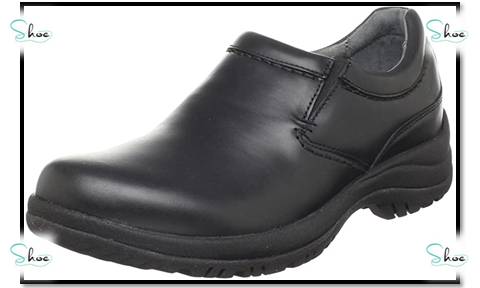 This slip-on clog from Dansko is a fantastic option for the male nurse who is searching for a comfortable work shoe that provides all-day protection during long work shifts. Made from one hundred percent genuine leather, the Dansko Men's Wynn Slip-On Clog perfectly blends sophistication with simple design to produce a durable and comfortable shoe for the fashion-conscious nurse.
Key Features
One hundred percent leather
Contoured footbed
Slip-on clog fitted with dual goring insets padded collar
Synthetic sole
The Dansko Men's Wynn Slip-On Clog offers a secure and snug fit to the wearer thanks to its slip-on construction with dual goring as well as a padded collar. The shoes' upper is made using a soft leather material that gives it a professional look. The smooth leather upper is simple to clean so you can be sure the footwear will remain like new for a very long time.
Aside from its professional look, the Wynn Slip-On Clog has a detachable insole that offers excellent arch support so you can wear them all day in comfort. The footwear also offers several other fantastic features that Dansko is known for, from the cushioned insole that adapts to the shape of your foot to the slip-resistant rubber outsole that will help you walk with ease on various floor surfaces.
Pros
Cushioned insole that adapts to the shape of your foot as you walk
One hundred percent authentic leather upper
Padded collar to prevent blisters and calluses from developing
Cons
Regular polishing required to preserve the shine
Breathability issues
See also: Best Shoes for Male Nurses
---
Merrell Men's Encore Gust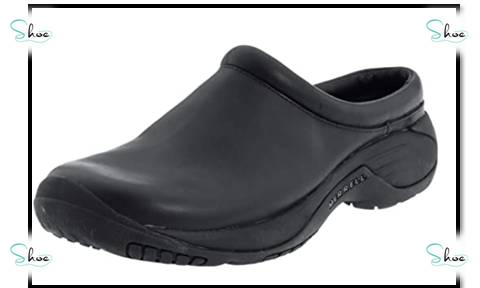 This black footwear from Merrell is an excellent choice for male nurses who desire a supportive, flexible, and comfortable slip-on shoe for walking or general casual wear. The Men's Encore Gust has a smooth, polished, and trendy look, and offers several appealing qualities that make it one of the best shoes for nurses with high arches.
Key Features
One hundred percent full-grain leather upper
Molded nylon arch shank
M-Select Grip sole
Ortholite footbed
Merrel air cushion within the heel for shock absorption
Compression-molded EVA footframe that offers better comfort and stability
Breathable mesh lining that wicks away moisture
The upper part of the footwear is produced from one hundred percent full-grain leather with a padded collar that allows for comfortable all-day wear. To keep your feet comfortable and dry during long shifts, the Men's Encore Gust has breathable mesh lining that wicks away moisture from your feet.
The interior of the footwear is fitted with antimicrobial materials that help to combat unwanted bacteria and odors. The shoes' midsole is supportive and properly cushioned and the heel area contains additional cushioning for better shock absorption. In addition, the Merrell Men's Encore Gust Slip-On Shoe comes with a rubber outsole that provides remarkable grip that has been praised by several users.
Pros
Durable rubber outsole
One hundred percent full-grain leather upper
Easy-to-wear slip on design
Ortholite footbed that absorbs shock and helps manage moisture
Cons
Available in only two color choices
Some users have complained that these shoes have a loose fit.
---
Important Things Nurses Should Know About Shoes for High Arches
The arch of the foot is that area between the heel and the ball. It is formed by bones and supported by tendons and ligaments. The arch is supposed to curve upwards, but some people suffer from what is known as flat feet, or fallen arches. On the other hand, it is possible to have arches that are higher than they should be. Either of these situations can be problematic and can lead to pain. Nurses who have high arches should make prudent choices when looking for shoes to wear at work. While high arches are not as common as low arches, minimizing stress on this part of the foot is important.
Anyone who has high arches should be mindful of the interior design of shoes. This is especially important for nurses who have to be on their feet all day. Aside from characteristics like cushioning and space in the toe box, stability and support are other important factors. While many shoes can accommodate custom orthotics for nurses with high arches, some shoes are designed specially to offer support for this part of the foot.
High arches on their own can be problematic, but they can be linked to other foot conditions as well. These include:
Plantar fasciitis
Hammertoe
Claw toe
Metatarsalgia
High arches can also affect the way the feet and ankles move as you walk. The ankles can become unstable, increasing the risk of falls and injuries. There is also an increased risk of developing shin splints.
Buying the Right Shoes
If you have high arches, your feet are less capable of absorbing shock. This is worsened by the fact that the average nurse spends many hours of the day walking or standing. This results in more strain on the heel and ball since less energy is being transferred to the arch. Look for nursing shoes with plenty of shock absorption to prevent damage to the ankles. In addition to cushioning, the shoes should be relatively roomy, but that does not mean that they should run big. They should fit well without feeling too tight or loose. The cushioning should allow the feet to settle to the point where the arches have adequate support.
For people who have high arches, lace-ups are generally better than clogs and most slip-ons. These shoes provide more control over the fit and tightness of the shoes. If you find a quality pair of shoes without built-in arch support, it should at least be able to use custom orthotics.
Shoe Design
Some shoes are made with features that improve the wearer's stability and support a natural gait. Any undue rolling of the ankles can be adjusted to some extent to minimize or prevent pain. The features you should look for include:
Rockered geometry – this means that the outsole is indented at the heel for shock absorption, slightly curved in the middle, and with a mild upward curve in the toe area. This designed takes over much of the function of the arch, so there is less work for it to do.
A wide base – a shoe with a wider base tends to be more stable, so it provides better support for the feet. This helps to give a more natural movement, and is beneficial when standing for long periods.
A roomy toe box – the space in the toe box allows flexibility in the feet. You not only move more naturally, the toes can spread out to keep the feet comfortable. A natural stance means less pressure on the arches even after being at work for hours.
Size and Weight
To keep pressure off your arches, make sure that the shoes you buy are the ideal size. If the shoes are too big, they will not provide the kind of support you need, regardless of the design features. If the shoes are too tight there will be severe discomfort, especially if you routinely work for long hours. It can also lead to swelling which can worsen many existing foot conditions.
Flexibility
High arches decrease foot flexibility as the feet tend to be more rigid. Flexible shoes will provide better support for natural foot movement. The flexibility in the shoe will give you more balance and help the feet to feel more relaxed. Keep in mind that the sole of the shoes can be flexible, while the upper is relatively rigid. Both parts of the shoe should be flexible to suit the needs of a nurse who has high arches.
Stability
Moving around a lot can be especially uncomfortable for a nurse who has high arches. The more you move, the greater your risk of developing an injury. A stable shoe minimizes pronation problems even under hectic working conditions. If there is plenty of cushioning and arch support, there will be less pressure on the arches.
It is understood that you should pay close attention to the quality of the material and the construction of the shoe. A tougher shoe can be worn for a long time before it starts to fall apart. This is an important factor as shoes worn by a nurse takes a beating. Lastly, check the sole to make sure that the shoes will provide traction to prevent sliding on slippery surfaces. Spills are common in hospitals and other healthcare settings so effective traction will minimize the risk of injury.
Frequently Asked Questions (FAQs)
Which shoes are most suitable for people with high arches?
Qulaity shoes that can help people with high arches are Dansko Professional Clogs, Dansko Women's Pro XP Mule Shoe, Naturalizer Marianne Slip On Sneaker, Brooks Ghost 12 Shoe, and Skechers For Work Women's Sure Track Slip Resistant Shoe.
Are there shoes that nurses recommend for high arches?
Based on their experience in the field, nurses have tried a variety of shoe brands and types over the years. Some of their top picks are Dansko Women's Pro XP Mule Shoe, Dansko Professional Clogs, Brooks Men's Addiction Walker Walking Shoes, and Croc's Specialist II Clogs.
How can I tell if I have high arches?
If you frequently experience foot and ankle pain, the source of the problem could be your arches. The arch is supposed to absorb shock, so when it is too high, there is more stress on the heel and ball of the foot. One way to assess your arches is to look at the wear pattern of your shoes. If the heels tend to wear more on the insides, this is because your feet roll inwards as a result of having high arches. One simple test involves wetting the bottom on the feet and then stepping on a sheet of paper. If you don't see the edge of the foot or just a little of it, then your arches are high.
Which arch supports work best for high arches?
Popular products for supporting high arches include Easyfeet arch support insoles, Sof Sole Insoles Women's High Arch Performance Full Length Foam Insert, New Balance 3810 Ultra Support Insoles and Superfett Green Insoles Professional Grade High Arch Orthotic Insert.
Are high arches worse than flat feet?
High arches and flat feet are not guaranteed to cause pain or injury, but they do put you at increased risk. Both cases can put you at risk for conditions such as plantar fasciitis and Achilles tendonitis. The rolling of the ankles in either direction can also lead to pain in the ankles, knees and back.