7 Best Running Shoes for Nurses – Reviews & Guide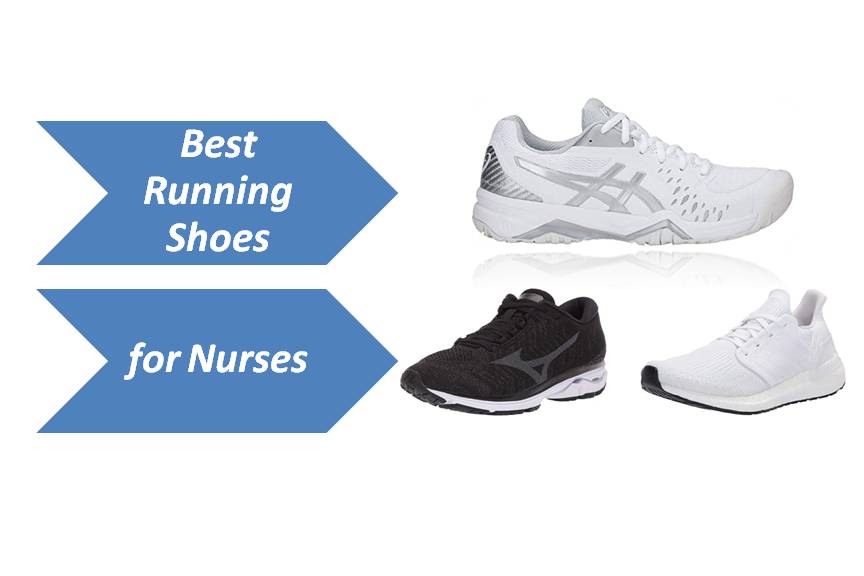 Due to the current Coronavirus pandemic, nurses and other healthcare professionals are working longer hours and more shifts. This career field is challenging enough, as the average nurse may find it difficult to take breaks. The right footwear is essential not only for their comfort, but also for their health and overall wellbeing. Spending long periods standing or walking can put stress on the feet, legs, and lower back. Choosing quality footwear can help to prevent foot conditions such as fallen arches and plantar fasciitis.
Running shoes are often considered ideal for the high-pressure setting of a hospital. Since they are built for running, they are usually capable of absorbing the shock that comes with the weight of the body suddenly being transferred to one foot. This makes them ideal for wearing for long periods. Another consideration is that some running shoe brands are made from high-quality materials. These shoes can take a beating without starting to fall apart quickly. Most importantly, many of these shoes are built with special features to ensure the comfort for the wearer. This list has some of the best running shoes for nurses and other healthcare professionals.
Best Running Shoes for Nurses – Top Picks
Hoka One One Women's Bondi 6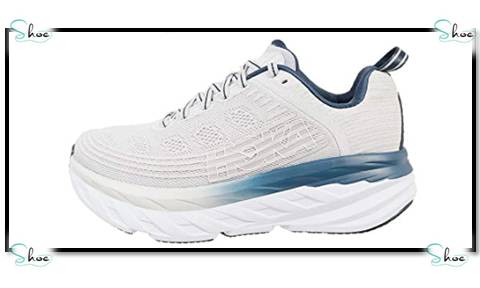 The HOKA brand continues to make an impression among professionals in the healthcare system for its reliable products. It makes the best running shoes for work and various types of physical activities. The Women's Bondi 6 Running Shoe hits all the right marks and gives a high level of comfort. The rockered geometry gives the wearer an easy transition with each step. The slightly lower heel easily absorbs the force of the foot placement, transferring the energy to the forefoot for the push-off. This supports the gait and gives plenty of bounce whether the wearer is running or walking. The wide base makes the shoe stable and is especially beneficial to nurses who have minor pronation issues. The shoe has seamless synthetic overlays for a refined look, and the comfortable, foam-padded insole can be removed if needed. This shoe is a proven performer and is designed to keep feet comfortable for long hours.

Pros
The mesh material is breathable so the feet will stay cool during long shifts.
The textile lining helps to prevent abrasions.
The full-length EVA midsole does a good job of absorbing shock to lower stress on the joints.
Rubber inserts in the tough sole enhance the traction.
Cons
While this shoe generally holds up well to heavy use, some glued sections may start to lift after a while.
In damp conditions they can feel soggy.
See also: Best Trainers for Nurses
---
Brooks Women's Addiction Walker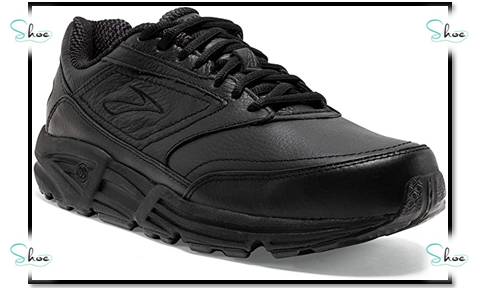 These shoes have all the right features to be listed among the best work shoes for nurses. It comes in a range of widths, making it easier to find the perfect size. The cushioning was designed to adapt to the weight of the wearer. It also provides the kind of support a busy nurse needs to keep going. The Extended Progressive Diagonal Rollbar is a feature that is meant to provide arch support. Even nurses who have low arches will find it easier to move and adjust their stride when necessary in a pair of these shoes. The MC Pod construction at the forefoot and the specially designed outsole work together to add stability and enable natural movement. The design of the sole contains the pressure from the heel strike to reduce stress on joints. This flexible shoe is capable of gently guiding the feet for a natural range of motion. It is made of mostly manmade materials, but has a sturdy synthetic sole and full-grain leather upper. While some may prefer the Brooks Ghost Running Shoe for standing all day, the Women's Addiction Walker is highly capable of meeting the challenges of nursing.
Pros
The slip-resistant sole helps to keep nurses safe on the job.
The style makes it suitable for different settings away from work.
These shoes can help people who have overpronation issues.
There is a lot of cushioning for comfort and shock absorption.
Cons
There are occasional sizing issues and some people have to go up a size.
They are relatively cool, but still not as breathable as other types of popular nurses shoes.
See also: Best Sneakers for Nurses
---
Mizuno Women's Wave Rider 23
Many of the best shoes for nurses are not as sleek and stylish as this offering from Mizuno. The brand's proprietary WAVEKNIT gives it an attractive texture that makes it stand out among the competition. This special knit also significantly enhances the fit, and allows the shoe to flex naturally, matching the movement of the feet as you walk. This superior fit also keeps the shoes from slipping even after being worn for hours under stressful conditions. With a comfortable ride and a highly responsive feel, this shoe is a technological upgrade compared to many other running and walking shoes. It is well cushioned for hours of comfortable use. The modern styling is complemented by a host of useful features that promote stability and a natural gait. It absorbs a lot of the shock of walking but is still responsive to the wearer's movements. The Mizuno Women's Wave Rider 23 Waveknit Running Shoe is lightweight but sturdy enough to suit the daily wear and tear of the average nurse's workday. This model has a number of improvements over the previous version. It is built for mileage, so you can expect it to last for a long.
Pros
It has a roomy toe box for wider feet.
It molds well to the user's feet minimizing the risk of abrasions or discomfort.
The breathable material will help keep the feet cool.
Cons
A little bit of breaking in might be needed before these shoes feel fully comfortable.
It has a feeling of firmness underfoot which might be uncomfortable for some people.
See also: Best Gym Shoes for Nurses
---
New Balance Women's 520 V5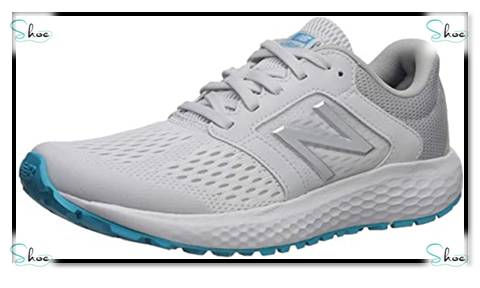 This shoe from New Balance has all the right features to make it one of the best nursing shoes for 12-hour shifts. The injection-molded EVA insole will cradle the feet and keep them comfortable. The New Balance shoes hold up well as it supports your entire body. It is made from 100% synthetic materials, and has a sturdy rubber outsole. The high performance-insert increases responsiveness for smooth and energized movement. The mesh upper gives these shoes a modern and stylish look, but it also manages to come across as very athletic. The stitching lines are basic, so the attractive mesh upper remains the dominant part of the aesthetic. It was designed to be gentle on the feet, while being tough on the outside to hold up to rigorous use. Flex grooves in the outsole allows this shoe to move naturally with changes in the position of the foot for comfortable all-day wear and a natural stride. A cushioned collar and tongue make them easy on the feet even when laced up tightly. They are lightweight, so they will not negatively affect your stride or pace. The fact that the design of the upper was data-inspired should give users a lot of confidence in the reliability of this shoe.
Pros
The stylish look makes it suitable for various settings.
These shoes are true to size, so there are generally no problems in finding the right fit.
You can put memory foam inserts inside for additional comfort.
Cons
A break-in period might be needed before they reach the full level of comfort.
Some users have found them to be slightly narrow.
See also: Best Walking Shoes for Nurses
---
Adidas Women's Ultraboost 20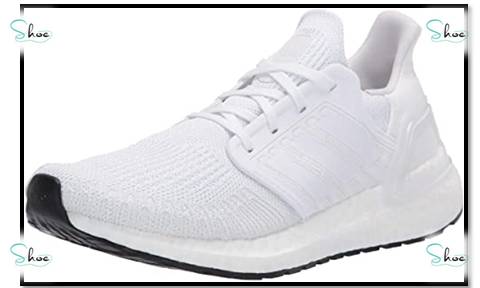 This is a proven performer that lives up to the expectations that come with this brand. It has a mesh knit which molds to suit different foot shapes and ensures a relaxed and comfortable fit. It will move with the feet for a relaxed posture and stride. It has a practical, no-nonsense look that will instantly rank it among the best shoes for nurses. Sleek lines make this shoe stand out among many similar products. The stylish design makes it just as suited for a professional athlete as it is for a nurse. It has a tough outsole that holds up well under heavy use, and ensures lasting value. The soft cushioning is gentle on the feet while providing plenty of support. This keeps stress off the ankles and knees. The shape of the outsole reflects the standard required by many nurses today. The slightly rounded heel will absorb the shock of the heel strike, and the curve of the forefoot helps with every push-off. The outsole makes these shoes very stable, and they assist in keeping your stride uniform. The rubber sole provides good traction on wet surfaces. They are lightweight, and generally run true to size.
Pros
These shoes provide the wearer with good arch support for comfort and less pain.
Reinforced stitching makes them tougher than many comparable products, and help in providing long-term value.
Much of the body of the shoe is mesh, so the shoes are breathable, and can be worn for longer periods. This also helps to keep the feet cool.
It has a high collar which combines with the soft mesh for a superior fit.
Cons
While most users do not have problems with the size of the toebox, people who have wide feet may find these shoes slightly narrow.
They can go for as much as $300, so this option is a little pricey.
See also: Best Athletic Shoes for Nurses
---
ASICS Women's Gel-Challenger 12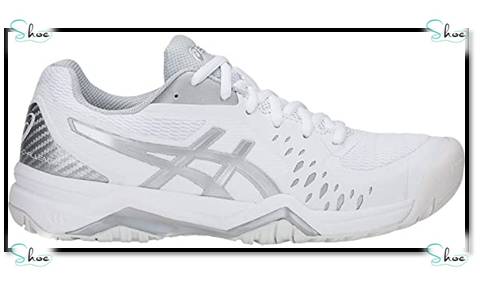 Despite the fact that this is a lightweight shoe, it is generally regarded as a workhorse. It has a sturdy outsole which will not wear down quickly. The overall look shows that quality material and top-notch workmanship was used. This shoe is just as attractive as other products from the brand. It is somewhat lighter than many other ASICS shoes. Users will attest to the comfortable and smooth strides this shoe provides. A combination of synthetic materials and fabric, the ASICS Women's Gel-Challenger 12 Tennis shoes looks like a product many professional athletes would be happy to wear. From an aesthetic standpoint, it has a few flourishes that put it far ahead of other popular nursing shoes. The gel cushioning supports the feet evenly, and encourages natural movement regardless of your pace. The mesh upper gives the shoes flexibility for comfortable movement. The upper also enhances the fit. This shoe will remain snug even after being worn for hours. Despite the fact that it fits the feet so closely, there is no pinching, and the toes flex easily.
Pros
The cushioning easily absorbs shock leading to less pain and fewer feet issues.
It has arch support and encourages stable movement to reduce stress on the ankles.
The sockliner helps to pull sweat away from the feet which increases comfort and minimizes foot odors.
These shoes can accommodate custom orthotics.
Cons
The level of arch support is not as good as some competing shoe brands.
People who have wide feet may feel that these shoes run a bit too narrow.
See also: Best Tennis Shoes for Nurses
---
Hoka One One Women's Rincon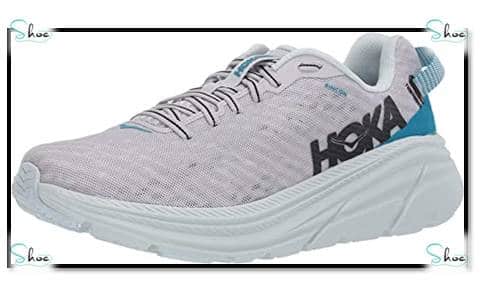 This trainer is a new addition to the Hoka lineup of long-run shoes. It is a plush, lightweight, easy-riding shoe that is adequately padded for long-distance runs yet sufficiently versatile for all-day wear. While the HOKA ONE ONE Women's Rincon has a contemporary and trendy design, what makes the trainer stand out is its blend of cushioning, design, and upper philosophy. It is unquestionably one of the best shoes for nurses as it will hold up fine as well as deliver a fantastic degree of cushioning when you are working those extended and difficult shifts. Keep reading to discover more about this novel shoe from HOKA.
Key Features
Single sheet mesh upper delivers good breathability without extra weight
Heel pull tab that helps ensure easy on/off
Slim tongue package
Rubber outsole
Meta-Rocker design
Full compression EVA midsole
The HOKA ONE ONE Women's Rincon Running Shoe comes with a brawny and no-nonsense appearance. While it has the signature Hoka massive sole, it does not appear exaggerated on this version. "When the shoes arrived, I was pleased with the appearance. I especially loved the slick look of the upper", commented one customer.
The Rincon comes with a 32 mm stack height within the heel while that at the forefoot is 32mm, which means a 5 mm drop. To deliver the high degree of padding you would anticipate from this stack height, Hoka utilizes a full-compression EVA substance within the midsole. The EVA material Hoka employed for the midsole does not feel excessively plush, but it does offer sufficient padding and reasonable energy return.
Like other parts of the trainer, the upper of the women's Rincon is uncomplicated and efficient. The shoe breathes well thanks to the open mesh fabric of the upper. The reasonably padded tongue along with the pliable laces helps ensure a locked-in, yet cozy fit. Wearing or removing the trainer is also very simple thanks to its comparatively large heel pull-tab.
Concerning fit, the Rincon offers a locked-down yet cozy heel cup plus midfoot that will work extremely well for individuals with narrow feet and low arches. The stretchy mesh upper will allow your toes to spread out naturally, but you may find it a little constricting if you have very wide feet. Hoka does have broad editions of many of their running shoes, but sadly, the Rincon just happens not to be one of them.
In the end, the women's Rincon from Hoka will appeal to nurses who value a light, airy feeling beneath their feet, regardless of how long they intend to wear the shoe. Although designed for runners, the shoe has been touted as one of the best running shoes for nurses due to its extraordinary comfort and support features.
Pros
Offers loads of cushioning
Super lightweight
Highly responsive
Breathes well
Trendy design
Cons
May not fit well for wide footed individuals
---
Nursing is a tough career, and a variety of tools help in doing the work effectively. Shoes may seem like a minor concern, but comfort adds to the sense of wellbeing and mental fortitude. With so many different types of shoes on the market, choosing the right type is not always easy. A brand may score high marks in one area, but fail in others.
Many nurses develop foot and joint problems simply due to the rigors of the job. This must be taken into account when looking for the right shoes. A stable pair of shoes with good foot support, especially in the arches, can help in preventing conditions related to working for long hours. Shoes for nurses come in a variety of sizes, styles, and prices. The brands listed above should make find the right pair much easier.
How to Choose the Best Running Shoes for Nurses?
When your job involves being on your feet for most of the day, it becomes essential that you find the appropriate pair of shoes. This is especially true for nurses because these professionals dedicate most of their work hours to walking, running, pushing, and lifting. The best shoes for standing all day should provide loads of arch support, absorb shock, control pronation, fit properly, and uniformly distribute your body weight on your feet. Running shoes are made for running but they come with features that make them suitable for standing all day. If you choose running shoes for work, this guide will point out the most important factors you should consider when shopping for the best running shoes for nurses.
Vital Features to look out for When Buying Work Shoes for Nurses
Protection
The running shoes you select should be able to protect you from certain environmental elements in the hospital. Aside from being a bad choice, open-toe shoes are typically prohibited within most healthcare facilities due to sanitation and safety reasons. A running shoe with an extremely thin mesh upper would also not be a great option either. As a nurse, you will encounter blood and bodily fluid spills as well as other harmful substances such as toxic chemicals. This is why you need shoes with the right kind of upper construction.
Sneakers with synthetic or leather uppers will provide adequate protection against spills and fluids as well as sharp objects like blades and needles. However, this comes at the expense of breathability in most instances. Your work shoes should also protect you from trips, slips, and falls. Go for running shoes with rubber soles as these provide reliable traction on wet & slippery surfaces.
Support and Stability
Nurses are constantly on the go thus they need footwear that provides proper arch support as well as absorbs shock to lessen the likelihood of soreness and pain during their shifts.  Running shoes with extremely soft soles are not appropriate because the cushy plush sole tends to flatten quickly, which in turn decreases the shoe's support function. Look for sneakers that provide lasting support to ensure your feet stay properly aligned and comfortable no matter how long your shifts are. Several nurses admit that running shoes with memory foam insoles provide outstanding arch support and comfort even during extended shifts.
See also: Best Supportive Shoes for Nurses
Comfort
Most modern running shoes are crafted to provide comfort and stability while running. That is why many nurses opt for this type of footwear over others. These shoes are engineered to adapt quickly to the fast movements you make when running or walking. When shopping for the best running shoes for nurses, go for ones that are lightweight, breathable, and provide enough room for your toes to splay wide.
Design
When buying nursing shoes, check to see that they are comfortable, can absorb shock, and are well cushioned. Style should come last. There is no point in your shoes looking fashionable if they hurt your feet. Nevertheless, you do not always have to sacrifice fashion for comfort. These days, there are several designs of running shoes that are extremely comfortable and also stylish.
Brands to Look Out for Best Running Shoes for Nurses
ASICS
Founded in 1949, ASICS is a well-known producer of top-quality running shoes. The company is most popular for its Gel line of running shoes. These shoes come with features like a detachable sockliner that you can swap for a custom orthotic, forefoot & rearfoot gel technology cushioning for superior shock absorption, and moisture-wicking ortholite sockliner to keep your feet dry and fresh throughout the day. The ASICS Women's Gel-Challenger 12 is one of the brand's finest creations. Many nurses and other healthcare professionals choose this model due to the shoe's comfort and top-notch workmanship.
See also: Best Asics Shoes for Nurses
Brooks
The American sports equipment firm Brooks is best known for making high-performance women's and men's running shoes and clothing. The over 100-year-old brand is popular throughout the globe and has long been the preferred choice among nurses, as their shoes are extremely durable and comfortable. The Brooks Women's Addiction Walker is one of the best Brook's running shoes for nurses. The shoe is both long-lasting and comfortable – thanks to its full-grain leather upper. It also features Brook's highly esteemed BioMoGo DNA for enhanced cushioning and support. The women's Addiction Walker also has a non-slip outsole to ensure your safety on the job.
See also: Best Brooks Shoes for Nurses
Adidas
Most running shoes from this brand are exceptionally comfortable and extremely versatile. As you may already be aware, the Ultraboost series is one of the brand's most popular models. The Adidas Women's Ultraboost 20 Running Shoe is an established performer that meets the high expectations associated with this brand. The shoe's mesh knit upper allows for excellent breathability while providing a relaxed and cozy fit. The light and durable outsole will endure whatever you throw at it, and the plush cushioning will give you that pillow-like ride.
See also: Best Adidas Shoes for Nurses
New Balance
There are two main reasons why nurses love this Brand. To start with, their products are of the highest quality being an American company. Secondly, the company offers a wide range of designs that deliver outstanding support and comfort all day long. One of the finest offerings from the brand is the New Balance Women's 520 V5. These cozy running shoes feature underfoot flex grooves plus data-inspired comfort technology to ensure you enjoy all-day comfort.
See also: Best New Balance Shoes For Nurses
Frequently Asked Questions (FAQs)
Is the Brooks Women's Addiction Walker good for standing or walking on concrete all day?
Yes, this Brook's model is an excellent choice if you walk or stand on concrete throughout the day.
Does rain or water ruin running shoes?
While most running shoes will not get wrecked by the rain, it is best you avoid wearing them under the rain. Running shoes can be pricey so you should take some measures to protect your investment.
Why can't I simply choose a shoe with pleasant colors?
Your foremost priority when buying a nursing shoe is to select function over fashion. There is a broad range of running shoes that meet the needs of nurses so you should choose from among these.
Does the New Balance Women's 520 V5 provide stability?
Yes, it does aside from being a great shoe for comfort and stability.
Conclusion: Best Running Shoes for Nurses
So there you have it. Vital features to bear in mind when purchasing the best running shoes for nurses and a list of the major brands to consider. Remember, the best method to know for sure whether a shoe fits well is to try on the shoe. Therefore, before you settle for a particular brand, ensure their return policy is okay for you.