11 Best Athletic Shoes for Nurses – Top Rated Sneakers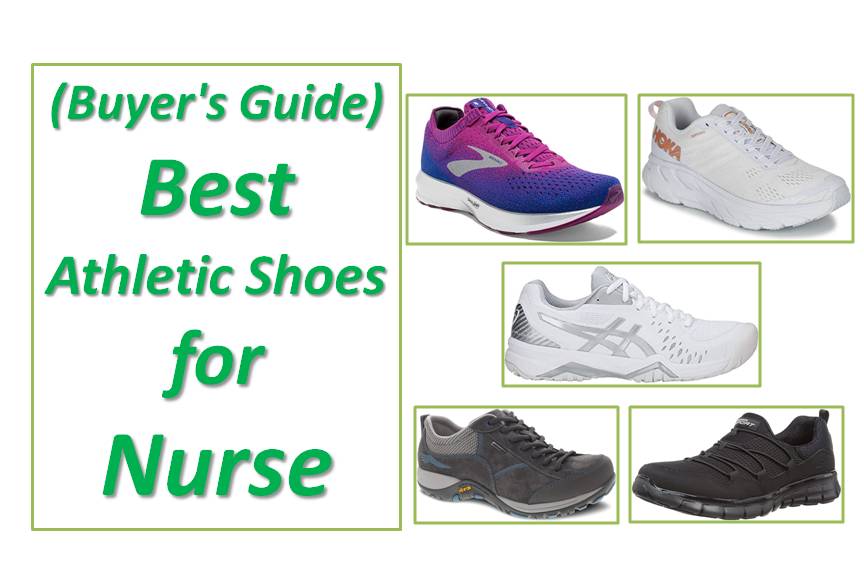 Studies have shown that the average nurse working a ten-hour shift walks up to 3.5 miles per shift. If you do this amount of walking, then wearing supportive and comfortable footwear is absolutely critical to keep your feet healthy and pain-free. Athletic shoes have become a fantastic choice for nursing professionals who want to have supportive and comfy shoes without having to opt for conventional nursing shoes or clogs. This is because most athletic shoes are made with innovative features that allow for smooth movement. Here are 11 of the best athletic shoes for nurses who are on their feet all day.
Best Athletic Shoes for Nurse – Women and Men
Brooks Women's Levitate 2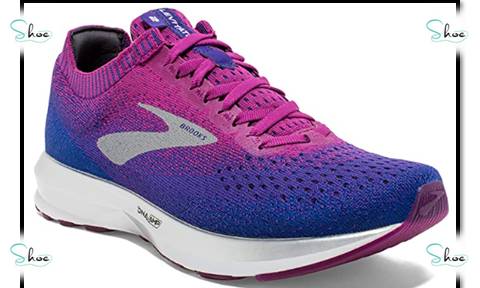 Levitate 2 shoes have been said to be the most cushioned and bounciest neutral running footwear available in the market today. The Brooks women's Levitate 2 lives up to these features as it offers plenty of cushioning and flexibility, which makes it one of the best running shoes for nurses on feet all day.
Key Features
DNA AMP midsole for impressive cushioning and shock absorption
Adjustable fit knit upper for supreme comfort
Lace-up closure that allows for a snug fit
Wide toebox
The Brooks Women's Levitate 2 Running Shoe comes with an adjustable fit knit upper – a feature that distinguishes it from other running shoes in its price range. The stretchy fit knit upper comprises a heel wrap as well as an Achilles guard that will help keep your Achilles tendon from becoming inflamed. Inflammation of the Achilles tendon can occur as a result of repetitive running and walking. Aside from its protective function, the collar wrap provides a lustrous and trendy appearance that is not available in several other running footwears.
The footwear has mid to high arch support, which means it is perfect for individuals who have tendon issues within the foot such as plantar fasciitis. The shoes upper is attached to a sturdy crystal rubber outsole that delivers fantastic traction, high durability, plus plenty of flex adding more support to every stride. The Women's Levitate 2 has a lace-up closure that assures you a secure fit and its DNA AMP midsole ensures you enjoy a bouncy walk and cushy feel.
Another feature that makes the women's Levitate 2 one of the best walking shoes for nurses is its wide toe box. A wide toe box shoe will help keep your toes from crowding each other thereby reducing discomfort.
Pros
Versatile
Responsive
Well constructed
Amazing cushioning and bounce
Fashionable upper design
Cons
Heavy compared to similar brands in its price range
Some users have complained that the shoe's fit is not good
See also: Best Running Shoes for Nurses
---
ASICS Women's Gel-Challenger 12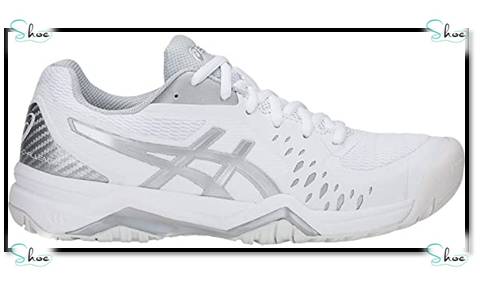 The Asics shoe brand is renowned for being sturdy and reliable, which is why several nursing professionals choose them. These shoes also deliver lots of comfort at a fantastic price. The footwear comes with Asics' signature Gel Cushioning and seamless fit thus ensuring you can move freely and naturally. It is one of the best athletic shoes for nurses who spend 8-plus hours every day standing and walking at work.
Key Features
Removable ortholite sockliner that helps with moisture management
Solyte midsole that provides a responsive feel
Abrasion-resistant technology that ensures durability
Rubber sole
Trusstic shank embedded within the midfoot for additional stability
Aharplus outsole for enhanced traction plus better durability
This durable and lightweight footwear has been engineered with your comfort as well as endurance in mind as you work for long hours on your feet. The footwear offers a lot of stability and cushioning and that is partly thanks to the Solyte material that runs all through the midsole. The women's Gel Challenger 12 also features a strong AHARPLUS outsole that helps diminish the effects of wear and tear particularly at rough and heavy contact areas.
You can enjoy a more efficient toe-off as well as reduced shock when walking – thanks to the footwear's forefoot and rearfoot Gel Technology Cushioning system. This feature ensures you can move about without any pain on your feet so you can concentrate one hundred percent on the work you do.
The women's Gel challenger 12 also features a detachable ORTHOLITE sockliner that you can replace with a medical orthotic as well as TRUSSTIC SYSTEM technology that helps regulate your gait.
Pros
Highly flexible and stable
Impressive cushioning
Available in a wide range of colors
Comfortable and durable
Great ankle support
Cons
Some users say they had issues with the sizing
See also: Best Tennis Shoes for Nurses
---
Skechers Women's Memory Foam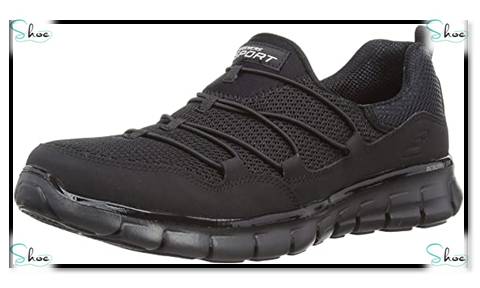 This sneaker from Skechers has all the features you require to keep you confident and comfortable on your feet during long shifts. It is one of the finest shoes by Skechers for women, as the several enhancements and innovations packed in this footwear is without a doubt very unique. This impressive shoe can serve several purposes, and if you cannot avoid standing on your feet all day then it may be the best fit for you.
Key Features
Slip-on sneaker that has a breathable mesh design
Rubber sole for great traction and grip
Memory foam insole
Made with mesh fabric plus faux leather
Flex groove outsole
The Skechers Sport Women's Loving Life Memory Foam Fashion Sneaker offers supreme comfort to the wearer and that is mainly due to its lightweight design and the memory foam layer. It also boasts a flex sole midsole that is crafted to enhance comfort plus range of motion. The footwear's predominantly mesh upper helps ensure sufficient level of airflow and ventilation, which means you feet will stay cool and comfortable all day. This is why the shoe is ranked among the best shoes for nurses standing all day.
Even though the Skechers Sport Women's Loving Life Memory Foam Fashion Sneaker has a sporty appearance, it can still be worn within a medical environment. This means the shoe is appropriate for both casual wear and work attire. The footwear is comparatively inexpensive taking into consideration the impressive features it offers. Its trendy appearance combined with functionality and comfort makes the shoe an excellent investment.
Pros
Great midsole cushioning
Comfortable design
Reasonably priced compared to similar brands available in the market
Lightweight design that is ideal for standing on feet all-day
Breathable mesh upper that helps keep your feet cool
Durable construction
See also: Best Sneakers for Nurses 
---
Prince Women's T22 Shoe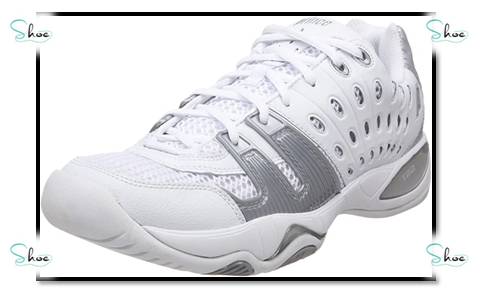 The T22 Tennis shoe is originally made for the professional female tennis player who values comfort, top performance, and lightweight. Nevertheless, the footwear will also be appropriate if you do most part of your job on your feet particularly on hard surfaces. The shoe is supportive and sturdy and comes with an impressive shock eraser midsole that helps reduce impact, particularly in areas where your feet requires the most support.
Key Features
Rubber sole for better traction and durability
PRC 1000 outsole that ensures durability
Made from mesh and synthetic materials
Has wishbone shank that allows for enhanced midfoot stability
Available in various color combinations
Shock eraser midsole that help reduce the impact
The Prince Women's T22 Tennis Shoe is fashionable as ladies love fashion, and comes in a variety of six color choices so you will most likely find a shade that suits your personality. The footwear has a wishbone shank – a feature that is designed to provide greater stability to your midfoot thereby making walking easier and painless.
The women's T22 has mostly synthetic and mesh upper, which is engineered to keep the air circulating freely, whilst also ensuring your feet are adequately protected. The shoe's rubber sole is crafted to provide better flex and enhanced traction for a natural walking feel. In addition, the T22 comes with a PRC 1000 outsole that provides greater traction and durability on several different kinds of surfaces.
This multi-function shoe also offers a lot of stability and comes with a RASH toecap that will help shield your toe from abrasion when walking. The footwear is one of the best athletic shoes for nurses as it comes with nice padding and cushioning. This features helps to ensure your feet does not get soaking wet as you stand and walk about all day at work.
Pros
Impressive cushioning
Fast to break-in
Long-lasting rubber outsole
Sturdy and supportive
High breathability
Cons
Heavy compared to similar brands in its price range
See also: Best Trainers for Nurses
---
Dansko Women's Paisley Sneaker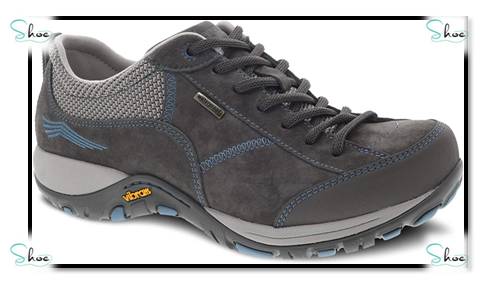 If you are a fan of Dansko shoes but prefer something aside from clogs, then the Dansko Women's Paisley Waterproof outdoor sneaker may be one of the finest options for you. It is a lovely functional sneaker that can hold its own against any other walking shoe available in the market. The footwear is built to withstand stormy weather with its waterproof leather uppers plus synthetic rubber outsole that delivers durable grip on a range of surfaces.
Key Features
Waterproof leather uppers
Lace closure
Odor reducing CleansportNXT
Arch support
Shock absorbing detachable triple-density footbed
Stabilizing metal shank
Slip-resistant synthetic rubber outsole
Moisture checking DuPont Sorona Fibers
The Dansko Women's Paisley is a shoe that can take you from your workplace to the grocery store and anywhere else in between. The sneaker has a one hundred percent waterproof leather upper so when you wear them indoors or outdoors, you need not bother about ruining them. The shoe's durable synthetic rubber outsole has rubber flex grooves and grip treads for optimal safety irrespective of the terrain you find yourself.
This lace-up style sneaker is available in a variety of great color options so you will definitely find one that will go perfectly with your nursing uniform. It has a detachable triple-density footbed, which means you can easily install orthotics beneath for extra support if there is need for that.
The footwear's odor reducing CleansportNXT technology and moisture-checking DuPont Sorona Fibers makes it one of the best gym shoes for nurses.
Pros
Slip-resistant synthetic rubber outsole for excellent traction and grip
Available in a variety of color options
Waterproof leather upper for comfort and overall water resistance
Cons
Some users have complained that the insole slides around when walking
See also: Best Waterproof Nursing Shoes
---
New Balance Women's 520 V5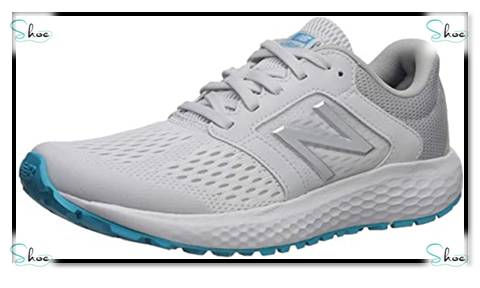 A good nursing footwear should combine safety, comfort, and support altogether. The New Balance Women's 520 V5 running shoe is engineered to provide all of these for running, walking, and completing everyday tasks. This durable women's running footwear is crafted with underfoot flex grooves plus an innovative foam compound that gives the wearer an ultra-soft feel.
Key Features
Breathable mesh upper
Supportive foam midsole
Lace-up closure for a snug fit
Durable rubber outsole plus flex groove traction treading for enhanced stability
Soft lining plus a well-cushioned comfort footbed
Injection Molded EVA for extra cushioning
The women's 520 V5 from New Balance is ranked among the best athletic shoes for nurses because it is extremely lightweight, yet feels durable and supportive on the foot. Light footwear decreases exertion and are particularly essential when a nurse works very long shifts. The upper shoe construction is mainly a synthetic, breathable, supple mesh, and provides sufficient support to allow for extended use on practically any terrain.
Furthermore, the footwear has a comfortable collar that will provide a padded grip around your ankles. As regards durability and stability, the footwear's outsole is produced using a sticky rubber material that enables it to provide impressive gripping force plus durability. The New Balance Women's 520 V5 Running Shoe also features an injection-molded EVA insole that provides lightweight cushioning and support. You can also enjoy a smooth walking experience with this lightweight footwear – thanks to its underfoot flex grooves that expand with each step you take.
If you have narrow feet, there is no need to worry about fit as the Women's 520 V5 has a lace-up design that will provide a snug fit around the mid-section of your foot. The shoe is also available in a range of colors so you can choose one that suits you best.
Pros
Lightweight construction that is perfect for extended use
Available in various eye-catching colors
Injection-molded EVA that provides extra comfort
Sturdy rubber outsole that provides excellent traction and grip
Cons
Narrow and small fit
Shoes are somewhat costly compared to similar brands in the market
See also: Best Gym Shoes for Nurses
---
Adidas Women's Ultraboost 20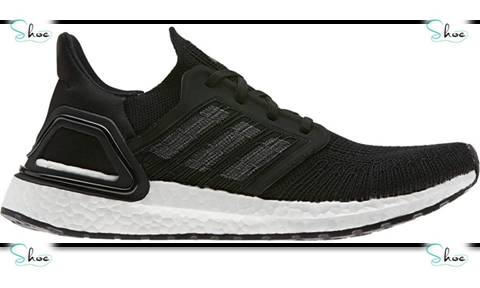 Adidas is a popular brand globally and is famous for delivering first-class quality and comfort. The company is regarded as one of the best when it comes to manufacturing athletic footwear. The Adidas Women's Ultraboost was originally made as a running shoe, but has now been infused with technology that has made it one of the best athletic shoes for nurses as well as other healthcare professionals. The running shoe also has a stylish appearance and designed as multipurpose footwear thus you can pair it with any casual outfit of your choice.
Key Features
Rubber sole that provides excellent grip
Primeknit upper that makes it ultra-breathable and comfortable
Energy return system that provides impressive cushioning and resiliency
Well padded plus cushioned heel
The Adidas Women's Ultraboost 20 Running Shoe features a continental stretchweb outsole that provides enhanced grip. What this means is that you will enjoy superior traction when walking on slippery surfaces and will not have to worry about slips and falls.
What makes the Adidas Women's Ultraboost 20 Running Shoe so comfortable and stylish? It is actually partly due to the Primeknit component that covers the upper part of your foot. Many customers have raved about the footwear's comfort and stylishness. Several users including nursing professionals mention that the footwear provides a "snug-like comfort". The shoe's primeknit upper is breathable so you can be sure your hardworking feet will get all the air they require.
Another feature that makes the women's ultraboost 20 one of the best shoes for nurses standing all day is the Boost foam utilized in constructing the footwear. This foam is one of the most durable materials available in the market and it delivers additional energy each time your foot strikes the ground. The boost foam will help ensure you do not get that sunken-in recliner feel even after covering 200 miles in this footwear.
Pros
Extremely comfortable upper
Reliable Boost cushioning
Continental Stretchweb outsole that provides fantastic durability and traction
Impressive energy return
Cons
Some users have complained that the shoe feels a little heavy
---
Skechers Women's Go Walk 4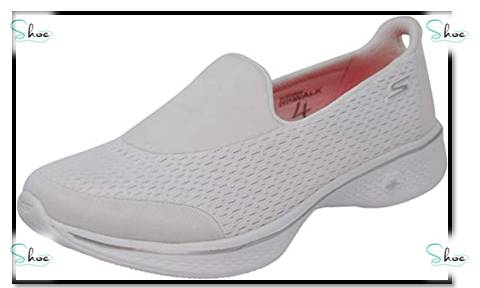 The main selling point of this women's walking shoe from Skechers is its comfort and lightweight design. The footwear's breathable uppers make it extremely comfortable and you can be sure the shoe will keep your feet fresh and cool all through the day. The Skechers Gowalk 4 pursuit also has a fantastic mid-sole cushioning plus arch support to keep your feet comfortable as you plow through your workday.
Key Features
Breathable fabric mesh upper
Innovative and extremely responsive 5Gen midsole cushioning
Textile inner material
Slip-on closure
Side S logo
Goga Max Footbed technology
Synthetic outer material
Goga pillars outsole technology
Bamboo lined footbed
The women's Gowalk 4 pursuit comes with a fabric mesh upper that naturally expands as well as adapt to the shape of your foot as you move. The upper was crafted with adequate breathability to keep your feet comfortable, cool, and dry during those long shifts. In addition, the natural expansion of the shoe's mesh upper also provides the user a comfortable and snug fit even during extended use.
There are also soft fabric overlays placed at the shoe's instep, heel, and toe area that adds to the footwear's support and durability. The footwear has a Quick-Fit Portal at the rear side of the heel. With this feature, it will be very easy for you to slip the footwear on or off whenever you want.
The Skechers Performance Women's GoWalk 4 – Pursuit Walking Shoe also has a remarkable footbed as it features two impressive components – the bamboo lining and Goga Max material. The bamboo-lined footed helps remove moisture and sweat to hamper bacteria production as well as foul odors. The high-rebound Goga Max footbed helps deliver responsive cushioning with each step you take.
Another key and fantastic feature is the footwear's midsole. The Skechers Gowalk 4 Pursuit has a tapering midsole that provides impressive arch support and cushioning to ensure your feet stays comfortable as well as prevent pain that may arise as a result of standing and walking all day.
Pros
Excellent traction
Lightweight
Responsive midsole
Impressive cushioning
Goga Max insole that energizes each step you take
Antibacterial bamboo lining that helps check odor
Flex with foot as you walk
See also: Best Walking Shoes for Nurses
---
Skechers Women's Ultra Flex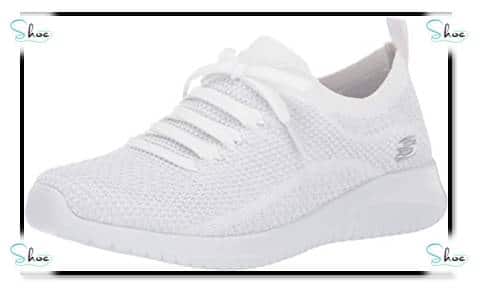 If you are searching for the best athletic shoes for nurses, then this Skechers model will make a laudable investment. The Air-Cooled Memory Foam footbed plus the breathable, lightweight Skech knit Mesh uppers will help ensure that your feet stay happy and relaxed all day long.  If your job keeps you on your feet for several hours, or you suffer from painful, chronic foot and ankle conditions, this sneaker will help alleviate your pain.
Key Features
100 percent textile
Synthetic sole
Lightweight construction
Flexible outsole
Air-cooled memory foam
Slip-on construction
Fabric lining
Rounded toe region
The Ultra Flex Salutations from Skechers boast several outstanding support features that make it great for all-day wearing. To start with, the sneaker has a slip-on build and as you may already be aware, slip-on shoes make your long shifts as cozy as can be. Moreover, the shoe's lace-up closure allows for a cozier and more secure fit. Skechers engineered the upper using knit mesh along with interlaced metallic detailing. The sneaker is fitted with a pull-tab that allows for easy on/off.
The Women's Ultra Flex Salutations also has the Skechers logo placed at the heel region. This woven Skechers logo gives the Ultra Flex Salutations a contemporary, trendy appearance. Since the sneaker is made of 100 percent textile material, it can be machine washed using a gentle cycle along with mild detergent.
Skechers utilized their highly admired Air-cooled Memory foam tech in making the insole. With this attribute, your feet can enjoy exceptional comfort and support all day long, even on the longest days. As you go about attending to your patients, your feet will not be impeded in any way thanks to the shoe's ultra flex midsole that delivers outstanding impact cushioning protection together with extraordinary energy return.
The elastic rubber outsole of the Ultra Flex Salutations helps to ensure that the sneaker delivers reliable traction and grip on wet and slippery floors. This Skechers sneaker is undoubtedly one of the best shoes for nurses due to the several fantastic features it provides. Nevertheless, a few customers have complained that the sneaker runs narrow and is somewhat tight around the midfoot. Therefore, you should consider ordering a half size larger than your normal size to be on the safe side.
Pros
Easy to maintain
Soft stretchy collar that allows for easy on/off
Delivers impressive breathability and coziness
Well-cushioned
Provides great energy return
Fantastic impact-absorbing midsole
See also: Cheap Shoes for Nurses
---
Rockport Men's Chranson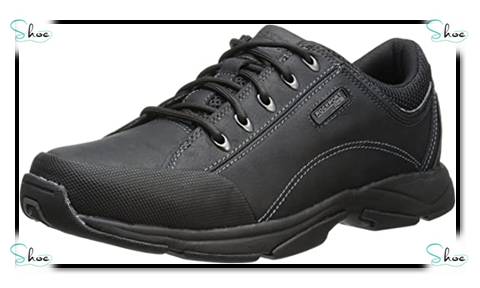 Rugged and comfortable, the Rockport Men's We are Rockin Chranson Walking Shoe can handle all of your day-to-day engagements from walking to casual strolling. The footwear is engineered using first-rate materials to provide you with both style and comfort for your everyday tasks. And the best thing is that the shoe comes in a range of shades so you can select one that will best suit your style sense.
Key Features
Rugged design
Biomechanical construction for better stability
Extended sizes and widths so you can find a good fit
Made with form-fitting materials
TrueFlex technology for enhanced shock absorption
Rubber outsole that provides impressive grip and traction on a range of surfaces
As mentioned earlier, the Rockport men's we are Rockin Chranson walking shoe is engineered to give your feet comfort for those long workdays. This is partly because the shoe has a rubber heel and a latex foot bed. These two materials combine to ensure you will not feel every rock beneath your feet whilst still enjoying excellent grip and freedom of movement on practically all surfaces.
Another feature you will love about this highly durable shoe is that it is made using ADIPRENE technology, which aside from shock absorption will provide you with supreme comfort. This feature is especially beneficial for individuals who suffer from heel pain when standing or walking for extended periods.
Made from suede and leather, this rugged and comfortable footwear will withstand hard use and inclement weather however, it is vital that you avoid exposing the upper part of the footwear to prolonged moisture or rain. The shoe has a mesh upper that allows for outstanding breathability.
Some users say the footwear runs a little large however there is a size chart you can use to ascertain the appropriate size to order for yourself. The shoe is available in half sizes giving you more choices plus a closer fit.
Pros
Mesh lining that promotes breathability
Rubber outsole that provides fantastic grip on many surfaces
Biomechanical outsole design that allows for a more natural gait
Reasonably priced
Cons
Some users have complained about the heel collar rubbing against the ankle
See also: Best Shoes for Male Nurses
---
K-Swiss Men's ST329 CMF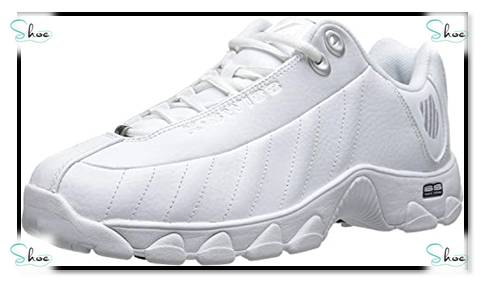 The Men's ST329 CMF training shoe is ranked among the best tennis shoes for nurses because the design is such that you will not experience any discomfort even if you wear it all day long. The company originally made this shoe for tennis players but they are now very popular among healthcare workers worldwide. The shoe delivers excellent durability and quality – and that is partly thanks to its premium leather build and rubber outsole.
Key Features
Leather upper that offers great flexibility and comfort
Synthetic sole for enhanced durability
Molded EVA midsole for better cushioning
Textile collar lining for added comfort
The men's ST329 from K-Swiss comes with flex grooves as well as memory foam footbed that combine to provide your feet with premium comfort, even if you've been standing or walking for a long time. Over the years, this particular K-Swiss footwear successfully transitioned from being a mere regular tennis training shoe to being one of the best athletic shoes for nurses and other workers who stand or walk about all day.
The ST329 comes in a plethora of colors including dark olive, black, white, and gray. What this means is that you do not have to sacrifice your style sense in order to stay comfortable with this impressive footwear from K-Swiss.
In addition, the footwear comes with a shock-absorbing heel to help lessen the shock of movement plus stress on your joints and feet.
Pros
Tough, durable and reliable outsole
Lightweight
Provides impressive traction
Memory foam footbed that allows for enhanced comfort
Shock absorbing heel