Best Waterproof Nursing Shoes That Keep Your Feet Dry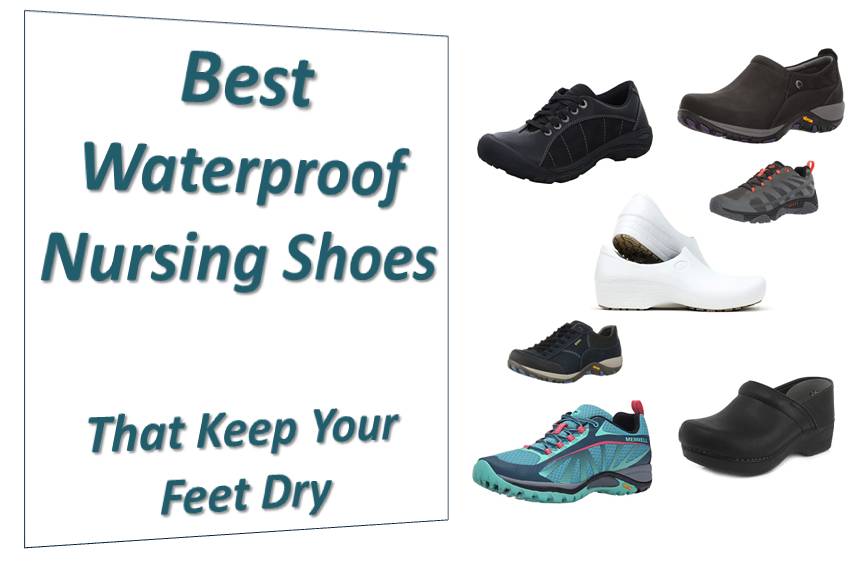 Nurses work mostly on their feet so they need reliable nursing shoes to prevent the development of foot problems. A nurse typically spends an entire shift walking, lifting heavy appliances, and moving around. These activities put a lot of strain on their legs and back, which may lead to other serious conditions. A dependable nursing shoe should be cozy to wear, deliver excellent support, have great traction, and be waterproof. As you go about attending to your patients, wearing shoes fitted with waterproof lining will help keep your feet cozy, dry, and warm. Unlike conventional nursing shoes that have lightweight mesh uppers, waterproof shoes are fitted with a lining that helps prevent the entry of water and other liquids. This post will review some of the best waterproof nursing shoes so that you can make an educated decision when buying your next work shoes.
See also: How to Keep Wet Shoes from Smelling?
Best Waterproof Nursing Shoes – Top Picks
Dansko Women's XP 2.0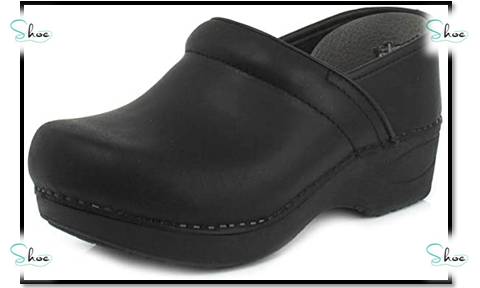 If you are seeking a cozy and supportive pair of clogs to help you get through those extended shifts, then look no further than the women's XP 2.0 from Dansko. Aside from being a terrific choice to increase comfort and stability, the clog also looks fashionable and can be worn with several of your casual outfits. The clog's predecessor, the Dansko women's XP was the preferred work shoe among nurses and other professionals who work mostly on their feet. This updated edition comes with a lighter-weight design plus other comfort features to make even the longest shifts a piece of cake. The fascinating aspect is that the leather upper is water-resistant, which makes this Dansko clog one of the best waterproof shoes for nurses.
Key Features
Spacious toe box
Memory foam cushioning
Slip-resistant outsole
Removable footbed
Water-resistant leather uppers
Orthotics friendly
Odor control
EVA midsole for fatigue reduction
Rubber sole
If coziness is your topmost priority when selecting a work clog, then the Dansko Women's XP 2.0 is the shoe for you. Its key comfort attributes come from detachable, dual-density PU footbed plus Dansko Natural Arch Technology, which are engineered to deliver superlative cushioning, support, and shock absorption. Its spacious toe box is adored by nurses as it allows them to move comfortably with loads of wiggle space.
The clog features a tough leather upper, which means the clog can take on anything you throw at it. The upper is attached securely to the sole thus the shoe's upper will not easily disconnect from the sole even when a considerable level of strain is put upon it. Shoppers have also lauded the footwear for delivering extraordinary breathability keeping the feet cool and cozy whilst on the job. Moreover, the breathable, lightweight upper is also water-resistant. Nurses typically work around liquids as well as wet surroundings so a waterproof shoe is crucial.
The outsole of the women's XP 2.0 is made using synthetic rubber. If you constantly walk around on hard concrete floors, this outsole material will serve you well as it is extremely long-lasting and durable. It is also a waterproof option so you can stay dry and cozy even when walking on a wet floor. The synthetic outsole is non-slip meaning that you can walk confidently on any floor surface type without fear of slipping and falling.
As stated earlier, this Dansko clog has an amply cushioned footbed that delivers all-day coziness. However, the interesting thing about this footbed is that it is removable. "Looking forward to using these cozy clogs in the coming months," said one happy buyer. "I opted for this pair because I can remove the footbed and insert my own specially created one."
Pros
Loads of toe room
Orthotics friendly
Provides supreme comfort
Non-slip outsole
Easy to clean leather uppers
Offered in a broad variety of designs
See also: Best Dansko Shoes for Nurses
---
Dansko Women's Paisley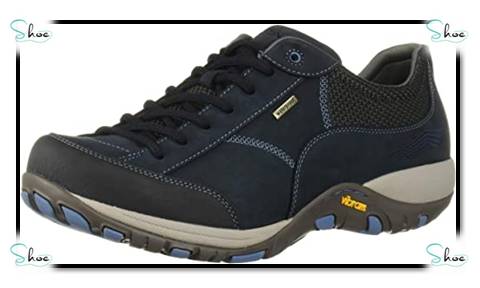 Dansko shoes are adored for their coziness by individuals who spend the majority of their workday on their feet. The women's Paisley is an exquisite functional shoe that can hold its own on any type of terrain. Thanks to its versatility, you can wear this sneaker around your house, for strolls, or wear them about the hospital grounds. The upper is water-resistant, which means the shoe will help shield your feet from bodily fluids including blood, urine, vomit, and saliva. The women's paisley is arguably the best Dansko shoes for nurses as it packs several other performance attributes that make it great for all-day wear.
Key Features
Shock absorbing detachable triple-density footbed
Odor reducing Cleansport NXT
Lace closure
Moisture regulating DuPont Sorona Fibers
Orthotics friendly
Waterproof leather uppers
Arch support
Synthetic sole
Stain-resistant 3M Scotchguard treatment
An astonishing number of wearers love the sneaker's comfort level and ability to deliver a genuinely tailored fit. The high comfort level is majorly due to the sneaker's triple-density footbed that serves up great arch support along with shock absorption. The shoe's footbed is also detachable and is designed to hold most traditional orthotics thus allowing for a truly personalized fit.
If you are an overpronator, there is no need to worry as the women's Paisley will provide you with the additional stability you require to get through your shifts no matter how long they are. Besides, the footwear's Vibram rubber outsole is sturdy and provides superior traction, comfort, along with stability on varied terrains.
Users also love the sneaker's odor-reducing Cleansport NXT technology. Cleansport NXT technology employs beneficial microorganisms that are appended on the outside of the sneaker's fabric. With this technology, you can enjoy long-lasting odor control so your shoes continue to smell fresh all day long.
The lace-up closure of the women's Paisley will give your feet additional comfort along with a tailored fit, which is precisely what you require for all-day standing and walking. The Paisley also boasts DuPont sorona fibers that provide excellent moisture management. Little wonder then the sneaker has consistently been rated among the best work shoes for nurses.
The Dansko sneaker is offered in a broad range of fantastic color choices so there is something for everyone. Overall, the women's Paisley from Dansko is the shoe for you if you are searching for trendy-looking shoes that will also provide all-day comfort.
Pros
Waterproof
Stain-resistant
Long-lasting rubber outsole
Moisture and odor control
Cons
A bit pricey
Narrow for broad feet
See also: Best Athletic Shoes for Nurses
---
KEEN Women's Presidio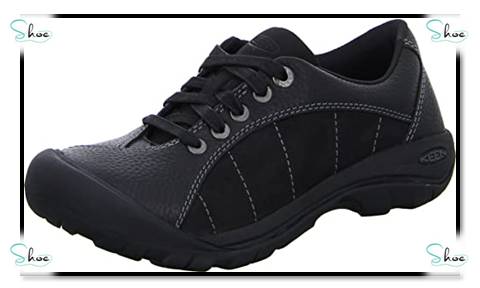 Keen has been producing quality shoes since 2003. Owing to their first-rate quality, their products have become very popular in different parts of the globe particularly North American and Canada. The women's Presidio merges stylish great looks with a relaxed appearance. It is a fantastic footwear choice for nurses as it provides all-day support and comfort. The shoe's durable and waterproof nubuck leather upper is offered in a range of shades to suit a casual wardrobe. It also features breathable linings, an anatomically designed footbed, and patented toe protection, which all combine to make the footwear extremely comfortable.
Key Features
100 percent leather upper
Rubber sole
Lace-up closure
Cushioned collar and footbed
Odor controlling Cleansport NXT
Water-resistant upper
The KEEN Women's Presidio shoe has received many rave reviews due to its extraordinary arch support. If you spend the majority of your workday on your feet, arch support is vital to alleviate pressure on your plantar fascia muscles as well as preserve dynamic stability. The footwear's impressive arch support is made possible by KEEN's signature technology which they call metatomical footbed construction. This footbed is detachable and is engineered to stick to your foot's shape providing a precise and comfy fit. Nevertheless, while many customers say they found this footbed to be extremely supportive and cozy, a few reports that it caused a bit of discomfort.
The Presidio is ranked among the best waterproof shoes for women as the upper is waterproof. As a nurse, you will regularly come across body fluids such as urine, blood, as well as medicine spills, fecal matter, and chemicals that might spill on your shoes. The KEEN Women's Presidio shoe is well equipped to keep these spills off your feet and stains can easily be removed via light rubbing using a gum eraser and light brushing afterward.
The women's Presidio upper is super plush and is produced from leather and Nubuck to provide a cozy fit. Your feet have to breathe just like other sections of your body. Without breathability, sweat may accumulate within your shoes leading to the buildup of bacteria and nasty odors. The Presidio comes with a weightless, breathable mesh lining to provide you with an optimal foot climate. This lining eliminates moisture accumulation so you stay dry all through your shift. Moreover, the shoe features Cleansport NXT that provides natural odor regulation.
You will love the shoe's spacious toe box that will provide sufficient room for your toes to splay. Bear in mind that a toe box with insufficient space for the toes exacerbates foot problems like bunions and hammertoes while excessive space within the toe region can lead to shifting and soreness. The footwear is offered in size options ranging from 5 – 12 and most online reviews agree that the Presidio fits true to size.
This model is available in several color options. However, the choices are mostly dark hues like brown and black so you have limited variety to select from. Then again, considering the shoe's robust and protective properties, the dark hues look good on these shoes.
Overall, Women's Presidio is a great shoe from a dependable brand. It comes with a classic design that is suitable for both work and casual outings.
Pros
Reasonably priced
Trendy looks
Great arch support
Detachable footbed
Spacious toe box
Very comfortable
Cons
A few users do not like the arch support
See also: Best Shoes for 12 Hour Shifts
---
Merrell Women's Siren Edge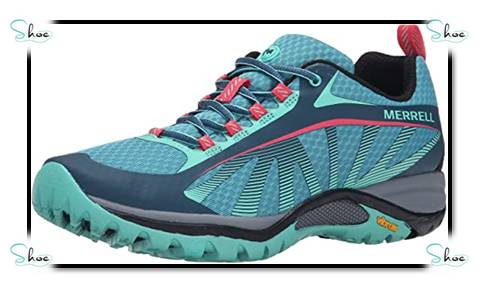 If you are in the market for a good nursing shoe, Merrell offers an ideal model at a very reasonable cost. The Women's Siren Edge Hiker is engineered to keep your feet relaxed all day long whilst preventing other unpleasant feelings such as foul odors. One of the best aspects of this footwear is that it allows for exceptional breathability thanks to the mesh lining. The Merrell Siren Edge Hiker is cozy to wear everywhere, and the waterproof system is so good that several reviews say it is one of the best waterproof shoes for nurses. Besides, The Merrell Siren Edge Hiker delivers on everything nurses want in a nursing shoe.
Key Features
100 percent mesh upper
Vibram traction outsole
Breathable mesh lining
Shock-absorbing air cushion heel
Odor Control
Bellows tongue to shut out debris
When you are doing a 12-hour shift, what you require are nursing shoes that will give you the appropriate level of comfort. The Siren Edge Hiker from Merrell is made to give you just that. The cushioned sole, breathable mesh and other impressive technologies all come together to produce one of the best breathable shoes for nurses.
The shoe is fantastic for prolonged walking as it combines the appropriate degree of toughness and flexibility. It is also very stable so you can walk with confidence regardless of what is underfoot. A few customers who work mainly on their feet have complained that the ankle support is not so good. Still, most reviews are in agreement that the shoe's stability makes it a superb choice for wearing all day.
The mesh lining fitted on the women's Siren Edge Hiker lets your feet breathe. Some reviewers report that the footwear is so breathable that you feel the breeze within the shoes. If you regularly work 12-hour shifts, then you are aware that breathability is vital to prevent overheating and perspiration buildup within your shoes.
The Siren Edge Hiker holds up well to liquids and dries fast. The shoes will prevent unavoidable spills from getting to your feet. Nevertheless, do not expect the footwear to keep your feet totally dry when you wear it across a pool of water. These Merrell hiking shoes also get the job done concerning traction but do not really stand out. One reviewer commented, "I found that the shoes will not hamper your walking but they will also not radically enhance it." The shoe's tread pattern provides excellent grip even on wet/slippery surfaces so you do not have to bother about traction as you go about attending to your patients.
One of the shoe's most notable features is durability. It has received many positive reviews because of this feature. "I've had these shoes for several months now and the look has not changed," commented one buyer. The footwear's Vibram outsole holds up well against abrasion, chips, chemicals, oil, and heat. If you promptly remove dirt and store the shoes correctly, chances are that they will serve you for several years.
Pros
Waterproof
Lightweight build
Reasonably priced
Requires little or no break-in period
Breathable mesh lining
Rugged
Cons
Slip-resistance could be better
Long-term durability concerns
See also: Best Tennis Shoes for Nurses
---
Sticky Women's Work Shoes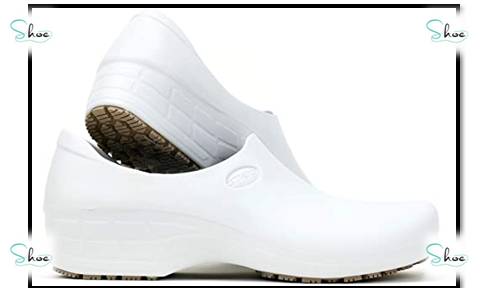 These women's work shoes are terrific for nurses who work extended hours and have to do lots of walking around to manage situations on the spot. Sticky shoes look trendy and are extremely cozy for walking. One of their greatest attributes is their non-slip outsoles that readily grip wet and slippery surfaces that are common in hospital environments. Stick Comfortable work shoes for women also come with several other functional features like shock absorption for stability and comfort along with a waterproof system to ensure your feet stay cozy and dry all through your shift.
Key Features
100 percent synthetic uppers
Rubber sole
Non-slip outsole
Waterproof upper and outsole
Lightweight design
Slip-on construction
These Sticky shoes feature synthetic non-slip outsoles. As you may already know, hospital wards are sometimes wet and slippery due to constant cleaning or unintentional drop of chemicals or water. With this type of footwear, you can walk self-assuredly on any kind of surface. Thus, these shoes will help prevent slips and falls as you go about your everyday tasks. Furthermore, the outsole is fitted with a shock absorber along with an anti-torsion system so you can enjoy optimum support and comfort.
The waterproof system is perhaps the coolest feature of these Sticky women's work shoes. You will discover that even when walking on a wet surface, your shoes will stay dry and warm. The shoe's outsole and upper are one hundred percent waterproof. Therefore, when walking under snow or rain you do not have to worry about getting your shoes soaked.
The Sticky Comfortable Work Shoes for Women has a slip-on construction and has even been rated among the best slip-on shoes for nurses. With the shoe's slip-on build, it is very simple to wear/remove the shoe, which is another comfort attribute for this impressive footwear. Furthermore, you will discover that these shoes are extremely lightweight and snug for all-day wear. They are also true to size fitting so you can go ahead and purchase your normal size.
As a nurse, you are required to keep your clothes as well as shoes clean at all times. These Sticky women's work shoes come with detachable insoles, which means you can take them out for cleaning whenever they get dirty. They are also machine washable so regardless of what you put the shoes through, one quick spin within the washer and they are sparkly clean. Overall, cleaning and maintaining these shoes will take very little of your time.
The interesting aspect is that these shoes come in a range of color choices. They are also highly reasonably priced compared to many other choices in the market. And, since the shoes are lightweight, they offer reliable arch support for the on-the-go nurse.
Pros
Remarkable shock absorption
Waterproof upper and outsole
Very comfortable, lightweight, and breathable
Offered in a range of colors
Non-slip outsole
True-to-size fitting
Cons
A few users do not like the level of cushioning
Ankle support is poor
See also: Best Slip-On Shoes for Nurses
---
Dansko Women's Patti Clog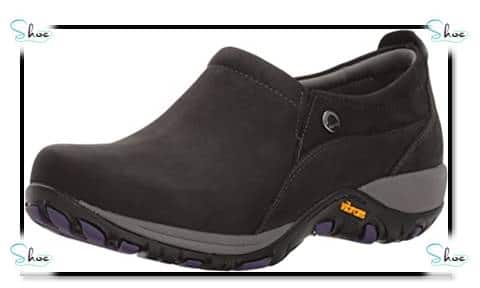 The right nursing shoe should be durable, supportive, and comfortable. The Patti clog from Dansko offers all these and more. The clog is waterproof, making it the ultimate footwear for active nurses who work within a hospital environment. The slip-on clog is superb for use indoors and outdoors. The outsole is lightweight, slip-resistant, and is fitted with airbags so you can enjoy exceptional underfoot cushioning. With all these features, the Dansko women's Patti clog is sure to become your ideal companion in any weather condition.
Key Features
Waterproof leather uppers
Rubber sole
Detachable triple-density footbed
Orthotics friendly
Odor controlling CleansportNXT
DuPont Sorona fiber to manage moisture
The upper of this Dansko clog is made using imported Nubuck leather whilst the outsole is produced using rubber materials. This is why the shoe is ranked among the best water-resistant shoes as it can be worn in all weather conditions. Besides, the footwear is well equipped to manage moisture buildup, thanks to the DuPont Sorona Fiber. Several customers have been talking about the wonderful experience they have had with the shoe.
The clog offers loads of arch support and its triple-density footbed delivers superlative shock absorption. What's more, if you require extra arch support, the shoe can accommodate most custom and regular orthotics as the footbed is detachable.
The shoe's considerable arch support means it is appropriate for individuals with flat feet. Furthermore, the footwear is extremely flexible and will ensure you enjoy effortless movements without any obstructions. If you have smelly feet, you need not suffer any longer. The Dansko Women's Patti Clog features CleansportNXT technology that helps control odor naturally.
Overall, the Women's Patti Clog is a great walking shoe that will keep your feet cozy for many hours. The footwear has received more than 500 positive reviews from customers around the globe.
Pros
Very durable
Slip-resistant
First-rate quality
Stain-proof
Water-resistant
Controls odor with the aid of CleansportNXT
DuPont Sorona fiber manages moisture
Cons
Sizing issues
Limited color choices
See also: Best Clogs for Nurses
---
Merrel Men's Moab Edge 2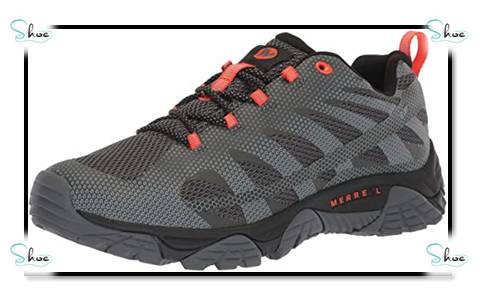 If you are seeking a sturdy walking shoe that is both functional and trendy, then take a look at this Merrel sneaker. It's Kinetic Fit Base footbed will assume your foot's natural outline delivering flexible and responsive support for an effortless and protected movement. The footwear delivers all-day coziness and support, thanks to the plush cushioning around the tongue, the lace-up closure, as well as a loop fitted at the rear. Several nurses have praised the shoe's waterproofing attributes saying the sneaker was able to keep their feet dry and cozy even after several hours of walking on wet days.
Key Features
100 percent synthetic and textile uppers
Rubber sole
M Select GRIP outsole
Kinetic Fit BASE footbed
The Merrel Men's Moab Edge 2 is a hiking shoe that is extremely versatile in application. The tough rubber employed in making the outsole will deliver the traction you require to walk or even run on sleek hospital floors. The sneaker provides excellent support and you can wear it through a 12-hour shift without pain.
Even though the Merrel Men's Moab Edge 2 offers fantastic support, it is somewhat heavy. A few customers report that the footwear feels stiff and clunky. Also, some users who have wide feet have complained of sore feet after doing a prolonged shift.
The waterproofing within the uppers is so effective that the shoe is hyped as one of the best waterproof shoes for nurses. While the shoe's low rise top means water can easily get into the shoe when walking on a wet surface, but many reviewers agree that the shoe does an excellent job of keeping out water and other fluids.
Overall, the Merrel Men's Moab Edge 2 Waterproof Sneaker is a remarkable nursing shoe that delivers instant comfort along with a perfect fit. The breathable, mesh upper will help keep your feet dry and comfy regardless of how long your shift is.
Pros
Fantastic support, traction, and shock absorption
Reasonable breathability
Impressive waterproofing
Well-cushioned
Cons
Not appropriate for individuals with very broad feet
Limited color options
See also: Best Shoes for Male Nurses