Best On Cloud Shoes for Nurses – Nurse's Top 7 Picks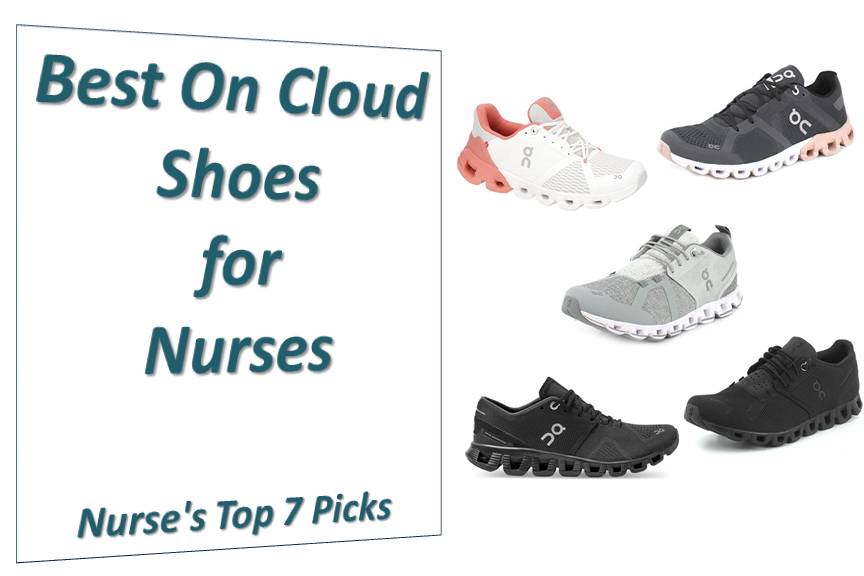 If you are a male or female nurse, you know that your job can be quite demanding. Standing and walking all day can put a lot of strain on your legs and lower extremities. This is why your shoes need to fit/feel great, and serve your feet well so that you can stand or walk around all day in comfort. Whether you work 8-hour shifts or 12-hour shifts, you can get a great experience with On Cloud shoes. These ultra-cozy shoes feature cloud technology that makes their soles a lot more flexible compared to other pairs. There are numerous choices available within the market and selecting the best one for your needs is not a simple task. Hence, this post has shortlisted the best On Cloud shoes for nurses that you can purchase for your shifts.
Best On Cloud Shoes for Nurses – Top Picks
On Running Women's Cloudflow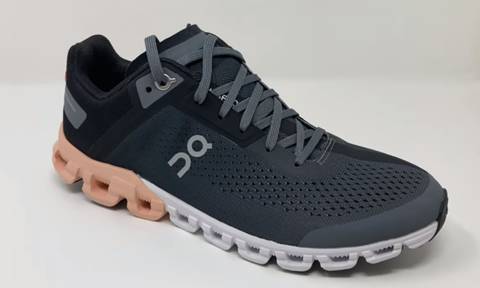 This super attractive shoe from On is made for neutral runners, but it is a superb lightweight shoe for nurses or anyone who does a great deal of walking and standing during the workday. If you are looking to purchase new pair of shoes for your nursing job, you may want to check out the On Cloudflow. The trainer comes with the right blend of features for nurses looking for support and coziness all through the day. The cushioning is enough to not let you down during extended shifts and its attention-grabbing construction helps make the trainer an even more appealing choice. Keep reading to discover other reasons why Cloudflow is one of the best Cloud shoes for nurses.
Key Features
ClouTec rubber outsole
Zero-Gravity EVA foam midsole
Breathable, lightweight mesh upper
Speedboard technology for a springy walking experience
Sock-like interior
Comes in a range of colorways
6mm drop
Cloudflow has gotten several positive reviews mainly due to its comfortability. The trainer delivers an effortless walking experience, thanks to its CloudTec rubber outsole and the Zero-Gravity EVA foam fitted within the midsole. The shoe's flexible construction makes it ideal for fast-paced walking, ensuring your feet move naturally and effortlessly. Besides, the speedboard technology employed in making the sneaker helps ensure you get outstanding energy return with each step.
The On Running Women's Cloudflow does not come with a super generous level of cushioning that is common in several running shoe brands. However, the Zero-Gravity EVA foam of the midsole helps provide exceptional impact absorption as you walk or run. Several reviews say they are pleased with the midsole's performance and feel with most agreeing that the midsole foam is durable enough to endure hours of continual use.
The outsole features On's signature CloudTec technology along with 18 stylish-looking hollow pods down the footwear's side profile. The pods enhance the shoe's cushioning whilst providing a liberal measure of energy return. The CloudTec rubber of the outsole does not provide stellar traction, but the traction it offers will be enough to take you safely through wet and slippery surfaces. One negative downside of the Cloudflow is that the exterior pods tend to attract debris. So, when you walk through a dirt road, the pods will pick up dirt that will weigh you down.
The upper of the Cloudflow has a mesh-weave design and there is a lot to love about it. Aside from being amply breathable and supportive, the sock-like interior allows for a snug fit. There is also an anti-microbial layer that helps prevent the accumulation of bacteria and foul odors. The On Running Women's Cloudflow weighs approximately 6.7 ounces, which means the shoe is light enough for all-day wear.
The trainer does not disappoint concerning durability. It is made using first-rate materials and the quality of the build is superb. A tough rubber material covers the outsole's pods and it will not easily disintegrate. The shoe is offered at a comparatively high price tag but most reviews agree that the footwear is worth every penny spent on it. The On Cloudflow is comfortable, lightweight, looks great, and provides sufficient cushioning for all-day wear.
Pros
Incredibly flexible
Very comfortable
Super lightweight
Quality build
Fantastic shock absorption
Cons
Traction could be better
A few users complain that the cushioning is not enough
See also: Best Shoes for 12 Hour Shifts
---
On Women's Cloudsurfer Sneaker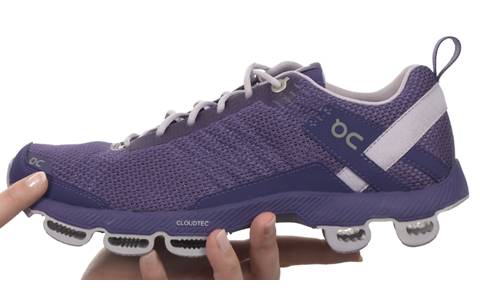 This On women's sneaker is targeted at road running but it is also an extremely comfortable shoe that offers superb cushioning for all-day use. The shoe looks great and delivers impressive performance. The sneaker's fairly lightweight construction is combined with a breathable mesh upper to provide your feet with soft natural comfort. One of the sneaker's appealing features is its unique sole that is fitted with spherical rubber tubes (called clouds). These function to keep your steps light and springy. Does the On Women's Cloudsurfer qualify to be rated among the best nursing shoes for 12-hour shifts? Read on to discover more about this fantastically constructed sneaker.
Key Features
Conventional lace-up closure
Distinctive outsole design
EVA foam midsole
Breathable, supportive, adaptive engineered mesh upper
CloudTec cushioning technology
Reboud-Rubber sole
The Women's Cloudsurfer Sneaker is undoubtedly one of the finest offerings by On. The shoe checks all the boxes for a good nursing shoe, and many nurses have praised it for its impressive quality. The footwear's uniquely designed outsole comes with what are referred to as Cloudtec Pillows. These function to provide some level of traction for the wearer. However, their main function is to provide you with a springy walking experience as well as soak up the impact of your foot landings.
The upper is a key component of any nursing shoe, thus it is great to know that the CloudSurfer's upper is an excellent one. It comprises a breathable mesh material that lets air circulate within the shoes. When in the market for a nursing shoe, breathability is always a vital consideration, as it prevents your feet from becoming excessively hot. There is also a heel tab fitted at the back to make it simpler to wear/remove the shoes.
The CloudSurfer features a conventional lacing system however a few users say they do not like the shoe's lacing. These users complain that tying the extremely thin laces is somewhat annoying and that they can easily get untied if not appropriately taken care of. Nevertheless, this shortcoming is comparatively minor and should not scare you away from the shoes if you are looking to buy them as work shoes.
The CloudSurfer comes with a blended midsole and outsole. The Cloudtec Pillows on the outsole provide rebound and shock absorption but the midsole features an EVA foam layer that provides additional cushioning. Yet, there is no clear distinction between the midsole and the outsole. The On sneaker is somewhat heavy compared to similar models in the market. However, the weight is not obvious and many reviewers agree that it allows for a pleasant heel-to-toe roll whilst walking or running.
These sneakers rank high regarding durability. They are made using first-rate materials so you can be sure they will last you through many shifts. As regards support, the women's Cloudsurfer Sneaker has been found to work best for individuals with neutral arches. Thus, the shoe may not be appropriate for you if you under or overpronate. They fit securely but the lacing system does not provide great ankle support.
The CloudSurfer is without a doubt one of the best comfortable work shoes for nurses. While the shoe still requires some work, the cushioning is superb and the footwear is also well constructed.
Pros
Extremely breathable mesh upper
Made with first-rate materials
Excellent shock absorption
Highly durable
Cons
Poor ankle support
Laces tend to untie easily
See also: Best Breathable Shoes for Nurses
---
On Running Women's Cloud Terry Textile
The On women's Cloud Terry is engineered to deliver superior performance whether as a running shoe or work shoe. The trainer is very comfortable, well-cushioned, stylish, and comes with remarkable support features for all-day wear. The footwear's finest attribute is it's super plush upper that comprises a blend of terry cloth and vegan leather. Besides, the extremely breathable fabric linings allow for superior air circulation so your feet remain cool and fresh all through the day.
Key Features
Breathable textile lining
Zero-gravity foam
Detachable, dual-density foam
Cloudtec Outsole Unit
Super-soft terry tongue
Bungee speed lacing
If coziness is your major concern when selecting a nursing shoe, then these stylish and comfortable trainers will soon become your go-to shoes in no time. As mentioned earlier, the upper consists of terry cloth and genuine leather. Terry cloth is a kind of fabric employed in making towels. This material is the reason why the Cloud Terry's upper is incredibly plush and cozy.
The Women's Cloud Terry also features an interior sock that links the tongue to the forefoot region. Aside from securing the tongue, this design feature helps to prevent chafing no matter how long you wear the shoes. The trainer is highly breathable and thus appropriate for many seasons. Besides, you will find that wearing/removing the shoes is very simple, thanks to the finger loop fitted at the back as well as the characteristic Cloud elasticated laces.
If you have broad feet, it is recommended that you slacken the shoe's elasticated laces to create more space around the upper. "When I wore these shoes for the first time, they felt a little tight around the lacing region," commented one customer. "This issue was resolved after I relaxed the elasticated laces a little."
The shoe features a Cloudtec outsole that comprises a chunky tier of Zero-gravity foam. This foam material adheres to your foot's natural outline providing marvelous energy return as you walk. This Cloudtec cushioning technology is so good and you will notice this impressive padding as your foot hits the ground.
The trainer's rubber outsole is designed to make your steps springier whilst the responsive midsole also deliver remarkable energy return. The shoe weighs 223 grams, which makes it relatively light compared to other On Cloud shoes. The trainer fits true to size and its medium-width toe box offers loads of room for your foot to wiggle.
Many customers say that they love the gorgeous design of the Cloud Terry Textile Synthetic Trainers. The shoe has a distinctive appearance and will look great with your nursing scrubs as well as many of your casual outfits. "I get loads of compliments each time I step out in these trainers," said one happy customer.
Overall, the On Running Women's Cloud Terry Textile Synthetic Trainers offers great value at a highly reasonable cost.
Pros
Very comfortable
Slip-on construction
Lightweight
Breathable linings enhance air circulation and coziness
Smooth and durable leather upper
Cons
Laces may require adjusting to suit your feet
Durability concerns
See also: Best Trainers for Nurses
---
On Women's Cloudflyer Running Shoes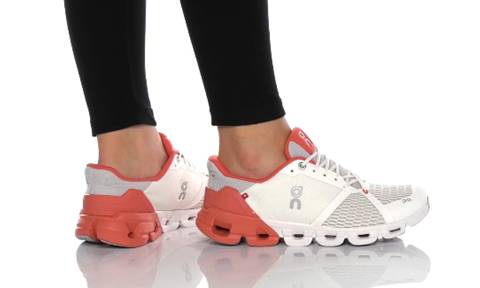 The Cloudflyer is absolutely one of the best On Cloud Shoes for Nurses. Although the shoe is originally designed for running, it is an ideal athletic shoe for nurses searching for a comfortable and lightweight pair of shoes. The shoe comes loaded with technology. It features On's patented Speedboard technology which promotes natural forward motion as well as enhances better toe-offs. The shoe also comes with Helion superfoam, which is a properly crafted proprietary foam that is lightweight yet durable and delivers loads of cushioning. Another innovative feature of the footwear is the 3D-molded heel that makes the upper more secure and stable whilst walking.
Key Features
Well-engineered upper
Lightweight design
Star lacing system
Heel clouds technology
The On Women's Cloudflyer Running Shoes provide lasting comfort during prolonged standing and walking whilst still being lightweight and adaptable. This comfort derives partly from the shoe's Zero Gravity Foam outsole that serves up additional cushioning and stability. The snug-fitting upper is made using long-lasting materials. Wearers love that the shoe is lightweight even though it is made with highly durable materials. Nevertheless, a few users report that they had durability issues with the running shoes.
The midsole of the CloudFlyer comprises Cloudtec technology, which works to keep your feet relaxed and comfortable even on the longest days. Breathability is a key attribute of a good nursing shoe, and the On CloudFlyer comes outfitted with this function. Without adequate airflow, you are at a high danger of developing burning blisters which can turn a great shift into a dreary one. With the breathable material upper of the CloudFlyer, you can be certain your shifts will be cozy and cool.
Weighing a paltry 243 grams, the women's Cloudflyer delivers a real cloud experience with its lightweight construction. Since the CloudFlyer is lightweight, you can walk around in them for 12+ hours a day and not get sore feet. The fit of a shoe is perhaps the first thing to consider when purchasing a nursing shoe. This On shoe delivers a fantastic fit and is ideal for both work and casual wear.
The rubber sole of the On CloudFlyer provides reliable traction on surfaces thanks to the footwear's Cloudtec technology. The outsole is also flexible so you can enjoy a natural and effortless walking experience. The shoe comes at a fairly high cost but several customers agree that the price is worth it.
Pros
Excellent shock absorption
Secure fit
Lightweight
Extremely versatile
Promotes natural gait cycle
Cons
Comparatively costly
Outsole durability concerns
See also: Best Running Shoes for Nurses
---
On Running Women's Sneaker Cloud X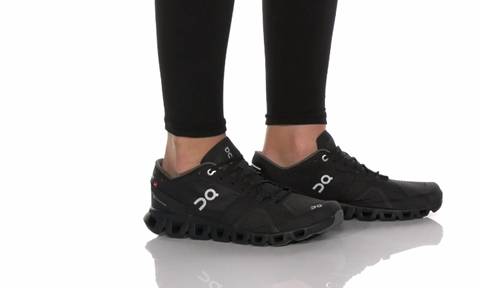 The Cloud X from On running is an extremely lightweight and top-performance sneaker that is specially designed for racing. Nevertheless, the trainer comes with the right features that make it one of the best On Cloud Shoes for healthcare workers. On running shoes are tremendously successful mainly due to their unique design and luxury materials used in making them. The Cloud X comes with CloudTec, which is On Running's patented cushioning technology. With Cloudtec, you can enjoy superb shock absorption and energy return in each step. The footwear's seamless tongue, cushy sockliner, plush interior, and bootie design all work together to create a silky, secure, pain-free fit.
Key Features
Engineered, knit-weave mesh uppers
Zero-gravity foam
Versatile design
Cloudtec outsole
Speedboard technology
6 mm heel-toe-drop
When you take hold of these shoes, you will not fail to notice how lightweight they are. You may not even notice that you have something within your hands (which is the same feeling you will get when the shoes are on your feet). While the Cloud X is extremely lightweight, the shoe is also well-cushioned so you can walk pain-free and effortlessly.
The On Running Women's Sneaker Cloud X has a sock-like fit. The footwear delivers a snug, custom fit thanks to its plush, dual-density sockliner, elastic laces, velvety tongue, as well as an upper that will cradle your feet. The breathable, elastic knitted mesh upper will let your feet expand snugly as they warm during walking. The Cloud X also has an interior sock that connects the forefoot region and the tongue. This feature enhances the shoe's comfortability as well as helps to keep the tongue in place.
The Cloud X midsole has two important elements that work together to make the shoe extremely comfortable and ideal for all-day wear. There is On's Helion super foam that provides enhanced durability without increasing the shoe's overall weight. The Helion super foam also allows for better rebound without forfeiting cushioning. The second feature that makes the Cloud X midsole exceptional is On's proprietary Speedboard technology. This feature helps alleviate strain and weariness on your feet so you can go about your duties pain-free.
The outsole is fitted with On Running's characteristic semi-spherical EVA pods. These add to the footwear's cushioning system. The EVA pods on this model provide astonishing degrees of coziness and stability so you can get through your shifts without discomfort. Besides, these pods have been redesigned to prevent debris and small stones from getting trapped within the pods. With the Cloud X, you can walk confidently on slippery hospital floors as the outsole offers a dependable grip on wet/dry surfaces.
If you are seeking a lightweight, elegantly cushioned sneaker to keep your feet cozy and relaxed during extended shifts, the On Running Cloud X is the shoe for you. The shoe feels and looks fantastic and will also works well as a sporty lifestyle shoe.
Pros
Provides a comfortable fit
Excellent shock absorption
Lightweight design
Trendy appearance
Cons
A few users say the cushioning on this model could be better
See also: Best Work Shoes for Nurses
---
ON Women's Cloudswift Sneakers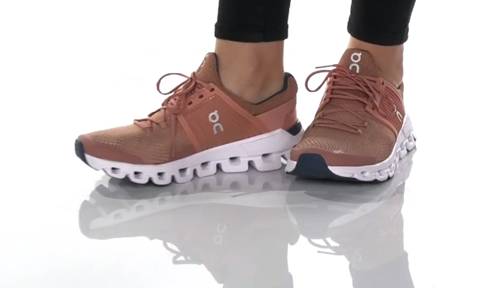 The On Cloudswift is not your regular running shoe. This is not only because the shoe looks different aesthetically but it feels different when walking or running. The Cloudswift features Helion foam technology that allows for a plusher and lighter walking experience. If you are seeking a dependable nursing shoe to add to your collection, the On Cloudswift is a superb option. On says the light and energetic foam was engineered to provide better energy return as well as protect against merciless pavement or concrete floors better than other footwear.
Key Features
Engineered mesh upper
Rubber sole
Lace-up closure
Sock-like design for simple on/off
Padded collar & tongue
Speedboard technology
Helion foam technology
The On Cloudswift has a sleek, uncomplicated upper that harmonizes with cushioning pods on the outsole. These features will certainly endear you to the footwear, and when your feet slide into the sneakers, you will experience a different sensation compared to what you get with your regular nursing shoes. "These are very comfortable and lightweight," raved one contented customer. "I have worn them to work only a few times and they provided all-day comfort. "I'll be eager to discover how they keep up over time. For now, though, I give them a 5 star."
The shoe offers impressive cushioning; thanks to a foam material On calls Helion cushion. This lightweight, flexible super foam soaks up the impact of your foot landings and provides notable energy return. Numerous reviews have praised the shoe for the manner the foam material felt beneath the feet.
To make the shoe even more comfortable and supportive, On fitted their Speedboard technology within the midsole. This technology is crafted to lessen your energy output as you walk. Some users report that the shoe's outsole picks up debris and rock when walking on dirt roads. It is therefore recommended you use these shoes only on paved or roads where debris and rocks are virtually non-existent.
Overall, the Cloudswift is a fantastic sneaker for all-day wear. The Helion foam midsole and comfy, minimal upper make it one of the best On Cloud shoes for nurses.
Pros
Very lightweight
Versatile construction
Trendy appearance
Extremely comfortable midsole
Impressive traction
Comfortable below foot
---
On Running Cloud Men's Shoes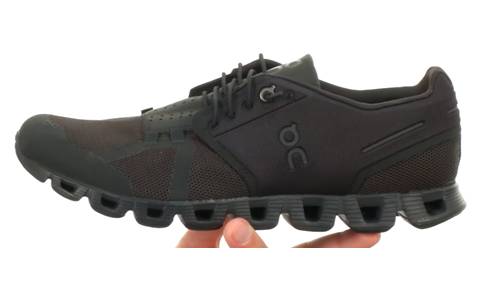 Whether you are an experienced nurse or a recent graduate nurse, supportive and comfortable shoes should be a vital part of your wardrobe. On is known for producing women's and men's shoes that allow for effortless movement, breathability, and protection whilst also looking great. The On Running Cloud Men's Shoes come with these features and more. The shoes are primarily made for runners but they should have you covered if you decide to use them as nursing shoes. Keep reading to learn why these sneakers are ranked among the best On Cloud shoes for male nurses.
Key Features
Rubber sole
Speed lace-up closure
CloudTec sole
Mesh upper material
Lightweight design
The upper of these shoes feel plush and will snugly secure your feet in place so you can move around effortlessly. The upper also allows for good airflow which is vital if you will be wearing the shoes all day long. "I am a nurse and my colleague recommended this sneaker," commented one buyer. "They perform wonderfully as running shoes and I also find them extremely cozy for walking around. I particularly love their efficient ventilation as well as low weight of 8.1oz."
Aside from delivering a great fit to a broad variety of foot measurements, On Running Cloud Men's Shoes also feature a sockliner that does a wonderful job of securing the tongue and eradicating every chafe spot inside the sneaker. The tongue is thin, plush, and feels very comfortable.
The outsole features Cloudtec technology. This cushioning system comprises hollow tubes that function as miniature stability balls. Cloudtec provides you with a better-cushioned walking experience. The medium-width toe box feels exceptionally airy which is essential if these shoes will be on your feet for prolonged periods.
If you have never tried On Running Cloud shoes before, now is the best time to check them out. They look great and will make your feet feel relaxed no matter the length of your shift. Besides, the Zero-Gravity foam plus Cloudtec outsole provide exceptional impact protection so your feet remain relaxed all day long.
Pros
Very lightweight
Highly breathable
Versatile lifestyle shoes
Very comfortable
See also: Best Shoes for Male Nurses
---
How to Choose the Best On Cloud Shoes for Nurses?
On, also known as On Running, is a Swiss shoe brand that focuses on performance running shoes. Models from the brand are crafted to look unique while offering unparalleled comfort and performance. These shoes are equipped with a proprietary sole that features a sequence of cloud pods containing zero-gravity foam to make your walks cozy and secure. Given that On makes a broad range of running shoes appropriate for both runners and nurses, selecting a pair for your unique requirements may be difficult. That is why this guide on how to choose the best On Cloud shoes for nurses is very important.
Important Considerations When Choosing Your Nurse's Shoes
Comfort
One of the factors that can affect comfort when running or walking is breathability. Wearing shoes that lack breathability for extended periods can result in an unpleasant odor particularly if your feet sweat excessively. Besides, wearing shoes with little or no ventilation can cause your feet to develop blisters. Also, a well-cushioned shoe will help keep your feet comfortable during your shifts. Happily, there are several models of On Running shoes that offer impressive cushioning for all-day comfort.
Support
When selecting work shoes, go for ones that have enough support and protection features. Aside from adding to the shoe's overall comfort, a reliable supportive shoe will help keep foot pain at bay so you can go about your duties with confidence. Keep in mind that some On Running shoes are designed for individuals with plantar fasciitis while some are more suited for those with high arches.
Durability
This is a vital factor to consider when buying work shoes because spending a relatively hefty sum on shoes that will last only a few months is a waste of money. Generally, durable shoes feature rubber soles that are typically resistant to scrapes and scratches. Aside from the outsole, the shoe's upper should also be made with top-quality materials that will not break down after a few wears.
Shock Absorption
Research shows that the average nurse walks approximately 5 miles per shift. This level of walking can put an incredible degree of strain on your feet and lower extremities. A reliable shock-absorbing shoe will lessen shock on impact as well as prevent it from upsetting your legs, heels, and ankles. The best shock-absorbing On Running shoes are the ones that have a great combination of cushioning and energy return. If you are flat-footed, check to see that the shoe has features for nurses with flat feet.
On Shoe Size Conversion Chart
Women's Shoe Size Conversion – ON
| US Size | UK Size | Euro Size | Inches | CM |
| --- | --- | --- | --- | --- |
| 5 | 3 | 36 | 8.66 | 22 |
| 5.5 | 3.5 | 36.5 | 8.85 | 22.5 |
| 6 | 4 | 37 | 9.05 | 23 |
| 6.5 | 4.5 | 37.5 | 9.25 | 23.5 |
| 7 | 5 | 38 | 9.45 | 24 |
| 7.5 | 5.5 | 38.5 | 9.65 | 24.5 |
| 8 | 6 | 39 | 9.85 | 25 |
| 8.5 | 6.5 | 40 | 10.04 | 25.5 |
| 9 | 7 | 40.5 | 10.24 | 26 |
| 9.5 | 7.5 | 41 | 10.43 | 26.5 |
| 10 | 8 | 42 | 10.63 | 27 |
| 10.5 | 8.5 | 42.5 | 10.83 | 27.5 |
| 11 | 9 | 43 | 11.02 | 28 |
Men's Shoe Size Conversion – ON
| US Size | UK Size | Euro Size | Inches | CM |
| --- | --- | --- | --- | --- |
| 7 | 6.5 | 40 | 9.84 | 25 |
| 7.5 | 7 | 40.5 | 10.04 | 25.5 |
| 8 | 7.5 | 41 | 10.24 | 26 |
| 8.5 | 8 | 42 | 10.43 | 26.5 |
| 9 | 8.5 | 42.5 | 10.62 | 27 |
| 9.5 | 9 | 43 | 10.83 | 27.5 |
| 10 | 9.5 | 44 | 11.02 | 28 |
| 10.5 | 10 | 44.5 | 11.22 | 28.5 |
| 11 | 10.5 | 45 | 11.41 | 29 |
| 11.5 | 11 | 46 | 11.61 | 29.5 |
| 12 | 11.5 | 47 | 11.81 | 30 |
| 12.5 | 12 | 47.5 | 12.01 | 30.5 |
| 13 | 12.5 | 48 | 12.2 | 31 |
5 Best On Cloud Shoes for Nurses – Our Top picks
Cloudflow:
Lightweight and comfortable, the On Women's Cloudflow is unquestionably one of the best nursing shoes available in the market today. The sneakers feature the brand's proprietary cloud pods and employ On's innovative Helion foam. When you add these to the springy board (On calls it speedboard) incorporated into the shoe's midsole, you have a flexible walking shoe that delivers loads of support and comfort.
This shoe also boasts On's Cloud Tec cushioning system that becomes functional only during the stance phase of walking. Moreover, the insole is removable to allow for additional support and comfort. The interior of the footwear has antimicrobial linings designed to help eliminate foot odor. The Cloudflow, like other On Running shoes, does not come cheap but if you are searching for a top-performing nursing shoe, this model will not disappoint.
Cloudsurfer:
This model looks extremely gorgeous and will fit nicely into your nursing wardrobe. Nevertheless, good looks are not its only positive feature. The Cloudsurfer by On also ticks all the boxes concerning good nursing shoes. The Cloudtec pillows fitted on the sole helps absorb shock while providing some degree of traction.
Aside from delivering a secure fit, the mesh fabric upper also allows for excellent airflow inside the sneakers. Another strong feature of the Cloudsurfer is its tremendous durability as it is made with top-quality materials. And, with the lace-up closure, you are sure to get a snug fit.
Cloud X:
This On Sneaker boasts all the features required to keep your feet supported and protected during prolonged shifts. To achieve this feat, the makers employed the lightweight foam called Helion for enhanced cushioning. And, whether you are pushing, lifting, running, or walking, you can be certain these shoes will keep you stable on your feet – thanks to its raised sidewalls.
Internal breathability is assured by the light but robust engineered mesh upper. Also, these lovely sneakers are a no-sew design meaning that you have little to distract you when attending to your everyday tasks.
Cloudswift:
The Cloudswift features an elegant, modest appearance that will be sure to impress your colleagues. The midsole comprises Helion foam to ensure you enjoy superlative cushioning during your shifts. The upper is crafted using a specially engineered mesh that delivers a sock-like fit while letting your feet breathe.
Like all running shoes by On, these sneakers are produced using first-rate materials to ensure they last you through many shifts.
Cloudflyer:
This running shoe by On comes packed with technology and is a superb work shoe for experienced nurses and new grads. The shoe is well-cushioned, lightweight, and highly breathable. Like other running shoes by ON, the outsole comprises 12 cloud pods for superior cushioning and stability. However, the 12 cloud pods fitted underneath this model are broader compared to the regular editions. With this minor tweak, the shoe functions better at reducing inward rotation. Thus, If you are an overpronator, the Cloudflyer comes highly recommended for you.
Frequently Asked Questions (FAQs)
How long does a pair of On Running shoes last?
The answer depends on several factors – the surface you walk on, your weight, and your walking or running style, but shoes in general (not only On running shoes) last between three hundred and five hundred miles.
How Do I know which size is most appropriate for me?
If you are not certain which size will work best for you concerning on running shoes, the On Running website has a shoe size chart that enables their customers to get the appropriately sized shoe.
Are On Running shoes suitable for overweight Nurses?
On Running shoes provide excellent comfort and support regardless of the size of the wearer. Nevertheless, the heavier the wearer, the lesser the benefit he/she will derive from their Cloud Tec cushioning technology. One of the best On Running shoes for overweight nurses is the Cloudflyer.
Can On shoes be returned if I buy the wrong size?
Conclusion: Best On Cloud Shoes for Nurses
Now that you are aware of the vital factors to consider when looking for the best On Cloud Shoes for Nurses as well as some of the top models, it is time to get online and purchase a pair. Whether you want loads of soft cushioning, slip-resistance, trendy design, or excellent arch support, On Running has the shoes that will suit your requirements.