9 Best New Balance Shoes for Nurses (Sneakers) – Reviews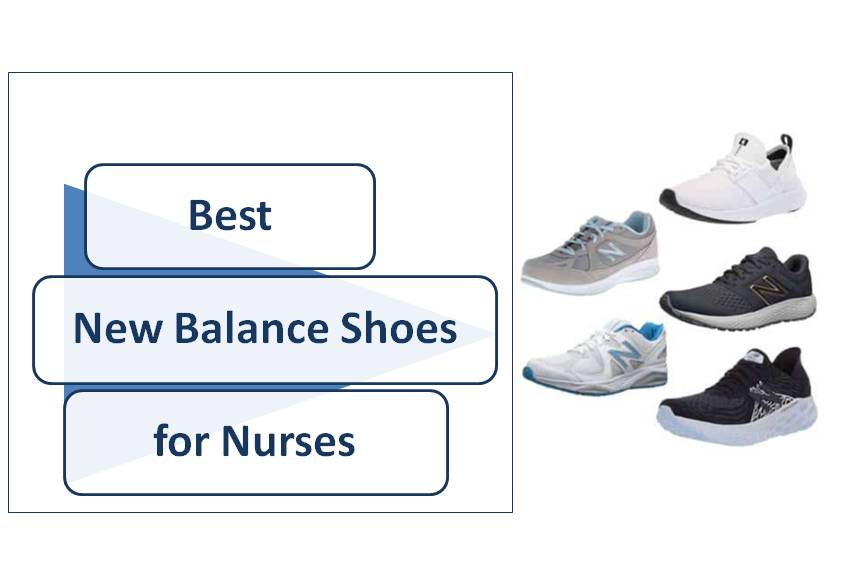 Nursing is arguably the most physically demanding occupation in the world. Despite this, most nurses love what they do and many of these professionals put their soul and heart into their work every single day. On the job, nurses are continually on their feet, and because of this; a significant degree of strain is placed on their feet and legs. Strenuous standing or walking for extended periods has an apparent effect on your feet. Moreover, wearing ill-fitting shoes to work can result in conditions like ankle sprains, plantar fasciitis, bunions, and lots more. For these reasons, you need footwear such as the best New Balance shoes for nurses to give you adequate support during long shifts.
New Balance is a brand that manufactures a wide range of footwear that can be perfect for nurses on feet all day. The company utilizes innovation and technology to produce proper-fitting, top-performing footwear. Below are 9 of the best shoes for nurses from New Balance.
Best New Balance Shoes for Nurses – Top Picks
New Balance Women's FuelCore V1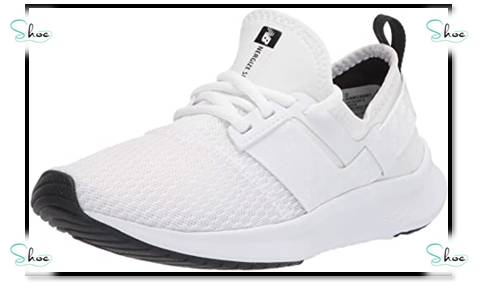 New Balance design their shoes to fit snugly straight from the box. The shoes are extremely comfortable and do not require any break-in period. The women's FuelCore Nergize V1 Sneaker is well designed, comfortable, and can keep your feet relaxed all day long. As regards appearance, the FuelCore Nergize does have something that sets it apart from other cross-trainers. Made with 100 percent synthetic materials, the footwear comes in an incredible variety of colorways – more than thirty. The shoe is very easy to wear/remove; a feature loved by nurses particularly those who are on the go all the time throughout the day. New Balance incorporated their REVlite technology in constructing the midsole of this shoe, which is one of the main reasons the shoe delivers supreme, lightweight cushioning.
Key Features
Made from 100 percent synthetic materials
Bootie upper design
New Balance Memory Sole Insert
Rubber sole
Lightweight build
Available in an array of colorways
The major attractions of the women's FuelCore Nergize V1 are lightweight cushioning and comfort. With these attributes, your feet will not be overburdened as you attend to your everyday tasks. As your foot hits the floor, the lightweight cushioning helps alleviate fatigue and absorb shock. Moreover, the trainers also boast NB's inventive memory sole inserts that are engineered to provide enhanced underfoot coziness.
The FuelCore Nergize V1 has not received rave reviews with concerning support. The main reason for this is that New Balance focused more on cushioning as well as responsiveness, whilst leaving the job of providing support to the midsole. Many reviewers and testers describe the support offered by the shoe as just okay/average. Besides that, the footwear is an excellent bargain taking into consideration its versatility. What is more, you can wear the sneaker anywhere and remain confident, thanks to its elegant and contemporary construction.
Another bonus point for this New Balance sneaker is the outstanding stability it offers. You will be amazed when your feet slide into the sneaker for the initial time as you grasp how secure the footwear fits around your ankle and heel. Nevertheless, some wearers who have high arches report that the midfoot section felt too constricting. Overall, if you are an active nurse and desire a shoe that offers ease of wear/ease of movement, then the FuelCore Nergize V1 from New Balance may be perfect for you.
Pros
Easy slip-on build
Ultra-lightweight construction
Perfect for individuals with wide feet
Excellent cushioning
Removable insert
Available at a reasonable cost
Cons
Durability issues
Average support
See also: Best Sneakers for Nurses
---
New Balance Women's 520 V5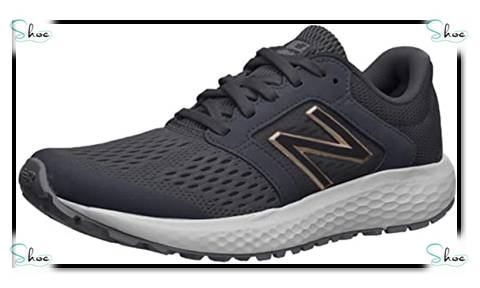 When in the market for a reliable nursing shoe, the main features you should certainly look for are safety, support, and comfort. The NB women's 520 V5 delivers all these and more. The running shoe comes with a high abrasion rubber outsole that gives the 520 V5 dependable durability. It also has underfoot flex grooves along with an inventive foam compound that delivers an ultra-soft sensation. With a modish silhouette plus classic New Balance branding, it is not difficult to see why this highly cushioned shoe is considered one of the best New Balance shoes for nurses.
Key Features
100 percent synthetic materials
New Balance comfort insert for additional cushioning
Injection-molded EVA foam midsole
Supportive Design
Rubber sole
Lightweight construction
Underfoot flex grooves
The most important feature of the 520 V5 is that it is exceptionally lightweight, yet feels sturdy and cozy to the feet. Light shoes are best for all nurses particularly if you are continually on the move. The upper is made of 100 percent synthetic materials and it delivers sufficient breathability for a delightfully comfortable fit.
Additionally, the shoe's collar is deftly padded and will mold to the outline of your heel providing a customized fit. New Balance engineered the outsole using a tacky rubber material that ensures excellent durability. The shoe also provides good traction and several reviewers have praised the footwear's gripping capabilities.
With this New Balance shoe, you will enjoy the coziness of a molded EVA insole, which is another reason it is rated among the best shoes for nurses on feet all day. EVA insoles are perfect for shock absorption, shielding the foot from impact with the floor and ensuring the ligaments and joints within the foot are adequately protected. The Women's 520 V5 also features underfoot flex grooves, which are designed to give you a plush feel as well as encourage a natural, effective range of motion.
The lace-up construction of the 520 V5 makes it a must-have for every nurse as it provides a flexible snug fit around your foot's mid-section for all-day comfort. The shoe also comes in a broad variety of colorways to suit just about any style preference.
Pros
Lightweight build that is ideal for prolonged wearing
Available in various attention-grabbing colors
Well-built rubber outsole that delivers fantastic traction and grip
Injection-molded EVA for enhanced comfort
Cons
Some users have found them to be slightly narrow
See also: Best Shoes for Nurses
---
New Balance Women's 1080 V10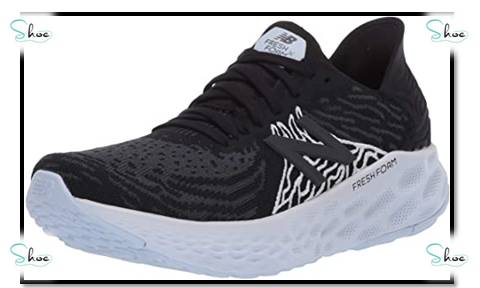 The stunning design of this running shoe from New Balance is both contemporary and timeless. The NB 1080 V10 owes its visually appealing look to the fine knit upper along with loads of dazzling white foam. Another thing that you will not fail to notice about this footwear is its assertive rocker form with an upwards-curved toe and heel. The NB 1080 series has repeatedly delivered an extremely cushioned option for the nurse who desires a luxurious walking experience. The V10 is the tenth iteration of the series and it feels bouncier, fits better and more lightweight compared to earlier editions. While the women's 1080 V10 is engineered to improve running efficiency, the shoe is also acknowledged as one of the best New Balance shoes for nurses on feet all day.
Key Features
Breathable uppers
Made with mesh and synthetic materials
No-sew overlays
Rubber sole
Stylish design
Fresh foam cushioning
Sturdy outsole
New Balance did a major overhaul with the 1080 V10. The company employed its groundbreaking Fresh Foam X along with HypoKnit in making the running shoe. Several users confirm that the V10 feels a lot cozier compared to its precursors. Besides, with the Fresh Foam X feature, the shoe delivers a highly responsive, smooth, and stable walking experience.
You can be confident that this NB running shoe will hold up to the continual stress of day-to-day pounding whilst keeping your feet relaxed all day long. New Balance hypes the footwear as "the bounciest and coziest running shoe ever". Many nurses and other pros who work mainly on their feet choose the 1080 V10 as their preferred work shoe.
Several customers say they love the sturdiness of the outsole, with one user reporting that after putting well over eighty miles on the footwear, it showed no major corrosion on the outsole save for one or two scratches on the forefoot section.
Compared to the earlier iterations of the shoe, the V10 upper has been redesigned to deliver superior performance. Several wearers criticized the 1080 V9 saying they experienced heel slippage whilst using the shoe. It appears New Balance has addressed these criticisms with the 1080 V10. The company reworked the heel cup in a way that it conforms to that on some newer shoe models.
The redesigned upper also has the novel 3D-molded ultra heel that lends the footwear a first-rate fit. The V10's heel cup noticeably curves away from the tendo calcaneus or heel cord, which helps to make a shoe a lot more comfortable.
Pros
Responsive
Very comfortable
Well-cushioned
Excellent energy return
Comes in different width choices
Cons
Some testers observed that the shoe's traction is squashy and wear's down easily
See also: Best Running Shoes for Nurses
---
New Balance Women's 877 V1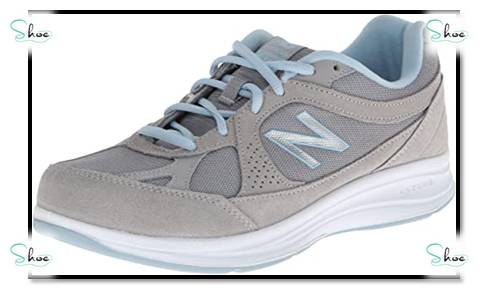 If your everyday tasks involve standing or walking all day, your shoes should deliver a solid degree of comfort and support. New Balance created the women's 877 V1 for nurses and other individuals who spend the majority of their workday on their feet. The shoe's design features a blend of both traditional and contemporary styles. The effortlessly modish design, blended with the footwear's functionality makes the women's 877 V1 wearable in practically any situation and terrain. If you are in the market for the best shoes for CNA, then this NB walking shoe should be top of your list.
Key Features
Made of suede and mesh
Heritage-inspired construction
Walking strike path that helps enhance your natural gait
Rubber sole
Sporty design
ABZORB midsole technology
The NB women's 877 V1 employs ABZORB foam technology within the midsole. This patented cushioning material is designed to help distribute the shock from the impact point to decrease the force that spreads to the remainder of your lower extremities and ward off the possible foot, joint, or muscle pains.
New Balance constructed the upper with 100 percent suede plus mesh. These materials work to provide your feet with enhanced ventilation whilst also giving you a lighter feel as you move about from ward to ward. Moreover, NB utilized a suede fabric in making the overlay to give the shoe a fashionable look while enhancing the shoe's supportiveness. The running shoe comes with traditional lacing closure that allows for a clear-cut fit.
The 877 V1's suede plus mesh upper construction means that breathability is more than guaranteed. Thus, no matter the duration of your shift, you will not experience hot spots or your feet being overheated. Moreover, as you may already be aware, once your feet are contented, you will be in an excellent mood, and work becomes fun.
Most walking shoes are engineered to provide the wearer with miles of feather-like cushioning, along with breathability and support so you will have no problem wearing them all day. A weighty shoe may result in defective movement patterns and this may eventually give rise to musculoskeletal issues. The women's 877 V1 comes in at 289 grams, which makes it a little heavy compared to several other walking shoes in the market. All the same, the shoe is well outfitted to cope with whatsoever your day can toss at it.
The women's 877 V1 is without a doubt one of the best New Balance shoes for nurses. The footwear will help keep your feet cozy and relaxed even on the longest days.
Pros
Padded insoles
Highly durable
Lace-up closure for a relaxed fit
Padded tongue and collar
Fabric lining for extra comfort
See also: Best Shoes for CNA
---
New Balance Women's 1540 V2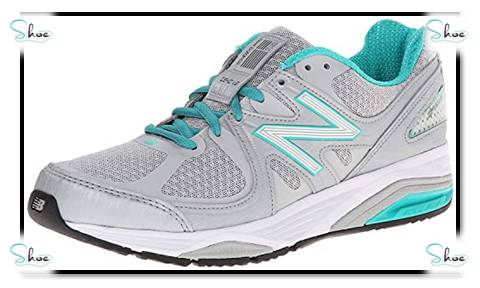 New Balance says the 1540 V2 is engineered for road running, however, a significant proportion of nurses attest to the fact that the shoe is one of the best sneakers for nurses on feet all day. This USA-made motion control shoe is constructed to manage overpronation and steer your foot so you can concentrate on your core duty, which is caring for your patients. The footwear boasts several imposing features including a seamless upper with a breathable mesh for superior air circulation plus a dual-density collar that lends the sneaker a comfortable fit.
Key Features
100 percent synthetic
Rubber sole
Breathable mesh panels
Dual-density foam collar
No-sew material construction
TPU rollbar to prevent overpronation
10-millimeter heel-to-toe drop
This NB running shoe is superb for nurses who overpronate and require support. The shoe was constructed to help treat overpronation and return to a healthy gait. At the underside beside the outsole is located the TPU Rollbar, which extends transversely along the rear side of the foot. This TPU rollbar is what helps prevent overpronation as well as enhance rearfoot stability. The footwear also features an ENCAP foam midsole that will help keep your feet stable and cozy as you go about attending to your patients.
The traction capability of the outsole has been widely praised for being very strong and balance assuring. New Balance utilized blown and Ndurance rubber in constructing the outsole and these materials give the footwear's base remarkable durability in irregular and high wear environments. Many online reviews say that the outsole is exceptionally stable and helps avert rolling or sliding. However, a few wearers report that they were not pleased with the level of flexibility and responsiveness delivered by the running shoe.
On the other hand, several testers extolled the midsole section for delivering a consistent degree of cushioning regardless of how long the footwear is worn. Moreover, New Balance installed ABZORB cushioning within the heel section. ABZORB cushioning is a key cushioning compound employed by New Balance. This substance works by diffusing impact and diminishing the shock that is typically conveyed from the footwear up towards the upper parts of the body.
The midsole's top layer is ACTEVA LITE. New Balance asserts that ACTEVA LITE is 24 percent lighter compared to regular midsole foam. This lightweight midsole foam gives the running shoe extra agility whilst still delivering the best possible compression properties. With all these impressive attributes, the midsole of the women's 1540 V2 provides first-class arch support for running or walking all day. Little wonder then it is esteemed as one of the best New Balance shoes for nurses.
Pros
Highly breathable
Good arch support
Sturdy outsole
Comes in a range of width choices
Roomy toe box
Cons
A bit costly
Some wearers say that the footwear feels a little heavy for an everyday walking shoe
See also: Best Walking Shoes for Nurses
---
New Balance Women's 990 V4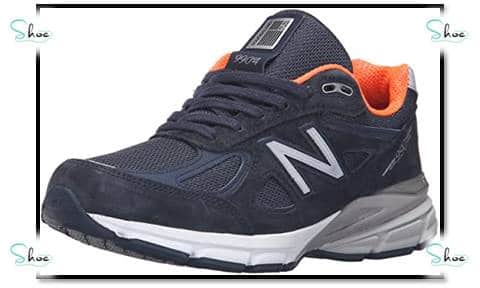 This elegant running shoe from New Balance is also one of the best shoes for nurses. NB designed the sneaker for the runner or walker who is searching for enhanced support, cushioning, and stability. The 990 V4 employs some of the finest industry technologies to ensure you enjoy a distinctively pleasing walking experience. One of the shoe's strongest attributes is its outstanding durability, which is why users have commented over and over about the footwear's extended lifespan and durability. If you are an overpronator, this shoe is perfect for you. It delivers excellent cushioning and a user commented that it provided superior arch support and even helped eliminate knee and hip pain that she suffered from other shoes.
Key Features
50 percent mesh, 50 percent pigskin
3M reflectivity
ENCAP PU ring along with EVA central midsole
Produced in the USA
Shaft measurement: about low-top from arch
The outsole of the women's 990 V4 is made using blown rubber. This material is commonly utilized in making shoes for overpronators. The best thing about blown rubber is that it is very durable and gives admirable traction. This means the outsole can bear up just about anything you may throw at it. One reviewer praised the shoe's durability saying that it will not easily break down and that it is a lot more durable compared to the typical running shoe.
The upper has distinctive and helpful features to give the wearer a personalized walking experience. The sneaker boasts a unique blend of mesh plus pigskin leather. This unique combination helps keep the sneaker breathable. In addition to this, New Balance constructed the upper to give the wearer a cozy and breathable fit.
Another area that makes the 990 V4 one of the best New Balance Shoes for nurses is within the comfort department. Several nurses have stated that with the adequately cushioned midsole plus the tough rubber outsole, the sneaker is a superb option for individuals who work mostly on their feet.
Overall, if you are prepared to forgo the inclusion of a few additional ounces in order to enjoy supreme comfort all day long, then the New Balance Women's Made in US 990 V4 Sneaker is a splendid option.
Pros
Extremely durable
Comes in multiple sizes
Stylish design
Reasonable breathability
See also: Best Tennis Shoes for Nurses
---
New Balance Women's 411 V2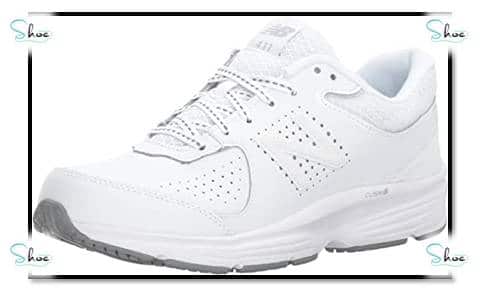 If you desire a walking shoe that will give your feet cushioned comfort so you can feel great all through the day, then the NB women's 411 V2 may be your finest option. The shoe boasts more than enough cushioning as the detachable insoles, ankle collar, and tongue are all adequately padded to keep your feet content throughout the day. The interesting aspect is that you can also wear the shoe for casual outings aside from the workplace – thanks to its athletic build. Moreover, to give the shoe enhanced durability and flexibility, New Balance created it using both synthetic plus leather materials.
Key Features
Lace-up closure
Mesh upper
Rubber sole
Made using genuine leather
Removable foam insert
Padded tongue along with ankle collar
The entire sections of this leather shoe from NB are constructed using first-rate materials. New Balance did this to enhance the durability of the walking shoe. Besides, the women's 411 V2 comes with a heavy-duty rubber outsole that offers amazing grip and traction. Many reviewers agree that the footwear is one of the best shoes for ER nurses. These reviewers confirm that the shoe will allow you to walk with confidence even on slippery hospital floors.
The leather/mesh upper is both robust and adaptable delivering a comfortable fit all through its lifespan. You will love the breathability and coziness of the women's 411 V2. Testers testify repeatedly that the shoe was able to keep their feet dry and fresh even after 12 plus hours of wearing. Another endearing feature of the 411 V2 is its removable insoles. New Balance employed form-fitting cushions in the making of these insoles to deliver enhanced foot support to the wearer.
Some customers are not happy with the shoe's price tag saying it is too expensive. Nevertheless, considering the many superb features offered by the footwear, the cost is definitely worth it. A reliable nursing shoe should not only be comfortable and supportive, but it should also be versatile and stylish. The New Balance Women's 411 V2 Lace-up Walking Shoe meets all these parameters and more.
Pros
Very durable
Comfortable
Lace-up design that gives a snug fit
Stylish design
Cons
A few users have complained that the footwear runs small
See also: Best Shoes for ER Nurses
---
New Balance Women's 990 V5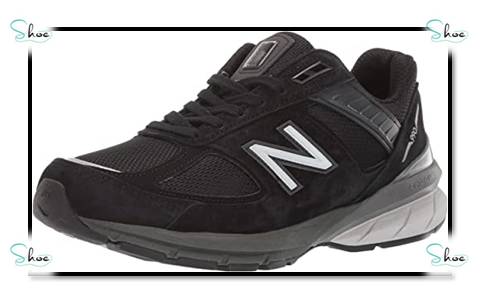 Nursing shoes are famous for taking a beating within the hospital grounds. This is why they are designed to withstand the rigors of prolonged wearing. Aside from providing all-day comfort and stability, the NB women's 990 V5 sneaker is engineered with revolutionary technologies to ease common foot conditions like poor circulation and nerve damage. The sneaker has a somewhat bulky feel but testers attest that it delivers stirring support, stability plus cushioning. The sneaker is one of the best shoes for nurses on feet all day as it boasts a number of imposing features like pigskin/mesh upper and a rubber outsole.
Key Features
Pigskin/mesh upper
Rubber sole
50 percent leather, 50 percent synthetic
Adjustable bungee closure
Flexible upper material
Contemporary design
N logo branding
The most notable feature of the 990 V5 is its pigskin/mesh upper. The pigskin leather component is designed to enhance stability whilst the mesh sections are tactically placed to allow for proper airflow inside the sneaker.
The sneaker also scores fantastically as regards durability and this is partly due to its full rubber outsole along with AT Tread. Moreover, several testers have scored it high for delivering admirable traction and grip on varied surfaces and terrains.
If you are in the market for a shoe that is ideally suited for all-day wearing at work, then the New Balance women's made in US 990 V5 Sneaker is one such shoe.
Pros
Durable
Offers excellent stability
Classic design
Non-slip sole
---
New Balance Women's 928 V3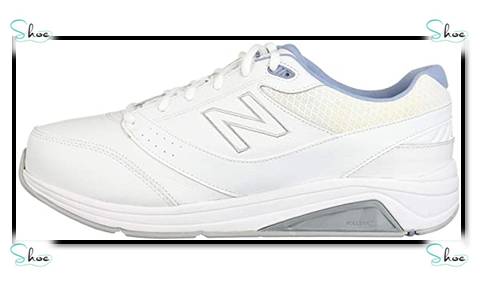 This NB footwear maintains the specific classics connected with New Balance. If have been following the 928 series from New Balance, then most probably know that several customers had one or two complaints about the 928 V2 iteration. The makers listened to these complaints and have addressed most of them with the women's 928 V3 walking shoe. The footwear boasts several protective attributes that will keep your feet protected and cozy all day long.
Key Features
ABZORB cushioning
Rubber sole
100 percent leather upper
Rollbar stability technology
Walking Strike Path innovation
NDurance rubber outsole
ABZORB cushioning and Rollbar stability technology are two of the most important features of the NB 928 V3. With ABZORB cushioning, the shoe is able to soak up the shock from your foot landings thus shielding your feet from strain and injury. With the Rollbar stability post arrangement, you get enhanced foot stability and support.
Many nurses with foot problems and comfort issues have given the walking shoe positive reviews. Some of these nurses report that the shoe was beneficial for addressing issues like plantar fasciitis and shin splints. With a 100 percent leather upper and delivering lightweight comfort along with lasting durability, the 928 V3 is unquestionably one of the best New Balance shoes for nurses.
Pros
Comes in various width choices
Designed to help correct a range of foot problems
Extremely durable
Highly comfortable