7 Best Shoes for ER Nurses and Healthcare Workers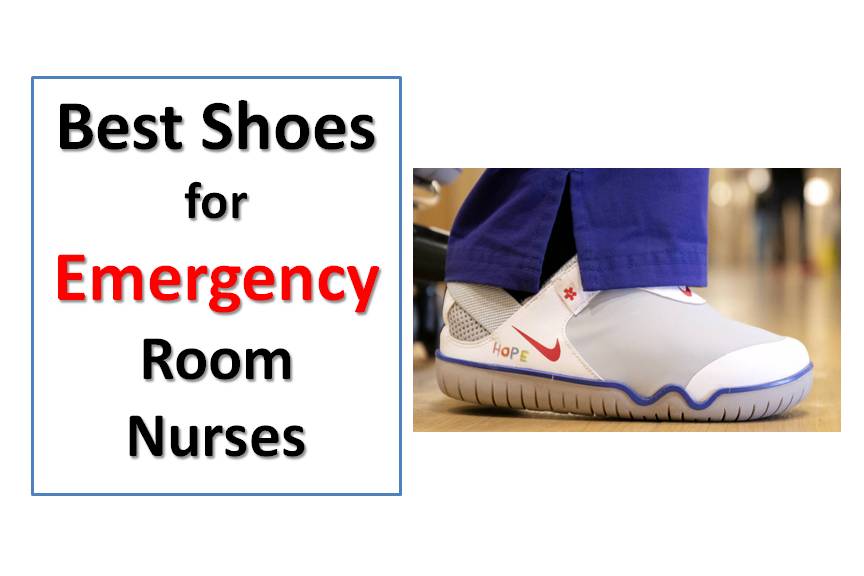 From serious burns to broken bones, you will see it all as an emergency room nurse. On any particular shift, you might have a loaded waiting room filled with non-stop action. However, you still have to make quick and calm decisions for the benefit of your patients. A comfortable pair of shoes can help you withstand many hours of standing and walking. Below are 7 of the best shoes for ER nurses.
7 Best Shoes for ER Nurses
Dansko Women's XP 2.0 Clogs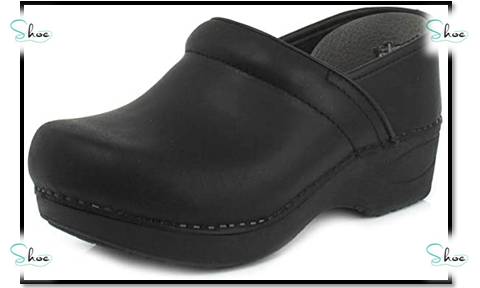 Whether you work long hours on your feet in a hospital or are simply searching for a fashionable and highly comfortable pair of clogs for everyday wear, the XP 2.0 from Dansko is a superb option to boost stability and comfort. The XP 2.0 is a revamped edition of the previous XP model but with extra support and comfort features incorporated. The footwear comes with an EVA midsole, a padded collar plus a PU footbed. Dansko clogs are known for being spacious for the toes and the women's XP 2.0 does not disappoint in this regard.
Key Features
Leather uppers
Rubber sole
Padded instep collar that makes the footwear feel snug around your feet
Lightweight EVA midsole help decrease fatigue when walking
Spacious toe box that allows your feet to move freely
Memory foam for extra cushioning
Detachable, dual-density Pu footbed for underfoot support and comfort
The XP 2.0 clogs from Dansko are downright comfortable to wear. The footwear comes with a detachable, dual-density PU footbed as well as Dansko's signature Natural Arch TM technology. The PU footbed provides cushioning and support to the feet while the natural arch features mean the footwear has an arch stabilizer that allows for maximum support. The footwear comes with a wide toe box, thus your toes will have enough room to spread out and relax.
The shoes have an upper made of tough leather. As you may know, leather is among the finest materials for making shoes. Thus, the women's XP 2.0 clogs will serve you faithfully for many years and completely satisfy your expectations. Moreover, the leather upper is attached firmly to the sole. Therefore, you do not have to bother about the shoes falling apart with the uppers detaching from the sole. You will also love that the uppers is breathable keeping your feet cool and dry all day.
The Dansko Women's XP 2.0 Clogs feature an outsole made from synthetic materials. If you are on your feet all day long, on hard concrete floors, then this type of footwear is perfect for you. This is because the synthetic sole is produced mainly from thermoplastic rubber, which is a tough rubber/plastic composite, as sturdy as rubber yet flexible like plastic. The synthetic outsole is also slip-resistant, which means you can walk on any type of floor surface without fear of falling.
The XP 2.0 Clogs come with extra cushioned footbed designed for all-day comfort. However, the best part is that the footbed is detachable, which means you can replace them with your custom orthotics if required. Moreover, footbeds get dirty from everyday use. Therefore, the removable footbed feature means you can enjoy that fresh feeling month after month.
Pros
Lots of toe room
Slip-resistant outsole
Leather uppers are easy to clean
Memory foam cushioning provides supreme comfort
Available in a wide range of designs
Orthotics friendly
EVA midsole helps reduce fatigue
See also: Best Clogs for Nurses
See also: Best Dansko Shoes for Nurses
---
Brooks Women's Levitate 2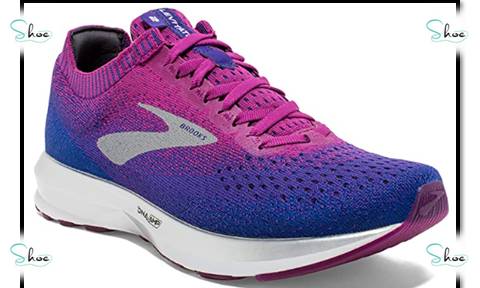 Brooks introduced the Levitate in 2017 and it took the market by storm. A year later, Brooks launched the Levitate 2 with some significant updates as well as an entirely new variety of thrilling colors to give the footwear even more pep. The Brooks Levitate 2 is a dependable and comfortable everyday training footwear that is designed for maximum energy return and comfort. Like the original Levitate, the Levitate 2 feels good, looks good, and exudes a luxurious feel. Read on to find out why the footwear is ranked among the best shoes for ER nurses.
Key Features
Comes with a synthetic and mesh upper
Synthetic sole
Innovative DNA AMP midsole provides impressive energy return
Spacious toe box that allows for stretching plus easy movement
Good for people who suffer from Achilles tendonitis
8.6 millimeters drop
3D Fit Knit upper
The major selling point of the Levitate 2 is its midsole, which is engineered using polyurethane foam. This foam material is enclosed within a thermoplastic skin (TPU). The major function of the thermoplastic skin is to prevent the foam from expanding, which occurs when force is exerted on it. This midsole compound is referred to as the DNA AMP. This substance is perhaps the highest quality midsole compound available in the market today. This feature makes the Brooks levitate 2 one of the best comfortable shoes for nurses on feet all day.
The Levitate 2 comes in rather heavy at 28.35 grams. This weight will certainly increase if by some chance the shoes get wet. Nevertheless, do not be discouraged from trying out the shoe merely due to its weight. Many reviewers say it is easy to get used to wearing the shoes, and once your feet are accustomed to the footwear, it will never tire out your feet even on very long shifts.
Moreover, if you loved and wore the original Brooks Levitate, you will have no issues with the Levitate 2. This is because most of the major revamp was done on the upper, not the weight. While some customers find the design of the Levitate 2 appealing, most reviewers agree that the shoe has a somewhat bland design. The footwear is available in 3 color choices for both the women's and men's shoes, however, all of these choices seem too lackluster to look modern or trendy.
However, the Levitate 2 makes up in quality what it lacks in looks. The shoe's durability reflects the standard of the materials used within the midsole and upper. The footwear's advanced midsole makes it highly durable and it can last up to 800 kilometers.
The upper of the Levitate 2 has a few holes dedicated for allowing air circulation; however, the shoe offers little as regards breathability. Therefore, your feet might feel a bit hot especially on very busy and hot days. The footwear is at its best when worn within dry, breezy, and cool weather. While breathability may be a problem on hot days, the shoe's upper will effectively protect your feet from chilly wind and keep them snug on cold days.
Pros
Excellent traction on dry surfaces
Highly durable (can last up to 800 kilometers)
Wide toe room
Responsive with impressive energy return
DNA AMP midsole for extra support and comfort
Cons
Somewhat bland design
A bit heavy
complicated lacing system
See also: Best Brooks Shoes for Nurses
---
Alegria Women's TRAQ Qarma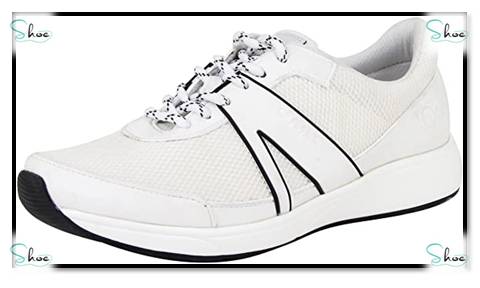 Alegria is renowned for making quality footwear specially engineered for nursing professionals, and the Qarma women's smart walking shoe stays true to that culture. However, there is something notably different about this shoe. It is the first smart snug walking footwear that is fitted with a digital chip. The chip functions as a pedometer. Aside from this technological feature, the Qarma was engineered for walking. The shoes come in a range of patterns and colors and deliver superior comfort and distinctive style. No wonder it is ranked among the best shoes for ER nurses.
Key Features
Rubber sole
TRAQ Q-Chip technology and TRAQ app that records your stepping data
Digital chip that functions as a pedometer
Slip-resistant outsole
Detachable cork plus memory foam footbed that allows for supreme comfort
Padded collar for additional comfort
If you work on your feet all day, you most likely know how vital it is to select comfortable footwear designed for excellent arch support and stability. While there are lots of snug shoes available in the market today, none quite compare as regards comfortability plus step-tracking abilities to Traq Shoes by Alegria. The Qarma, like other TRAQ by Alegria shoes, features an in-built Q-chip pedometer that precisely counts every step you take.
The best part is that no charging is needed for the shoe's entire life. Once you connect to the smartphone TRAQ app, you can personalize, set goals as well as monitor your advancement on a daily, weekly plus monthly basis. No GPS is needed, only Bluetooth connectivity. In addition, you do not have to take your mobile device everywhere you go. This is because TRAQ will keep all of your info for seven days before the TRAQ App is updated.
Qarma also features a sturdy mesh and synthetic upper within a sporty sneaker profile. The shoes upper is breathable ensuring your feet are secure and cool all day long. The footwear's completely cushioned collar helps shield delicate parts of your feet from blistering due to rubbing. The modifiable lace-up closure helps ensure personalized fit plus comfort for all-day wear.
The TRAQ by Alegria Qarma Women's Smart Walking Shoe is also fitted with Alegria's signature footbed. This innovative footbed comprises a combination of polyurethane, cork, and memory foam specially constructed to conform to your feet's natural contours. This feature helps ensure you enjoy an exceptional degree of arch support and comfort not obtainable in other athletic shoe brands. The footbed is detachable, which means you can replace them with your own orthotics if required.
The Qarma also has a dual-density, non-slip man-made outsole that provides impressive support and traction over a range of terrains. The shoes have a great look and feel about them and are available in 25 trendy designs.
Pros
Available in 25 color choices
Connects to your mobile device to track steps
Detachable footbed
Cons
Some users say the step-tracking feature sometimes malfunction
Unimpressive midsole support
Very narrow sizing
See also: Best Walking Shoes for Nurses
---
Skechers Women's Memory Foam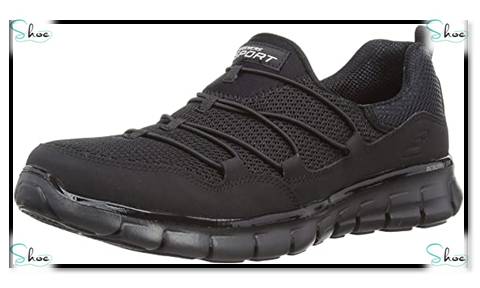 If you are looking for footwear that will keep you comfortable when doing a long shift at work, then the Skechers sport women's loving life memory foam fashion sneaker is definitely the appropriate choice. Offering a smart construction, the sneaker pack the features you require to keep your feet properly supported and protected whilst maximizing your energy. A feature you will certainly love about this footwear is that it offers a striking blend of comfort, vogue, and style. It is a great hit among nurses and other healthcare workers because the shoe is extremely comfortable, looks trendy, and meets the dress code for healthcare professionals.
Key Features
Slip-on design
Breathable mesh upper
Rubber sole for good traction and grip
Flex groove outsole
Memory foam insole
The inside of the women's loving life memory sneaker is covered with a supple fabric lining that feels very warm and cushiony. The fabric lining also helps to wick away moisture as well as keep your feet cool and dry all day long. The main reason many reviewers rave about this footwear is due to the shoe's memory foam heel and memory foam insole. Memory foam insole is beneficial for all-day wear as it helps decrease foot fatigue as well as stress on your toes. Memory foam heel helps to take some pressure off the ball of your feet as you walk, thus ensuring your feet are comfortable all day long during long hours of work.
The women's loving life memory sneaker from Skechers is engineered using mesh fabric and faux leather. These materials give the shoe a trendy appearance whilst making it highly durable and resistant to moisture. The shoes come with a slip-on design and deliver outstanding feet and ankle support, and its bungee-style laces allow for easy on easy off.
The Skechers Sport Women's Loving Life Memory Foam Fashion Sneaker has a durable and lightweight outsole plus flex groove tread designed to decrease foot fatigue and promote stability. If you are in the market for the best shoes for ER nurses that is lightweight, breathable, and delivers supreme cushioning, then you cannot go wrong with the Skechers Sport Women's Loving Life Memory Foam Fashion Sneaker.
Pros
Mesh fabric upper that promotes good ventilation within the shoe
Highly comfortable and supportive due to the memory foam padded footbed
Simple slip-on build
Perfect blend of style, vogue, and comfort
See also: Best Skechers for Nurses
---
ASICS Women's Gel-Challenger 12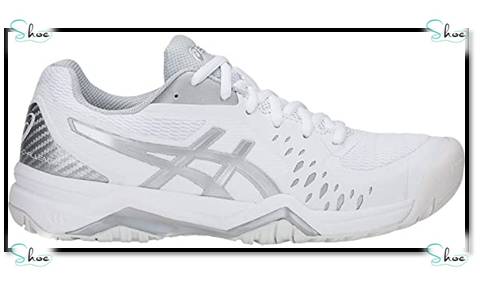 ASICS is known to produce cushy, strong, and reliable shoes, and this is why many athletes and fitness enthusiasts swear by them. The Gel-Challenger series from ASICS was originally made for recreational tennis players however the shoes deliver sufficient technology that endears them to healthcare workers including nurses. The women's Gel-challenger 12 delivers loads of comfort, support plus durability – all at an unbeatable price.
Key Features
Detachable ortholite sockliner for effective moisture wicking
Rubber sole
Solyte midsole that delivers a responsive feel
Midfoot trusstic shank for better stability
Abrasion-resistant technology that enhances durability
Aharplus outsole for better durability and traction
Made of fabric plus synthetic leather
The Gel-Challenger 12 has a sole that is made using high-grade rubber and bolstered with innovative technologies. The shoes' pressure areas (the forefoot and heel sections) feature ASIC'S signature Gel cushioning system. The gel cushioning technology is especially beneficial if you constantly walk around on hard floors such as concrete. It helps to prevent calluses and blisters from forming on your feet.
The Gel-challenger 12 also features ASICS' Trusstic System technology. This technology helps the footwear attain better stability and integrity whilst decreasing strain on your feet. In addition, the footwear has a solyte midsole that is effective in delivering supreme cushioning and durability. Orthotic support is another feature loved by fans of the Gel-challenger series. The shoes come with a detachable insole that you can replace with your own orthotic or arch support if required.
This tennis shoe from ASICS is superbly handcrafted using untainted fabric material. It also has a detachable sockliner that helps with internal moisture management, breathability, and odor control. All these help to keep your feet cool and dry even during very long work shifts. With all these features, the Gel-Challenger 12 is one of the best shoes for ER nurses. It is ranked among the best cheap shoes for nurses in the market right now.
Pros
Fantastic cushioning
Great ankle support
Available in a variety of colors
Comfortable and long-lasting
Cons
Some users have complained that they had issues with the lacing system
See also: Best Asics Shoes for Nurses
---
Brooks Women's Ghost 12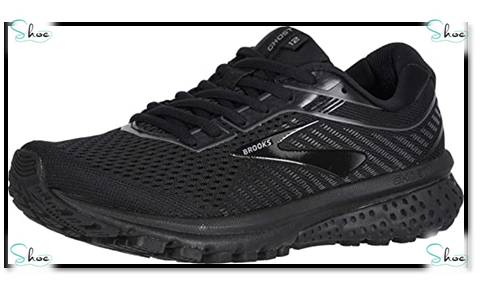 The Ghost from Brooks is undoubtedly the best neutral everyday running footwear within the Brooks lineup. These shoes offer impressive looks, fantastic cushioning, and a great fit. The Ghost 12 was launched in July 2019 and several reviewers agree the shoe offers fans all the advantages the footwear series is known for, plus some slight improvements. If your job keeps you on your feet all day and you need excellent support and a high degree of cushioning for your feet, then consider including the Brooks Ghost 12 in your wardrobe.
Key Features
Gum Rubber sole
Lightweight construction
BioMoGo DNA plus DNA LOFT cushioning for better underfoot comfort
Segmented Crash Pad for a smooth, stable ride
3D Fit Print for a matchless combination of structure and stretch
The midsole of the Ghost 12 has garnered praises from many reviewers due to its near-perfect design. It is pretty much similar to that of the Ghost 11 as it utilizes the two technologies – BioMoGo DNA foam and DNA loft. BioMogo DNA helps decrease strain on your joints so you can walk with ease even during very long and stressful shifts.
The outsole design of the Ghost 12 is slightly different from that of its predecessor; however, the structural components are essentially the same. The outsole is almost completely covered with blown rubber. This feature gives the shoe excellent traction even on wet and slippery surfaces.
In addition, the outsole is extremely durable and designed to resist the wear and tear caused by constant walking. This durability makes the Brooks Ghost 12 a more economical option compared to other shoes within the same price category. The segmented crash pad at the forefoot outsole delivers impressive shock absorption plus an effortless toe-off with each step.
The biggest modification to the twelfth edition of the Ghost from Brooks is the novel 3D Fit Print mesh upper utilizing an engineered material that delivers various degrees of segmented support. Aside from enhancing the already snug fit of the Brooks Ghost, this upper also gives the footwear an entirely new appearance. The shoes look great with casual outfits, and will surely look great with your nurse's uniform.
The footwear's upper is a single piece of knit with supple, smooth overlays printed directly on top of the mesh upper. What this means is that no glue, stitching, or seams that may create unnecessary friction were used. The shoes give you only efficient and segmented support at any point you need it.
In addition, the Ghost 12 boasts a modernized heel counter with a textured yet soft material that helps prevent unnecessary heel movements. Many users say they have never gotten blisters or experienced heel slippage when wearing these shoes. The sockliner and tongue are made from top-quality materials like other components of this impressive footwear.
After you have enjoyed this shoe for many months, you will find out why the Ghost 12 from Brooks has been rated one of the best nursing shoes since its launch. The top-performance comfort and outstanding durability are difficult to beat.
Pros
Impressive shoe at a reasonable price
Remarkably soft and bouncing cushioning
Fantastic heel support
Delivers sufficient toe box room for most individuals
Fantastic outsole grip
Cons
Wobbly on uneven surfaces caused by high stack height
Available in few color options
See also: Best Shoes for CNA
---
New Balance Men's FuelCell 890 V8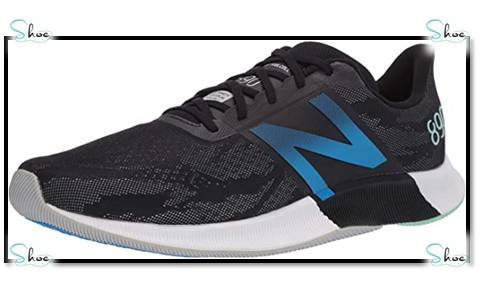 The 8th edition of the 890 series from New Balance came with a total revamp. The footwear now has an expanded blown-rubber covering on the outsole for enhanced traction as well as a lightweight full-length FuelCell midsole. The Men's FuelCell 890 V8 looks sporty and trendy with an edgy finesse that shows within its gusseted tongue. A feature you will definitely love about this shoe is the seamless dynamic sock-like fit. When you put the shoes on, it will hug your feet like a glove. You will never experience unnecessary foot movement or heel slippage within the footwear.
Key Features
Synthetic and mesh upper
Rubber sole
FuelCell midsole foam for enhanced cushioning
ENCAP midsole technology that helps deliver impressive durability and all-day comfort
ROLLBAR technology for better stability
Stylish and sleek
The 890 V8 feature FuelCell midsole foam that runs the entire length of the footwear for optimum heel-to-toe transition. Aside from being lightweight, the FuelCell midsole is also quite firm, but not stiff. For footwear designed for quick pacing of many miles, the 890 V8 delivers an excellent degree of firmness. The shoe's outsole is equipped with REVlite foam. This cushioning material is concentrated beneath the ball of the foot for better comfort. The outsole also has extremely dense blown-rubber fitted around the shoe's perimeter for enhanced durability.
The New Balance Men's FuelCell 890 V8-Running Shoe features a breathable and flexible knit upper. The shoe has a seamless design except for a line of stitching that runs through the underside of the tongue. This feature helps keep the footwear lightweight and flexible. The shoe's upper has two layers – a smooth interior lining covered by a mesh-like knit. These combine to deliver a comfortable, sock-like fit that adheres to the outline of your foot.
The 890 V8 is however not a perfect shoe. Some users have complained that the toe box is not wide enough for their feet. The best walking shoes for nurses are the ones that allow the toes to spread out more naturally. If you have wide feet, the 890 V8 may be restrictive for you. Many reviewers rave about this shoe because it blends the best of functionality and design. So, if you are a fashionable nurse who does not want to sacrifice style for comfort, the 890 V8 may be the footwear for you.
The New Balance Men's FuelCell 890 V8-Running Shoe has a gusseted tongue, which makes it a little water-resistant. While this addition does not cause any issues like blisters, some reviewers regard this feature as superfluous. The footwear comes with a thin, light but strong laces.
Pros
Lightweight
Fast heel-toe transition
Comfortable, sock-like fit
Trendy appearance
Cons
Narrow toe box
A bit stiff
See also: Best Shoes for Male Nurses