What Shoes To Wear with Scrubs? – From Sneakers to Clogs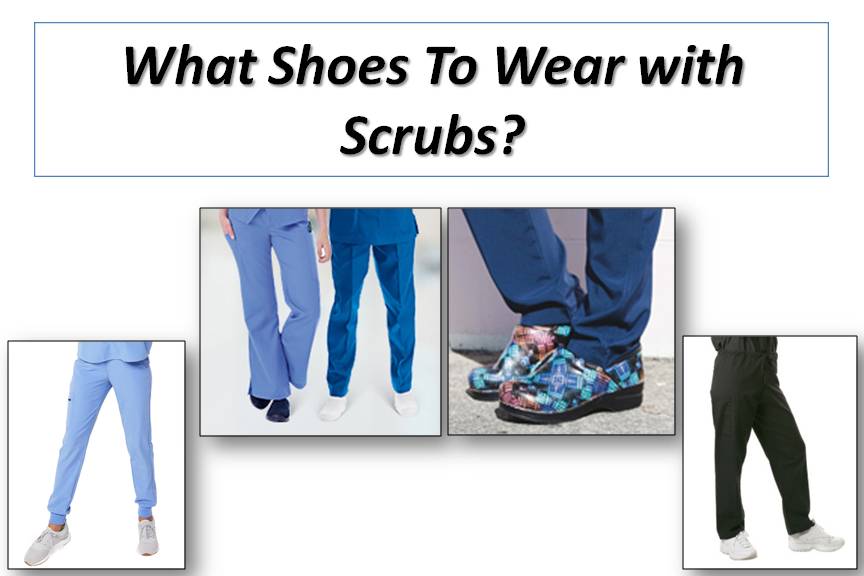 Shoes are an essential part of a nurse's outfit. Wearing good nursing shoes can save you a great deal of discomfort, foot, and back pain all day. These shoes offer better shock absorption, feet, and leg support, as well as an overall comfy feel. However, scrub shoes for nurses must meet the fundamental requirements for safety on the job.
There is a wide variety of scrub shoes available in the market today. Most of them can be grouped into four major types – Athletic sneakers, crocs, casual shoes, and clogs. Each type offers advantages for various kinds of nurses. What is permissible within each healthcare institution may differ from one locality to another. However, most hospitals mandate closed heel footwear because they provide a reasonable level of foot protection.
See also: Best Shoes to Wear With Scrubs
Best Shoes to Wear with Scrubs 
Sneakers :
Most nurses are continually on the go and this is particularly true for emergency room nurses. All that constant movement requires that you have adequate footwear that offers an excellent grip on the floor. Athletic shoes such as tennis shoes or sneakers are ideal for this type of area within the healthcare facility.
Most experienced nurses have found that sneakers made of rubber and leather are the most suitable. These materials are impervious to liquids thus will help prevent bodily fluids and other hazardous chemicals from getting to your feet. You should also opt for lightweight sneakers as they help decrease the strain on your feet as well as the amount of energy you will expend walking. Most sneaker brands come with non-skid soles that help prevent accidents.
See also: Best Sneakers for Nurses
Crocs :
Crocs are footwear made using a material known as croslite. This material allows the footwear to be soft, comfortable, and odor-resistant. Many healthcare professionals including doctors and nurses wear crocs because they are super comfortable and soft.
Newer croc designs come with a closed-top construction to help shield the feet from fluid spills. They also have ventilation ports at the sides instead of the top. These ventilation ports are essential to help keep your feet cool and dry. These newer versions also have channels near the side openings to keep liquids away. They also come with a wide footbed and slip-resistant sole for enhanced traction and comfort.
See also: Best Crocs for Nurses
Casual Shoes :
These are an excellent alternative for healthcare professionals who spend moderate periods on their feet. Casual shoes include slip-on and other footwear designed for easy and comfortable walking. Aside from being comfortable, casual shoes also look stylish and trendy. Therefore, if you do not want to give up your fashion sense while looking for comfort, you cannot go wrong with these nursing shoes.
Clogs :
Clogs are perhaps the most popular footwear in nursing homes and hospitals. This is because they provide an excellent fit and are easy on your spine and back. Clogs typically come with an open-back construction and closed toes. Some designs have a rear strap that helps prevent the footwear from slipping off. In addition, many recent designs now come with closed backs as well as a detached strap for better protection.
Several nursing clogs offer waterproof protection, arch supportive heels, reinforced toe guards, and slip resistance. These nursing shoes are generally produced from hard, durable materials like wood and thick leather.
See also: Best Clogs for Nurses
Top 7 Best Shoes to Wear with Scrubs
Brooks Women's Ghost 13
Brooks shoes are crafted with a dynamic lifestyle in mind. The Ghost 13 from Brooks is loved by millions of nurses around the globe due to its lightweight design and outstanding arch support. It also delivers remarkable plushness, long-lasting durability, and is splendid for all-day wear.
Check the Latest Price and More Details: Brooks Women's Ghost 13
Dansko Women's Professional Clog
Danskos are also super comfortable and supportive. If you work majorly on your feet, then you will almost certainly appreciate the need for comfort. Dansko clogs have held their own as one of the best choices of nurse shoes for over 3 decades. The Dansko women's professional clog features a well-padded instep collar, capacious toe box, rocker bottom, plus a PU outsole all designed to ensure you enjoy a cozy and effortless walking experience.
Check the Latest Price and More Details: Dansko Women's Professional Clog
Skechers Women's Fashion Sneaker
Skechers is all the rage for the broad variety of comfortable shoes it offers. The Skechers women's fashion sneaker is constructed specially for nurses and other professionals who spend nearly all of their workday standing or walking. Thanks to the sneaker's memory foam insole along with its lightweight construction, your feet will stay snug and happy irrespective of how long your shift is. The interesting aspect about this Skechers' sneaker is that it is pocket-friendly while offering all the qualities needed by nurses to perform their duties efficiently.
Check the Latest Price and More Details: Skechers Women's Fashion Sneaker
Croc Unisex Specialist II Clog
Crocs are loved by several nurses due to their affordability and ease of maintenance. These shoes are also lightweight, easy to slip on/off, and above all comfortable. The Croc Unisex Specialist II clog boasts a contoured footbed that's designed to mimic your foot's natural movement delivering enhanced arch support. Crocs is distinguished for making roomy shoes nevertheless, this model is perhaps the roomiest within the Crocs line-up.
Check the Latest Price and More Details: Croc Unisex Specialist II Clog
Alegria Women's Debra
This clog style model from Alegia offers several fabulous advantages for nurses who stand or walk throughout the day. Its memory foam footbed is highly supportive and will snug your foot. Besides, this footbed is removable meaning that you can make use of orthotics. The women's Debra also features handmade soles that are engineered to endure whatever you toss at it.
Check the Latest Price and More Details: Alegria Women's Debra
Sticky Women's Work Shoes
The foremost selling point of this exquisite footwear from Sticky is its comfy and lightweight construction. With this feature, your feet will never get strained during those 12-hour shifts. The sticky women's work shoes are offered in 9 size selections and in an array of color options. Thus, you will for sure find a model that fits your needs and taste. Many wearers love that the footwear's sole and upper are waterproof so you can wear them in any sort of brutal seasons too.
Check the Latest Price and More Details: Sticky Women's Work Shoes
STQ Women's Slip-on Breathe Mesh
This classic STQ footwear is super lightweight, comfortable, and furnishes that barefoot walking feeling with adequate protection. The shoes' supple knit mesh upper delivers a sock-like fit while allowing for an exceptional airflow inside the shoe. The women's slip-on breathe mesh also looks fashionable meaning that you can wear them for casual outings plus other events. The toe box is roomy so you will get a pleasant fit even if you are broad footed.
Check the Latest Price and More Details: STQ Women's Breathe Mesh
Find a Shoe That Will Be Perfect For You
A good shoe choice for your friend might not be a good pick for you. Your feet will have different requirements, and you must consider those requirements. When shopping for nursing shoes, consider the following three factors.
Your Feet's Biomechanics:
Your feet are your body's structural foundation. Adequate feet support is vital to helping your body function at its best. The major functions of your feet are to propel your body forward as well as to absorb shock. Your feet propel your body forward by utilizing two vital biomechanical motions – pronation and supination. These two motions are normal and essential for each step that you take.
However, most individuals who have pains and aches in their legs and feet usually have feet that overpronate (rolls in too much). One way to determine your degree of foot pronation is by checking the height of your arch. A simple way to determine your arch type is by doing the "wet test".
When you step out of your shower, examine the shape made by your wet foot on the bath mat or floor. After examining the outline, use the "determine your foot arch chart" to establish your arch height.
If you are an overpronator (low arch), you should choose shoes that provide motion control. If you are a neutral pronator (normal arch), you should opt for stability footwear. If you are an under pronator (high arch), cushioned nursing shoes will be most appropriate for you.
See also: Best Orthopedic Nursing Shoes
Weight :
The heavier you are the more work your feet do to support your upper body. Therefore, if you are a plus-size individual, go for shoes that provide both stability for extra durability and cushioning for shock absorption.
Injuries :
If you suffer from chronic back or leg pain or have a lower-body injury, then go for shoes that provide additional support. Shoes that provide a lot of cushioning and stability will help your body heal faster.
A few additional Tips
Replace your footwear often because they wear out with constant use. The standard recommendation is to change your footwear every 500 miles.
Quality nursing shoes do not need breaking in. They should fit perfectly the initial time you wear them. If they do not, they are probably not your size.
Shoes that offer good traction on varied surfaces are your best bet. This is because nurses work around several types of chemicals and fluids that may spill and result in slips and falls.
If your job keeps you constantly on the go, the excessive physical activity will ultimately take a toll on your body and mental health. That is why you need good nursing shoes so you can deliver your full potential to your patients. It is also very important you take good care of yourself whilst caring for others.