Why Do Nurses Wear Clogs?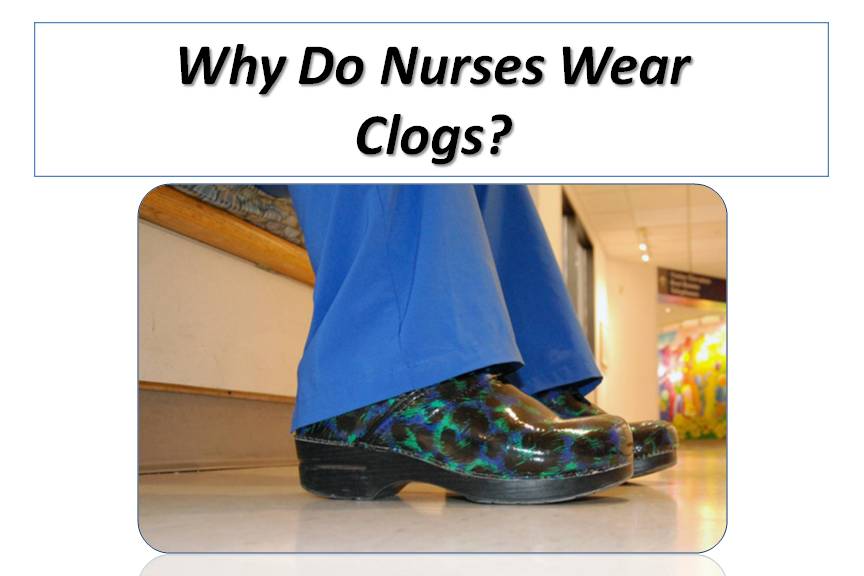 Nurses are required to perform a wide variety of duties, from cleaning and dressing wounds to helping physicians with care plans and physical examinations. However, unlike most specialists, nurses work mostly on their feet. That is why a reliable pair of footwear is essential. When you think of good nursing shoes, you think of clogs.
These fabulously comfortable shoes are exceptional in that they blend deep comfort with casual elegance. So, why are nurses and other healthcare professionals attracted to clogs? Read on to find out.
See also: Best Clogs for Nurses
What exactly are Clogs?
Clogs are defined by their overall design. They are a unique footwear type with flexible leather or plastic upper and a sturdy sole and heel. The soles and heels of clogs were originally made from wood. However, these days they are produced from a variety of materials.
Clogs have been around for centuries, and they were originally wooden footwear worn by peasants and factory workers to protect their feet. Over the years, the functionality of clogs has evolved and they are now desired and embraced by both consumers and designers within the fashion industry.
See also: Are Clogs Good for your Feet?
Reasons Why Nurses and other Caregivers Love Clogs
Support
Clogs are specially designed to offer a high level of foot support over an extended period. This is the major reason nurses love wearing these shoes. After working a twelve-hour shift at the hospital, chances are that your feet will feel sore and fatigued. This typically occurs because you spend most of your workday on your feet, either standing or walking from one ward to the other. All of these can put undue pressure on your muscles and joints, which might result in leg and back pain as well as other conditions.
While regular exercise and proper sleep can help alleviate the pain caused by excessive walking or standing, it is always best to prevent the condition if possible instead of treating it. A good pair of clogs can help prevent foot and joint pain after working a long shift. These shoes typically have a sturdy interior that will provide good support to your ankles and feet. This helps to keep strain and stress off your spine and joints.
See also: Best Shoes for Nurses with High Arches
Comfort
Another reason clogs are coveted by healthcare workers particularly nurses is because of the supreme comfort they provide. Nurses work up to twelve hours for an average shift and many also work overtime. For this reason, your work shoes should be super comfortable.
Sneakers and conventional shoes typically have a lace-up design. Tie-up lace shoes tend to add extra pressure to the feet and may become uncomfortable during extended use. In contrast, clogs can easily be worn or taken off whenever you want. This helps to boost your foot comfort and overall health.
Safety
As mentioned earlier, clogs do not have straps or laces. With this feature, you do not have to worry about getting caught on tools or tripping over your own feet. In addition, the laceless feature of this footwear type ensures you do not suffer pain caused by focused pressure on your feet.
Preventing and controlling infection is a constant concern for any healthcare organization. Clogs typically have smooth and simple uppers that make them easy to clean. This helps to prevent and control infection within the hospital environment.
Furthermore, conventional clogs come with a closed-toe design. This characteristic helps ensure your feet are properly protected against potential injuries like falling objects and exposure to bodily fluids or unsafe chemicals.
Many modern clogs are fitted with several other safety features like anti-static technology and safety toecaps. Anti-static safety clogs prevent the accumulation of static electrical charges within the body. This helps decrease the danger of interference with electrical devices.
Traction
Slippery floors are a common cause of accidents in hospitals. Hospital floors are cleaned regularly to maintain cleanliness. You stand the risk of slipping and falling, particularly if you are hurrying to attend to your patients.
Medical clogs are fitted with a big and steady sole that makes utmost contact with the floor. They also feature slip-resistant soles that provide excellent grip on varied terrains including wet and slippery floors.
These features help reduce your risk of falling and slipping.
Easy-Off, Easy On
Another prominent feature of clogs is their wonderful versatility. You can simply slip the footwear on when you are leaving for work and then slip it off after a very long shift. In addition, your hands may pick up germs and other bacteria when you wear or remove your shoes with your hands. Clogs can be extremely helpful in this instance, as you do not have to wear or take off this footwear type using your hands.
Durable
Medical clogs are engineered using thick rubber or plastic with a spongy sole that is perfect for walking or standing. These features ensure the footwear will last you a long time compared to your regular shoes. Conventional work shoes tend to lose their form and usually wear out after a bit of use. In contrast, medical clogs maintain their look and shape even after prolonged use.
Simple to clean
The look of your shoes can easily be ruined by contaminants on a hospital floor. Also, when working within a healthcare institution, it is easy for bodily fluids and other chemicals to spill on your footwear. Fabrics are stained easily and the stain is usually difficult to remove. On the contrary, clogs are simpler to clean since they are produced from rubber. You only need a clean damp cloth to clean your footwear and it will dry out quickly.
See also: How to Clean White Shoes With Baking Soda and Toothpaste
Breathable
Many clogs come with an open-back design. This attribute adds to the breathability of the footwear. Good breathability helps to keep your feet cool and allows sweat to evaporate faster. Remember that having sweaty feet can increase your risk of getting fungal infections such as athlete's foot.
Clogs are certainly not as stylish as sneakers or other regular shoes. Nevertheless, they provide impressive support and comfort for several individuals including nurses. Get a reliable pair of clogs today and discover for yourself why several individuals covet these nursing shoes.
See also: Best Breathable Shoes for Nurses