What Do Nurses Wear for Shoes?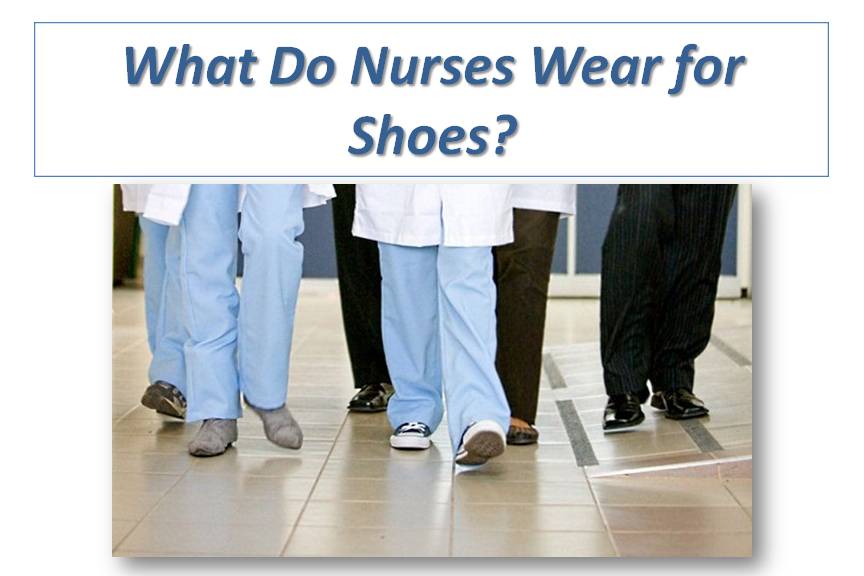 A nurse's job can be emotionally and physically exhausting. Studies have shown that the average nurse can walk upwards of 4 miles daily. While walking is a fantastic form of physical exercise, it can also result in fatigue. If your job keeps you walking a lot, investing in a reliable pair of nursing shoes should be a major priority for you.
Happily, there are footwears designed especially for people in the nursing profession. Below are some tips to ensure you select the most appropriate footwear for your feet.
Benefits of Having the Right Nursing Shoes
A comfortable and supportive pair of shoes can be the difference between a productive workday and an unproductive one. Here are a few advantages of comfortable shoes for nurses.
See also: Best Shoes for Nurses
Productivity. A good pair of shoes can boost your productivity at work. It does this by helping to prevent fatigue, back, and leg pain. This ultimately leads to a greater level of productivity.
Stamina. Nursing is a job that requires emotional stability, empathy, and above all physical endurance. Good nursing shoes will help you endure those long shifts you spend standing and walking.
Posture. You most likely know that shoes can affect your posture. Your footwear can greatly impact your posture and inappropriate shoes can contribute to chronic back and neck pain as well as worsen posture. This is especially true if your job keeps you on your feet for extended periods. Wearing comfortable footwear will help you maintain appropriate posture.
Injury and Accident Prevention. Proper footwear can help prevent strained muscles and accidents. These shoes are typically lightweight and have excellent traction. This means you will not have to bother about slipping and falling regardless of the terrain you are walking on.
Things to Keep in Mind When Shopping For a Pair of Work Footwear 
When in the market for a pair of work shoes, you should take into account the footwear's general features as well as your individual requirements. Below are some of the factors you should consider when buying a pair of work shoes.
Features of Reliable Nursing shoes
Go for a pair of footwear that is simple to clean and maintain. Remember that blood and body fluid spillages occur frequently in the hospital.
Choose footwear that offers excellent arch support. Arch support is vital because when not properly supported your arches become strained and can lead to other foot conditions like plantar fasciitis
Avoid shoes made from 100 percent of synthetic materials. This is because these shoes heat up and become uncomfortable pretty fast.
Choose a shoe that will protect your feet from potential fluid spills.
Go for a shoe that offers optimal durability. As a nurse, you are continually on the move and this continuous movement can cause your shoes to wear out faster. You do not want to keep purchasing or changing footwear every so often. The shoes you select should endure the rigors of all the long walks you do.
Choose a lightweight shoe.  Lightweight footwear will help prevent foot fatigue, enabling you to work better.
Select a shoe that offers optimum comfort features. Nurses often times work long shifts. Having a shoe that offers good comfort features will help to make your task easier. The shoe you select should have enough padding without adding to the footwear's overall weight.
What Type of Shoes Do Nurses Wear
Nursing shoes come in a broad range of designs, shapes, and styles. Thus, it is not always easy choosing the appropriate footwear for your requirements. Nevertheless, most of these shoes can be grouped into three categories. Each category has its own advantages depending on the hospital section the nurse works in.
These categories include clogs, Slippers & slip-on shoes, and sneakers or tennis shoes. Remember that each healthcare center or hospital may have its own rules regarding dress code. However, most hospitals require their nurses to wear shoes with closed toe and covered heels. This is because these shoes provide the ultimate level of foot protection.
Clogs. Clogs are super comfortable and provide a lot of support and feet protection. No wonder they are extremely popular among nurses and other medical professionals. Clogs typically have an open-back design, a close toe as well as an optional back strap. However, some designs come with no strap and a more covered/lifted back for extra overall protection.
In addition, most clogs offer work-related features like arch supportive heels, enhanced slip resistance, waterproof materials, and reinforced toes guards. This footwear type is typically made using materials like leather, suede, or resin, each having its own advantages and disadvantages based upon the nurses' work duty.
See also: Best Clogs for Nurses
Slippers & Slip-on Shoes. These shoes are easy to wear and take off. This feature is especially beneficial in surgery theatres where a high level of sterility is required. External footwear is generally not permitted in an operation theatre the world over. This means you have to change your shoes each time you enter or leave the operation room. In this case, slippers and slip-on shoes are more functional.
See also: Best Slip-On Shoes for Nurses
Sneakers or Tennis Shoes. Athletic shoes like tennis and running footwear are designed to protect the feet from strain during vigorous activity, particularly on hard surfaces. Due to their design features, these shoes offer nurses a great balance between performance and comfort.
In addition, most hospitals have concrete floors, which can be tough on the feet. This is why having footwear like sneakers or tennis shoes that are specially crafted to take care of this can be a fantastic choice.
Most sneakers/tennis shoes are lightweight, flexible, and comfortable, important features required in a good nursing shoe. Sneakers offer other important work features like grippy outsoles, memory foam insoles, and ankle support.
See also: Best Tennis Shoes for Nurses
Conclusion
Selecting the right pair of shoes may appear to be an inconsequential affair, but it is an extremely important one. As a nurse, you spend a great deal of time on your feet with patients or doctors. For this, you need a comfortable and supportive pair of shoes to get through your workday. Before you settle for particular footwear, always remember to consider the shoe's general qualities as well as your own requirements, which may include your foot anatomy, personal preferences, and your clinical setting.