11 Best Shoes for Nurses – Comfortable & Stylish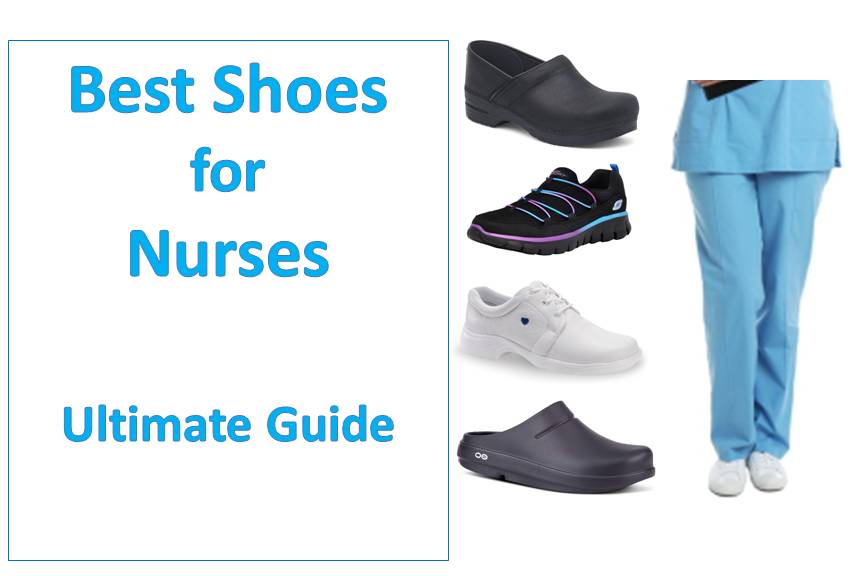 A functional and reliable pair of nursing footwear is always regarded as an investment. If you want to be successful and last long within the healthcare industry, you must have the appropriate type of footwear and uniform to support the pressure and long hours of being a part of this industry.
A nurse's footwear needs to be sturdy and supportive. The best nursing shoes prevent you from slipping and are sufficiently comfortable to wear during long shifts. Comfort should be one of your top priorities when shopping for the best shoes for nurses; however, there is no need to forfeit your personal preference for this factor. Nowadays, nursing shoes are available in a range of shapes and designs to suit several different kinds of feet and medical conditions.
See also: Best Orthopedic Nursing Shoes
See also: Best Supportive Shoes for Nurses
11 Best Shoes for Nurses – Top Picks
HOKA ONE ONE Women's Arahi 4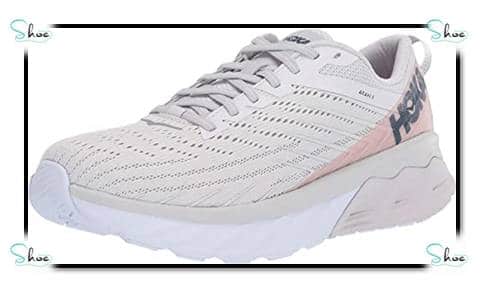 No matter the type of nursing field you work in, chances are that you will be walking 4 – 5 miles during a typical 12-hour shift. This is why you will appreciate the women's Arahi from Hoka One One as a dependable everyday workhorse shoe. Hoka designed the shoe to provide your feet with tons of support and cushioning so you can go about your duties injury and pain-free. With a comfortable moldy sock liner and a padded tongue, the women's Arahi delivers a soft, cozy, wrap-like fit plus a bit of wiggle space within the toe box. Keep reading to find out why the Arahi is one of the best shoes for nurses on feet all day.
Key Features
Rocker bottom running shoe
Airy mesh lining
Padded tongue
3D Puff Print Outline
J-Frame design
Meta-rocker construction
Once you take this roadrunner out of the box, you will certainly be wowed by its distinctive and unique design. Another attribute loved by users is the Meta-Rocker technology, which is arguably Hoka's most recognized footwear technology. With this attribute, you can be certain your foot will move smoothly as you walk or run.
Another endearing facet of the women's Arahi is the impressive cushioning. Aside from soaking up the impact of your foot continually striking a hard surface, the cushioning will also shield your knees from injury. Several testers report that they experienced no jarring and gave the running shoe high ratings for delivering remarkable comfort and versatility.
The Hoka One One Women's Arahi Running Shoe features a conventional lace-up closure for a snug fit. Many reviewers agree that the lacing is simple and will allow you to lace the footwear tighter or looser depending on your preferences.
A few of the purchasers of the women's Arahi Running Shoe claim that the footwear requires some break-in time. One customer commented, "During my first few wears, I felt a minor rubbing on the interior of both heels, this did not cause blisters but I felt the rubbing. However, this disappeared as my feet got accustomed to the shoes".
The Hoka women's Arahi Running Shoe looks superb. It is lightweight and adequately cushioned to keep your feet content all day long. If you are a fan of HOKAS, you will certainly love this footwear for your nursing work.
Pros
Lightweight and tough
Cozy and great in-shoe feel
Ideal nursing shoes for flat feet plus other foot conditions
Impressive arch support
Breathes well
Meta-rocker construction for proper gait cycle
Cons
Some customers have complained that the shoe runs narrow
See also: Best Shoes for 12 Hour Shifts
---
Dansko Women's Professional Clog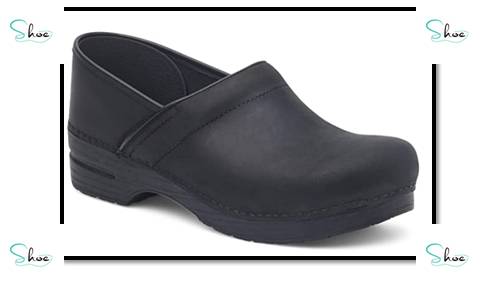 Dansko is an innovative firm that is widely known for producing comfortable, dependable, and long-lasting clog-style footwear that suit a range of various purposes. If you are a free-spirited individual, then these fanciful hand-painted clogs will give you a fantastic way to add a bit of elegance and flair to your signature look.
Key Features
Made completely of leather
Wide heel strike, which allows for better stability
PU outsole plus rocker base to thrust foot forward as well as provide shock absorption
Padded instep collar to provide comfort when walking
Fabric and or leather uppers
Spacious reinforced toe box plus lots of "wiggle" room for your toe protection
Aside from its gorgeous looks, the Dansko is an extremely practical, sturdy, and comfortable shoe for nurses to use. It will perform its major function, which is to protect your feet as well as give you that professional appearance you need.
This nursing shoe features a polyurethane outsole, padded instep collar in addition to the rocker bottom. All these help to provide you with the shock absorption you require when walking, running or standing in the hospital wards. The Dansko Women's Professional Clog is made of one hundred percent leather and thus extremely long-lasting. It is fitted with a synthetic sole, which is very comfortable and provides that much-needed slip resistance when at work.
The Dansko's reinforced toe box will help shield your feet from falling objects, while its rocker bottom will help to soak up the shock as well as thrust your feet forward when walking.
Pros
A variety of color options
Comfort and support
Protective heel counter
Stylish plus leather uppers
Reinforced toe box
See also: Best Dansko Shoes for Nurses
---
Skechers Women's Memory Foam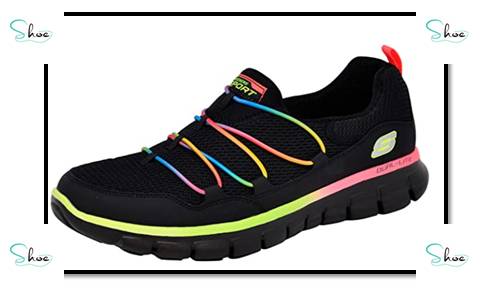 This sneaker from Skechers can serve several purposes, and that includes nursing. They are comfortable trendy sneakers – thanks to the quality memory foam utilized in their making.  The Skechers Sport Women's Loving Life Memory Foam Fashion is arguably the best shoes for nurses on feet all day, and they are quite cheap compared to similar brands in the market.
Key Features
Rubber sole, which allows for good grip and traction while you are at work
Made of one hundred percent faux leather as well as mesh fabric
Memory foam insole, which makes it extremely comfortable
Flex groove outsole ensures its durability
The main attributes that make this shoe very comfortable to wear all day are its lightweight build, the FlexSole Midsole as well as the memory foam. In addition, the shoe's mesh upper feature ensures there is sufficient airflow and ventilation to the feet, and that is why many nurses prefer them.
The Skechers Sport Women's Loving Life Memory Foam Fashion Sneaker is also a great shoe to have in your wardrobe. This is because it is appropriate for both casual and workwear. The shoes are comparatively inexpensive taking into account the quality features they offer. They are a good investment due to their durability as well as the comfort they offer.
Pros
Impressive midsole cushioning
Lightweight
Extremely durable
Reasonably priced
Comfortable design
Cons
Comes in somewhat small sizes
See also: Best Athletic Shoes for Nurses
---
Nurse Mates Women's Angel Shoes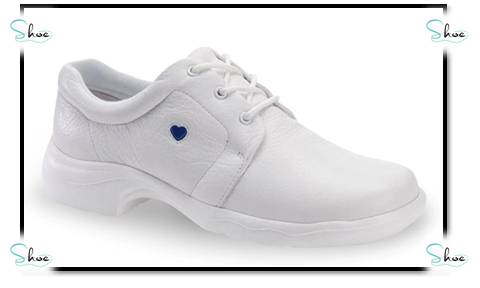 Nurse Mates is a respected name with regard to all things nurses – whether it is accessories, scrubs or quality footwear. The company designs quality shoes for up-and-about professionals with durability and comfort in mind. If you are looking for the best nursing shoes for women that will help you maintain that smart, classy, yet stylish appearance at your workplace, then the Nurse Mates Women's Angel Lace-Up Shoes is what you are searching for.
Key Features
Stain-resistant leather finishing
Inner polyurethane core, which helps shield the feet from shocks
EVA unit base is fitted with rubber inserts, which provide durable slip resistance
Super flexible and lightweight design
Anti-moisture design
Aside from its stylish looks, the Nurse Mates Women's Angel Lace-Up Shoes provides all the support and comfort you require when you are on the go. The wicking technology utilized in its design helps to move sweat away from your feet thereby keeping you dry and comfortable. To ensure you remain safe at the workplace, the shoe is fitted with rubber inserts which helps prevent you from slipping on wet or slick surfaces.
Pros
Stain-free leather
Pillowtop cushioned bottoms for better comfort
All-round support and comfort
Rocker base helps shock absorption
Cons
Hard rubber soles can be a bit uncomfortable
See also: Cheap Shoes for Nurse
---
Naturalizer Women's Marianne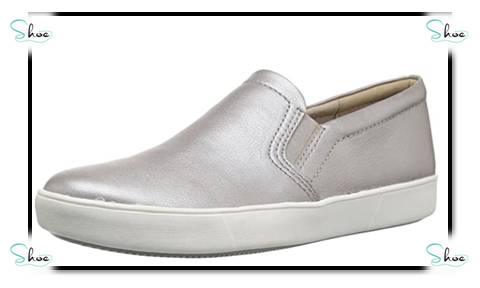 Naturalizer is a firm well known for making comfortable and durable shoes, and the Women's Marianne Sneaker is no exception. This pair of shoes features the dual footbed system, which offers the wearer great comfort when standing on feet all day.
Key Features
Breathable linings that ensures moisture-free interior sole
Naturalizer footwear are made of one hundred percent leather
The sole of the shoe is made from synthetic materials which ensures it is flexible
Additional padding provides you with top-end comfort
The Naturalizer Women's Marianne Sneaker is a fantastic slip-on type of shoes. Compared to other clog shoes, the Women's Marianne Sneaker comes with a lower heel and is less bulky. If you do not like the additional padding fitted on standard walking footwear or clogs, then the Mariane sneaker is the appropriate fit for you.
The shoe is simply an elastic outsole linked to a breathable upper. It is made of lightweight material devoid of extra cushioning. Another great feature is that it comes in a range of designs and colors to suit various tastes.
The Naturalizer Women's Marianne Sneaker is perhaps the best nursing shoes for flat feet in the market today, however it does not provide a great deal of support.
Pros
Comes is a wide variety of colors
Fitted with breathable fabric top materials
Flatter midsole suitable for individuals with flat feet
Cons
Not so impressive with regard to support
See also: Best Slip-On Shoes for Nurses
---
Crocs Unisex-Adult Specialist Ii Clog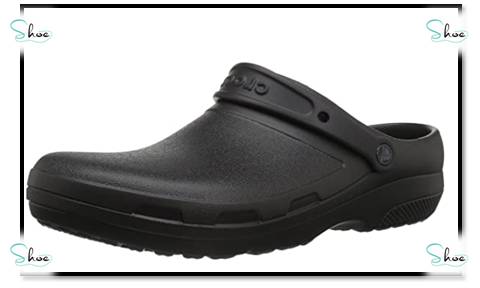 Crocs shoes for nurses have increased in popularity over the last couple of years due to the comfort and support they provide. For many nurses, long workdays and swing shifts are simply aspect of the job, and for this, they require a high degree of comfort to perform. The Crocs Men's and Women's Specialist II Clog gets the job done by offering top-notch comfort, thanks to its Croslite foam outsoles.
Key Features
Croslite foam design helps to keep moisture away from your feet
Synthetic sole
One hundred percent synthetic
Improved arch support, contoured footbed, and thicker metatarsal area
When in the market for the best nursing shoes, then you cannot afford to ignore the Crocs Men's and Women's Specialist II Clog. The specialist II's sleek and simple design makes for a classic nursing footwear, and it is available in a range of colors so you can always find the precise shade that will suit your taste.
The shoes' improved arch support ensures you can stand up straight at work while enjoying all-day comfort. The specialist II comes with a thicker metatarsal area compared to most other clog footwears. Thus, if for some reason your metatarsal area requires additional protection, then you can be sure the Crocs Men's and Women's Specialist II Clog will perform the task adequately.
The shoe's contoured footbed will help give your foot the support it requires all through the day. Aside from that, the heel is sufficiently high to shield your feet from harm, yet sufficiently short to walk in comfortably within your workplace.
The specialist II has a special croslite foam design, which helps to keep the shoe's overall weight lighter, while providing a cushion to your footsteps. In addition, foam is crafted in a manner that it does not absorb moisture. With this feature, you can be sure your feet as well as your shoe will remain dry all day long.
Pros
Croslite foam design, which helps to keep your feet dry
Provides protection to the metatarsal area
Cons
Made with soft rubbery material, which may expand or shrink with changes in temperature
See also: Best Crocs for Nurses
---
CALZURO Unisex Autoclavable Clog
As a nurse, you will no doubt be spending a great deal of time on your feet. For this reason, it is vital you find the best shoes for nurses on feet all day. If you prefer clog shoes for the workplace, then the Calzuro Autoclavable Clog with Upper ventilation may be your best option. It is available in a variety of size options, and feature very solid arch support for improved gait and posture.
Key Features
1.5 inches heel to reduce exhaustion
Upper ventilation will help keep every odor away
Comes in a variety of colors
One outstanding feature of the Calzuro Autoclavable Clog is that it is flexible and offers a snug fit to users. The shoe is completely flexible in various directions – thanks to its top lace as well as the sole, which has a zig-zag design.
In addition, this fashionable shoe from Calzuro is fitted with a sole produced from first-class rubber, which gives the user incredible traction against most conditions. On top of that, this clog shoe from Calzuro can be machine washed easily using cold water.
Pros
Extremely simple to clean
Substantial arch support
Upper ventilation, which helps to ensure an odor-free and fresh feet all day long
Cons
Sole is somewhat thin and may not be long-lasting
See also: Best Breathable Shoes for Nurses
---
OOFOS Unisex OOCloog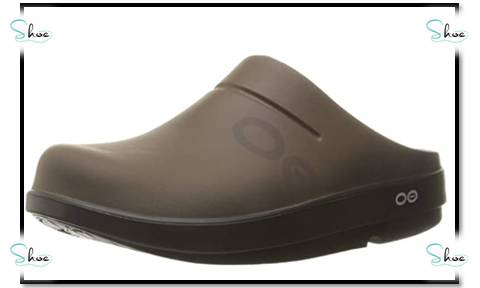 OOFOS originally designed this footwear for sportspeople who might be in need of recovery shoes after doing a workout. Nevertheless, the shoe is now a preferred choice among many healthcare professionals including nurses. The reason for this is that the footwear gives users added safety and comfort while at the workplace. Aside from its comfy touch, the OOFOS Unisex OOCloog also has an extremely stylish design.
Key Features
Rubber Sole
Made of one hundred percent smooth leather
Contoured footbed that will ensure your arches and entire feet are happy at all times
Can easily be machine washed
Crafted to permit natural motion
Some Clog shoes tend to impede proper walking, which might result in shuffling. This is not the case with the Unisex OOCloog from OOFOS, as the shoe is built in such a manner to allow the user natural motion.
This clog also features Oofoam Recovery Technology, which will help add a bit more spring to your steps. This feature helps soak up 37 percent more impact compared to foam fitted in most other shoes.
Another reason why this footwear is ranked among the best nursing shoes is the level of comfort it provides the user. The shoe comes with an extremely soft and flexible human-made upper. The inner part of the footwear has an extremely smooth lining that is resistant to both moisture and odor. These two features help ensure your feet is free of foul odors all day long.
To keep things simple, the shoes can easily be machine cleaned, thus you will have no hassle maintaining them.
Pros
Great comfort – thanks to OOFoam
Great for treating plantar fasciitis
Comfy and soft design
Designed with water-resistant technology
Cons
Limited range of colors and patterns
See also: Best Shoes for Nurses with Plantar Fasciitis
---
Crocs Unisex Bistro Clog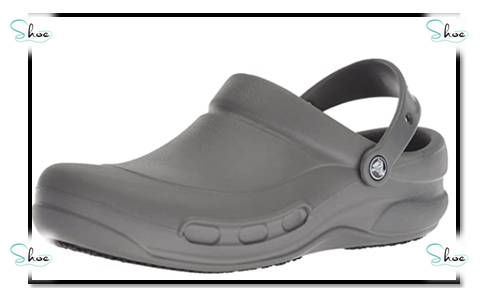 The Crocs Unisex Bistro Clog is all about affordability, coziness, and functionality. Crocs designed this footwear specifically for chefs and nurses, and they are excellent quality and long-lasting. They provide top-quality support for your arch, which means you can stand for hours comfortably, and they are among the most reasonably priced top-quality footwear in the market. If you are searching for comfort and functionality at an inexpensive price, then the Crocs Unisex Bistro Clog may be your best bet.
Key Features
Synthetic Sole
One hundred percent Croslite
Lightweight and supportive so you feel comfortable in them throughout the day
Fully molded thus can easily be cleaned using water and soap
Slip-resistant – thanks to Crocs patented Lock slip-resistant treads
Toe box fitted with thicker material to help shield your foot from spills
Crocs are among the most used working footwear in the nursing industry, and the reason is not difficult to grasp. Their acceptability is mainly because these shoes are made almost entirely of Croslite material, which makes them extremely comfortable for long shifts.
In addition, the footwear is both long-lasting and lightweight, thus ensuring you do not have to endure that heavy-footed experience you get from wearing some of the heavier nursing shoes in the market. This lightweight feature will help ensure your feet remain comfortable throughout the day.
The Crocs Unisex Bistro Clog is designed to be extremely spacious.  This means your feet will never feel trapped even during long shifts. With this feature, you will never have to bother about the painful and annoying blisters that you can get from wearing some of the poorer quality nurse shoes available in the market.
Furthermore, the shoe is fitted with a specially crafted synthetic sole that is meant to grasp any surface. Consequently, you do not have to bother about slip & fall accidents, which can easily occur within a hospital environment. The footwear's toe box is enfiled and fitted with thicker material to shield your feet from fluids and spills.
The Crocs Unisex Bistro Clog is also very competitive with regard to price. If what you want is good, reliable nursing footwear that is durable but will not burn a hole in your pocket, then the Bistro Clog from Crocks is what you need.
Pros
Advanced slip-resistant tread innovation
Croslite material provides lasting comfort
Easy to maintain
Contoured footbed helps support and cradle your feet whilst providing all-day comfort
Cons
Rivet on strap may be prone to breakage
See also: Best Clogs for Nurses
---
Merrell Men's Encore Gust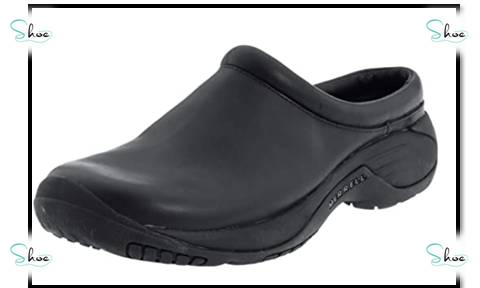 This fantastic slip-on work shoe from Merrell is specially designed to meet the needs of a male nurse. It has a distinctive slip-on design, which enables you to work swiftly. And, whenever you feel like removing your footwear, you can slip them off and on very quickly with ease.  Furthermore, they are fitted with leather that is easy to maintain, and designed in such a manner to prevent your body weight from weighing down on your legs, which cause them to fatigue and ache.
Key Features
One hundred percent full-grain leather
Ortholite footbed
Heel is fitted with Merrel air cushion, which helps absorb shock
Polished slip-on plus supportive sole unit with padded collar
The Men's Encore Gust by Merrell is arguably the best shoes for male nurses and the reasons are not far-fetched. It is a lustrous, polished and stylish footwear with several alluring features. The shoe comes with a supple full-grain leather top with cushioning at the collar area to give the user that comfy and cozy feeling.
A detachable ortholite footbed is fitted at the base of the shoes interior, this provides extra padding for enhanced support and coziness. In addition, the detachable insoles mean if things get a little bad, you can replace them easily even with customized orthotics if you desire.
The inside of the footwear also features antimicrobial material that is beneficial for combating bacteria and unwanted smells. And, while wearing the shoe, you do not need to bother about moisture accumulating around your feet – thanks to the breathable mesh lining utilized in the shoes design.
Aside from the detachable insole, the Men's Encore Gust comes with a compression casted EVA foot frame that helps enhance the footwear's general stability and comfort. And, the slip-on work shoe has a heel height of 2 inches allowing for great balance as well as decreased energy expense when moving forward.
The shoe's bottom outsole features an elastic sticky rubber fabric, which provides excellent traction on all sides whilst allowing sufficient flex within the footwear. These features help minimize fatigue while providing fantastic energy return.
The Merrell Men's Encore Gust Slip-On Shoes is super comfortable and provides great arch support. Most other slip-ons in its price range are lacking this area. The footwear goes well with dress clothes as well. Therefore, there will be no need for you to change your footwear each time you put on scrubs or slacks.
Pros
Spacious
Comfortable
Slip-resistant outsole
Flexible inserts
Quality leather that is simple to maintain
Padded collar
Cons
The heel base is somewhat narrow
---
Merrell Men's Encore Bypass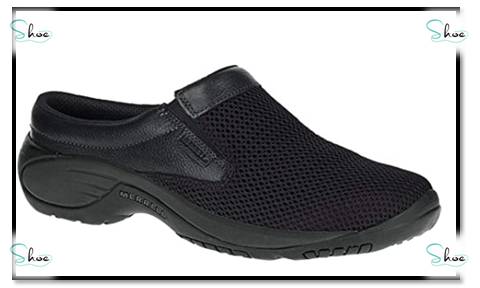 Over the years, Merrell has created a wide range of quality footwear and the Men's Encore Bypass Slip-On Shoe is one of them. You get a superb looking footwear that is breathable, long-lasting, and comfortable. The shoe looks a lot like a sandal, however, it offers better protection compared to a conventional sandal as well as a superior cushioned platform.
Key Features
Made of one hundred percent leather and mesh
Fitted with air cushion heel that is shock absorbing
Slip-on-clog plus leather trims and mesh upper
M Select Grip Sole
The Men's Encore Bypass Slip-On Shoe functions best for indoor environment, and it offers superb comfort to the user. The slip-on does not have a back heel side, thus it can easily be taken on and off. The footwear is an excellent choice for individuals who desire a sandal however require additional support and quality cushioning. The shoe has an amply cushioned midsole and comes with 2 padding types – EVA and Air, which ensures the wearer enjoys all-day comfort.
In addition, the Encore Bypass also features M Select Grip Outsole, which helps to provide some degree of traction. Bear in mind that the shoe is not designed for taking long walks, thus the outsole is not so strong compared to similar brands in the market.
The Encore's midsole features Merrell's patented EVA contoured footbed technology – the M-Select Fit.Eco, as well as EVA cushioning plus Air Cushion within the heel. All these help to keep the user's feet comfortable all day long.
The Bypass is made of one hundred percent leather upper and mesh. The mesh linings on the shoe is only the first layer, and thus does not help with breathability. However, the shoe's exposed heel region compensates for this as it allows a bit of air circulation. In addition, some users have observed that the footwear slips off arbitrarily due to lack of a heel back. Nevertheless, the shoe has a strong upper design and its wide toe box helps to ease any pressure from the footwear's uppers.
The Men's Encore Bypass is available in black, gunsmoke, or dark earth. While it is not the most fashionable shoe available in the market, it is an elegant, subtly styled choice for walking around the hospital environment or even your backyard. In addition, the shoe is made of quality materials including M Select rubber, which provides wonderful grip on a range of surfaces.
One reason the Encore Bypass is the best shoes for nurses mens is that it is crafted for indoor use. While nothing stops you from wearing the shoe within the great outdoors, the footwear provides the durability and comfort required for spending a great deal of time on solid indoor surfaces.
Pros
Spacious, comfortable fit
Crafted for indoor use
Durable
Can easily be slipped on and off
Wide toe box
Reasonably priced
Cons
Some users complain of the footwear slipping off
The inner lining could be a little more durable
See also: Best Shoes for Male Nurses
---
Buying Nursing Shoes? Here Are Some Tips That Will Help
Nursing is a highly respected career choice, and it comes with its own set of challenges. Some people have a glamorized view of this field due to the way that nurses are portrayed in popular media. However, nursing is a tough job by all accounts and requires having all the necessary tools and outfits for top performance.
The importance of having the right pair of shoes should is vital to a nurse's comfort while on the job. The average nurse can spend hours walking around before getting the chance to take a break. Finding the right nursing shoes is dependent on a few factors. These include existing foot problems, the level of support needed, the health facilities in which they work, and the budget.
The wide availability of shapes, designs and sizes are only a minor part of the challenge of selecting the right pair of nursing shoes. The price will be at the top of the list of concerns for many nurses. Also of importance is comfort and warranty options. Other essential factors to keep in mind when you go shopping for nursing shoes are:
Slip resistance
Functionality
The weight of the shoes
The comfort they provide
The level of support, such as for the arches, the heels etc.,
Whether the design makes them suitable for work
Your gait, and whether you have any existing foot or joint conditions
Slip Resistance :
Hospital floors often become slippery due to spills, which poses an increased risk of falling, for hospital staff and patients. Wearing shoes that provide extra grip to prevent slipping and sliding while moving around is important. Clearly, the size and design of the treads on shoe bottoms will affect performance on these surfaces. There is the added option of purchasing grips that can be attached to the soles of shoes. However, buying shoes that are slip resistance is the better option.
Functionality:
The typical workday of any nurse is unpredictable. On some days they may spend more time standing, and on others they may be seated for long hours. There may also be situations that require them to be constantly on the move. Any shoes a nurse wears should be ideal in any situation. Nurses should not have to bring more than one pair of shoes to work to suit different situations.
Weight:
Not many people think about the weight of shoes before buying them. A nurse cannot make this mistake, as they have to be able to move around quickly. This coupled with the need to sometimes work extended shifts require footwear that is light. Shoes that are too heavy can affect performance and negatively impact blood flow. Nursing shoes should always be lightweight and durable.
Comfort:
It goes without saying that discomfort can affect a nurse's ability to do the job well. It is best to look for shoes with adequate cushioning to keep the feet comfortable even when standing and walking for hours. Some brands increase the comfort factor with the use of memory foam or some type of proprietary padding feature. A padded tongue and collar also help to give shoes a relaxed fit. A wide toe box will enable natural foot movement and keep the toes from being squeezed together.
Support:
Supportive shoes are comfortable and they help to prevent foot conditions like plantar fasciitis and fallen arches. People who spent a lot of time on their feet while working often develop pain in the joints or lower back over time. The right level of support can also provide some pain alleviation. Make sure that the shoes have a wide base and that the materials used in the construction is sturdy and of good quality.
Gait:
It goes without saying that shoe manufacturers use design elements to catch the attention and interest of potential buyers. However, when it comes to nursing shoes, the concept of design goes beyond just the style. Shoes are made with features meant to address common conditions like fallen arches and foot pain. A rockered geometry for example is designed to assist the gait by absorbing the shock of the heel strike and transferring the energy to the forefoot. Thick soles also boost comfort and help to reduce stress on the feet and joints. A person who has weak arches should look for shoes with effective arch support. Similarly, anyone who has pronation issues should always opt for a wider base for added stability. It is worth noting that the aesthetics of some shoes make them unsuitable for nurses who want a professional look.
Other Considerations
Choosing the wrong type of footwear can worsen existing conditions. Proper support is vital for good posture and a natural stride. Spending lots of time on your feet on a daily basis brings these factors into focus. The shoe you wear can be helpful, but it can also be detrimental. Keep the factors listed above in mind when looking for nursing shoes, but there are other points to remember as well.
Breathability is a feature that some nurses fail to consider when buying shoes, but it is important for more than one reason. The most obvious is comfort, as it can be unpleasant to wear shoes that feel soggy. Another reason why breathable shoes are essential is the possibility of foot odors. Generally, people choose a mesh design over full leather, although typically leather is more durable. Some shoes may not seem breathable, so check if there is a wick system that pulls sweat away from the feet.
Price is a major consideration for many nurses, but if there is a warranty, this should be looked at as well. Generally, shoes that are more expensive are usually well constructed and are made from quality material. However, with some top brands you could be paying more for just the name. Make sure that the shoes have the features that will make them worth the price. If there is a warranty, you may be able to replace the shoes if you are not satisfied with the performance or if you develop foot pain.
Frequently Asked Questions (FAQs)
What are some good shoes for nurses to wear?
The best shoes for nurses should provide a lot stability and support. The sole should also be non-slip for safety, as spills are common in hospitals and healthcare facilities. Good choices include Hoka One One Bondi 6, Brooks Women's Addiction Walker Walking Shoes and New Balance Women's 520 V5 Running Shoe.
What's the best shoe for nurses to manage plantar fasciitis?
Plantar fasciitis is common foot condition caused by irritation of the tissue between the heel and the toes. It can be caused by spending too many hours on the feet, and the wrong shoes can worsen the condition. Some of the best shoes for dealing with this are:
Saucony Women's Cohesion 10
ASICS Women's Gel-Venture 6
HOKA One One Clifton 4
Adida Edge Lux Bounce
What are the best rated walking shoes for nurses?
Since nurses spend so much time walking, this should be taken into account when looking for the right shoes. The best shoes for walking include:
ASICS Women's Gel-Challenger 12 Tennis Shoes
New Balance Women's 520 V5 Running Shoe
Dansko Professional Clog
Naturalizer Marianne Slip-ons
Brooks Women's Addiction Walker Walking Shoes
What are good pairs of shoes for nurses with pronated foot support?
It is natural for some amount of rolling as the heel hits the ground while someone is walking. Overpronation occurs when the rolling is excessive. This can lead to plantar fasciitis and fallen arches. Some of the best shoes for pronated foot support are:
Dansko Women Professional Clogs
Brooks Women's Addiction Walker Walking Shoes
Saucony Women's Cohesion 10
ASICS Gel-Venture 6
What's the best nursing shoe for bedside nursing?
Bedside nurses usually interact more directly and frequently with patients. Their patients are often bedridden, so they may not have to deal with the constant back and forth of emergency room nurses. Some of the best shoes for this group are:
Crocs Men's and Women's Specialist II Clog
Naturalizer Women's Marianne Sneaker
OOFOS Unisex OOCloog Footwear
Skechers For Work Women's Sure Track Slip Resistant Shoe