Outdoor activities are more popular than ever, especially with concerns over rising obesity levels getting more attention. Children are being encouraged to try sports like soccer, basketball and baseball. One activity that does not enjoy the same level of popularity is Frisbee. In some circles it is called ultimate Frisbee. Ultimate Frisbee is a competitive version of the activity that most of us are used to seeing. Throwing the Frisbee around is fun, but playing for points or as a team heightens the fun.
It is easy to toss the Frisbee around in a circle, but if you want a more intense experience, it is wise to get a good pair of cleats.  Any of the best soccer cleats will be suitable if you want to spend some time enjoying some Frisbee throwing fun. Cleats give you better traction on grass, and increases the level of physicality you are able to bring to the sport. As with any other type of footwear, selecting the best ultimate Frisbee cleats requires attention to detail. Like for any type of rigorous activity, you will need shoes that are of the highest quality. Ultimate Frisbee requires durable cleats so that you don't have to buy new shoes too often. Most importantly, the wearer must be comfortable. Some quality cleats that will meet the needs of the most diehard Frisbee fan and help to make this sport even more enjoyable are listed below.
Best Ultimate Frisbee Cleats…. HERE'S OUR TOP PICKS
Adidas Performance Mundial Team Turf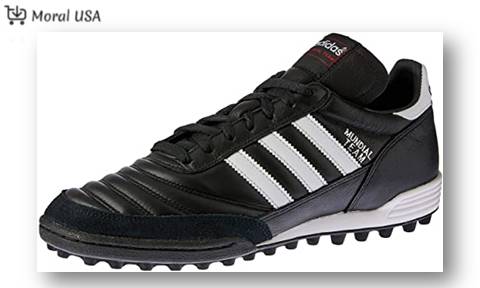 As one of the most recognized names in sports and fitness, this shoe delivers on expectations. The leather is very soft, so the shoe has a relaxed feel and gives the wearer the needed responsiveness. The extended tongue will keep pressure off the top of the foot, and help to lower the risk of extensor tendonitis. It is lightweight so you can move freely and put as much energy into your Frisbee game as needed. The adidas Performance Mundial Team Turf Soccer Cleat has a good fit, which is an essential feature for active individuals. While it has a simple style, this shoe delivers on performance, giving Frisbee and soccer players what they need in footwear.
Pros
The heel counter helps to prevent chafing and keeps the shoe in place.
This shoe is equally at home on turf or hard surfaces.
The lining and cushioning are easy on the feet no matter how hard you play.
Cons
This shoe is not as durable as some competing products. After wearing for a while, some glued areas may begin to separate.
Some buyers report having some sizing issues.
---
Adidas Unisex Copa Mundial Firm Ground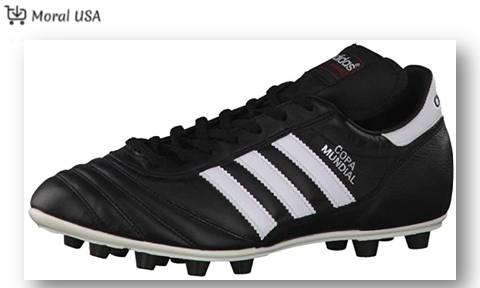 The body of this shoe is made from 100% Kangaroo leather. It has a sturdy synthetic sole. Like many shoes of this type, this one has a lining that ensures the wearer's comfort while they stay active. Players will find that they move easily as this shoe was made for outdoor play on dry grass. The sturdy cleats will provide superior traction and stability for fast movement. The leather upper and the leather in the forefoot give the shoe a balanced and comfortable feel. With a shaft measuring roughly 6 to 12 inches from the arch, these cleats should provide a good fit for most users. As the name states, both men and women can wear this shoe. There are usually no sizing issues, so you can buy these cleats with confidence.
Pros
Being lightweight, this shoe provides responsiveness and aids in quick movement.
The dual-density outsole absorbs shock, making this shoe easy on the feet, and minimizes the risk of injury.
It is roomy in the toe box, so there is less chance of discomfort and blisters.
Cons
Some owners have complained about durability issues.
---
Adidas Performance Men's Messi 15.3
These soccer cleats pack the double punch of carrying not only the recognized adidas name, but also the name of one of the best players in the sport today. The distinctive colors and pattern sets it apart from many other popular brands. It is made of a combination of textiles and synthetic materials. The sturdy cleats will give the wearer a burst of speed when needed. The interior lining gives the shoe an easy fit, and is comfortable. This is a shoe built for dynamic play, and offers the wearer the kind of responsiveness that makes them more competitive.
Pros
The synthetic leather upper gives a feeling of comfort when wearing these cleats.
The stud configuration is designed to provide greater traction for speed and improved reaction times.
It was built to be durable to match the quick playing style of Lionel Messi.
Cons
The price tag is bit steep when compared to cleats with similar features and quality.
People interested in buying these shoes often have a difficult time locating them due to the demand.
These shoes have a limited size range, so many potential buyers will have to choose other cleats.
---
Adidas Kids' Goletto Vi Firm Ground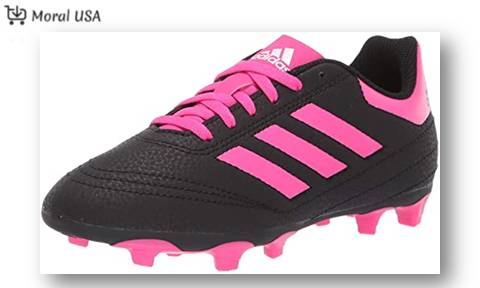 With any type of sporting activity, kids will want to get in on the action. The adidas Kids' Goletto Vi Firm Ground Football Shoe is made for kids between the ages of four to eight. The price and quality puts these on the list of best soccer cleats for kids. It has a lace closure and a basic color scheme. This shoe is made from synthetic materials that have been shown to withstand the pressures of constant running. The synthetic leather upper give it the most comfortable fit possible, and keeps the shoe from slipping as kids run and jump. It provides outstanding traction giving the wearer more control, which is important for kid's safety. This shoe is tough enough to give the wearer some protection in cases of accidental contact.
Pros
The flexible outsole responds to natural foot movement allowing kids to play for long periods without discomfort or strain.
The lining provides cushioned support for young feet.
The shoe is lightweight which is especially important for young children who may tire quickly.
Cons
There are minor sizing issues, so it may be necessary to go a size smaller than the child's regular size to get the right fit.
Some users have complained about narrowness in the toe box. Children with wide feet may experience some discomfort in this area.
---
Nike Kids' Mercurial Vapor XI CR7 FG
Any fan of outdoor activities who wants the best soccer cleats would expect an offering from the Nike brand. The Kids' Mercurial Vapor XI CR7 FG makes every game of ultimate Frisbee safer by providing exceptional traction. The sturdy outsole provides adequate support and the kind of responsiveness every energetic child needs. It fits tightly, but molds to the shape of the foot easily without causing discomfort. The brand's special technology allows the foot to settle to prevent it from slipping even during the most intense types of activity. This durable shoe makes this a good choice for heavy use over long periods of time. There is a dazzling array of colors and styles to choose from, so it will be easy to find a pair even for the pickiest young Frisbee player.
Pros
This shoe is lightweight and has been compared to playing barefooted.
It will take very little time to break in this shoe, as it adjusts to the shape and movement of the feet quickly.
Most users say that this model fits true to size, so you can even purchase online with confidence.
Cons
The shoe is slightly narrow, so it may not be the best choice for people with wide feet.
It is pricey, so parents who are on a budget may prefer to choose a cheaper brand.
---
Adidas Women's Goletto VI FG W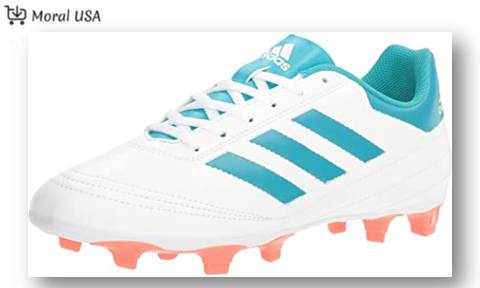 This is the ideal shoe for women who take part in outdoor activities on natural grass. Aside from the high level of traction, the outsole is very flexible. The sturdy, molded cleats give this shoe a high level of stability. This shoe enables players to move naturally and speedily, knowing that the shoe will respond. The material conforms to the shape of the foot, giving the shoe a light feel. It has a synthetic leather upper and a lace closure. The simple style will appeal to women want to stay focused on the game. Frisbee enthusiasts will get all the comfort and responsiveness they need from this shoe. This is a durable, lightweight shoe that delivers value for money.
Pros
Conical studs at the forefeet enable the player to accelerate rapidly when necessary.
The die-cut sockliner provides a cushioned environment for the feet.
The rubber sole helps to absorb shock, lowering stress on the feet and joints.
Cons
The shoes are thin, so they will not provide much protection against accidental contact.
They run a little tighter than similarly sized soccer cleats so it may be necessary to make adjustments when choosing a pair.
---
Under Armour Women's Glyde Rm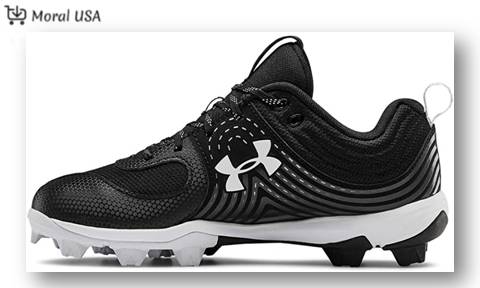 This 100% synthetic shoe is designed to meet the needs of active people. It can easily handle the pressure of repeated movement and there is added cushioning for comfort. The padded ankle collar and tongue also contribute to the overall relaxed fit of this shoe. The padded tongue keeps the tendons relaxed to help prevent injury. Wearers will enjoy the light feel and the bounce it adds to each step. The material and construction of the Under Armour Women's Glyde Rm Softball Shoe are durable, so you can enjoy many hours of activity before a replacement is needed. The position of the cleats is meant to provide nearly unparalleled stability regardless of the pace of the game. The upward tilt of the toe helps with rapid acceleration during the push-off. It is well balanced and is capable of absorbing the kind of shock that depletes your energy and puts stress on the joints. With the tonal graphics and custom color laces, it has a stylish look that is sure to get attention on the field of play.
Pros
There is an overlay on the toecap as an extra layer of protection for the feet.
It provides great traction on all surfaces.
It flexes easily underfoot without giving up any support.
Cons
Some users have experienced minor sizing issues.
---
Ultimate Frisbee has been around for decades and shows no signs of losing popularity. The sport of Ultimate Frisbee requires running, jumping and quick reactions. As with any other type of sport, the right type of footwear not only enhances enjoyment, it makes the activity safer for participants. The best soccer cleats are suitable for a wide range of Outdoor activities. All of this is aided by the type of shoes that provide not just stability, but also good traction. The brand name is something you can generally rely on, as some companies are known for the quality of their products. Naturally, some will stand out more than other for different reasons, such as the patterns, stud configuration or the style. While some brands are known to be pricey, a higher cost is not always the best indicator that this is the right shoe for you.
Typically, people choose football cleats for ultimate Frisbee because they are played on the same type of surface. It is best to choose molded cleats as opposed to the type that must be screwed in. Screw-in studs mean more preparation time and they are usually more expensive. You should also pay attention to the stud type of the shoe you are considering. Some are blade shaped, some are rounded, and the hard ground type is suitable for both hard and artificial surfaces.
The best ultimate Frisbee cleats should be flexible and the material should be durable. Poor quality cleats will show signs of wear early, as these shoes tend to take a lot of punishment. Whether you are a Frisbee pro or new to the sport, make sure you get cleats that will help your performance.
Related Reading: