8 Best Walking Shoes for Flat Feet and Overpronation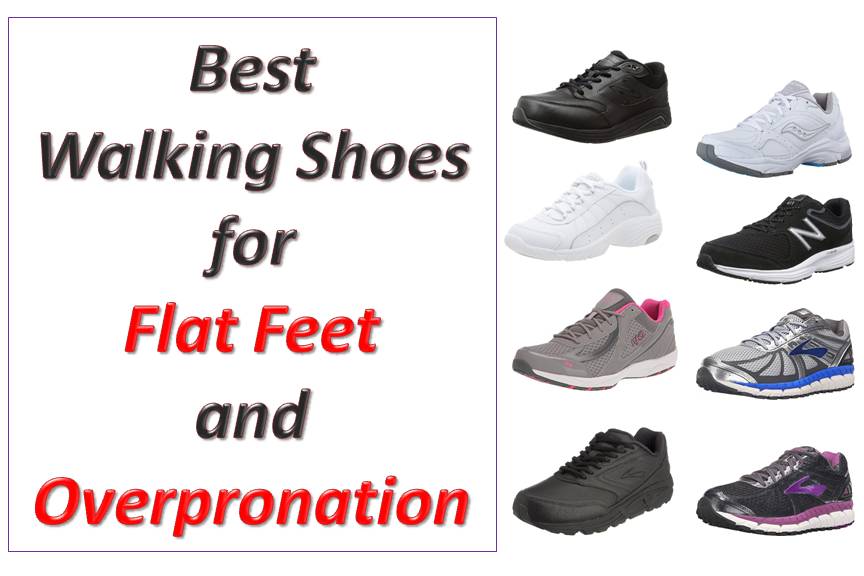 Walking regularly is an effective way to lose weight and to improve your overall health. Many people make 20 to 30-minute daily walks a part of their overall fitness routine. Aside from cool, breathable clothing, the only piece of equipment you need for this activity is a pair of shoes. However, newcomers quickly learn that it is not wise to simply slap on any pair of shoes and then go walking. For starters, walking for long periods in shoes not designed for this purpose can lead to injury. Also, anyone who walks or jogs regularly needs to think about pronation.
We rarely think about the way our feet move on the ground when we walk. Pronation refers to the natural movement of the heel and rolling of the ankle as the body's weight comes down on it. Some amount of pronation is natural, but when this movement is excessive, it is called overpronation. Some people are more prone to the condition, possibly because of flat feet or low arches. Excess weight, poorly fitting shoes or improper gait can also lead to pronation issues. The first thing you should do if you plan to take up this activity is look for the best walking shoes for flat feet and overpronation.
Overpronation can lead to various conditions such as shin splints, heel spurs, ankle sprains and Achilles tendinitis. Taking steps to prevent it during regular walks is wise, but if you already have pronation problems, the right shoes can make your life a little easier.
List of Best Walking Shoes for Flat Feet and Overpronation
| PRODUCT | FOR | |
| --- | --- | --- |
| Brooks Men's Addiction Walker | Men's | |
| New Balance Men's MW411v2 | Men's | |
| Brooks Men's Beast 16 | Men's | |
| New Balance Men's 928 V3 | Men's | |
| Brooks Women's Ariel 16 | Women's | |
| Saucony Women's Integrity ST2 | Women's | |
| Easy Spirit Women's Punter | Women's | |
| Ryka Women's Dash 3 | Women's | |
Brooks Men's Addiction Walker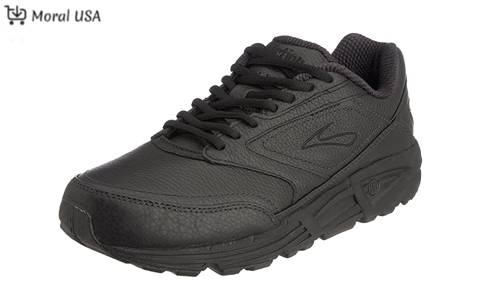 As one of the best walking shoes, this one meets the criteria of knowledgeable walkers. It is designed to be comfortable, it has a stylish look, and it is durable. It is 100% leather, so it can be used for long periods without showing signs of wear. Concerns about stride, arch strength and tendons are generally minimized by the construction of this shoe. The straightforward, frill-free design makes it a suitable addition to your regular footwear collection as well.
Pros
This shoe can accommodate most custom orthotics.
The built in arch support is helpful to people with overpronation.
It helps to minimize leg and back pain.
Cons
The design is slightly bulky, which some people may find off-putting.
The many supportive features make this shoe a bit pricey for some walkers.
The material is not breathable, so these shoes may not be ideal for people who sweat excessively.
---
New Balance Men's MW411v2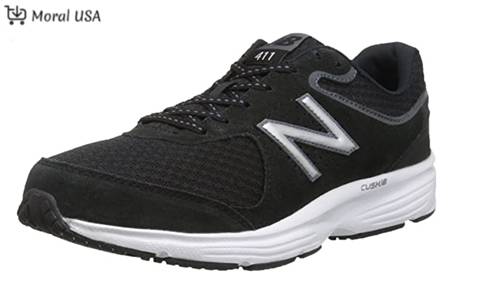 This shoe has more going for it than just a recognizable name. The style, quality materials and supportive features put in the running for the title of best walking shoes for men. The rubber sole will help in keeping firm footing, making every walk safer. The upward tilt of the toe is in keeping with modern walking shoe design, aiding the walker's stride. This is a very stable shoe, so it will minimize foot fatigue and overpronation.
Pros
These shoes are flexible, so the match foot movement and help to prevent injury.
The cushioned footbed will absorb shock and make every step comfortable.
The insole is removable, so you may be able to add your own orthotics.
Since they are so light they will help you to conserve energy while you walk.
Cons
It does not provide as much arch support as some of the other shoes within this same range.
Over time, some of the seams may not hold up to rigorous walking routines.
---
Brooks Men's Beast 16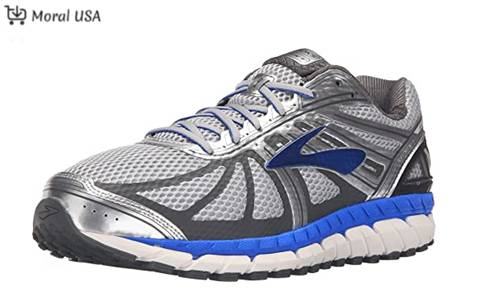 This shoe looks every bit as rugged as the name implies, but the robust design is not all it has going for it. It is 100% synthetic, and has a simple color scheme. This shoe was made to provide that extra stability to the people who are not physically adept, or new to walking as an exercise. These individuals will need the best shoes for extensor tendonitis, since they might be more prone to improper gait and all the issues that come with it. Flat feet will not be a problem, as the shoe's interior helps to address any pronation deficiencies.
Pros
This shoe provides a high level of arch support.
The Brooks Men's Beast '16 can also handle walking on trails.
The flexibility helps to keep the walker comfortable.
It provides excellent traction, which boosts the safety of walkers.
Cons
This shoe might be considered too heavy for some people.
The thickness of the sole can cause a sensation of rigidness underfoot.
There have been occasional sizing issues with this shoe.
---
New Balance Men's 928 V3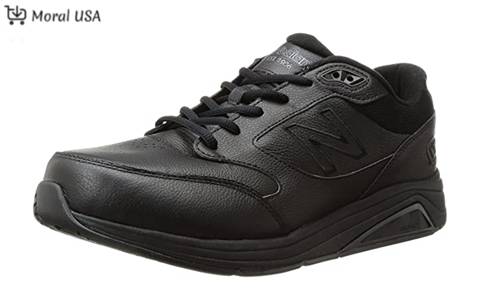 The synthetic and mesh blend gives this shoe a familiar look and feel. It has a comfortable footbed covered in microfiber, which allows the feet to settle without sinking. This is one of the best walking shoes for men who want to minimize the pain from common foot and leg injuries, allowing them to still get the benefits of regular walks. It has a durable rubber sole and a roomy toebox which adds to the feeling of comfort with every step. The leather upper provides ample ankle support, so users will have a stable range of motion.
Pros
The range of widths makes it easier to get the right fit.
It can accommodate most orthotic inserts.
The materials are sturdy, so this shoe should last for a long time.
Cons
The shoe's tongue is not very long, and this may cause the laces to slip and rub against the foot.
The material is not meant for rugged use, and may break down quicker than other types of walking shoes.
---
Brooks Women's Ariel 16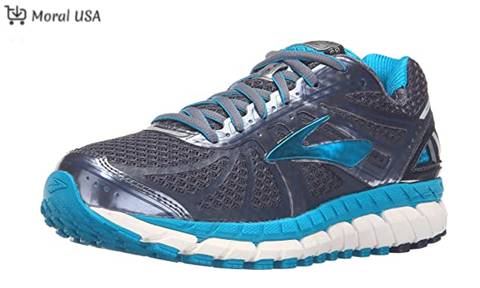 Comfort, stability and control combine to make this one of the best walking shoes for women. It allows the feet to settle easily, but still provides plenty of support. It is durable and all business on the outside, but plush on the inside. The no-sew upper adds to the gentle feel of this walking shoe. Regardless of the shape of the foot, the material is flexible enough to conform, making finding the right fit a simple task. It encourages steady movement and helps to prevent injuries. The heel counter provides added stability for users, and this is further aided by the traction of the rubber sole.
Pros
The Extended Progressive Diagonal Roll Bar feature helps to provide stability with each step.
It is especially beneficial for overpronators and women who have fallen arches.
The roomy toebox allows toes to move and flex naturally, which improves the gait and minimizes the risk of injury.
Cons
Some women will not find the limited color options appealing.
It is expensive when compared to similar walking shoes.
It can take a while to get used to the extra cushioning, so some users take a while to break them in.
---
Saucony Women's Integrity ST2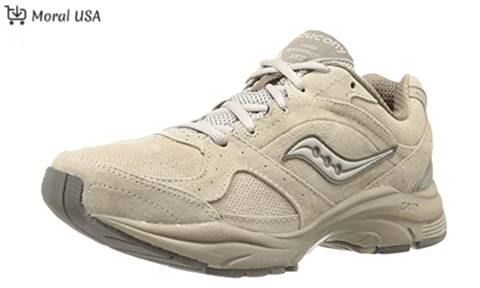 This is a highly supportive walking shoe that is designed for extended walking sessions. The durable full-grain leather build indicates that this shoe can take some punishment. It has a sturdy sole that reduces the chances of slipping. Minimal stitching lines and simple color options allow you to use them for everyday wear. It is clear that these shoes were not meant to be flashy, but rather to be a direct walking tool that provides support and comfort.
Pros
They remain comfortable even after being worn for hours.
There are different width options, which makes it easier for anyone to find the right size.
These walking shoes can accommodate orthotic inserts.
Cons
The color options are too limited for some individuals.
The shoe might not perform as well on some wet surfaces.
---
Easy Spirit Women's Punter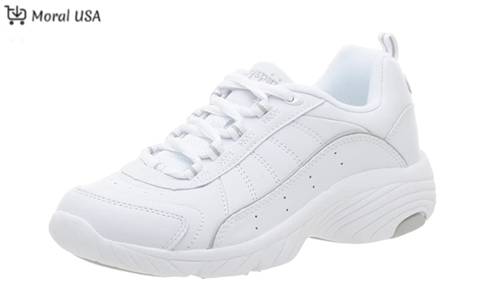 Some of the best walking shoes for women just stick to the basics, and this is what you get with the Easy Spirit Women's Punter Athletic Shoe. The traditional lacing ensures a good fit regardless of the length of the walk. The padded collar will help to create a good fit, and keep the back of the shoe from slipping. It has tough leather on the outside, and a soft lining inside. It will stand up to heavy walking, while being easy on your feet. It is certainly not the most attractive option, but it makes up for this by being a quality walking shoe.
Pros
The monochromatic color scheme allows these shoes to be worn in other settings.
The soft lining helps to prevent abrasions.
The textured rubber outsole has good grip for fast walking.
Cons
It does not have a lot of cushioning so the bottom of the feet may feel pressure after a long walk.
The toe box may not be room enough to suit some people who have wider feet.
---
Ryka Women's Dash 3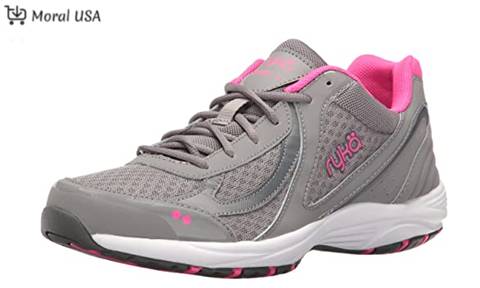 The bold, sleek lines of this walking shoe make it as attractive as it is practical. It has the standard mesh build, and this is combined with stitched leather overlays. The breathable mesh lets in air with every step, so the feet stay cooler. Each shoe in this line utilizes a two-color scheme for a dramatic impact and pleasing aesthetics. The footbed is contoured to suit the shape of the foot, promising a high degree of flexibility and minimizing stress. The full rubber sole is thick and durable, with rounded edges that help to absorb the impact of every footfall. It has a high level of arch support. This gives it a very stable ride that helps to improve the gait. It will also help to minimize the effects of overpronation. Overall, users have praised this shoe for its high comfort level, even when they are worn all day.
Pros
Many runners are impressed by the overall look and style of this running shoe.
This is a lightweight shoe so you will get the right amount of lift with every step.
Runners with pain from extensor tendonitis and other foot and leg issues often report feeling less pain when they use this shoe.
Cons
A few users have experienced sizing issues with this shoe.
---
A number of people who like to walk experience foot or leg pain to varying degrees. The best shoes for extensor tendonitis will not cure the condition, but can reduce pain levels and overall make the feet feel more comfortable. Searching for the best walking shoes is not a challenge as long as you pay attention to the core factors such as proper arch support, stability and excellent traction. All of the best walking shoes for flat feet and overpronation have these and other characteristics in common. While they vary in price, it is unwise to seek the cheapest option just to save money.
The right walking shoes can not only help to decrease pain, they can also help to prevent many common injuries associated with this activity. While the look of the shoe may be important, this will not tell you anything about its quality or ability to provide support and stability. These are key concerns for anyone who enjoys walking regularly. Even if you tend to overpronate, you can still reap the benefits of daily walks with a good pair of walking shoes. Sizing is another key factor that should guide your choice of walking shoe. It is not unusual for someone to order their correct size, but then realize that it is a bit tight in the toe area. Buying a size larger is not always an answer to this problem, as you may feel your feet moving around in the shoes while you walk or run. This will not only be uncomfortable, you may end up straining the tendons in the feet, If you are unsure about the fit, look for a brand that offers different widths in the same size.
Lastly, no matter how good your shoes are, it is wise to prepare for each walk with a bit of stretching. This can help to keep the muscles supple, and prevent common injuries associated with walking or running.