10 Best Shoes for Running on Concrete – Women and Men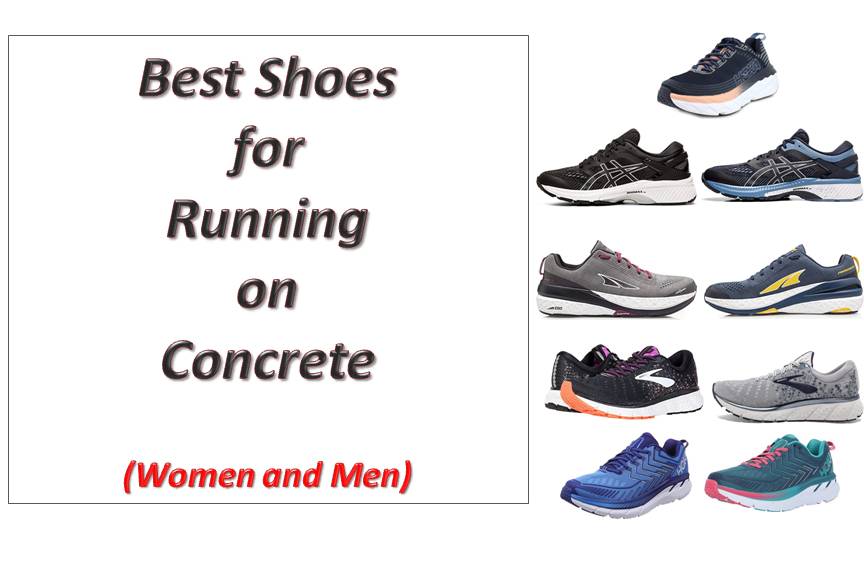 When it comes to running, most people can be put into one of three groups. Either they run regularly, they run every now and then, or they don't run at all, but they are thinking about it. The benefits of this activity are many, and if you want to improve your fitness, it is not too late to get started. The thing to keep in mind is that while it is good for your health, it can put stress on your ankles and knees. This is largely due to the fact that we generally run on hard surfaces like concrete. This means that every runner should choose shoes that reduce pressure, and allow them to enjoy this activity without experiencing any joint issues.
Many manufacturers will claim to have the best running shoes for concrete, these claims are sometimes exaggerated. You might remember seeing ads for running shoes promising to tone your legs and calves faster. Many runners were left disappointed after buying these shoes and hoping for quick results. Ultimately, what you need in the best concrete running shoes for men or women are comfort, flexibility and breathable fabric. Here are some of the top running shoes you should consider whether you are an experienced runner, or just starting out.
The Best Shoes for Running on Concrete, in Order
Hoka One One Bondi 6
Men: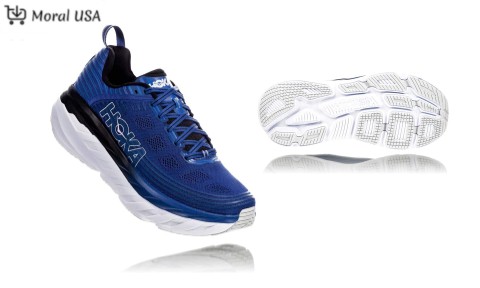 This shoe is a combination of leather and synthetic material. It has the mesh design that is common with many brands of running shoes available today. The sole is made of rubber, so runners will get plenty of traction when running on concrete or any other hard surface. This also provides vital cushioning to protect ankles and knees, and helps to save energy on each push off. It has a stylish look so you can wear them even when you are not running. It is so well made, that it retains its relaxed feel after a few hundred miles.
Women: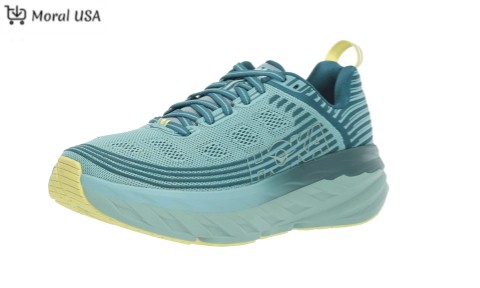 The use of leather and sympathetic material creates an attractive running shoe with a few additional features to make it one of the best women's running shoes for concrete. It has been engineered to provide exceptional structural support for comfortable running. There is a loop at the back that is used to pull the shoe over the heel. It is lined for extra comfort, and has a Molded Ortholite foot-bed to keep long-running sessions from becoming a pain on the feet. It is built for running, but has a plush, luxurious feel.
Pros
The material is breathable, which provides comfort as well as minimizing odors.
The women's shoe has a Lycra frame heel for extra support, so they can run for longer periods without discomfort.
The men's shoe's footbed is a molded textile material which reduces stress while running.
Cons
This brand is among the pricier running shoes, so it might be out of reach for some runners.
The toe area is not wide enough for some runners, so they may experience discomfort during longer runs.
Due to the upgrades, it is slightly heavier than the previous model, and the fabric is a little less breathable.
---
ASICS Gel-Kayano 26
Men: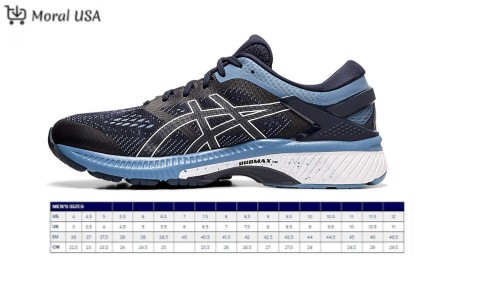 The best concrete running shoes should be light, but sturdy enough to withstand the pressure of frequent running. The Gel-Kayano 26 from ASICS covers both of these factors. The rubber sole provides great traction, and the brand's Impact Guidance System was designed to work with almost any gait or running style. A cushioning system made from organic nano fibers makes this running shoe almost unmatched in terms of reducing pressure on the feet. It provides the stability every runner desires while providing an extra bounce so you lose less energy while burning calories. It has a wider color range than may other brands available. The brand uses a few proprietary features to enhance every run. These include FlyteFoam Lyte Technology and the DuoMax Support System. The dual density midsole helps in maintaining an even gait.
Women: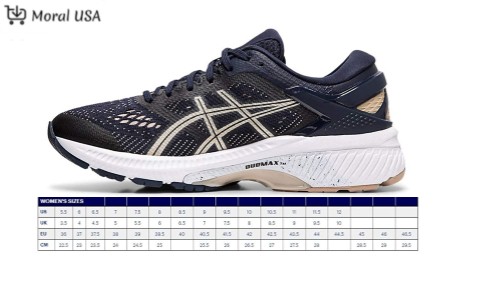 The soft platform heel guarantees a comfortable run and a superior level of support. The rubber sole means you can run with confidence, as it provides plenty of bounce and help to keep you from slipping. The angle of the sole provides an additional lift to support your gait and help your momentum while you run. It is strong enough to provide the support you need but lightweight, so you will not feel like your feet are dragging. The extensive color range allows any runner to easily find the perfect shoe. The design of the ASICS Gel-Kayano 26 is ideally suited for individuals with low to flat arches. They work just as well for narrow or wide feet and are considered high mileage shoes among avid runners.
Pros
These shoes are specifically designed with runners in mind, cushioning the heel strike, and helping to power the toe push-off.
The DuoMax system increases stability for runners, so there is less pressure on the ankles.
The fabric is breathable, so the feet will be cooler and more comfortable.
Cons
The extra cushioning in the heels might require a period of breaking in before you start running regularly.
---
Altra Paradigm 4.5
Men: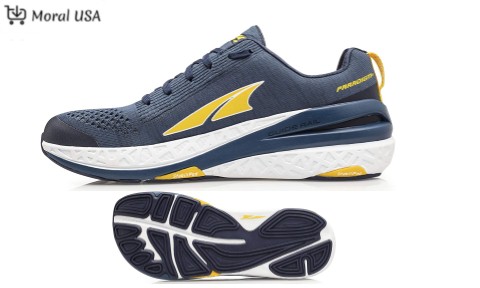 The simple design and color range of this brand will appeal to almost any runner. It was designed to provide the need support for running, and it is ideal for occasional or experienced runners. It reduces the impact of each step, so there is less wear and tear on knees and ankles. The sole is spongy enough to absorb shock and is gentle on the feet, yet firm enough to provide adequate support. It is high stacked and very bouncy, plus it is built for mileage.
Women: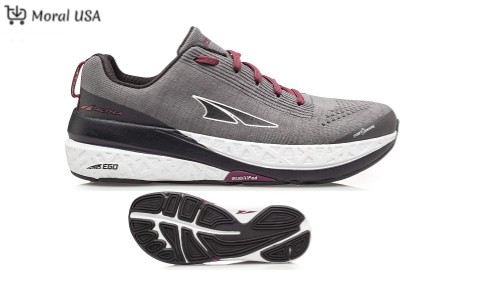 These shoes weigh only 9.2 oz. or 261 grams, so it is lightweight yet sturdy enough for anyone who runs regularly. It was designed to provide the feet with the right amount of support needed whether you are running or walking. The heel and forefoot are at the same level, which helps in maintaining proper form so you can get the most from your run. It has a great grip and air flows easily through the mesh fabric to keep the feet from overheating.
Pros
The shoe has been specifically designed to contour to the shape of the foot.
Both types have a wide toe box, so your feet will feel relaxed while running.
The StabiliPod feature supports the different zones of the foot to minimize the possibility of pronation.
Cons
This product might be considered a bit expensive for the average runner.
Some users have had problems with sizing when compared to other shoe brands especially in the midfoot area.
It has a zero drop, meaning the heel and ball of the foot are on the same level, which may lead to mild strain in the muscles of the lower leg in some runners.
---
Brooks Glycerin 17
Men: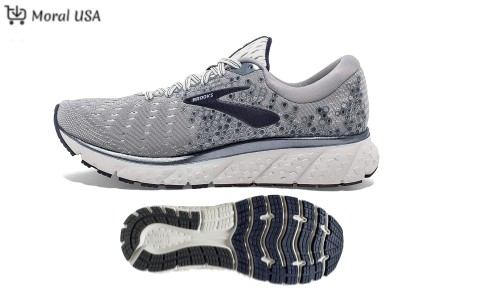 This shoe gives runners the comfort they need.  It is built to cushion the feet, giving you the ability to run for long periods. The mesh fabric makes it breathable, and it is soft enough to mold to the shape of the foot for comfort. The pressure from every heel strike is instantly absorbed, but you still get plenty of lift for the push-off. It plush inside and out, and has a great fit that holds up even if you repeatedly take long runs. This shoe is great for occasional runners or regular marathoners. The stylish design is a plus.
Women: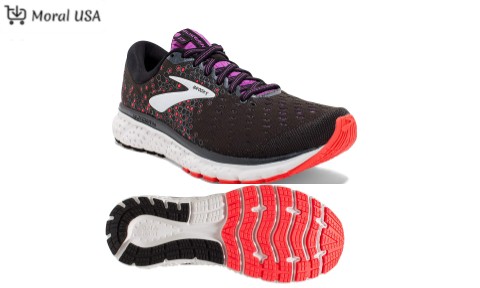 The mesh fabric and liner of this shoe adapts to the shape of the foot and responds to your unique gait. These shoes are lightweight, and there is plenty of space in the toe box. The foam footpad gives it a comfortable feel that does not wear down even after a long run. It has a padded heel collar to keep it snug and prevent chafing around the ankles. This shoe is a perfect blend of bounce and cushioning. While it is soft, runners do not feel like it is sinking under their weight. The inside was designed to be responsive to the movement of your feet. The sole is flexible, so there will be no resistance regardless of the runner's gait. With a diverse range of colors, there will be no trouble finding one that suits your tastes.
Pros
The laces stretch, so this gives you more control over the tightness of the fit.
The soft footbed is effective at absorbing shock and preventing soreness of the feet.
It hugs the feet well without causing a sensation of tightness.
Cons
While there are a number of colors to choose from, some people find the palette muted, and would prefer a few brighter options.
They tend to absorb water, so they can start to feel heavy if it rains or after running through puddles.
---
Hoka One One Clifton 4
Men: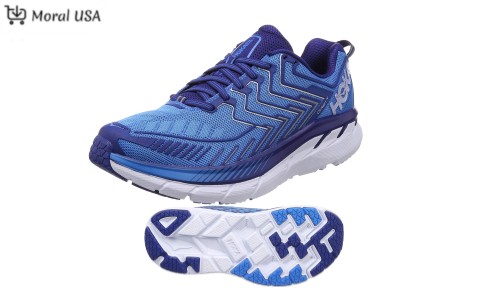 HOKA is one of the most recognized names among running shoes for concrete. It hits the marks for comfort and durability, which are essential considerations for runners. The Clifton 4 is an improvement over previous models, and users seem to be happy with the upgrades. The shoe is made from a tough synthetic material, but the footbed is soft, making this among the top listed of best men's running shoes for concrete. It provides a great rebound, so it helps to save energy on long runs. This shoe tapers slightly at the heel and toe to take the impact of the footfall, and then give you the right amount of lift.
Women: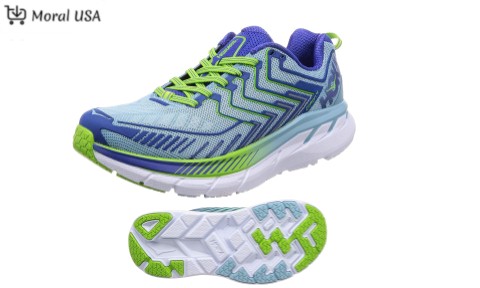 The synthetic and mesh build of this shoe makes it both relaxed and durable. It provides an effective cushion for the feet, and handles weight well even during long runs. It was designed specifically for runners, so there is little chance of the foot irritation. It is also built with a helpful heel pull loop. The tongue and collar are padded, so this shoe is easy on the feet in any setting. Stretchy laces help the shoe to adapt to swollen feet after being worn for long hours. The mesh fabric has been updated for increased breathability, and a more natural fit.
Pros
There is plenty of room in the toe box to help maintain proper gait when running.
It provides very good arch support, which is especially important for people who have pronation issues.
The fabric is breathable, so feet stay cooler during longer runs.
The women's shoe has a wider toe box, so there is no pinching or cramping.
Cons
Inserts may be needed for support for runners who have unusually high arches.
Some users find them uncomfortable to wear without socks.
This release is slightly heavier than previous versions.
---
While many people use jogging trails, most end up on hard surfaces close to their homes. For experienced runners or anyone planning to start this activity, the best concrete running shoes will make it more enjoyable. These types of shoes will reduce common complaints such as shin splints and soreness in the calves.
Everyone wants to wear good looking shoes, but the style should not be the primary factor in making a selection. The best shoes for running on concrete have to meet most of the criteria if they are to make running fun and keep the wearer's feet protected. The footbed must be soft enough to absorb pressure to some extent, but it must also provide some lift. Toes should never feel cramped, so an adequate toe box is essential to stay relaxed while running. No two persons have the exact same shaped feet. This means there must be a high level of flexibility in the material. The best running shoes for concrete must be able to mold to the shape of the wearer's feet. This way they will not only feel comfortable, there will be no need to worry about them slipping and causing blisters or soreness. Many of the running shoe brands available today are improvements over earlier versions. They not only look more attractive, they fit better and are designed with features that enhance the running experience.