9 Best Shoes for Nurses with Bunions – Buying Guide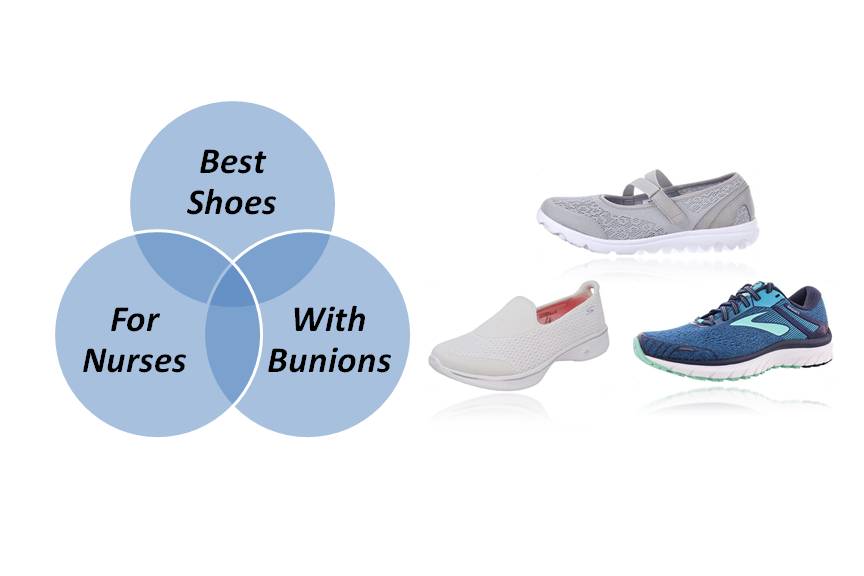 Being a nurse can be a difficult job, and it can become even more stressful if you suffer from bunions. Working on your feet throughout the day can be tiring and painful if you have the wrong shoes, and it can be hard to focus on anything else if your feet are hurting. If you have painful bunions but need to delay surgery, you should consider wearing non-slip shoes with wide-toe boxes. You should also avoid wearing shoes with heels of any size, because they place additional pressure on your big toes. It is best to wear flat shoes that offer excellent support and comfort on a daily basis. This article will highlight and review the best shoes for nurses with bunions. Any of these shoes will certainly help you get through your long shifts more comfortably.
See also: Best Nursing Shoes for Flat Feet
Best Shoes for Nurses with Bunions
---
Orthofeet Women's Coral Orthopedic Shoes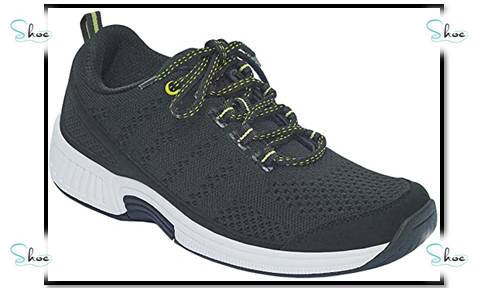 If you are seeking the best shoes for nurses with bunions, then you cannot go wrong with the Orthofeet Coral. Specially engineered for women, this Orthofeet shoe model is one that will deliver superlative cushioning along with impressive support when combating bunions and other foot conditions. The makers of this footwear utilized ground-breaking technologies in its construction. The sneaker boasts an orthotic insole, a well-cushioned heel pad, along with anatomical arch support.
Key Features
Extended widths
Lightweight outsole
Spacious toe box
Orthotic insoles
Soft uppers along with smooth interior lining
A good shoe for bunions should supply the following features: Comfort, value, and style. The interior should be roomy enough to alleviate pains whilst helping to prevent new injuries. The Orthofeet Coral offers all these and more. The sneaker comes with a detachable insole together with anatomical arch support plus a gel-cushioned heel protector. These features work together to provide a superlative amount of arch support.
Users cannot stop raving about the sneaker's exceptional arch support. "From the instant, I got these sneakers, I could wear them every day all day and I never get sore feet," raved one happy buyer. "They are flexible, super comfy, and they have superb arch support." Moreover, the shoe's insole is detachable meaning that you can replace them with one recommended by your podiatrist for better arch support.
The Coral features conventional lace-up closure so you can customize the fit to your preference. And, with the Coral's well-padded collar your ankles can have the benefit of superior support and cushion.
This Orthofeet sneaker is undoubtedly a great shoe for bunions. It delivers exceptional shock absorptions and cushions each of your steps providing relief to your back and lower extremities. The stretchy upper offers sufficient room for a non-restrictive fit.
Pros
Removable insoles
Accommodates foot swelling
Great breathability
Antimicrobial lining
Cons
Outsole durability concerns
See also: Best Shoes for Nurses with Heel Pain
---
Propét Women's TravelActiv Mary Jane Flat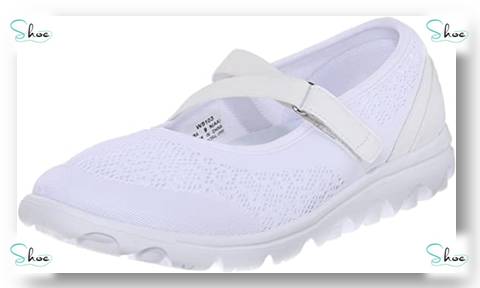 Propet is a well-known brand with regard to quality footwear for sensitive feet or foot conditions like bunions. The company operates on the belief that the shoes you wear should be properly cushioned and supportive, yet stylish and lightweight. The Propet Women's TravelActiv Mary Jane Flat is superb if you are searching for the best shoes for nurses with bunions. This trendy footwear is specially engineered for walking and work wear, offering impressive balance and comfort.
Key Features
One hundred percent mesh upper
Rubber sole
Removable footbed
Perforated fabric footwear featuring flexible asymmetric Mary Jane strap plus hook and loop closure
Lightweight flexible outsole
The upper of the women's TravelActiv is made of mesh material including a mesh lining that is crafted to fight off moisture. With this feature, you can be sure the Travelactiv is amazingly breathable because it boosts air circulation within the footwear. The shoe is ideal for those hot summer months when you want to keep your feet sweat-free, but also do not want your toes exposed.
The Women's TravelActiv comes with an EVA insole and outsole for extra comfort. The EVA outsole is engineered using ultra-lightweight rubber that offers improved foot support within the shoes. In addition, the EVA insole helps to keep the footwear low profile, and adds additional flexibility that adheres to your foot's natural movements.
The Women's Travelactiv has a detachable footbed that you can swap out for a custom-produced orthotic footpad if required. In addition, the shoe comes with a flexible asymmetric Mary Jane strap plus hook and loop closure. With this feature, you can modify the tightness of the footwear at different spots on your foot.
The footwear has a trendy design and has received praises from several reviewers. A significant number of wearers say the footwear is appropriate for both dressy and casual clothing. The shoe fits true to width and size so if you are a size 10 be sure to buy a 10 and you will enjoy a snug fit. The women's Travelactiv is one of the best shoes for nurses due to its comfortable, lightweight, stylish, and orthotic-friendly design.
Pros
Provides impressive comfort and support
Stylish and appropriate for both casual and workwear
Fits true to width and size
Detachable insole that can be replaced with custom orthotic inserts
Breathable Mesh upper
EVA midsole
Hook and loop closure
See also: Best Work Shoes for Nurses
---
Skechers Women's Go Walk 4 – Pursuit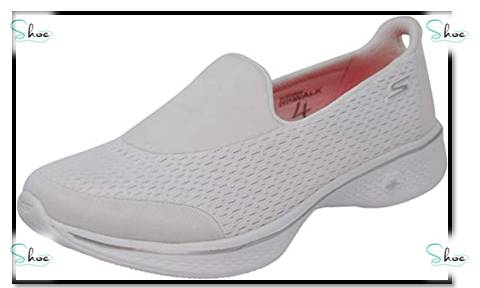 Skechers is not known for making top-level performance or stylish running shoes however, the company has somehow created a unique market niche in the athletic footwear world. The company achieved this feat by making shoes that underscores support and comfort rather than style and speed. This design concept may not appeal to young and fashion-oriented consumers. Nevertheless, the company does have a wide customer base particularly in the healthcare industry as well as others who stand on their feet all day. The Skechers Performance Women's Go Walk 4 – Pursuit Walking Shoe is ranked among the best shoes for bunions and plantar fasciitis thanks to its comfortable elasticity and supportive midsole.
Key Features
Rubber sole
1.25" heel and side s-logo
Radically lightweight
Tapering midfoot design that provides enhanced arch support
5GEN midsole that emphasizes support and comfort
Soft mesh upper plus almost seamless build for comfortable fit
Bamboo lined footbed that helps control bacteria and odor
Mainly flat outsole that helps spread weight and energy evenly
The outsole of the Skechers Performance Women's Go Walk 4 – Pursuit Walking Shoe has a distinctive appearance compared to several other running shoe brands in its price range. This is likely because the footwear was not originally engineered for running, instead it was designed to be used as a walking shoe. It comes with a mainly flat construction, which helps to distribute uniformly the energy and weight from each step so as to prevent placing excessive stress on a specific area of the user's feet. With this feature, you can be sure you will never suffer from repetitive stress injuries as a result of your footwear.
Another key feature that makes the Skechers Performance Women's Go Walk 4 one of the best shoes for nurses with bunions is its 5GEN midsole. Skechers utilized its proprietary 5GEN material in making the midsole of this impressive footwear. This material is extremely responsive and offers fantastic cushioning to the wearer's feet.  In addition, the upper of the women's Go Walk 4 is made using extremely lightweight materials and there are several perforations on the upper, which means the shoe is breathable and comfortable for long-time wearing.
If you are searching for a dependable pair of walking shoes that will not hurt your feet, then Skechers Performance Women's Go Walk 4 – Pursuit Walking Shoe is an excellent option at a great price. However, you should keep looking if what you want is a pair of shoes that will last you a very long time. This is because durability was not a major concern in the design of this impressive walking shoe. The footwear is not very resistant to wear and tear due to the light and thin mesh material used in the upper construction. Nevertheless, this drawback is offset by the advantage of the whole shoe weighing very little, which helps provide that minimalist, barefoot feel.
Pros
Extremely comfortable cushioning
Lightweight and breathable
Reasonably priced
Designed to provide all-day comfort to the wearer
Excellent grip
Flexes extremely well
See also: Best Shoes For Nurses On Feet All Day
---
Brooks Women's Adrenaline GTS 18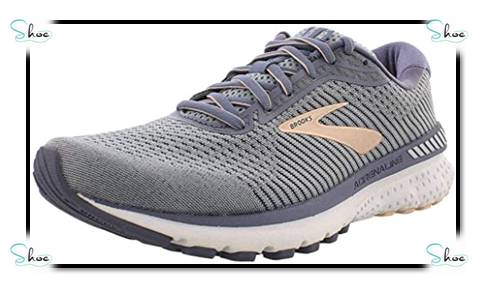 Brooks is among the very few companies that concentrate on making running shoes and this model is no different. There are many things that Brooks has been doing well in their running shoes within the last couple of years and the Adrenaline GTS 18 is their flagship footwear that highlights a lot of it. The GTS is abbreviation for Go-To Shoe, and they really mean it. The company promotes the footwear as the everyday footwear that does a bit of everything. Although originally designed for runners, the Brooks Women's Adrenaline GTS 18 delivers lightweight comfort and stability in an iconic manner that makes it one of the best athletic shoes for nurses.
Key Features
Rubber sole
High energizing cushioning
Breathable, flexible mesh upper materials
Detachable molded foam insole
Luxurious tongue and collar
Comfortable fabric lining
Modifiable, asymmetrical midfoot saddle
BioMoGo DNA
If you have the predecessor of this shoe (Adrenaline GTS 17), then you may have noticed that something was amiss especially within the upper. The shoe's lacing system felt a little tricky and had comfort issues. This issue has been rectified and the footwear is amazingly lightweight with a slight reduction in weight.
The upper now has a streamlined mesh, which is extremely comfortable to the feet. The toe box is not too wide or too small and fits perfectly. Several wearers reported that the footwear offers sufficient wiggle room, but they did not feel like they were swimming within them.
Brook's running PDRB is fitted throughout the shoe's midsole. PDRB is short for Progressive Diagonal Rollbar and is actually a blend of plastic and hardened foam that helps keep the wearer stable as well as shielded from overpronation. For extra softness and comfort, the shoe's midsole also has BioMoGO DNA technology, which provides impressive shock absorption and will help decrease pressure on your joints so you can walk easily even during very long shifts.
The GTS 18 is fitted with a firm rubber material within the heel and a more supple-blown rubber within the forefoot. The predecessors of this shoe were also built with these materials, and they are specially fitted within the sole component to deliver excellent traction and durability.
This impressive footwear from Brooks offers the comfort you need to stay on your feet all day long. Aside from the plush interior fabric lining and breathable mesh covering, the shoe's padded collar and tongue adds to the general comfort of the footwear. You can tighten the laces to any comfort level you desire for a tight, or relaxed, snug fit. This is made possible by the shoe's padded tongue. The soft padding within the collar embraces the ankle comfortably whilst ensuring that the foot is properly secured in the shoe.
Pros
Lightweight construction
Durable sole unit
Comfortable and breathable
Offers impressive support
Reasonably priced
Cons
Some users have complained that small stones sometimes get stuck within the sole grooves
See also: Best Athletic Shoes for Nurses
---
Adidas Women's Swift Run Sneaker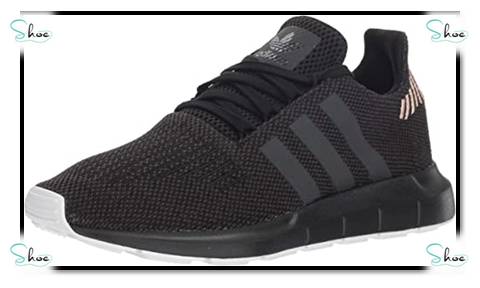 Adidas is a global leader in inventive shoe design. The company has been around for nearly seventy years offering a trendier alternative to athletic footwear. A high degree of care goes into the design of each shoe model and this is especially evident in the Adidas Women's Swift Run W. In fact, the company designed this model to be the perfect casual footwear for both leisurely workouts and everyday activities. The footwear's wide toe front, EVA foam midsole and stretchy, sock-like fit makes it one of the best shoes for nurses with bunions.
Key Features
Synthetic sole
Knit upper
Lace closure
Rubber outsole
Breathable upper
EVA foam midsole
Snug, sock-like fit
Attached tongue for simple foot insertion
As expected from a world-class brand, the Adidas Women's Swift Run W exudes a style sense that you will not find in any other athletic shoe brand. The shoes upper is produced from textile, which means the shoes are comfortable for wearing all day long – every day. The footwear's overall design is unconventional and professional, and that is why the shoe appeals to a wide variety of consumers globally.
There are also embroidered lines fitted on the shoe's forefoot. These helps to further accentuate the style sense of the Adidas Women's Swift Run W. In addition, the footwear is available in a broad range of color options, so you can select the one you feel fits your style sense the best.
Aside from style, this impressive footwear from Adidas also offers a high degree of comfort to the wearer. The footwear is breathable and lightweight – thanks to its knit and textile upper construction. Furthermore, the shoe is fitted with a soft EVA midsole, which helps to ensure your feet is shielded from impacts as well as other types of pressures and discomfort. The footwear offers a superb fit that can accommodate people with wide feet or high instep.
As mentioned earlier, the Adidas Women's Swift Run W comes with a pliable EVA midsole. This feature helps to ensure the footwear has an overall lightweight construction however the shoe is also highly supportive and offers exceptional impact resistance. The shoe's rubber outsole provides dependable traction on a variety of surfaces, while its lightly padded collar helps support your ankle area thus ensuring your feet are comfortable even during long shifts and very busy days. Nevertheless, a number of users have reported that the shoe is not very durable. Some users have complained that the footwear broke down easily after a few months of use.
Pros
Simple to slip on
Lightweight
Breathable
Comfortable fit
Available in a wide range of color choices
See also: Best Adidas Shoes for Nurses
---
Brooks Women's Ghost 12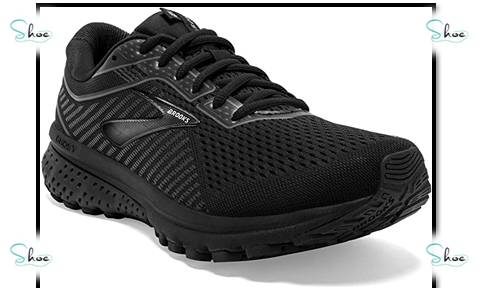 Brooks Sports, Inc, is an American firm that designs and sells top-performance women's and men's running shoes, clothing as well as accessories. The Brook's Ghost is arguably the best selling in the company's line and there are several good reasons for this. Aside from being versatile, extremely comfortable and soft, these shoes also have a fashionable look that will complement all your seasonal looks. If you are a Ghost loyalist, you will be happy to learn that the Women's Ghost 12 has several features in common with the Ghost 11 except for only a few updates. The most obvious difference is perhaps an artistic revamp to the footwear's upper which utilizes 3D printed overlays over an engineered mesh, making the shoe one of the best shoes for nurses on feet all day.
Key Features
Soft, Secure Fit
Segmented crash pad that helps cushion every step
BioMoGo DNA plus DNA Loft for enhanced underfoot cushioning
Rubber Sole
The Brooks Women's Ghost 12 Running Shoe has a midsole that closely resembles that of the previous edition of the footwear. The Ghost 12 continues to utilize Brooks' patented BioMoGO DNA foam and DNA loft to give the wearer a comfortable walking experience. The women's Ghost 12 comes with a lot of cushioning and is somewhat heavy, weighing approximately 12 ounces. Nevertheless, you will be pleasantly shocked by how responsive the footwear is taking into account its weight.
The design of the shoe's outsole is a bit different from that of its previous version; however, the structural components of the two versions are essentially the same. The outsole of the footwear is almost completely covered with extremely durable rubber, which helps to ensure maximum grip on a variety of surfaces. The only drawback is that the blown rubber adds to the overall weight of the shoe.
The women's Ghost 12 has a durable outsole, and is reasonably priced compared to other footwear within the same price category. A fragmented Crash-Pad system is fitted to the shoe's forefoot outsole. This feature helps to absorb shock as well as provide an effortless toe-off with each stride. No wonder the footwear is ranked among the best shoes for nurses with bunions.
The Brooks Women's Ghost 12 Running Shoe comes with an upper that delivers a flawless sock-like fit. This ensures each step you take is a secure and steady. Another difference between the Ghost 12 and the previous edition is the emblematic overlays which are directly 3D – printed on the beautifully well-crafted mesh upper without utilizing adhesives or stitching. The upper of the shoe hugs your feet with no danger of slip ensuring they are exceptionally comfortable and a complete pleasure to wear. Lastly, the Ghost 12 comes with a revamped heel counter including a pliable, but textured material. This feature helps ensure the heel is held in place comfortably.
Pros
Impressive outsole grip
Well-cushioned and provides soft ride
Secure upper that flexes perfectly with your foot movement
Extremely durable
Cons
Pricey but provides impressive durability
See also: Best Shoes for 12 Hour Shifts
---
HOKA ONE ONE Women's Bondi 6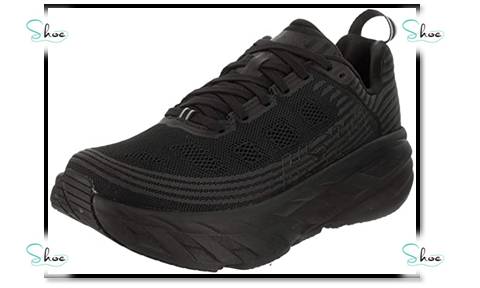 The strong points of this Hoka running shoe are its springiness, elegance, and coziness. The midsole is constructed to be thick and supple and it delivers superlative support and padding for the feet. This is especially beneficial when you have to stand or walk about for extended periods. The women's Bondi 6 from Hoka is also a fantastic choice when you are in the market for the best shoes for nurses with bunions due to the roomy toe box and extra depth construction. Keep reading to learn more about this inspiring women's running shoe by Hoka.
Key Features
Hoka's Meta-rocker system
Breathable mesh upper
Rubber sole
Lycra heel area
EVA midsole
Leather & Synthetic upper
The Bondi 6 was created for runners searching for an ultra-padded road shoe, and it is one of the best shoes for nurses. The sneaker offers utmost coziness made possible by contemporary technological solutions. The sneaker's EVA midsole allows for premium degrees of comfort along with energized padding underfoot.
The mesh upper serves up enhanced breathability ensuring your feet are not overheated even when the weather is very hot. Designed for nurses with bunions, the women's Bondi 6 is adequately cushioned underfoot to ensure your arches are well supported. As you may be aware, good arch support will help alleviate the pain from bunions. Besides, the heel area is produced using Lycra, which means your feet will get an extra degree of comfort whilst walking.
Another charming feature of the women's Bondi 6 is its extremely hardwearing sole unit. The outsole is produced from a durable rubber material and it serves up dependable traction on wide-ranging terrains. Moreover, the rubber outsole gives the sneaker reliable stability and durability. One tester observed that the outsole had little deformation to the original shape after she had walked many miles with the footwear.
The women's Bondi 6 comes with a few flaws, however. One customer recounted how the upper began to disconnect from the midsole after doing less than 100 miles with the footwear. Some wearers also say that the Bond 5, which is the predecessor of the Bondi 6 performs better concerning breathability. These customers observed that the mesh upper material of the Bondi 6 has a somewhat lower quality than that fitted on the Bondi 5.
Generally, the Hoka women's Bondi 6 is a great nursing shoe and performs better than any of the previous versions of the Hoka One One Bondi series.
Pros
Offers first-rate stability
Well-cushioned
Remarkable protective features
Superlatively comfortable
See also: Best Supportive Shoes for Nurses
---
Skechers Men's Go Max-Athletic Air Mesh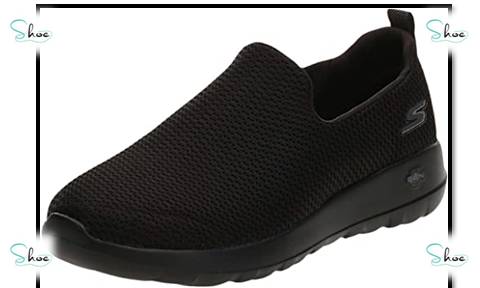 Most people view Skechers as a company that makes shoes for senior citizens. In the past few years, the company has been attempting to capture the attention of the younger generation and they have tried to achieve this with several variations of their footwear. The Sketchers Men's Go Max-Athletic Air Mesh slip-on walking shoe sneaker could be their best efforts so far taking into account its impressive fit and design for the new generation. If you are searching for the best shoes for bunions mens that will also provide a blend of support and softness, the Go Max-Athletic Air Mesh slip-on walking shoe will give you the best of both worlds.
Key Features
Radically lightweight (weights approximately 7.5 oz)
Goga Max technology offers an insole that is both supportive and cushioning
5 Gen sole featuring Skechers signature injection molded material that helps with shock absorption
100% textile woven mesh upper that provides better fit and breathability
Skechers GoWalk Max outsole and midsole provides supreme support and cushioning
The Skechers Men's Go Max-Athletic Air Mesh Slip-on Walking Shoe Sneaker comes with the extremely comfortable squishy insoles that Skecher's shoes are known for. And, the secret behind these squishy insoles is the Goga Max technology, which provides smart cushioning to fight fatigue so you can stand and walk comfortably throughout the day. The suppleness of Goga Max works harmoniously with the footwear's 5 Gen sole to provide supreme foot support plus shock absorption.
The shoe's upper is engineered using one hundred percent woven mesh textile. This feature ensures lightweight breathability and helps keep your feet cool and dry all day long. Nevertheless, you should bear in mind that the woven mesh upper offers very little in terms of elasticity or "give". For this reason, if your feet are wide, you should consider skipping this footwear because you may find it difficult to slide the shoes onto your feet.
On the other hand, if you have a narrow or average foot width, the Skechers Men's Go Max-Athletic Air Mesh Slip-on Walking Shoe Sneaker will be most ideal for you, as it offers the perfect balance of breathability, support, and suppleness. Another feature you will love about this fantastic shoe from Skechers is its slip-on design, which makes it very simple to wear and take off.
Pros
Quick-fit portal that facilitates easy wearing and take off
Goga Max insole that offers enhanced cushioning and supreme comfort
Extremely light mesh fabric upper plus stylish sporty design
5 Gen midsole that help provide high energy return for each step you take
Slip-on walking footwear that is available in a variety of designs
Sole designed for shock absorption
Cons
Woven mesh upper offers no elasticity
Size measurement differs
See also: Best Shoes for Male Nurses
---
ASICS Men's GT-4000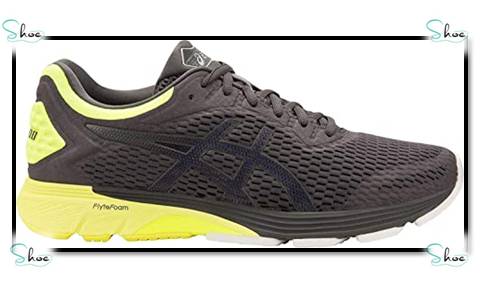 The GT-4000 is actually a new addendum to ASICS's GT series. This inspiring shoe is originally designed for neutral or mild stability runners but it is also appropriate for nurses or those who stand on their feet all day and need good shoes that provide excellent support. The GT-4000 running shoe replaces the GT -3000 within ASICS stability lineup and it offers impressive features that you would expect from one of the best shoe manufacturers in the world.
Key Features
Rubber sole
Ortholite sockliner that helps wick away moisture
FlyteFoam Lyte Technology – comprising organic nanofibers that bounce back to their initial shape with each stride
SpevaFoam midsole material that help reduce midsole breakdown
GEL forefoot/rearfoot cushioning – helps reduce shock during impact as well as toe-off phases
Adjustable open sandwich mesh upper that ensures a secure, breathable fit
AHAR outsole plus super AHAR heel plug for impressive durability
Several individuals who used the GT-3000 series from ASICS complained that the shoes felt narrow particularly within the forefoot area. It appears the company listened to these reactions and has made the forefoot within the GT-4000 a little wider. The company also introduced Flytefoam Propel within the forefoot of the GT-4000. These two revamps have helped to make the forefoot area the main attraction of the footwear's sole unit. With the wider forefoot region, your toes will spread out naturally and freely during toe-offs. The Flytefoam Propel feature within the midsole will literally put a spring within each step you take by providing impressive cushioning without the extra weight.
The ASICS Men's GT-4000 (2E) Running Shoe employs Duomax support – a system that is inserted within the midsole at the inner portion of the footwear. It performs the function of stabilizing the foot as well as preventing the foot from rolling inwards. This feature separates the GT-4000 from several other stability brands out there and also makes it one of the best tennis shoes for bunions.
It will take approximately 20 miles of walking to completely break in the shoe however once that is done; you will begin to enjoy the real strength of the footwear's sole unit. The footwear's rubber outsole is extremely durable and will provide impressive traction in all terrains.
Pros
Highly durable
Mesh upper that conforms to the movement of your feet
Flytefoam Propel cushioning
Cons
Requires some break in time
Narrow at the midfoot area
---
Overcoming Bunions While Working as a Nurse
Bunions are not the most severe foot condition, but they can be somewhat debilitating for nurses because nurses spend a lot of time on their feet. A bunion is a hard lump that forms on the joint connecting the big toe to the foot. Bunions result from bone movement at the front of the foot, which causes the big toe to shift out of place, pushing the joint outward. As one would expect, as this part of the foot juts out, it presses more against the inside of the shoe. This pressure causes soreness, redness, and pain.
Someone can be born with this problem as a result of foot deformities. In some cases, bunions develop from inherited foot conditions. Some types of foot injuries can also cause people to get bunions. This foot problem is also commonly caused by wearing poorly fitting shoes. If shoes are too narrow or tight, the additional pressure on the forefoot could cause bunions. People who have arthritis are more prone to developing this condition, as well.
The average person who has bunions is usually able to give the feet a break. For the typical nurse, however, spending three hours walking around before getting a break is not unusual. Nurses may not only have more pain; they could end up with complications like:
Hammertoe: This is an unusual bending of a toe, usually the one beside the big toe, usually accompanied by pain.
Bursitis: This refers to an inflammation of the fluid around the bones and tendons.
If bunions are not addressed, they can affect foot movement, leading to a loss of flexibility. Ways to deal with this problem include:
Bunion pads can be inserted into shoes to make the feet more comfortable.
Icing bunions can decrease swelling and pain.
You can use shoe inserts to increase stability and keep the feet from moving inside the shoes.
One of the easiest ways to get through the workday with this foot condition is to choose a new pair of shoes.
Shoe Selection for Bunions
Finding the best shoes for nurses with bunions is not difficult, but it is important to note that some great nursing shoes may not suit this particular problem. Experts on this subject advise against wearing shoes with heels, as they transfer the weight to the front of the foot. Wearing shoes with heels will put more pressure on the bunion.
Stability is a crucial consideration for a nurse who has bunions. A shoe with a wide base that is very stable will keep the pressure on the feet uniform. Not only should you avoid tight shoes, but you should also look for one with plenty of room in the toe box. This encourages flexibility and reduces pressure on the affected part of the foot.
While many nurses prefer a firm upper, this is not always ideal for someone who has bunions. Usually, the best shoes for nurses with bunions are made from a stretchable material. The relaxed feel will be a relief for the inflamed joint of the big toe. Nurses who struggle with bunions should remember that the feet swell as the day progresses. Stretchable material helps to ensure continued comfort, so there should be less pain at the end of the shift. Some nurses opt for shoes that are a size or half size larger to keep pressure off the front of the foot.
Having more control over the fit of the shoes goes a long way towards providing relief from bunion pain. With laces or straps, you can make adjustments if the shoe begins to feel tight. However, there are a few quality slip-ons that work well for people with bunions. Some people develop bunions because of unstable arches. You can prevent bunions or decrease the severity of symptoms by choosing shoes with the right type of arch support. Orthotics can be helpful to people with this problem, but seek the guidance of a podiatrist to make sure you get the right kind. Some nurses use toe spacers inside their shoes to keep the toes aligned and help maintain foot stability.
Unfortunately, anyone who has bunions has to face the possibility that they will worsen over time. The pain caused by bunions can easily affect a nurse's performance. Some of the best shoes for dealing with this problem are:
Propét Women's TravelActiv Mary Jane Flat – this lightweight shoe is 100% mesh, so it is gentle on painful foot joints. It has a simple style, but it is stable and well-cushioned for comfort. It has a removable footbed, so custom orthotics can be added if necessary.
Brooks Women's Adrenaline GTS 18 – a high-performance shoe with an attractive style, it has a thick sole for shock absorption and a breathable mesh upper. A padded tongue and collar add to the feeling of comfort, and it has plenty of cushioning for tender feet.
Brooks Women's Ghost 12 Running Shoe – the mesh upper gives it a luxurious look, but this shoe offers even more for nurses with bunions. It has padding to reduce the pressure from every step, and plenty of room in the toe box. The stable rubber sole helps to enable foot flexibility.
Adidas Women's Swift Run W – the stretchable mesh material makes it an ideal choice for dealing with bunions. The high collar helps to give it a good fit, and it has a sturdy, synthetic sole.
Padding and cushioning increase the comfort factor. Shock absorption is helpful to nurses who sometimes have pain while walking, as it reduces the impact on the feet. Bunions can be a challenge for any nurse, but with thoughtful shoe choices, you can make your workdays much easier.
Frequently Asked Questions (FAQs)
Which shoes are best for my bunions?
Proper cushioning is a vital feature for shoes that are gentle on bunions. Arch support and a stretchable upper are also necessary. Shoes worth considering include Skechers Performance women's Go Walk 4, Adidas Women's Swift Run W, and Skechers Men's Go Max-Athletic Air Mesh.
Are some shoes made for people with bunions?
While shoe manufacturers do not make shoes specifically for this condition, they do design shoes to help people dealing with a range of foot conditions. Features like mesh uppers, arch support, and gel insoles can make it easier to deal with bunions and minimize pain at the end of the day.
Can some shoes make bunions worse?
Some shoes can cause people to develop bunions or cause the condition to worsen. Tight shoes can put stress on the big toe and cause the joint to jut outwards. People who have bunions should avoid rigid material and soles that are too firm. High heels and lack of arch support can also be bad for bunions.
Is there a way to make bunions smaller?
Losing or maintaining your weight is one way to help shrink bunions, as there will be less pressure on the feet. Choosing the right footwear with a soft upper and roomy toe box will also decrease foot pressure and possibly reduce bunion size. Anti-inflammatory medication and ice packs can soothe the inflamed area and reduce the swelling of the big toe joint.
Are wide shoes necessary if I have bunions?
Shoes that are too tight will increase bunion pain. The extra width means that the affected toe is not being squeezed. Anyone who has bunions should, therefore, always look for wide shoes to keep their feet comfortable.