7 Best Shoes for Nurses with Knee Pain – Most Comfortable Shoes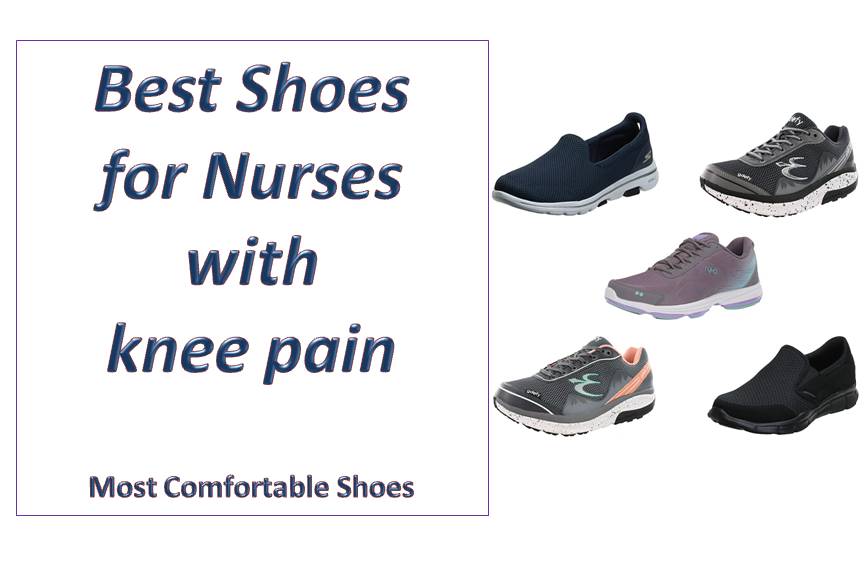 Nurses work on their feet the entire day, monitoring patient's conditions, administering medication, and communicating with doctors. They continually walk, stand, and run around on hard hospital floors in the course of performing their duties. That is why they often wind up with tender and painful feet. They may experience the following within the knee region: swelling and stiffness, weakness or instability, redness, and warmth to the touch. These symptoms indicate knee pain which can result in permanent damage of the knee. Podiatrists suggest investing in no less than two pairs of comfortable and supportive shoes to assist with pain management. This article will highlight the best shoes for nurses with knee pain to enhance your purchase experience.
Best Shoes for Nurses With Knee Pain – Female & Male
Gravity Defyer Women's G-Defy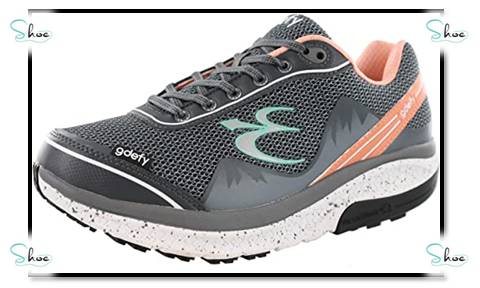 Shoes from Gravity Defyer are acknowledged to be extraordinarily plush and durable regarding alleviating orthopedic disorders including knee pain and the women's G-Defy Mighty Walk is no exception. The shoe helps to alleviate knee pain, foot pain, and heel spurs employing certain important technologies. To start with, the upper comprises a velvety synthetic material that delivers a warm embrace to your feet. The shoe also flaunts two patented technologies – spring system technology and VersoShock tech, which work together to alleviate pain within the knee. These features are what place the footwear among the best work shoes for nurses.
Key Features
Roomy toe box
Low to intermediate arch height
Detachable insoles
Soft synthetic upper material
Entirely seamless interior to take care of sensitive feet
Gravity defyer designed this women's sneaker particularly for alleviating pain and several users have praised the footwear's pressure and pain reduction capabilities. The sneaker's heel cup is engineered to soak up the shock of running and walking, keeping your hips, back, feet, and knees in alignment for utmost comfort and performance.
The midfoot region of the Women's G-Defy Mighty Walk is adequately supported to ease pressure as well as keep your feet pain-free all day long. The VersoShock patented technology within the heel employs an arrangement of springs and air to help lessen the shock of walking or running on hard surfaces. The toe box is spacious enough to ensure adequate circulation plus breathing room for your toes.
The detachable insole is another fantastic feature as it will let you insert your recommended orthotics if need be. Besides, the highly durable and breathable mesh upper delivers adequate ventilation and flexibility so you can go about your duties without discomfort. The shoe also has a seamless interior that is superb for sensitive feet as it helps prevent irritation. Sizing ranges from 6 to 11 with wide plus extra-wide choices.
On the whole, the Women's G-Defy Mighty Walk is indisputably one of the best shoes for nurses with knee pain. The sneaker has everything you require for all-day wearing: shock absorption to alleviate strain on your joints, spacious toe box for lasting comfort, and superb arch support for relieving pain. The major complaint about the shoe is its relatively high price but the features the shoe boasts are sure to offset that.
Pros
Very lightweight
Extremely comfortable
Spacious toe box for all-day comfort
Easy to clean and maintain
Slightly rocker outsole
See also: Best Shoes for Nurses with Plantar Fasciitis
---
Skechers Women's Go Walk 5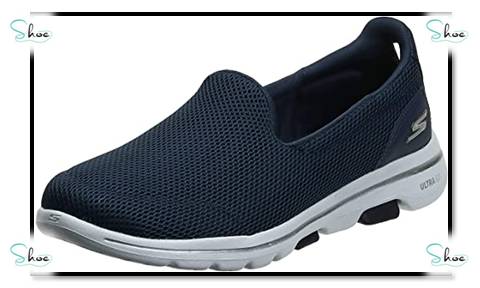 Skechers is adored by customers mainly due to the quality and comfort of the shoes. The vast majority of purchasers love how cozy the women's Go Walk 5 is. Most users report that the cushioning is superb for wearing all day long. The shoe is designed to fit your foot firmly with little or no slipping when walking. You do not require shoelaces as the sneakers are specially engineered to fit your foot shape plus biomechanical requirements. From the premium features offered by the sneaker, it is not difficult to see why it is ranked among the best supportive shoes for nurses.
Key Features
100% mesh upper
Synthetic sole
Machine washable
Slip-on design
Goga mat insole for enhanced support and cushioning
The Go Walk 5 is one of the finest shoes in the Skechers Go Walk line. Unlike its predecessors, the shoe comes with no laces for a sleek, smart appearance. Nurses adore this version because it is very simple to slip on/off and provides a supportive footbed for enhanced stability whilst walking.
The sneaker's upper is crafted using an extremely lightweight mesh material and the seam lines are minimal. Since the seam lines are very few, you will suffer less rubbing and irritation as you go about attending to your everyday tasks. Besides the heel is adequately padded and structured to provide you with extra support.
The material employed in making the upper allows for an exceptional airflow inside the shoe whilst the synthetic outsole plus the heel overlay helps reinforce the footwear's durability and lifespan. Since the sneaker has a slip-on construction, you can easily put them on or remove them without having to battle with shoelaces.
To ensure you have adequate ankle support, the women's Go Walk 5 comes with padded toplines as well as counter linings. As you wear the sneaker, the opening will open out to accommodate your foot volume thus allowing for a cozy, natural fit.
Most buyers are extremely happy with the sneaker's appealing design. One delighted customer had this to say about the Skechers Women's Go Walk 5 – 15901 Sneaker. "I adore Skechers and this model has really helped in solving my feet problem. They look fashionable and they're plush and cozy. They are wide enough to accommodate my bunions and hammertoe. I recommend them highly."
If you are seeking the best shoes for nurses with knee pain, you cannot go wrong with this pair from Skechers. The sneakers are made using uncomplicated yet efficient materials that are designed to help keep pain at bay regardless of how long you wear the shoes. Moreover, the shoes are reasonably priced so you can purchase more than one pair with different colors.
Pros
Excellent fit and design
Delivers superlative comfort with each step
Easy on/off
Offered in a range of colors
Machine washable
Highly breathable
Cons
The insole is not removable
A few users report that the cushioning is not so impressive
See also: Best Orthopedic Nursing Shoes
---
Ryka Women's Devotion Plus 2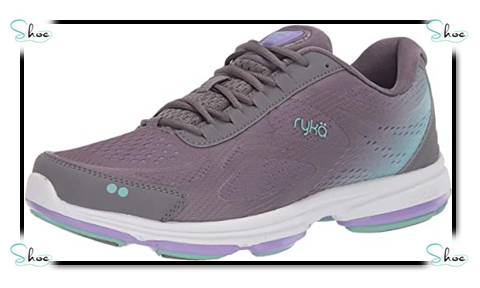 Ryka is a shoe manufacturing firm that designs and markets athletic shoes, walking shoes, and sneakers, especially for women. The Women's Devotion Plus 2 is perhaps the comfiest women's walking shoe available in the market today. With a 12.5 mm midsole drop and weighing in at only 8.3 ounces, the shoe is well equipped to help deal with heel pain. Most purchasers were impressed with the comfort delivered by this Ryka walking shoe model – thanks to the lightweight plus cushioned materials employed in making the shoe. If you are in the market for the best shoes for nurses with plantar fasciitis, Ryka has you protected with the women's Devotion plus 2.
Key Features
Padded collar & tongue
Mesh upper
Trendy design
External pod system
Synthetic sole
Lace-up front
If you spend the majority of your workday on your feet, this pair will perform beyond your expectations. It is lightweight, well-cushioned, and the tongue & collar are adequately padded, making it one of the comfiest walking shoes around. It also features a soft fabric lining that delivers all-day comfort to the wearer. Moreover, the Lycra-lined interior will help shield your feet from excessive rubbing, irritation, and pressure when walking.
If you suffer from heel pain because of plantar fasciitis, this pair can help alleviate your pain. The walking shoe has gotten many 5-star reviews from individuals who suffer from heel pain. The shoe is able to reduce heel pain majorly due to its well-cushioned and plush insole. Most reviews agree that the arch support delivered by this Ryka walking shoe is greater than average.
The Ryka Women's Devotion Plus 2 is extremely lightweight and you will not fail to notice this the first time you walk around wearing the shoes. Several users have praised the shoe for its non-bulky cushioning with many saying they wear it for extended periods without experiencing discomfort. The mesh upper is not only breathable but also plays an important part in giving the footwear its flexible and lightweight feel.
Ryka may not be a big name brand concerning walking shoes but this model from the brand looks very cute and comfortable. Thus, if you are seeking an attractive work shoe to impress your work colleagues, the Women's Devotion plus 2 should top your list. While comfort should be your number one priority when shopping for a nursing shoe, having a cute-looking shoe will be a huge plus.
Another reason this shoe has received many stellar reviews from users is its availability in wide size choices. Thus, you can enjoy the several benefits offered by this shoe even if you are a broad-footed woman. Another noteworthy feature of this walking shoe is the level of ventilation it offers. You will enjoy excellent ventilation all through the day – thanks to its breathable mesh material upper.
Even though the women's Devotion plus 2 from Ryka delivers a secure and superb fit, some buyers report that the footwear runs a little small. For this reason, it is recommended you order a half size larger than your norm if you have trouble getting the appropriate size.
Pros
Extremely lightweight
Padded tongue & collar
Great arch support
Available in a broad range of unique designs
Visually appealing
Cons
Some complaints regarding durability
See also: Best Shoes for Nurses with Bunions
---
Dansko Women's Paisley Sneaker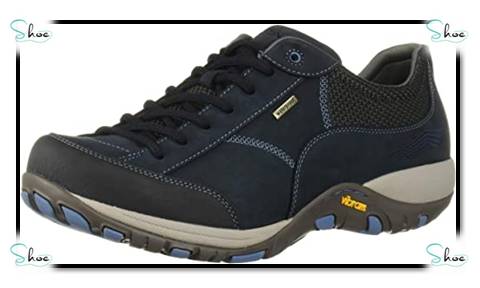 The women's Paisley by Dansko is a sneaker you can depend on to move freely and comfortably around the hospital grounds. Its leather upper is totally waterproof meaning that it can serve you both indoors and outdoors with no fear of wrecking them. Offered in a broad assortment of colorways, you will find a pair that will perfectly match any scrub or any of your other casual outfits. Its resilient, non-slip rubber outsole lends a touch of durability to the footwear. The Paisley is also lightweight yet strong and supportive. These first-class attributes make the sneaker one of the best work shoes for nurses.
Key Features
Synthetic sole
Custom orthotics friendly
Waterproof leather uppers
CleansportNXT for managing odor
DuPont Sorona fiber
Detachable triple-density footbed
The Dansko Women's Paisley Waterproof Outdoor Sneaker boasts several striking attributes that make it one of the best shoes for standing all day. The sneaker serves up admirable shock absorption when walking, and this is mainly because of the detachable triple-density footbed. Aside from adding a touch of durability and longevity to the footwear, the sneaker's Vibram sole will also help ensure you walk confidently even on extremely slippery/wet surfaces. Several reviewers agree that the Paisley looks trendy enough to wear about town.
If you suffer from smelly feet, you will adore the shoe's odor-diminishing Cleansport NXT technology. This technology which involves using beneficial microorganisms to reduce odor will help keep your shoes and feet smelling fresh regardless of how long you wear the shoes.
The paisley features a lace-up front that will provide you with the desired fit so you can get through your 12-hour shift in comfort. The proprietary Dupont sorona fiber will help prevent moisture from immersing inside the footbed. Aside from helping to keep moisture at bay, the Paisley is also reasonably breathable and will allow for good air circulation within the shoe. This means your feet will never get overheated as you go about attending to your patients.
This Dansko sneaker will work great with regard to combating knee pain. If you experience severe knee pain because of plantar fasciitis, the sneaker's premium quality design will enable you to go about your duties without experiencing any pain. Besides, the detachable insoles make it simpler to slot in custom orthotics to deal with other types of pain such as chronic back pain from being on your feet all day.
In addition to being one of the best shoes for nurses with knee pain, the sporty appearance of the Dansko Women's Paisley Waterproof Outdoor Sneaker also makes it the go-to shoe for nurses who love a distinctive appearance.
Pros
Trendy appearance
Waterproof leather uppers
Very durable
Comes with moisture-absorbing properties
Rubber sole delivers durability and flexibility
Cons
Slip resistance could be better
Somewhat costly
See also: Best Shoes for Nurses with High Arches
---
ASICS Women's Gel-Cumulus 23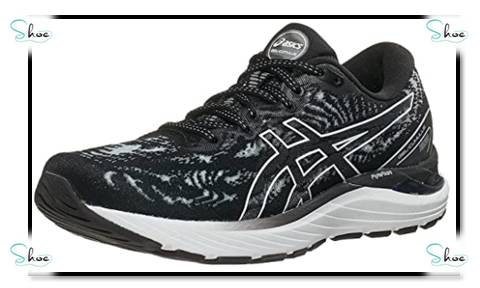 The women's Gel-Cumulus 23 has been described as a fantastic jack of all trades running shoe. ASICS claims the shoe can easily handle easy runs, steady runs, recovery runs and even long distances of over 50 kilometers and several reviewers agree with this claim. While the Gel-Cumulus 23 is a great do-everything running shoe, it is also a fantastic nursing shoe as it comes with some remarkable attributes that work perfectly with the job. The Gel-cumulus 23 is reliable, luxurious, well-built, and well-rounded. Go for this shoe if you are seeking an uncomplicated shoe that serves a variety of requirements and will not break the bank.
Key Features
Rubber sole
Flytefoam technology for lightweight cushioning
Engineered mesh upper
Gel technology cushioning for superior shock absorption
The Gel-Cumulus series is arguably the most enduring line within the Asics family. The ASICS Women's Gel-Cumulus 23 MK Running Shoes come with attributes that make them a top choice for nurses who work mostly on their feet. The shoe is designed to withstand any condition you encounter whilst providing abundant support and comfort.
This pair has the traditional Asics fit. The shoes fit true to size and most reviews report that it is not too wide or too narrow. One contended customer raved about her experience with the footwear: "I've been a working nurse for over 20 years and these shoes have helped to protect my feet during 12-hour shifts. They do not require any breaking in and the fit is fantastic."
The one-piece mesh upper is plush, smooth, and cozy and will wrap around your foot comfortably. Besides, the upper is specially crafted to accommodate a broad range of foot shapes. The shoe's interior heel counter is nicely cushioned so you will hardly notice it when running or walking. The major complaint about the shoe's upper is that voluminous padding soaks up a great deal of moisture. Therefore, it is not a good idea to wear these shoes in wet conditions as this will add extra water weight to your feet.
The ASICS Women's Gel-Cumulus 23 MK Running Shoes come with relatively wide and deep flex grooves on the outsole. This feature helps to enhance traction when walking on smooth/slippery surfaces. Two rubber types were employed in making the outsole – AHAR within the forefoot and AHAR+ within the heel region. These help to enhance the footwear's durability.
If you are a fan of the Asics Gel-Cumulus series, you will be pleased with the 23rd iteration of the shoe. The midsole and upper are extremely comfortable, which is why it is ranked among the best shoes for nurses with knee pain.
Pros
True to size
Very comfortable
Provides reliable traction
Requires no break-in time
Secure lockdown
Superb versatility
Reasonably priced
Cons
Lumpy forefoot
Heavy compared to the previous edition
See also: Best Supportive Shoes for Nurses
---
Gravity Defyer Men's G-Defy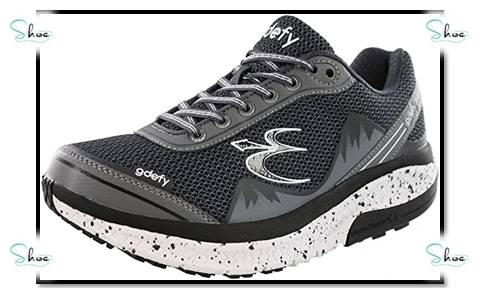 If you have mild to moderate knee pain and are searching for reliable shoes that will give you steady support all through the day, the men's G-Defy Mighty Walk may be the solution you require. The shoe features Gravity Defyer's signature VersoShock sole that helps reduce the level of direct strain your heels and knees experience while walking. It also comes with a plush seamless interior construction that diminishes the likelihood of your feet becoming calloused or wounded while wearing the shoe. Keep reading to discover other reasons why the men's G-Defy Mighty walk is rated among the best shoes for nurses with knee pain.
Key Features
Removable insoles to allow for custom orthotic support
Seamless interior for hypersensitive feet
VersoShock technology
Synthetic sole
Extra-depth along with spacious toe box
One of the core features of this Gravity Defyer shoe is the VersoShock sole. VersoShock is a unique technology created by Gravity Defyer. This feature is designed to soak up the impact of your foot landings as well as reverse that impact so you can have lighter, bouncier steps. VersoShock technology literally transforms what would typically be a harmful impact into beneficial energy to enhance your walking experience.
Additionally, the men's G-Defy Mighty Walk is specially engineered to help nurses avoid common complications like diabetic irritation or plantar fasciitis. Thanks to the front rocker sole, the shoe is widely acclaimed as one of the best shoes for nurses with plantar fasciitis. Besides, the shoe's roomy toe box supplies extra wiggle space for individuals who suffer from diabetes and bunions.
To give you extra comfort and protection, this Gravity Defyer shoe comes with a plush and seamless interior that offers a cozy and supportive wearing experience. Moreover, if you require a special insole, the men's G-Defy Mighty Walk comes with easily detachable insoles that can be swapped for orthotic ones.
This Gravity Defyer shoe is an ideal solution if you are battling with a chronic foot problem like plantar fasciitis. It comes in a range of sizes to perfectly fit each foot size. Further, it is offered in a few distinctive designs with combinational black, red, blue-white, and grey colorways.
The interesting aspect is that this lovely shoe can be purchased at a reasonable rate and it will last you for years.
Pros
Trendy look
Excellent shock absorption
Orthotics friendly
Soft and comfortable
Breathable
Roomy toe box
Cons
Some users say the shoe is not very durable
See also: Best Shoes for Male Nurses
---
Skechers Men's Equalizer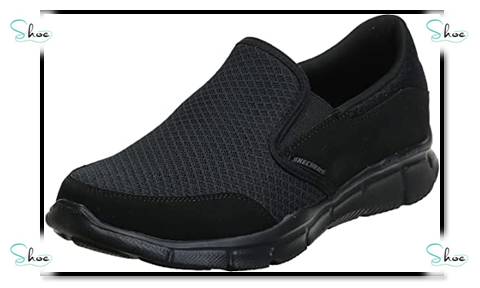 Boasting captivating simplicity, this easy-to-wear sneaker from Skechers draws attention with its shock-absorbing lightweight midsole, memory foam footbed, and simple slip-on fit. According to several reviews, the men's Equalizer Persistent is extremely comfortable and trendy looking. If you work mainly on your feet, there is no doubt you will appreciate the sneaker's secure fit and featherlight composition. Offered at a reasonable cost, this nicely constructed sneaker does not skimp on quality and is sure to last you many shifts of hard work at the hospital.
Key Features
Synthetic sole
FlexSole lightweight midsole
Memory foam footbed
Textile and synthetic uppers
If you suffer from foot pain or uneasiness as a result of standing or walking for extended periods, the memory foam footbed of this Skechers' pair will help resolve all that. The memory foam adjusts to the shape of your foot outline to ease the pressure and offer a supportive base. This adjustment stays permanent after you have taken a few steps so you do not need to bother about it each time you wear the shoes. This means the sneaker is good for bunions.
Skechers engineered this lovely sneaker using stretchable materials plus special fabrics that distend easily. Moreover, the laceless upper means you will never have to bother about the hassle of tying and untying shoelaces. Many reviews agree that the laceless upper does a great job of securing the foot in place and adjustability is not an issue. The Skechers Men's Equalizer Persistent is ranked among the best slip-on shoes for nurses – thanks to the stretchable materials employed in making the upper.
The sturdy 100% synthetic rubber sole will last several years of use. What's more, the outsole offers a dependable degree of slip resistance so you can walk with poise on any kind of surface. The Skechers Men's Equalizer Persistent Slip-On Sneaker is offered in over ten terrific colors to suit the requirements of various personalities and style preferences. And, there is no need worry, you will not have to break the bank to buy a pair as the shoes are all reasonably priced.
Overall, this Skechers pair flaunts an excellent blend of style and function. The shoe will keep your feet cozy and adequately protected no matter how long you stay on your feet.
Pros
Durable sole
No lace hassles
Slip-on design
Offers a secure fit
Lightweight composition
Cons
Some reviewers report that the arch support is poor
A few users say the shoe is not so durable