7 Best Work Boots for High Arches – Comfort and Style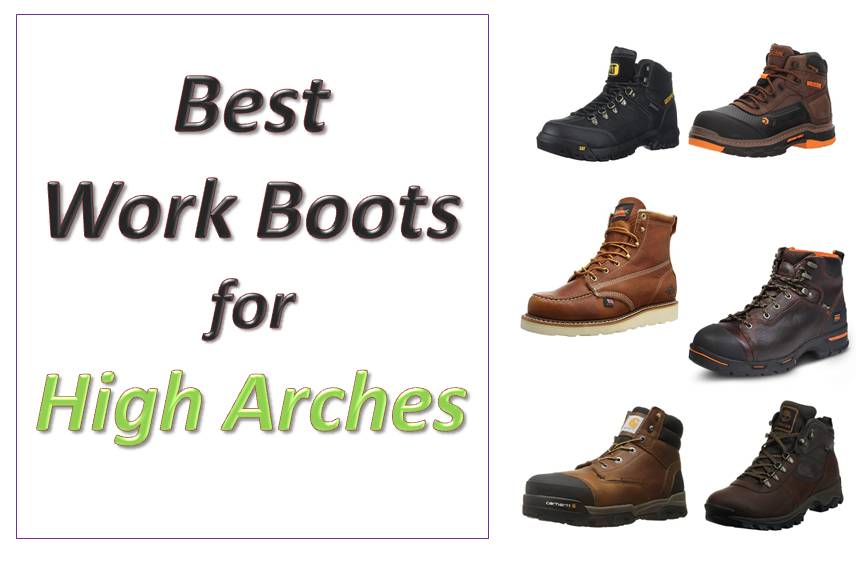 High arch, sometimes referred to as cavus foot, is an arch that is raised more than normal. High arches lead to extra strain on the feet and this can result in painful symptoms. Individuals with high arches generally have trouble finding proper fitting footwear. Consequently, special boots have been constructed to help individuals with high arches. Today, there are a broad range of work boots for high arches on the market. This makes it hard for buyers to select the appropriate one. In this guide, we have selected and reviewed 7 of the best work boots for high arches. We will also provide some tips on how to select the best options for your feet.
Best Work Boots for High Arches – Top Picks
Wolverine Men's Overpass 6″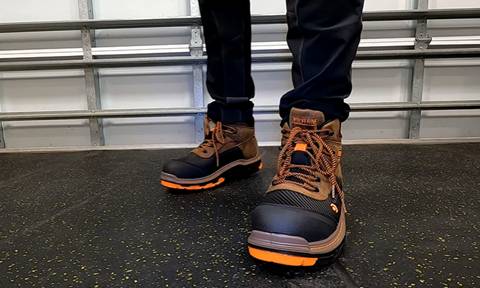 Aside from being one of the best work boots for high arches, the Wolverine overpass is also extremely durable and protective. The boot's flexible construction and ortholite footbed will provide your feet with reliable cushioning and arch support. These features will help you avoid foot pain due to high arches. The wolverine men's overpass also offers several other fantastic features outside and inside.
Key Features
Composite toe cap
Contour welt construction
Slip-resistant outsole
Nylon shank
Waterproof leather upper
Removable ortholite footbed
The Wolverine Men's Overpass features an ortholite insole that enhances comfort with each step. This insole is fitted with a heel cup that delivers extra support and stability to the foot. The metatarsal pad fitted on the insole provides additional cushioning as well as supports the arch. So, if your arches are high, these boots will help ensure you do not experience the pain associated with the condition.
The best aspect is that the boot's insole is detachable so you can swap it for something better if necessary. However, most users agree that the insoles fitted on these Wolverine boots deliver decent arch support plus cushioning. Thus, you can use them for a couple of months before they will need to be replaced. The men's overpass will also work great for you if you desire ankle support. The boots come with conventional lacing closure. So, you can tighten the laces via the speed hooks. This will boost the tension within laces thereby ensuring the boots adhere to your ankles and feet like glue.
Wolverine constructed the upper of these work boots using leather plus some sort of synthetic material. This blend of leather plus synthetic material gives the boots a high degree of durability. The boots are also reasonably waterproof. Several users report that the interior of these boots stayed dry after wading through water puddles with these boots on.
The sole of these Wolverine work boots is slip-resistant. Thus, you will be reasonably protected against slips and falls when you walk on wet/slippery surfaces. The sole also holds up well against various surface types at work including gravel, polished concrete, carpet, and grass. The boot's semi-rigid outsole offers excellent support for individuals with high arches and plantar fasciitis.
The outsole is also well equipped to shield your feet from sharp objects that might penetrate through the sole. Many previous buyers report that they encountered no problems walking with these boots on sharp stones and sharp metal. Wolverine Men's Overpass is fitted with composite toes. These make the boots lighter compared to several other work boots that have steel toes. The men's Overpass weighs approximately 1.8 pounds per boot. While these are not the lightest work boots available they are also not overly bulky.
Most users note that these boots are true-to-size fitting. Thus, you may want to opt for your precise size. However, if you plan to wear them with thick socks, it may be better to choose a half size larger. Overall, most previous purchasers are generally happy with the quality of these Wolverine work boots. They are fairly lightweight, comfortable, spacious, and come with several impressive features.
Pros
Composite toes that help prevent severe toe injuries
Breathable waterproof leather uppers
Impressive slip resistance
Very comfortable
Contour welt construction for enhanced support
Ortholite cushioned footbed for all-day coziness
Cons
Durability concerns
Not CSA approved
See also: Best Slip-on Work Boots
---
Thorogood Men's American Heritage 6″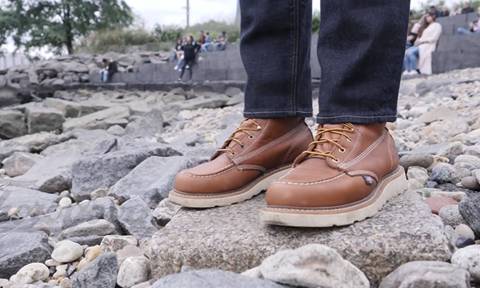 Thorogood is famous for making first-rate work boots. With over 130 years in the business, the Thorogood shoe firm has great expertise in manufacturing quality work boots. The American Heritage 6 inch Moc Toe features a dual-density shock-absorbing insole plus padded sections within the boot. These make the boots one of the best for dealing with high arches. While the Thorogood 6-inches moc toe is essentially a construction boot, it is also sufficiently stylish for everyday wear.
Key Features
Weighs 3.71 pounds
Goodyear storm welt construction
Fiberglass shank
Poron comfort cushion insole
Maxwear Wedge outsole
Made in the USA
Hard-wearing oil-tanned leather upper
Detachable dual-density shock-absorbing insert
When you have high arches, your foot does not absorb shock properly because it does not collapse as much as it should. This can create tension on your legs, which can result in pain and increase your danger of ankle sprains. Besides, as you perform your everyday duties, you may be exposed to high impact plus strain during extended work hours.
Thankfully, these Thorogood boots are specially constructed to support your feet while wearing them at your work site. The boots' poron comfort padded insole plus the shock absorbing midsole will help absorb the shock of your foot landings. This in turn reduces your danger of sustaining injuries. Moreover, the adjustable lace-up closure will ensure the boot molds to your feet to keep them secure and snug.
Concerning protection, these boots are fitted with heels and soles that resist electric shock. So, you can rest easy knowing that the boots will keep you protected against electrical hazards at the workplace. The boot's wedge-style sole delivers remarkable slip resistance. This means you can walk with poise even on highly slippery surfaces. Thorogood added a fiberglass shank to ensure your ankle is well supported.
To ensure these boots last you a long time, Thorogood employed the most dependable technologies in its construction. The American Heritage 6 inch Moc toe is made using Goodyear storm welt. The major advantage of this construction technique is that you will not have to bother about water getting into the boots. Bear in mind that these boots are not waterproof. So you should avoid wading through water puddles while wearing them. Nevertheless, you can waterproof them by applying mink oil or some other waterproofing wax.
The boot's upper is crafted using hardwearing oil-tanned leather. The boots come with 3 traditional eyelets plus 3 speed hooks which are terminated with a grommet. Most users agree that the speed hooks make lacing the boots an extremely simple process. It will take approximately 8 hours to break in these boots. This, however, depends on the length of time you wear the boots. Most customers note that once the boots have been properly broken in, they fit like gloves.
The American Heritage 6 inch Moc Toe is designed to take whatever abuse you toss at it. There are no indications of sole splits and the stitching is secure and tight. The boots work especially well on wet grass, slick surfaces, as well as on concrete floors.
Pros
Overall solid construction
Reasonably priced
Very comfortable
Durable
Non-slip outsole
Cons
Not waterproof
Somewhat heavy
See also: How to Fix Squeaky Boots
---
Carhartt Men's 6″ Composite Toe CME6351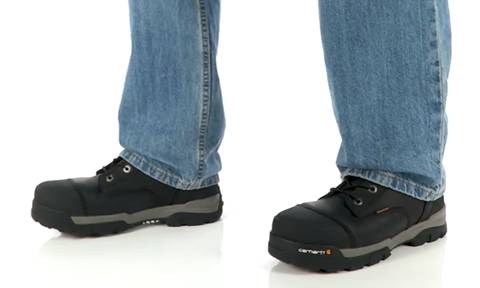 Carharrt has been manufacturing top-notch workwear for over 125 years. The company is committed to providing first-rate, well-constructed products plus outstanding customer service. The Men's CME6351 comes with several features that make it the best work boots for high arches. However, one feature that stands out is the boot's Insite engineered footbed. This footbed provides considerable shock absorption to check foot fatigue and pain as you work.
Key Features
Rubber sole
Waterproof leather upper
Meets ASTM f2413-11EH for electrical protection
Insite Engineered footbed
Abrasion and Chemical Resistant
Composite safety toe
Molded toe Bumper
This Carhartt work boot model can be a fantastic option if you are seeking the best waterproof work boots. The leather upper has a breathable and waterproof membrane that helps prevent outside moisture from getting into the boots. Aside from keeping your feet dry, this breathable membrane helps promote airflow thus helping to keep your feet cool.
The boot's 100 percent leather upper is oil-finished and delivers all-day coziness and protection. The peanut oil-tanned leather gives the boot a fantastic appearance. The Men's CME6351 also features a heavily padded tongue & collar. This helps ensure that your feet do not experience any form of abrasion or lace bruising. The boot is fitted with a moisture wicking lining that helps keep you dry. It also prevents the formation of undesirable smells.
Carhartt employed their ground-breaking Insite technology in crafting the footbed of this work boot. This footbed helps ease pressure plus fatigue caused by high arches. The boots will fit perfectly the first time you wear them. However, many customers report that they require some break-in period. The boots come with traditional lace-up closure. You can tweak the laces to achieve your perfect fit.
The rubber soles offer impressive shock absorption. This shields your feet from discomfort and pain that may arise as your feet strike the ground when walking. The CME6351 is fitted with composite reinforcements within the toe region. The reinforcement helps ensure your feet are adequately protected against impact and compression threats at the workplace.
Protection against electrical dangers at the job site is also essential. The CME6351 is specially engineered to protect you against electric shocks from high-voltage lines (up to 18,000 volts in dry conditions). The footwear complies with ASTM 2413-11 EH. The soles are also very grippy. Thus, you can be confident they will keep you firmly on your feet as you navigate various terrains at work.
Overall, the Carhartt CME6351 is appropriate for a broad variety of foot types. If you are wide-footed, these will work great for you. They are most suitable for factory workers, ranchers, farmers, and explorers.
Pros
Waterproof design
Protects against high-voltage electric shocks
Exceptional quality
Composite toe box
Comfortable and supportive footbed
Fashionable and stylish
Easy to clean
Excellent slip resistance
Cons
A few users say the boots are somewhat heavy
Needs to be broken in
See also: Best Work Boots for Plantar Fasciitis
---
Timberland PRO Men's Endurance 6″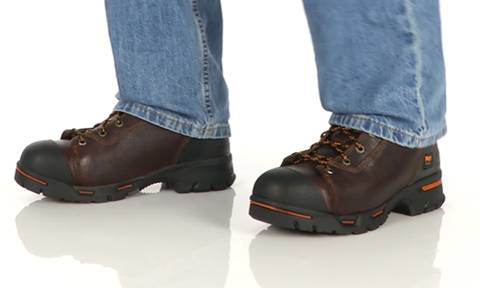 If you are seeking optimal foot protection and do not want to sacrifice comfort and style, then this Timberland pair fits the bill. The Endurance is arguably the best steel toe work boots for high arches. It features Timberland's anti-fatigue technology that allows for a cozy fit throughout the day. The Endurance delivers optimum performance at the jobsite – thanks to its non-slip soles, electrical hazard protection plus inbuilt comfort technologies.
Key Features
Anti-fatigue technology
Steel toe
Fiberglass shank for extra support
Waterproof leather uppers
Heat, oil, and slip-resistant
Rubber sole
Shaft measurement: About 5.5 inches from arch
Cement construction
Electrical hazard protection
The PRO Endurance by Timberland has garnered high ratings from users due to its superlative support and comfort. To ensure you enjoy all-day comfort, the footbeds offer outstanding underfoot support plus shock absorption. Most users love that these footbeds are detachable and can easily be swapped for customized insoles.
The interior of these boots feature cambrelle lining that helps to maintain moderate temperature for your feet. This feature will be especially beneficial during winter as it will help prevent cold feet. The cambrelle lining also helps to maintain dry feet during summer – thanks to its moisture wicking capability.
The upper of the Timberland PRO Endurance comprises first-rate full grain leather. This means the leather upper is of the highest quality and is highly resistant to damage. You will also love the boot's well padded collar & tongue. These offer some important benefits including making it easy to wear/remove the boots. They also protect your feet ' upper section from tight laces.
Another noteworthy feature of these Timberland boots is its superb electrical hazard protection. The boots have been certified to provide considerable underfoot shield against live electrical wires/circuits. They meet and even exceed ASTM F2892-11, ASTM F2412-11, and ASTM F2413-11 standards. It is no wonder the PRO Endurance has become the go-to work boots for welders, electricians, plus other electrical workers.
This Timberland work boot model is cement constructed. This construction type gives the boots a lightweight feel. It also allows for optimal flexibility as you move. The sole is puncture proof so it will do a good job of protecting your feet against sharp/prickly objects. Furthermore, the outsole is resistant to heat, oil, abrasion, and slips.
The boot's robust steel reinforced toe is another feature that stands it out from the competition. The boots meet the ASTM 2412-05 standard meaning that it offers sufficient protection against falling objects and similar impacts. These are not waterproof but you can protect them against moisture ingress with a reliable waterproof shoe protector.
Timberland PRO Men's Endurance offers lasting durability. However, the upper may begin to separate from the sole after a few months if the boots are subjected to lots of daily abuse.
Pros
High puncture resistance
Excellent traction
Fashionable
Fits true to size
Very comfortable
Cons
Durability concerns
Somewhat bulky
See also: How to Break In Work Boots Fast
---
Keen Utility Men's Pittsburgh 6″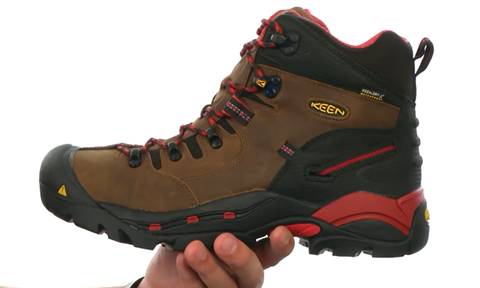 The Pittsburgh from Keen Utility is possibly the most well-loved work boot on this list. The footwear is incredibly comfy like a hiking boot. And, it does an excellent job of shielding your feet against the hazards of the job. The product is constructed using top-notch waterproof materials to ensure you stay dry within wet conditions. Keen inserted a standard-length stability plate within the midsole. This plate helps prevent underpronation making the footwear one of the best work boots for high arches.
Key Features
Nubuck leather uppers
Reflective webbing
Breathable waterproof lining
Rubber outsole
Dry-Lex hydrophobic lining
Dual-density midsole
Steel toe
Bumper wraps for enhanced toe protection
Keen says these work boots are true to size fitting and reviews from several previous buyers agree. The boots are offered from size 7 to size 15 wide. Most users rave about how cozy these boots are straight from the box. They are super simple to wear/take off and require very little break in time. The well padded tongue helps avert friction and enhances overall fit. All these work together to keep you comfortable particularly on very long work days.
The insole of this Keen Utility work boot has a contoured heel while the midsole is EVA foam-based. These features help provide dependable support for your high arches. The insoles are detachable so you can change them whenever you need to. Keen Utility employed their signature KEEN.DRY in the construction of this work boot. KEEN.DRY is a membrane liner that is not only waterproof but also breathable. It lets out water vapor and prevents water from getting in. this way; your feet stay cozy and dry throughout the day.
The Keen Utility Pittsburgh does not disappoint concerning protection. The boots surpass the ASTM F2412-11 standard and meet ANSI X41PT99 standards. This means they are effective at preventing electric shock dangers at the jobsite. These steel toe work boots offer outstanding protection against falling items, punctures, compression, plus other dangers.
The rubber outsole is slip and oil resistant so you can walk sure-footedly on slick surfaces. The boots have non-marking soles so they are suitable for most work environments. Aside from its moisture-wicking property, the Pittsburgh also has odor control features. Thus, no matter how heavily you use these boots, they will never give off an offensive odor.
These Keen Utility work boots are considered heavy-duty and rugged looking. However, they have splashes of bright colors that give them a stylish look. Many customers note that these boots are also appropriate for casual outings. Nevertheless, Pittsburgh is especially appropriate for jobs that require all day walking or standing. They are best suited for HVAC service, masonry, construction, mill work, landscaping, carpentry, and so forth.
Pros
Super comfortable
Highly versatile work boots
Waterproof
Durable
Offers dependable protection
Provides impressive support for high arches
Cons
Somewhat expensive
Not appropriate for high industrial uses
See also: How to Stop Steel Toe Boots From Hurting?
---
Timberland Men's Mt. Maddsen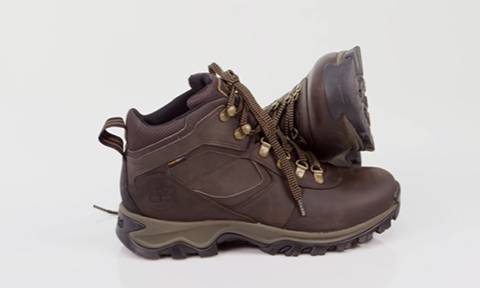 With all the hallmarks of supportive footwear, it is easy to see why these rank among the best work boots for high arches. The Timberland Mt. Maddsen features an anti-fatigue footbed that delivers all-day coziness. The boot's traditional lace-up closure will help keep your feet locked in securely. The EVA midsole supplies all-day comfort. And, its rubber-lugged outsole will help ensure you have even footing on rough terrains.
Key Features
Fully gusseted tongue
Full-grain leather upper
TimberDry waterproof membrane
Rubber sole
Heel measurement: About 1.5 inches
Shaft measurement: About 5 inches from arch
Platform measurement: 1 inch
The Timberland Mt. Maddsen was originally designed to be a hiking boot. However, workers who require support for high arches will benefit from the shank and insole combination offered by this boot. A TPU shank is fitted within the midsole. With this feature, you can be certain of getting dependable arch support from these boots. Some users report that the TPU shank makes the footwear to be somewhat rigid. However, most of these customers concur that the TPU shank helps ensure the foot remains stable during tangential movements. Most users love that the tongue is completely gusseted. The tongue helps ensure that debris, dust, plus other dirt particles do not get inside the boots as you walk.
Timberland utilized full-grain leather in crafting the upper of the Mt. Maddsen boot. The boots have been praised for their excellent waterproofing. When water gets on the boot's surface, it simply rolls off the leather. To ensure the boot preserves its waterproof property, you should occasionally apply some waterproofing wax.
Another feature you will love about the Mt. Maddsen is its rubber sole that delivers a solid grip on all surface types. Most previous purchasers report that the sole is also highly durable. The boot's EVA midsole gives the footwear a reasonable degree of flexibility. It also adds considerable cushion when working on your feet all day.
The boot's insole is detachable as well as anti-fatigue. The insole contributes to the arch support offered by this boot. If you are flat footed, you may want to swap this insole for a custom orthotics. However, if you are high arched, this insole should work great for you.
Many users of the Mt. Maddsen reports that the boots run a bit narrow. So, if you are wide-footed, you should select the wide option. The boots are true to size fitting so you should select your true size. Overall, these Timberland work boots feel cozy straight from the box. They do not need to be broken in. However, to prevent any form of discomfort, wear them around your home a little to break them in.
Pros
Fantastic grip
Great fit
Super comfortable
Trendy design
Versatile construction
Cons
Runs a bit narrow
Durability concerns
See also: How Should Boots Fit?
---
Cat Men's Footwear Threshold P74129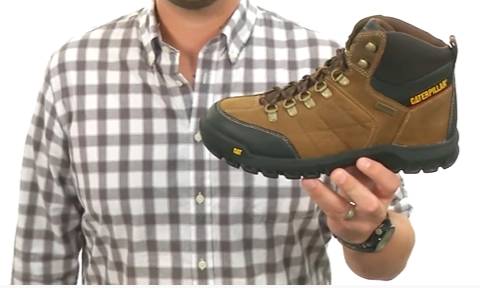 These work boots from Caterpillar are appropriate for practically any terrain type. The boot's flexible ERGO midsole is shock absorbent and will provide ample support for your high arches. The outsole is well equipped to prevent slips and falls in low-traction areas. The boot fits great, easy to wear/remove, and is rated among the best slip-on work boots.
Key Features
Rubber sole
ASTM F2413-05 1/75 electrical hazard protection endorsed
Seam seals for effective waterproofing
Heel measurement: about 1 inch
Full-grain leather uppers
Slip-resistant outsole
Key Features
Rubber sole
ASTM F2413-05 1/75 electrical hazard protection endorsed
Seam seals for effective waterproofing
Heel measurement: about 1 inch
Full-grain leather uppers
Slip-resistant outsole
These boots will work great for you whether you work within an icy worksite, wet worksite, or an electrical environment. The upper is constructed using 100 percent full-grain leather. Most previous buyers describe this upper as comfortable, durable, and stylish. The boot is offered in two colors – black and real brown.
The boot's interior comprises what the makers refer to as an EASE footbed. Users who work mainly on their feet say this footbed delivers superlative comfort and support. Most users have also praised the slip-resistant molded rubber sole. Many of these users note that the soles deliver impressive traction and do not collect mud.
Several users have given these Caterpillar boots a 5-star rating due to its superb waterproofing. While these boots will not let water in, they are breathable and will let moisture out. Thus, the Cat Footwear Men's Threshold will ensure your feet remain dry and comfy all day.
Pros
Excellent waterproofing
Slip-resistant molded rubber sole
Very comfortable
Breathable
Electrical hazard protection
Trendy design
Cons
A few users report that the boots are not so durable
See also: How to Get Paint Off of Leather Boots
---
How to Choose the Best Work Boots for High Arches
Below are the critical factors you should consider when selecting high arch work boots:
Arch Support
Great arch support is almost certainly the most critical factor you should consider when selecting boots for high arches. Choose boots that have arch support shanks. The arch support shank will help eliminate pain and provide the stability and support your feet require to stay comfy.
Comfort
Comfort is another important feature to look for when selecting any type of work boot. Choose a boot that has a well-cushioned interior, spacious toe box, offers great ankle support, and not excessively heavy. The boot should also have shock-absorbing outsole and insole. This will help take the soreness out of working on your feet throughout the day. The boots should fit properly. Boots that fit properly will adapt to your foot's natural flex regions.
Durability
The best work boots for high arches should be made using first-class materials plus dependable construction methods. Pinching pennies on this vital aspect of your workwear will almost certainly cost you more over the long run.
Steel toe vs Soft toe
Generally, steel-toe work boots offer the best protection against falling objects and other impacts. Nevertheless, these are generally heavier than their composite or soft toe counterparts. If steel-toe boots are not required for your job, soft-toed boots may be better due to their protective cushioning.
See also: Steel Toe Vs Composite Toe
Frequently Asked Questions (FAQs)
How do i know i have high arches?
An easy way to determine this is by wetting your feet and standing on a dry piece of paper. After stepping out of the paper, examine the impression left by your feet. If you are high arched, you will observe two spherical shapes with nothing connecting them. The shapes represent the front section of your feet and your heel.
What is the difference between flat feet and high arches?
If your arch is closer to the ground compared to most feet, then you almost certainly have flat feet. If your foot's arch is raised more than normal, then you have high arches. Both conditions typically cause pain and discomfort because the arch is not supportive enough.
What are the symptoms of having high arches?
Most individuals with high arches do not perceive the symptoms. However, high arches can result in discomfort and pain when walking or standing for extended periods.
Conclusion: Best Work Boots for High Arches
If you are high arched, then you need work boots that offer good arch support plus lasting comfort. In this post, we highlighted 7 of the best work boots for high arches. These boots provide excellent arch support, are made with first-rate materials and provide excellent protection against electrical shocks.