7 Best Work Boots for Plantar Fasciitis – Comfort and Style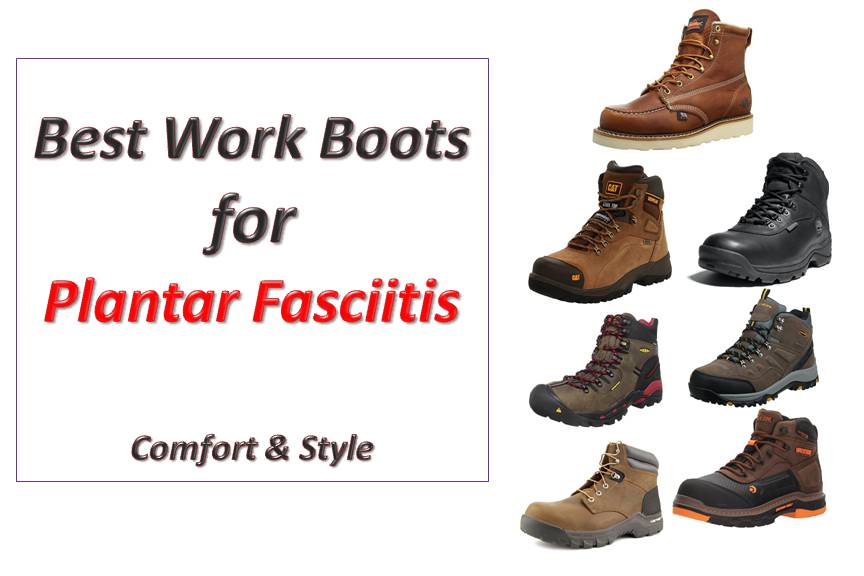 Foot pain is usually a natural consequence of working on your feet for prolonged periods. However, foot pain might be a pointer to an underlying condition like plantar fasciitis. Plantar fasciitis occurs when you inflame or injure your plantar fascia ligament. It is the principal contributor to heel pain and the condition is not simple to deal with. If you are a plantar fasciitis sufferer, then you probably already appreciate the importance of wearing well-made and properly fitting shoes. This guide aims to provide you with info and advice on how to purchase the best work boots for plantar fasciitis. We also provide information about the top options available.
See also: How to Tell If Boots are Too Big
Best Work Boots for Plantar Fasciitis – Top Picks
Thorogood Men's American Heritage 6″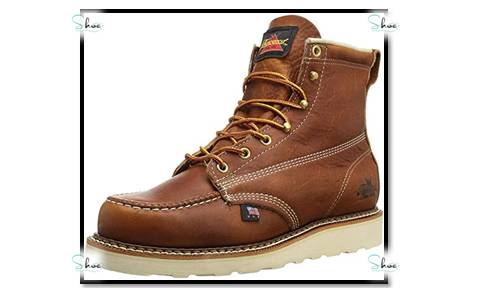 Thorogood is renowned for making first-class work boots and shoes. The USA Company has been in the shoe-making business for well over a century. The American Heritage series is without a doubt the company's most admired line. Their 6″ Moc Toe Work Boots for men come with top-notch features and superior workmanship. Keep reading to learn why this footwear is ranked among the best work boots for men.
Key Features
100 percent leather upper
Durable full-grain leather
MAXWEAR WEDGE Outsole
Detachable footbed
Goodyear welt design
Fiberglass shank construction
A shoe's shock absorption attributes are one of the critical factors you need to meticulously consider when selecting a work boot for plantar fasciitis. The footbed of the American Heritage 6″ work boot employs dual-density polyurethane to provide lasting shock absorption. This material is strategically placed beneath the heel & ball strike regions to ensure excellent impact absorption.
The shoe's Maxwear wedge non-slip outsole flexes better compared to the outsoles of other work boots. This superior flexibility also means superior shock absorption. If your work involves working on difficult terrains, this boot will help safeguard your ankles and feet. And, with its non-slip outsole, the boot will also help prevent slip and fall accidents that can occur at the workplace.
The Thorogood American Heritage 6″ is tough and robust and can take any punishment you hand it. With its durable full-grain leather upper, the work boot is comfortable and breathable and stands up well to punishing jobs. Another feature that adds to the boot's durability is its Goodyear welt design.
Goodyear welt construction comprises stitching a leather strip around the outsole of a boot. This leather strip is also attached to the insole as well as the upper. The welt can easily be undone, which thus separates the outsole from the upper without damaging other parts of the footwear. This means whenever the outsole of your Thorogood American Heritage 6″ wears down, you can replace it over and over again.
The shank is what gives your work boots structure. Shanks are traditionally made of steel. However, the Thorogood American Heritage 6″ features a more contemporary fiberglass shank. This shank design helps your work boot to maintain its support and structure. This work boot is highly recommended for plantar fasciitis surfers because its fiberglass shank offers loads of arch support, which helps alleviate plantar fasciitis pain.
If you are seeking a pair of hardworking boots that will help your plantar fasciitis rather than aggravate it, then the Thorogood American Heritage 6″ may be your best bet. The shoe is specially constructed to meet the needs of carpenters, farmers, engineers, electricians, mechanics, machinists, plumbers, and all other professionals who require robust and cozy shoes while performing tough dirty works.
Several active users of the boot have nice things to say about it. Many users note that while the work boots do not come cheap, they are worth every dollar spent on them due to their superlative comfort, support, and durability features. The major complaint users have about the footwear is its lack of waterproof protection. Thus, if you wish to wear these shoes in wet weather, you should consider applying a water-resistant finish to make the boots a little waterproof.
Pros
Extremely durable
Very comfortable
Offers good arch support
Versatile design
Cons
Not waterproof
The Toe region is somewhat tight for wide footed individuals
---
Timberland Men's White Ledge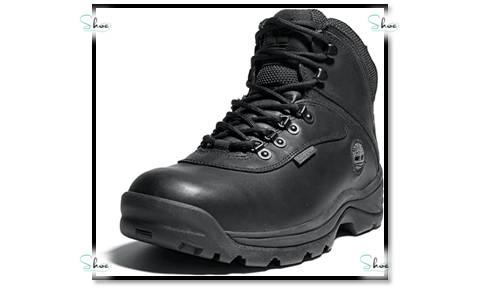 With these waterproof Timberland work shoes on your feet, you are certain to have an enjoyable outdoor experience. They are robust, comfortable, and have a stylish appearance. This is the boot you can depend on to take you through the roughest outdoor environment while not aggravating your plantar fasciitis.
Key Features
Padded tongue & collar
Lace-up vamp
Removable insole
Rounded toes
Waterproof leather uppers
Dual-density EVA padded insole
Robust rubber outsole
Breathable textile lining
Seam-sealed waterproof design
Round toe
Wearing comfortable shoes has been shown to help lessen the pain of plantar fasciitis. The white ledge boots from Timberland provide lasting comfort and support via several means. To start with, the boot is surprisingly lightweight considering that it is an all-leather boot. Having a lightweight boot means that your legs will work less to carry the boot as you perform your duties.
The boot also features a well-cushioned footbed that delivers loads of comfort. This dual-density EVA footbed is removable meaning that you can insert other orthotics. Excellent breathability is another fantastic comfort of these Timberland boots. The boot's leather upper is lined with breathable textile lining that works great at wicking away moisture and keeping the feet cool. The ankle region is also well cushioned and comfortable and the same is true for the tongue and collar. Another comfort attribute of this boot is that it requires zero break-in period. The boot is comfortable right out of the box so you will not have to go through that terrifying break-in time when a boot rubs against your sensitive feet causing abrasions and blisters.
The outsole is extremely flexible and comfortable as well. However, some users who work in extremely rough terrains complain that this highly flexible outsole does not hold up well on such terrains. The upper of the Timberland Men's White Ledge is full-grain leather, which is very comfortable and durable. It is no wonder the boot is rated among the best hiking boots in the market today.
This leather boot is waterproof and will thus keep your feet dry if you regularly work under wet conditions. The outsole is specially constructed to provide you with enhanced traction regardless of the type of surface you are walking on.
The Men's White Ledge has received many positive user reviews with many giving it a 5-star rating. Users who suffer from plantar fasciitis report that they found lasting relief from their plantar fasciitis with these boots. The major complaint from users about these boots is that there was some stiffness around the boot's tongue.
Overall, the men's white ledge from Timberland is a tough work boot that is offered at a highly reasonable price.
Pros
Reliable waterproof protection
Highly breathable
Very comfortable
Slip-resistant outsole
Reliable ankle support
Very good price
Cons
The soft sole is not suitable for rough terrain
Somewhat stiff around the tongue
See also: How to Break In Work Boots Fast
---
Carhartt Men's CMF6366 6″ Composite Toe Boot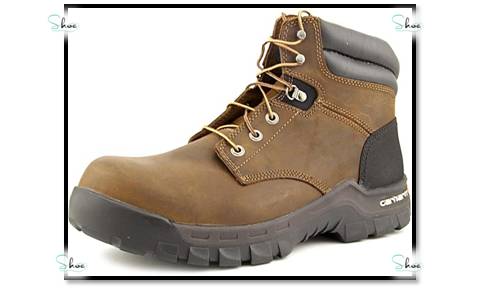 Carhartt is a USA apparel producer that is popular for manufacturing work clothes. The company is well-known for its coats, jackets, vests, coverall, overalls, and more. The men's CMF6366 6″ composite toe boot is one of the company's top-rated work boots in the market. The boot was engineered to protect your feet without compromising on good arch support and adaptable comfort.
Key Features
Fastdry technology lining
EVA midsole plus PU Strobel pad
Carhart rubber rugged flexible outsole
Composite safety toe
Chemical and oil slip-resistant outsole
You can reduce plantar fasciitis pain by wearing proper-fitting, comfortable footwear with a well-cushioned insole and supportive outsole. The Men's CMF6366 provides all these and more. The first thing you will notice when you slide your feet into these boots is that it does not require breaking in. The boots feel cozy straight from the box and get even better after a couple of wears. While a few customers have complained that the boots run a bit small, they are in general true to size.
Carhartt claims that all their shoes and boots come with properly padded tongues & collars, and that of the Men's CMF6366is a true testament to that claim. The shoe's removable insole is one of the features that make the boot so comfortable. The plush insole is made from a blend of polyurethane and ortholite. This combination gives the work boots remarkable shock absorption capabilities. In order words, the Carhartt Men's CMF6366 perfectly fits the bill if you are seeking the best work boots for plantar fasciitis.
The CMF6366 is fitted with a steel shank which helps ensure your feet remain stable when you walk on rough terrains. A steel shank also helps the boots to preserve their shape as well as give them the durability needed to withstand the rigors of frequent wear. All things considered, these boots possess the appropriate comfort features for all-day wear.
The footwear is offered in three color choices – brown oiled tanned, black oiled tanned, and dark brown. This is somewhat narrow but these are fantastic color options. The boots have a lace-up closure and the brightly colored laces harmonize seamlessly with the top-quality leather upper. Concerning style, the men's CMF6366 looks trendy and is engineered with state-of-the-art technologies to ensure you always have a comfy and exciting workday.
Concerning insulation, nearly all the previous purchasers of the boot are pleased with its ability to protect their feet from the cold winter weather. One buyer even claimed that the boots keep his feet warm for up to 4 hours while working under snow. The CMF6366 does not claim to be waterproof but most reviewers agree that the footwear is water-resistant. The boot will hold up well under light rain but it may not perform so well if you consistently work under extremely wet conditions.
Pros
Slip-resistant outsole
Very durable
Extremely comfortable
Highly flexible
Little or no break-in period required
Cons
Poor waterproof protection
---
Keen Utility Men's Pittsburgh 6″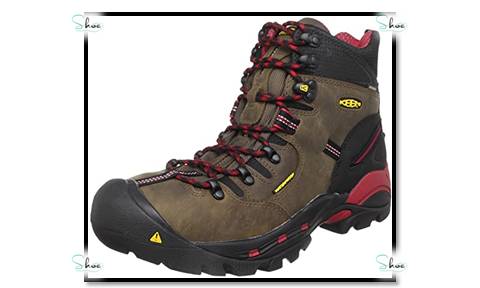 Keen Utility offers several fantastic work boots that are great for plantar fasciitis sufferers. The men's 6″ steel toe is one such boot, and it is designed to hold up to practically any punishment you hand it. Pittsburgh is rated among the best steel toe work boots available in the market today. But wait, precisely how is this boot one of the finest options? Keep reading to discover what the Keen Utility Men's 6″ has to offer.
Key Features
Right & left asymmetrical steel toes
100 percent Nubuck leather
Rubber sole
Detachable metatomical dual-density EVA footbed
Metal lace hooks
Dual-density compression-molded PU and EVA midsole
If you are a craftsman, then you know how important it is that your new work boots fit comfortably straight from the box and be true to size as well. The majority of previous purchasers give this boot a 5-star rating, reporting that it takes only about two weeks for the boot to perfectly mold around the feet. If your work involves moving around a lot, you may want a boot with a roomier design. If that is the case, choose a boot that is a half size larger than your feet.
A comfortable boot should have the appropriate design of insole, shank, midsole, and arch support. To ensure your feet enjoy superlative comfort in the Men's Pittsburgh 6″, Keen Utility employed what they refer to as METATOMICAL FOOTBED CONSTRUCTION. This technology comprises a dual-density EVA insole as well as dual-density compression-molded PU and EVA midsole. Metatomical footbed construction helps ensure that your feet do not feel sore after a very long day. The boot conforms to the outline of your feet providing relief from plantar fasciitis pain.
Concerning durability, the Keen Utility men's Pittsburgh comes with unique features that let the boot stand up well to any rough work terrain. While a boot's longevity depends on several factors including wear & tear and degree of use, the men's Pittsburgh holds up pretty good when used on concrete and other rugged surfaces. The boot will not easily break down thanks to its asymmetrical steel toes, gripping rubber outsole, plus rubber toe guard.
The outsole of the men's Pittsburgh is oil-resistant, slip-resistant, and features a rubber toe protector. The tough boot also comes with a steel toe box. Steel toe boots are specially crafted to prevent a broad variety of injuries including the ones caused by falling objects. The men's Pittsburgh can also help prevent burn injuries, cuts/lacerations, and punctures.
The boot is electrically safe and meets ASTM F2412-11 plus F2413-11 1/75 C/75 standards for heavy compression and brunt. With all these features, the Keen Utility Men's Pittsburgh 6″ Steel Toe Waterproof Work Boot is well equipped to protect your feet regardless of how hazardous your job is.
While Pittsburgh is not designed for casual outings, they look great as work boots. The boot is also waterproof so you will encounter no problems using it under wet weather. The boot's Nubuck leather lining plus breathable membrane are both waterproof. With these, the boot does an excellent job of preventing water intrusion into the boots. Several users rate the boot's waterproofing capacity very high. Many previous purchasers say Pittsburgh is the best waterproof work boots they have ever purchased.
Pros
Excellent waterproofing capability
Extremely comfortable
Very durable
Easy to clean
Superb breathability
Cons
A few users complain that the boot is not so durable
---
Skechers Men's Relment – Pelmo Hiking Boot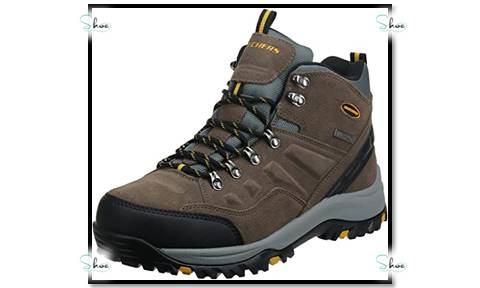 The men's Relment is from Skechers – a leading name in the lifestyle and performance shoe category. So, a lot is expected from the Men's Relment – Pelmo hiking boot regarding functionality, style, and comfort. These relaxed-fit hiking boots also work great as work boots within wet environments because they are waterproof. They look stylish, but can they deliver the same degree of long-term protection and coziness that users expect from Skechers' shoes?
Key Features
100 percent leather upper
Synthetic sole
Memory foam insole
Relaxed fit
Waterproof construction
The key appealing feature of the Skechers men's Relment is its relaxed fit. Nearly all previous buyers say the boots are true to size and are comfy straight from the box. The boot's comfortability is the major talking point and several users report that the memory foam within the sole felt very comfortable and supportive.
The boot's lace-up closure allows for a snug fit. The Men's Relment – Pelmo comes with a flat heel. Nearly all flat-heeled boots offer little or no arch support but not the Skechers men's Relment. The boot offers a reasonable degree of arch support, which is why it is included in this list of the best work boots for plantar fasciitis. While previous purchasers generally rave about the comfortability of this boot, a few users note that the men's Relment is not rugged enough for heavy-duty jobs.
The boot's upper is pure leather and it is offered in a variety of hues including khaki, charcoal/black, gray/orange, chocolate, and olive/black. The Relment – Pelmo's synthetic sole is comparatively tough and offers loads of cushioning & shock absorption. The non-slip sole will help ensure you do not lose your balance when walking on slippery/wet surfaces. Nevertheless, one user reported that the sole provided no grip on ice. So, it may not be a good idea to do casual walking on ice with these boots.
As mentioned earlier, the Skechers Relment-Pelmo is waterproof and is specially crafted to keep you dry, warm, comfortable, and supported in all weather. A good number of previous purchasers report that the waterproofing is fantastic. The major complaint customers have about this boot is about the laces with some reporting that it breaks very easily.
Pros
Offers a relaxed fit
Memory foam footbed for enhanced comfort
Needs no breaking in
Offered in a range of colors
Waterproof
Cons
Some users found durability issues with the boot
See also: How to Dry Work Boots
---
Cat Footwear Men's Diagnostic Steel Boot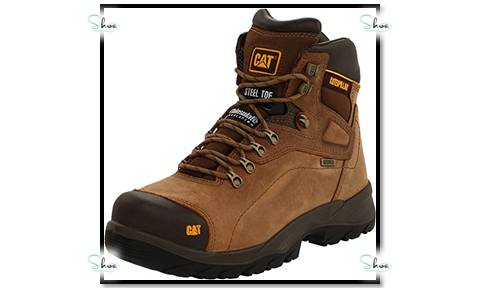 This pair of boots from Caterpillar has all the attributes you require in a robust work boot. The boot is comfortable, insulated, waterproof, and offers advanced safety features. It also features cement construction which means the boot is highly flexible. All of these features combine to make this Caterpillar beauty one of the best work boots for plantar fasciitis.
Key Features
Steel safety toes
Extra broad tongue opening system
Leather upper
Steel shank
Slip-resistant rubber outsole
High cut 6″ inch shaft
200 grams thermal insulation
Safety is one of Caterpillar's major strategic priorities and this can be seen in the Men's Diagnostic Waterproof Boot. The boot comes with steel toes, an athletic non-slip outsole, steel shank, and waterproof protection. Besides, the boot exceeds the ASTM yardstick for Electrical danger protection.
As a craftsman, you know how valuable time is. That is why you may not want to spend a great deal of time fastening and unfastening your boots daily. Thankfully, the Cat Footwear Men's Diagnostic Waterproof Boot will save you that hassle with its extra broad tongue opening system. With this, it is simple to slip your feet in and out of the boots. Several users have lots of nice things to say about this feature with many agreeing that the Cat Footwear Men's Diagnostic is one of the best slip-on work boots they've come across. If you are looking for a casual everyday boot, the Men's Diagnostic may not work for you. The boot is specially engineered for one purpose – hard work.
This Cat footwear does not disappoint concerning comfort. A detachable EVA footbed plus gel technology delivers superlative coziness and shock absorption. The footbed adheres to your feet's shape providing lasting support. The mesh lining fitted on the upper is breathable and it helps keep your feet cool and dry all day. Lastly, the properly padded collar protects your ankles for pain-free mobility and fit.
These features play an important part in lessening plantar fasciitis symptoms.
Wondering whether these boots will last? Well, since this boot is from the caterpillar brand, it goes without saying that the boot will stand up well to extremely tough and rugged scenarios. With its full-grained leather upper, robust rubber outsole, and cement design, the Men's Diagnostic is sure to last you a long time irrespective of the punishment you put it through.
Pros
Excellent waterproof protection
Superb insulation
Highly breathable and flexible
Steel toe protection
Highly slip-resistant outsole
Cons
Runs a bit large
Somewhat heavy
---
Wolverine Men's Overpass 6″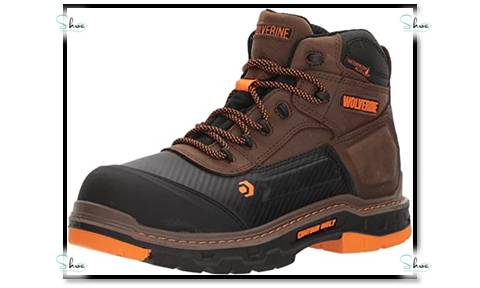 As a work boot, the men's Overpass from Wolverine scores high in many parameters used to assess and compare the best work boots for plantar fasciitis. It is comfortable, flexible, supportive, and durable. The boot is crafted with outstanding specs and features that separate it from other work boots in its category.
Key Features
Composite toe
Electrical hazard protection
Slip-resistant outsole
100 percent leather and textile upper
Rubber sole
Detachable ortholite cushioned footbed
Flexible contour welt design
Once your feet slip into this boot, you will not fail to notice how cozy it feels. Each pair is true to size meaning you can wear the boot to work on the day it arrives. It doesn't need to be broken in to fit your feet. The leather upper is plush and the entire shoe has a lightweight feel. The top is adequately padded and the boot's shape helps enhance the coziness of the footwear.
Most previous purchasers note that the Wolverine Men's Overpass holds up well when worn on an extended shift. This is partly made possible by the boot's flexible contour welt design. This feature gives the Wolverine a high degree of flexibility. Another reason the men's overpass stays comfortable is due to the boot's thick PU midsole, which supplies loads of shock absorption. It is therefore no wonder most users give the wolverine men's overpass a 5-star rating for comfort.
The 6″ high boot also meets ASTM standards. The PU outsole delivers reliable traction on sleek surfaces and the boot offers electrical hazard protection. If you are seeking a stylish work boot, the men's overpass may not be a good fit. This boot is constructed specially for construction and industrial environments so it will look inappropriate within a casual setting. The wolverine is well insulated and its leather upper is also waterproof. However, a few users note that the boot's waterproof effectiveness is poor particularly in very wet environments.
Pros
Comfortable and lightweight
Little or no breaking in time is required
Roomy toe box
Very durable
Waterproof design
---
The Best Work Boots for Plantar Fasciitis – Buyers guide
Below are the features you should look out for when selecting work boots for plantar fasciitis
Contoured footbed
Plantar fasciitis pain occurs within the underside of the foot and extends into the heel and arch. Therefore, the key to managing this condition is to wear shoes that are well-cushioned and provide excellent arch support. Purchasing a pair of work boots with a contoured or molded footbed will let the boot sculpt to your feet's shape, thereby minimizing the risk of injury.
Fit and sizing
A work boot with a constricted toe box will cram your feet causing bunions, blisters, and other foot conditions. Similarly, an oversized work boot can result in falls leading to ligament tears and broken bones. These types of injuries can exacerbate plantar fasciitis symptoms. A proper fitting work boot will help stabilize your feet as well as alleviate your plantar fasciitis pain.
Lace-up design
A lace-up work boot gives your foot additional stability and support. You can loosen or tighten the laces for a customizable fit. This way, you will not have issues with your foot slipping while working. In contrast, pull-on or zippered work boots can not be adjusted.
Cushioned insoles
Individuals with plantar fasciitis will require additional cushioning within their work shoes. A properly cushioned insole soaks up some of the impacts from standing or walking on rigid surfaces. It will also help reduce the strain on your arches, thereby relieving pain connected with plantar fasciitis.
Long-lasting
It is always best to opt for long-lasting work boots. Most times, cheap boots decline in durability pretty quickly and that includes their support features. Impaired work boots caused by excessive wear and tear can worsen your plantar fasciitis symptoms and may even lead to other foot conditions.
See also: How to Keep Feet Cool in Work Boots
Frequently Asked Questions (FAQs)
What work boot features provide relief for plantar fasciitis?
Must-have features of the best work boots for plantar fasciitis:
Excellent cushioning
Lightweight design
Good arch support
Contoured footbed
Proper fit
Is the Wolverine Men's Overpass work boots steel toe?
No, these work boots are composite toe and not steel
Are boots good for plantar fasciitis?
Proper fitting and supportive boots can help reduce the strain on your plantar fascia ligament. In contrast, work boots with poor arch support can aggravate plantar fasciitis symptoms.
What worsens plantar fasciitis?
Activities that can exacerbate plantar fasciitis include:
Gaining weight
Regular carrying of heavy objects
Standing, running, or walking a lot while wearing unsupportive shoes
A sudden increase in your walking or running levels
Are the outsoles of the Thorogood American Heritage 6″ Moc Toe Work Boots Synthetic or hard rubber?
Conclusion: Best Work Boots for Plantar Fasciitis
Hopefully, this post has helped you recognize what to look for when selecting the best work boots for plantar fasciitis. All of the work boots recommended in this post are worth every dollar you spend on them. Remember, the most important feature of the best work boots for plantar fasciitis is comfort.