Top 6 Best Slip-on Work Boots – Reviews & Buyers Guide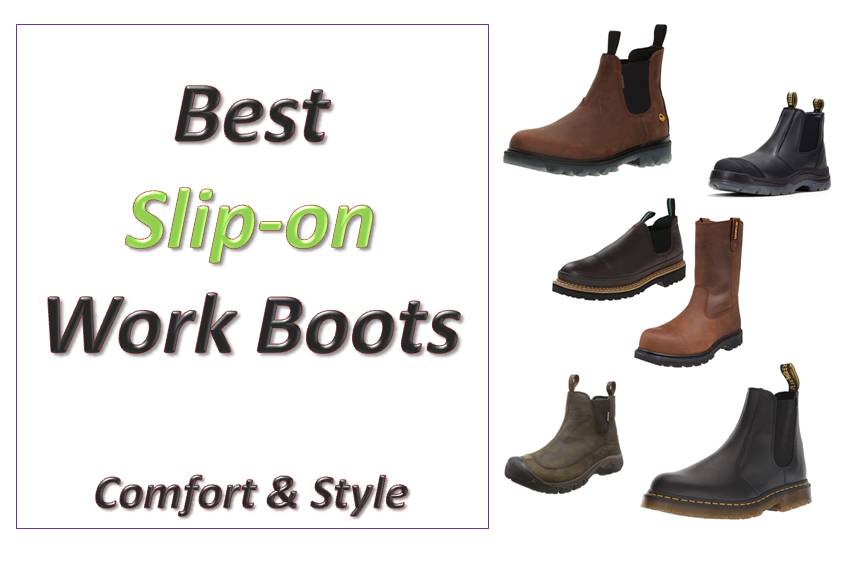 Uncomfortable and poor-fitting work boots can harm your feet after prolonged wearing and even affect your performance at the workplace. In contrast, a supportive and cozy pair of work boots can help keep you going for hours without bothering about discomfort or pain. And, if you are searching for boots that are simple to wear and simple to take off, then slip-on boots may be just what you need. With a broad range of products to select from, shopping for work shoes can typically be a pain. Read this post to learn about the best slip-on work boots available in the market and to discover what you must consider when shopping for a pair.
See also: How to tell if Shoes are Non-Slip?
Best Slip-on Work Boots – Top Options
Wolverine Men's I-90 Composite-Toe Slip-on Boot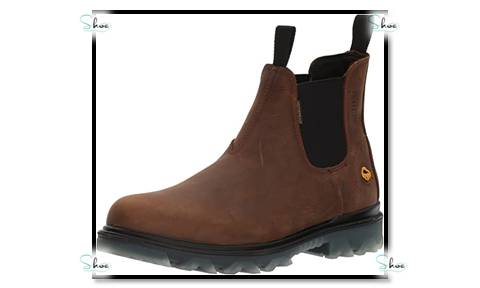 The major benefit of these work boots from Wolverine is how quickly you can put them on and off. However, the shoes come loaded with impressive features that make them appropriate for hardworking men who value their feet. To start with, the boots are waterproof so they will efficiently repel water when you are working in wet weather. The shock absorbers within these boots will help ensure you do not suffer any injury when running or jumping. And the interior features a soft lining that will keep you cozy and relaxed no matter how long you spend on your feet.
Key Features
Breathable waterproof membrane plus moisture-wicking mesh
EPX anti-fatigue technology for efficient energy return
TPU SR lug outsole for enhanced durability
Shaft height from arch: 5.5″
100 percent leather upper
Man-made sole
Slip-on construction
Composite toe
Slip-resistant outsole
The upper of the Wolverine Men's Slip-on Construction Boot comprises full-grain leather that makes the boots tough enough to bear any abuse you hand it. The leather upper also looks elegant, making them suitable for casual use as well as for wearing around town for those times you are not at work. This Wolverine men's work boot has received many positive remarks from wearers for its stylish design. Many users note that the shoes work great as work boots and are also fantastic office shoes.
You will love the footwear's dual-density PU footbed. This footbed is designed to ensure your feet stay properly insulated and toasty warm in chilly weather. And in hot weather, the footbed allows for efficient airflow thus keeping your feet cool. The insoles also employ Wolverine's EXP technology that preserves as well as returns energy to combat fatigue. Most users rave about the coziness of the Wolverine men's work boots. Many say the boots feel comfortable on all kinds of surfaces including concrete.
The footbed of these boots is removable, which means you can pull it out and insert your preferred orthotics. It also means the footbed can easily be cleaned when they get dirty or soaked with sweat. The interior of the boots has a breathable waterproof membrane plus moisture-wicking mesh. The waterproof membrane is designed to prevent moisture and liquids from seeping into the boot's interior fabric.
Therefore, for those days you will be working under the rain or in wet environments, these boots will help keep your feet dry. Note that a few users have reported problems with the waterproofing. Some users report that the waterproofing declined after a few months of use but the boots remained very comfortable. Therefore, if you are seeking the best waterproof slip-on work boots, you may want to opt for the Rockrooster Work Boots for Men instead.
The boot's moisture-wicking interior lining is designed to move sweat and heat to the exterior. This thus helps prevent heat and sweat buildup within the boots. The Wolverine Men's Slip-on Construction Boot features thermoplastic urethane outsoles. There are several benefits offered by this type of outsole. Firstly, they are lightweight meaning the boots will not hamper your movement when walking. This type of outsole is also extremely resistant to most chemicals and oils, offers premium slip resistance when walking on slippery and uneven surfaces, and has a high tolerance to cracking, splitting, abrasion, and tears/cuts.
Another noteworthy feature of the Wolverine Men's Slip-on Construction Boot is its composite safety toe. This helps to shield your feet against falling heavy or sharp objects.
Pros
Lightweight
Reasonably waterproof
Comfortable footbed
Moisture-wicking interior mesh lining
Durable
Cons
Sizing issues
A few wearers report that the shaft opening felt too small
See also: How to Break In Work Boots Fast
---
Dr. Martens Unisex 2976 Slip Resistant Service Boots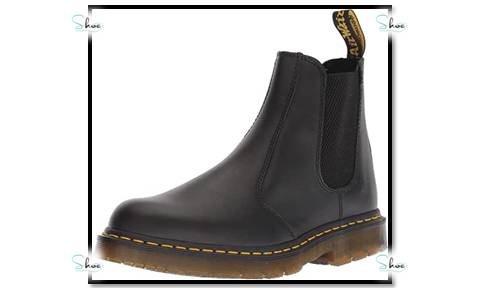 If you are seeking premium and long-lasting slip-on work boots, then these Dr. Martens unisex service boots should top your list of options. With their high-traction outsoles and amply cushioned interior, these boots are extremely well made and are sure to last you through your undertakings. Keep reading to discover other reasons why these Dr. Martens boots are ranked among the best slip-on work boots.
Key Features
Synthetic sole
Grooved air-cushioned soles
Shaft Height: Ankle from arch
Visible yellow welt stitching plus scripted heel-loop
SoftWair sock liners
Memory foam pods
Heat resistant AirWair sole
Water-resistant, full-grain leather upper
These unisex boots from Dr. Martens are specially engineered to deliver lasting comfort for service industry workers who spend a great deal of their workday on their feet. One thing most reviewers agree about these boots is that they are superlatively comfortable. The boots feature Marten's SoftWair insoles that are made from fabrics specially constructed to provide on-the-spot comfort. With this feature, your feet will remain happy all through your workday.
The boots come with breathable sock liners that help ensure your feet do not get overheated as you work. Air flows freely inside the shoes to prevent the buildup of sweat and heat. But to enjoy all of these comfort features, you have to break in the boots first. If you are a fan of Dr. Marten's boots, then you probably already know that these boots are notoriously difficult to break in.
While there is no silver bullet for breaking in these boots, you can achieve excellent results by wearing them around your home for short intervals. Wear the boots for short periods and gradually increase your wear period until they feel comfortable. The ankle region of the boots is fitted with flexible panels that make it very simple to take off the boots when necessary. Besides, the boots are laceless so they are simple to wear/remove.
Like most other Docs shoes, these Unisex Service Boots are true to size. Nevertheless, some previous purchasers think that they run a little big. The boots come in only whole sizes so if you wear half-sizes, it is recommended you size down. If you however opt to size up, you can always fill any additional space by adding an insole. Remember that the sizing difference concerning women's and men's Dr. Marten's is only one size. Thus, for instance, a women's size 9 is a men's size 8.
The upper is full-grain leather that is spill and water-resistant. Most previous buyers report that this upper is very simple to clean and maintain. To cap it all, the boot's upper is fitted on a robust air-cushioned sole. This sole delivers exceptional slip-resistance so you will have no hassles remaining on your feet on slippery/tricky terrains.
The boots feel somewhat heavy mostly due to their rugged and robust outsole. And, this can be a good thing if you regularly wear these boots within an industrial environment.
Pros
Highly slip-resistant
Easy on Easy off
Very comfortable
Breathable
Extremely durable
Cons
Difficult to break-in
Somewhat heavy
See also: How to Tell If Boots are Too Big
---
Cat Footwear Men's Revolver Pull-on Steel Toe Boot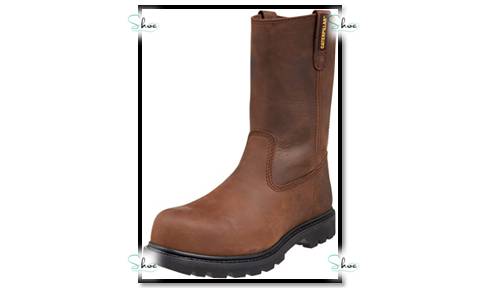 If you work in heavy-duty industries, these pull-on boots from Caterpillar come highly recommended. The work boot has a first-rate leather upper and can be considered a mid-calf option. Users have praised the shoe for its high durability and impressive ankle support. The boot is also very comfortable and well equipped to save your toes and feet from falling heavy objects.
Key Features
Safety steel toe
PVC midsole
Nylon mesh lining
100 percent leather upper
Rubber sole
T3 outsole
Dual-pull handles
Non-slip outsole
P89516 Tailbrelle plus PU sock line
This work boot has caught the attention of many construction workers due to its simple but efficient slip-on construction. Several users appreciate the pull tabs fitted on the sides of the shoes as it makes it very simple to wear/remove the boots. Nevertheless, a few users recommend that the makers install a pull tab at the boot's rear to make it even simpler to wear/remove.
Another endearing attribute of the Cat footwear is its top-quality T3 outsole. This outsole is very much slip-resistant and will enable you to walk confidently on any terrain without fear of slipping and falling. The outsole is also electrical shock resistant and meets the ASTM benchmark for electrical resistivity. Users also appreciate the boot's high-class safety steel toe. Steel toe boots help prevent a broad variety of injuries at the construction site or other workplace environment. They help prevent injuries caused by falling objects, burns, lacerations, cuts, and punctures. The major complaint that users have about this feature is that the padding around the steel toe is not sufficient.
With supple, shock-absorbent PVC midsole plus a breathable inner mesh lining, this Cat work boot is sure to keep your feet cozy all through your workday. While users mostly rave about the footwear's cushioning, there have been some criticisms regarding the boot's interior cushioning. A few users say the boot could do with a bit more cushioning.
The Cat Footwear Men's Construction Boot is true to size but some users report that work boots run a little large and narrow. And, while the boot's 14″ diameter opening plus dual pull handles make it extremely easy to put on or take off the boots, a bit of break-in time is required before the boots become comfortable.
These boots offer some degree of water resistance but are not waterproof. So, while it can handle light splashes and rain, it may not be suitable for wading through a puddle of water. Based on the design and style of this Cat work boot, it is without a doubt one of the best slip-on steel toe work boots in the market today. These boots are somewhat pricey but the superior comfort and durability it offers make the price tag worth it.
Pros
Highly durable
Mid-calf boot
Steel toe for enhanced protection
Excellent shock absorption
Supple PVC midsoles
Offers dependable traction on slick surfaces
Easy on easy off
Electrical shock resistant outsole
Breathable mesh lining
Cons
Not entirely waterproof
Needs some break-in period
See also: How to Keep Feet Cool in Work Boots
---
RockRooster Men's Ak227 6 inch Slip On Work Boots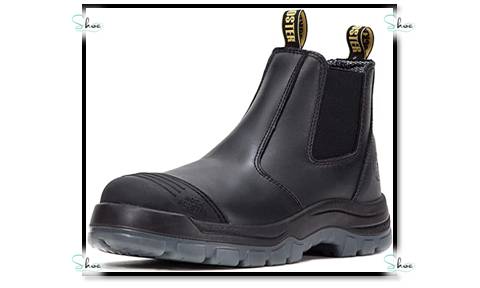 The Rockrooster brand claims that their work boots are designed to keep hardworking people comfortable and safe, and this model is a true testament to that claim. These boots are lightweight, comfortable, and breathable. The boot's TPU outsole is not only non-slip but helps dissipate static electricity to protect you against the hazards of static buildup within the workplace. If that is not enough, the boosts have a fashion and casual design that makes them appropriate for office and casual wear. h
Key Features
Thermoplastic polyurethane sole
COOLMAX technology
Non-slip TPU static dissipative outsole
Nubuck leather upper
Anatomically contoured footbed
Memory foam insole
Soft toe
The upper of this Rockrooster work boot is tumbled full-grain leather. This means the shoes can stand up well against any weather condition be it hot or cold. Most previous buyers attest that the boots are extremely comfortable and hold up strong against moisture. The boots are lightweight and feature soft toe caps. This makes them ideal for workers who are constantly on their feet but do not face the threat of falling objects.
These boots are easy on easy off, which is why they are included in this list of the best slip-on work boots. They are not comfortable right out of the box as you have to break them in. But once you have done that, you will enjoy superlative comfort throughout the shoe's useful life. To ensure the boots serve you a long time without forfeiting comfort, the makers employed dual-density thermoplastic polyurethane within the sole structure. Thermoplastic polyurethane soles are exceptionally lightweight and durable.
The outsole is described as static dissipative. This means that it will protect you against static electricity that may accumulate at your place of work. This outsole also has features that ensure you will not slip and fall even when walking on oily or wet surfaces. The shock-absorbing footbed of the ROCKROOSTER Work Boots is another feature that is worthy of mention. The inbuilt memory foam insole helps combat fatigue and tension of weary legs.
The interior of the boots is fitted with a fabric that the makers claim is engineered using what they call COOLMAX technology. This fabric helps remove excess perspiration away from your feet thus helping to keep them dry and cool especially on very hot days. Several welders who wear these boots say they help keep their feet cool and comfy all day. The boots run a little larger compared to usual sizes. Therefore, it is recommended you size down a half size to achieve a snug fit.
Overall, the ROCKROOSTER Work Boots for Men is tough enough to protect you at the workplace and stylish enough for an office environment. The specs of these boots make it worthy enough to be ranked among the best slip-on work boots for concrete.
Pros
Simple to wear/remove
Very comfortable
Stylish design and suitable for an office environment
Laceless design and offers a snug fit
Outsole dissipates static electricity
Lightweight design
Cons
A few users say the insoles provide no arch support
---
Keen Men's Anchorage 3 Pull On Waterproof Boot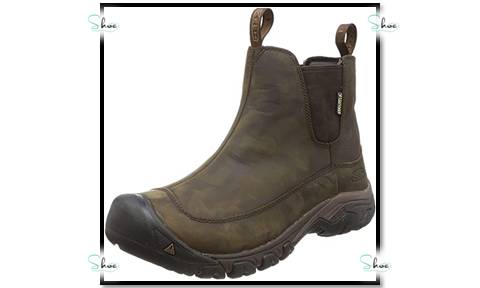 What draws most users to these boots is how well they maneuver muddy, snowy, and rocky terrains. Most reviewers agree that these Keen boots are rugged and deliver impressive traction. The 5″ boot opening, pull-on strap, and laceless design means the boots are easy to wear/remove and ready for work. Are the men's anchorage waterproof boots from Keen worth your money and time? Keep reading to find out.
Key Features
Size: 7 – 17
100 percent nubuck leather upper
Arch measurement: Ankle-high from arch
Boot opening: 5 inches
Non-marking rubber soles
DRY waterproof membrane
Compression-molded midsole
These Keen boots come with exceptional versatility. They are superb work boots for men and are fashionable enough for casual wear. Several reviewers use words like nice, attractive, trendy, and stylish to describe the Keen Men's Anchorage waterproof boot. Aside from trendy looks, the boots offer loads of functional features also.
You will welcome the boot's nubuck leather upper, which is hardwearing and robust. One of the benefits of nubuck leather is that it is not easily ruined by water. This leather upper is further treated with a perfluorochemicals-free water repellent finish to enhance its waterproofing property. This type of treatment means your boots are protected against water intrusion without using harmful chemicals.
The interior of the Keen Men's Anchorage Waterproof Boot is lined with what the makers refer to as KEEN.DRY membrane. This membrane is extremely breathable as it allows vapor to flow out without letting in moisture. This feature helps ensure your feet remain cozy and dry throughout your workday. The Men's Anchorage is also properly insulated. The boot employs 200 grams of what Keen calls KEEN.WARM insulation to ensure your feet remain warm and comfortable in cold weather.
The footwear's ankle-high cut adds to its comfortability and the compression-molded midsole delivers fantastic arch support. These boots are true to size, come with a spacious toe box, and require very little break-in time. Furthermore, the laceless design and installed pull-up straps mean you can quickly wear the boots in the event of an emergency.
Pros
Steel toe for enhanced protection
Very comfortable
Durable
Roomy toe box
Reliable traction
Cons
Some users say the waterproofing is sub-standard
A few users report that they experienced excessive heel slippage with these boots
See also: How to Dry Work Boots
---
Georgia Men's Giant Romeo Steel Toe Work Boot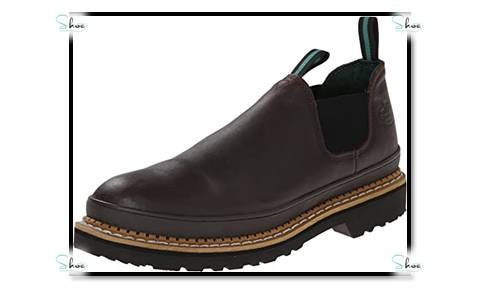 Boots from Georgia Giant are renowned for their quality and comfort and the Men's Giant Romeo is no exception. These work boots are crafted using full-grain leather that is plush and robust. A bumper guard is fitted just above the footwear's round toe ensuring the boots are well protected against spills and abrasions. The pull-on boots come with a short shaft and have been rated among the best work boots for plantar fasciitis.
Key Features
100 percent leather upper
Steel shank
Rubber sole
Goodyear welt construction
Steel toe box
The Men's Giant Romeo features a leather upper that is scratch and puncture-resistant. It also has a thick platform and heel. These features make the footwear appropriate for walking on sand, snow, or debris. The boot is well equipped to shield your feet against job site accidents. It has a steel toe box so your feet will not be hurt by falling sharp or heavy objects. The bumper guard fitted just after the toe region will save your feet against collisions.
The upper is full-grain leather, which means the boots will not only protect your feet but last you a very long time as well. Many users love the boot's short shaft slip-on design with many saying that it makes it extremely simple to slip on/slip off the shoes. Nevertheless, some previous purchasers who work in outdoor environments note that water and mud can get into the boots easily due to the comparatively short shank.
The major downsides of this Georgia Giant boot's model are that it is not waterproof and the insole is not detachable. Nevertheless, the boots are true to size fitting and are extremely comfortable and durable. The boot is Goodyear welted which means you can sole and resole the boots time and again.
Pros
Extremely protective
Versatile slip-on work boot
Non-slip design
Well-cushioned outsole
Highly comfortable and supportive
Cons
The insole is not removable
Short shank
Not waterproof
See also: Best Work Boots for Plantar Fasciitis
---
How to Choose the Best Slip-on Work Boots?
Comfort
When shopping for work boots, your first consideration should be comfort. This is because wearing uncomfortable work boots is distracting. It is difficult to focus on the job at hand if your shoes are uncomfortable and causing you pain. Besides, the wrong pair of work boots can hinder your work productivity. That is why you should opt for slip-on work boots as they are easy to wear/remove. You should also choose boots with shock-absorbing midsoles because this feature will help keep your feet cozy and relaxed no matter the surface you are walking on.
Durability
The difference between high-quality work boots and low-quality ones is that the former stands the test of time while the latter does not. Therefore, the best slip-on work boots for concrete must be durable. When deciding on a slip-on work boot, look at the construction method as well as the material employed in making the boot.
While work boots can be made from various materials, the ones constructed using full-grain leather offer superior durability and comfort. If possible, always opt for Goodyear welted work boots as these are more durable, more securely constructed and you can resole these boots time and again.
Protection
On any work location, several safety hazards can cause injury to workers. These include electrical hazards, slips, and falls, repetitive motion injuries, moving and falling objects, collisions, and hazardous chemicals. A reliable pair of slip-on work boots can help shield your feet from these hazards.
The best slip-on work boot is one that has the following features:
Steel toe
Tough leather upper
Non-slip outsole
Waterproof
The steel toe will help ensure that your feet are not crushed by falling or rolling heavy objects. It will also help prevent falling sharp objects from puncturing your feet. The tough leather upper will help shield your feet from cuts and abrasion while a non-slip outsole is beneficial for preventing slips and falls particularly on very slippery surfaces.
A work boot with reliable waterproofing will help prevent water or moisture from reaching your feet even when you are working under wet or snowy conditions.
See also: What are Non Skid Shoes?
Frequently Asked Questions (FAQs)
What is the best way to break in a work boot?
Wearing your new work boots at short intervals for approximately one or two weeks will help to break them in as well as make them a lot more comfortable.
Do Caterpillar Work Boots Come with reliable Soft Insoles?
The insoles of some models are not soft however they cannot be said to be hard either. The boots come with removable insoles, so you can always take them out and replace them with one that suits you better.
Do work boots stretch out?
If your new pair of work boots are made of leather, they may feel a bit tight in certain areas. With regular wearing, the leather fabric will stretch but only by millimeters.
Which is better: Slip-on work boots or lace-up work boots?
Both lace-up work boots and slip-ons come with their unique advantages and disadvantages. Therefore, none is better compared to the other.
Conclusion: Best Slip-on Work Boots
All the work boots recommended in this post have a slip-on design and are easy to wear/remove. They all come with impressive comfort and safety features and offer great value for money. However, if you are looking for the best waterproof option, then the Rockrooster Work Boots for Men may be your best bet. Remember, there are several factors you need to consider when selecting the best slip-on work boots. Check to see that the boots are comfortable, protective, and durable.