7 Best Work Boots for Flat Feet – Comfort and Quality
Individuals with flat feet face several challenges when selecting the appropriate work boots. This challenge is worsened by the glut of contradictory advice on the topic. However, most professionals agree that the best work boots for flat feet offer ample arch support. Problems caused by fallen arches, such as heel pain, are the result of the excessive flattening of the foot arch. Here, we have selected and reviewed 7 of the best work boots for flat-footed individuals. You will also find a buying guide that will help you make an informed buying decision.
See also: How Should Boots Fit?
Best Work Boots for Flat Feet – Top Picks
Wolverine Men's W04821 Buccaneer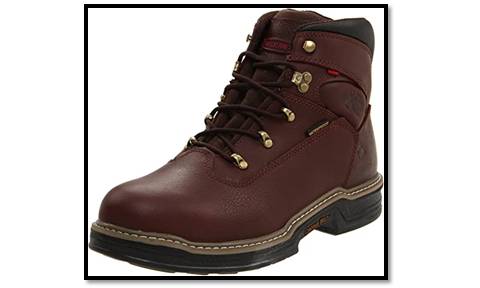 Wolverine is an American footwear giant that manufactures work, outdoor sport, active lifestyle, casual, and athletic footwear and clothing. Wolverine boots are crafted to deliver all-day comfort and survive even the harshest of environments. The Wolverine Buccaneer is arguably the most protective and comfortable work boot ever made by Wolverine. Besides, it has the right combination of features that make it a great boot for flat-footed workers.
Key features
Detachable full-cushion footbed
Waterproof
Slip-resistant sole
Wolverine Contour welt build
The men's buccaneer comes with a fully cushioned footbed that will coddle your inflexible flat feet. Foot fatigue will not slow you down even on very long workdays. This is because the buccaneer's full-cushion footbeds and rubber soles work together to deliver superior shock absorption.
The sole is slightly lifted at the center to ensure your feet are adequately supported throughout the day. Some flat-footed users have complained about the lack of a shank within the sole. Nevertheless, these users note that the boot's smart construction more than compensates for the absence of this load-bearing material.
Furthermore, the buccaneer's rubber sole has deep lugs that give the boots excellent slip resistance. These special soles offer additional traction as you walk around on wet, oily, or greasy surfaces. It takes some attentiveness to avoid slips and falls. However, with the non-slip outsoles of the buccaneer, you can concentrate on the task at hand and enhance your productivity.
These Wolverine work boots are also very simple to break in. That is not to say the first day will be very comfortable. Nevertheless, several previous buyers report that they wore these boots straight out of the box all day long without getting blisters. The footwear does not feature steel toes so your toes have more wiggle room. Also, the lack of steel toes helps to keep the boot's overall weight down.
The Wolverine buccaneer has received many praises from users for its high degree of flexibility. If your job requires that you squat or bend constantly, then you will find these flexible work boots especially beneficial. The outsole is not puncture-proof since it lacks a steel shank. However, the outsole's excellent shock absorption capabilities make it highly appealing to flat-footed workers.
The buccaneer has a full-grain leather upper. Leather is innately porous meaning that it is vulnerable to water damage. Nonetheless, the leather used in making these Wolverine work boots has been treated to close the pores. So, when you inadvertently step into a pool of water on the ground, your boots will not absorb water. With this waterproof attribute, you will never have to bother about your feet getting wet even when working in wet conditions.
Aside from being one of the best waterproof work boots on the market, the Wolverine buccaneer is made to last. The boots are made with what the makers call Contour Welt stitching that gives the boots enhanced strength and durability.
Pros
Impressive arch support
Detachable footbed
Very comfortable
Slip-resistant
Reasonable breathability
Cons
The outsole is not puncture-proof
Some users say it took a relatively long time before they could properly break in the boots
See also: How Much Can You Stretch Leather Boots?
---
Timberland PRO Men's 6″ Pit Boss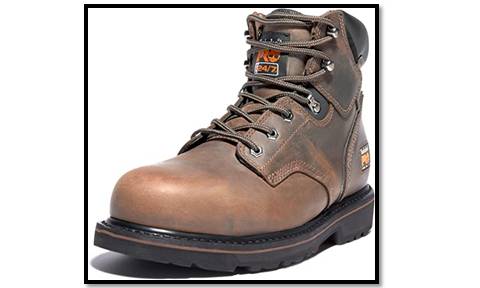 The PRO series from Timberland is undoubtedly one of the company's most famous line-ups. The shoes in this series are crafted to make work and life easier and better. With its robust yet comfortable build, the Pit Boss is debatably the best performing work boot in the series. Pit Boss comes with loads of impressive features. But how good are these for flat feet? Keep reading to find out.
Key Features
Rubber sole
ANSI-compliant steel toe
100 percent leather upper
24/7 comfort suspension structure
Padded collar
Cushioned insole
Roomy toe box
Electrical hazard protection
Removable sock liner
Polyurethane midsole
It will take a bit of time to break these boots in. Therefore, your feet may hurt a little during the initial few uses. Outside of these initial few days, the Timberland PRO Pit Boss is an extremely supportive work boot. The footbed is constructed using hard plastic. This should be good news for flat-footed workers. Most flat-footed individuals prefer to have that dense support beneath their feet.
As you may already be aware, podiatrists recommend shoes with hard soles for individuals with low arches. The insole fitted on the work boots is not premium quality. But thankfully, it is removable so you may have to replace them with something better on day one. However, you can be certain that the footbed is solid enough to provide adequate support for your fallen arches.
Pit Boss weighs approximately 2 pounds. This means the boots are a bit heavy. But this is to be expected considering that the boots feature steel toe caps, thick leather upper, plastic footbed, plus a heavy-duty outsole. All these combine to make the footwear somewhat heavy. However, most previous buyers report that they got accustomed to their weight as time passed.
If you are seeking work boots that will provide all-around protection, Pit Boss from Timberland may be your best bet. The boot is properly equipped to protect your feet no matter the type of worksite. The footwear provides secondary underfoot protection to shield your feet from live electrical circuits plus electrically energized conductors. The boots have been tested and found to have met Astm F2892-11, ASTM F2412-11, and ASTM F2413 specifications.
Pit Boss features steel toe caps to protect against impact and compression. Moreover, the toe caps are crafted to adjust to your toes ensuring that they stay comfortable as you perform your everyday duties. Pit Boss also features Timberland's signature 24/7 comfort technology. Timberland created this arch-supporting and cushioning arrangement to help curtail foot fatigue while you are working long shifts.
These are extremely hard-wearing work boots. The upper is constructed with thick leather material to enhance durability. Most users agree that the boots are sufficiently robust for most work environments. Apart from being slip-resistant, the outsole is also puncture-proof. Thus, items like screws, nails, glass, or sharp stones will not get into your feet as you attend to your duties.
The leather upper is at best water-resistant but not waterproof. So, if you intend to use these within an exceedingly moist job site, you should consider waterproofing the boots first. Pit Boss is best suited for drivers and plant operators. It is also recommended for individuals who work mainly indoors like painters, plumbers, warehouses, electricians, and so forth.
Pros
Supportive
Reasonably priced
Comfortable
Requires little or no break-in period
True to size fitting
Cons
Not waterproof
Somewhat heavy
See also: How to Stop Steel Toe Boots From Hurting?
---
Cat Footwear Men's Diagnostic P89940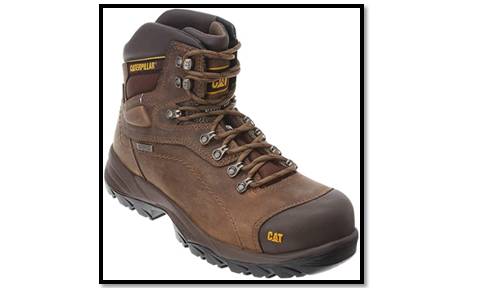 This Caterpillar boot model delivers on everything you will require within a work boot. Its waterproof leather upper will help ensure your feet stay dry. The boots are ASTM endorsed meaning that your feet are adequately protected against all types of danger. And, its non-slip rubber outsole will help reduce your risk of slipping and falling on highly slippery surfaces. The boots also work great for flat-footed individuals – thanks to its detachable EVA foam insert plus gel technology.
Key Features
Rubber sole
200g Thinsulate insulation
100 percent leather upper
Steel toe
Detachable EVA foam insert plus gel technology
Waterproof leather upper
Ankle-high lace-up construction
Nylon mesh lining
Speed-lacing hardware
The EVA foam footbed of these Caterpillar work boots is designed to properly position the sole and arch of your foot for all-day coziness. This design feature can be highly beneficial for alleviating the problems associated with flat feet. It also enhances walking comfort. Besides, the EVA footbed is constructed in a manner that it can easily be replaced. So, you can insert any other insole that will provide you with better support and comfort.
The Caterpillar men's Diagnostic features 200g of Thinsulate insulation. You will love this feature if you regularly work in wet and cold weather. The Thinsulate insulation will help keep your feet warm even in excessively cold weather. The footwear is also fitted with a nylon mesh lining to boost breathability and comfort.
These Cat boots are superb for outdoor work as the leather upper is waterproof. Thus, you can wear these boots in wet or snowy weather without fear of damaging them. The footwear's leather upper plus rubber sole are also highly durable. This means the boots will serve you for a long time if you take good care of them. Aside from being durable, the rubber sole is engineered to be slip-resistant. So, you can work confidently on any surface without fear of slips and falls.
The materials used in making the boots are lightweight and easy to clean. The lightweight design means the boots will not weigh your feet down when performing your daily tasks. Since the boots are simple to clean, you can wear them all year round without fear of getting them dirty.
The Caterpillar Men's Diagnostic is without a doubt one of the best work boots for men. It is highly recommended for individuals working outdoors as well as people who work in dangerous job sites. The boots are fitted with steel toes to protect the feet from falling objects thereby preventing injury. The boots also have a trendy design meaning that you can also wear them with some of your casual outfits. They are true–to–size fitting so you should order your usual size.
Pros
Very comfortable
Waterproof
Supportive and well-cushioned
Slip-resistant
Well insulated
Cons
Toe region is somewhat narrow
Some users have complained that the threads remove easily during heavy use
See also: Best Slip-on Work Boots
---
Georgia Giant Work Boot G6274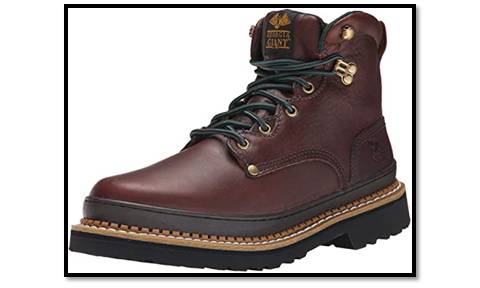 These boots by Georgia are another great option for the best work boots for flat feet. The boot's EVA midsole is specially crafted to provide you with outstanding comfort, support, plus impact absorption. This will help you avoid many of the problems of having flat feet. The Georgia giant also boasts several other fantastic features that make it suitable for use in nearly all work environments.
Key Features
EVA midsole
Rubber sole
Full-grain leather upper
Polyurethane outsole
Oil-resistant bumper protector
Padded insoles
Steel shank
Lined interior
Goodyear welt build
When you first take these boots out of the box, you will not fail to notice their superior construction. The upper comprises full-grain leather, which is an indication of how durable these boots are. The sole is constructed using durable rubbers. The footwear is engineered using Goodyear welt construction. Boots with this construction are typically more comfortable and durable compared to those with other designs. There is also an oil-resistant bumper guard that helps resist abrasions.
If you are flat-footed, the work boots you select should have supportive soles plus dependable arch support. The insole should also be firm but adequately cushioned to provide good support. The Georgia giant offers you all these and more. The boot's EVA midsole delivers advanced impact absorption, ensuring your feet have all the support they require as you work.
These boots feature a moisture-wicking lining to ensure your feet do not sweat excessively as you work. The steel shank fitted on the shoe helps fortify it against punctures. The steel shank also plays a part in maintaining the boot's shape, ensuring that it serves you a long time. The Georgia Giant has a lightweight polyurethane outsole. This outsole is resistant to oil, and chemicals and offers a high degree of flexibility and cushioning underfoot.
These do not come with steel toes. However, the toe region is well equipped to provide reliable protection for your toes. If you are seeking work boots that offer good arch support and comfort, these Georgia boots are a fantastic option.
Pros
Provides tremendous arch support
Easy to break-in
Lightweight construction
Offers a high degree of protection against electrical hazards
Breathable
Cons
Runs a bit large
A few users have complained that the insole is not so comfortable
See also: How to Dry Work Boots
---
Timberland PRO Men's Hyperion 6″ XL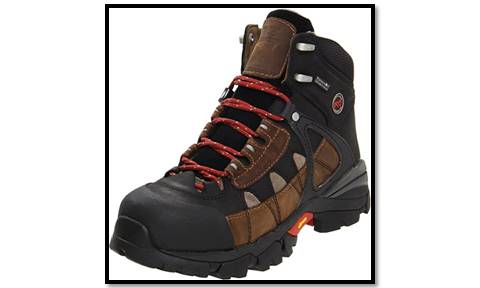 The men's Hyperion is yet another comfy work boot within the Timberland PRO series. These boots offer remarkable comfort, safety, protection, and durability. The Hyperion also has all the features required to counter overpronation as a result of flat feet. Little wonder it is on this list of the best work boots for flat feet.
Key Features
Vibram sole
Cement construction
Lightweight EVA midsole
Mesh lining
Anti-odor treatment
Waterproof leather upper
Dual-density footbed
Dynamic Anti-fatigue technology
Alloy safety toes
The PRO Men's Hyperion features Timberland's innovative anti-fatigue technology. Timberland says this technology is essentially a comfort system designed to return energy to your foot via enhanced shock absorption. With this technology, your feet will have all the support they require to keep you going all day. This can be extremely beneficial for flat-footed workers.
This Timberland boot model is cement constructed. This is a boot construction technique where the sole and upper are completed separately and attached using adhesive. No stitchings or welts are involved. The major benefit of cement-constructed boots is that they are generally lightweight. Shoes of this type also cost less due to the cost-effectiveness of their production.
The lightweight EVA midsole is another feature that makes the Hyperion one of the best work boots for men. The EVA material in the midsole is flexible, lightweight, and gives each of your steps a cloud-like coziness. These boots feature alloy safety toes. Alloy safety toes can withstand more impact compared to their steel and composite toe counterparts. They are also more durable and offer considerable toe space. These Timberland boots will help stop your toes from getting crushed by falling heavy objects.
The boot's leather upper has a waterproof membrane to keep out moisture. Accordingly, the Hyperion will not let your feet get wet even when working under the rain or snow. The boot's Vibram sole is also waterproof so getting into puddles will not be a problem. Besides, boots with Vibram soles offer excellent traction, comfort, and durability.
The Hyperion's toe region is spacious so your toes have sufficient room to spread. The footwear is offered in extra-wide sizes making it a superb option for workers who are wide and flat-footed.
Pros
Very comfortable and supportive midsole
Durable
Waterproof
Lightweight construction
Excellent traction
Fits true-to-size
Cons
Some users say the lace-up arrangement is somewhat uncomfortable
The alloy safety toes are not so durable
---
Cat Footwear Men's Second Shift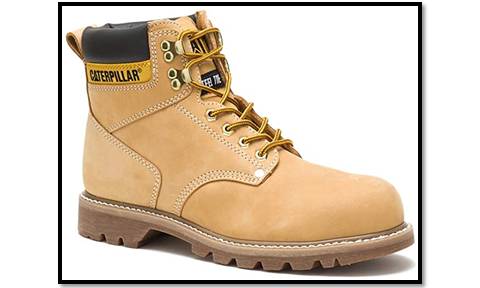 The caterpillar brand is popular for offering work boots that are made with top-quality materials. The Second shift is a testament to the brand's ability to deliver comfort within a protective package. Aside from being one of the best steel toe work boots in the market, Second Shift also looks trendy. The boots come highly recommended for carpenters, construction professionals, equipment operators, forklift truck drivers, boilermakers, and industrial engineers.
Key features
Synthetic sole
100% leather upper
Shaft measurement: Approximately 6 inches from arch
Slip-resistant outsoles
Electrical hazard protection
True to size fitting
This trendy-looking work boot is offered in four color options including black, dark brown, honey, and tan. Bear in mind that these boots are constructed for use during long shifts. They are thus big, solid, thick, and may not be appropriate for fashion. Nonetheless, nearly all previous buyers say the boots look and fit great. A pull tab is fitted at the boots' rear so you can easily slip them on. The footwear has been rated among the best slip-on boots in the market – thanks to this pull tab.
Nearly all workplaces have particular requirements concerning footwear. Regardless of the type of environment, you work in, rest assured that Second Shift has you covered. Concerning electrical hazard protection, these Cat boots can deal with as much as 600 volts within dry conditions. The footwear is also well outfitted to shield your feet against impacts plus compressive forces.
The Caterpillar Second Shift comes with a removable insole. Several previous purchasers note that this insole is extremely thin and feels cheap. Since the insoles are detachable, you may want to replace them with more comfortable custom insoles. The boot's midsole is supportive and provides dependable shock absorption. It is no wonder Second Shift made it to this list of the best work boots for flat feet.
Most reviewers rate the boot's leather upper above average. The upper is durable and solid. However, some previous buyers report that the outsole may start to detach slightly from the upper with heavy use. This may not be an issue for you if your work environment is not so harsh. The boots weigh approximately 2 pounds. The weight falls within the range of heavy-duty work boots.
The Cat Second Shift features Goodyear welt construction, which means you get durable and dependable work boots. There are some complaints regarding flexibility. But if your major priorities in a work boot are comfort, durability, and safety, Second Shift ticks all the boxes.
Pros
Offers good arch support
Excellent electrical hazard protection
Trendy and presentable
Plush tongue and collar
Easy to clean
Outsoles offer reliable slip resistance
Cons
Complaints about breathability
Not lightweight
See also: Steel Toe Vs Composite Toe
---
Irish Setter Men's 83624 6″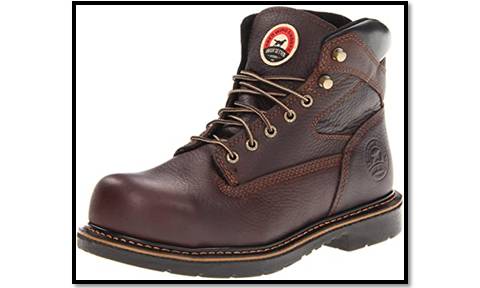 The Irish Setter 83624 offers the same fantastic quality you would expect from Farmington boots. They are assembled in China, however, most users agree that they offer remarkable quality. These steel toes are durable, non-slip, supportive, and above all comfortable. They will work great for you whether you are an industrial engineer, construction expert, farmer, or other outdoor worker.
Key features
King toe technology
Steel toe
Full-grain leather upper
Detachable polyurethane footbed
Lace-up construction
Slip-resistant outsoles
One of the features that make the Irish Setter 83624 a great work boot for flat feet is its King Toe Technology. With this technology, you get 44% additional toe room compared to the toe room within regular Irish setter boots. A roomy toe box means your toes can move without restraint, therefore, reducing the strain placed on your fallen arches.
The best work boots for flat feet should also have well-cushioned footbeds plus anatomical arch support. These will help support your foot's arch to ensure it does not collapse as you walk. This in turn helps alleviate the pain and fatigue linked to flat feet. The Irish setter 83624 comes with a detachable polyurethane footbed that delivers dependable cushioning for your feet. However, some users say they got better arch support from these boots by replacing this footbed with special insoles.
These boots have been certified to meet the ASTM 1/75C/75, F2413-11 benchmarks for compression and impact. This means the footwear is adequately equipped to shield your feet from hazards like dropped objects. The boot's heel construction plus protective sole are specially engineered to protect you from electrical hazards. So, even if you mistakenly step on live electrical wires, you will not get electrocuted.
The Irish setter 83624 is also ranked among the best slip-on work boots. The boot's 12-inch opening makes it very simple for your feet to slide into and out of the boots. The boot's full-grain leather uppers can withstand whatever abuse is thrown at them. While the upper offers some level of water resistance, they are not waterproof. So, you should be cautious when working in wet weather with these boots.
Pros
Spacious toe box
Durable
Comfortable
Padded ankle protection
Excellent electrical hazard protection
Cons
Not waterproof
Low-quality insoles
---
How to Select the Best Work Boots for Flat Foot
Consider the following critical factors when shopping for work boots for flat feet.
Arch Support
If you are flat-footed, the most critical feature you should consider when selecting work boots is arch support. A supportive boot will help decrease the strain on your foot by preserving its natural curvature. This helps ensure your arch does not collapse as you work.
For adequate arch support, select boots with a solid yet flexible midsole. Also, ensure that the boots' sole is curved and raised upward in the middle. Lifting your foot's arch this way will help prevent your ankles from rolling inwards thereby stopping overpronation.
See also: Best Work Boots for Plantar Fasciitis
Plush Cushioning
Feet with fallen arches are typically inflexible. They do not effectively soak up the weight of your body as your feet hit the floor. Therefore, the vibrations produced by the shock travel upwards via the feet to the entire body. This will ultimately result in pain in your lower back, feet, and legs.
If your work boots are properly cushioned, they will soak up the shocks thereby ensuring your feet stay comfortable all day. Thus, select work boots that have properly cushioned soles and footbeds.
Spacious Toe Box
If you are flat-footed, your feet may expand slightly as they hit the ground. This is because your feet are not properly supported to maintain their shape during impact. So with each foot strike, your foot collapses inwards leading to expansion in width.
Boots with tapering toes can prevent your toes from spreading and this may cause pain and discomfort. So, go for work boots with spacious toe boxes that can accommodate the broadening of your flat feet.
Lace-up Closure
When shopping for the best work boots for flat feet, go for boots with lace-up closure. These options are modifiable to provide the utmost comfort and support. While slip-on boots are fashionable, there is no way to customize the fit.
Supreme Comfort
A dependable work boot for flat feet should come with several comfort features to ensure your feet stay relaxed all day. Look for features like breathable mesh lining, shock-compression pads, and padded ankle protection. You should also select boots that have detachable footbeds. This way, you can swap the footbed for a custom insole for extra support.
Enhanced Durability
When shopping for shoes generally, you should opt for ones that offer high durability. Aside from lasting you a long time, boots made with high-quality materials will help you avoid likely friction and inflammation. Therefore, always buy shoes from reputed brands like Caterpillar, Timberland, Wolverine, and Georgia boots. These companies employ premium materials in making their work boots.
See also: Best Place to Buy Work Boots
Frequently Asked Questions (FAQs)
What are Flat Feet?
There are two different kinds of flat feet – rigid and flexible. Individuals with rigid flat feet have no arches whether they are in a standing or sitting position. People with flexible flat feet do have noticeable arches especially when the feet are not carrying weight.
Which Work Boots Offer the Best Arch Support?
The following work boots offer dependable arch support for flat feet:
The Wolverine Buccaneer Men's W04821
The Caterpillar Second Shift Steel toe
The Georgia Giant Work Boot
Aside from arch support, these boots are also very comfortable, durable, and slip-resistant.
How do you Cure Flat Feet?
If you are experiencing severe pain due to your flat feet, you can fix the problem permanently through surgery. Implants, structural correction, and bone infusions are some of the surgical options for correcting flat feet.
Conclusion: Best Work Boots for Flat Feet
This post has given you a list of the finest work boots for flat feet. If you are seeking a waterproof option, check out the Wolverine Buccaneer Men's W04821. If you want something lightweight, the Timberland PRO Men's Hyperion may work best for you. Our top pick for the best work boots for flat feet is the Caterpillar Men's Diagnostic. These boots are very supportive, waterproof, and well insulated.