Shoe Size Vs Boot Size – Measure Your Foot Size for Online Shopping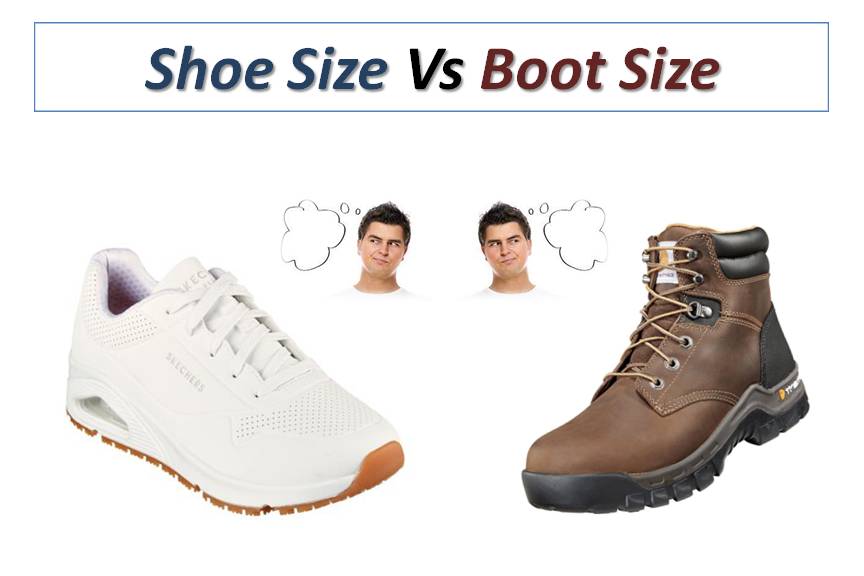 The main difference between shoe size vs boot size usually has to do with their volume and width. Boots typically have a bigger volume depending upon the intended use and are often produced a little broader for the size. Presently no standardization exists concerning footwear sizing, thus there are disparities in how different brand boots and shoes fit individuals within the same size. Understanding these disparities is essential in selecting comfortable footwear that best fits your feet. Keep reading to learn more.
See also: How to Choose the Right Shoes for Your Feet
Is Your Boot Size The Same As Your Shoe Size?
Why do boot size and shoe size differ so much?
A variety of factors contribute to the variation in boots and shoe sizes and they include the following:
Shoe last
Sizing inconsistencies usually begins at the factory where the shoes are made. When shoes or boots are being designed, the fit is established by a tool known as a shoe last. Shoe lasts are sculpted, toeless prototypes of the feet. They come in a range of sizes and shapes. A different last is required for each distinct shoe size that a manufacturer makes.
Since shoe lasts comprise a central part of a manufacturer's protected design, shoe manufacturers would be at a disadvantage if they utilize a standardized industry last. This is why shoe brands do not have identical size shoes. Therefore, if you purchase shoes from one manufacturer of a specific size, you almost certainly have to choose a different boot size if you are purchasing from another brand.
Measurement type used
Boot or shoe sizes are determined using different methods. For instance, British and American shoe sizes are determined using the shoe's last length, and this is measured in barleycorns. The barleycorn is a very old English unit for measuring length. It equals a third of an inch. A shoe size is ascertained by using the following formula:
Men's shoe size = 3 x (Last Length) – 25
Women's shoe size = 3 x (Last Length) – 23
UK sizes are US size – For example, a UK size 10 is a US size 11.
By and large, the foot length would be 2 barleycorns shorter compared to the shoe's last length. Some boot manufacturers and shoe brands employ a size that tallies with Brannock device measurements. Brannock device measurements are also connected with the UK/US shoe sizing systems but are based upon the foot size. Generally, a Brannock size is approximately a half-size shorter (approximately 2 barleycorns) compared to the traditional sizing system.
Knowing all these is important because a boot manufacturer might employ conventional sizing, or they may employ Brannock sizing. When they use Brannock sizing, the boots or shoes you are considering will tally with your foot size. But if they employ conventional sizing, the shoes or boots will be somewhat larger than your foot.
Boot construction method
Boots are constructed using various techniques and the common ones are Goodyear welted construction, stitchdown construction, and Blake construction.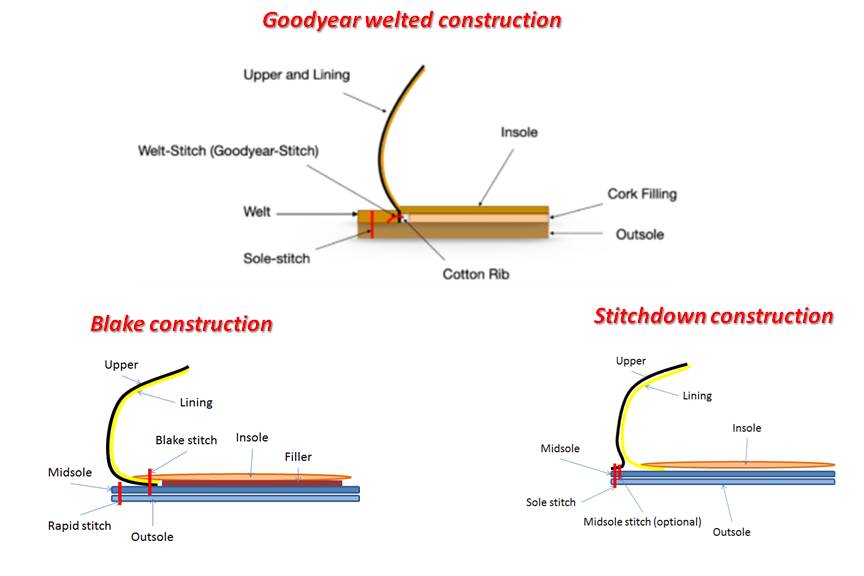 Goodyear welted construction: In this method, a canvas rib is first attached to the boot's insole using glue. This setup is then sewn to a leather piece (the welt). Lastly, the welt is sewn to the boot's outsole and midsole.
Stitchdown construction: In this technique, the leather used in making the upper is pulled out above the midsole. This is then attached to the outsole and midsole using what is referred to as a rapid stitch.
Blake construction: This technique involves directly stitching the boot's upper and insole to the outsole. This technique is commonly utilized for dress shoes.
The various construction and stitching methods typically give rise to variations in boot sizes. For instance, a size 8.5 Goodyear welted boot may be more like a 9 if a comparable boot is constructed using the stitchdown construction technique.
How to select the correct shoe or boot size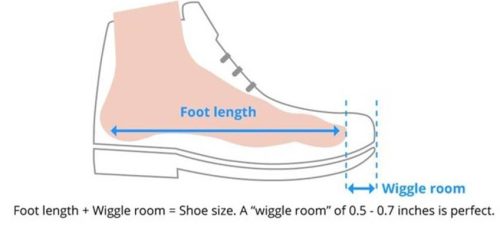 If you have found a pair of boots online that you like, do not let the dread of selecting the inappropriate size prevent you from purchasing them. You can simply measure your foot length and get that exquisite new pair of work boots. But how can you increase your chances of getting a perfect size? Here are some tips to help you.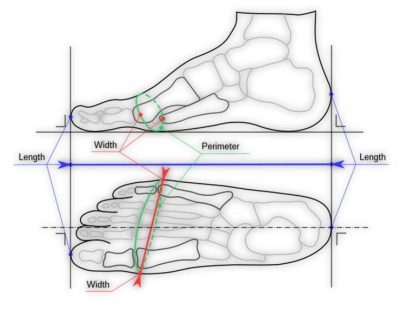 Foot length
You need to first ascertain your foot length. Once you have this information, you need to also find the size chart from the makers of the shoes you intend to purchase. With these, it will be a lot simpler for you to get the appropriate shoe size for you.
Shoe toe shape
If you are considering buying a shoe with a pointed toe shape, then you should go a size bigger. This is because these shoe models are somewhat smaller compared to shoes with round or square toe shapes. If you have an especially broad foot, then you should avoid shoes or boots with pointed-toe shapes altogether.
Half sizes
If you wear half sizes, then it goes without saying that you should select your shoes from brands that offer half-sizes plus various width choices. This way, you will not have to sacrifice fit for length or style.
The Right method to measure your feet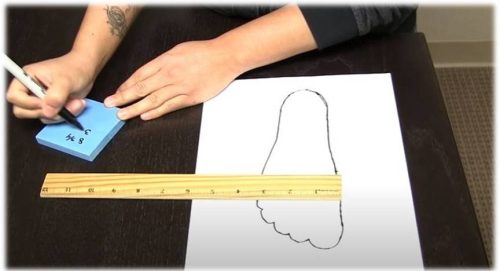 Your foot size changes as you grow older. Several other factors can also affect your foot size including pregnancy, fluid retention, and weight gain. For this reason, you must measure your foot before purchasing new footwear over the internet. This can easily be performed at home. Remember that there is presently no standardization concerning footwear sizing. Thus, shoe sizes may differ considerably from brand to brand.
See also: How to Know if You Have Wide Feet
It is therefore recommended that you ascertain your foot length in centimeters. You should also look at the size chart from the brand you are considering buying. Also, bear in mind that your feet get large due to slight swelling during the day. Thus, you should measure later in the afternoon or early evening.
Materials you will need
Pen
Ruler
A4 paper (2 pieces)
Instructions
Place your right foot on the A4 paper
Note the locations where your heel and your longest toe end and place a dot at each of these locations. Make sure your pen is held upright as you do this
Remove your foot from the paper. Use your ruler to measure the gap between the dots you made on the paper
Ascertain your foot length in centimeters
Repeat this process but this time use your left foot
Find your size using a shoe chart
At times, one of your feet might be bigger than the other. If that is the case for you, then select your shoe size per the bigger foot. If, for example, your right foot is size 9 and your left foot is size 8.5, select the large size.
Signs your boots or shoes are not the appropriate sizes
Soreness and pain are some clear indications that your footwear is the wrong size. However, some signs are not so obvious. You may have selected the wrong shoe size if you observe any of the following issues:
See also: How to Measure Your Feet for Shoes
Bunions
If you notice that the joint located beneath your big toe has moved out of alignment, then you may have developed bunions. When excessive pressure is placed on the big toe, such as when the feet are crammed into overly-small boots, the joint suffers a great deal of strain causing it to become red and tender. If you are a bunions sufferer, stay away from shoes or boots with pointed-toe shapes. One of the best ways to deal with bunions' pain is by wearing proper-fitting shoes with low heels.
Blisters
If your boots or shoes are excessively large, your foot will move too much within the boots as you walk or run. This can lead to the development of hot spots on your feet leading to blisters.
Toenail damage
If your shoes are not properly fitted, it can cause your feet to slide inside the shoes as you walk or run. This sliding can cause your toes to strike against the shoe's toe box, which may lead to the breakage of your toenails.
Athlete's foot
Wearing excessively tight-fitting shoes can cause your feet to sweat excessively inside shoes. This can create an environment that is favorable to athlete's foot. This is especially pertinent with your work boots because your feet are vulnerable to excessive sweating inside the boots. When shopping for work boots, always select proper fitting ones, and take them off once in a while to prevent sweat accumulation inside the boots.
Wearing ill-fitting shoes for long periods can also cause tiny fractures, hammertoes, neuropathy, and even plantar fasciitis. Therefore, always ensure you select shoes that fit you adequately.
Final words
As you compare shoe size vs boot size, always remember that shoes and boots are of different construction and designed to fit different purposes. Your regular work shoes will almost certainly not be same size as your leather composite toe boots. Happily, the tips presented in this post will help you find shoes or boots that fit appropriately.