Types of Soles for Boots (Classifications and Characteristics)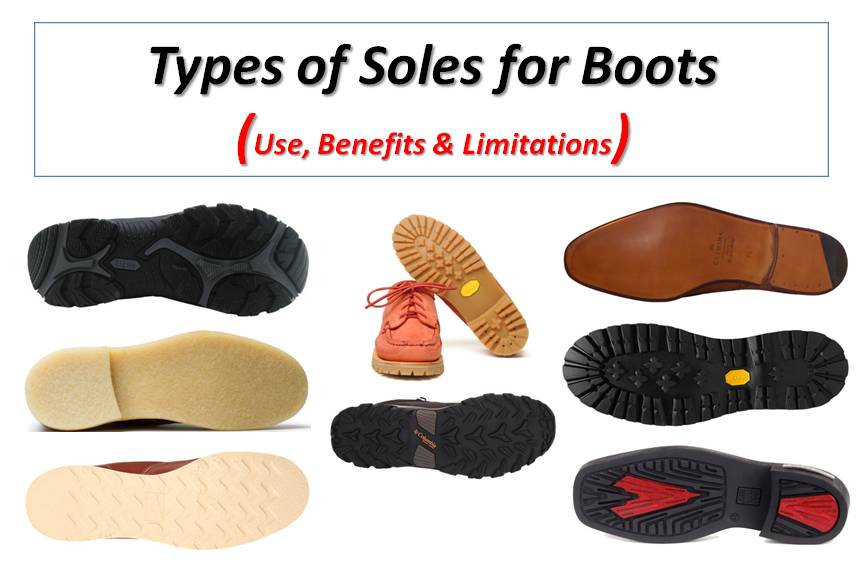 If you spend most of your workday on your feet, good quality and comfy shoes are essential for you. The most critical thing when it comes to the overall quality of a shoe is the sole. The soles help prevent slips and falls as well as shield your feet against injury. However, work boots come with various kinds of soles that are constructed for specific purposes and functions. You need to be aware of the various kinds available within the market so you can make an informed decision when buying work boots. So, this post will give you an overview of the various kinds of boot soles plus their benefits.
See also: Steel Toe Vs Composite Toe
Types of Soles for Boots – Use, Benefits & Limitations
Rubber soles

Protective rubber-soled work boots offer numerous benefits in any perilous work environment. Rubber soles are non-slip, providing superior grip on slick surfaces. Furthermore, they are resistant to water as well as oil. This means rubber-soled shoes will let you work securely on slippery, oily, wet, and muddy terrains. Other benefits include excellent durability, and superior cushioning for the feet. they also protect the feet against extremes of temperatures.
See also: How to Clean White Rubber Soles on Shoes
Leather soles

If properly cared for, leather soles are perhaps the most durable compared to other types of soles for boots. They are tough enough to endure whatever you throw at them. Leather-soled boots are also highly breathable meaning that they will not cause or aggravate sweaty feet. Brand new boots with leather soles can be slippery. Therefore, you should consider roughening up the soles to add some grip.
Combination soles

These utilize rubber and leather within their makeup. The entire outsole of combination-soled boots is leather; however, rubber is affixed to the heel as well as the fore sections of the sole. Combination soles are highly durable and provide superior traction on a range of surfaces.
Vibram soles

Vibram soles are manufactured by an Italian Firm also called Vibram. These soles were originally utilized for mountaineering boots but these days; you can find them on everything from trail running shoes to work boots. Vibram soles are crafted using rubber. However, the rubber used is specially treated to soften or reinforce it depending on its intended use.
This means Vibram soles come in a broad variety of types including climbing, hunting, flame resistant, safety, and grip Vibram soles. Vibram soles are comfortable, waterproof, durable, easy to clean, and slip-resistant.
Polyurethane soles (PU)

PU soles are made using a polymer material referred to as polyurethane. This sole material is lightweight, water and chemical resistant, non-slip, durable, and comfortable, and offers superior shock absorption. These features make PU soles a fantastic choice for individuals who have to perform their duties on their feet for several hours.
EVA soles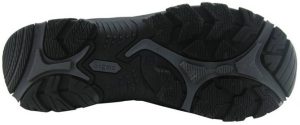 These are essentially a type of rubber sole. However, EVA soles are more flexible and lighter compared to rubber soles. If you seeking boots with soles that will be heavily used, are lightweight, and offer exceptional flexibility, then EVA-soled boots would be a superb option.
Lug soles

These are also made of rubber and are specially designed to help you walk through recently cut grass and snow with ease. Lug-soled boots can be distinguished by their chunky platform soles. They also have a simple pull-on construction. While lug soles offer utmost traction on slick surfaces, the lugs amid the soles require frequent cleaning to prevent dirt accumulation.
Wedge soles

As indicated by the name, these boot soles are wedge-shaped with a moderate rise towards the heel. This design feature means wedge soles have a greater contact area compared to conventional boot designs. This offers two important benefits. To start with, the wedge sole can provide better traction compared to other boot sole types provided that the material used in making the sole and the tread pattern are solid. Secondly, when you walk on hard surfaces, you are less likely to suffer shocks to your foot.
Do you spend most of your workday on solid surfaces such as concrete? Do you require a high degree of slip resistance but do not want to be bothered about having to regularly clean your boot's soles like in lug-soled boots? If you answered yes, then wedged-soled boots may be the best option for you.
See also: Best Place to Buy Work Boots
Conclusion
The best boot soles are the ones that suit your requirements. If you are seeking durable soles that also offer excellent breathability, then you may want to go for leather soles. If you require soles that can hold their own against water, rubber soles are a superb option. Go for lug soles if you require excellent traction in ice and snow.