Types of Soles in Shoes | Which Shoe Soles Are Better?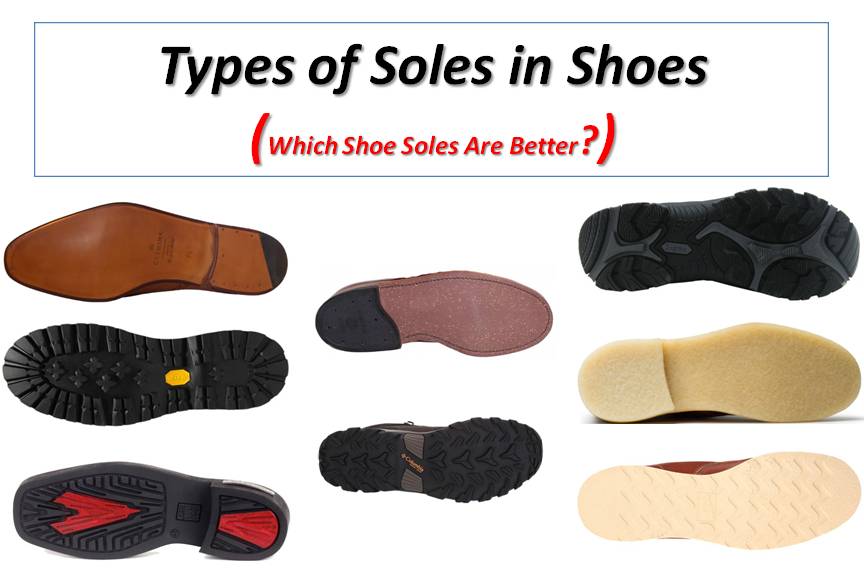 The material of the sole should always be an important consideration when shopping for work shoes. Soles give you traction when walking on steep, wet, or oily terrains. They also protect the underside of your feet against perils within the workplace. Shoe soles are made from a wide range of materials because different shoe types require different soles. Read this comprehensive guide to learn about the various kinds of soles in shoes.
See also: How to Measure Your Feet for Shoes
Different Types of Soles in Shoes
1. Leather soles

The benefits offered by leather soles are that they are tough and long-lasting. These soles will serve you for a very long time given that you take good care of them. Also, leather soles offer good breathability. Therefore, if you suffer from sweaty feet, leather-soled shoes may be better suited for you. The main disadvantage of leather soles is that they tend to be slippery, particularly on snowy or rainy days.
2. Rubber soles

Rubber is an extremely popular shoe sole material. This sole type is highly flexible, abrasion-resistant, and waterproof. So, if you work in or around water for prolonged periods, you may want to opt for rubber-soled shoes. If you choose rubber soles, bear in mind that they are prone to cracking especially when worn frequently for extended periods.
See also: How to Clean White Rubber Soles on Shoes
3. Wedge soles

This sole type has a wedge rather than a heel. The sole itself is a solid piece that runs the whole length of the shoe's outsole. Wedge sole shoes offer reliable traction on slippery surfaces. However, these soles are easily damaged as they are not so durable.
4. Polyurethane (PU) soles

Polyurethane is a solid foam-like material that is made using an organic polymer compound. This material is widely utilized in making shoe soles due to its lasting mechanical qualities. PU soles are sturdy, slip-proof, and absorb shock well. They are also waterproof, highly affordable, and lightweight.
While PU soles offer fantastic waterproof protection, they will soak up water if immersed in water for extended periods. Also, the degree of slip resistance offered by these soles is lower compared to that offered by rubber soles.
5. Ethylene Vinyl Acetate (or simply EVA) soles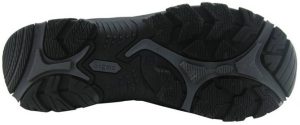 EVA is a kind of thermoplastic that closely resembles rubber. Most shoe manufacturers utilize this material in their shoes because of its superior shock-absorbing qualities. EVA soles are great for work shoes because they are lightweight, flexible, and offer cozy cushioning. The downside to EVA soles is that this material is not breathable. Therefore, you may experience sweaty feet if you wear an EVA soled shoe for extended periods.
6. Crepe soles

This sole type is made using plantation or crepe rubber, which is a variety of natural latex. The upside to this sole type is that it offers outstanding cushioning and give. This means these soles will cradle your feet as you attend to your everyday dues. They also do not feel heavy so your feet will never be weighed down. The downside to crepe soles is that they provide little or no arch support. If you are okay with casual-style work shoes that offer minimal arch support, crepe sole shoes may suit your requirements.
7. Cork Nitrile soles

This sole type features two materials in its makeup – rubber and cork. The blend of cork and rubber means you have less weight without compromising on durability. There are no threads on this sole type. While this may mean reduced traction on slick surfaces, it also means your soles will not pick up mud, snow, and ice fragments within their grooves.
8. Combination soles

These also comprise two materials in their composition – leather, and rubber. Leather is employed in making the entire sole, but rubber is fitted on the front section as well as the heel. The rubber helps ensure good traction and adds extra durability to the sole.
See also: How to Unyellow Shoes
Conclusion: Types of Soles in Shoes
Bear in mind that there are several other types of soles in shoes but the ones presented here are the most common. It is hoped you now have a good understanding of the various materials utilized in making soles of shoes.