What is the Average Shoe Size for Men?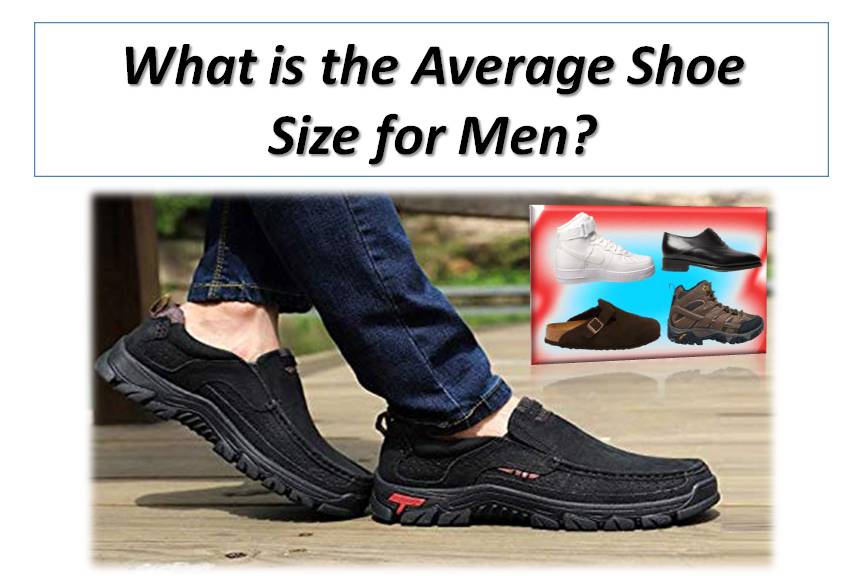 Apart from helping you avoid immediate discomfort, knowing your specific shoe size is important for your safety and health. Shoe size is influenced by various factors including genetics, age, foot disorders, and weight. And, remember that your shoe size is not a fixed measurement. Sizes differ with manufacturer and style. This blog post will talk about the average shoe size for men. You will also get some tips on how to measure your feet at home.
Average Shoe Size for Men: By Height and Other Facts
Average shoe size for men
According to research reports from recognized sources, the global average shoe size for men falls in the range of 9 to 12. For American men, the average is 10.5. Note that despite the research conclusions from relevant and recognized sources, there is no authoritative record regarding men's average shoe size in the US and other parts of the globe.
See also: Shoe Size Vs Boot Size
Average shoe size by height
Your feet support your whole body, bearing tons of pressure on a daily basis. They are therefore important for good balance. Your feet muscles, ligaments, and tendons help ensure that your entire body stays properly aligned and balanced. Without them, you would fall over each time you bend to the side. The greater your height, the more you require a bigger support base. This is why the feet of taller men are longer and their shoe sizes are larger compared to that of shorter or average height males.
Remember that variables like weight, level of activity, and age can also influence your shoe size. Knowing the average shoe size for men will help you ascertain the shoe styles and brands that will work best for you.
Below is the average shoe size for men by height within the United States.
| | |
| --- | --- |
| Height | Shoe size |
| 5 feet 5 inches or shorter | 7-9 |
| 5 feet 6 inches – 5 feet 9 inches | 9.5-10.5 |
| 5 feet 10 inches – 6 feet 2 inches | 11 – 12.5 |
| 6 feet 3 inches and taller | 12 – 20+ |
Men's feet tend to increase in size as they grow older. For instance, when you reach age 50, chances are that you have put 65,000 miles on your feet. If you have been very active on your feet through these years, you may attain this milestone a lot earlier. As men age, they tend to lose the fatty cushion on the soles of their feet. By age 50 for instance, most men wear a shoe that is a size larger compared to what they wore during their 20s. This is partly caused by decline in elasticity of ligaments and tendons. It is also partly caused by weight gain that places bigger strain on the feet.
See also: EU Shoe Size to US
See also: UK Shoe Size to US
How to ascertain your precise shoe size
When trying to ascertain your shoe size, you must consider your feet ' width and length. Shoes generally have a number stamped on them. This number denotes the shoe's vertical length. This number is what most people refer to when selecting a shoe size. Most shoes have a letter imprinted on them as well. This letter indicates the shoe's width. The letter D is embossed on men's average shoe size and it signifies medium width.
Other measurements regarding men's shoe widths include: B (narrow) 2A or A (extra narrow), 4E+ (extra wide), and 2E or E (wide). To ascertain your exact shoe width, you should have your feet measured. You can also take your feet measurements at home with the aid of some simple tools.
Measuring your feet at Home
Materials you will require
Pen
Measuring tape
Piece of paper
Your regular pair of socks
Tape
Instructions
Place the paper on a flat floor surface and hold it in place using the tape
Place your right foot on the paper trace its outline using the pen
After tracing the outline, take your foot off the paper and take the measurements. Beging the measurement from your heel to your longest toe
Measure the width. Measure the distance between the broadest ends. This should be the ends of your toes.
Repeat the above process for your other foot
Use a shoe size chart to determine your shoe size.
See also: How to Measure Your Feet for Shoes
Conclusion
Remember that various factors can influence your shoe size. The global average shoe size men fall within the range of 9 to 12. In the USA, the average is believed to be 10.5. The best way to ascertain your precise shoe size is by having your feet measured.