7 Best Leather Shoes for Nurses and Healthcare Workers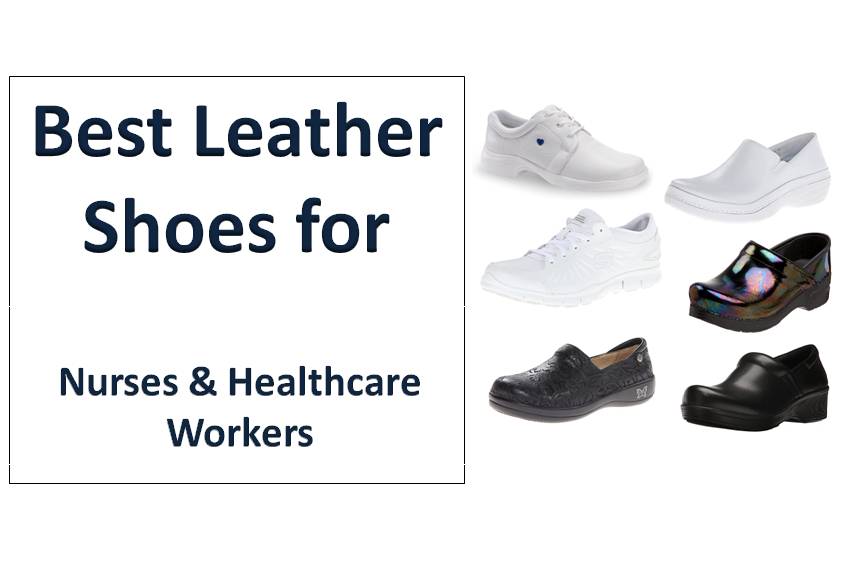 If you are a nurse, a comfy pair of shoes is absolutely essential. Surveys have revealed that most nurses work 12-hour shifts, thus nurses, more than other professionals do, know the importance of durability and comfort when it comes to footwear. Leather shoes are a popular option among nurses and other individuals who work active jobs. This is because there are several benefits to selecting first-rate leather shoes for active nurses. The major benefit is that these shoes will provide you with all-day comfort. You can wear these shoes round the clock and your feet will stay fresh and pain-free. The interesting part is that many of these shoes come at a highly reasonable price. If you are looking to purchase new footwear for work, below are 7 of the best leather shoes for nurses available in the market today.
Best Leather Shoes for Nurses – Top Picks
Timberland PRO Women's 90658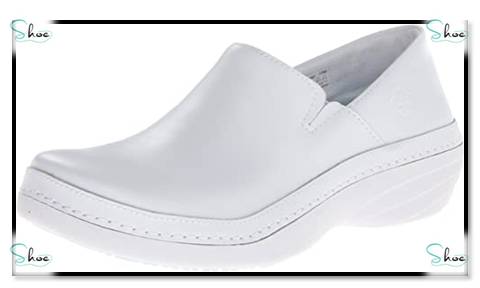 If finding a functional pair of nursing shoes that is also stylish is an issue for you, do not worry anymore as the Timberland PRO Women's Renova Professional is here to your rescue. The shoe offers many fantastic benefits for nurses who spend a lot of time on their feet. Aside from offering adequate protection to the feet, the shoe is constructed for all-day comfort, which means you can wear it for extended periods without getting sore feet. Another key benefit is that it delivers an effortless walking experience. Keep reading to find out other reasons the Timberland Women's Renova is ranked among the best leather shoes for nurses.
Key Features
One hundred percent leather
Anatomically contoured toe box
Anti-fatigue technology
Synthetic sole
Heel-to-toe rocker sole
Slip-on work clog
Scotchgard protector for stain resistance
Goring insets for effortless wear
Ease of cleaning is one of the most important features you should look out for when searching for the best nursing shoes. Most sneakers and other sports shoes typically lack this feature. However, cleaning a shiny leather shoe can be very simple. All you have to do is wipe the surface using a soft clean cloth. This is one of the benefits of having the Pro women's Renova from Timberland.
Another feature you will appreciate about this leather shoe is its impressive protective features. When attending to your patients, you may accidentally drop a sharp object on your legs. It is great to know that your feet are adequately protected from injuries and fluid-borne microbes. The upper of the Renova Pro is made using one hundred percent leather that is strong enough to protect your feet from sharp objects and fluid spills.
In addition, Timberland included its Anti-Fatigue Technology within the midsole of this amazing shoe. With this technology, you can add some additional pep to your steps even on very long shifts. Inverted molded cones fold up and return energy within vital pressure regions, delivering back and leg support in addition to enhanced shock absorption.
Pros
Effortless wear
Roomy toe box
Comfortable
Slip-resistant outsole
Trendy design
Impressive protective features
Cons
A few users have complained that the shoe felt a little uncomfortable
See also: Best Shoes for Nursing School
---
Nurse Mates Women's Angel Lites 230004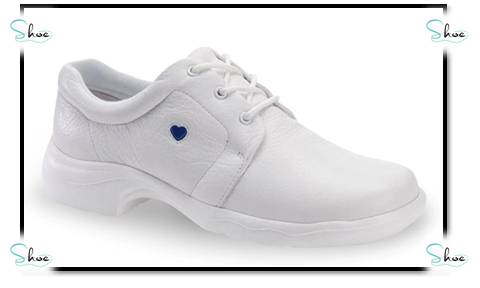 There is no doubt Nurse Mates is an industry leader when it comes to healthcare professional footwear, apparel, and accessories. They are renowned for making some of the best nursing shoes on the entire planet. The Women's Angle offers supreme comfort, support, as well as a relaxing fit. This inspiring white leather shoe features an athletic construction that fits imperceptibly. Aside from a trendy design, the footwear delivers superior grip in addition to a padded, pliable base to keep your feet safe and cozy. Many users and reviewers have praised the shoe for its superlative performance with regard to keeping away dampness and sweat. With these attributes, your feet will surely stay contented even on very long shifts.
Key Features
Synthetic sole
Pliable leather upper
Steel shank
Shock-absorbing EVA outsole
Slip-resistant
1 ½ " heel height
Inner polyurethane core delivers shock-absorbing protection for the entire foot
EVA midsole & insole
Soft leather upper
Some of the features that endear the Nurse Mates Women's Angel to nurses are its elegant design and alluring white shade. Aside from great looks, the shoe is also extremely cozy and durable thanks to its lace-up build and tumbled leather upper. Many wearers from different parts of the globe have attested to the shoes' great responsiveness, supportiveness, and comfort.
The footwear comes with an EVA outsole that provides remarkable grip on varied terrains. With this anti-slip feature, you can enjoy a comfortable feeling of security when walking on wet or slippery floors. Another notable feature is the footbed that provides a padded, supple platform to keep your legs and feet contented shift after shift. Even though the footwear comes in a white shade, you will not have a hard time keeping it clean. This is because the leather upper has been treated for stain and water resistance.
Moreover, the leather upper possesses moisture-wicking attributes and is reasonably breathable. What this means is that you can wear the Nurse Mates Angel all day long and in any season without compromising your feet's comfort. And to cap it all, the shoe completely complies with even the most stringent hospital dress code. With these features, it is simple to see why the Nurse Mates Angel is the best white leather shoes for nurses.
Pros
Trendy design
Fantastic traction on different surfaces
Stain-resistant finish
Classic white design
Simple to maintain
Reasonably priced
Cons
A few users have complained about the shoe's durability
See also: Best White Nursing Shoes
---
Dansko Women's Professional Clog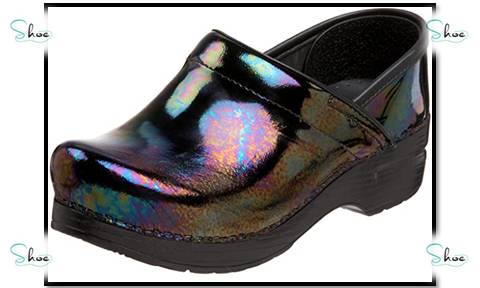 Dansko clogs are an extremely popular footwear choice among nurses and other pros whose work involves prolonged walking and standing. The clog boasts several impressive features that make it one of the best leather shoes for nurses. Firstly, the shoe is made using durable leather that is suitable for the formal hospital environment. Aside from work, the shoe is also appropriate for wear in semi-formal environs. The interior of the footwear is also extremely comfortable, with no rough edges. This means you will never have to worry about sore feet or bruised toes. Several reviews have lauded the clog for the safety, comfort, and stability it offers.
Key Features
Synthetic sole
Oiled leather
Fabric and/or leather uppers
Spacious toe box
PU outsole & rocker bottom
Padded instep collar
Wide heel strike
Platform measurement: Approximately 0.75"
A reliable nursing shoe should have excellent comfort features, and this is precisely what the Dansko women's professional clog delivers. The footwear features a voluminous toe area so you can be certain your toes will not be crammed. Besides, the toe box is bolstered with thermoplastic to boost its protective features. As you go about your everyday tasks, your shoes help shield your feet from stresses and other severe conditions inherent within the hospital environment. This is why the tough toe region of this Dansko clog is tremendously beneficial.
Another great feature that helps make the women's professional clog so cozy is its PU outsole with rocker bottom. As your heel hits the ground, the PU outsole soaks up the shock thus helping to decrease fatigue to your legs. In addition to comfort, the footbed offers remarkable arch support plus excellent temperature control. The footbed is breathable, and that means your feet will never get overheated whilst wearing this Dansko clog. One not-so-good attribute is that the footbed is fixed, thus there is no way you can replace it with custom orthotics.
Overall, the Dansko Women's Pro Clog is a fantastic nursing shoe. The shoes' amply padded instep collar helps reduce stress thereby giving you a comfortable and effortless walking experience.
Pros
Roomy toe box
Wide heel for better stability
Produced with hard-wearing materials
Padded instep collar to give your feet enhanced comfort when walking
Oiled leather that helps protect the shoe from the elements
Cons
Some users have pointed out that the oiled look of the shoe is easily ruined
See also: Best Clogs for Nurses
---
Dr. Scholl's Women's Dynamo Work Shoe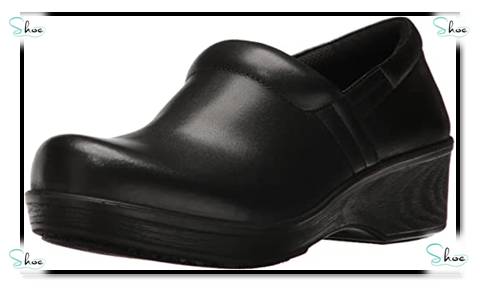 Dr. Scholl's is popular for making shoes and foot care articles that boost support and comfort. The shoes from this innovative brand have become exceptionally popular among professionals who do a great deal of walking and standing. Several testers report that they found the Dynamo work shoe to be one of the best leather shoes for work. The shoe has a lightweight build, which means your feet will not be weighed down as you move from one hospital ward to the other. It also has a flawless silhouette, with a slight curvature towards the toe area. With this feature, you get an excellent energy return, which in turn reduces feet tiredness.
Key Features
100 percent leather
Dri-Lex Moisture-wicking lining plus Aegis Microbe shield odor control
Rubber sole
Slip-resistant/Oil-resistant outsole
Heel measurement: About 2 inches
If you are looking to buy a shoe that will deliver excellent support and comfort to your feet, then the women's Dynamo from Dr. Scholls is what you need. It has a leather upper that gives the footwear a classy and sophisticated appearance. No wonder the shoe is highly appealing to nurses who love to look fashionable and trendy in their nursing gear.
Aside from its trendy appearance, the shoe's upper is also not difficult to clean and maintain. All you need to do to clean the smooth leather surface is wipe it down using a damp clean fabric. The outsole of the shoe offers fantastic slip-resistance, and the Lock Step Technology fitted on the shoe securely locks in your feet as you move about. The soles are also engineered to comply with TM14 and SATRA TM63 standards. With this attribute, you are guaranteed dependable traction on a range of terrains.
The work footwear comes with memory foam padding that lines the entire length of the footbed. With this amply padded footbed, your feet will be cradled in coziness all day long. The Dynamo is however not a perfect shoe. A few users have complained that the work shoe is not very durable and does not provide sufficient ankle support.
For the most part, though, The Dynamo is cozy, classy, and clean. Its comfy interior and fantastic overall design make it an excellent choice for purchasers looking for a shoe that delivers all-day comfort.
Pros
Smooth and flawless uppers
Comfortable memory foam insert
Simple to clean and maintain
Offers excellent traction
Cons
Not very durable
A few users report that the shoes' ankle support is less than impressive
See also: Best Work Shoes for Nurses
---
Skechers Women's Eldred Work Shoe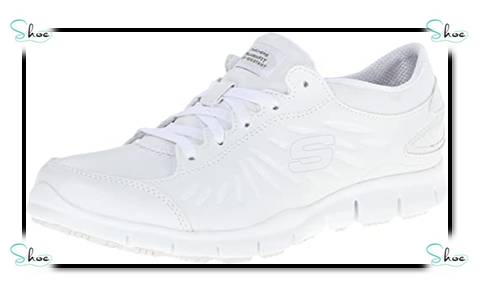 There are several reasons why nurses love this Skechers work shoe. One reason is that the shoe provides supreme comfort and support to the feet. When your feet are contented, you can attend to your patients with ease. Another reason many nurses love the Skechers for Work Women's Eldred shoe is that it comes with a hard-wearing leather upper with lace-up closure. The tough leather upper means the shoe will last you a long time whilst the lace-up closure helps provide a secure fit. If you are in the market for the best shoes for nurses, this Skechers footwear is one you should definitely check out.
Key Features
Lace-up closure
100 percent leather
Memory foam
Relaxed fit design
Synthetic sole
One of the endearing attributes of this work shoe is that the outsole is flexible, supple, and light. This means you will enjoy beautifully cozy steps with the shoe. The outsole is also highly slip-resistant so you can walk around confidently on any type of floor surface without fear of slipping and falling.
The footwear's 100 percent leather upper allows for superb flexibility, coziness, as well as breathability. In addition, you can wear the shoe all through the day with no discomfort, thanks to the tough yet soft material lining fitted on the shoe's interior. The development of blisters is a very common complaint among nurses. The Skechers Eldred shoe has a relaxed fit structure that will help you stay ahead of aching blisters.
You will also love the shoes' durable outsole that gives superb shock absorption as well as its memory foam insole that is crafted to nicely cushion your feet. The shoe's memory foam insole is detachable and that means you can substitute it for a custom orthotic. With these stirring features, you can wear the Women's Eldred shoe from Skechers throughout the day without experiencing any uneasiness or pain.
Pros
Removable insole
Lightweight build
Electrical hazard certified
Super shock absorption
Trendy leather upper
Great slip-resistance qualities
Cons
Durability issues
Not so impressive arch support
See also: Best Skechers for Nurses
---
Alegria Women's Keli Professional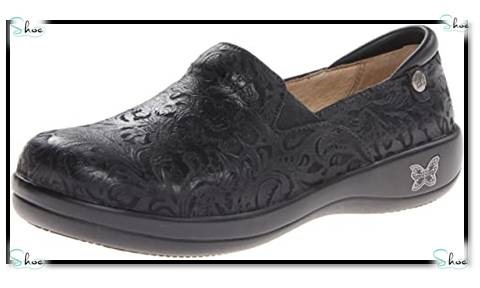 Nurses and other professionals who work on their feet all day long treasure Alegria shoes. This is because Alegria creates shoes that look trendy and are cozy all at once. The Keli Professional from Alegria continues this tradition with its stylish and comfortable attributes. Besides, the shoe delivers just the right level of arch support to ensure your feet are at ease even during 12-hour shifts. It is little wonder then the footwear is ranked among the best shoes for nurses.
Key Features
Non-slip outsole
removable footbed
Stain-proof upper
Synthetic sole
Leather upper with lining
The Keli Professional from Alegria has gotten many praises from customers and testers for providing splendid comfort and support. The leather upper is well designed and trendy and can accommodate a range of styles and requirements. The roomy toe box guarantees you will not suffer pinching and rubbing within that region.
It will also prevent foot problems like corns, blisters, and numb toes. A few users have reported that the footwear felt a bit constricted the first time they wore the shoe. They also noted that this issue disappeared after wearing the shoe a couple of times. Therefore, it is a good idea to first wear these shoes for a few days before you start wearing them to work regularly. This way, you will unlock all of the shoe's benefits.
The insole of this Alegria shoe is amply padded with memory foam as well as latex foam. As a result, the shoe's interior is exceptionally soft giving your feet a comfortable and supportive surrounding. Another feature you will find endearing is the detachable insole. Thus, if you require better arch support, you can easily swap it for a custom orthotic.
Furthermore, your feet will also get all-day support and coziness owing to the shoe's nicely padded top rear plus upper edge. This feature will be especially beneficial since you will be standing and walking around a lot. Some users with wide feet report that they found the footwear to be somewhat tight even after wearing it for several days. On the other hand, several testers with narrow feet say they found no such issues with the feet.
Pros
Lightweight design
Amply cushioned
Non-slip outsole
Provides an effortless walking experience
Extremely comfortable
Cons
Sizing issues
Durability problems
See also: Best Shoes for Nurses
---
Easy Works Women's Bind Health Care Shoe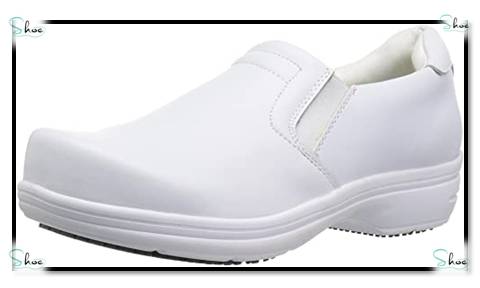 Shoes from Easy Works provide splendid arch support, which is why they are great for healthcare workers on feet all day. As a nurse, your feet need to be relaxed so you can concentrate on caring for your patients. The women's Bind provides a snug fit to ensure your feet stay cozy and relaxed all through the day. The upper is made using premium leather, which guarantees the shoe will last you a very long time. Read on to learn why this Easy Works shoe made it on this list of the best leather shoes for nurses.
Key Features
100 percent leather
Premium leather upper
Synthetic sole
Quality insole for excellent arch support
Platform measure: about 0.75 inch
Non-slip rubber outsole
Elastic Gore upper
Relaxed fit
Many healthcare workers especially nurses love this shoe due to its quality insole. Some of the benefits you will get from a quality insole are shock absorption, arch support, and weight distribution. The insole of the women's Bind from Easy works is made using premium materials so you can stand and walk around all day without getting aching feet.
Another feature that will endear you to this footwear is its superb non-slip outsole. As you go about your everyday tasks, you are regularly exposed to slippery and wet walking surfaces. For this reason, you need safety shoes that will protect you from slips and falls. Unlike the outsole fitted on a typical shoe, the slip-resistant sole of the Easy Works Bind is specially constructed with extra traction to grip greasy, wet, or otherwise slippery surfaces.
Lastly, the Easy Works Women's Bind comes with an antimicrobial footbed that will help keep your feet fresh and relaxed even on the longest days.
Pros
Made of top-quality leather
Excellent slip-resistance
Synthetic sole that delivers fantastic traction
Good arch support
Antimicrobial footbed
Extremely comfortable
Cons
Some users report that the heel is a bit too high
---
Things to Consider When Shopping for the Best Leather Shoes for Nurses
Finding just the appropriate footwear can be a grueling undertaking. The shoes you select have to shield your feet from spills, meet your employer's requirements, and keep your feet comfortable throughout the day. It is a great deal to ask from a shoe. Nevertheless, it can be easy to find the best nursing shoes for you with the appropriate information.
Comfort
There is no point in choosing a nursing shoe made of the finest leather if the shoe feels uncomfortable. A pair of cozy shoes is essential if your job keeps you standing or walking about all day. No matter how costly the materials used in making the footwear are, if the footwear is not lightweight and comfortable, then it does not serve the purpose. When you slip your feet into a pair of snug shoes, you get that feeling of wearing nothing at all.
The sole unit
The sole is an extremely important component of a nursing shoe. A great shoe with a quality sole will deliver more comfort to your feet. Choose leather shoes with rubber soles in addition to great tread patterns. Always remember that if the sole is not functional and supportive, your feet will not take you through a 12-hour shift.
The shoes' insole
The insole is the inner base that sits just underneath your foot. There is usually a sock liner or a footbed placed above the insole. The job of the insole is to create a cozy layer between your foot and the sole. A quality insole should be supple, breathable, absorb the shock of your foot landings, stabilize the foot, and support the arch. It is a good idea to choose shoes with detachable and replaceable insoles.
Water-resistant or waterproof shoes
Some floors such as the ones in maternity wards make it critical that you choose a water-resistant shoe. When working in this type of environment, you need slip-resistant and waterproof footwear to help you avoid accidents.
The Appropriate size
To ensure you select footwear that is the right size, be sure to measure your feet first. The best time to measure your feet is after you have been standing and walking around all day. Doing it at this time will help to ensure you take into consideration any swelling that might take place.
A Spacious toe box
Since you will sometimes be doing very long shifts, you need shoes that will provide sufficient wiggle room so your toes can spread out naturally.
Weight
If you are obese or overweight, you should opt for shoes with extra cushioning and padding. By so doing, your shoes will last you a long time as well as help your feet stay comfortable all through the day.
The shoe's finishing
While comfort and support should be your major consideration when in the market for the best leather shoes for nurses, aesthetics are equally important. A nursing shoe with a lovely silhouette looks trendy and appealing. Nevertheless, if you are in doubt, select function over stylishness if you cannot get both.
Injuries
If you suffer from chronic pain within your legs or back, buy shoes that offer additional support. The best nursing shoes should offer lots of cushioning and stability as you recover from your injury.
If you still cannot find the appropriate shoes for you after using these tips, speak with a podiatrist. It is vital you take good care of yourself whilst caring for your patients. And, the best way to do that is by ensuring your feet and back are comfortable.