Top 9 Best Brand of Shoes for Nurses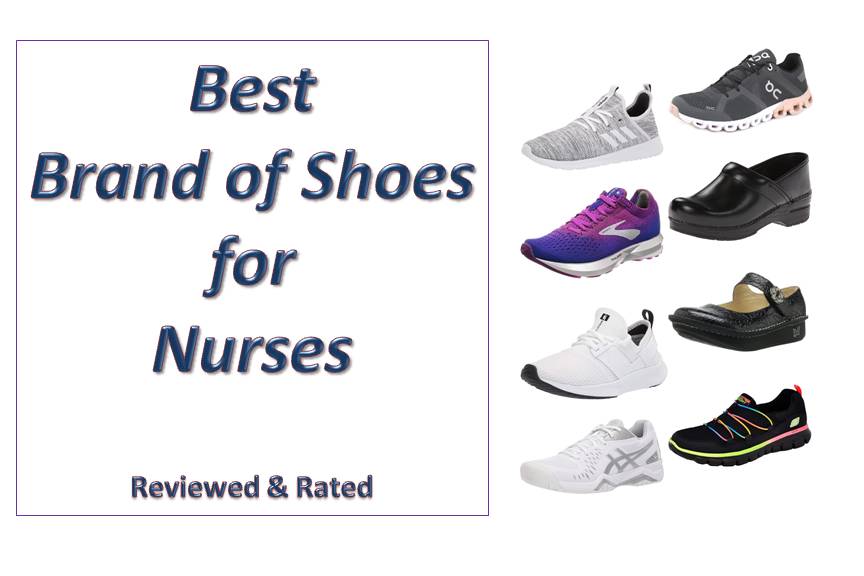 When your job involves standing for extended hours on hard floor surfaces, proper fitting shoes are critical. Working on your feet throughout the day puts a great deal of pressure on your hips, ankle joints, legs, and feet. Therefore, if you regularly wear ill-fitting shoes, you could develop foot conditions like bunions, hammertoes, plantar fasciitis, calluses, and arch pain. Are you a caregiver battling sore feet from standing all day? This post will talk about the best brand of shoes for nurses that provide extra support, alleviate pain, and let you concentrate on patient care instead of your aches.
Best Shoes for Nurses – Top Picks
Dansko Women's Professional Clog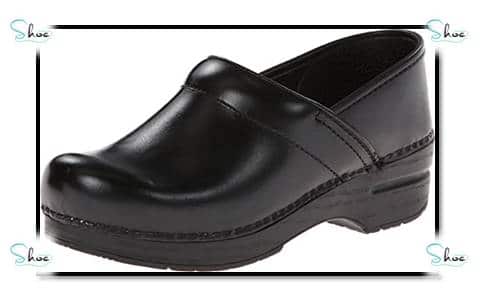 Dansko is a shoe brand that is extremely popular among nurses and others who work mainly on their feet. Like other clogs by Dansko, the Professional is very supportive and looks especially good on the feet. The shoe's closed rear plus broad heel strike helps deliver superlative support and stability, which are two critical features that nurses should look for in a shoe. Moreover, this clog features a no-lace construction, which means you can simply slip them on and conquer your day. The clog is also extremely durable and will last you through hundreds of shifts without falling apart. Continue reading to learn other reasons why Dansko shoes like the Women's Professional clog is rated among the best brand of shoes for nurses.
Key Features
Memory foam footbed
PU inside frame for enhanced stability
Leather uppers
Padded instep collar
Rounded toe area
The well-padded instep collar is one of the reasons nurses love the Dansko Women's Professional clog. Thanks to this instep collar, the shoe fits comfortably and feels very secure. The nicely padded instep collar does a wonderful job of preventing friction that might result in painful blisters.
The memory foam insole is another feature that has been widely praised by users of this Dansko clog. The memory foam insole is engineered to provide superior arch support, absorb heel shock when walking, and alleviate strain on the ball of your foot. The outsole is crafted using first-rate rubber and has a 2-inch heel height along with a 0.75-inch measured platform. Further, the clog boasts Dansko's famed anti-fatigue rocker bottom. This feature helps with forward motion whilst walking thereby adding hours of cozy support all through your day.
The Dansko Women's Professional clog is also well constructed from bottom to top. The seams are strongly sewn using a thread of the finest quality. Also, the clog's outer layer is made using first-rate leather material. What all this means is that the shoe will not split up too quickly no matter what you put it through.
The Women's Professional clog by Dansko is somewhat pricey, but in return, you get quality footwear that will provide you with the support and comfort you require for all-day wear.
Pros
Roomy toe box
Superb for all-day wear
Reliable slip-resistance
Easy slip-on construction
Cons
Somewhat pricey
Requires a bit of break-in time
See also: Best Dansko Shoes for Nurses
---
Brooks Women's Levitate 2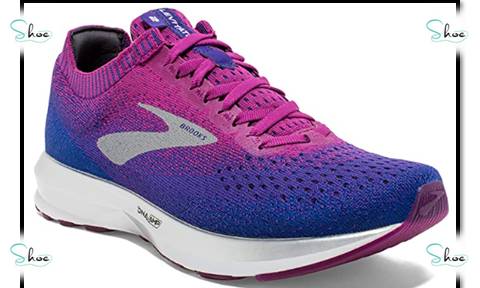 Brooks' shoes are celebrated for their sturdiness and coziness, and many caregivers swear by them. Brooks designed the Levitate 2 for road running but it is without a doubt one of the best shoes for nurses and medical professionals. This running shoe packs numerous astounding features like a supportive upper, dependable cushioning, plus a highly responsive insole. While the footwear is somewhat heavy and has limited breathability, the shoe has gotten lots of praise among nurses for being extremely comfortable and supportive. If you are seeking a pair of well-cushioned sneakers that deliver exceptional energy return, you cannot go wrong with the Levitate 2 by Brooks.
Key Features
Sticky rubber outsole
DNA AMP midsole
A neutral shoe that offers a highly responsive cushioning
Synthetic sole
6-millimeter drop
Roomy toe box
Complex lacing system
This Brooks' model scores very high with regard to durability. This is because Brooks employed top-quality components in crafting the uppers and midsole. Some reviewers have reported covering over 400 miles with this pair with the shoe showing no signs of deterioration. Like other shoes in the Brooks line, the Levitate 2 boasts top-quality outsoles and serves up terrific traction on all surfaces.
The footwear's protective attributes have also garnered high praises from many reviewers. This running shoe will be especially beneficial for individuals who are vulnerable to foot conditions like tendonitis. The shoe helps reduce Achilles tendon irritation thanks to the perfectly engineered heel collar plus faux-suede heel tab. As mentioned earlier, the sneaker scores low on breathability particularly on hot days, however, the plush knit fabric on the shoe's upper will cuddle your feet delivering a supportive and snug fit. Besides, the footwear will serve you well on cold chilly days as it will keep your feet warm and shielded from the elements.
If you do 12-hour shifts regularly, this Brooks pair is a lifesaver. Its superlative insole is neither too rigid nor too supple and will deliver just the appropriate degree of support to your feet. The running shoe offers reasonable traction on wet/slippery surfaces owing mainly to the sticky rubber material employed in crafting the outsole. However, note that some wearers report that the outsole delivered sub-par performance when walking on very slippery surfaces. Also, considering the materials employed in making the upper, it is obvious that this Brooks' shoe is not constructed to be water-resistant.
On the whole, if you are seeking a reliable nursing shoe that will help lessen Achilles tendonitis pain, this shoe will work well for you.
Pros
Very comfortable
Broad toe region
DNA AMP midsole
Responsive with impressive energy return
Provides ultra-soft feel underfoot
Very durable
Cons
Somewhat heavy
Complicated lacing system
See also: Best Brooks Shoes for Nurses
---
Skechers Sports Women's Sneaker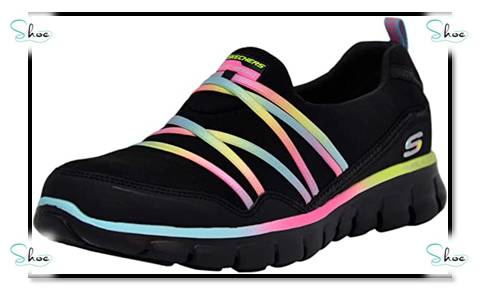 Skechers has been in the business of making supportive shoes for nearly 30 years. The major attribute and benefit of shoes from this brand is comfort and convenience. Most Skechers shoe models are very comfortable due to the memory foam technology employed in their construction. The women's Loving Life Sneaker has been praised for its exceptional cushioning in addition to its lightweight attributes. Thus, if you are hunting for the best brand of shoes for nurses, this Skechers memory foam sneaker will not disappoint.
Key Features
Slip-on design
Memory foam insole
Breathable mesh construction
Flex groove outsole
Rubber sole
True-to-size fitting
If style and coziness are what you are after, the Skechers Sports Women's Loving Life Memory Foam Fashion sneaker is 100 percent for you. The sneaker blends fashion, comfort, and sporty style all in one place. The mesh and faux leather upper is highly breathable meaning that your
feet will stay dry and cozy
even after you have been standing and walking for hours. Aside from having a stylish-looking upper, the footwear is also extremely robust as well as resistant to moisture penetration.
Beautiful and substantially cozy, these striking Skechers sneakers will support your feet all through the day. And, since it has a slip-on construction, you can easily wear/remove it whenever the need arises.
The supple fabric lining installed on the shoe's interior delivers a cushiony and welcoming suppleness underfoot. What's more, your feet can breathe and not be sweaty and hot in the shoes as the fabric lining helps wick away moisture. Another delightful feature of this sneaker is the memory foam insole that assumes the outline of your feet providing cushioning to every section of your feet. There is no doubt you will love the bounce and feedback your feet will get.
Every component of the Skechers Sports Women's Loving Life Memory Foam Fashion sneaker is engineered using sturdy and comfort-boosting materials. This means the sneaker not only provides comfort for your feet but will also serve you for years to come. The shoe is lightweight, long-lasting, breathable, and is reasonably priced.
Pros
Slip-on construction
Well-cushioned interior
Breathable mesh upper
Extremely comfortable
Reasonably priced
See also: Best Skechers for Nurses
---
Adidas Women's Cloudfoam Pure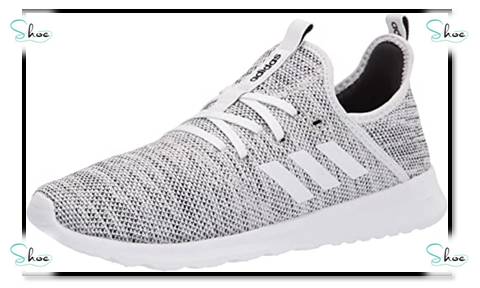 If you are a nurse who regularly works long shifts, you need a supportive shoe like the Adidas Cloudfoam Pure. Adidas originally designed this shoe for runners; however, the sneaker is multipurpose. Aside from being a great walking shoe, the Adidas Cloudfoam Pure can be utilized for a host of sporting activities including gym training, athletics, and tennis practice. The sneaker looks trendy also, thus it can go well with most of your casual outfits. Since its launch, the Cloudfoam Pure has been creating a buzz owing to its mesh upper that serves up snug and relaxed fit.
Key Features
Easy to wear/remove
Cloudfoam memory sock liner along with textile lining
Rubber sole
Women's specific fit
100% synthetic upper
Hugs the foot
The upper of this Adidas sneaker is super-breathable thanks to the mesh fabric on the exterior. Even on extremely hot days, the CloudFoam Pure will provide your feet with utmost comfort. Besides, the upper has special linings that help reduce the accumulation of hot air and moisture inside the sneaker. With this, you will never suffer from uneasiness due to sweaty feet. As you may already know, the odor from sweaty feet can be extremely embarrassing and uncomfortable.
The Cloudfoam Pure is a fantastic sneaker that delivers top-notch performance and comes at an extremely affordable cost. This is unlike other name brand footwear that is very costly but offers little in relation to functionality. So, if you are a bit tight on budget but desire a cozy, sturdy, and trendy work shoe, this sneaker is a fantastic option. Furthermore, the sneaker comes in a range of colorways to suit various tastes.
The running shoe does not disappoint as regards comfort and stability. The shoe's EVA midsole is crafted to provide enduring shock absorption delivering systematic relief to your joints and feet with each step you take. Shoes from Adidas are famous for their supportive and plush insoles that hug the foot. Several reviews agree that the Adidas Cloudfoam Pure lives up to expectations with its plush, cozy upper that will let you enjoy immediate and long-lasting comfort.
The outsole of this cozy sneaker features broad and comparatively shallow grips designed to provide traction and grip. While some reviewers report that they found the traction to be poor in the snow, others say they found it to be fantastic and sufficient to get them through wet/slippery hospital floors.
By and large, the Adidas Women's Cloudfoam Pure is one of the best work shoes for nurses because it is highly breathable and lightweight. The sneaker is perfect for running errands or walking and would be a great addition to your casual sneakers collection.
Pros
Versatile and flexible
Extremely lightweight
Remarkable cushioning plus exceptional underfoot protection
Provides a sock-like fit
Breathable mesh upper
Sleek silhouette
Cons
Not waterproof
Sizes are a little large
See also: Best Adidas Shoes for Nurses
---
Alegria Women's Paloma Flat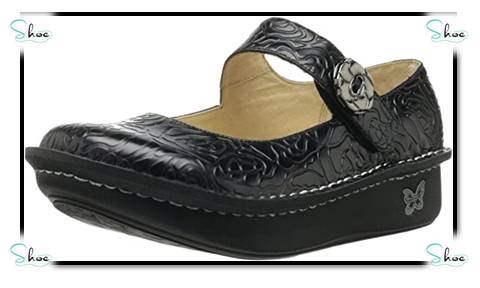 Whether you work 12-hour, 10-hour, or 8-hour shifts, shoes from Alegria can keep your feet relaxed and comfortable at the workplace no matter how long the shift is. The exceptional shock absorption is one of the several reasons why the Alegria Women's Paloma Flat is ranked among the best nursing shoes in the market today. The Paloma Flat is trendy, multipurpose, and will make a fabulous addition to your nursing shoe wardrobe. Moreover, the shoe has been awarded the highly esteemed APMA Seal of Acceptance.
Key Features
Suede leather insole
Rubber sole
Hand-stitched
Stain-resistant upper
Adaptable hook & loop closure along with unique ornamentation
The rocking outsole of the Alegria women's Paloma Flat is arguably its most endearing asset. This outsole is engineered to provide support not only for your feet but your knees, joints, and back as well. Furthermore, the rocking outsole combines with the shoe's anatomically designed footbed to improve your gait.
When your job involves standing on concrete for 8 plus hours, you need footwear that will provide the right level of support and comfort. The Alegria women's Paloma Flat is one such footwear and more. The shoe's leather upper is highly breathable whilst the rubber outsole is very durable – features that are critical for prolonged standing or walking. Additionally, the spacious toe box leaves ample space for your toes to splay. If you suffer from foot conditions like hammertoes, bunions, sore and swollen feet, a wide and spacious toe box will help enhance comfort for your feet.
The shoe's anatomically engineered footbed will mold to the natural outline of your feet delivering enhanced support. Moreover, this footbed can also be removed so you can install personalized orthotics if need be.
Adding a pair of this Alegria model to your wardrobe is a superb investment and you will love the price point of this lovely walking shoe. The footwear is offered in an array of designs and colorways so you will definitely find one that will suit your taste.
Overall, the Paloma Flat from Alegria will provide you with all-day comfort so you can concentrate on your core duties, which is patient care.
Pros
Provides reliable arch support
Available in an array of impressive designs
Trendy design
Very comfortable footbed
Breathable upper
Cons
Some users report that the color tends to fade with time
---
Asics Women's Gel-Challenger 12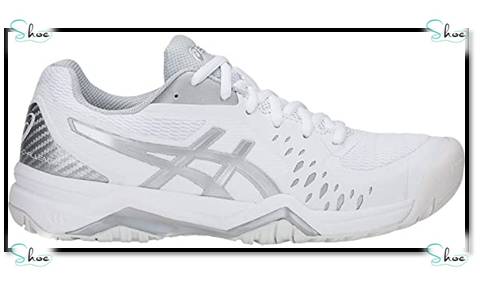 Asics has some splendid choices in shoes that are comfy, supportive, and non-slip, which is why they are rated among the best brand of shoes for nurses. The most striking thing about the Gel Challenger 12 is not the mesmerizing ornamentations, but the unparalleled support and comfort it offers. The shoe has an outstandingly top-quality design that would benefit not only tennis players but nurses and other professionals who work mainly on their feet. Many reviewers concur that the price is worth the wonderful comfort they get from the shoes.
Key Features
Rubber sole
Made with synthetic plus mesh materials
Trusstic system technology
Removable, ortholite sock liner
Solyte midsole material
Asics made the upper of this shoe using fabric and synthetic materials to give the sneaker a high degree of comfort and breathability. The durable rubber outsole is slip-resistant, non-marking, and provides dependable traction that will help you stay balanced when walking on wet/slippery floors. If you are seeking a durable shoe that offers loads of support, this Asics model will not let you down.
Furthermore, the tennis shoe delivers optimized fit coziness and support, thanks to the Flexion Fit technology employed in making the upper. Asics also employed their signature Gel Cushioning technique in crafting the rearfoot. In this technology, the gel is installed at strategic points on the shoe for enhanced comfort and support.
Another innovative system employed in constructing the shoe is Trusstic System Technology. This is a stability feature designed to provide you with the stability you require within the midfoot region whilst boosting gait efficiency. The Gel-Challenger 12 delivers a locked-in fit to ensure you can move confidently and quickly in any direction you desire.
Some users have reported that the outsole durability is subpar and failed to meet their expectations. But generally, the Gel-Challenger 12 is lightweight and is engineered to perform.
Pros
Lightweight construction
Trendy design
Excellent stability
Well-cushioned
Cons
Durability issues
Slip resistance could be better but overall a reliable nursing shoe
See also: Best Asics Shoes for Nurses
---
On Running Women's Cloudflow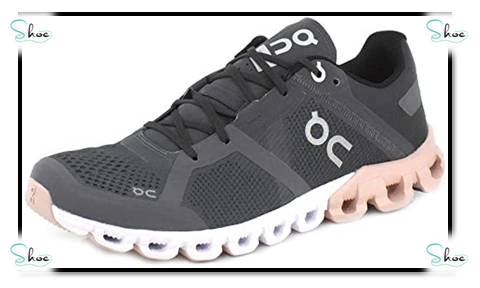 Shoes from On Running feature cloud technology crafted to make their shoes extremely comfortable. The women's Cloudflow is a super attractive, lightweight sneaker made for runners but is also great work shoes for caregivers who regularly work extended shifts. If you are in the market for best shoes for 12-hour shifts, the women's Cloudflow should top your list.
Key Features
Breathable mesh upper
Cloud Tec rubber outsole
Speedboard technology that allows for a springy walking experience
Zero-gravity EVA foam midsole
Sock-like interior
The key selling point of the women's Cloudflow is comfort. The Zero-Gravity EVA foam midsole plus the CloudTec rubber sole combine to deliver a smooth walking experience. The sneaker is especially suited for quick-paced walking on account of its flexible design.
The footwear is not copiously cushioned like other brand's running shoes. Instead, the women's Cloudflow delivers tremendous impact absorption by means of the Zero-Gravity EVA foam fitted on the midsole. You will find that this midsole is sufficiently durable to tolerate hours of persistent use.
Other noteworthy features of this inspiring On Running shoe include the 18 modish-looking hollow pods on the sneaker's side profile that enhances cushioning and the highly breathable mesh-weave construction of the upper.
The women's Cloudflow is comfy, lightweight, offers satisfactory cushioning, and looks trendy. These features make it a wonderful work shoe for nurses.
Pros
Very comfortable
Quality construction
Ultra-lightweight
Incredibly flexible
Excellent shock absorption
Cons
Traction needs to be improved
See also: Best On Cloud Shoes for Nurses
---
New Balance Women's FuelCore V1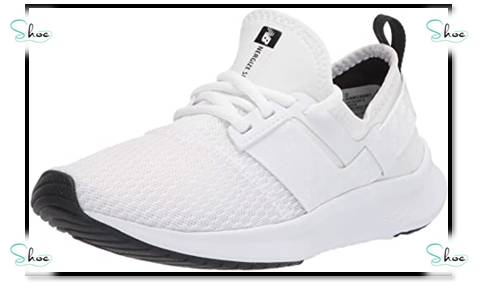 New Balance creates a wide array of shoes that nurses can wear for all-day support and comfort. The FuelCore Nergize is extremely comfortable and requires no breaking-in out of the box. Made with 100% synthetic materials, this NB model is offered in an incredible array of colorways – over thirty. If that is not sufficient, you will also love that the sneaker is extremely simple to wear/remove so you do not misuse valuable moments of your life-saving work time.
Key Features
Bootie upper construction
Rubber sole
Crafted using 100% synthetic materials
NB memory sole insert
Lightweight design
Coziness and lightweight cushioning are the most endearing attributes of this New Balance sneaker. The shoe is abundantly cushioned to absorb shock and reduce foot exhaustion so you can attend to your patient's needs with no hassle. New Balance employed their signature memory sole inserts in engineering the sneaker to deliver matchless underfoot comfort.
Although many reviewers point out that the support offered by the Women's FuelCore Nergize is not so stellar, however, most agree that the sneaker's midsole delivers a reasonable degree of support for all-day coziness. Some wearers have also noted that the shoe's midfoot region is too constricting. However, this minor flaw is counterbalanced by the better-than-average level of stability delivered by the shoe.
If you are seeking a sneaker that allows for effortless movement, this New Balance sneaker may be your finest bet.
Pros
Ultra-lightweight design
Well-cushioned
Easy slip-on design
Removable insert
Reasonably priced
Cons
Average support
Durability concerns
See also: Best New Balance Shoes for Nurses
---
Crocs Unisex Classic Clog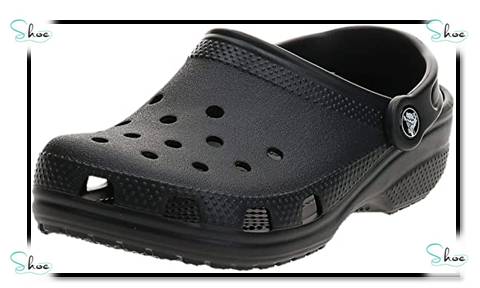 Crocs are perhaps the best brand of shoes for nurses on their feet all day. Shoes from this brand are flexible, soft, bouncy, not counting their lightweight and low-maintenance design. The Crocs Men's and Women's Classic Clog is slip-resistant, comfortable, and supportive, making it the ultimate choice for professionals who stand or walk for prolonged hours.
Key Features
100% synthetic upper
Synthetic sole
Slip-on design
Easy to clean and maintain
The upper of this Crocs model is made using top-notch synthetic materials that give the clog its plush and lightweight qualities. Besides, breathability is guaranteed thanks to the ample perforations on the upper. Some models of this clog sport a separable rear strap that helps keep the shoes on your feet.
The clog's non-slip outsole delivers exceptional traction and grip on treacherous surfaces. The outsole has enough thickness to shield your feet from prickly objects. And, thanks to the Croslite material utilized in its construction, the Crocs Unisex Classic clog is durable enough to take you through hundreds of shifts.
This Crocs model is breathable, waterproof, simple to clean, and has an uncomplicated design. No wonder it is ranked among the best shoes for nurses and medical professionals.
Pros
Excellent traction
Very comfortable
Easy to clean
Lightweight design
Highly breathable upper
See also: Best Crocs for Nurses